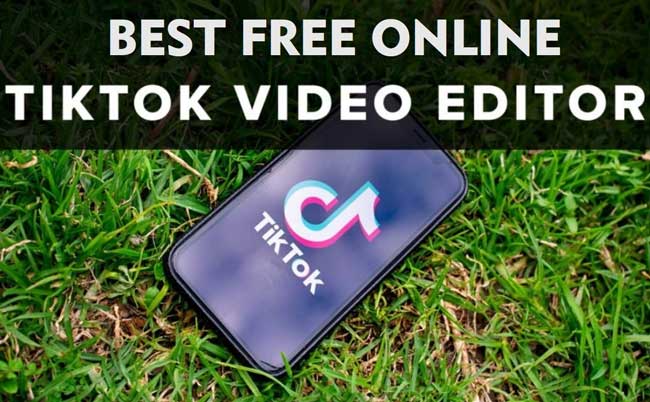 As TikTok is one of the 5 most popular social media platforms in the world known for making short video sharing trends or what its users call great-video challenges, so it is significant for TikTok users (who can be pro content creators or newcomers on TikTok) to know much about TikTok video editing skills to attract followers while harvesting more views and likes. And in the video-making field, you got two types of TikTok video editors to choose from - for Mac/Windows, or for online. Usually, we can find the online one embedded with advantages like more video templates and the i-cloud services. So if you'd like to see more discussions about TikTok free online makers, just dig in our today's post in which we'll introduce the 7 best online TikTok video editors for you.
Top 7 Best Free Online TikTok Video Editors
Top 1. Clipchamp (Free: < 5GB & No Watermark)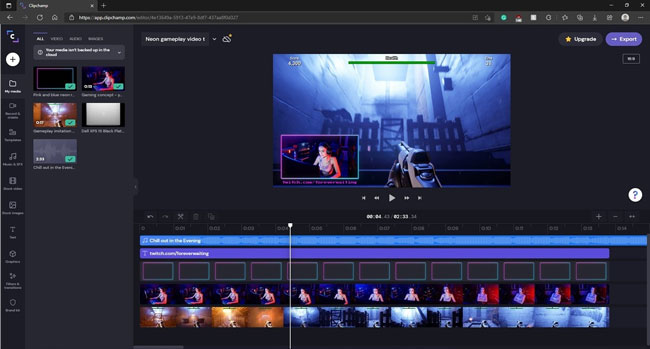 Clipchamp is another online free TikTok video editor especially for newbies in TokTok. The application is now currently owned by Microsoft and it promises a fast and flexible video editing experience. Clipchamp is a stream-lined video editor, meaning that you can edit TikTok video simultaneously without changing the main page. Right now, you can register with the account of Microsoft, Google, Facebook, Dropbox, or e-mail.
Pros:
Flexible and fast editing experience
Bountiful templates for editing TikTok videos
Without watermark added
Stable running environment
Cons:
Free for 480p only so that you need to pay for 720p or 1080p service
Top 2. Kapwing (Free: < 250MB & No Watermark)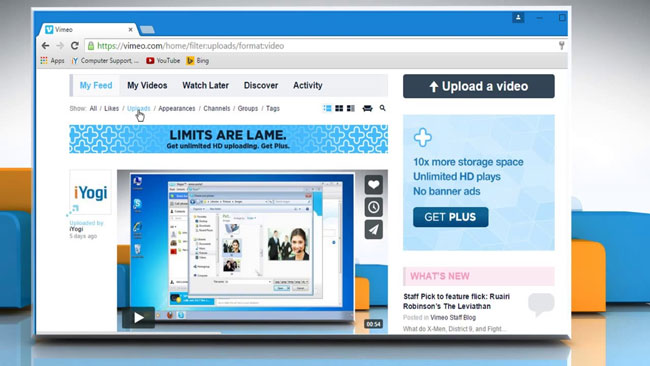 Kapwing is a TikTok video editor especially popular among experienced TikTok users that make explanatory videos. It allows users to select from a wide range of effects and transit their videos into a form that is easily transferable and shareable on social media platforms. In addition, Kapwing is a stream-lined online TikTok video editor, meaning that Kawping combines templates selection, importing, editing, and exporting on the same page.
Pros:
Loads of exquisite TikTok templates
A vast library of music resources for TikTok videos
Streamlined editing style
URL-importing propped
Cons:
Free for 480p output only
Top 3. Video ToolBox (Absolutely Free, < 600MB, & No Watermark)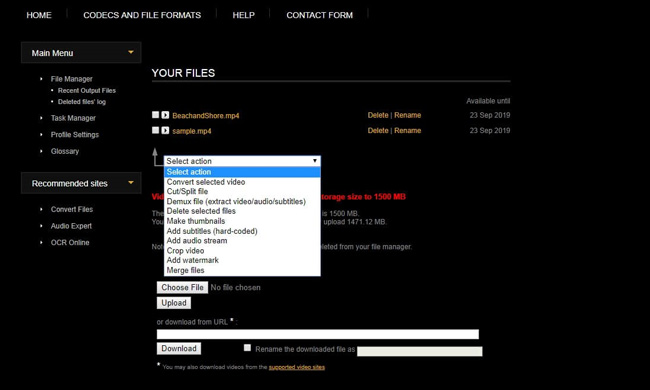 Video ToolBox is an advanced tool to edit TikTok videos online, which allows you to merge, crop, cut, convert, and demux video files. Also, you can set many parameters with this tool such as resolution, frame rate, bit rate, aspect ratio, and so on. Like the Ezgif, for example, you can paste the URL of your wanted TikTok video without the process of "downloading and exporting".
Pros:
Support combining TikTok videos
Advanced video effects and filters
You can paste URL to import TikTok videos
No watermark
Cons:
You should download the auxiliary browser - Wave
Top 4. Fastreel (Free: < 500MB)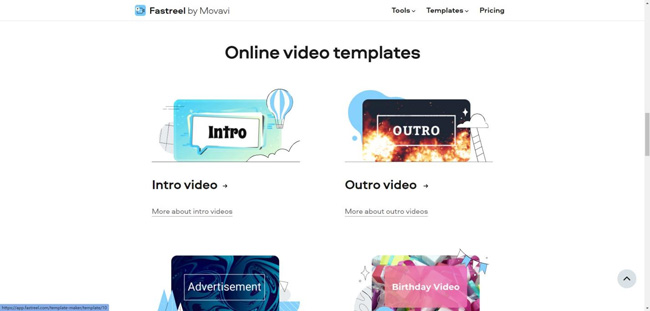 Fastreel is also another video editor suitable for editing videos meant to be uploaded on TikTok. It has a simple and elegant user interface which makes navigation very convenient. Aside from that, editing features such as merging, compressing, etc., are very easy to use.
Pros:
-Various features to edit TikTok video like trimming, slideshow, cropping, etc.
A plethora of ready-made online TikTok video templates
Suitable for users without video editing experience
Cons:
Watermark will be embedded with
Top 5. Ezgif (Free: < 100MB & No Watermark)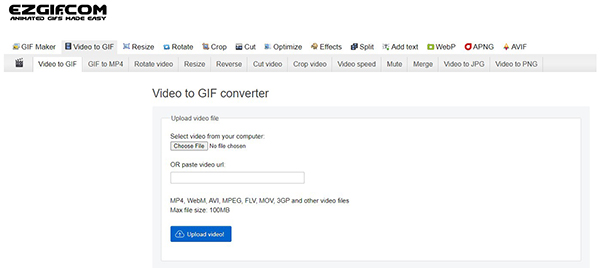 Ezgif can be only used to edit GIFs? Surely not! This is a very powerful free online TikTok video editor, for one thing, you can resize, convert, crop, cut, split, or reverse videos just by a couple of clicks. For another, there won't be any watermark added on when you download your new-made video. Most importantly, you don't need to register an account so that all you need to do with Ezgif is visit it > get into the function layer > import TikTok videos > download on your devices.
Pros:
Easy to navigate and use
No watermark will be added
Support URL-Importing
You haven't to log in
Cons:
Some Ads will float on the page
Top 6. Clideo (Free: < 500MB)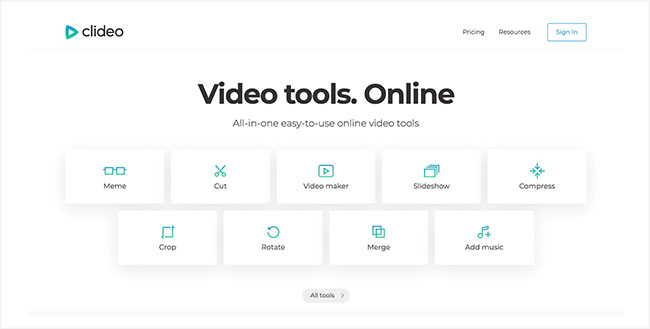 Clideo is one of the best Online Free TikTok Video Editor tools you can use for your video content. It is suitable for working with videos, images, and GIFs using editing features such as cropping, compressing, cutting, and merging. Clideo also has a filter feature making it easier to change the outlook of video content to suit your imagination.
Speaking of the user interface, Clideo is designed with a layer-checking editing style, which means that you need to unpack each function zoom to make it works well. And the TikTok files' size should be limited to 500MB for free, so you're required to order the subscription to get more importing size.
Pros:
It has a simple user interface, and it is easy to navigate
It has many editing features
Excellent TikTok video editing experience
i-cloud service that helps transfer videos online
Cons:
Clideo's free version will leave a watermark
Top 7. Wideo (Free: < 1 Minute)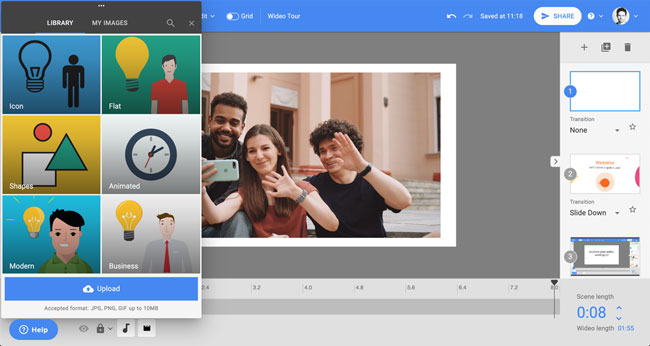 Wideo is a unique TikTok video editor free tool with a lot of templates. For example, it is the most common video editing tool with TikTokers that creates animated and explainer videos. Wideo is very popular as it also provides various elements to make editing fun and achievable. Another feature we like the this free TikTok editing online tool is its aspect ratios which include different views and better-edited video content.
Pros:
It has different templates
Supports many TikTok video elements
Flexible TikTok video editing
Different genres of video elements
Cons:
Watermark printed and < 10 video templates you can apply
Checking Table - Compare the 7 Online TikTok Free Video Editors
Here we organized the pros and cons of each online free TikTok video editor and you can check the duration/size input limits, subscription service, TikTok video templates, and some of the other characteristics.
| | Clipchamp | Kapwing | Video ToolBox | Fastreel | Ezgif | Clideo | Wideo |
| --- | --- | --- | --- | --- | --- | --- | --- |
| URL Importing | √ | √ | √ | × | √ | × | × |
| Input Limits | 5GB | 250MB | 600MB | 500MB | 100MB | 500MB | 1 Minute |
| Watermark | × | × | × | √ | × | √ | √ |
| Free Export Resolution | 480p | 480p | Original | Original | Original | Original | Original |
| TikTok Video Templates | √ | √ | × | √ | × | × | × |
| Layering/Streamlined | Streamlined | Streamlined | Layering | Layering | Layering | Layering | Streamlined |
| Pricing | $9/Creator & $19/Business | $24/Month & $19/Annual | Absolutely Free | $5.95/Video & $19.95/Month | Absolutely Free | $9/Month & $72/Annual | $19/Basic-Month, $39/Pro-Month, & $79/Pro+-Month |
| Others | / | / | Operates on Wave Browser Only | It has version for PC, Mac, & Phone | Ads may pop up | / | / |
Best TikTok Video Editor Runs on Mac & Windows - AceMovi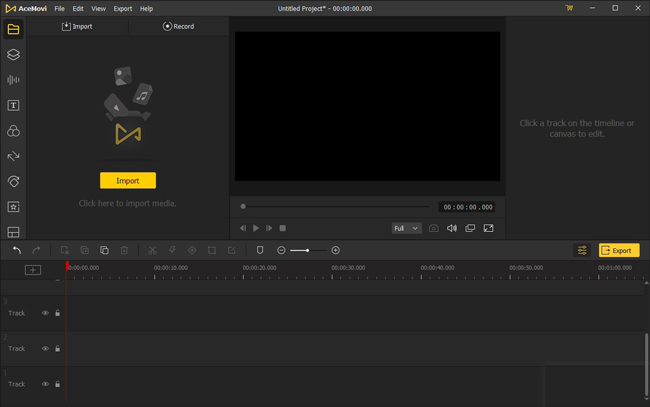 Online video editors have many video editing features and benefits, such as flexibility and better user experience. However, they pale in comparison with localized video editors, of which a good example is the AceMovi Video Editor.
With numerous video effects, filters, and file formats for easy editing and better video quality, AceMovi Video Editor is arguably the best TikTok video editor for TikTok users having Windows or Mac computers. Besides, you can export the TikTok video in the AutoFit format for the TikTok app. For more features and services, just click the below button to download AceMovi.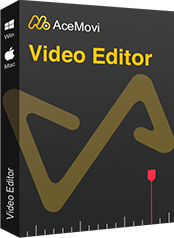 Key Features of AceMovi Video Editor
Security Verified. 5,481,347 people have downloaded it.
Reasons to Pick Up:

Intuitive user interface
Various text templates - static/dynamic
Export at 480p, 720p, 1080p or original freely
Viewing in real-time
Support most video/audio/image formats
Slideshow, fast/slow-motion, mosaic, reversing for TikTok videos
Dirt cheap purchase - $19.95/mo, $39.95/year, $59.95/perpetual
Downsides:

No online edition - So stay tuned!
In the following, you'll have a quick start to edit TikTok videos on AceMovi Video Editor. Tip: you need to install AceMovi first.
Import the Original TikTok Video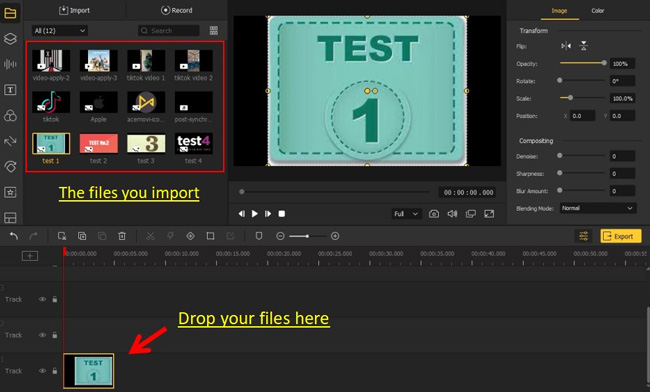 Import the TikTok video you want to edit by selecting the Import icon shown in the picture below and adding it to the timeline. You can also drag the video and add it to the timeline directly.
Use AceMovi to Edit the TikTok Video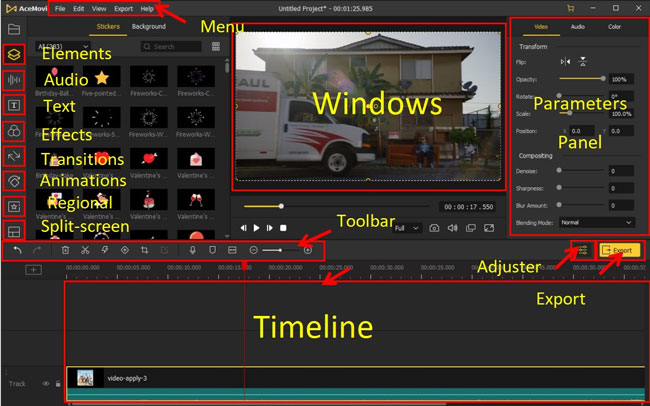 Edit the video using the many features found on the application's left side. Every editing you make will reflect instantly on the video, which makes it easy to monitor the effects on the video. A few things you could do on AceMovi Editor include:
· Splitting TikTok Video
· Trimming TikTok Video
· Cropping TikTok Video
· Reversing TikTok Video
· Rotating & Flip TikTok Video
· Merging TikTok Video
· Changing TikTok Video Speed
· Add Freeze Frame to TikTok Video
Save & Export the Edited TikTok Video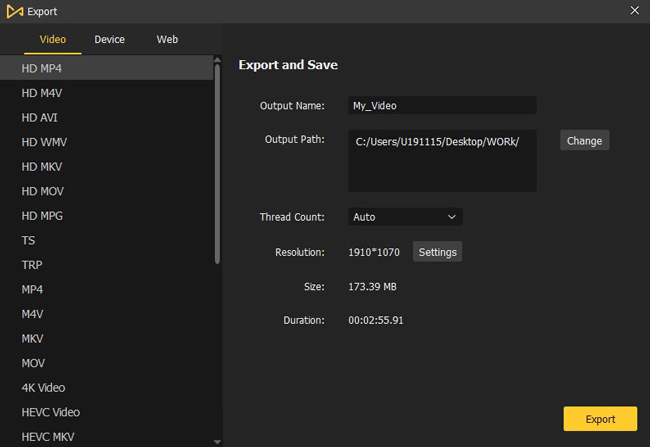 After editing the video, you can save and store it on your computer. There are many video file formats available on AceMovi Video Editor you can save your videos in. Common video formats include WMV, MPG, MP4, MOV, AVI, M4V, etc.
Conclusion
TikTok has in no time turned into one of the most used media platforms in the world. To be of presence on the application, you have to be unique. Unique can be of many things, and majorly, it is all about the video contents you put out and how seamless and perfect the editing comes to be. TikTok has its inbuilt video editor. However, for expert TikTokers, this is not enough. Therefore, this article introduces several online TikTok video editors you can use. While they provide flexible editing, online TikTok video editors have limitations in terms of sophistication. Therefore, this article also introduces AceMovi Video Editor, one of the best local TikTok video editor tools you can use.