When you browse YouTube or other video platforms, you will come across some videos that give you a brand new look and feel. Therefore, is it difficult for us to create a stunning video and catch the eyes of YouTubers? The answer is absolutely NO! Every one of us can make a video at ease by using the right video editor.
There are lots of video editors for users to choose from on the internet market, such as Adobe Premiere, PowerDirector, etc. However, not all video editing software suits novices. As the multifunctional features, novices will get confused as soon as they launch the editing program for the first time. Thus, an online video editor is the best choice for persons who are new to the video editing field or those who don't want to download any software.
In this post, I will show you how to edit a video online, coming with the free and paid tools recommendations. Let us start it!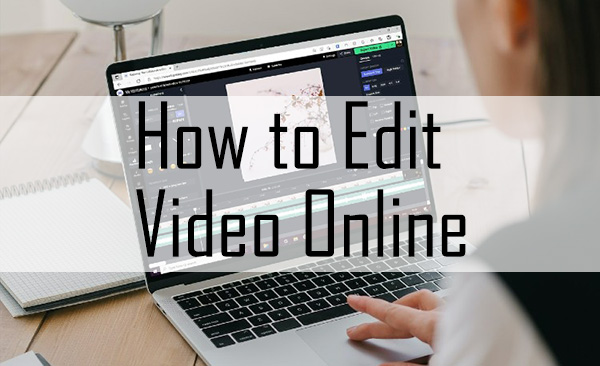 To Edit Video Online - Preparation You Should Do Before
Don't rush to start editing. Before the video editing, it is important for you to choose a suitable editor. There is a lot to think about - ease of use, pricing, feature, etc.
Ease of use - Though online video editors aim at lightweight editing, you can still find some that are difficult to master. Therefore, if you want to start your video editing easier, an easy-to-use online video editor is the best choice for you. You won't meet too many obstacles while using, but at the same, you won't get too many powerful editing features.
Pricing - Pricing can be the most important parameter when we choose an item - No one wants to purchase a useless or virtual-high price project. To get a powerful online video editor at a low price or even free is the purpose of this post.
Feature - Make the best use for everything, and video editing program is no exception. To edit a video online is effortless for most online video editors. If you are going to achieve simple editing like making a slideshow video, a free video editor is powerful enough for you.
It is useless to talk more, the next stage will show you the recommended online video editors and how to do the online video edit using different tools.
Edit Video Online - Tools Recommendations and How-to
#1 FlexClip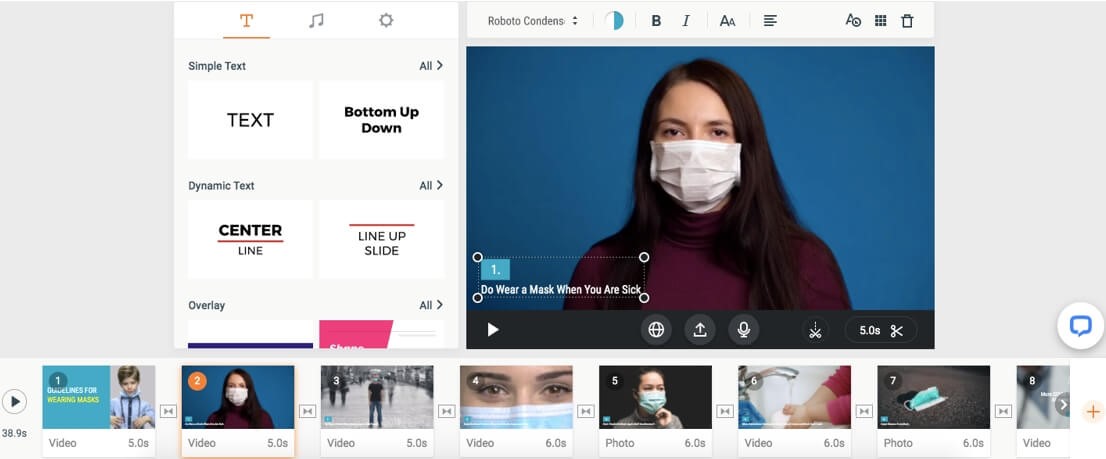 FlexClip is an outstanding online video editing program that allows users to edit video online free no watermark. Though it provides advanced features for premium accounts, the basic methods are enough for users to create stunning video content. To save users time, FlexClip has elegant video templates for users to choose from. Users can select the favored template in the FlexClip library and edit it freely.
In addition, FlexClip has a huge stock of videos, photos, music, and stickers. Though you are a free account, you can use the stock without costing a penny. If you want to post your video on Instagram or other mobile platforms, FlexClip also allows users to change the video ratio to 1:1, 9:16, or 4:5.
The following is a simple tutorial about using FlexClip to edit video online free no watermark.
Step 1: Navigate to FlexClip and create an account. On the FlexClip homepage, you can start your video editing by choosing a template. Or you can click the Start From Scratch button to start.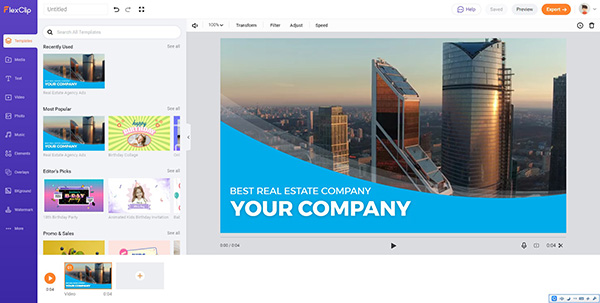 Step 2: Then, you can fill your content to the template directly, or upload your video to the FlexClip library. You can also record your screen through the built-in FlexClip recorder. In the preview windows, you can trim your video quickly.
Step 3: When you finish the editing, you can click the Export button to get your video done. It supports users to export their video as MP4 or GIF. A limitation for free users is that 720P or higher resolutions are invalid. Even so, you can get your video without a watermark left.
#2 Adobe Creative Cloud Express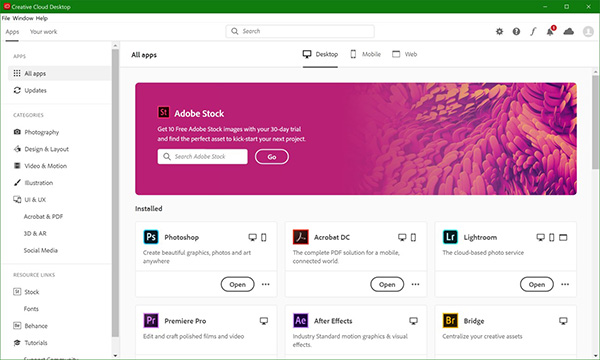 Adobe Creative Cloud Express is formerly Adobe Spark, which is a comprehensive tool for both novices and pros to edit video online free. Users can achieve simple edits within several steps using the given Quick actions feature. This feature includes Photo, Video, and PDF editing, such as Resize image, Remove background, Merge video, Convert to GIF, Change speed, Convert to PDF, etc. Except for PDF, all the functions of Quick actions are free.
In video editing, Adobe Creative Cloud Express also performs nearly perfectly. It provides templates for Instagram Stories, Instagram Posts, Facebook Posts, and normal video style. Though you cannot add dazzling animations or transitions to your video, this program is also an ideal choice for novices to create videos within minutes.
Let's see how to do an online video edit using Adobe Creative Cloud Express.
Step 1: First of all, navigate to Adobe Creative Cloud Express and log in to Adobe. In the main interface of Adobe Creative Cloud, you can see lots of video templates for you to use. You can hit on a template or click the Plus button to start the video editing.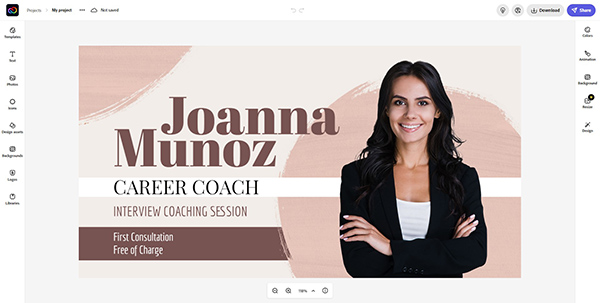 Step 2: After entering into the editing interface, you can unleash your imagination. It is worth noting that every template in Adobe Creative Cloud Express has different editing options. In the left toolbar, there are various editing resources for you to use. Not all the resources are free, but the free resources are still in the majority.
Step 3: When you finally finish the editing, you can click the Download button to get your work. Adobe Creative Cloud Express supports users to download their videos like MP4, PNG, JPG, and PDF. If you are still not so satisfied with your video, you can invite your friends to join your project by clicking the Invite icon that nears the Download button.
#3 Clipchamp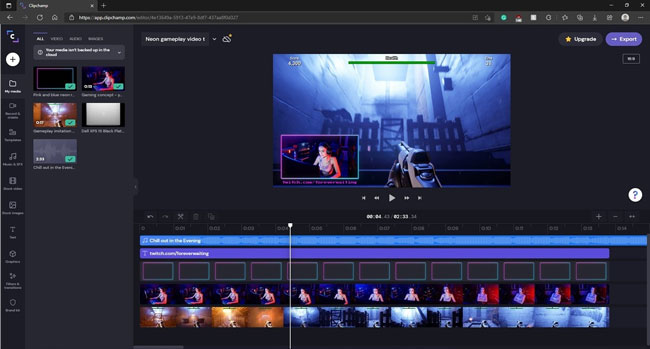 One of the most used tools for people to edit a video online is Clipchamp. Clipchamp has a concise and intuitive interface. Users can find their target templates easily. It sorts different types of templates, including Instagram, Marketing, Education, Sales outreach, etc.
Coming with a non-linear timeline, Clipchamp performs better than most other online video editors. Users are able to import various videos to the Clipchamp library, and then drag and drop them to the timeline. For an online video editor, there are fewer editing features than an editing program. However, it will usually provide a bulk of editing resources for users to use. It also supports users to record the camera, screen, and text to speech.
Let's see how to edit video online via Clipchamp.
Step 1: Choose a video template to start the editing. Or users can start the editing from their local video. Just drag and drop the resources to the Clipchamp library.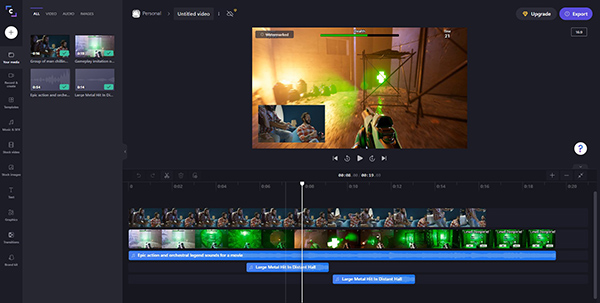 Step 2: Add your video/photo/audio resources to the timeline and continue the editing. You can change the layout, transform, or add filters to your resources within a click. You can manage your resources easily as Clipchamp is using the non-linear timeline.
Step 3: Export your video by clicking the Export button on the top-right corner. You need to purchase a Premium license if you want to get your video without a watermark.
#4 Magisto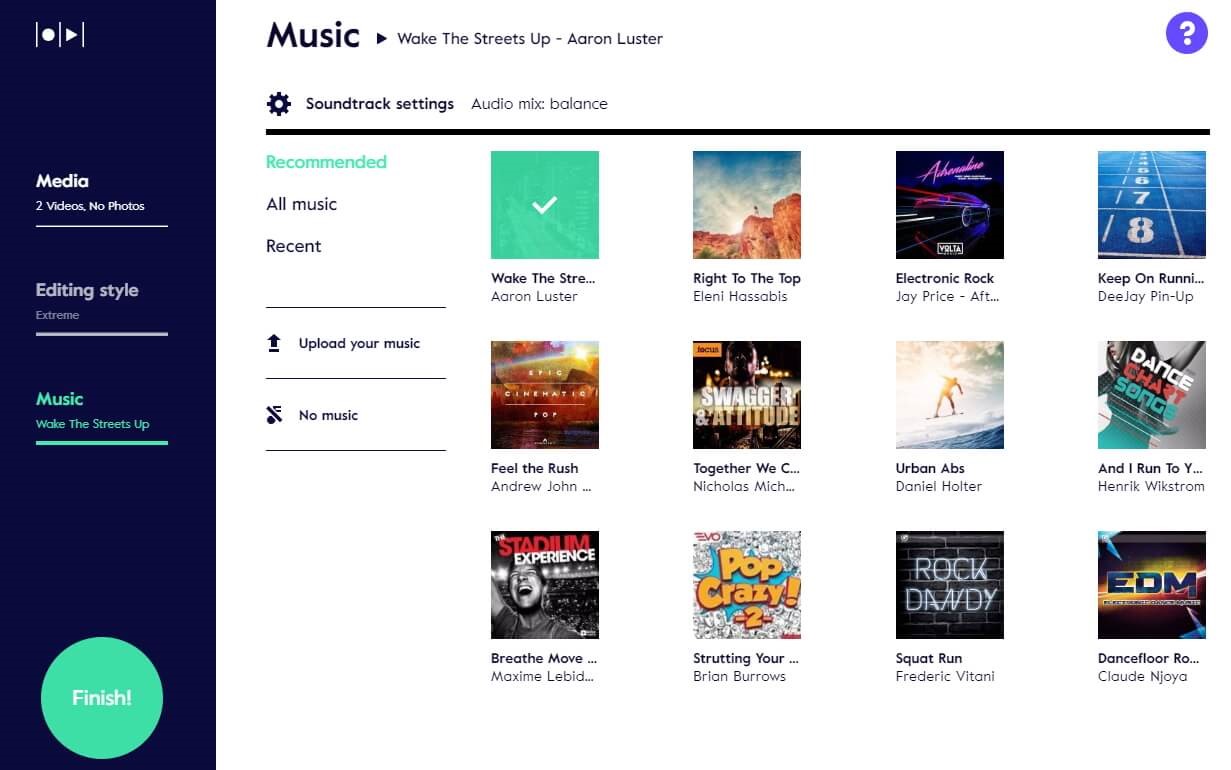 Different from the above 3 editors, Magisto can bring you a brand new editing experience. I would give you too many templates at the very beginning. You can add your media files to Magisto and then head for the next step. It supports users to add photos and videos from Google photos or Magisto Stock (Not Free).
In Magisto, you will not need to pay too much time thinking about the video layout, filter, or other options to enhance your video. Magisto has prepared a lot for you, you will only need to add them to your video within one click. With the AI workflows, users will enjoy the process of video editing.
Here is the detailed tutorial about how to edit video online using Magisto.
Step 1: First, enter the Magisto website and then click the Start Creating button. Hit on Add media to import your media to it. It allows users to add various media resources to it including images, videos, GIFs, etc.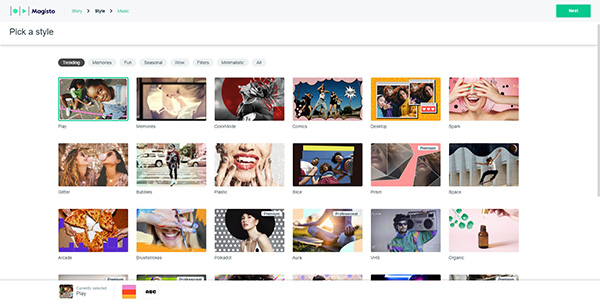 Step 2: If you want, you can add filters and music to your whole video. After choosing, click the Preview button to preview your work. You can click the Save button to get your work downloaded to your computer, or navigate to the Edit button to edit your video further.
Step 3: When you select the Edit button, Magisto will start to divide your video into pieces automatically. Then, you can change the Style, Music, Format, or cut the video. You can finally click the Save & Preview button to get your work done.
| | FlexClip | Adobe Express | Clipchamp | Magisto |
| --- | --- | --- | --- | --- |
| Pricing | $9.99/month | $9.99/month | $19/month | $9.99/month |
| Free trial | √ | √ | √ | √ |
| Watermark | × | × | √ | √ |
| Input/output formats | MP4/GIF | MP4/JPG/PDF | MP4/GIF | MP4 |
| Basic editing (Rotate, Crop, Cut, etc.) | √ | √ | √ | × |
| Edting resources | Medium | More | Fewer | More |
| Ease of use | √ | √ | √ | √ |
| Rendering speed | Fast | Slow | Slow | Fast |
Recommended Video Editing Software for Win/Mac - TunesKit AceMovi
After reading the above content about how to edit video online, creating a simple video using an online tool should not be a challenge for you. However, an online tool always has too many limitations if you want to do more advanced video editing. If you want to step forward in video editing, I would like to recommend a professional tool to you here. It is TunesKit AceMovi.
TunesKit AceMovi is a powerful yet simple video editor that can be the appropriate choice for both novices and pros. It has features like Audio, Text, Filter, Transitions, Animations, Split-screen, Chroma Key, etc. Users are able to add unlimited tracks in TunesKit AceMovi, which means that you won't meet any limitations while creating. Unlike online tools, AceMovi allows users to export their videos within different video formats like WMV, MP4, MKV, AVI, MOV, and so on.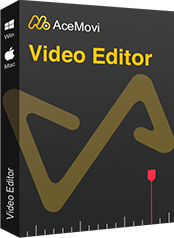 TunesKit AceMovi Video Editor
Security Verified. 5,481,347 people have downloaded it.
Basic and advanced features that make your video better
Multiple filters, transitions, text, sound effects, music
Various editing resources that can use for free
Import as much video or footage as you want
Help you create stunning videos in just a few steps
Here is a step-by-step guide to using TunesKit AceMovi to make a stunning video.
Import your media files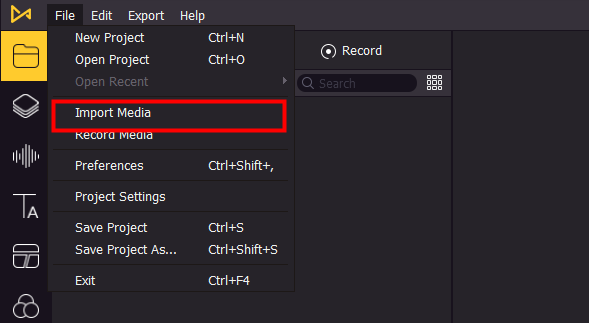 To edit a video, you should first import your media files to it. You can add your video by clicking the Import button or dragging and dropping them to the TunesKit AceMovi library directly. AceMovi supports most media formats including M4V, AVI, MP4, WMV, RMVB, etc.
Edit your video in the timeline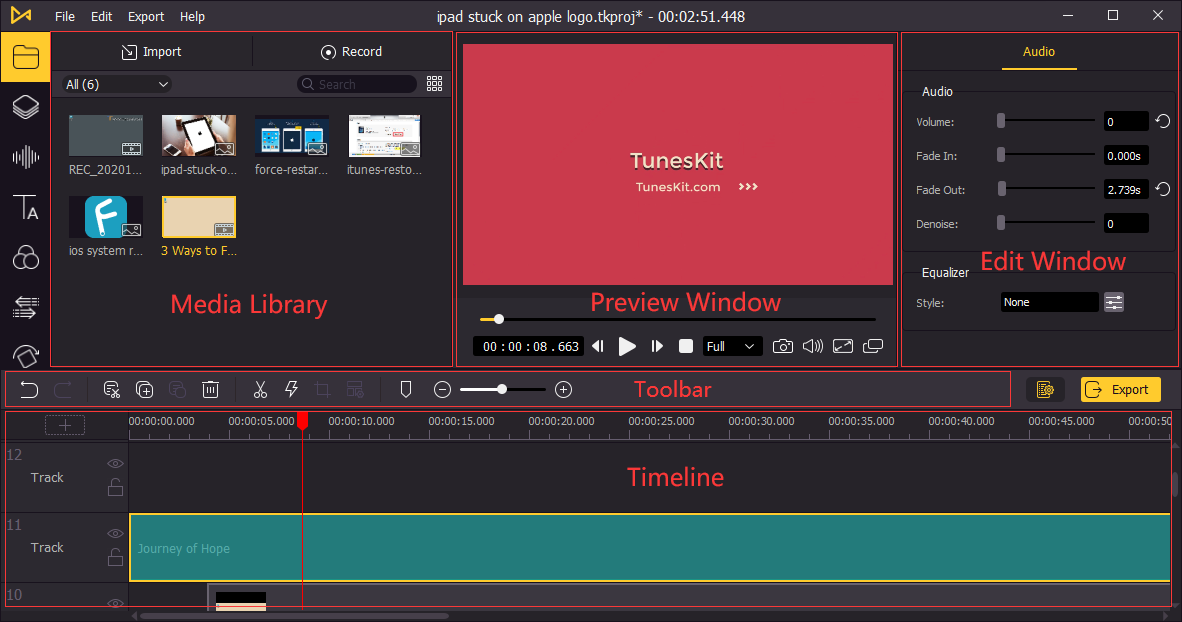 Let go of your creativity in this part. You can now use the TunesKit AceMovi tool to make a design for the content. All the editing resources in TunesKit AceMovi are able to use for free. You can download the online resources and drag them to your timeline. For editing features, you can customize your video by changing Opacity, Rotate, Scale, Denoise, Sharpness, Chroma Key, etc. in the top-right panel at ease.
Export the media file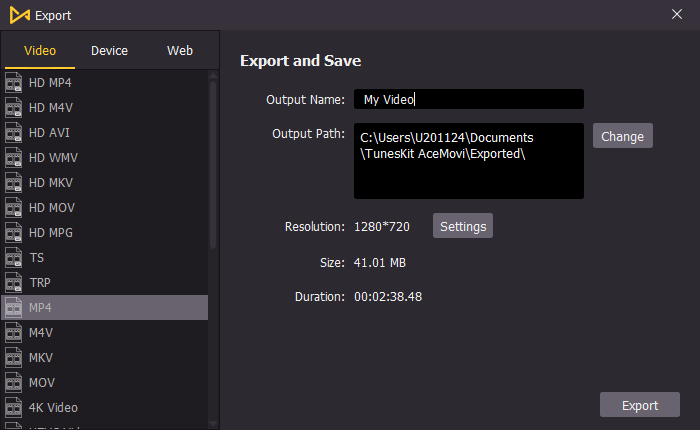 When you finally finish the editing, you can click the Export button to get your video output to your computer. In the export window, you can choose the video output path and format. If you are still confused about video editing, you can learn more tips on the AceMovi website.
The Bottom Line
That's all for how to edit video online. There is no doubt that online tools are more and more popular among the youth and equipping more complete features. Most online tools can meet your needs in video editing except for professional or movie-class editing. If you do not want to download any video editing program, online tools are ideal choices for you to achieve lightweight editing. However, I think an editing program like TunesKit AceMovi would always be a better choice for users to create a video that can get more likes and views.