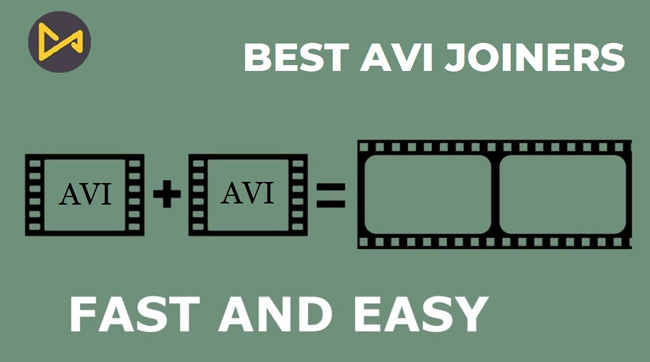 "I'm having trouble finding a reliable AVI joiner as I want to merge two AVI video files. Despite trying out many options, I've got nothing. Can you help me to make an appropriate choice?"
People who want to merge AVI video files may face such issues and find it hard to get a befitting option because some of the AVI joiners either are complicated to use or require you to pay for the exporting service.
Don't worry! We got the solutions for you - in today's post, you'll get familiar with the 8 best AVI joiners for PC & online and learn from the best tutorial on how to combine AVI files quickly and easily. Now, let's see the details!
Top 8 Best AVI Joiners for PC & Online
Top 1. AceMovi Video Editor (For PC & Mac)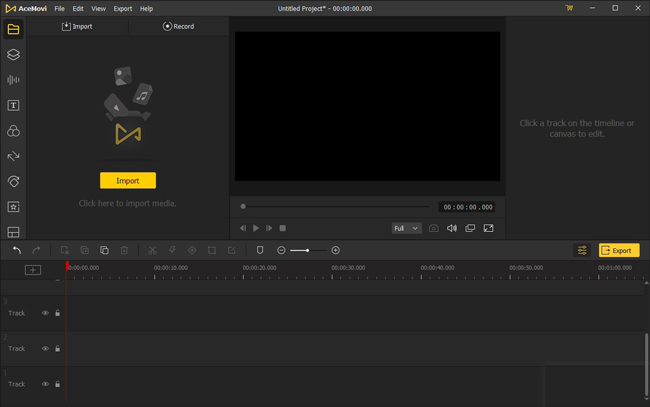 Being a multi-dimensional tool that offers many amazing video-making features, TunesKit AceMovi Video Editor is a massive addition to the video editing tool' industry. Using this magnificent AVI Joiner, you can apply AVI video files and then combine them with minimal effort.
Surprisingly, AceMovi designs with an excellent user interface which makes your job even more comfortable and within the interface, you can apply all of the video editing features from the 9 item trays including Media, Element, Audio, Text, Effect, Transition, Animation, Regional, & Split-Screen.In short, TunesKit AceMovi Video Editor is a perfect gig if you're looking to make your content superior to others.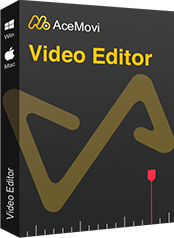 Key Features of AceMovi Video Editor
Security Verified. 5,481,347 people have downloaded it.
Pros:

Using AceMovi Video Editor, you can combine multiple AVI video files in a couple of steps
It also allows you to crop or trim your AVI video with minimal effort
If you're going to create engaging content, AceMovi Video Editor can help you serve your purpose by providing elegant and attractive filters
AceMovi Video blesses you with a highly manageable user interface, meaning you don't acquire prior knowledge of this tool
You can combine AVI files into AVI video format or other video formats as you like, such as AVI, MP4, WMV, DVD, MPEG-1/2, MOV, M4V, and more
Cons:

You need to order the subscription to remove the inherent watermark, but it's very cheap - $19.95 monthly, $39.95 annually, &59.95 perpetually. And even you can get a very big discount at some important festivals like Black Friday, Thanksgiving Day, and Christmas Day.
Here is the 2-Step tutorial on how to combine multiple AVI video files with AceMovi Video Editor, believing that you can do this very easily!
Import Your AVI Files - No Limits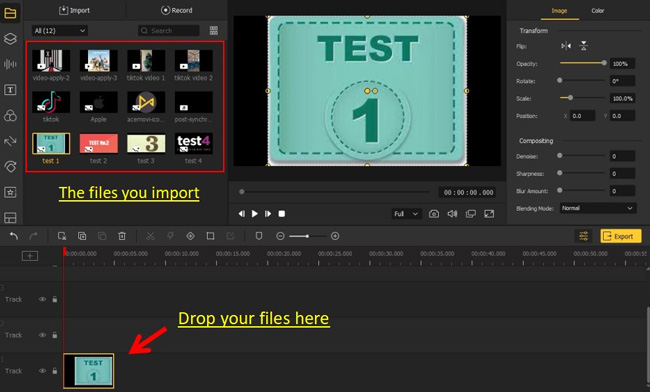 Just drop the AVI files under AceMovi, if you put them into the Media place, they will become thumbnails; or if you put them under the timeline, they will be applied to combine directly. Now, let's get into the next step.
Combine Those AVI Files & Download Your New AVI sVideo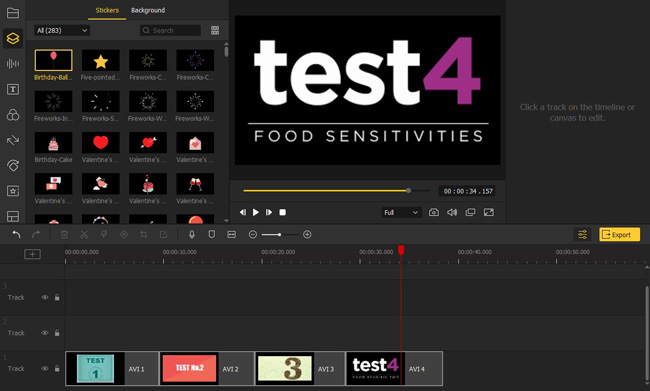 As you can see, all of our testing AVI videos have been placed under Track 1 side by side, here you can drag the file's edge to increase or decrease its duration. In fact, this is the end of this step, and to download this combination, just click that Export icon. However, with AceMovi, AVI combing is just a small tip, you can even stimulate your imagination with this tool, for example, you can try video trimming, reversing, splitting, recording, blurring, cropping, subtitles adding, and other very popular features.
When it comes to converting your AVI video files, you can choose the Video > HD AVI to download this new video as 1080p AVI format; or you can select other formats like HD MP4, in this case, your AVI video will be combined into 1080p MP4 format directly.
Top 2. Kapwing Online AVI Joiner (For Online)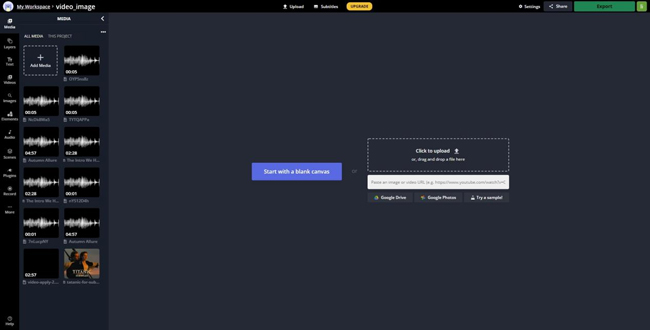 Kapwing is an easy-to-learn online AVI video editor with no watermark left after downloading on desktop. You can operate Kapwing on any device no matter computer or mobile phone and only a better internet environment is required. More importantly, with Kapwing, you can apply hundreds of ready-made video templates for school, family, social media, or even commercial use, for example, if you print those words "YouTube templates" on the searching box, you'll get all the built-in options that has been decorated with AutoFit settings like video format, aspect ratio, frame rate, resolution, and so on.
To combine AVI files online, just try Kawping, all you need to do is: (1) Search for Kawping and visit the official website; (2) Create a personal account; (3) Choose a ready-made template if you want; (4) Drop your AVI files and change the location appropriately; and lastly, (5) Export.
Pros:

It also enables you to highlight certain parts of your video to make it look more attractive
You can use just online - without any software downloading
Hundreds of ready-made video templates to use
Combine AVI video files without watermark added with
Cons:

2GB limitation in AVI file size
Top 3. Boilsoft AVI Video Joiner (For Mac & PC)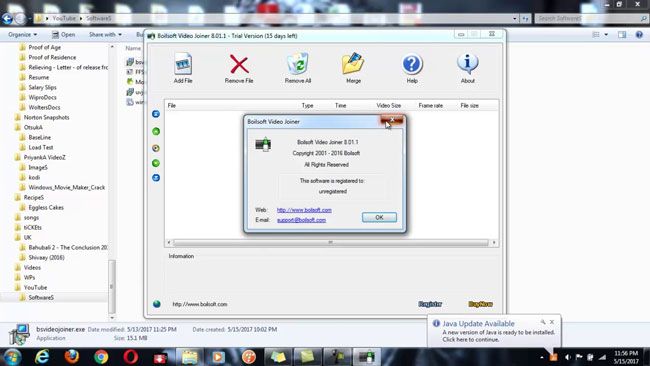 If you're looking for a reliable AVI joiner, Boilsoft AVI Video Joiner should not be missed out. It is a fantastic tool that allows you to merge multiple AVI files without any problem. Initially, Boilsoft was only used for editing AVI files, but later, the Boilsoft Video Joiner developer invented more features in this fantastic tool. Now, you can easily merge different video files without worrying about the quality. Luckily, the process to join AVI files with Bolsoft is pretty easy, as you'll only need to click the Add File to import AVI files > Tap on the Merge icon > OK.
Pros:

Boilsoft Video Joiner works pretty fast
It comes with a Wizard Guide that makes the job easier for you
Very small downloading size
You can download on both Mac & Windows
Cons:

It offers pretty limited AVI video editing options
Top 4. ImTOO AVI Video Joiner (For PC, Mac, & iPhone/iPad)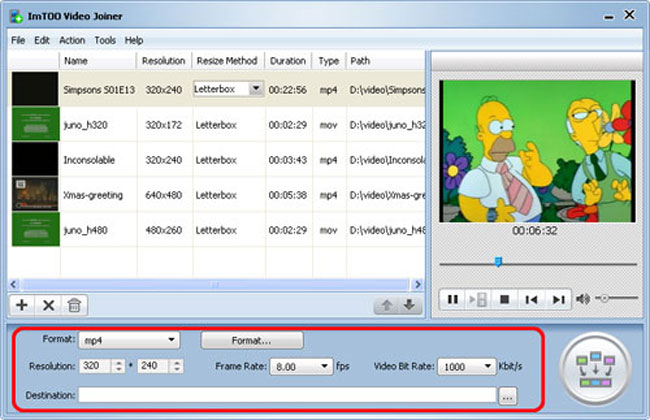 Like Boilsoft Video Joiner, ImTOO is also a versatile software to join AVI files with minimal effort. Unfortunately, this tool doesn't come up with a free version. Instead, you'll have to buy its premium version. Moreover, you can get your money back if the tool doesn't live up to your expectations. Apart from AVI files, ImTOO Video Joiner can also merge FLV, ASF, DAT, MPEG, HD, MKV, WMV, and other formats. To make AVI files combined on ImToo, you need to: By the premium version and launch it > import AVI videos > set the format, resolution, frame rate, bit rate, and destination > click Export tab.
Pros:

You won't face any video quality loss using this tool
It supports multiple video file formats
Very easy to operate on your desktop
Top 5. Free Easy AVI Video Joiner (For Mac & PC)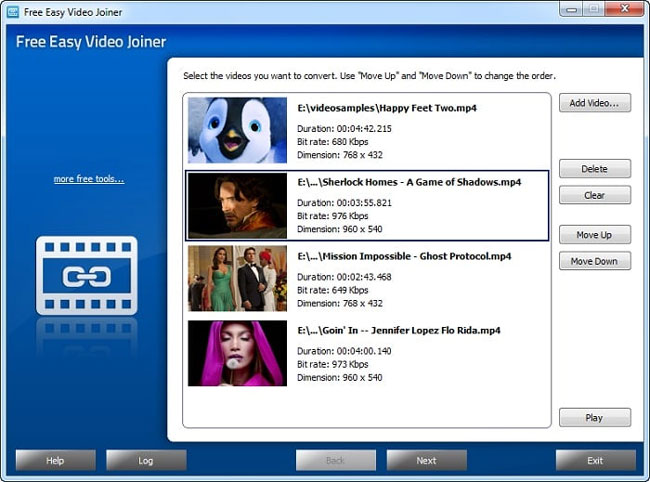 Free Easy AVI Video Joiner can merge AVI files effortlessly, but it can also merge other file formats files, including MP4, MOV, MPEG, and WMV. Surprisingly, it also allows you to connect multiple files without any trouble. Apart from merging files, Easy Video Joiner also makes sure the original video quality doesn't get compromised. Importantly, Easy Video Joiner comes with a pretty straightforward user interface, making your job effortless. To merge the AVI videos with this tool, you need to download it > Click the Add Video... > Click Next > Tap on the Download icon.
Pros:

Using this tool, you can merge multiple files simultaneously
It comes with a pretty straightforward user interface
Free to use for both Mac & Windows
Cons:

Sometimes will get stuck if the AVI files are large
Top 6. AVS AVI Video Joiner (For PC Only)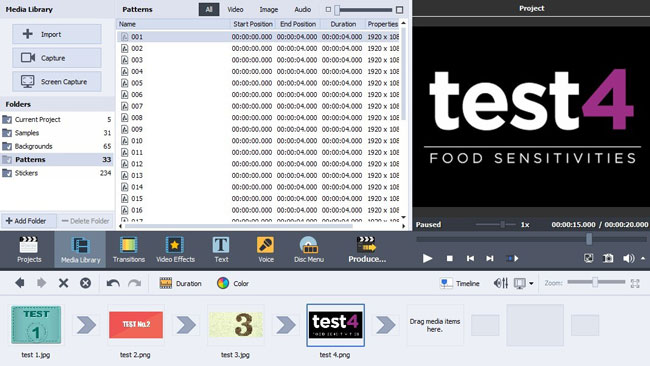 AVS Video Editor can entirely perfectly edit your video clips apart from merging video files. This is a free AVI joiner that allows you to combine more than two AVI video files without paying any penny. Unlike some other tools, AVS Video Editor doesn't damage the original quality of your video. Instead, it offers a brilliant opportunity to make your video quality even more superior than ever. And to join AVI files with AVS, you need to add a new project > Import > Download.
Pros:

It supports multiple file formats
AVS Video Editor can perform more than one task
You can apply some of the inner templates directly
Cons:

It can take a lot of time to serve your purpose
Top 7. AoA AVI Video Joiner (For PC Only)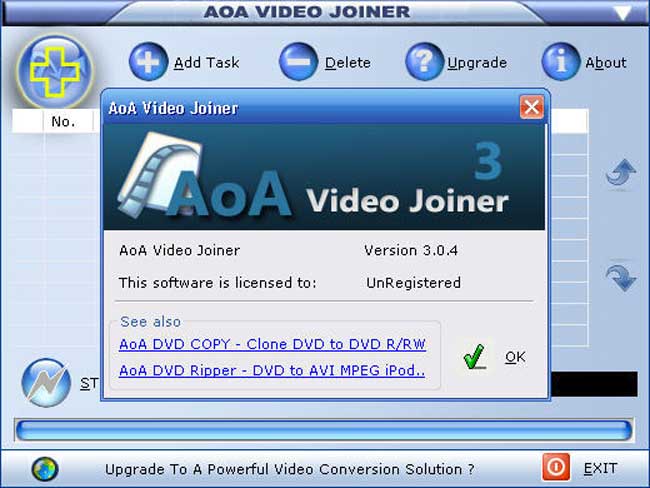 AoA AVI Video Joiner is a professional tool that can join multiple video files. Many professional and popular content creators have been using this to merge their important AVI files. Besides combining AVI, AoA Video Joiner can also integrate videos of other files formats, including WMV, MPEG, and MP4. The interface that this AoA Video Joiner comes up with is nothing less than straightforward. And to combine AVI files on AoA, all you need to do is: Click the Add Task to import AVI videos > Range the sequences of your files > Hit the OK button to download your new file.
Pros:

It helps you to merge multiple files into one single file
You can click its inner link to use the mating tools like DVD Copy
Free availability
Cons:

It can install some irrelevant stuff along with the original file
Top 8. AVI Joiner (For Mac & PC)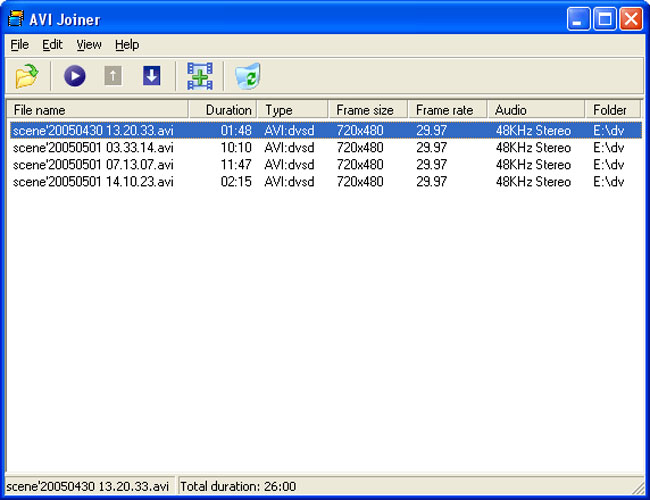 If you're worried about the speed of AVI Joiners, you must consider acquiring the services of AVI Joiner. It is a brilliant tool that makes your job much easier by providing unbelievable services. Using this tool, you can merge multiple AVI files into one file. Importantly, it comes with a pretty straightforward user interface, meaning merging AVI files will be all fun using this extraordinary tool. And to combine AVI files, you need to click the drop-down menu File to import and then click the Edit to choose Merge Videos.
Pros:

Fast to use
Download with no watermark embedded with
Compatible with AVI files with various resolutions and frame sizes
Cons:

Lower video quality
Zoom Table - Details of the 8 AVI Joiners
This is a zoom table to compare the differences between the 9 AVI joiners, you can get information like user experience, pricing, OS, combing speed, and so on.
| | Video Formats to Use | Free Version | Paid Version | AVI Combine | Video Trimming | Video Reversing | Video Splitting | Video Templates | Advanced Tools | OS - Both for Win & Mac |
| --- | --- | --- | --- | --- | --- | --- | --- | --- | --- | --- |
| AceMovi Video Editor | More | √ | $19.95/Month, $39.95/Annual, $59.95/Perpetual | √ | √ | √ | √ | √ | √ | √ |
| Kapwing | Medium | √ | $16/Month | √ | √ | √ | √ | √ | √ | Online |
| Boilsoft | Medium | √ | $22.46/Perpetual | √ | × | × | × | × | × | √ |
| ImToo | Medium | × | $19.95/Perpetual | √ | √ | × | × | × | × | × |
| EASE | Less | √ | × | √ | × | × | × | × | × | √ |
| AVS | Less | √ | $69/Annual, $199/Perpetual | √ | √ | × | √ | √ | × | Windows Only |
| AoA | Less | √ | × | √ | × | × | × | × | × | Windows Only |
| AVI-J | Less | √ | × | √ | × | × | × | × | × | √ |
Conclusion
If you were confused regarding befitting AVI Joiner, we're pretty hopeful you've your work cut out through this paper. The tools we've discussed in this piece of writing are simply brilliant and can make your job a lot easier than you think. Of all the AVI Joiners we've explored, AceMovi Video Editor is far superior based on user feedback and practical testing. And it is a pretty fascinating video editor that can merge multiple video files into single files.