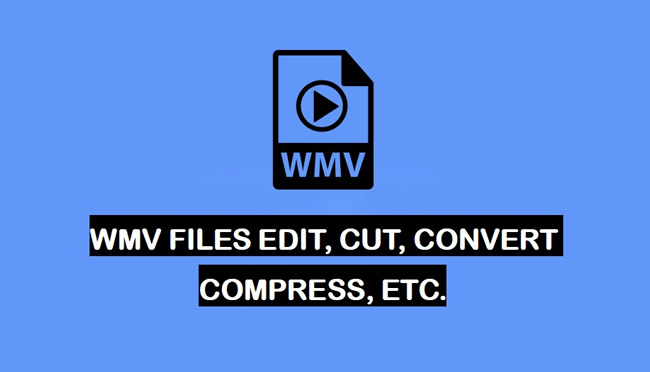 Microsoft made the WMV file as a kind of Windows Media file extension, which is a series of video and audio codecs based on Advanced System Format (ASF) and mainly used for Internet streaming applications like Short Animations, HD DVD, or Blu-ray Discs. If you want to edit WMV files like adding stickers & texts, cutting, cropping, zooming, converting, and compressing the videos, just join us here and we are willing to share with you the best guides of how to edit WMV files on your Windows 10, Mac, and online.
How to Edit WMV Files with AceMovi Video Editor - Basic & Advanced WMV Editing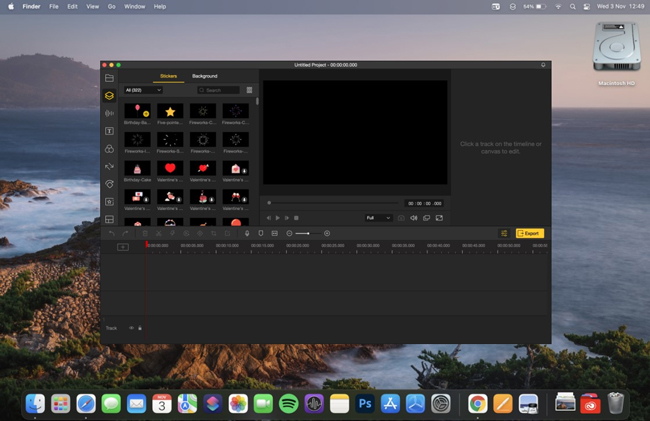 Through lots of software testing, we think that AceMovi can be the best WMV files editor for both individual & commercial use. And the reasons mainly lie in two points, one is the robust editing software backup, which means that you can use it offline to make high-quality WMV videos at any time, in the process, there won't be lags or other troubles annoy you. The other is AceMovi's very easy-to-understand interface, viz., you can find the features' icons whatever basic or advanced to begin your WMV editing just within the default screen, like WMV splitting, merging, cropping, zooming, key-framing, accelerating, and more.
Anything else? When it comes to converting and exporting WMV files, AceMovi supports you to convert WMV files into most of the video formats like MP4, M4V, AVI, MKV, MOV, & MPG, etc., and you can export WMV into YouTube, Facebook, Vimeo, or other popular social media as well.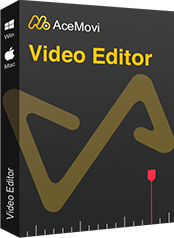 AceMovi Video Editor
Security Verified. 5,481,347 people have downloaded it.
Fully-featured editor that makes your WMV video better
Hundreds of filters, transitions, text, sound effects, music
User-friendly interface & an overall WMV editing tutorials
Supports most of the video formats, devices, social platforms included
Stable and Robust system backup to make WMV vidoe in high-quality
Part 1 Basic WMV Editing of AceMovi
To import, you can drop the WMV videos on the timeline directly or follow the steps of Import > Add to Timeline. If you want to do multi-tasks, remember to make a queue of WMV videos, and you should know that the WMV clips on Track 2 will cover the clips on Track 1.
How to Add Video Elements in WMV Files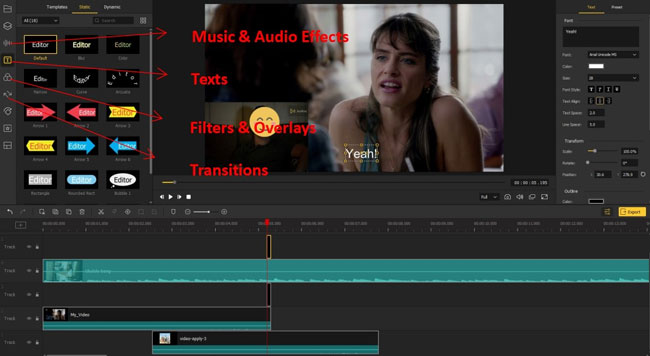 Firstly, you should go to the left item containers such as Media, Music, Text, Effect, Transition, etc. to choose the video elements and then drag-n-drop them on your WMV files. For instance, to apply texts on WMV files, you need to add the text into the WMV clips and set it as a subtitle like "Yeah!" on the right panel where you're allowed to apply the new font, size, align styles likewise. Afterward, just re-size the width of the texts in the timeline to control the duration to make it synchronous.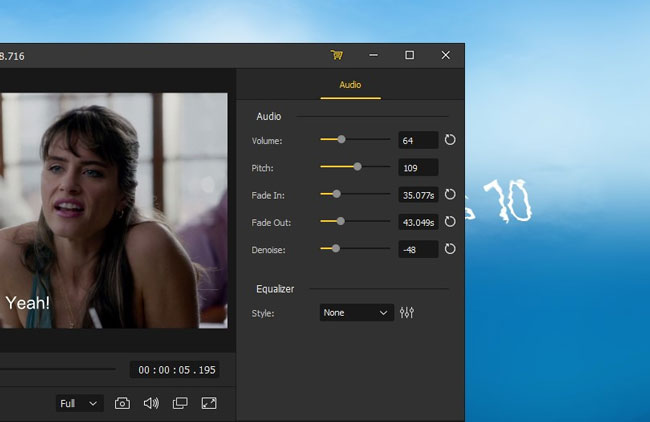 AceMovi designs 50+ built-in music and audio effects, to apply music on WMV videos, for example, you can pick up the Ukulele Song from the Audio and then apply it under the timeline, then slide the sliders to alter Volume, Pitch, Fade-in & Fade-out, and Denoise.
How to Do WMV Videos Cut, Convert & Compress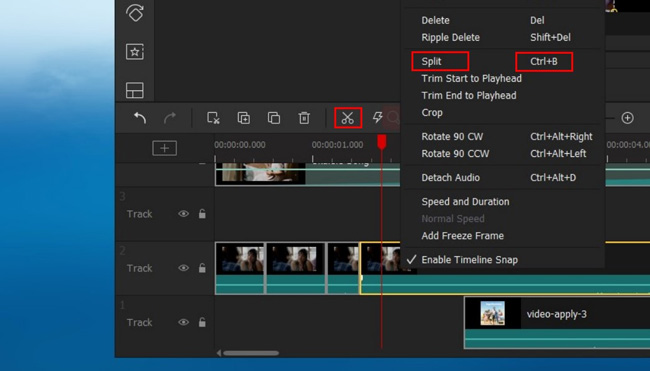 To cut the WMV files, 3 methods are available: first, press the shortcut Ctrl + B; second, click the Split icon (shaped like a scissor); third, right-click on the video to choose the Split. Note: Keep in mind that you have to move the red controlling line upon the cutting point before getting started.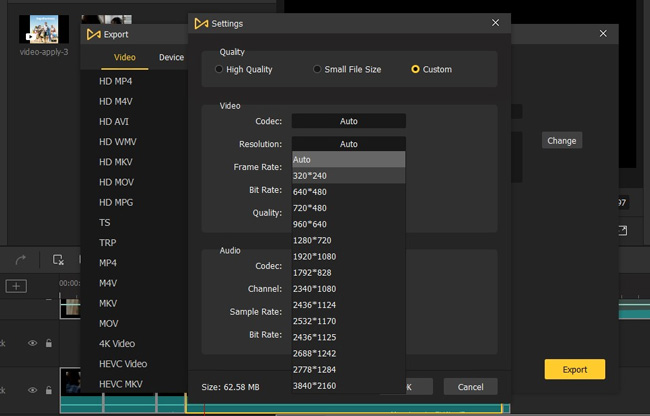 To compress WMV files, go to the Export > Settings > Custom > Resolution where you can change the original resolution from 320*240 to 3840*2160 (4K), here you need to choose the lower resolution to make your WMV compressed. Also, you can change the codec, frame rate, quality of audio & video to compress the WMV file as well.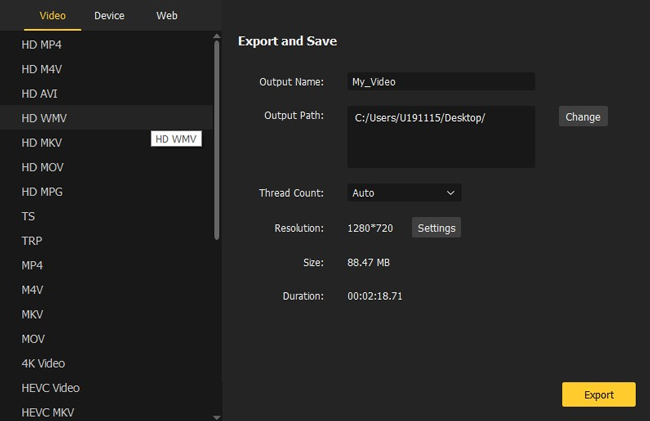 AceMovi comprises 3 exporting options - >Video Formats, Personal Devices, & Social Webs. So, to convert WMV files, just go to the Export and choose the converting format from the three categories.
Part 2 Advanced WMV Editing on AceMovi
Interested in advanced WMV editing features? Go on scrolling down.
How to Use Pip & Split-Screen in WMV Files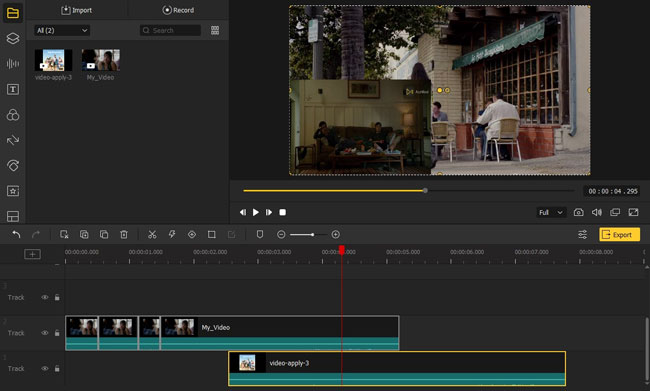 AceMovi is professional in splitting the video into 2, 3, 4, or more windows, which means that you can use AceMovi to play more WMV videos at the same time in the form of the duet or reaction. For example, to apply the Pip effect, you just need to add the WMV files into different tracks. Then, resize the smaller windows by hold-n-drop in the canvas.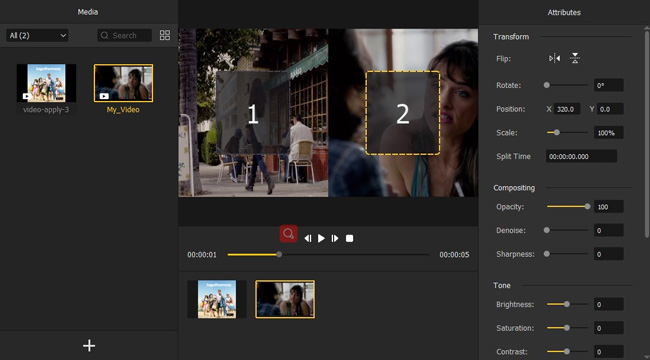 Want to use the Split-screen in your WMV files? The Split-screen tab was set as the last one on the left item menu. Then, after the next window pops up, you can change the Rotate, Position, Scale, Opacity, and more parameters of the applied WMV files.
How to Make WMV Videos Slow-Motion or Fast-Motion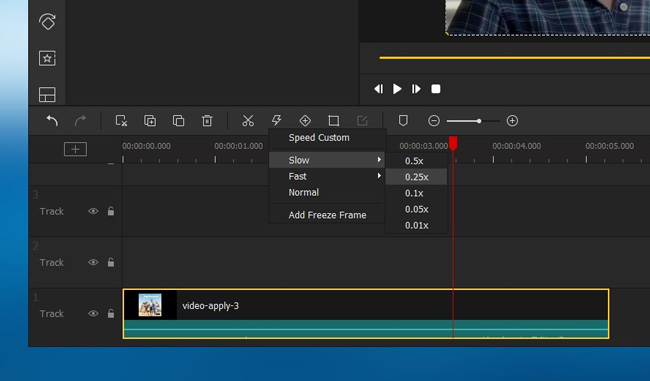 To add the slow-motion effect in your WMV videos, you should click on the Speed icon under the toolbar, then choose Slow and 0.25x. Here, you can choose other speeds or customize the speed as well. Note: the steps to use the fast-motion effect is the same.
How to Edit WMV Files Online by Video2Edit without Watermark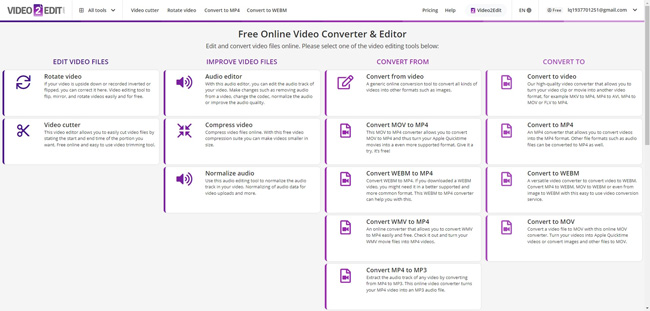 If you'd like to edit WMV files online and you don't want any watermark added, try this: Video2Edit, which is a browser-based video editing toolkit that contains more than 15 kinds of video and audio editing features. To be detailed, you can use Video2Edit to make your WMV file rotate, cut, compress, normalize, & convert just on a few pages. Now, let me give you an example about how to cut the WMV files online by VideoEdit2.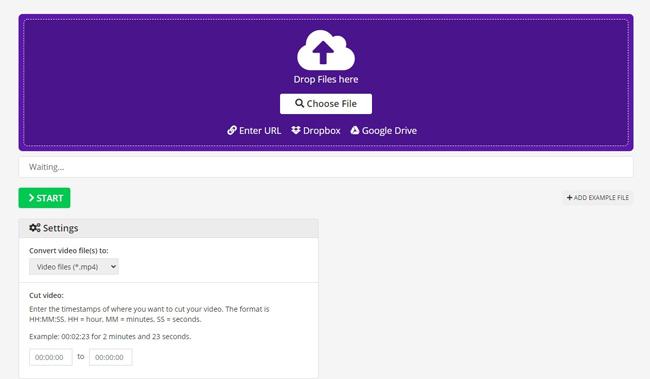 Unlike AceMovi, you should choose the Video Cutter option on the home page by Video2Edit and upload WMV videos from local or by URL, Dropbox, and Google Drive. Next, you can choose the converting video files like AVI, MOV, MP4, WMV, MKV, WebM, and so forth. Most importantly, you need to enter the timestamps of the starting and ending points to cut your videos.
Lastly
The above are the 2 best WMV video editors on desktop and online. In fact, we just listed very few basic and advanced functions to edit WMV videos on AceMovi video editor, for more detailed guides, you can download AceMovi here directly.