In daily life, we will always take videos to record some precious moments. But we won't always take a perfect video. Sometimes the video might be taken in the wrong direction or angle. And it might be a .wmv video. So many people might ask: how do I rotate a WMV video? Don't worry. This article will offer you some easy ways to rotate WMV video, including rotate WMV video online and offline.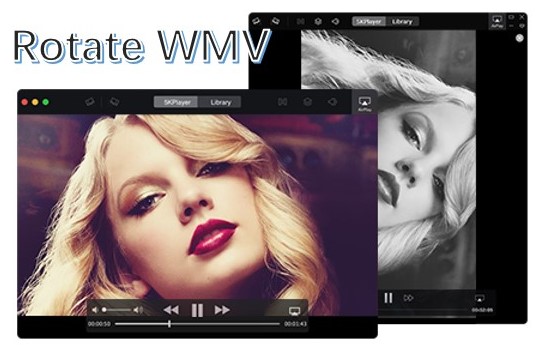 Part 1. What is .wmv
Firstly, what is .wmv? Here, I will give you a WMV definition to help you better understand this common video format.

Windows Media Video file (WMV) is a file format developed by Microsoft. It is a compressed video container format for Windows Media. WMV file format is a commonly used video file format which is used mostly to save videos in Windows. Since it has the feature of "Digital Rights Management", which can prevent copying the data from this file format, many people use it to sell video contents online.
Part 2. Rotate WMV Video with TunesKit AceMovi
A Powerful Software to Rotate WMV Video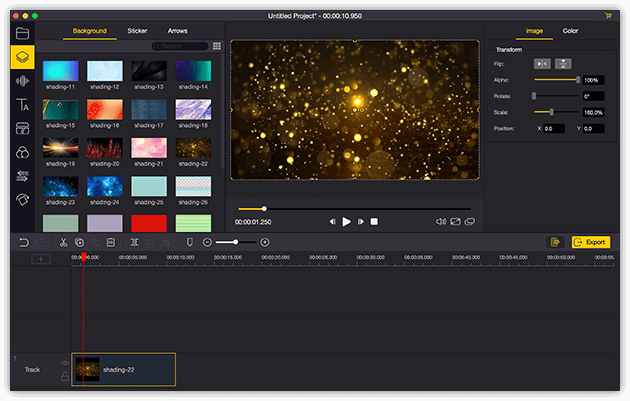 TunesKit AceMovi is a video editor that comes furnished with ingenious features to help its users to edit their video files. It firstly is a highly compatible program that supports lots of video formats and devices. So you can rotate WMV file in TunesKit AceMovi without any hassles. Next, AceMovi enables users to do some basic edits to videos. Take it more specific, you can cut or split a video, combine several video clips into one, rotate or flip a video, zoom in or zoom out a video, and much more. Additionally, AceMovi provides users with multiple well-rounded features to elevate visual engagement of the video files, such as adding text, filters, audio, regional effects, transitions, and so on.
One thing worth mentioning is that TunesKit AceMovi stands out from other video editors in the current market for its easy-to-use interface and user-oriented characteristics. In TunesKit AceMovi, you won't come across any problems in regard to using methods when editing videos. As an advanced video editing toolkit, AceMovi is committed to helping everyone explore digital life more easily. Whether novice or professional, TunesKit AceMovi welcomes you all.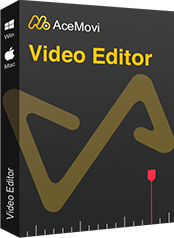 TunesKit AceMovi Video Editor
Security Verified. 5,481,347 people have downloaded it.
Basic and advanced features that polish your video
Rich built-in resources
Easy to use
Deal with several videos at the same time
Rotate WMV video in just a few steps
Easy Steps to Rotate WMV Video
Here is a step-by-step guide to solving your problem of how do I rotate a WMV video. Since we need a powerful tool to help us rotate WMV file faster and easier, before editing, please go to the TunesKit website, download and install the app for a free trial.
Import WMV video to TunesKit AceMovi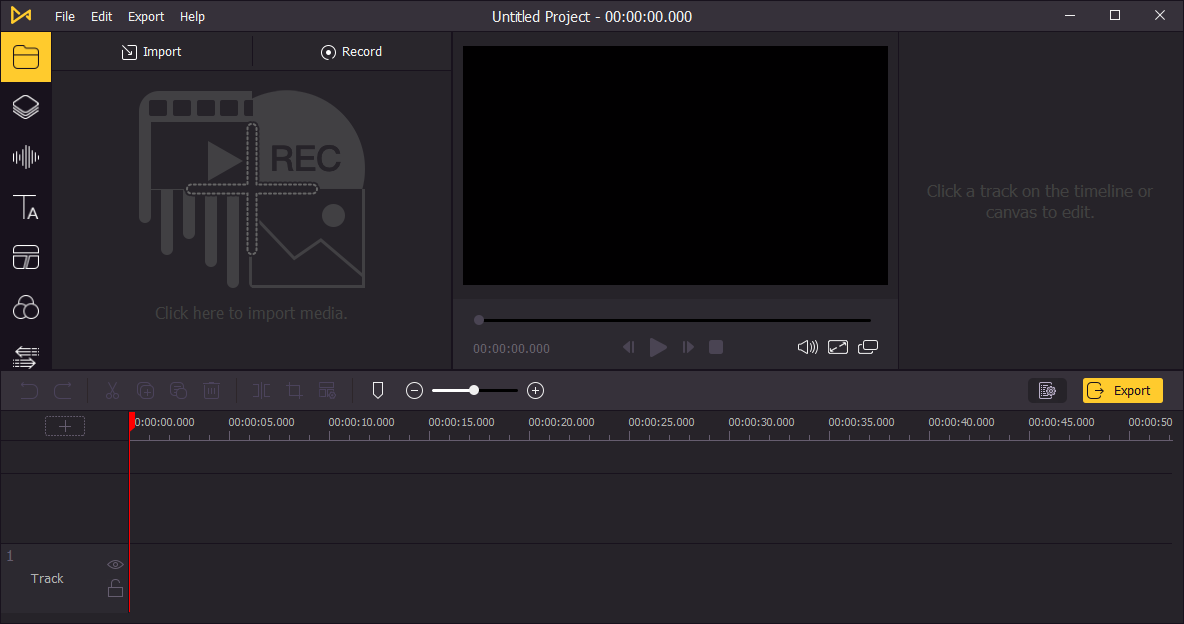 Three available ways for you:
1. Open TunesKit AceMovi, click the "Import" button to import the WMV video file and then drag it to the timeline.
2. Drag and drop WMV file into the media box directly and then drag it to the timeline.
3. Drag the video to the timeline directly.
Rotate WMV video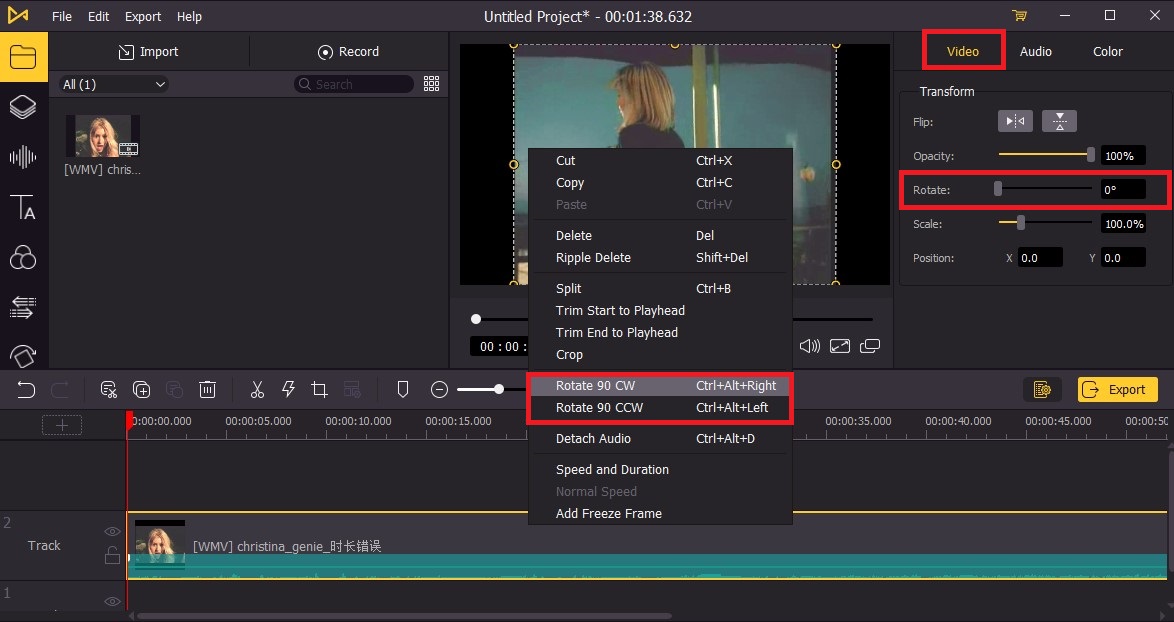 For one thing, you can click on the video on the timeline, and then move to the upper-right panel. You will then see the "rotate" option there. Drag the slider to rotate the video or directly type in the rotate angle you want on the right. Another simpler way, rotate WMV file to any angle by directly spinning the video in the preview window.
For another, if you just need to rotate WMV file 90 degrees clockwise or counterclockwise, AceMovi can also match your need. Move to the video track on the timeline, right-click, then you will see a window pop up. Click "Rotate 90 CW" or "Rotate 90 CCW", then you can successfully rotate WMV video 90 degrees.
Export WMV video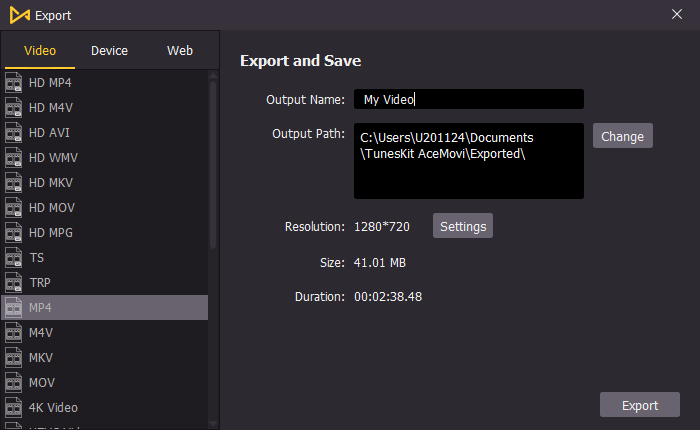 When finished the above steps, you can now preview the final video in the preview window to check if it is OK. Then you can hit the "Export" button to export your video. You can select the output path and edit the output name as well. Then it's time to enjoy your marvelous WMV video!
Part 3. Rotate WMV Video Free with an Online Tool
For some people, they may just need to rotate WMV file for one or two times. So they may just want to rotate WMV video online for convenience. Here I will share with you an online tool - Kapwing. With Kapwing, you can easily rotate WMV video free within the following steps:
Step 1. Open Kapwing.com and click the button "start editing".
Step 2. Import WMV video file to this free online rotator. You can click to upload or drag and drop a file to the media box, or you can paste the URL of the WMV video file. Then add the file to the timeline.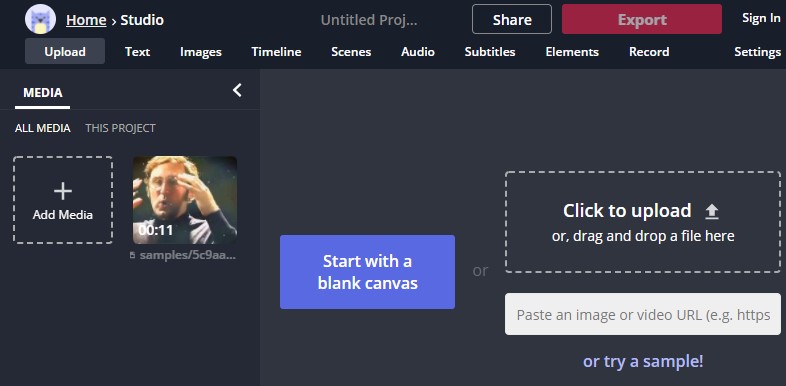 Step 3. As is shown in the picture, you can rotate the video file by clicking the "rotate" icon or hitting the "-" and "+" icon. Also, you can directly spin the WMV file in the preview window directly. But it is a pity that you can't just type in the rotate number you want directly as in TunesKit AceMovi.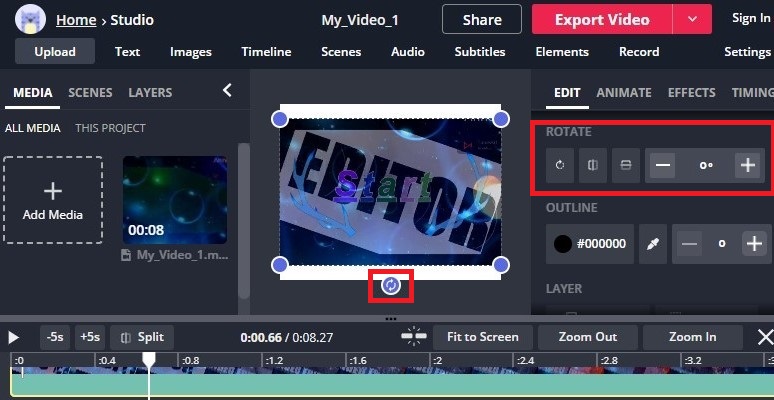 Step 4. After finishing your edit, click the "export video" button to export the video. Small tips: it's a little bit slow to export the video in Kapwing. And only by signing in to an account can you remove the watermark.
Part 4. Final Words
As for now, we have gone through a powerful offline tool TunesKit AceMovi and a free online tool Kapwing to rotate WMV file, along with the specific steps of each one. As we can see, Kapwing can support you to rotate WMV video free and rotate WMV video online at the same time. But it has some drawbacks as mentioned above. While TunesKit AceMovi can help rotate your WMV file easily and quickly with its powerful features. So, you can take it into consideration next time you need to rotate WMV file.