"I've been recording clips/demos/etc with OBS. And I used to edit them with the Windows Movie Maker yet this tool is not so helpful I found and Microsoft seems to be discontinuing it. So I'd love something that is very easy to use for simple edits, cuts, and fades in my gaming videos."
When you just finished recording a great game on your computer and are ready to put it on YouTube, have you ever considered making it better before uploading on social media? Actually, there're lots of gameplay videos on YouTube that are far from watchable. Either they're tedious or not eye-catching enough. But now you've got an opportunity to make your vidoe game stand out. In the following parts, I'm going to show you the 10 best video game editors to embellish your gaming video to a higher level. Now, let's get started!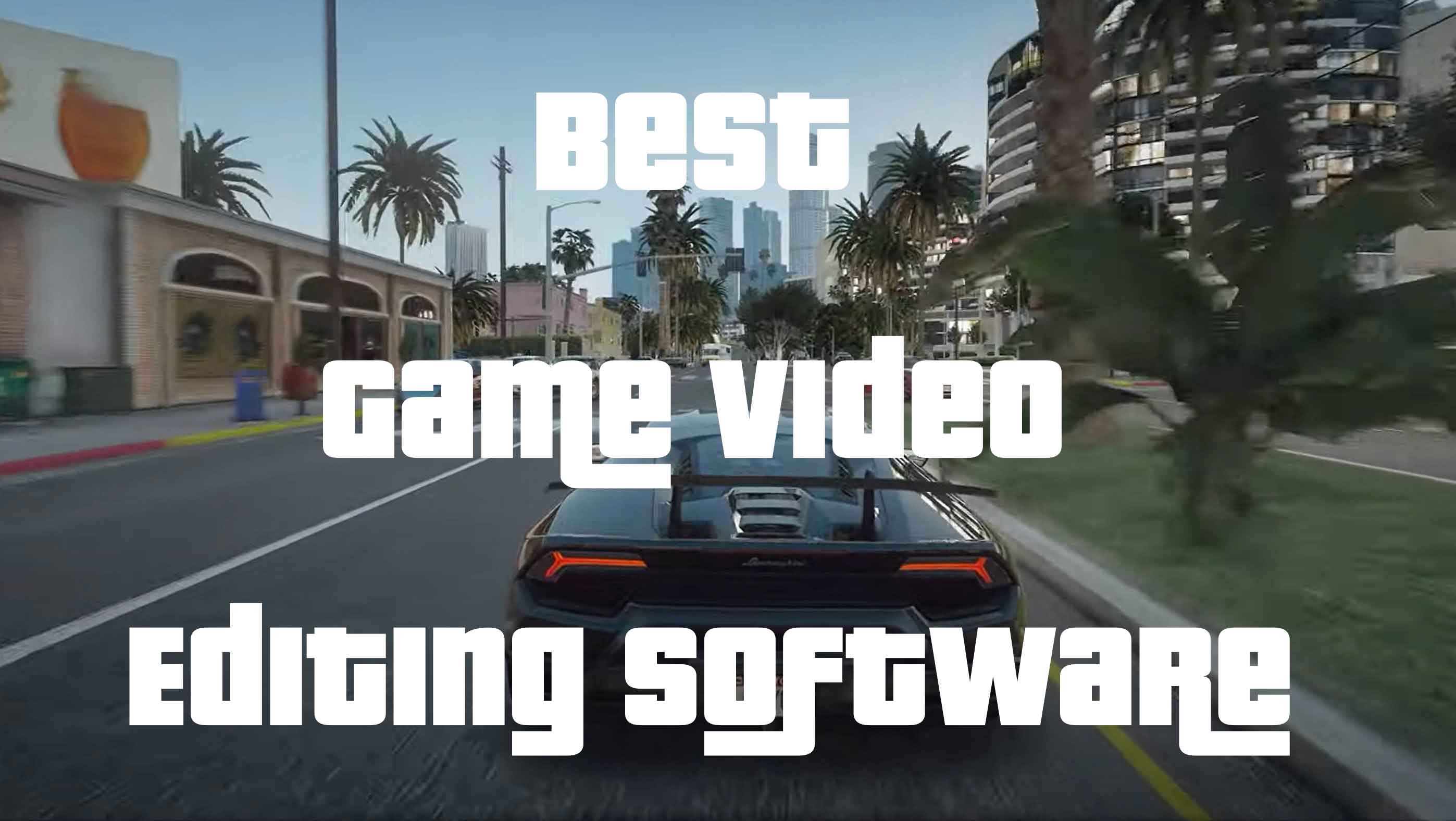 5 Best Video Game Editors for Mac and Windows 10, 11
1. AceMovi Video Game Editor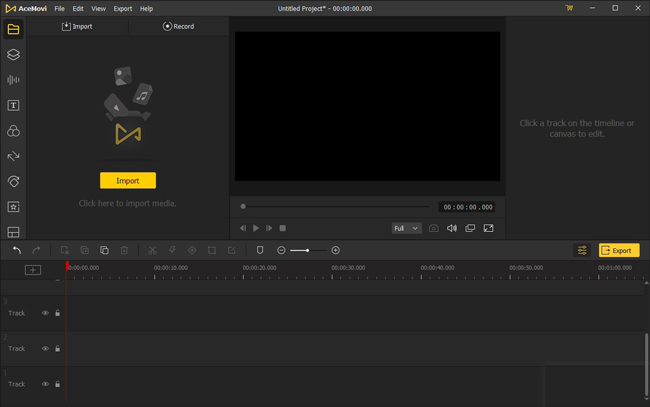 If you're a beginner in the game video editing field, it must be frustrating using some pro video editors. Actually, for most gaming video makers, all they require is just a video editor embedded with easy-to-use UI and some small editing features. Based on our software testings from effects, qualities, and overall performance, we think that TunsKit AceMovi is definitely the best game video editor for gaming clips' level-up.
This software comes with an in-built screen recorder so you don't need to find a video recorder. To record your video in real-time, you need to download AceMovi on your desktop first, install it, and go to the Recorder button. Afterward, you can edit your gaming video with tools such as Splitter, Cuter, Chopper, Converter, Titler, Filter, etc., or add post-production voice-over, your favorite gaming fighting background music, or some funny stickers.
Now, it's very easy to start with AceMovi, just click the following button and you can choose the button for Windows or Mac! Then I'll show you the basic tutorial on making an exciting game video. In this process, you'll learn how to record your gameplay ongoing, how to import the game clips as well as how to cut the unwanted parts. Here we go!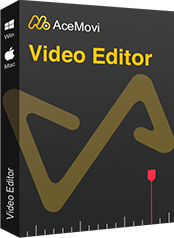 AceMovi Video Editor
Security Verified. 7,320,008 people have downloaded it.
Reasons to Try:

One of the pragmatic video game editors for both Mac, Windows 10, 11
200+ text templates, static and dynamic
User-friendly layout
Various output options to choose from
Effortlessly make a split-screen video for gaming players
Fewer laggings when processing
Download gaming video at the AutoFit format for YouTube, Facebook, Vimeo, FLV, etc.
On the free version of AceMovi, you can try all of the tools and effects inside for free without any restriction
Downsides:

Right now, the constrcution of AceMovi Video Game Online version is going so better stay stuned
On the free version, only the watermark-free service needs a subscription, and the plans include Month ($19.95), Year ($39.95), and Pepetual ($59.95)
Beginners' Tutorial - How to Edit Gaming Video with AceMovi
Record the Gameplay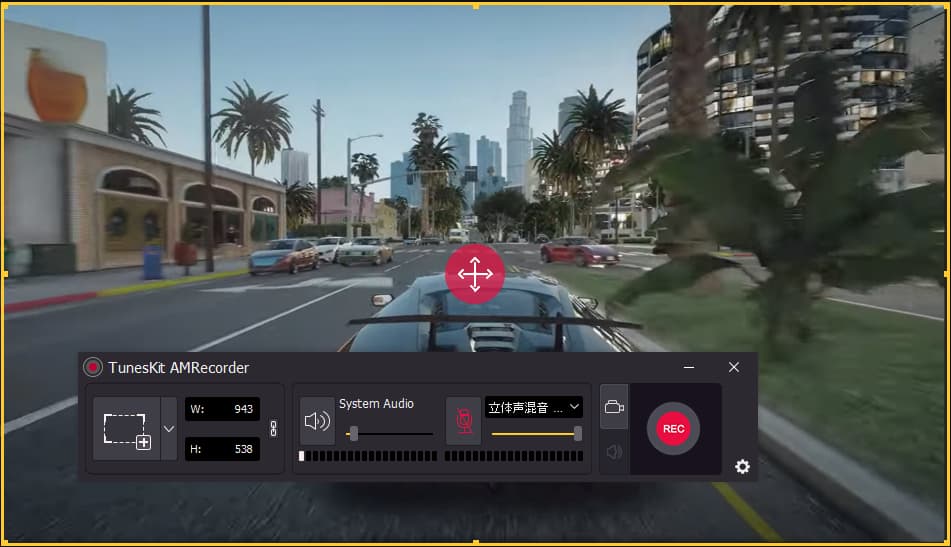 Open AceMovi on your computer, click on the Record button on the upper left of the user interface. Choose the recording area, then you can click on the REC button to start recording. Also, you can choose to record the audio from your gameplay. After the recording, you can find the recording thumbnails on the media box.
Add Your Gameplay to the Timeline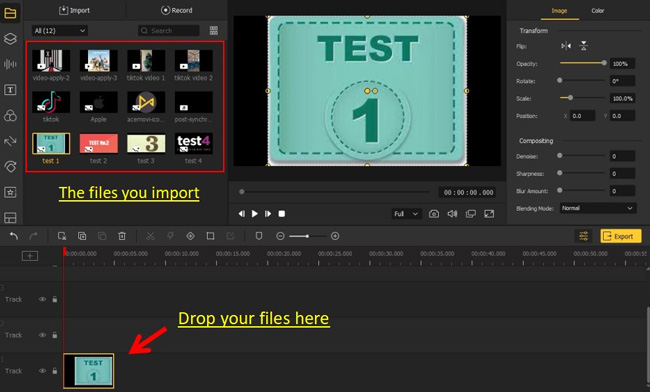 To add the recorded gameplay to the timeline, simply drag-&-drop the files from the media box to the timeline. If you have multiple recordings, you can press the Shift button, hold it, then click on the files you want to add. And then drag all of them to the timeline, in this way you can add several recordings at once.
Cut Unwanted Clips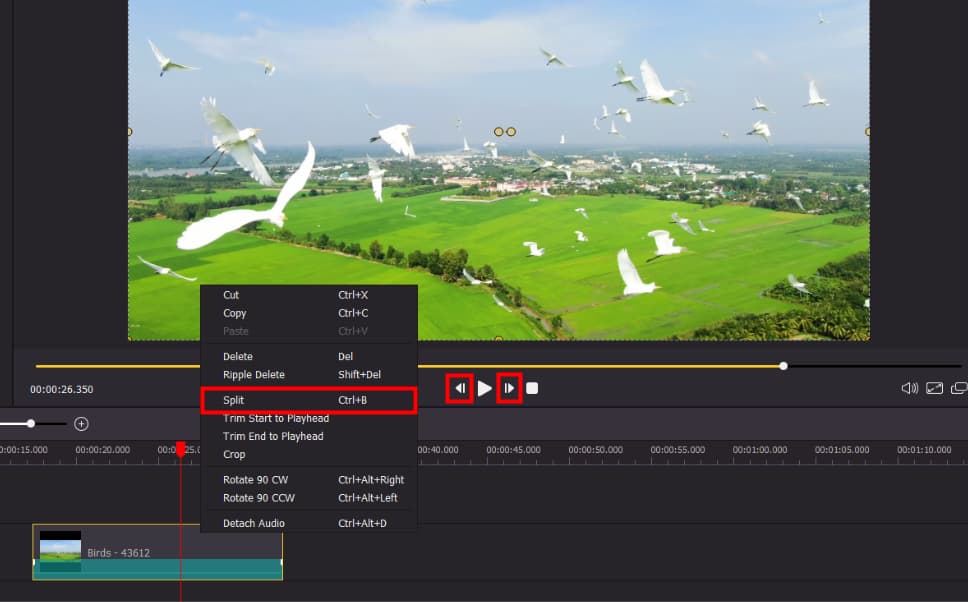 There must be parts that you don't want to leave in your video. To cut those clips, move your cursor to the point where you want to cut and then click the

. Then move the cursor to the poting where you want to end the cut and click the Split icon again. Then right-click the video you have cut out and choose Ripple Delete.
Export Video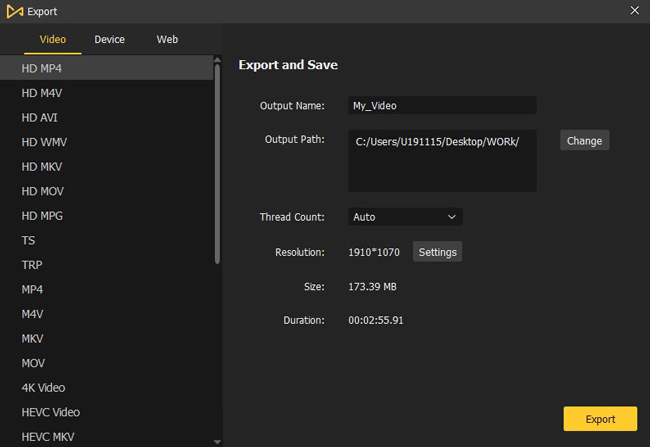 Once done editing your video, click the Export button on the middle left and export your video. Click the Settings, you'll be able to choose the output parameters. And by clicking the Change button, you can change the output location.
It's suggested going to Web > YouTube if you're planning to upload the videos on YouTube Studio. In this case, your game video clips will be converted as the best format, resolution, codec, and aspect ratio that YouTube Studio needs.
2. Davinci Resolve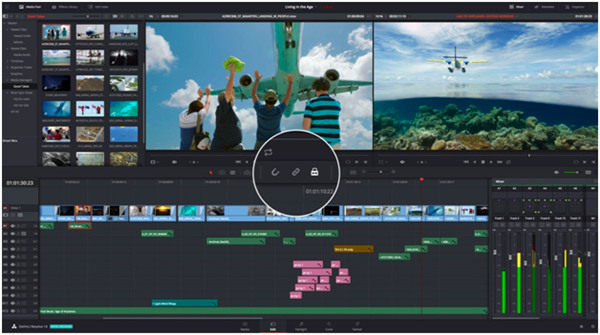 DaVinci Resolve is a free non-linear game video editor which comes with all the features you need to cut together your gaming video, color it, and even add some basic effects. It is stripped down compared to some of the paid options, but it's pretty good for being free software.
This video game level editor also provides users with a pro color grading tool and sound balancing tool. Specifically, you can use the sound wave to alter the pitch, make the video and audio plays synchronously.
Pros:

Full 3D workspace with over 250 tools to edit gaming video
32-bit float processing
Legendary color tools
High Dynamic Range Grading
Watermark-free video game editing software
Cons:

Require high-performance computer
One-time purchase
3. Premiere Pro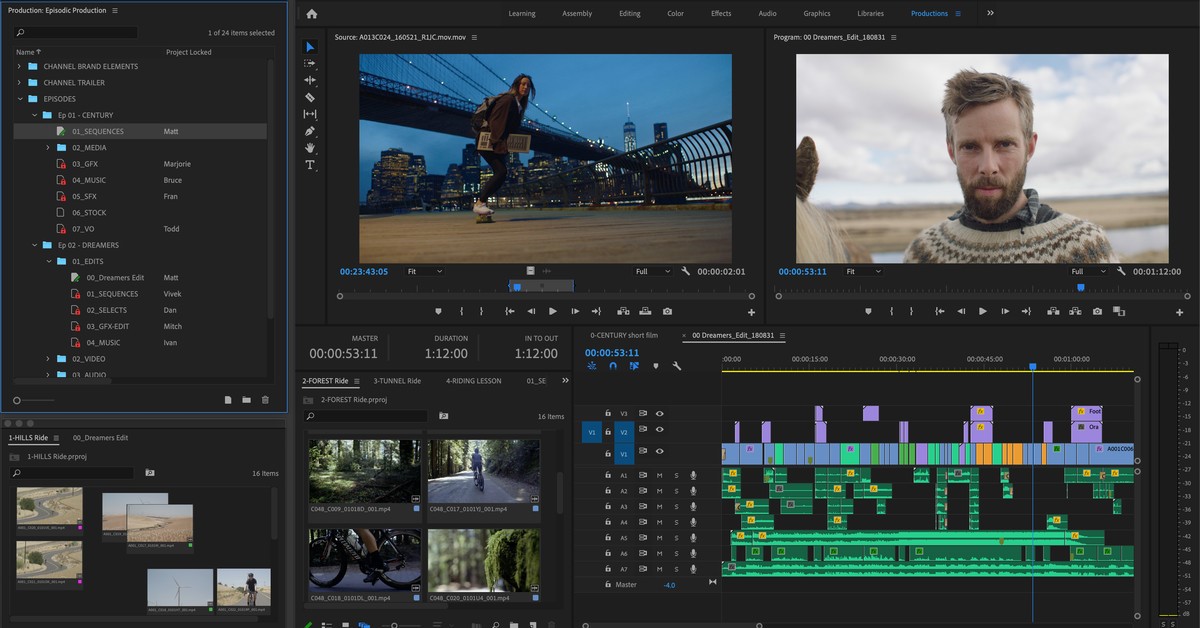 Adobe Premiere Pro is one of the most popular video game editors in the video editing field. It's basically an industry standard used by professionals, YouTubers, and filmmakers. It comes with an abundance of eye-dazzling features for gaming video making. But there's a using restriction you need to care about, meaning that only 90 days are free for each account.
Like many technical programs, Premiere Pro is a bit of a learning curve, but once you master this video game video editor, it is a powerful piece of software that can create stunning visual effects and link audio and video tracks automatically with a host of valuable time-saving features.
Pros:

Multi-cam angles are limitless
Professional video editor for Windows 10 and Mac
Can import raw file format from cameras, smartphones, and DSLRs
High Dynamic Range Grading
Stellar stabilization
Cons:

No media keyword tagging
Brand watermark embedded on the free version
4. Final Cut Pro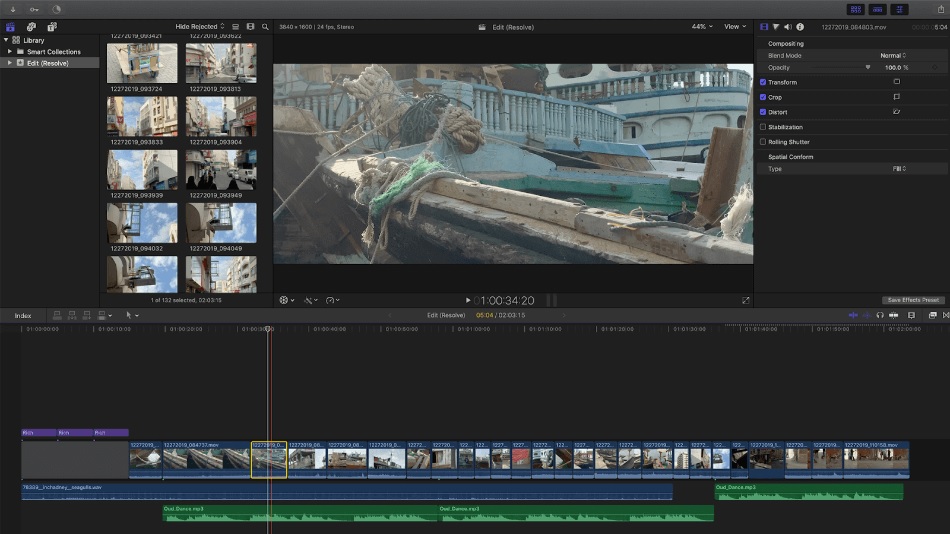 Apple's Final Cut Pro is a highly capable and highly respected tool for professional gaming video editing. With features including 360° video, HDR, and advanced tools for color correction, Final Cut Pro X is optimized to get the most out of your Mac and integrates nicely with the relevant parts of Apple's ecosystem, such as your Photos or iTunes collections.
The main thing that counts against it is that it's not available for Windows. On the upside, it's subscription-free. You only have to pay once to own the whole software. More importantly, during the 90-day free of use, you'll see a watermark when downloading your gaming videos.
Pros:

User-friendlys video game editor for Mac
Top-rated editing and media management
Compare the effects in real-time
Specialized areas to make gaming video edits
Advaced VFX
Cons:

No stabilization or motion-tracking for 360-degree video
Brand watermark left with the free version (90-day)
5. Filmora X Game Video Editor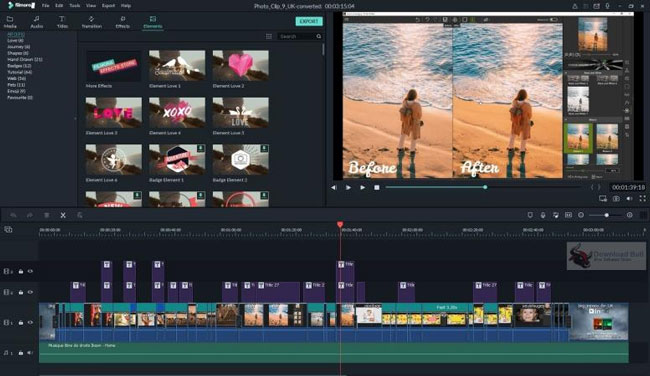 As one of the best game video editing software runs on Windows and Mac, Wondershare Filmora Filmora has 7 item trays (Media, Audio, Titles, Transition, and Effect) yet 50+ subcategories so that you can use a lot of built-in video elements and effects by this tool.
Moreover, you can edit the game clips on the canvas like color grading, filter effects comparison (as the image shows), video trimming, or sound balancing.
Pros:

Stable game video editor for Mac and Windows
3D-Lut: Great color grading feature
Multi-track workflow
Mirror (Flip) video easily
Motion-tracking technology
Cons:

Not so cheap to buy
Brand watermark still
5 Best Video Game Editors Online
Trying to find an online gaming video editing helper? Scroll down! In the latter part, the 5 best online video game editors will be shared with you.
1. InVideo Video Game Editor Online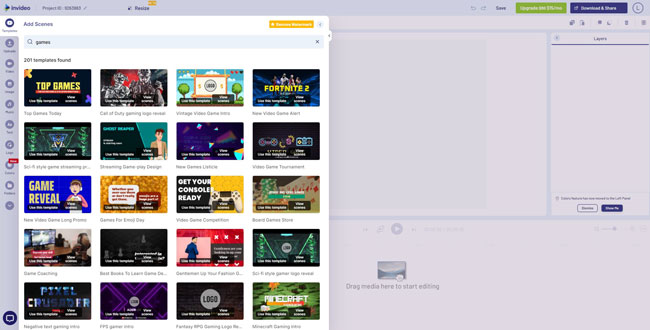 If you print the words Games in InVideo, more than 200 different types of game templates will pop up like video game highlights, top games day, vintage video game intro, and new games listicle. Within those gaming video templates, you don't need to do much because the texts, music, subtitles, filters, resolutions, and some of the commonly-used video elements have been designed in advance.
InVideo is also a streamlined game video editor even it runs online. You need to get the premium features like no-watermark, 1M+ premium media, 60 exports per month, and more, via getting the subscription.
Pros:

Simple video game editor online
Aound 200 gaming video templates you can use for free
Not expensive
Include most small editing tools
You can save the new-made game videos online
Cons:

Needs high-quality internet
It seems that buying the premium version is necessary
2. Flexclip Video Game Editor Online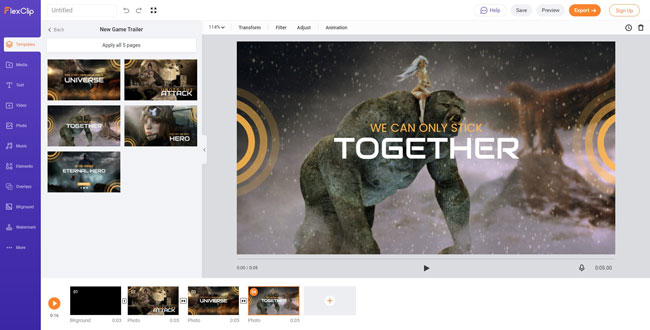 Flexclip is a game video editor online that don't need too high-quality to run. You can find hundreds of video templates that all are ready-made with details. Also, by going to the Music > Library, you'll see vast choices of online music clips for video games like themes of Happy, Epic, Love, Pop, and Intro.
Users are free to download or share their new-made game videos at 480p yet the 720p and 1080p are paid. Besides, Flexclip contains more genres of filters, overlays, animations, and other elements.
Pros:

Easy learning curve video game editor online
More options of filters and animtions
No watermark on the free version
Lots of music resources
Cons:

High quality export needs money
3. VEED.IO Video Game Editor Online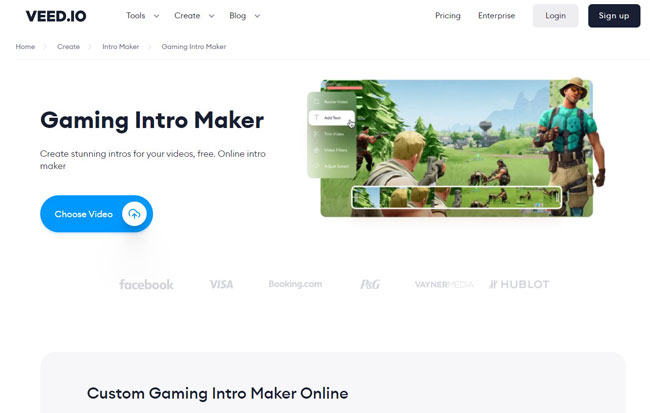 VEED.IO belongs to an overwhelmingly simple gaming intro maker and editor. So if you're planning to make an intro gaming video, this tool can be one of the best choices. There are more cartoons and lovely game clips to apply in your video. You can sign up via Google or Email Address.
The biggest difference between VEED.IO and other online game video editors lies in the editing experiences. I have to say that VEED is more suitable for beginners because all the feature buttons have been separated into parts like Video Editor, Subtitle & Transcription, Toolkit, Record, and More. For example, if you'd like to crop the game video, you need to go to Tools > Toolkit > Crop.
Pros:

Layering gaming editing workflow
Transcribe and translate videos
Video-to-text editor
Do not need high-quality internet
Cons:

If you want to edit batch (multiple) gaming clips, this tool is not a good helper
4. MakeWebVideo Video Game Editor Online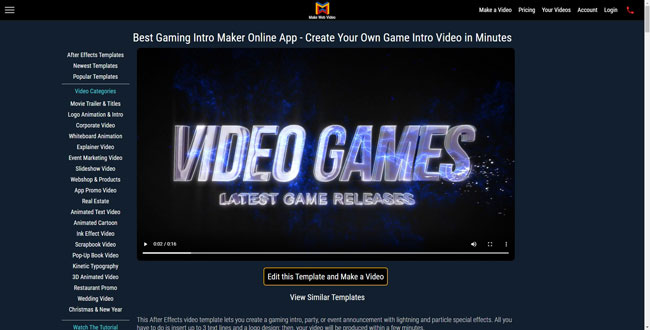 MakeWebVideo is a quite popular website to make gaming into videos. You are free to try a plethora of titles, animations, music, cartoon elements, etc. This online game video editor even supports 3D game video editing, you need to go to After Effects Templates > 3D search.
On the free version, you're allowed to make SD resolution video with watermark, and no limits in project numbers, storage, and bandwidth. Surely, you need to pay $15 per video to enjoy the VIP services or $59 per month without time limits.
Pros:

Cool & clutter-free online online game video editor
Include the majority of project types
3D game video editing
Creat modern videos for gameplay
Cons:

Not so cheap to buy the montly-plan
5. Clipchamp Video Game Editor Online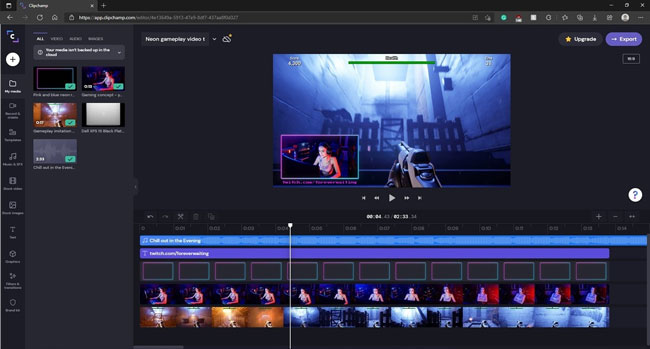 With this game video editor for online, you can start with a recording via screen or camera when your video is connecting with a webcam. Also, the inbuilt projects including Slideshows, Social handles, Text overlays, Layout, and more are available on the user page. And this tool is called Clipchamp. You can search for various templates to make an eye-catching game videos.
Clipchamp supports online video storage, meaning the videos you edited before will be saved in the cloud. You can re-edit to continue to make the game video edits on the online game video editor.
Pros:

Lots of projects to start with
Record gameplay online
Save video automatically in the cloud
A vast choices of music and sound effects in stock
Cons:

You can only export at 480p on the free version
Bottom Line
It's uneasy to make an exciting video because not only do you need to find a proper game video editor but also editing skills are of importance. The 10 gaming video editing software we shared with you in this post, affirmatively, has different qualities. So you need to pick up your favorite one based on your requirements. And if you want to try more editing features, you can click the navigation links on your left hand.