A logo gives originality and style to a brand. Just like that, your gaming clan is your brand that deserves the top spot in the gaming industry. And a cool-looking video game logo is the perfect way to go about it. Millions of gamers worldwide are using video game logos or profile pictures to create an impression in the industry. However, the trick is to create a high-end gaming logo that grabs the public's attention and stands out from the crowd.
Luckily, the task is not quite as daunting - thanks to some of the free and easy-to-use video game logo makers. Now read ahead to explore the 10 best logo designing tools where you can showcase your creativity and learn how to make a video game logo.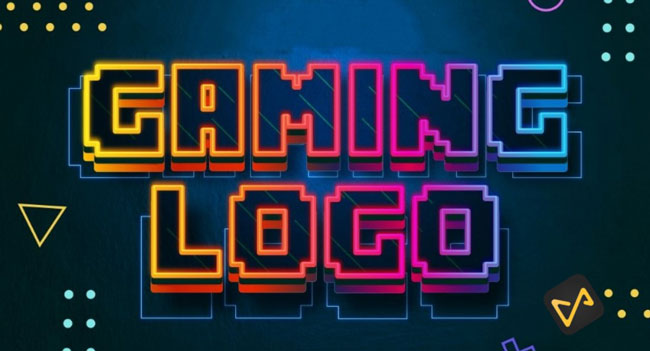 TunesKit AceMovi: One-Stop & The Easiest Video Game Logo Generator
If you want to make a gaming logo or add a logo to gaming videos, Tuneskit AceMovi must be the best choice among the gaming video editors. It is a one-stop solution for creating, customizing, and sharing awesome logo designs and powerful video enhancer that allows users to edit, cut, chop, convert, crop, reverse, speed, rotate clips, photos, texts, and much more.
Using its basic editing features, you can take advantage of every aspect of your gaming logo to make it look outstanding. Besides that, the smart tool comes with abundant ready-to-use text templates, quirky stickers, fancy filters, and background music, etc., to add a touch of professionalism to your logo. Moreover, AceMovi offers HD and 4K quality output that is customizable to fit different devices and all the popular formats.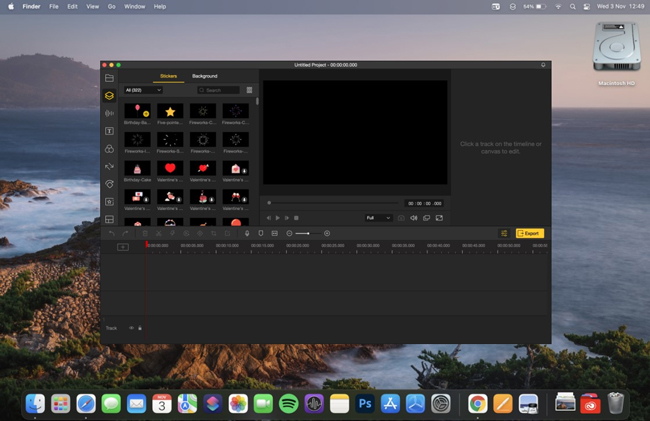 Compatibility: Windows and Mac; 1G Hz Processor or above; 1024*768 pixels or higher resolution
Trial license: Downloaded for free; All tools featured
Full license: Watermark-free; $15.95/Month, $19.95/Annual, $69.95/Lifetime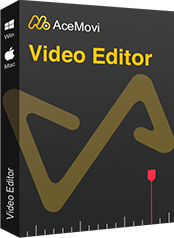 TunesKit AceMovi Video Editor
Security Verified. 11,325,900 people have downloaded it.
Pros:

Beautiful and clean 4-panel logo-making workflow
Great UX
HD and 4K video editing supported
Includes screen recorder, slide show maker, and more tools
Export and share your videos on any platform such as Vimeo and Facebook
Wide range of text templates and effects
High-quality logo output
Cons:

Not completely free
Tutorials: How to Add Logo to Video
Canva - Inspired & Free Video Game Logo Maker
Are you an amateur at graphic designing? Canva is an excellent option for you. The tool is one of the best online free video gaming logo makers with barely any learning curve. Certainly, you can choose from a huge library of gorgeous free templates to give your logo a kickstart.
What's better is that the templates are entirely customizable. On the flip side, if you have a gaming-focused logo idea of your own, you can start from scratch. Overall, the Canva logo maker is great in terms of simplicity and quality. Except for making a logo with ready-made templates, you can also invite others to join in.

Compatibility: Online, Windows, and Mac
Trial license: 30-day only; Transparent background and file compression are unavailable
Full license: All features; $13.99/Month, $119.99/Annual
Pros:
1000+ logo designs
A handful of free editing features
Professional-looking templates
Magic resize and background remover
Premium animations to render
Share on social media
Cons:
30-day free of trial, and you cannot compress the logo and make the wanted logo transparent on the free version
Placeit - Super Simple to Use & Gamer Logo Makers
Using Placeit to create gaming logos online is free and smooth, and offers thousands of high-end gaming-focused logo designs for the gaming industry. Moreover, it even includes animated logo templates to help you create unique and eye-catching images. Whether you want a casual or aggressively roaring logo for your clan, you name it, and Placeit will give you so many choices.
Basically, you can either search for the theme and genre of your designated logos or go to the menu Logos > Gaming to browse the wanted gaming logo samples online. Placeit provides users with the gaming logo samples of Anime, Emblem, Fantasy, Horror, Shooters, Space, as well as Warriors.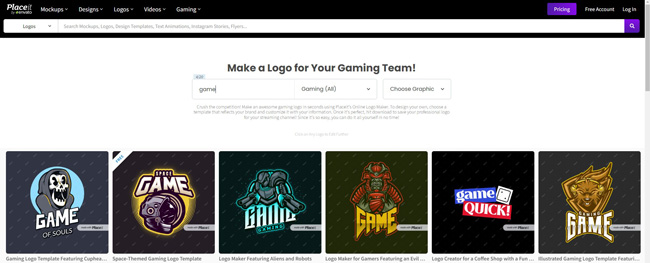 Compatibility: Online
Trial license: Downloaded with Placeit watermark in low resolution
Full license: All features and templates; $14.95/Month, $89.69/Annual
Pros:
Great looking templates
Free trial with very fair pricing
Logo designs in different styles
Mockups, YouTube assets, Logos and more
A vast library of animated logos
Cons:
The trial version will export your logo with watermarks on the background
OnlineLogoMaker - Fast & Easy Create Logo for Gaming
With the OnlineLogoMaker online logo gaming maker, you can create and edit exciting logos without the trouble of any downloads in 5 minutes. This free-to-use online logo making & designing tool differs from the other tools since it does not offer any templates. Instead, for a more engaging look, the online logo maker is packed with many cool gaming "symbols" to browse through.
Additionally, you can enhance your logo image with texts, shapes, stickers, and more. For safety and copyright issues, you can save your logo project via email. Most notably, this logo editing tool provides you with great UX. Specifically, it will guide you in selecting a logo format for social, clothing, print materials, digital media, or even signage.

Compatibility: Online
Trial license: Download at a low-resolution copy and cannot be used for any commercial activity
Full license: Premium logo package sale at $29/One-time
Pros:
Expansive variety of game-related symbols
Professional editing features
Quickly preview font types
Custom upload image
Easy-to-learn interface
Cons:
The editing process is relatively slow
DesignEvo - Online Video Game Logo Maker Free
When it comes to creating artistic yet beautiful logos, you cannot go wrong with DesignEvo. With this tool, you will find many incredible templates focused on the video gaming niche – the majority of which are well-designed and HD quality. Furthermore, it gives you access to a creative design palette so you can make something that has the look and feel of your video game. Thankfully, the tool is a no brainer with a flexible interface.
To create a gaming logo with Designevo, you need to pick up the wanted file first, then click the Customize icon to get into the formal page where you can add new icons, texts, shapes, and background to the templates. Normally, the video logo will be saved at 500*500 px, but you are allowed to change it as your wish.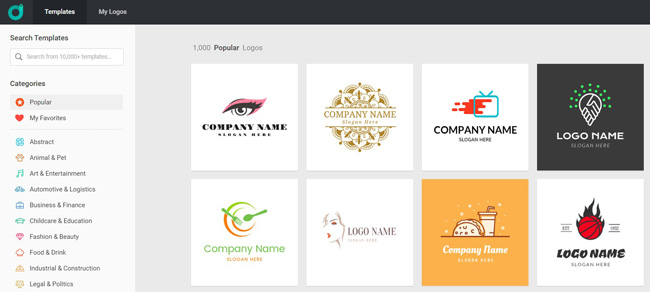 Compatibility: Online
Trial license: Download a low-resolution free logo, yet you must give the credit authority to DesignEvo to use your logo
Full license: High resolution up to 5000 px; Transparent PNG; Print ready; Basic - $24.99/one-time, Plus - $49.99/one-time
Pros:
10,000+ video gaming logo templates
Quality font and graphic options
Fast and efficient logo designing
3D logo resources abound
Cons:
Logo customization options are limited
BrandCrowd - Gamer Logo Maker for Social Media
BrandCrowd offers a free gaming logo-making experience. However, the free logo designs are not the best quality ones. Brand Crowd logo maker has the edge over the logo makers in that it targets specific video games such as Fortnite and Pubg. So, if you want to make a unique logo for your PUBG clan, Brand Crowd is a great choice.
Surprisingly, you have access to the built-in Facebook Post Maker, Facebook Story Maker, Instagram Story Maker, etc. With each of them, you get the ready-made choices of logo shapes, fonts, and colors. To make a logo for a video game, go to the menu to go to the Logo Maker > Top Industries > Gaming. Then you see all the video gaming logos in the stock, such as the Alien Gaming Mascogt and Google Game Controller.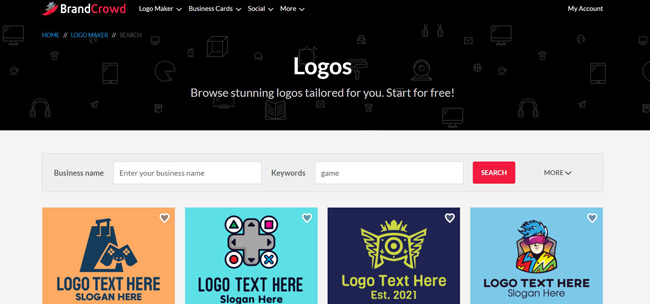 Compatibility: Online
Trial license: Cannot download logo for free
Full license: HD PNG/JPG; Transparent background files; 3000+ social midia templates, etc. $15/Month, $5/Year
Pros:
Handcrafted logos, 3D logos, and text logos abound
Plenty of free gaming templates
Perfect for Pubg and Fortnite games
Customize logos by changing layout, background, and logo image
Easy searching with changeable parameters
Cons:
Users have to enter their email address to start editing
Looka - The Best Gaming Logo Maker Free
Looka is yet another versatile logo maker for popular video games like PubG and Clans. The standout feature of this logo maker is the AI technology.
Using Looka, you can combine your personal preference and its AI technology to create fun and unique gaming logo designs. When you begin the designing process, the tool asks you to pick out your preferred game icons, slogans, colors, design templates, etc. Then, the AI-powered logo maker automatically generates over 300 digital assets for your logo.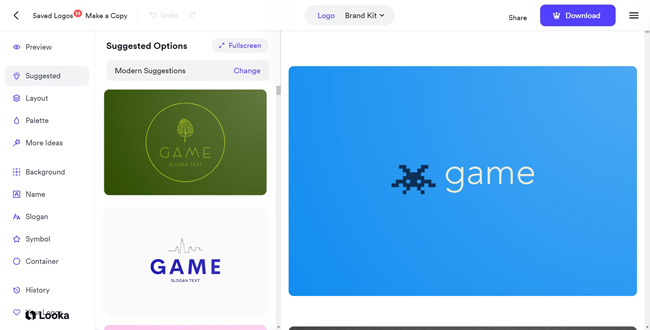 Compatibility: Online
Trial license: Cannot download logo for free
Full license: Basic Logo Package - $20/One-time, Premium - $65/One-time, Brand Kit Subscription - $96/Annual, Brand Kit Web Scription - $192/Annual
Pros:
Amazing AI technology
A couple of options for automated customization
Branded templates and marketing tools
Make video game logos for your brand easily
Good UX
Cons:
A shortage of flexibility and customizations
OWN3D - The Best Gaming Logo Maker Free
Last but not least, OWN3D is known for its quality stream designs and packages. But recently, its logo designs have been the talk of the town. Besides logo designs, it offers many pre-made visuals that can add a professional feel to your logo. Although currently, there aren't many customizable options or templates, OWN3D has quite a few basic editing features.
You can navigate to making your logos or go to sub emotes and badges online with OWN3D. All logos are set with different prices, so you need to search, click, and see the detailed information of each rather than getting the subscription of a specific package like other video game logo-making tools.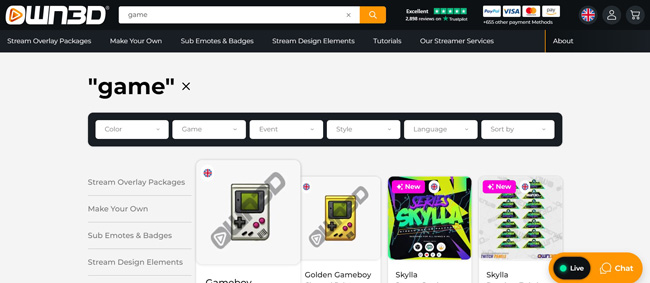 Compatibility: Online
Trial license: Cannot download logo for free
Full license: Paying for each item is required
Pros:
Stunning gaming logo designs
Fairly easy to use with a decent interface
600+ logo overlays, alerts, and panels for OBS Studio
A plethora of 3D video game logos
You can search for the logo based on the keywords
Cons:
You cannot find many pre-made templates
Most resources are paid
Logo Esport Maker For Gaming - Great Gaming Logo Creator App
Want to know if there is any application that can make the selected logo excellent? I must say that you need to try out Logo Esports Maker for Gaming, which is free to download on both iPhone and Android. What sets this video logo maker app different from others is that you don't need to spend a bit of money. In other words, you can download the edited logo without a background in HD quality.
It's easy to save your logo with different sizes, including 500*500 and 1000*1000. You can choose to edit any gaming logo with color, size, and hue. Or make the logo trimmed, cut, cropped, rotated, and flipped in no time.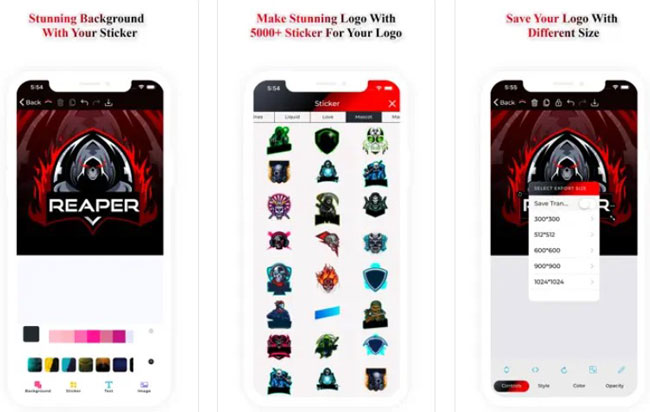 Compatibility: iPhone and Android; 59.5 MB(v1.6)
Trial license: √
Full license: ×
Pros:
Loaded with 3D logos & 3D icons
Fast and easy-to-use
A huge collection of categorized Art, Graphic Elements, Shapes, Backgrounds & Textures
Easy to flop, rotate, resize, and hue video logos
Cons:
Lacks in gaming logo resources
Esport Gaming Logo Maker - Multifunctional Video Game Logo Maker App
Esport Gaming Logo Maker pays more attention to decorating and enhancing the text that will be edited in the game logo. For example, you can choose a different font, color, outline, spacing, and style from the streamlined interface. There are 150+ beautiful gaming fonts as well as a load of background genres.
It is worthy to mention that you can export the gaming logo as a PDF and transparent PNG file. Choosing the background export or without any background is available on the free version. In the process of seeing parameters, you are allowed to change the resolution.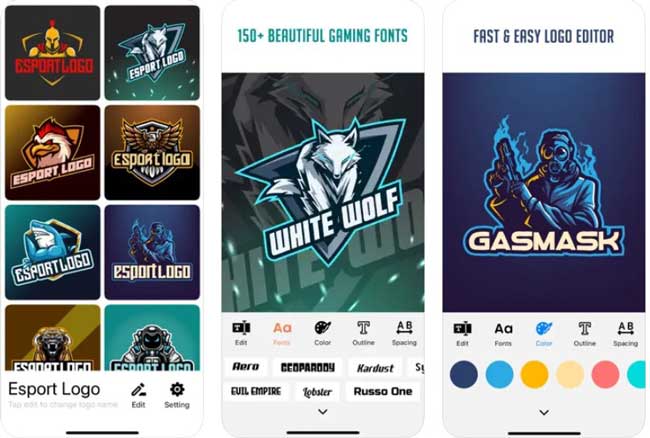 Compatibility: iPhone and Android; 99.7 MB(v2.0.3)
Trial license: √
Full license: Esport Logo PRO - $4.99/Year
Pros:
A slew of off-the-shelf logo templates
Transparent PNG/PDF saving
Share on social media in high definition
Letter spacing, fonts, colors, and curve
Cons:
You need to buy the auto-renewing service
Conclusion
Here you go! We have mentioned the best 10 video game logo makers that are tried and tested, including online tools, software, and applications. Each one of these tools is smart, with exciting editing features. Whether you are looking for a free tool, an affordable option, or a pricey professional video game logo maker, you will find your choice on this list.