Thanks to the evolution of TikTok and Instagram Reels, people are getting more creative with their video editing skills today. However, the default video recording software on your computer might not be enough to catch up with today's social media standards. And the camera on our smartphone surely can make a good quality video but our standard desktop video editing software is just too basic, making our phone's potential useless. This is why a proper and robust 4k video editor is of the essence. And herein you'll see a top-list post of the 10 best free 4K video editors on Windows, Mac, Android, and online tool. Now, let's begin the tour!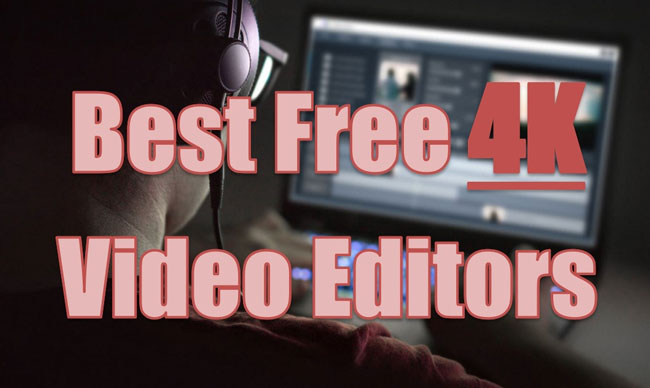 [2023] Top 10 Best Free 4K Video Editor for PC, Mac, & Online
Top 1. AceMovi 4K Video Editor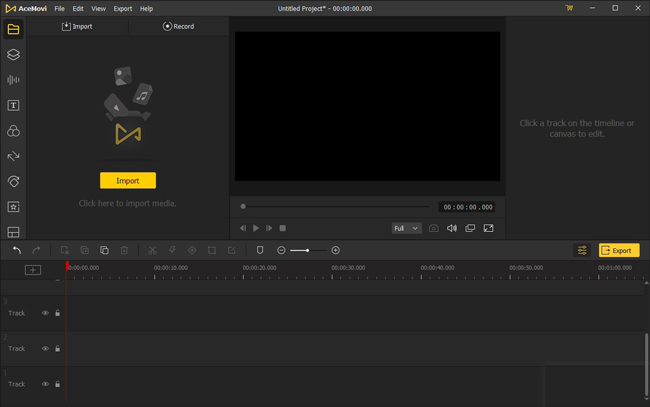 TunesKit AceMovi is one of the best all-in-one 4K video editors that comes with a screen recorder, which means you can record 4K video from your screen or with your camera and then edit the clip with tools of the trimmer, merger, cropper, converter, and others as needed. In the process, you'll be able to catch the audio tracks accordingly or add extra voice-over into the 4K videos as well.
When getting into AceMovi, you will see a screen that includes a timeline close to the bottom and a preview pane just above. In the leftmost parts where you can navigate to hundreds of free music, stickers, effects, and some advanced tools like PiP, Blurring, ColorNot, Split-Screen, etc. You can also create clip sequences by dragging video sections across the timeline and previewing them in the window, while applying transitions, adding sound to each video part, and making other changes to the sequence as you see fit are also available.
In short, AceMovi 4K Video Editor is simple to use and has a short learning curve. Even if you have never used a 4k video editing toolkit before, you should be able to get the hang of it immediately. With AceMovi, you might even import media from micro-SD cards or your dedicated camera simply. Moreover, its 4K capabilities are amazing: you can trim, divide, or convert your 4K videos with only a few clicks. So just click the downloading buttons to get AceMovi for fun!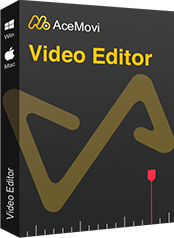 Key Features of AceMovi Video Editor
Security Verified. 7,672,431 people have downloaded it.
Pros:

The interface design is very easy to go through
It supports dozens of 4K video, picture, and audio formats
A free version is available for both Mac and Windows
Unlimited user tracks to edit 4K videos with photos, audios, and clips
Advanced effects are free-to-try without plug-ins downloading
Convert 4K videos into the formats of MP4, MKV, WMV, AVI, DVD, etc.
Reverse or slow-motion your 4K videos
Various genres of animations, transitions, filters, and overlays for 4K videos
Cons:

You cannot use this tool online
Top 2. Apple's iMovie 4K Video Editor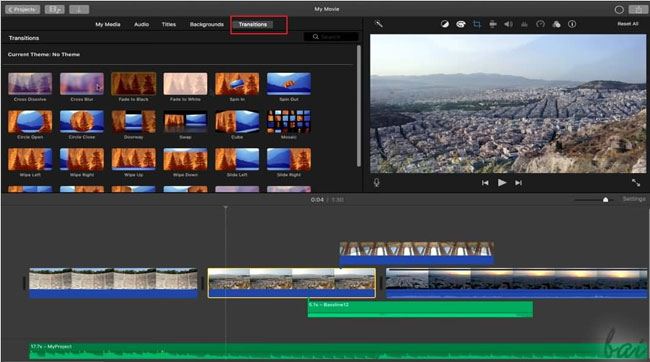 Without a doubt, iMovie is the best free 4K free video editor for Mac users. The UI has recently been improved, and Touch Bar connectivity for the latest Macs has been introduced.
It has also been optimized for the most recent Apple processors. Furthermore, it now allows users to edit and modify focus in videos shot using the iPhone 13 series' new Cinematic shooting mode.
Pros:

It is one of the fastest programs when it comes to video encoding
It allows users to save any video frame as an image and share it with others
No watermark will be added on every 4K video when downloading
Motion-tracking tech helps you hunt and check the keyframes
Cons:

It lacks capabilities available in other free programs, such as 360-degree video editing
Top 3. VideoProc Vlogger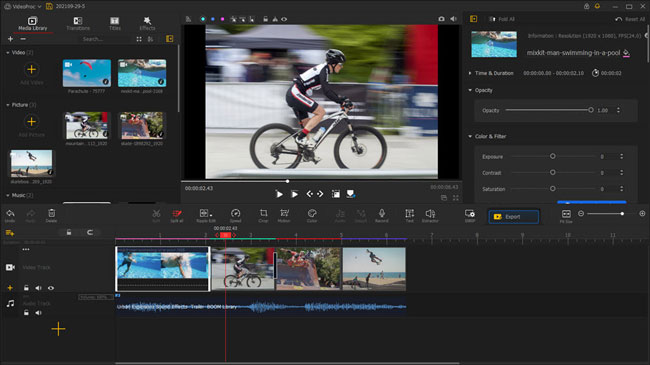 VideoProc Vlogger is a free 4K video editor application for Windows and Mac specifically built for 4K video editing. It allows you to edit any type of material, including high-bitrate videos, without freezing or stuttering. With Level-3 Hardware Acceleration and a scaling mechanism, VideoProc Vlogger is one of the most capable open source 4k video editors in the market. It also gives users one of the most beginner-friendly interfaces on a video editor.
Pros:

It offers multi-track operations for 4K video import and export
Edit 4K UHD videos without any lag
Set the saturation, opacity, contrast, and brightness in 4K videos
Record 4K videos with screen or camera
Cons:

The filters and effects could be better
Top 4. Final Cut Pro
Final Cut Pro is popular among filmmakers because it allows them to edit more complex movies and deal with higher frame sizes. Furthermore, the application offers an easy-to-use interface that allows editors to make changes at the speed of light.
For difficult 4K video editing tasks, this Mac app does not require an additional graphics card. However, it is only compatible with macOS 10.14.6 or newer.
Pros:

The 4K video noise reduction works flawlessly
The color grading tool is one of the most advanced
Effects for 4K video include Blur, Distortion, Keying, Light, and Locks
Hardly to encounter troublesome lags
Cons:

The free version is only valid for 90 days. Sadly, every 4K video downloaded will be printed with a watermark
Top 5. VideoPad 4K Video Editor
This free 4K video editor, which is compatible with both Macs and PCs, makes it simple to share your work on YouTube, Facebook, Google Drive, and other digital platforms. Even though it is not the fastest software available, it is suitable for people wanting an app that can be used quickly and effortlessly.
Pros:

It allows you to edit 360-degree video as easily as standard movies
An air of Microsoft using feeling
Able to crop, cut, convert, and merge 4K videos
Responsive and deft
Cons:

Some of the advanced 4K video editing features are missing like video reversion and split-screen
Top 6. DaVinci Resolve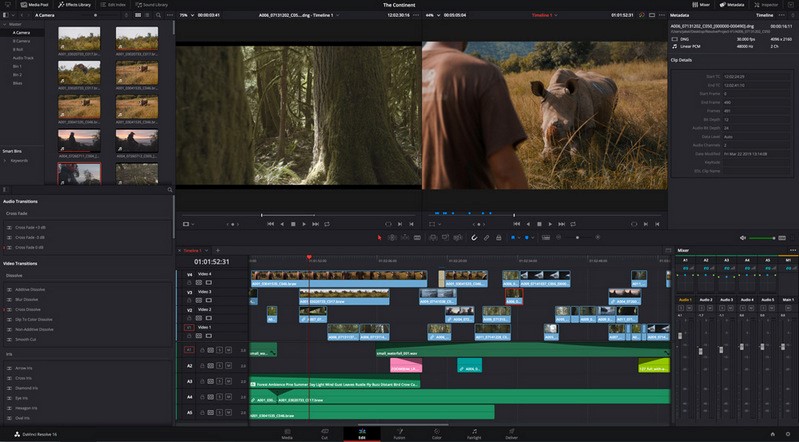 One thing that separates DaVinci Resolve is that it is suitable for Windows, Mac, and Linux. It is a free 4k video editor with which pros can efficiently work. The most recent update also includes a collaborative feature. And DaVinci Reslove can help you make point-to-pint 4K video editing slideshow within a specialized panel on the right side.
Pros:

Completely free, with no limitations or watermarks
Professional color grading tool for editing your 4K video
Slow-motion effect to track the keyframes in 4K videos
Convert and compress 4K videos effortlessly
Cons:

The learning curve for advanced features is steep
Top 7. PowerDirector (Android/PC)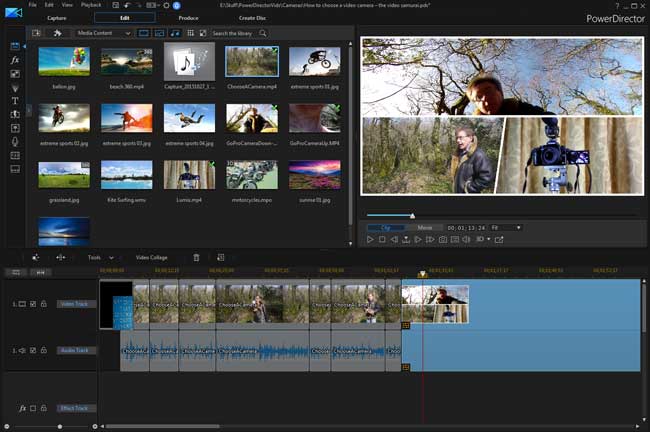 At such a low price, this fantastic free 4k video editor software offers an abundance of functions. We could not think of a better option for amateurs who feel the need to make professional-quality videos. Meanwhile, you're allowed to try some of the free resources for your 4K clips like stickers, music, photos, transitions, and overlays.
Surprisingly, PowerDirector is also an app for 4k video editor android so you can download this tool from Google Play or other platforms. Also, we've found that the VN, Inshot, and Vllo are very good android 4K video editors to try.
Pros:

The green screen chroma-key tool makes it even easier to change your background
Preview 4K video in real-time
Split-screen and f(x) technology to improve 4K video-making experiences
Tons of built-in resources you can enjoy
Cons:

Some of the plugin's functions could be difficult to locate once loaded
Top 8. KineMaster (Android/PC)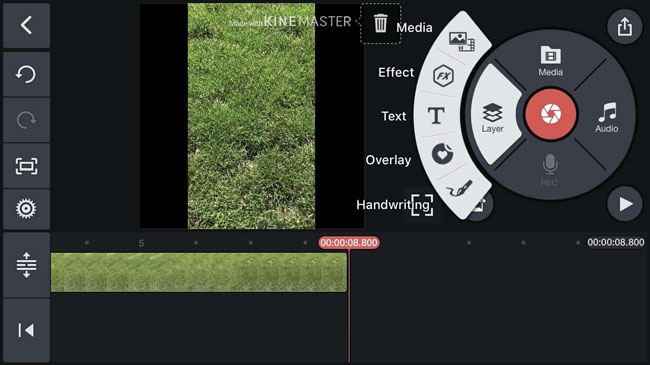 This software offers all of the essentials seen in other apps and a huge number of editing tools and filters. Advanced elements such as keyframe animation tools for adding motion to your layers are also included in the program. You can download KineMaster on both mobile and PC devices and the workflow of 4K video editing is very easy to take.
Pros:

It offers audio and video editor 4k Android and Mac
Select the proper layers for 4K videos
Unlimited tracks for 4K video merging/converting/editing
REC and Recorder to capture 4K videos
Cons:

Some of the tools become unresponsive on certain phone models
Top 9. MovieMakerOnline.com 4K Video Editor (Online)

MovieMakerOnline.com free 4K Video editor will make videos online in full HD and 4K formats very easily, for free, without the need to register and download software on your iOS, Android, Mac OS, and Windows 10. To create full HD and 4K videos with MovieMakerOnline, simply upload your file, then edit and select the desired format in video editor settings. For high quality 4K video, you should add good quality videos and photos at resolution than the followings: (a) HD - 1280*720; (b) Full HD - 1920*1080; and (c) 4K - 3810*2160.
Pros:

Support 4K, HD, & Full HD video formats
Edit 4K videos with stock photos, free music, and color
Also capable of trimming 4K videos, adding graphics & text, inserting transitions, etc.
4K video merger, slideshow maker as well as a movie maker
Cons:

Just support small video editing jobs, advanced tools like reversing, split-screen, PiP, blurring, and more are waiting for an update
Top 10. Kizoa.com 4K Video Editor (Online)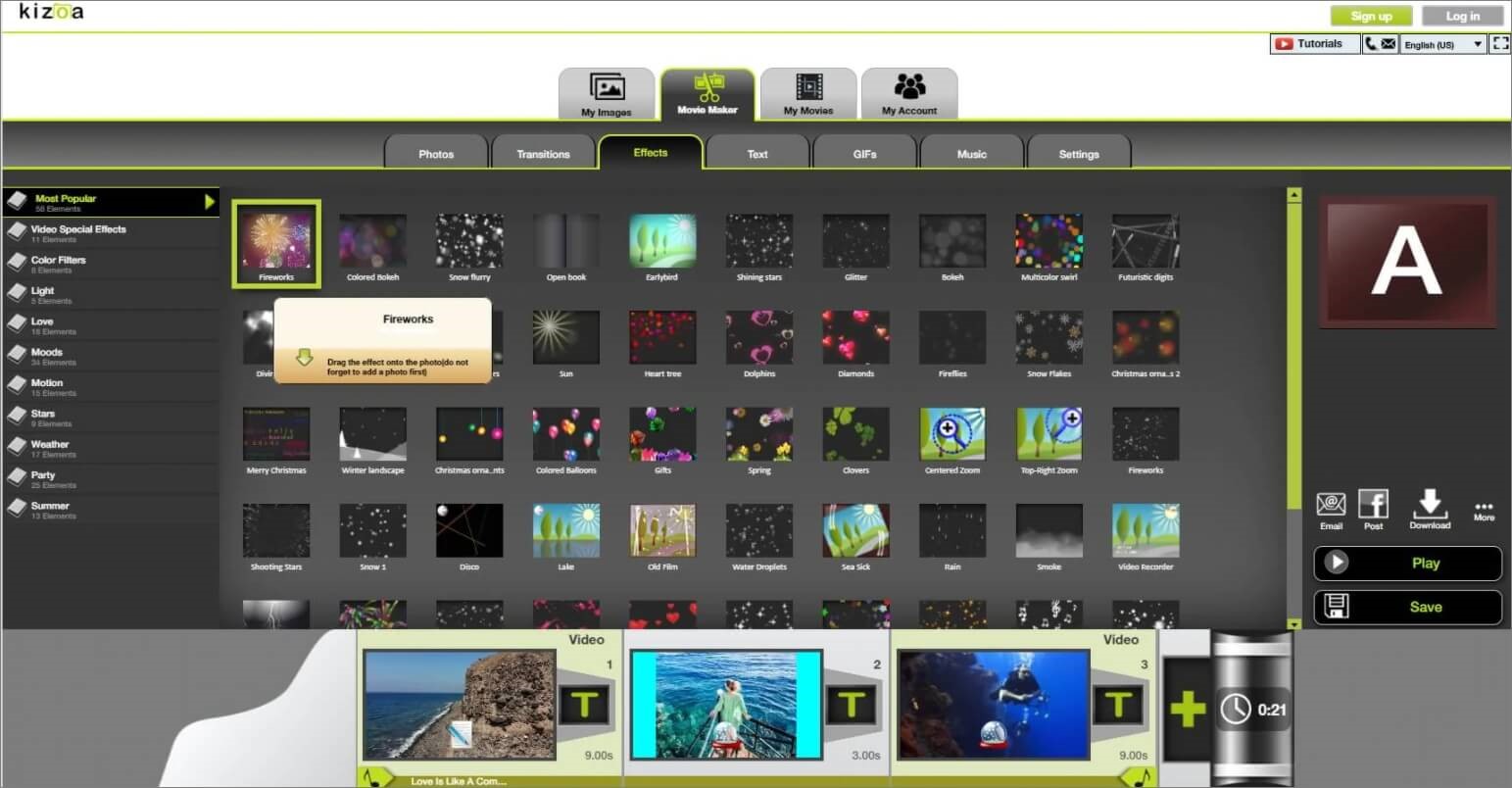 As the latest free 4K video editor we're introducing in today's post, Kizoa.com will leave you with various 4K video templates for a blank project or grid & magic collages, and even from scratch. More importantly, this is a streamlined 4K video editor that is distinctive from the previous MovieMakerOnline.com 4K Video editor.
To get more opportunities with Kizoa.com, you need to log in or pay the membership or subscription plans, by the way, all of the plans are one-time payment. Have you noticed the red button Tutorials upper right? It's the basic user guides that will be of very help when you're a newbie in 4K video editing and don't know how to edit appreciative 4K content.
Pros:

Plenty of 4K video templates to choose from
Lots of built-in editing resources for 4K videos
Demo 4K photos include kids, weddings, animals, and landscape that you can apply in 4K videos
Also comprises advanced background, video intros, video outros, classic background, and color background
Cons:

The free version contains 10-try only
Conclusion
People use a 4k video editor to create amateur films, YouTube videos, social media posts, etc. They can use such tools to easily edit, chop, arrange, and touch up their videos. After testing numerous tools, no matter for PC, Mac, and Online, we believe AceMovi Video Editor is the best one overall whose free and premium versions are both good to try.
Whichever software you think is the best, it is crucial to understand its capabilities and suit your needs. After all, do not be scared to experiment with new 4K video editing helpers, especially if they are available in a free or trial version.