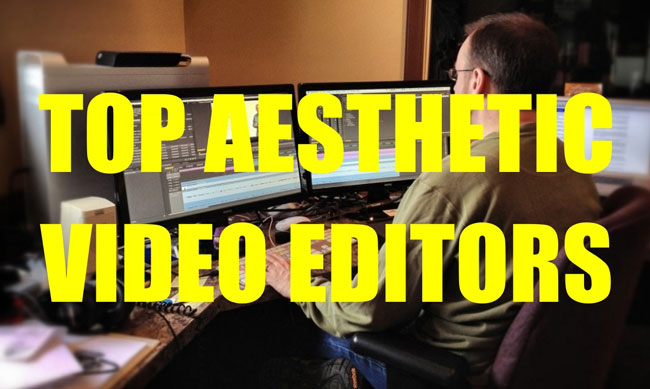 Catching your eyes, stirring up your interest, and making you inspired ... That's what an aesthetic video works on, no matter it's a film or just a piece of short clip. Aesthetic videos not only capture beautiful moments and transform them into digital memories, but also present an artistic atmosphere.
Most platforms, such as Instagram, Snapchat, and TikTok, allow users to edit videos before uploading & sharing. The built-in features of these platforms don't always have the right combinations to make an aesthetic video, however. Don't worry! If you're searching for an aesthetic video creation tool, just read this post herein we're going to share with you a top-list of the top 12 best aesthetic video editors for online, PC, & Android. Here we go!
Top 12 Best Aesthetic Video Editors for PC, Online, & Android
Top 1. AceMovi Aesthetic Video Editor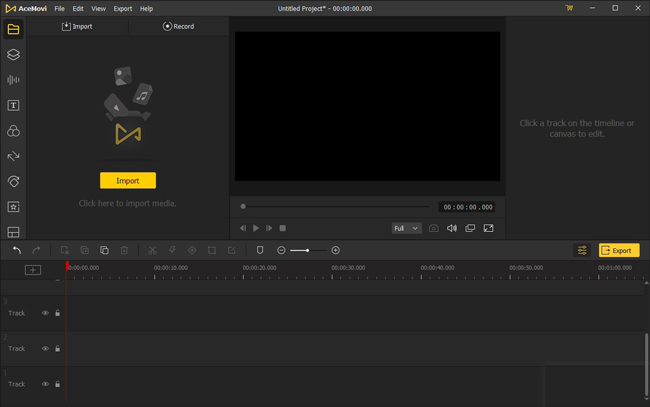 As is the best all-in-one aesthetic video editor, TunesKit AceMovi has earned a reputation worldwide with its powerful editing features and great convenience. AceMovi aims at making aesthetic video easier, as it has a slew of handy tools, including Titler, Trimmer, Cutter, Converter, Cropper, Backwards Maker, Duet & React Maker, Green Screen Editor, etc.
Using the bundled stock library on AceMovi, you can rapidly modify movies and add images, video, and audio components to your aesthetic videos. Moreover, AceMovi also lets you record your screen on Windows 10 while making edits. Plus, it allows you to preview the video in real-time without any lag problems.
In the following, you can download this aesthetic video editor for free on both Windows & Mac systems. AceMovi won't require you to register before carrying out video editing workflow on the free version so it's very convenient and efficient to use it. Besides, adding captions, changing music background, inserting filters/transitions/animations/overlays, and trying other video elements are free on the trial version. While you can get the service of removing watermark with the premium version at a bargain price - $59.95/Perpetual, $39.95/Annual, $19.95/Month.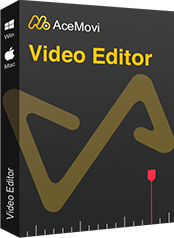 Key Features of AceMovi Video Editor
Security Verified. 6,118,304 people have downloaded it.
Pros:

Pro at making aesthetic videos
Simple-to-master
Create PiP video easily
Provide Chroma Key tool
Supports multiple formats
Ready-made text templates and classical dynamic/static text models
Responsive speed in rendering
Free version available
Cons:

Linux incompatibility
Watermark on free version
Top 2. VSDC Free Aesthetic Video Editor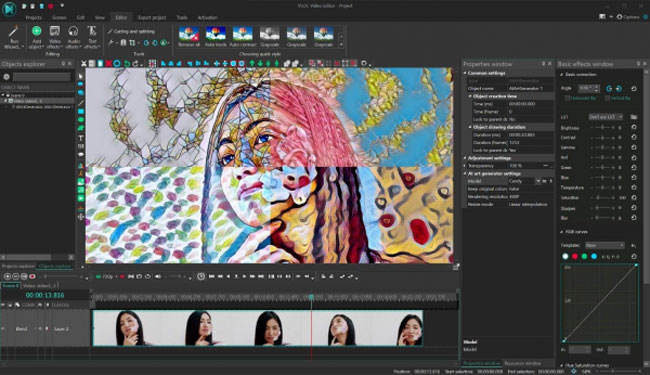 Video editing is non-linear using VSDC - an advanced aesthetic video editor with no watermark, meaning that you may mix and match video and picture files in any order, resulting in stunning visual effects.
As for the advanced features, VSDC can be utilized for grading colors, editing even 4K aesthetic video in 360 degrees as well as balancing the sound. While all of these one-click functions, such as subtitles, cropping, transitions, filters, and many more, are accessible in this software as well yet you may need a tutorial before digging in.
Pros:

Non-linear aesthetic video editor
Double exposure to preview in real-time
Advanced color grading tool
Transform your chart into 3D-Chart style
No watermark
Cons:

Need more patience in using this aesthetic editor in making video
Incompatibility with macOS system
Top 3. iMovie Aesthetic Video Editor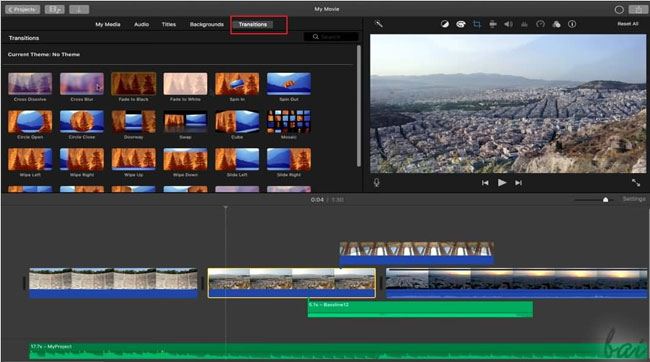 In addition to being accessible for both Mac and iPhone to play movies, iMovie also features a built-in editor for Apple users.
Although it lacks some of the more complicated options present in applications like AceMovi and VSDC, iMovie will aid you in completing the process promptly. Surprisingly, iMovie is pre-installed on all iPhone and iPad genres running iOS 13 or above, the most crucial feature. So if you're an Apple fan and preparing to edit aesthetic videos, iMovie can be your best choice.
Pros:

Aesthetic video editor for both computer and phone
Easy-to-begin with the organized video editing layout
Unlimited tracks to edit batch aesthetic videos
Completely free
No watermark
Cons:

Incompatibility with Windows system
Short in advanced features
Top 4. Shotcut Aesthetic Video Editor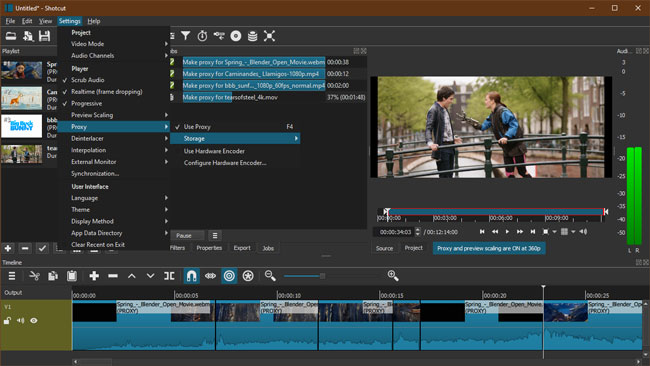 Shotcut is yet another free, open-source aesthetic video editing program for PC and Mac. It is an excellent choice to make professional-looking films yet a bit difficult to master because it was initially designed for the Linux operating system. So Shotcut has a very different user interface (UX) than Windows or macOS.  But if you are a pro, you can use this free tool to produce high-quality films in a couple of clicks.
Pros:

Works for Linux systems to edit aesthetic videos
Motion tracking tool to help you detect keyframes
Built-in sound wavers
Multiple editing features to apply
No watermark
Cons:

The absence of pre-made templates for aesthetic videos
Top 5. VLC Aesthetic Video Editor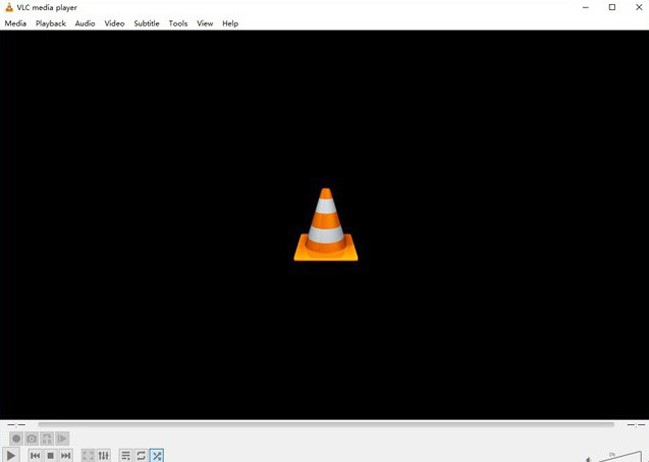 VLC Media Player is an excellent software for viewing and editing aesthetic videos from various sources. VLC does not provide the most advanced video editing, but it's speedy.
Even basic tasks like camera trimming need a high level of knowledge in specialized camera processing. VLC, on the other hand, is simple enough to allow you to remove individual clips from your movies. What is different lies in that VLC is not a streamlined aesthetic video editor and seems a bit out-of-date so you usually need to open up folders again and again.
Pros:

Robust aesthetic editor for video-making
Sound synchronous tool built-in
Stable system setting
Free of cost
No watermark
Top 6. Beecut Aesthetic Video Editor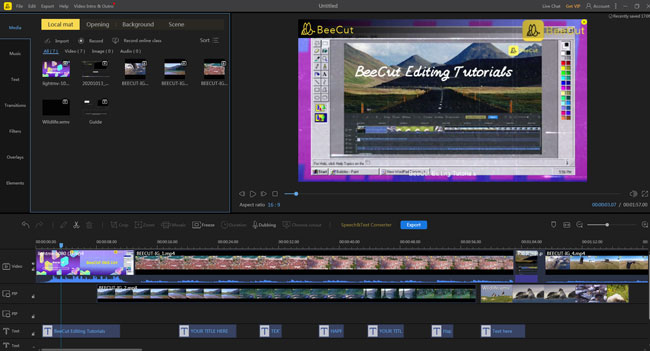 Voila! In addition to working with Windows and macOS, this aesthetic video editing tool is also compatible with mobile smartphones such as Android and iOS devices and web browsers. It is a fully-featured tool that allows you to transform essential photographs and short video clips into a stunning video presentation.
Beecut also enables you to create several timeline layers that may include photos, video, text, filters, textures, and other elements, among other things. We showed the interface of the PC version above. You'll find it easy to get into the aesthetic video editing job.
Pros:

Aesthetic video editors apply for all devices
Able to make PiP videos
Get keyframes by the motion-tracking function
Friendly for beginners
Cons:

Add a brand watermark on the free version
Lacks advanced features
Top 7. Kapwing Aesthetic Video Editor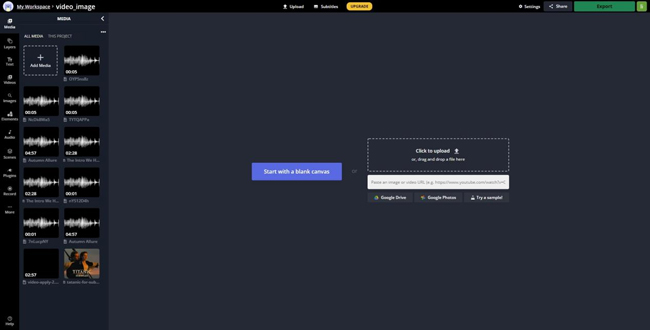 Kapwing is an open-source & versatile aesthetic video editor that comes with a great number of ready-made templates. This web-based application allows you to create cinematic material, including videos, photographs, films, and GIFs. You can also use this tool to modify aesthetic videos, including text, audio, sticker, color, and other features.
The screen, camera, and audio can all be captured using the tool's built-in recorder. In addition, it allows you to share the project with your coworkers and edit the movie simultaneously.
Pros:

Screen recording to capture aesthetic videos
Online-based without software downloading
Change the ratio aspect at 1:1, 9:16, 16:9, 5:4, or 4:5
URL importing
Motion-tracking
No watermark
Cons:

Log in first
Pay for exporting at higher resolution
Top 8. Clideo Aesthetic Video Editor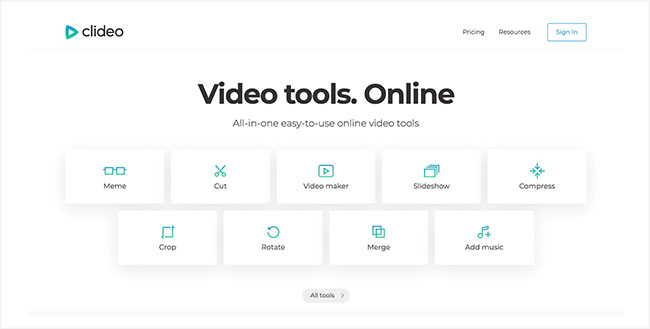 As a toolkit for content editing, Clideo is an one-stop-shop for all your aesthetic video genres, GIFS, and picture creations. You can merge, compress, resize, and much more using the tool's wide range of video editing tools, including slideshows and more.
Users may add music or text to their videos to enhance their appeal to a targeted audience. But several video formats are supported by the video editing platform, including MP4, AVI, and MPG.
Pros:

Toolkit for making aesthetic videos
Very convenient and easy to hit the editing road
Extract audio from video
Slideshow maker
Meme generator
Cons:

Not all features are free
Brand watermark burned
Top 9. LightMV Aesthetic Video Editor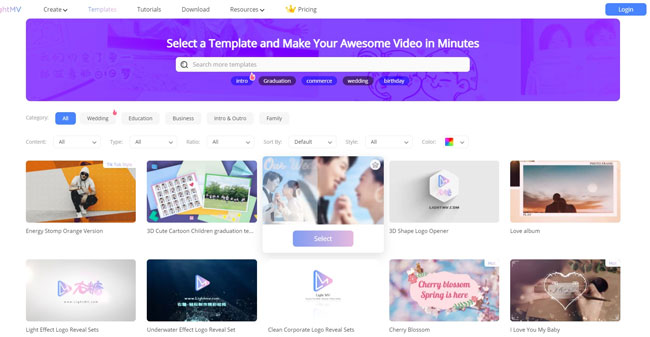 Looking for an easy-to-use online aesthetic video editor that can turn out professional-looking results? LightMV is here, an web application chock-full of templates to help you create aesthetic videos for your social media accounts. Furthermore, it includes a wide choice of highly configurable stickers and texts that may be used immediately to create visually appealing films. With its video editing features, you may add text in various typefaces, logos, and music to your videos.
Pros:

Clean interface to begin the aesthetic video editing
Templates for YouTube, TikTok, Spotify, etc.
Save your new-made videos online
2 GB for cloud storage
50 limits of editable materials
Cons:

Watermark branded
Simultaneous producing video only 1 time
Top 10. Clipchamp Aesthetic Video Editor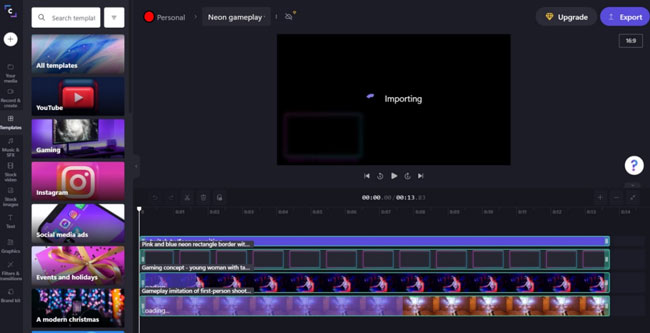 Using Clipchamp, anybody can tell tales worth sharing via aesthetic videos. More than 14 million individuals use Clipchamp across the world to create films for business, education, and personal use.
Screen recording, easy clipping, cropping, and production values like Green Screen are all available to users by this online application. You can choose from a variety of resolutions and sizes when exporting videos to well-known online video-sharing webs such as Facebook.
Pros:

Share aesthetic videos on YouTube TV
Tons of templates to make aesthetic videos
Easy-to-guide interface
Specialized tracks for videos, audios, and images
Aesthetic video editor no watermark
Cons:

Only premium versions can export aesthetic videos at 480 or higher resolution
Top 11. KineMaster Aesthetic Video Editor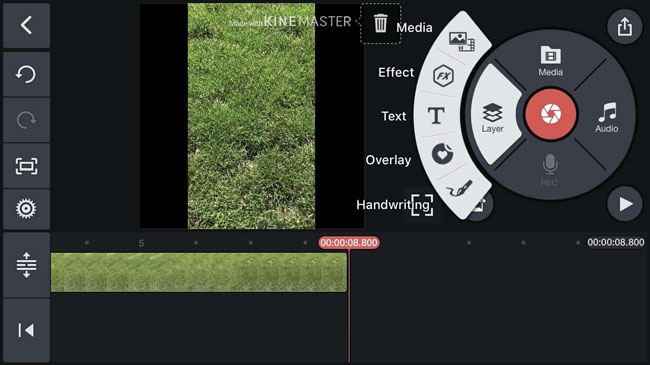 Want to find an aesthetic video editor for Android and iPhone? KineMaster must be the one worthy of trying. KineMaster is yet another online video-editing and -sharing application that you can utilize to make the video become aesthetic. This online tool lets you add numerous layers, Chroma key, and more. That's not all, it gives more than a thousand different assets each week.
This program supports almost all of the most common aspect ratios on various video-sharing websites. With an easy-to-use interface, KineMaster will let you edit aesthetic videos with ease.
Pros:

Aesthetic video editor for both Android & iPhone
Record aesthetic videos at any time
Easy to get hang of
Supports handwriting text
Easy-to-use
Cons:

Watermark left with
Top 12. Splice Aesthetic Video Editor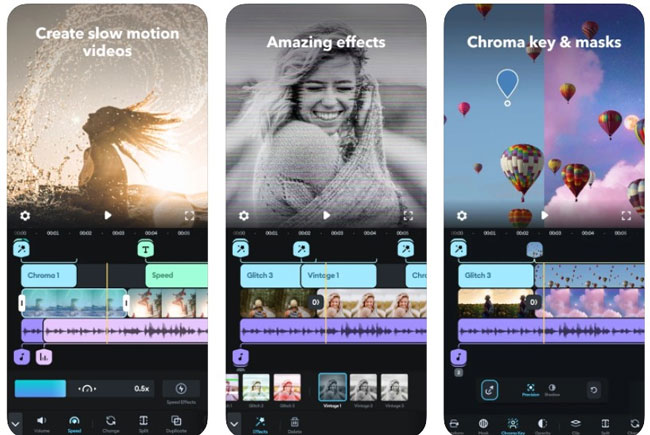 Splice is yet another aesthetic editor video that you can use to create a moving collage by splicing together several video clips on your phone.  Because Splice includes a collection of music files that may be utilized as a backdrop for your completed project, most users enjoy this one. You can use the software to cut and edit various video formats like MP4 and alter the duration of transitions between scenes.
Pros:

Collages feature provided to make aesthetic videos
Streamlined workflow for Android and iPhone devices
Plenty of elements like filters, overlays, and transitions
Able to remove watermark in your videos
No watermark
Cons:

Some music has copyright
Conclusion
Now you have some excellent aesthetic video editor tools and applications to choose from no matter you need to edit aesthetic video online or on Android, etc. Based on specific needs, just try using one of these editors to create aesthetically stunning videos and share them on your social media and you'll stand out.
To be honest, the Acemovi Aesthetic Video Editor is highly recommended because it's beginner-friendly and easy to use, but you'll need to stay tuned for the operation of online and mobile versions. Meanwhile, if you want to edit 3D aesthetic videos, VSDC can be a very good choice. Now, don't hesitate to give it a try!