There are hundreds of thousands of people that create and upload content across YouTube - one of the most prolific and effective video-sharing platforms developed across the Internet. While all these people create a variety of video content, various tools are required by YouTubers to make their videos look phenomenal. One such tool is the use of an intro maker that provides YouTubers with the ability to design a very significant introduction to a YouTube video, making them highly relevant to the service or product they offer.
This article is providing its readers with an introduction to the 10 best free online YouTube intro maker no watermark facilities across the system. These tools, while being free, are known to provide their consumers with the best toolkits and interfaces to manage their work with ease. Start here!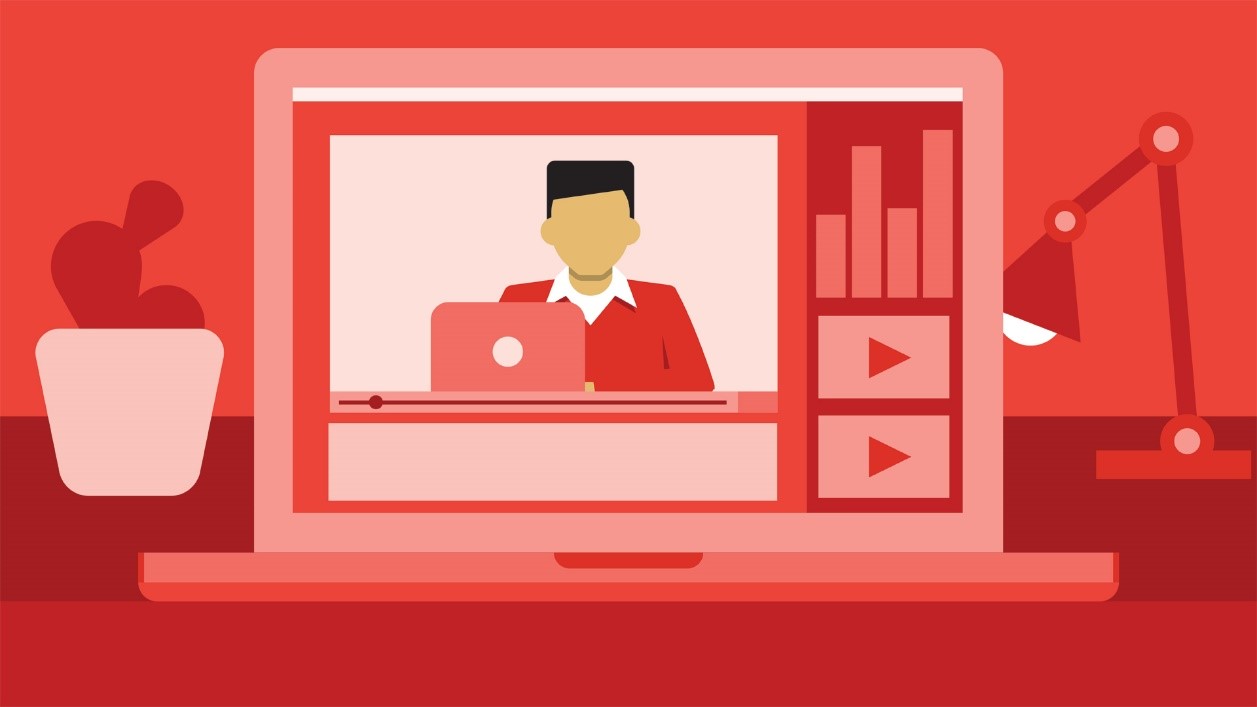 10 Best Online Free YouTube Intro Makers
Top 1. InVideo: All-in-One YouTube Intro Maker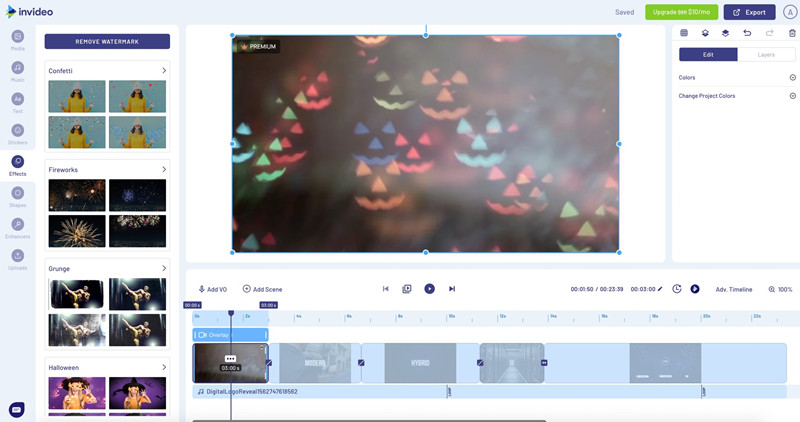 InVideo YouTube video editing platform is considered among the best options for designing attractive YouTube intros. With easy navigation and compelling results, this YouTube intro maker is a watermark-free tool that offers you the best in the business. InVideo allows you to try our 5000+ templates, iStock media, overlays, transitions, music library, and filters. You can also turn to the 50+ themes of Text-to-Video or get started with a blank canvas from scratch.
Tutorials: When it comes to how to make a standard YouTube intro with a ready-made template in InVideo. Registering an account is the first step. Then select a dimension from the Wide(16:9), Square(1:1), or Vertical(9:16). Now go to the wanted template, for example, provided that you've selected a slideshow template for making YouTube intro videos. You need to directly replace the pics in the track, and then add a music track into the video. Once finished, you can share the YouTube intro on YouTube Studio.
Pros:
Simplistic interface
5000 video templates
50+ themes of Text-to-Video
Unlimited royalty-free pictures
3 dimensions to begin with
No Ads
Cons:
Need a stable internet
No option for designing 3D videos
Top 2. VideoBolt: Smart YouTube Intro Maker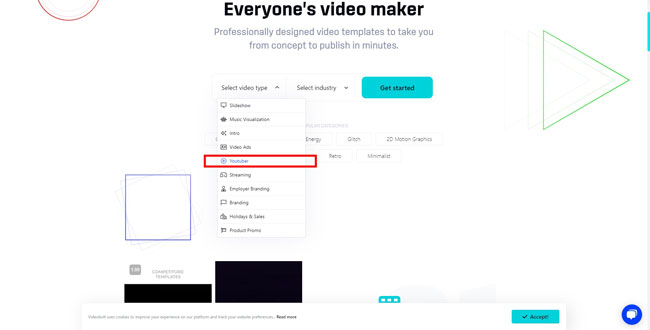 If you are a new content creator on YouTube and lack the quality of designing a professional YouTube intro, you can consider utilizing this free YouTube intro maker no watermark online tool with special packages to purchase for better results called VideoBolt. It's easy to make cinematic movies, 2D motion graphics, 3D motion graphics, stomp, as well as retro videos with VideoBolt.
Tutorials: So how to make your own YouTube intro online with VideoBolt? To begin with, select the video type as YouTuber and click the Get Started. VideoBolt will lead you to a plethora of templates for YouTube channels such as the trending YouTube Simple Opener, YouTube End Screen, Flat YouTube Intro, and so on. All you need to do is click the wanted template and go to the YouTube intro making with texts, music, elements, and pictures.
Pros:
Efficient and easy to manage
Provides a high-quality output video result
2700+ YouTube intro video templates
2D/3D MOtion Graphics
Personal media library
Cons:
The user has to pay for its premium version
No channel to begin editing YouTube intro from scratch
Top 3. Panzoid: 3D YouTube Intro Maker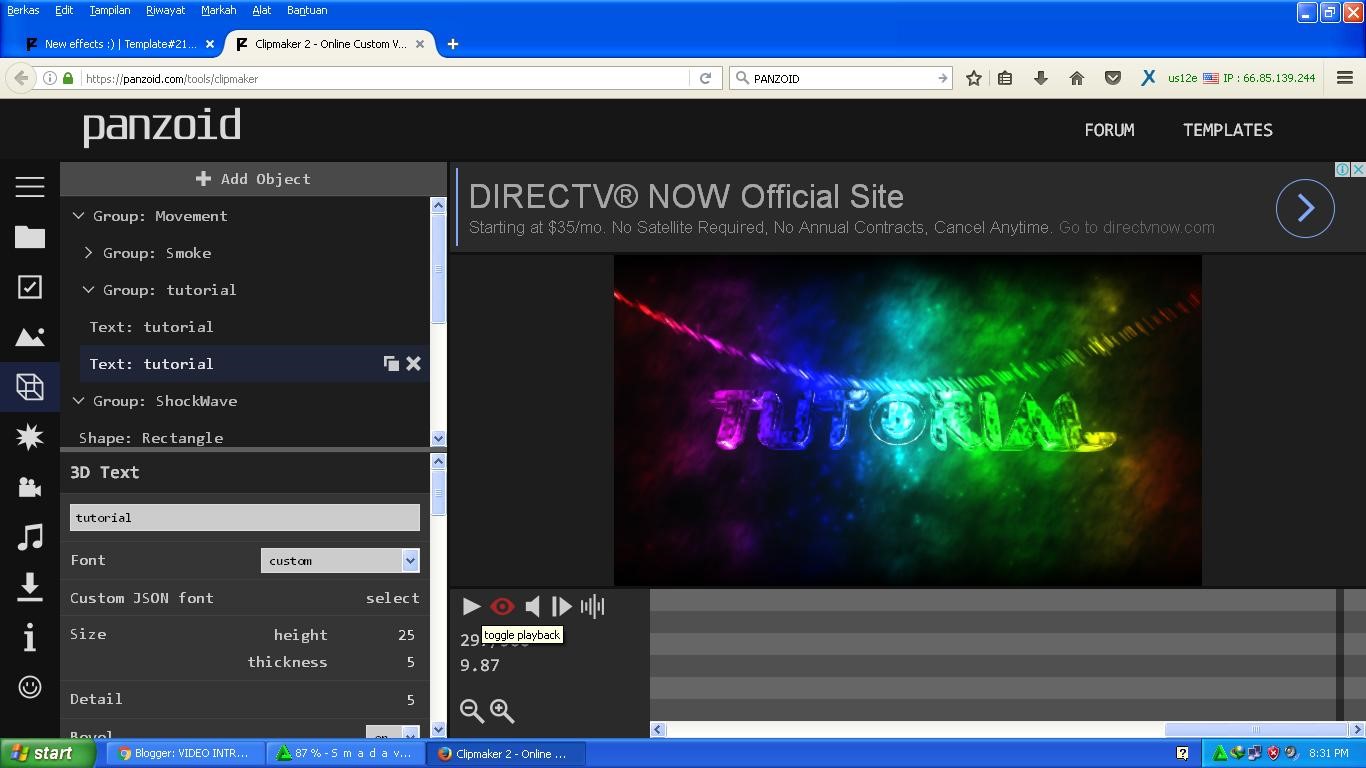 While there are contemporary tools that offer users exceptional tools to work with, there are tools that have been functioning with perfection for quite a time. Panzoid is regarded among the oldest tools that significantly includes advanced features in its interface, for example, the Clipmaker and the Backgrounder, making it one of the best choices in designing intro videos without a watermark.
Tutorials: How to make a YouTube intro with Panzoid online? If you are planning to make a 3D intro for Youtube, click the Clipmaker and then go to edit one of the templates you like. Likewise, click the Video Editor if you want to make a normal YouTube intro where you can add texts, change resolution/aspect ratio, insert a new music track, convert video into other formats, etc.
Pros:
Provides customizable templates for intro videos
Has no hidden costs
3D YouTube intro videos
Edit video background easily
Free & flexible shapes
Easy to learn
Cons:
The platform is advanced and difficult to utilization
Lacks advanced effects like Split-Screen, Reverse, and Clone
Top 4. Wideo: Animated YouTube Intro Maker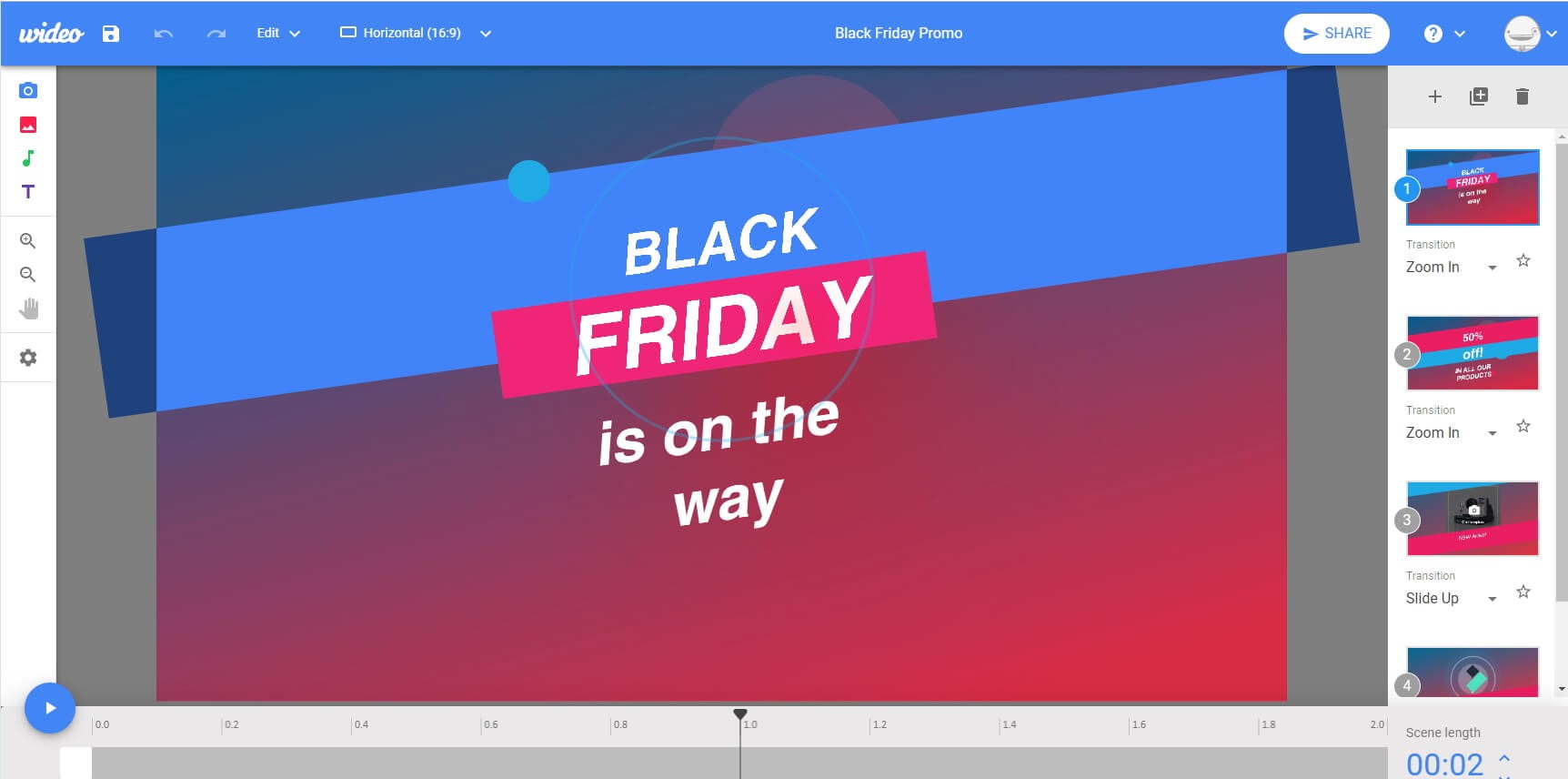 Simple tools can offer you the best results, with very few provisions to cover. Wideo is one of the best free YouTube intro makers with no watermark that allows the user to develop YouTube videos out of the 100 readily available templates with ease. Users having minute knowledge of intro makers can look over this tool for designing the best introductory video.
Tutorials: What's the easiest tutorial on making a YouTube intro with Wideo? Signing up with your Google account is available. There are a few templates for YouTube intro, but you can edit with other types of templates as well. Now click one of the templates and learn to replace your files. Different from other online YouTube intro makers, Wideo is an animated video-making tool. So you need to add a new page to create a new track like the music track and the text track.
Pros:
Extremely easy and simple in consumption
Allows you to develop animated videos as an intro video
Animated YouTube intro maker
Major resolutions, including the 16:9, 1:1, 9:16, 728*90, 300*250, and 320*50
Uploade to YouTube
Cons:
Users have to pay for the tool after the trial elapses
You cannot make a duet/react video
Top 5. Biteable: Impactful YouTube Intro Maker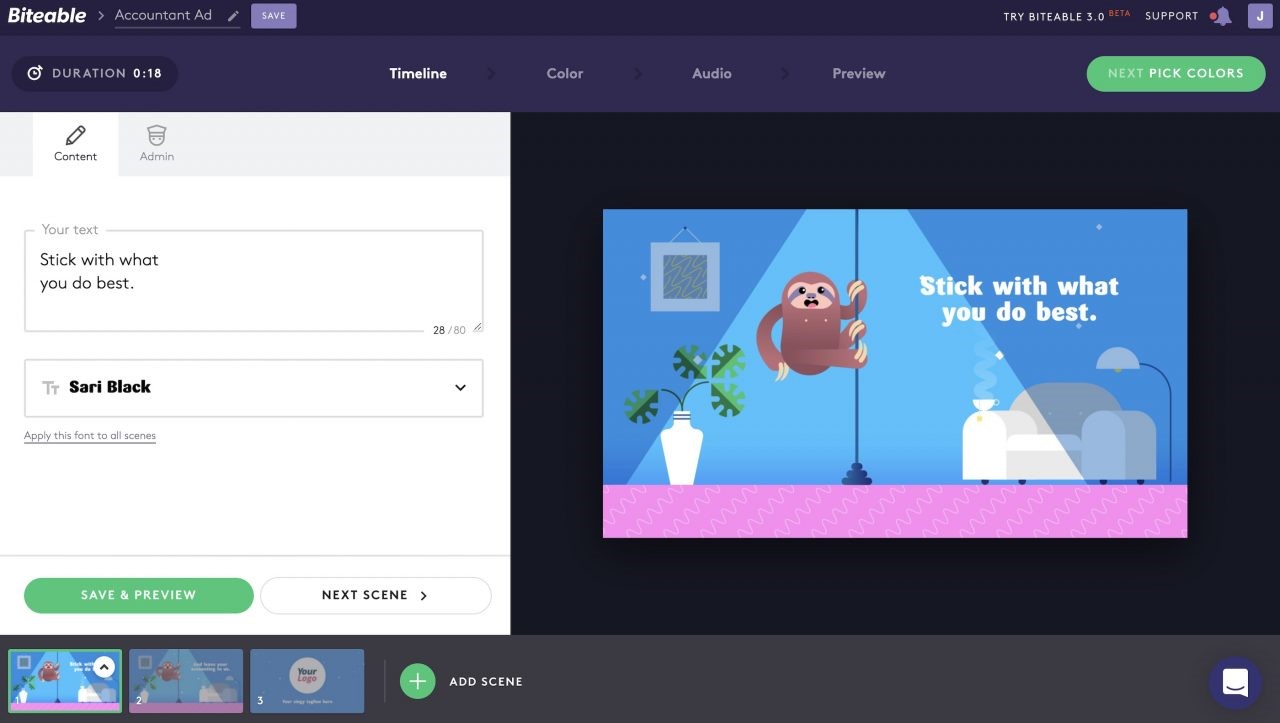 Referred among the best tools to make on-brand and studio-quality videos in minutes in the market, Biteable features ease and efficiency with its interface. This tool can help you in bringing out the best for your YouTube channel through the integration of a variety of animations, effects, and templates. The point that sets Biteable different from others is the Creation Studio, which permits you to begin with Advertising, Enterprise, PPT, Business, HR, Sales, etc.
Tutorials: What should I do to create a good YouTube intro with Biteable? You need to sign up at the very beginning and likewise, the Google Account is valid in the process. Then choose from online ready-made templates or begin with a new project. There are around 25 YouTube intro videos with an aspect ratio of 1920*1080. It is worth mentioning that Biteable is chock-full of colors for text, ribbon, and background. Once the video editing is over, you can choose to copy the video link or download it.
Pros:
Offers a comprehensive set of features with no initial costs
Allows users to design high-quality videos with compelling navigation
25+ video templates for making a YouTube intro
Advanced color grading
Support URL
Add call-to-action
Cons:
You can hardly find any music resource
Top 6. LviPid: HD YouTube Intro Maker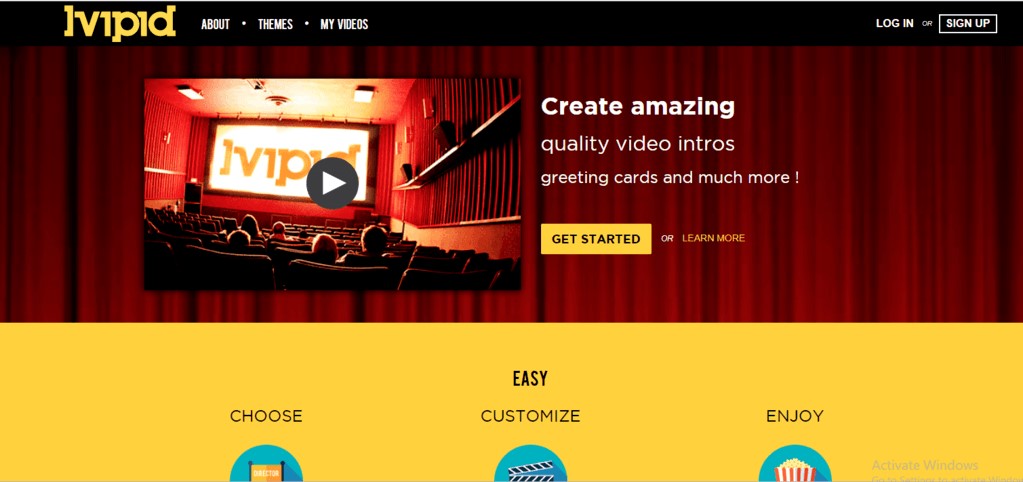 Users who are a beginner in the market can look across LviPid for designing an impressive introductory video for their YouTube channel. This not only attracts more viewers but allows the user to cover this all in a relatively easier process. You can select the themes of Morph, Code Rain, Broken Glass, Film Rool, etc. But there is no direct way to pick up the YouTube intro video online.
Tutorials: How to use Lvipid YouTube intro maker to make content easily? To begin with, choose your wanted theme from the growing assembly. Then enter texts, pictures, clips, music, filters, etc. Lastly, share the new-made video or download it on your desktop. Besides, you can log in via Facebook, Google, or Twitter.
Pros:
Convenient usability with a comprehensive interface
Store your content across its cloud storage
Resolution up to 1920*1080
Special & cool themes
Create slideshow in a couple of licks
Cons:
Offers a very limited set of animations and templates
Top 7. RenderForest: Versatile YouTube Intro Maker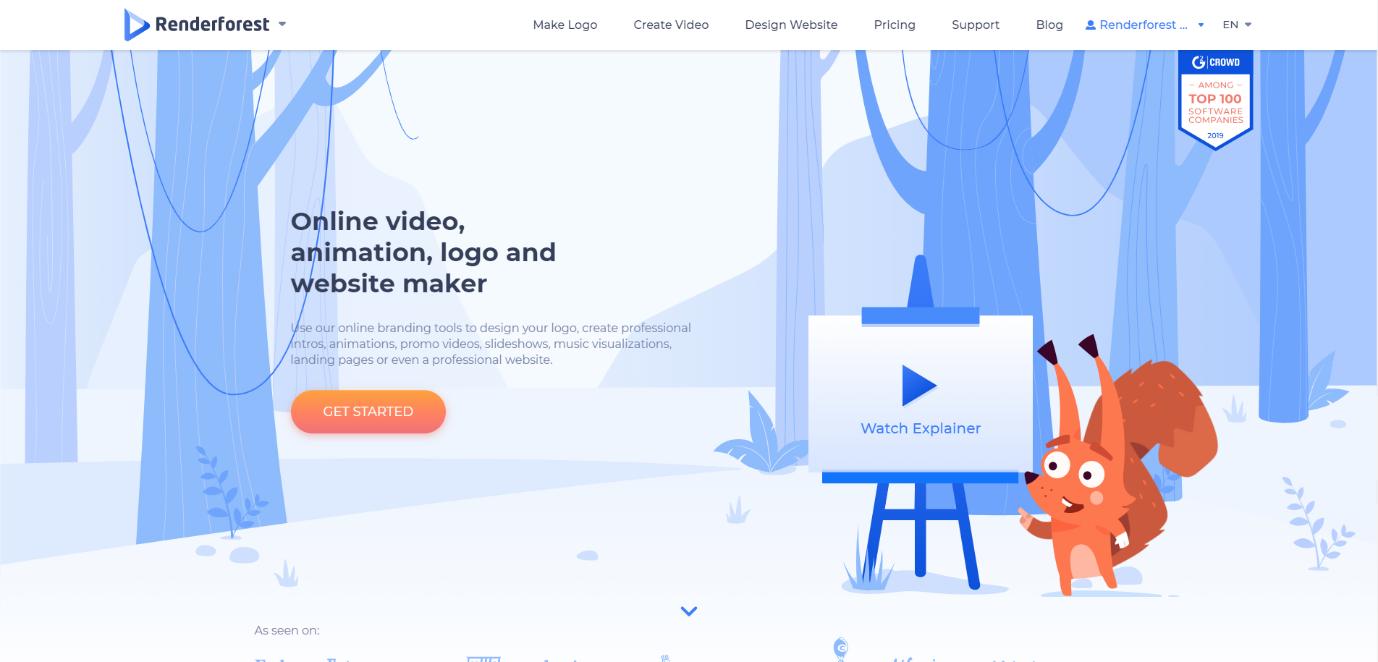 Professional video editors and content creators should always consider using impressive platforms such as RenderForest. This all-in-one tool provides the user market with an exceptional set of features that make it quite popular throughout the market. You can choose to get started with your email. Websites, Logos, Mockups, and Designs are available on this website.
Tutorials: What are the beginners' guides to making YouTube intros with RenderForest? Firstly, navigate to the menu Videos > Intros, then click the ▶ icon when you find the proper video template. Another way is searching for a YouTube intro template with this tool. You can check the duration, rate, and version of the wanted template before using it.
Pros:
Provides around 50k+ video templates for YouTube intro making
Graphically edit all kinds of videos
4K YouTube intro maker
Clean UI
Sequential workflow
Cons:
It is necessary to buy a package for utilizing the special features across RenderForest
Top 8. VideoCreek: Easy YouTube Intro Maker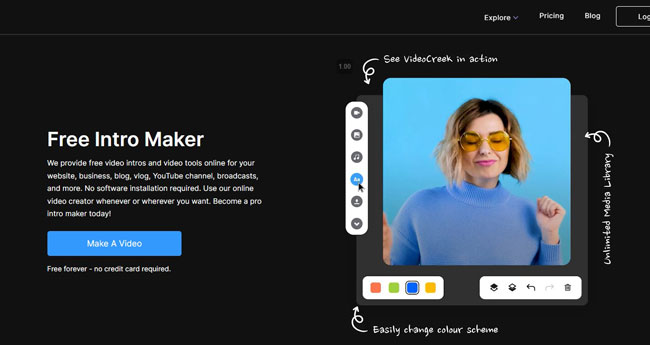 VideoCreek is a simple and free tool that features a very convenient user interface to work on. It acts as a very cohesive YouTube intro maker software that features 3D intro video editing within an easy-going environment. You can make videos for websites, blogs, broadcasts, businesses, vlogs, as well as YouTube channels.
Tutorials: How to make a YouTube intro with this online video editor? You need to log in firstly. Later, pick up the wanted YouTube intro template. After a while, try to add your favorite music, image, and other elements. VideoCreek must surprise you for its advanced effects like the masks. It's easy to add stickers, overlays, shapes, music, and colors.
Pros:
Simple and effective
You can even insert your channel's details, such as logo and images, within the intro video
A slew of overlays, shapes, masks, and logos
Export video free up to 720p
Add a voice-over
Cons:
You need to buy its membership to gain access to advanced tools
Sometimes it will get stuck
Top 9. IntroCave(IntroMaker): Customized YouTube Intro Maker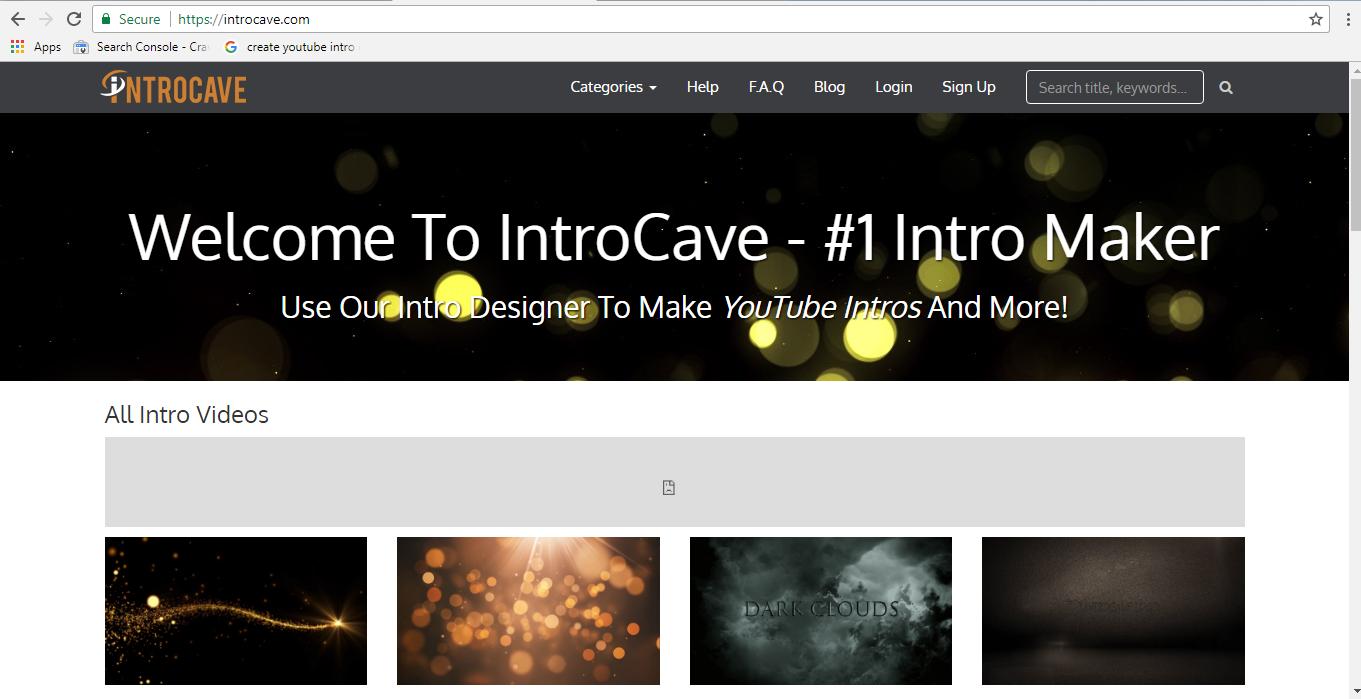 IntroCave offers its users a very different experience in intro making for YouTube. With a very convenient procedure to fix a good intro video for YouTube, IntroCave allows you to create professional content without having any prior knowledge. There are many popular video tags like Gaming, News, 3D, Title, Fire, and Logo you can turn to with IntroCave. You will get more information like the duration, text, and images.
Tutorials: How to make a YouTube intro with IntroCave online? Click the Customize icon when you find the wanted template. Notably, IntroCave is a linear video editing tool, in other words, all the tracks will be edited one by one. In this case, changing background, inserting logo, adding a new music track, applying sound effects, and more processes will become easy to operate.
Pros:
Offers particle effects
Exceptionally easy
1300+ instant YouTube video templates
Linear using experience
Extremely considerate customizations
Cons:
You need to purchase a plan to gain complete access to tools
Unfit for professional content creators
Top 10. IntroBand: Quick & Upbeat YouTube Intro Maker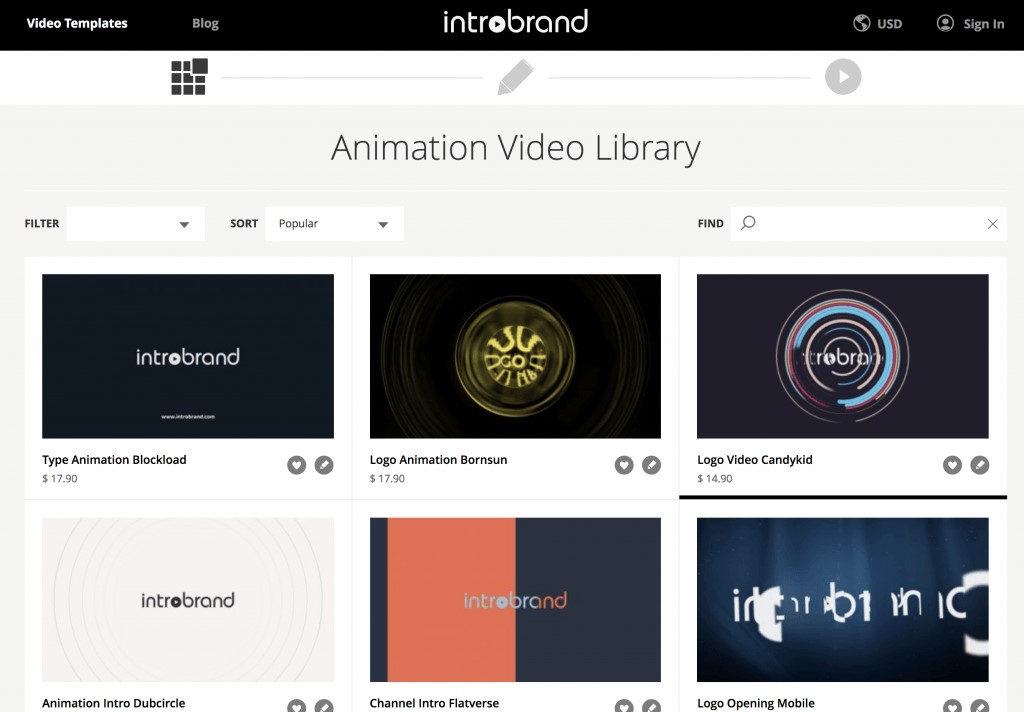 If you are in search of a fancy tool for designing your intro video, IntroBrand fixes in the perfect description as a YouTube intro maker free online without watermarks. This tool provides you with a much more design-oriented environment, leading you to develop impressive video intros to culminate in an increased viewership.
Tutorials: What's the easiest guide to making a YouTube intro with IntroBand online? You can upload a logo and then adjust the logo size with it. Then enter the slogan and value the video color. Next up, you need to add an audio track, which can be set via the online stock of IntroBand or download local. Lastly, log in to create your account and download the video you made just now.
Pros:
Has a growing template library
Do not request any subscription
Linear workflow
Music resources abound
Animations creator
Cons:
Users find difficulty in exporting their outputs
TunesKit AceMovi - Best YouTube Intro Maker on Windows 10, 11, & Mac
The above are the 10 online tools for you to make a YouTube intro, in case you find the recommended websites are unstable and hard to use, it's advised to turn to edit video on your desktop. And the most user-friendly PC YouTube intro maker is TunesKit AceMovi, known for its functionality and easy-to-use layout design.
The robust and intelligent system makes it suitable for all-around YouTube intro video editing, including cropping, cutting, recording, trimming, converting, compressing, reversing, burring, cloning(mirroring), etc. You can use the software to make and edit YouTube videos in any manner.
This tool gathers a set of features and provides the user with exceptional results when it comes to designing videos. TunesKit offers a distinctive collection of animations and effects, which makes it a very expressive choice for people who regularly consume the services of YouTube.
You can download it for advanced effects like split-screen, picture-in-picture, chroma-keying, and so on. There are over 200+ text templates to overlay and a variety of in-stock music/audio effects that you can apply on the timeline directly. Now download AceMovi for easiness and great fun!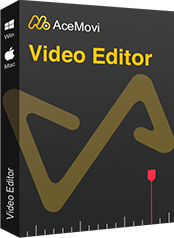 TunesKit AceMovi Video Editor
Security Verified. 8,346,544 people have downloaded it.
Pros:

Fully-fledged functions for making YouTube intro
An inspairing of stickers, music, transitions, overlays, filters, etc.
Lots of formats supported like the MP4, M4A, AVI, WMV, MPEG-1, MPEG-2, 4K Video, DivX, and DVD
Unlimited tracks to add
Easy-to-learn interface
Export video at the best YouTube format (H.264 video codec, AAC-LC audio codec, 1080p, and 16:9 aspect ratio.
Color grading
Cons:

Few YouTube intro templates to begin with
Conclusion
There are a lot of choices when it comes to selecting the best intro maker in the market. Although these tools configure the best environment to work in, you can look over their basic features to get a distinguishable picture for your work. This would help you in designing effective YouTube videos with ease.