As the most popular video platform all around the world, millions of people are using it per second. On YouTube, you can find any content you are interested in, like how-to videos, gaming montages, documentaries, music videos, etc. It is a wonderful website where you can kill time as well as share your videos with viewers all around the world.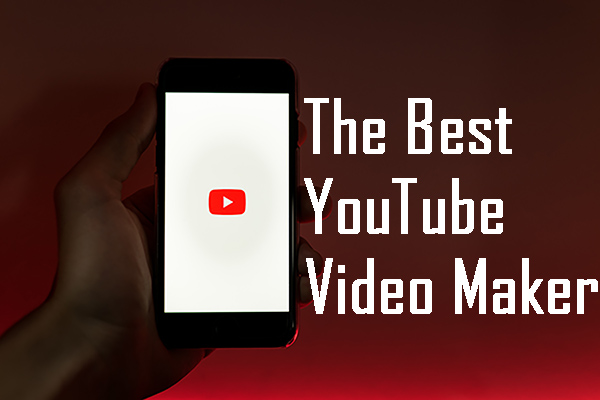 Therefore, how to make a well-established YouTube video? What video maker should I use to create YouTube video content? If you are finding the best YouTube video maker, this guide will not let you down. We have gathered the top-rank video makers, including software and mobile apps. All the products on the list will ensure superior quality and powerful editing features.
Whether you are going for professional video editing or personal video tweaks, there will always be an appropriate option for you to choose in this post.
How to Choose the Best Video Maker for YouTube?
It is necessary to talk about how to choose the right one before showing the list. All the pros and cons are considered. Because every product has different features, not every video editing program is suitable for you.
Features
What kind of video are you going to make? A photo montage? Or videos with amazing editing effects? For the former one, web-based and mobile video editors can accomplish the work easily. Different from the previous two, computer-based software is much more suitable for advanced video editing. If you need to edit green screen resources, you should find the video editors that support the chroma key feature. Some video editors have powerful editing features, but it may not be the best choice for you that it can meet your needs.
Pricing
There are free and paid video editing tools in the market. Usually, free tools will be limited in output resolution and advanced editing features. The higher prices you pay, the more features you will get. If you are a video editing beginner, a free video editor can be a good starting point. In addition, most video editor has a free version that you can download and take a try to figure out if it is the one you want.
Ease of Use
An excellent video maker for YouTube with a short learning curve is a plus. Using a complicated video editor will waste you a lot of time and finally get nothing. A video editor with a concise interface and simple operation can help you create YouTube videos much more efficiently.
System Requirements
If you need to edit a 4K or even 8K video, a low-end PC may break down or run lag. If your computer is not so good, choosing a standard video editor would be better. Besides, now more and more video editors apply hardware acceleration features that though low-end PC can use smoothly.
Top 5 YouTube Video Maker Recommendations
Top 1. TunesKit AceMovi
With its powerful editing functions and great potentials, TunesKit AceMovi is far and away the best YouTube video maker. It is available on Windows and Mac and supports both basic and advanced video editing. AceMovi allows users to upload unlimited media files to the library to start the editing. Besides that, it provides a huge stock of background music, background pictures, sound effects, and audio. Plus, it has a beginner-friendly interface and layout that even a novice can create a wonderful YouTube video easily using TunesKit AceMovi. These amazing features are the reasons TunesKit AceMovi outranks other video makers.
What's more, you'll find a built-in screen recorder in AceMovi Video Editor, allowing users to capture the desktop and record a voice-over. Most video formats like MP4, MOV, AVI, MKV, FOV, etc., are supported to import and output in TunesKit AceMovi.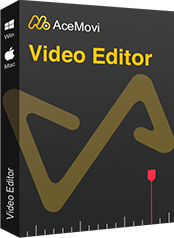 TunesKit AceMovi Video Editor
Security Verified. 5,481,347 people have downloaded it.
Record your screen and audio with high quality
The best YouTube video makers for Windows and Mac
Provide basic and advanced editing features
A lot of flexible output options including YouTube
User-friendly interface and clear navigation
Let us see a simple tutorial about how to make a YouTube video using TunesKit AceMovi.
Import your media file to TunesKit AceMovi
Drag and drop the video files that you want to edit to TunesKit AceMovi. Alternatively, clicking the Import button is also a feasible way to import media files.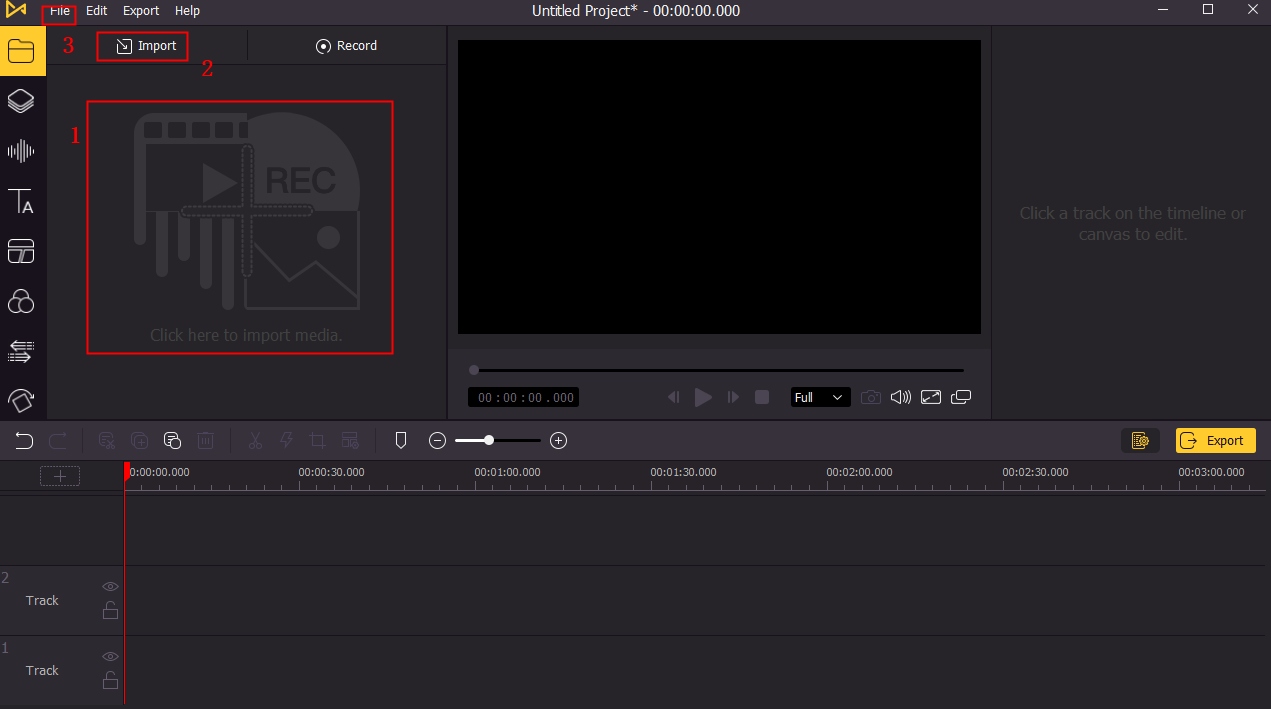 Edit your video
Then, drag your files to the AceMovi timeline to start the editing. There are various video editing effects on the left toolbar, including Split-screen, Filter, Animation, Transition, Text, and Audio. The top-right area is the editing area where you can customize the Opacity, Rotate, Scale, and Position.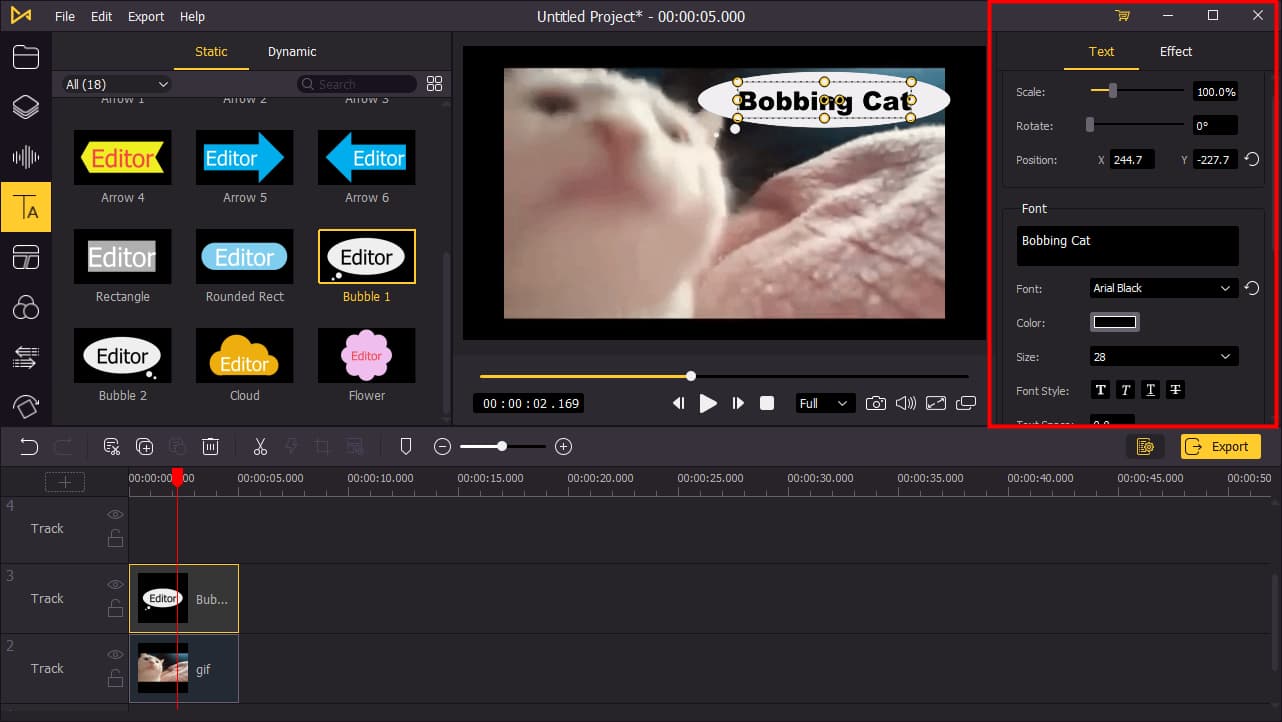 Export your video
When you finish the editing, you can click the Export button to save your work to the computer. If you want to change the resolution, you can click the Settings button to change it.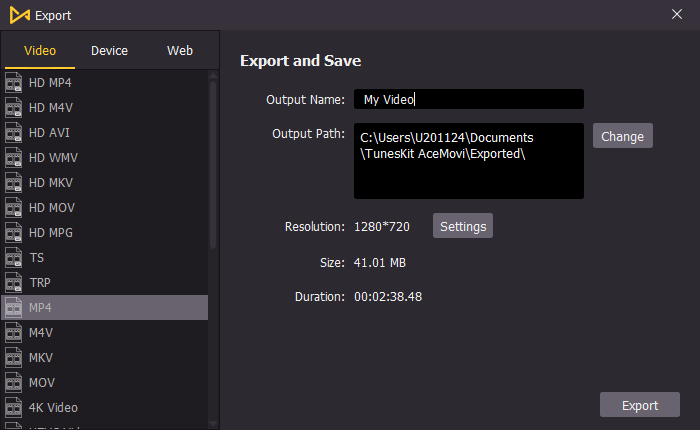 Top 2. Windows Movie Maker
As the name said, Windows Movie Maker is only available on Windows. It is a YouTube video maker free download from Microsoft Store. Movie Maker is quite a help to those who are new to video editing. It provides basic video editing features like join, cut, merge, combine, and edit audio. It has a built-in soundtrack and offers a music library for users to add to their videos. It supports up to 4K resolution and 60 FPS video. The mainstream video formats are able to import and export in Windows Movie Maker.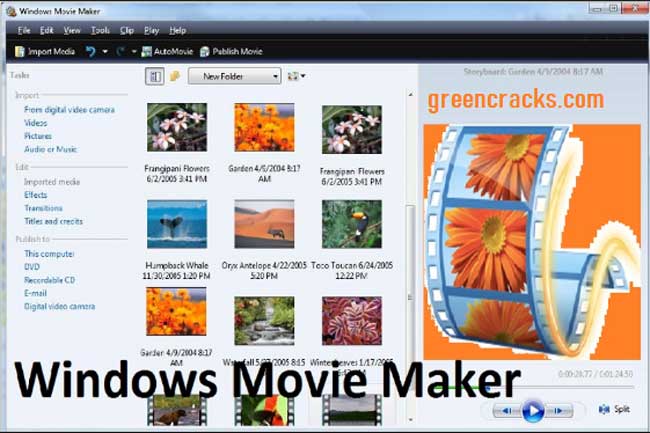 Pros:
It is a free program
Easy to use for video editing novices
Can split, merge, combine, trim video within several steps
Cons:
Not a good choice for advanced video editing
Top 3. Cyberlink PowerDirector
One of the recommended YouTube video makers is Cyberlink PowerDirector. It is available on Windows and Mac, supporting the latest Windows 11. Carrying editing features like keyframing, green screen, motion tracking, transitions, and other video effects. To make a YouTube video, the royalty-free stock library offers users more than 8 million videos, images, and audio resources. What's more, if you need to go stream on YouTube, Cyberlink PowerDirector has a live streaming feature for users to stream directly to Twitch, YouTube, or other video sites.
In addition, PowerDirector has AI editing that can help users finish heavy jobs automatically like reducing background noise, object detection, sky replacement, etc. It is an ideal choice for video editing professionals to enhance their videos.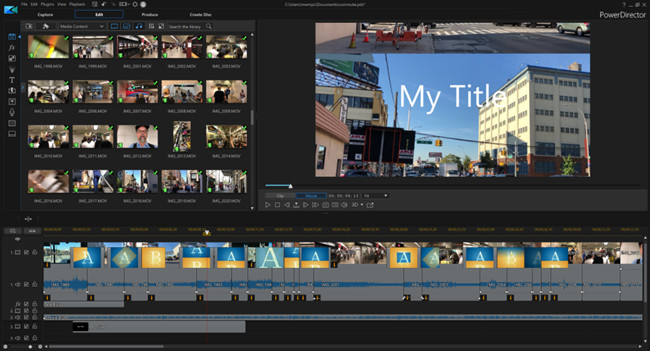 Pros:
Has various advanced video editing features
Enable users to edit green screen video with chroma key function
Supports most video formats
Top 4. Lightworks
Why Lightworks appears on this page is because of its amazing editing features. It is a well-known video editor that has millions of users all around the world. It has a free version that users can download and use it for use. Though the free version has limitations, users can still achieve simple YouTube video editing. With the editing features like trimming, subtitle, multi-cam editing, color correction, video effects, and so on. When editing your video, Lightworks will upload your project to cloud storage that you can edit it on other devices. However, the free account is only supported 720P video export.
Pros:
Cloud storage is useful for cross-device editing
Has a free version that can use for free
Support most video formats
Cons:
Not a good choice for novice to use
Top 5. Hitfilm Express
Another YouTube video maker free to use is Hitfilm Express. Users can download and use Hitfilm Express for free but still needs to purchase the extra features. Even so, the standard features are powerful enough for users to access making wonderful YouTube videos. What's more, Hitfilm supports green screen video editing and the video effects can be easily applied while using Hitfilm. Color Grading, Voiceover Recorder, Performance Enhancing, Animation Tools, etc. are free to use for every user.
In addition, users are able to import 3D models to Hitfilm Express and edit it. If supports formats like OBJ, LWO, 3DS, and gITF. Users can edit 8K videos with Hitfilm, but it requires quite a lot on your hardware performance.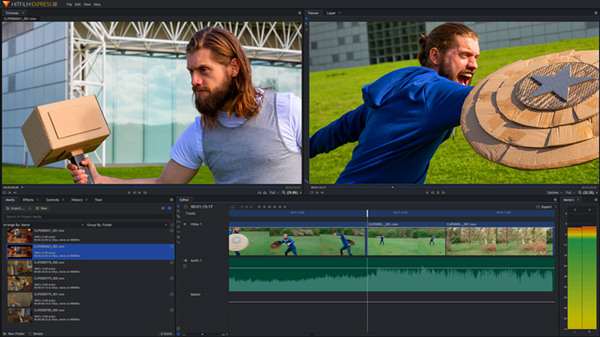 Pros:
Supports 3D model editing
Various video formats like AVI, MOV, MP4, etc. are available
The color wheels make color adjusting easier
Cons:
Extra features require payment
YouTube Video Maker App You May Need
If you want to create your YouTube video on a mobile phone, a YouTube maker app is the thing that could help you. If the mobile editing apps market is too dazzling, I will pick some superior products in this post.
Adobe Premiere Rush
As an Adobe product, there is no doubt that Adobe Premiere Rush is worth the high evaluation as one of the best YouTube video maker apps. It is available on both iOS and Android platforms. With the free version of Adobe Premiere Rush, users can do simple video editing with features like subtitles and free sound resources. If users want to edit their projects on their devices, they can purchase a premium plan and use cloud storage. With this mobile app, though novices can adjust video speed, customize video color, add subtitles to their videos easily. When the editing is finished, users can post their video to social platforms like Twitter, Facebook, YouTube, and Reddit directly.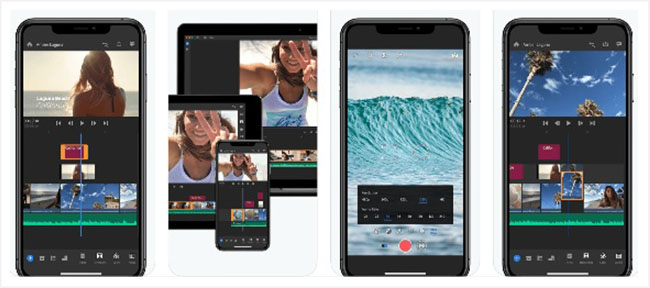 Pros:
Has cloud storage for cross-platform users
Can share video to social media platforms directly
Very easy to add transitions to the videos
Cons:
The free version has too many limitations
KineMaster
Because of the powerful editing features and concise interface, KineMaster can outrank most YouTube video maker apps. Both iOS and Android users can download it on the internet for free. There will be ads and limitations unless you purchase a KineMaster Premium subscription. With amazing video effects like adjusting speed, slow motion, reversing video, KineMaster will not let users down. Though it is just a mobile app, KineMaster supports 4K videos and 2160P resolution. For many YouTube users, KineMaster is the ideal choice to create their content whenever and wherever.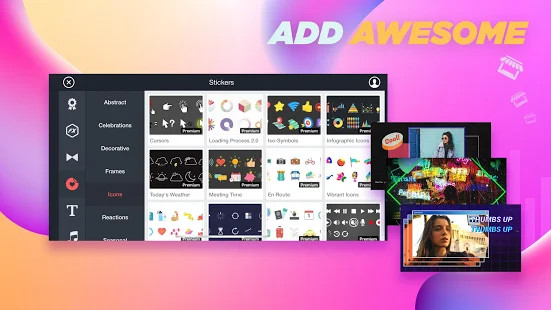 Pros:
Supports 4K video editing
Can add some layers and audio tracks to each video clip
Have more than 2500 video editing resources
Cons:
60FPS is not available in KineMaster
Magisto
Magisto is a well-known YouTube video maker app that has over 120 million users. Not only to make YouTube videos, but Magisto is also an excellent tool to make slideshow videos, music videos, or films. It has various video editing features like video layout, video duration, different fonts, and funny stickers. It should be noticed that users can edit videos with Magisto free, but the video length will be limited up to 1 minute. If you are new to the video editing field, the features of the Magisto free version are powerful enough for you.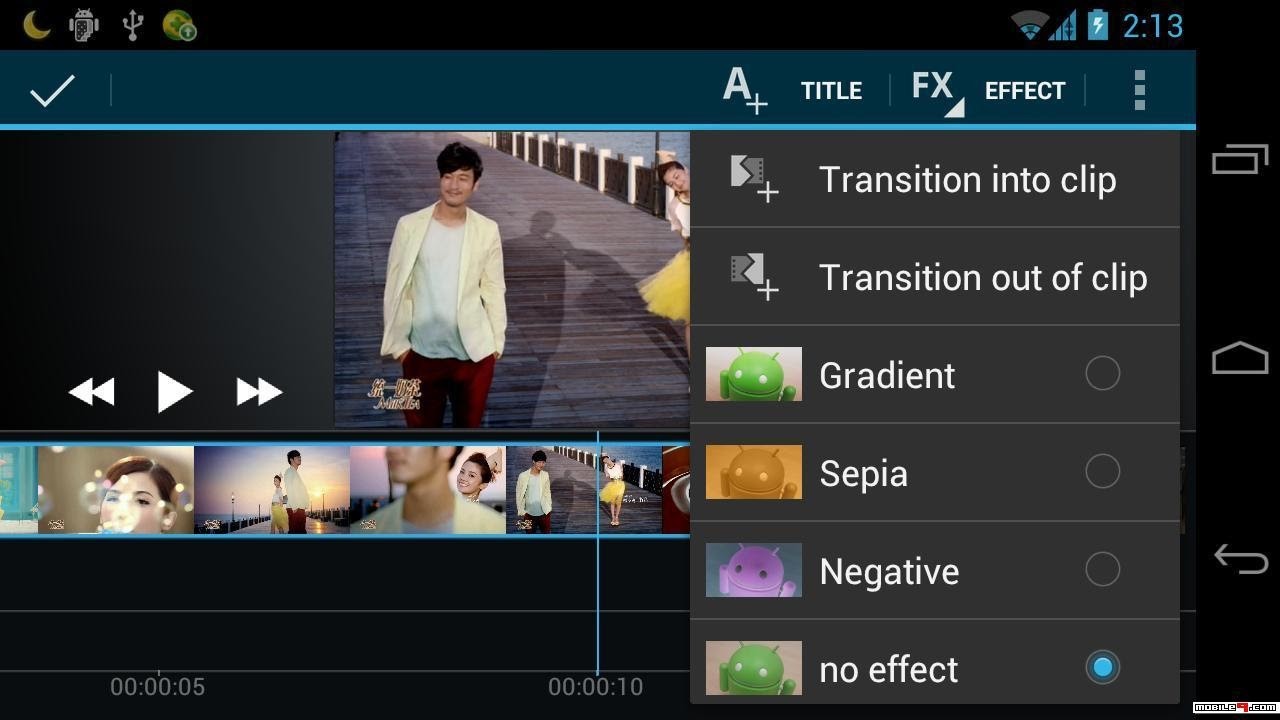 Pros:
Can compare different parameters of the video file
Allows users to upload videos to social platforms directly
Has excellent video editing features for beginners
Cons:
The free version can edit only a 1-minute video
Tips to Make a Stunning YouTube Intro
To make your video impressive and characteristic, a YouTube video intro is essential. The above YouTube video makers are powerful enough to make a YouTube intro. Here are some tips that you may need to create an eye-catching YouTube video intro.
Length. A suitable video intro should be shorter than 30 seconds, and 15s to 20s is the best length of your video intro. The audience would close your video for a long video intro.
Be Concise. There should not be too much content in your video intro. In your YouTube video intro, you can try to showcase the key point of this video and a short introduction of yourself.
Brand. Put your profile or symbolic images into the video intro to let your viewers remember you or your channel.
Video Tutorial: How to Make a YouTube Intro
Summary
That's all for the best YouTube video makers. After reading this post, I believe that you have learned the best software and apps that you can use to create eye-catching YouTube videos. Personally, I prefer TunesKit AceMovi better. It is an all-in-one video editor that gives users the best video editing experience for both novice and professionals. No matter you are going to make advanced or standard video editing, AceMovi will never let your down.