For many YouTubers, updating the uploaded video by combining other video clips is a common video editing skill. Too often, a video uploaded doesn't mean its editing stops. The creators will merge, trim, rotate, add filters, add audio, or do other edits to make their videos better. Merging videos is the most effective way to increase the content and length of the video. In this post, I will show you some youtube mergers that help you with YouTube video joining on Win/Mac/Online.

TunesKit AceMovi - The best YouTube video merger on Win/Mac
TunesKit AceMovi is a one-stop video editing tool that can merge YouTube videos within several steps. With the non-linear timeline of TunesKit AceMovi, users can combine YouTube videos in any sequence as users want. Besides, it allows users to add animations and transitions between each two video clips to make the switch looks more smoothly. It also enables users to add audio, subtitles, stickers, background, watermark, and split-screen to the YouTube videos.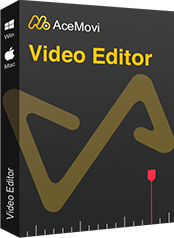 AceMovi Video Editor
Security Verified. 5,481,347 people have downloaded it.
Provides basic and advanced editing features
Mounts of video editing templates
Easy to use and user-friendly
Import as many videos or footage as you want
Combine YouTube videos within several steps
Now, let's see the step-by-step guide for how to combine YouTube videos using TunesKit AceMovi.
Import media to TunesKit AceMovi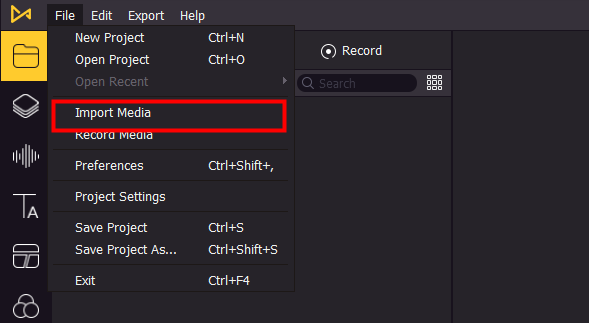 First, download and launch TunesKit AceMovi on your computer. TunesKit AceMovi is available on Windows and Mac with low system requirements. You can drag and drop the YouTube video files to the TunesKit AceMovi library directly. Or click the Import button to import videos to TunesKit AceMovi.
Add the YouTube videos to timeline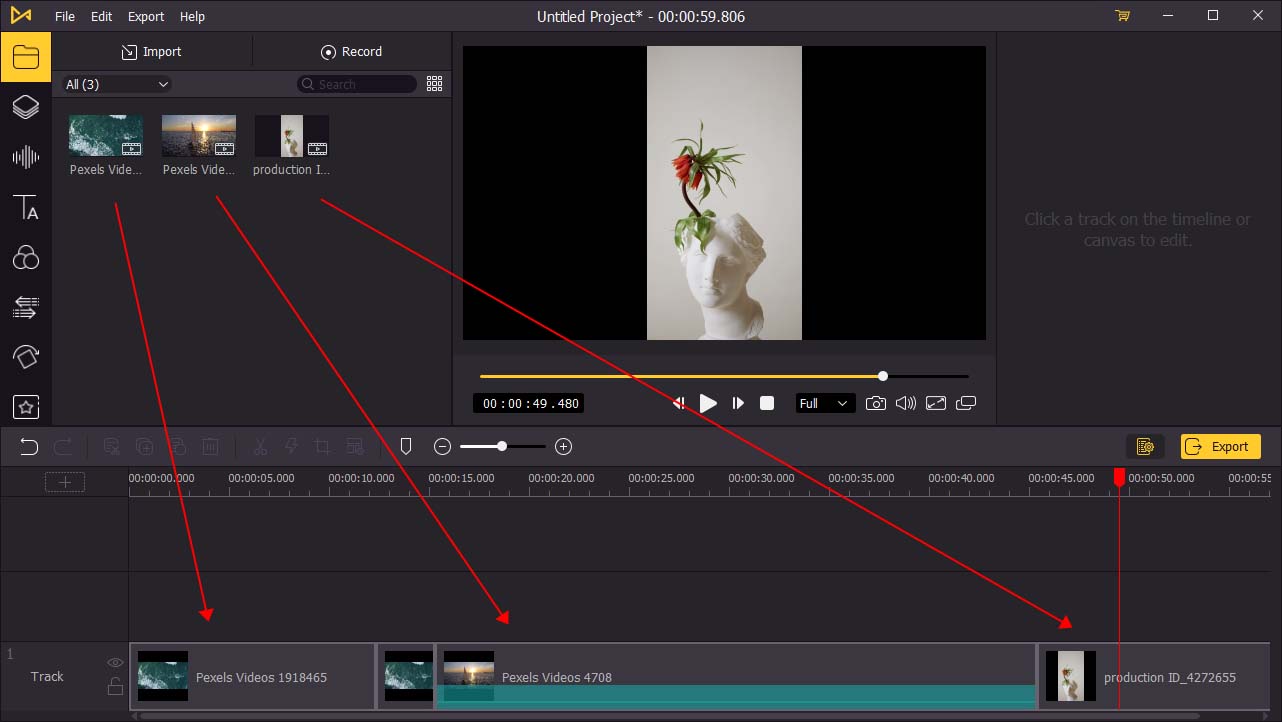 Drag and drop the media files to the timeline from the AceMovi library. The video file and the audio file should be placed in different tracks. If you need to sync the audio with video, hold and drag the box edge to make it.
Add video effects to your YouTube videos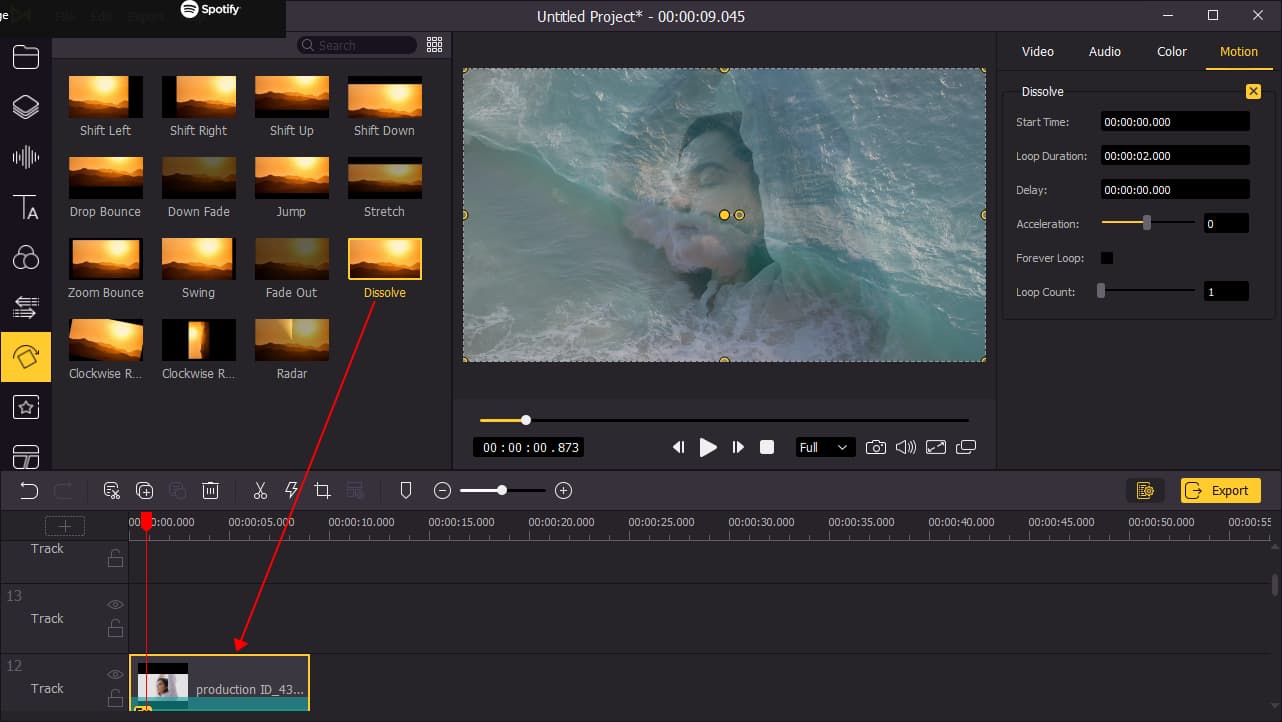 To get better video switching, adding video effects like transitions or animations should not be a bad idea. Click the Transition icon and Animations icon on TunesKit AceMovi, then drag and drop the favored projects to the timeline. You can see the effects in the preview window. In addition, you can customize the effect on the top-right properties panel.
Combine YouTube videos into one and export it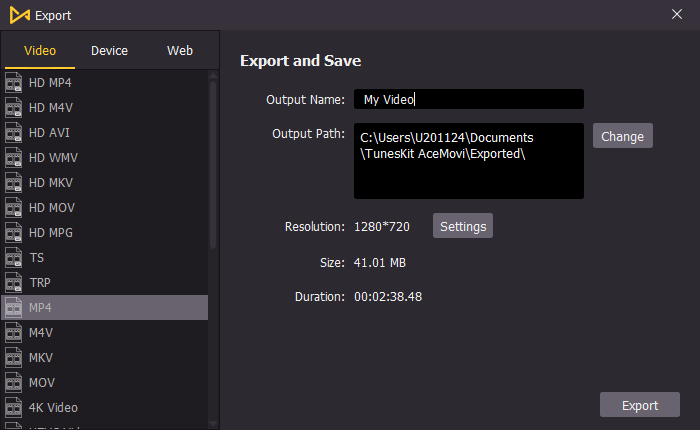 Click the Export button to get your effort with the final step. You can rename, change location and select the format of your video in the pop-up window. When everything is satisfied, click the Export button to enter the export process. It is all the procedures to combine YouTube Videos using TunesKit AceMovi.
How to combine YouTube videos online
Though video editing software like TunesKit AceMovi provides powerful editing features, what is the better choice for those who just need to combine video instead of various video post-creating? A YouTube video merger online undoubtedly will stand out. Next up, I will recommend some dedicated online tools to you, which combines your YouTube videos without downloading any extra content, and only requires a browser.
WeVideo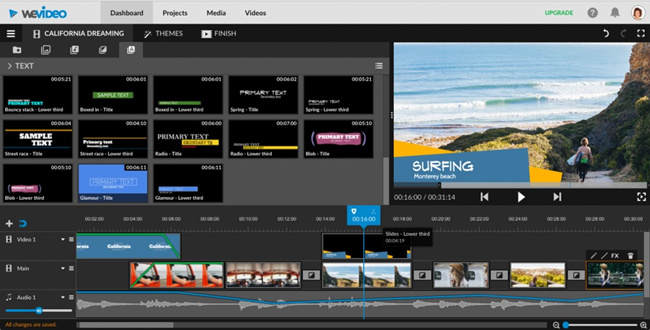 WeVideo is an online tool for beginners to combine YouTube videos for free. Before combining, you should sign up with Google, Facebook, or Email. Then you can start the video editing. WeVideo enables users to upload their YouTube videos by URL or upload from local files. Put your video files together to combine them easily. You can also record your screen, audio, and voiceover with the built-in feature of WeVideo, and join them in your video. Once you are satisfied with your video, click the Export button to get it as MP4 or other video formats.
Kapwing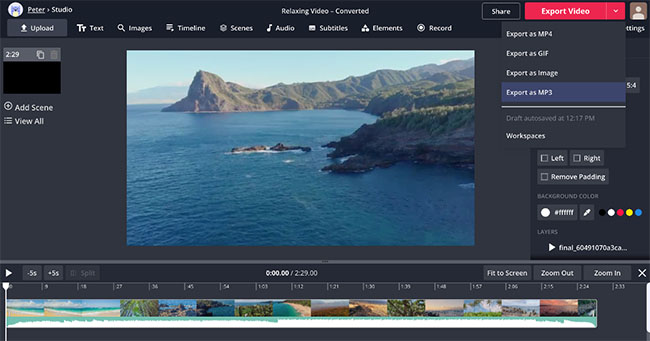 Kapwing is absolutely a competitive product that is designed to combine YouTube videos online. One of the convenience of using Kapwing is that users are allowed to upload videos by dragging and dropping. Combine the videos with the following steps:
Step 1: Add the video files to Kapwing;
Step 2: Place them in the order you want;
Step 3: Export the combined video.
FlexClip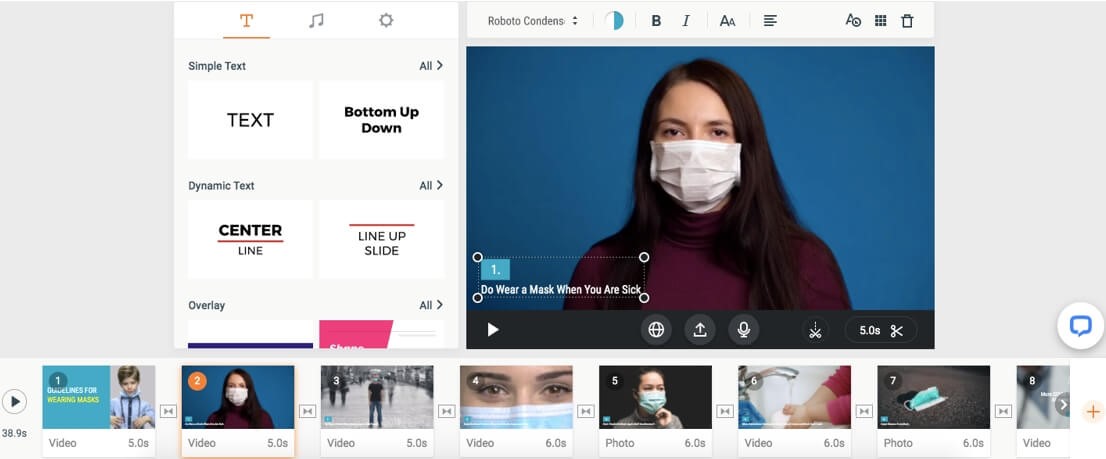 As a simple and free YouTube video merger online, FlexClip is appropriate among video editing novices. Before editing, you will be required to sign up for FlexClip. You can upload the videos from your computer. It is worth noting that, FlexClips limits each video up to 1 minute. Drag the videos to the timeline, and change the position by moving them. If you possess a premium account, you can access the videos from cloud storage that you have uploaded from other devices.
The bottom line
This is all the tutorial for how to combine YouTube videos. No matter whether you are a video editing novice or master, the above four tools are suitable. Compared to online tools, I personally prefer TunesKit AceMovi - a professional and all-in-one video editor, and it is also highly recommended by users all around the world.