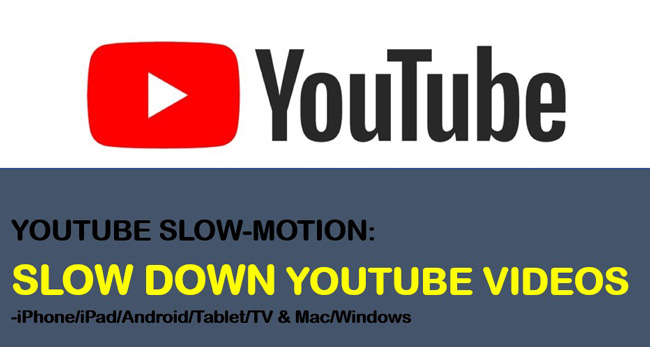 You might find that some YouTube videos are too quick to follow, especially for those tutorial videos of something intricate or videos of language studying, etc. Another trouble is that when you've come up with some great ideas for slow-motion videos but you're still confused about how to make/edit a YouTube video with this feature.
Don't worry, it's a piece of cake! For YouTube lovers, in today's talking we'll share with you the steps of slowing down YouTube videos on all the current mobile and desktop devices, along with an impressive and robust YouTube slow-motion videos maker/editor, let's check it out now.
Ⅰ How to Slow Down YouTube Videos on Mobile (iPhone, iPad, Android, Tablet, & TV)
YouTube app is available on nearly all downloading websites or stations like App Store and Google Play, meanwhile, there're just differences on system operations between iOS and Android, so, the steps below can be used for both of them.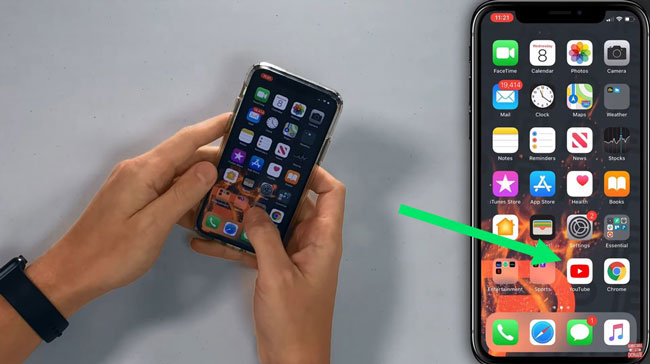 Open the Wanted Videos & Settings on YouTube
You can click into the YouTube Videos right now, and then see the ellipsis-shaped icon in the upper right? That's the Settings.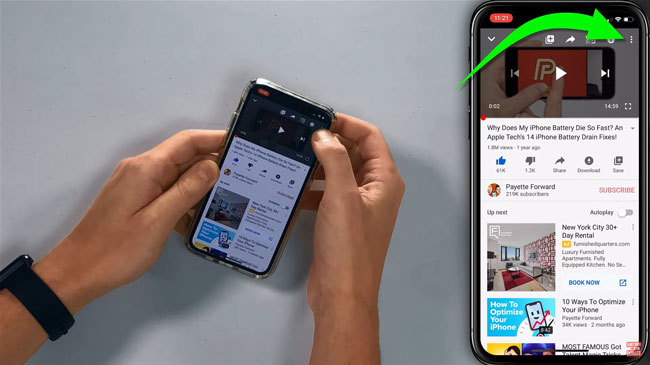 Set Playback Speed on YouTube App
Now 7 options are getting into your eyes – Quality, Captions, Report, Help & feedback, Playback speed, Watch in VR, and Cancel. You should choose the Playback speed.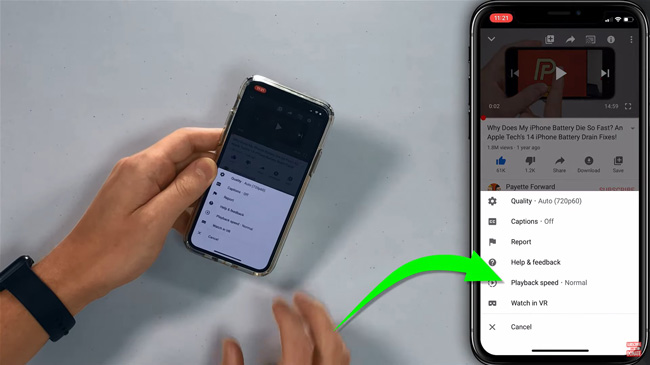 Alter "Normal" to "0.75X", "0.5X", or "0.25X" to Slow Down YouTube Video
The YouTube video will be playing as "Normal" by default, so it's required to change it into slow down speed as "0.75X", "0.5X", or "0.25X". And we suggest having a try by the real-time playing to compare which speed suits you better.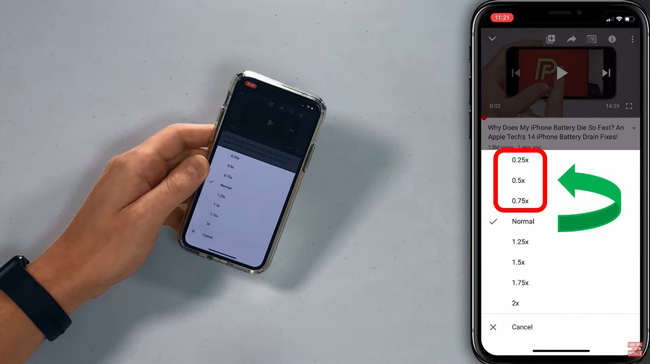 Ⅱ How to Slow Down YouTube Videos on Mac/Windows
So, how can we make YouTube videos slow down on desktop? We all know that YouTube proceeding the independent website, and by which you can enjoy as many videos as like on mobile, but relevant settings for video slowing down are different. Next, let's see exactly how to change the playback speed of the videos on the YouTube website.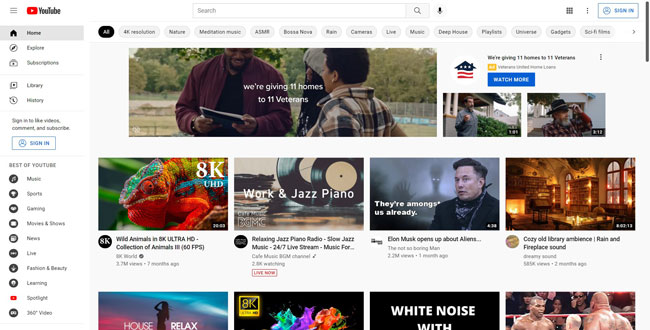 Browse the Target YouTube Videos
After opening up the YouTube webiste on desktop, now you can get into your preferred videos.
Click "Settings" and "Playback Speed"
Tap on the gear-shaped icon "Settings", and then choose the playback speed as 0.25, 0.5, or 0.75, you can customize it also.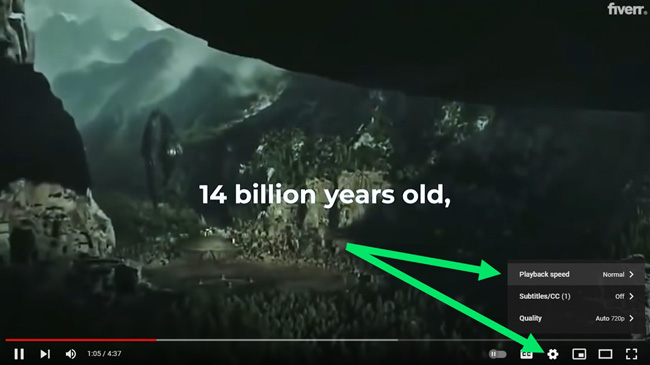 Slow Down the Playback Speed to "0.25", "0.5", or "0.75"
Feeling so easy to slow down YouTube videos on mobile and desktop? I believe it's yes. By the way, in case that you're thinking the YouTube videos are too slow, speeding up them through those steps is allowable likewise. And here comes the questions that appeal to many video and film editors – how to make a slow-motion YouTube video, you want to know it? Go on!
Ⅲ Best YouTube Slow-Motion Video Maker/Editor on Windows and Mac- AceMovi Video Editor
In the field of making compelling short-form videos and some critical movie clips like the action of dodging bullets in The Matrix, the slow-motion feature makes itself stand out by slowing down the videos frame by frame. So, we're recommending the best slow-YouTube motion video editor/maker for you: AceMovi. Through AceMovi Video Editor, you're allowable to set the slow-motion speed from 0.01x minimum and 100x maximum by custom, here are the very easy guides.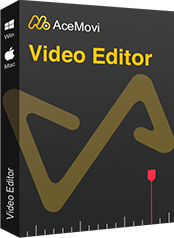 AceMovi Video Editor
Security Verified. 5,481,347 people have downloaded it.
YouTube Videos: Provides basic and advanced slow down features
Compelling Templates: Hundreds of video editing templates
Learning Curve: Easy to use and user-friendly
Import Formats: Import as many videos or footage as you want
Combination Feature: Combine YouTube videos within several steps
Import Video Thumbnails on AceMovi
It's advised to import your videos by drag-n-drop video clips into the timeline from desktop or computer folders straightly. You can add as many clips, images, or other video elements into the track with AceMovi.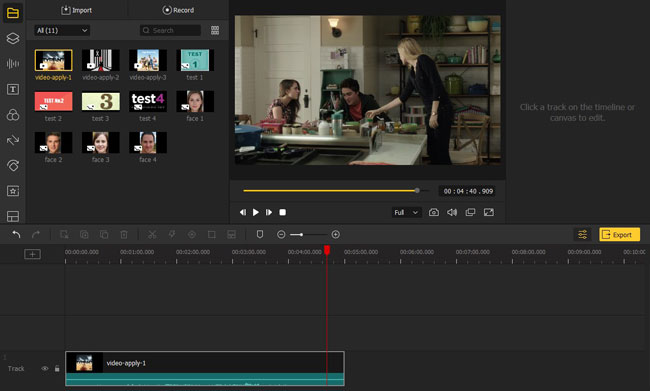 Add Slow-Motion Feature into Video
Two ways are functional to make videos slow down:
One method: Left-click the thunder-shaped icon "Speed", "Slow", and then choose the video speed as 0.5x, 0.25x, and more, you can also customize it by holding-n-scrolling from left to right or altering the duration.
Another method: Right-click the clip in the track, then choose "Speed and Duration", lastly, alter the speed or duration as you want.
Edit the Slow-Motion Video with Effects
AceMovi contains a vast selection of video effects/elements like background, filters, stickers, animations, and overlays, you can add all of them with high video quality for free on the trial version.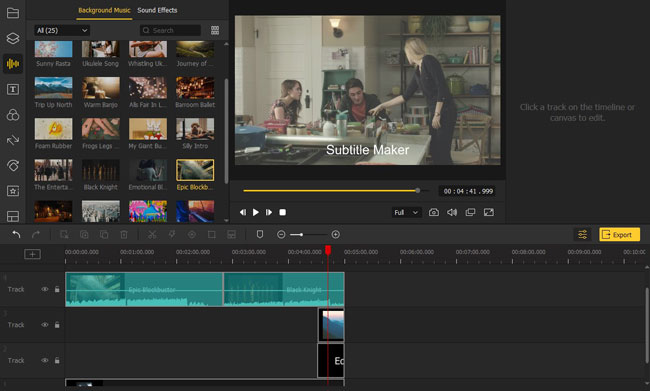 Export Slow-Motion YouTube Video
AceMovi also plays the role of YouTube uploader, by which you can post any edited videos on YouTube without any hassle. And it's time to choose "Web", "YouTube", and make presets like Resolution or Output Path.
By the way, most of the videos you downloaded from the YouTube website are FLV format, which is included in AceMovi as well, that is to say, there won't be any trouble when importing or exporting YouTube videos by AceMovi.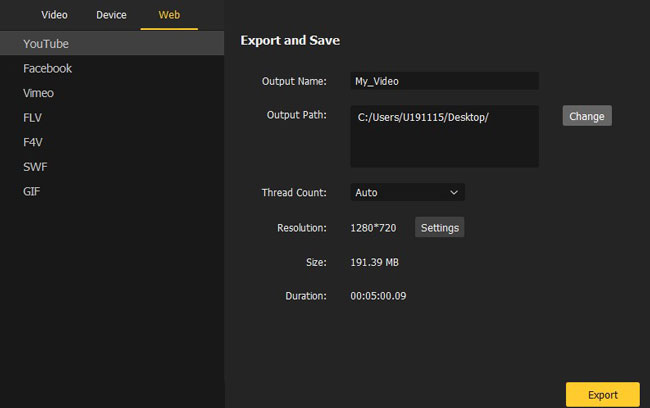 Ⅳ To Sum Up
The methods of slowing down YouTube videos on mobile or desktop that are listed above must be functional smoothly, and also, we've provided the best and robust video editor -AceMovi with the basic tutorials of making/editing slow-motion videos for YouTube. It's available to be downloaded directly below, don't be hesitated, have a try now!