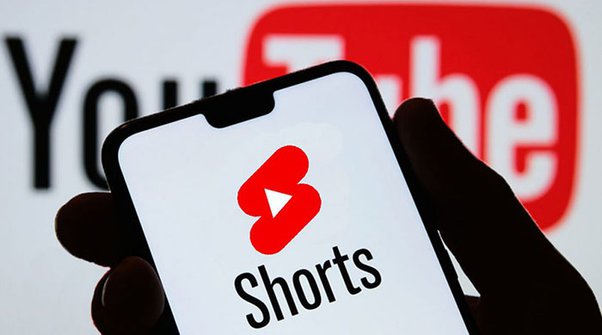 YouTube has been one of the most popular video sharing platforms since its inception in 2005. It is known for its longer horizontal video content, where users can upload their own created videos and find their own kind of people. In 2021, YouTube officially launched a video type called YouTube shorts to the world. YouTube shorts operate in a similar form to short video platforms such as TikTok, where users can shoot, share and watch vertical short video content. YouTube shorts should be less than 60 seconds long.
With the popularity of YouTube shorts, more and more people want to make YouTube shorts. But many people don't know how to make a YouTube short yet, because they don't know much about this novel video form. Actually, there are many methods to do it. Here we will introduce some of them to you.
Part 1: Make a YouTube Short Within YouTube
Before we make YouTube shorts on PC, the first step we should do is to shoot a video. It is the most convenient way to shoot a YouTube short on your mobile phone within YouTube. You can create a new video from the recording step or just upload the edited video to YouTube. But you short remember that the video you post as a YouTube short must not over 60s. Otherwise your video will not be classified as a YouTube short video.
Steps to shot a YouTube short on mobile phone:
Step 1: Open YouTube app on your mobile phone and click the +icon at the bottom of screen.
Step 2: Click Create a Short;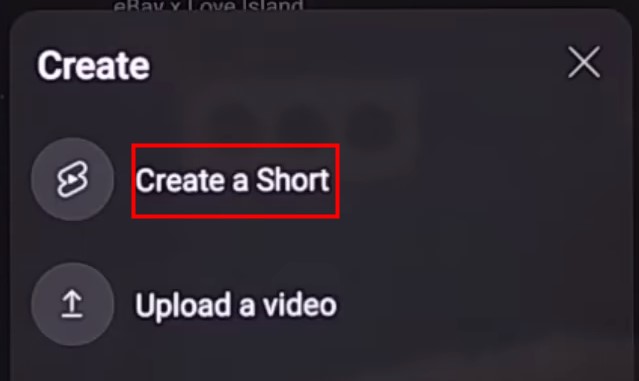 Step 3: Click the red button to start recording. By default, the most length of a short is no more than 15 seconds. But if you want to extend the timeframe, you can click the 15 number at the top right of screen to change it as 60s. You can add effects as your need using the tools at the right of screen when you record your video.
Step 4: If you are satisfy with your video, just click the white √ at the bottom right of screen. At this time, you can add background music to your video and preview the video.

Step 5: Click upload shorts and then you can check it on your account.
Part 2: Make an Attractive YouTube Short on PC Offline
Although we cannot record a new YouTube short on PC, we can make a YouTube short more attractive on PC which was shoot before. TunesKit AceMovi Video Editor has a lot of editing features, such as cropping videos, merging videos, adding effect and animated text to videos and adding background music to videos, which cover all features you can think of. What is the most important is that if your purpose is to upload videos to certain popular platform, such as TikTok and YouTube, TunesKit AceMovi Video Editor can help you export the video as the target format which will be comparable with that platform.
AceMovi Editor for YouTube
Basic & advanced features boost footage
Multiple filters, transitions, & stickers
User-friendly 3-panel workflow
Import unlimited photos or clips
Videos can be changed from 0 to 360 degrees
Flip or mirror video to clone yourself
How to make a YouTube short on PC with TunesKit AceMovi Video Editor?
Transfer the video that you have shot to your PC;
Download and open TunesKit AceMovi Video Editor;
Click Import to add the video; or you can just drag videos to the software;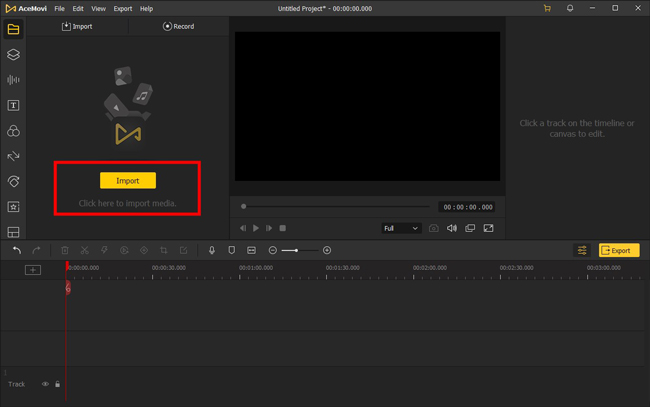 Put mouse on each videos and click the yellow + icon to add videos to timeline; or you can just drag the target video to timeline;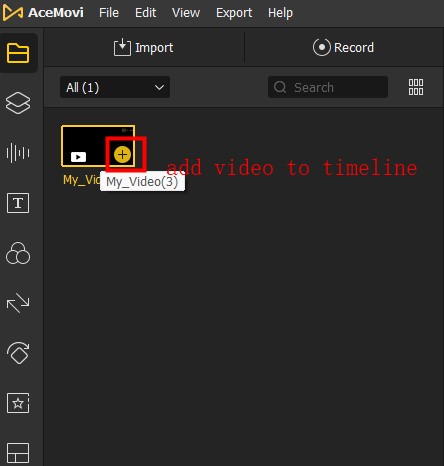 Adjust the total duration of the video to no more than 60 second; you can choose to adjust the video speed, orientation and size of the video screen directly above the timeline;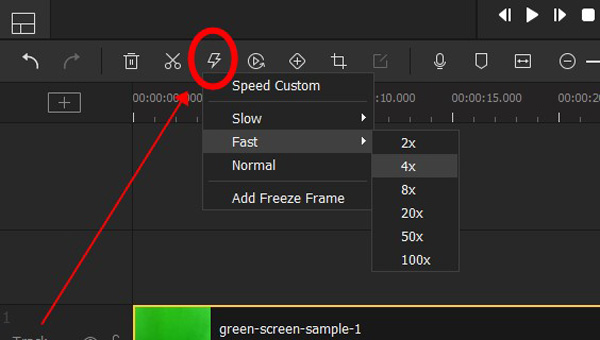 Select the desired function on the left side of the page, apply filters, toggles, text or music to the video, etc.;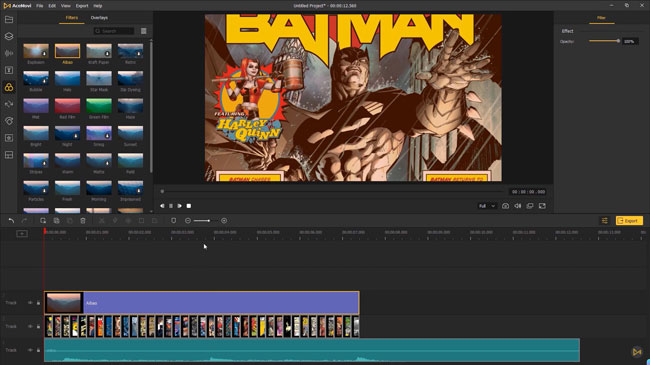 After getting the satisfactory video, click the yellow button Export on the top right of the timeline;
Click Web on the left side of the pop-up window and select YouTube; set the video name, save path and resolution on the right side of the pop-up window; after completing the above operations, click Export in the pop-up window to save the video to your computer.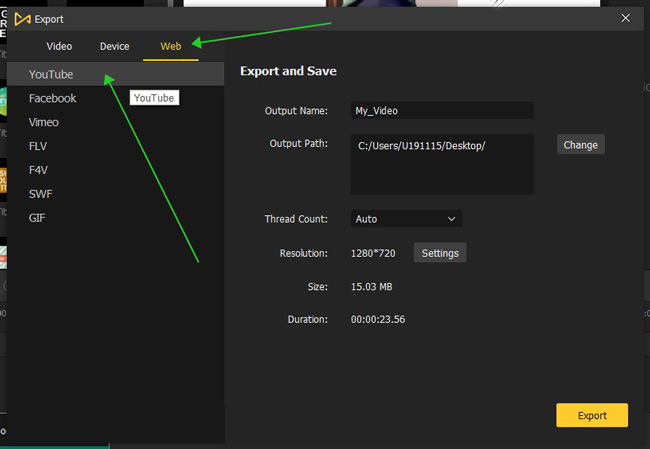 Part 3: Polish a YouTube Short on PC Online
Online tools are not so stable as desktop software. So those tools are more adaptable for some emergency situation like no your personal computer with you. But we still need an excellent online tool solve those emergency situations. Clipchamp should be recommended to help you make a YouTube short on PC online.
Clipchamp not only has a large number of video editing functions, but also classifies video templates according to the platform on which the video is to be uploaded, which is convenient for users to choose; in order to adapt to the requirements of YouTube Shorts, the video can be adjusted from horizontal video to vertical video within Clipchamp.
Steps to make a YouTube short on PC online:
Open the website of Clipchamp and click "Create a new video";

Drag video you prepared from your device to Your media or click the Import media button; then drag the video to timeline;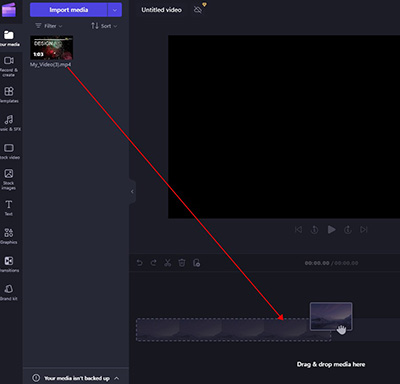 According to your thoughts, polish your video with the features at the left of the page;
Click the white button at the preview frame; choose 9:16;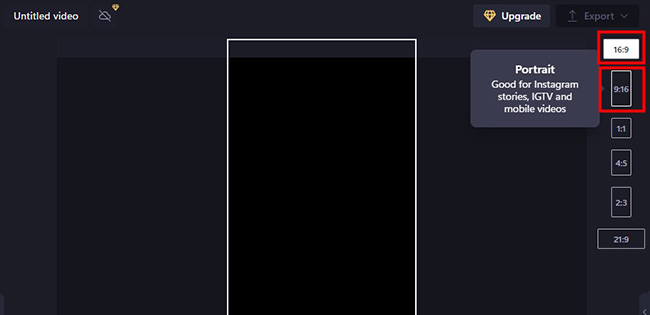 Click the Export button and choose the video quality; You can just save it to your computer. But if you want to upload the completed video to YouTube directly, just click the Upload to YouTube.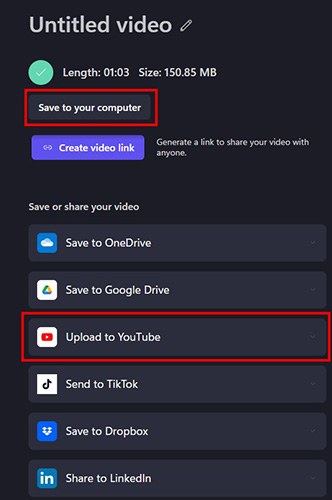 Conclusion
It is not so difficult, right? Now you may have known how to make a YouTube short on PC. If you have any ideas on how to create your YouTube shorts, just start make it right now. If you have you PC right now, I recommend TunesKit AceMovi Video Editor. If not, Clipchamp is also a good choice. Hope you get an attractive video!