In an ideal world, you could record videos, submit them to social accounts, and do so without modifying or shrinking the files. Unfortunately, in the world we presently live in, that is not the case. Whether attempting to upload a video to Facebook, post a video on YouTube Studio, or produce an Instagram Story, each network has distinct size requirements. Fortunately, there is a solution: You can instantly change the size of your video clips to suit any need by using a smart YouTube video cropper. Continue reading to learn about the aspect ratio resizers, including their main attributes. Let's commence.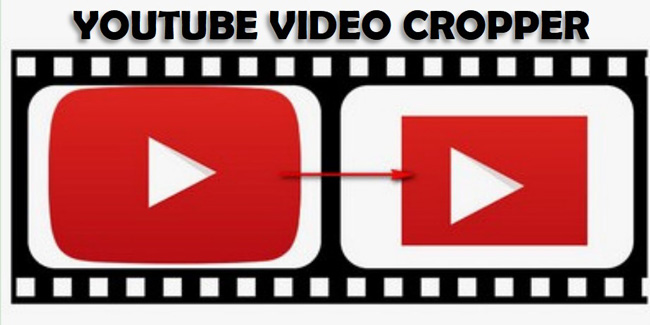 Top 1. TunesKit AceMovi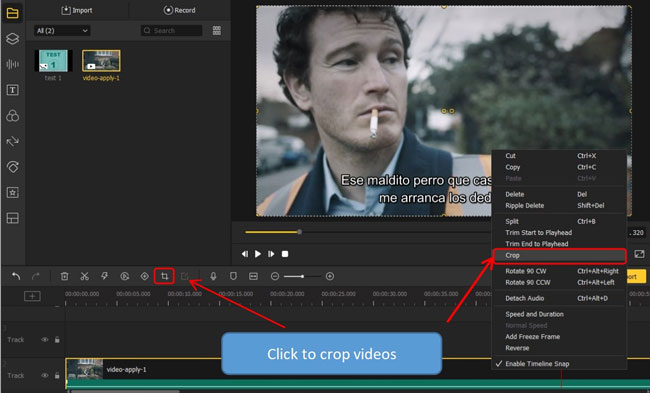 You can easily and quickly crop a YouTube video in TunesKit AceMovi by selecting the clip in the timeline by just pressing the Video Cropper icon, or right-clicking the clip and selecting the "Crop" option from the context menu. Other ways to crop a video clip include zooming in and out of the movie.
You will see two canvases when you open the popup window. You may decide the size of the area you wish to work with by dragging and resizing the rectangle in the right window; the results will be shown in the left preview tab. You can manually input the height and width on the CropArea Size, or you may pick the aspect ratio you want to use. Some examples of aspect ratios are 16:9, 4:3, and 9:16.
With just a few clicks, you can generate modifications that are on par with those done by professionals. In addition to that, it provides compatibility for the newest formats, such as MOV, MPEG, FLV, WTV, MOD, and hundreds of others.
Other commonly-used features include Video Trimmer, Cutter, Splitter, Converter, Resolution Switcher, Speed Changer, Split-Screen Creator, and so on. All are available even on the free trial version of AceMovi.
AceMovi YouTube Video Editor
Licensed happy birthday background music
Easy downloading channels for Win and Mac
Tremendous storage for unlimited projects
Well-designed birthday slideshow templates
Edit and make a birthday video without registration
Any aspect ratio and resolution is included
Video Tutorial: How to Crop YouTube Video in AceMovi
AceMovi makes it easy to convert and download your videos in the best format for YouTube. To accomplish this, you need to click the "Export", "Web" and "YouTube". The save path directory keeps your media at the H.264 Codec/MP4 format, with 16:9 aspect ratio and the Full HD 1080p resolution.
Top 2. CyberLink Director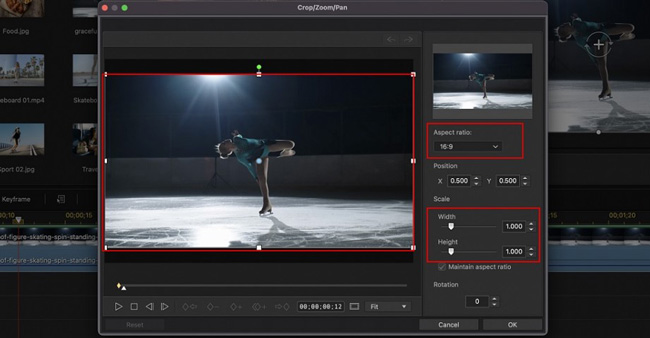 CyberLink PowerDirector has a video resizer as one of its intelligent stellar function, along with dozens of other editing tools, effects, transitions, and filters. The user interface makes it direct to submit a video, watch it, generate content, and distribute it on your YouTube account. If you have trouble coming up with creative ideas, you may go through the stock library, which offers lots of royalty-free media.
As our top selection for an easy YouTube cropper and editor owing to its extensive feature set, which includes a wide variety of options and almost no restrictions. We believe the AI-powered editing tools that come with the program are worthy of attempting.
Pros:

Prebuilt video aspect ratios
Customize the video window flexibly
Thousands of VFX and templates
AI motion and object tracking
Cons:

The free version has watermarks
It needs more animated text templates
Top 3. Easy Video Maker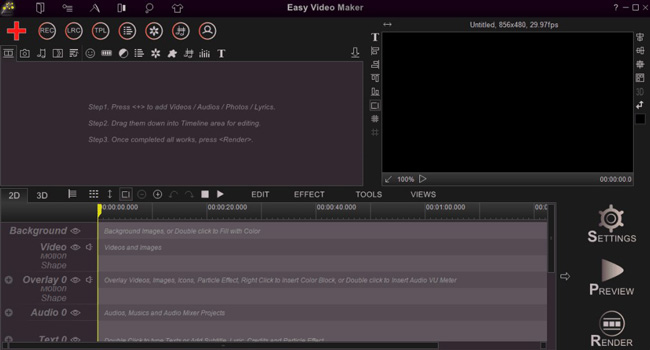 This feature of Easy Video Maker's program was developed exclusively to crop YouTube movies. It is a watermark-free online YouTube video cropper to use and has features that are quick to obtain. It is compatible with Windows XP, Vista, 7, 8, and 10, and the installation takes up just 17.49 megabytes.
To import videos, you need to click the "+" symbol whenever you want to do so. While cropping YouTube videos, you have the option of entering cropping numbers to get a more precise region. The options allow for a change in the format of the output video. The most crucial thing to remember is that you may deploy the render option to produce a smooth video effect.
Pros:

Fully GPU hardware accelerated speed
Major output formats, including YouTube and Vimeo
Easy-to-use timeline mode
Add smooth transition between video clips
Slow-motion feature
Cons:

Although the free edition has no watermark, some built-in features, e.g. output resolutions, are limited
Top 4. Kdenlive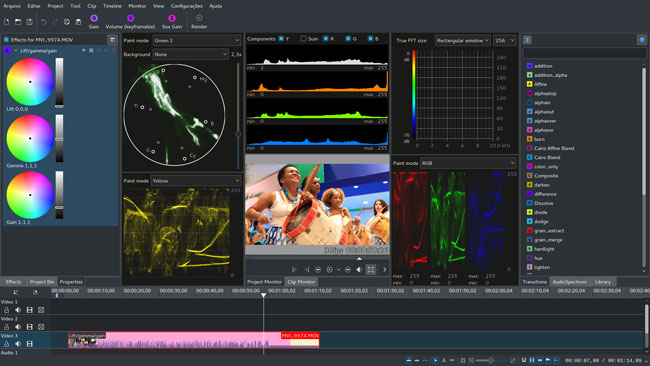 Kdenlive, the KDE non-linear video editor, is a free and open-source YouTube video cropper compatible with Linux and Ubuntu operating systems. It is also compatible with Mac and Windows; however, users of both operating systems have reported that it is prone to crashing, which is why we recommend it most highly to Linux users.
How to crop youtube videos in Kdenlive? You may navigate the timeline by moving the pointer to the right or left. Or use the snap-to icons to resize clips rapidly. Users may choose from various elementary and intermediate editing tools with Kdenlive. For instance, it has the fundamental functions of trimming, cutting, rotating, merging, and splitting videos.
In addition, users are given the ability to edit numerous video and audio tracks at the same time using the software. They are given a choice to program their keyboard keys for expedited editing.
Pros:

A cross-platform video cropper for YouTube
Advanced color grading
Trackless timeline to add images and clips
Sound mixer and waveforms
Cons:

It's unstable for Windows and Mac systems
Slow response
Top 5. iMovie
On the other hand, iMovie is the YouTube video download and cropper program recommended if you have a Mac. Because it is pre-installed on every Mac, there is no need for the user to either download or buy any extra software. With each click, the picture rotates over a full 180 degrees. For your convenience, a step-by-step tutorial on how to rotate films in iMovie is provided here.
First thing first, you need to launch a new project in iMovie. Then add your files to the track with your wanted length. Now, click the "Crop to Fill" button in your right-hand video editing toolbar.

You see the professional video cropping canvas with which you are accessible to resize your imported clip by dragging, holding, and dropping. More features are at your disposal here, including color correction, speed alteration, and voiceover addition.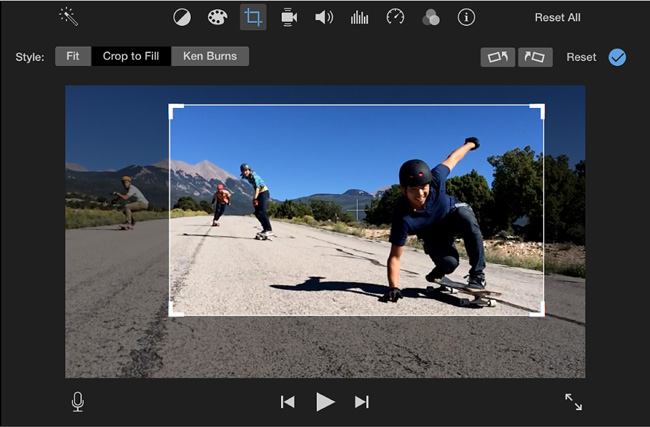 Pros:

Pre-installed on your Mac and iPhone
A load of filters and transitions
Export the cropped YouTube video without watermarks
HD, Full HD, and 4K resolutions are supported
Cons:

It is nearly one GB in size and makes your system slower
iMovie is not released to deal with certain MP4 videos
Top 6. 123Apps

There are several applications for the free online video editing tool known as 123APPs, which may be accessed here. You can either upload the video files directly from your computer or via Dropbox and Google Drive. After the files have been uploaded, you can drag the frame over the movies to crop out the unwanted parts and keep just the desired portions.
There are built-in aspect ratios of 1:1, 9:16, 4:3, 3:4, and many more. For customizing the video size per your requirements, you need to click the "Custom" button from the toolbar. Surprisingly, it's convenient and easy to switch to other video editing tools, such as the Resolution Changer on one screen.
Pros:

You have access to undo the click
Easily switch to other features
Motion tracking and detection
720p resolution is free to choose
You don't need to register before YouTube crop
Cons:

This tool needs more video formats
1080p is impossible for free video output
Differences between the 6 Tools
The above-mentioned YouTube video cropping software and online tools are endowed with distinct features and services. You may want to know their system requirements, pricing, prebuilt aspect ratios, and other video editing features. Here is a box to figure out all of them.
| | OS | Pricing | Formats | Size | Trim | Speed |
| --- | --- | --- | --- | --- | --- | --- |
| AceMovi | Windows & Mac | $15.95/mo; $49.95/yr; $69.95/pl | More | Various | √ | √ |
| Director | Windows & Mac | $19.99/mo; $69.99/yr | Medium | Various | √ | √ |
| Easy Video Maker | Windows & Mac | Gold-$29.99/pl; Platinum-$49.99/pl | Few | Various | √ | √ |
| Kdenlive | Linux, Windows & Mac | Free | Medium | Various | √ | √ |
| iMovie | Mac & iPhone | Free | Few | Various | √ | √ |
| 123APPs | Online | $33/mo; $316/yr | Few | Various | √ | √ |
Conclusion
It's possible that the free cropping tool won't suffice all of your requirements if you start doing more advanced video editing. You may want to experiment with a more capable YouTube video cropper like AceMovi and PowerDirector to create a more colorful and presentable video.
The process of cropping video in those tools is pretty straightforward. After performing a right-click on the clip in the timeline, pick the "Crop and Zoom" option from the context menu. Choose the "Crop" button that appears in the popup window. In addition to cropping, you can trim, split, and cut the video.