Whenever you create great video content, you probably need an editor to put the finishing touches on your videos. Everyone knows that a suitable video editing helper can not only record & edit videos, but it'll improve the video quality efficiently. But you'll find fewer editors that can serve the video-making workflow purposes perfectly, either they require a cumbersome registration process or are too pricey to buy.
Don't worry! Through our tests, we've discovered some of the best video-makers and the Kdenlive Video Editor belongs to one of them. In this article, we'll give you a complete review of the Kdenlive and tell you what it does from aspects like features, formats, UI, comments, and alternatives. Now, let's hit the road!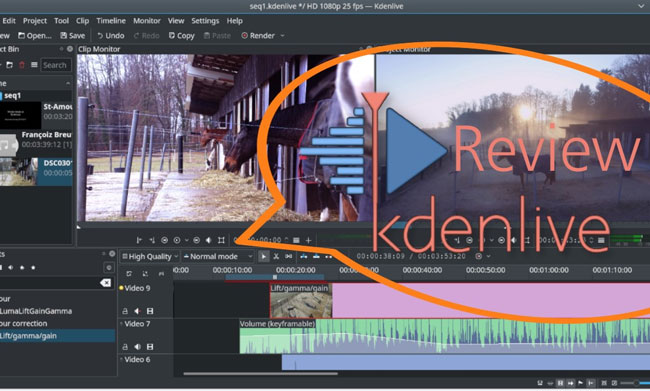 A Complete Review of Kdenlive Video Editor 2022
Kdenlive is nothing but an open-source video editor that allows you to edit the video very easily. Kdenlive has been deemed as an incredible video editing tool introduced back in 2003 but still serves the purpose of millions of users. However, the interface it comes up with is tricky, but you can gather some guides or tutorials of it from YouTube TV in advance and then get your editing workflow sorted.
Speaking of the formats, the Kdenlive video editor allows you to convert your videos into audio/video formats into MP4, WMV, MKV, AVI, DVD, JPEG, FLV, FLAC, MP3, GIF, etc. Meanwhile, Kdenlive will autosave your project after a few minutes to allow you to open your older project's older version. Surprisingly, it doesn't charge any premium fee so you can download it for free and explore all the advanced and professional features.
Multi-Track Style

If you're looking to arrange your videos and audios, you can look at the Kdenlive video editor, as it allows you to arrange the video and audio tracks with ease. After you've dropped the clip under Video or Audio track, you'll also find the keyframes will be tracked one by one just as the below picture depicts so you can find and navigate to that critical motion directly.
When you use complex or hi-res footage, obtaining real-time playback is impossible. However, the Kdenlive's Timeline preview feature allows you to acquire a prolific smooth playback after pre-rendering the timeline's part.
Interface & Shortcut

In your right hand, you'll find the item trays as well as some parameter settings while in the left hand find the canvas, timeline, and multi-functional toolbar. Although the interface of the Kdenlive video editor is pretty tricky, it can still serve your purpose based on requirements. In addition, you can access the preferences by using the Shortcuts Creator (Go to Preferences > Shortcuts > Right-click it to set).
Titler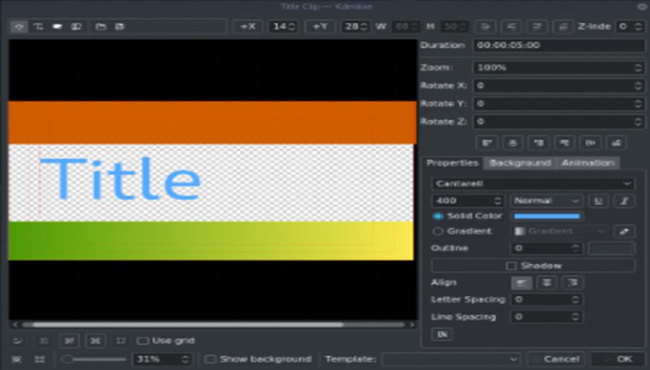 With Kdenlive Video Editor, you can create amazing 2D titles for your project, including:
· Template supports
· Add imagess
· Zoom and Rotates
· Distribute and Aligns
· Line Spacing adjustment and Letter spacings
· Design features: Shadows, Color, Gradients, Outliness
· Unicode decoders
Color Correction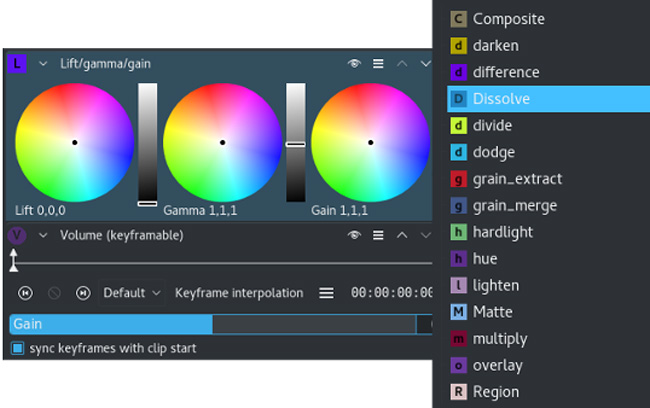 Appropriate transitions can make your video look extremely professional and gets million of Likes & Comments. Being related to video transition, the color correction feature can help you make your video more engaging and attractive as well. You're allowed to balance the Lift, Gamma, and Gain as needs change.
Rendering Scopes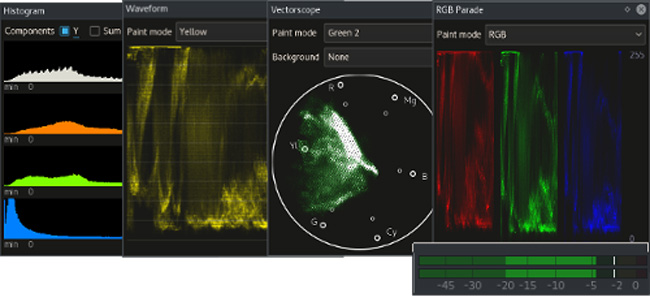 Kdenlive Video Editor also checks your video color scopes and monitors its audio level to balance the overall quality, here are some pragmatic plugins you may be interested in:
· Histogram
· Audio Meter
· RGB Parade
· Vectorscope
· Waveform
Keyframe Effects

Another great point you can carry with the Kdenlive Video Editor is to Keyframe your effects. Doing so helps you to change your video's parameters, and that, as a result, assists you to achieve the video outcome you've been looking for. You can set the keyframe interpolation as discrete, linear, or smooth while previewing the curve changes.
Pros & Cons
In the following, you can have a view of Kdenlive's pros and cons shortly and quickly.
Pros:
Allows you to make video Montage
It is free & easy-to-use
Enables you to add subtitles to your videos
Advanced transitions and effects
After gathering the knowledge about its user interface, you can explore all the features with ease
Cons:
Works slowly
Tricky user interface
Advanced and professional features need to be improved
AceMovi Video Editor - Best Alternative on Windows 10 & Mac to Kdenlive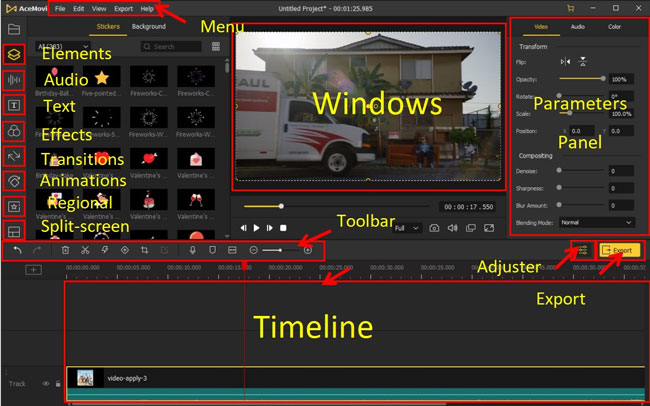 Kdenlive is a fascinating video editor but it's tricky for newcomers. And that's one of the reasons why we recommend you try AceMovi Video Editor instead of waiting for Kdenlive's improvement and updates.
TunesKit AceMovi is an unbelievable video editor that makes the editing procedure pretty easy. Apart from its clutter-free user interface, AceMovi allows you to explore video editing tools of trimming, cropping, recording, chopping, converting, reversing, screen splitting, blurring, and so on. Moreover, AceMovi's trial version is completely free or you can order the subscription to enjoy the premium service of watermark-free.
Moreover, with AceMovi, you're granted to export videos at the AutoFit format for YouTube (1280*780 resolution with an aspect ratio of 16:9) by going to the tabs of Export > Web > YouTube > Export. Likewise, you can try to download videos for Facebook, Vimeo, FLV, F4V, etc.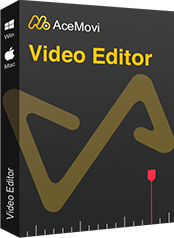 TunesKit AceMovi Video Editor
Security Verified. 5,481,347 people have downloaded it.
Allows you to explore video correction features & make your video top-notch
Crop, trim, split, rotate and perform multiple tasks
Incredible transitions, filters, overlays ...
Doesn't shy away from providing you with unbelievable picture-in-picture effects
Generate prolific titles for your video using this tool
Most video formats are supported, including MKV, MPG, MOV, MP4, and M4V
A very beautiful user interface
Kdenlive Video Editor Vs. AceMovi Video Editor
Below is a table to compare the differences between Kdenlive and AceMovi from aspects like pricing, UI, OS, effects, learning curve, and more.
| | Kdenlive | AceMovi |
| --- | --- | --- |
| UI | Clumsy | Clean |
| OS | Mac/Windows | Mac/Windows |
| Pricing | Free | Free Trial; VIP ($19.95/M, $39.95/Y, $59.95/P) to remove watermark |
| Render Speed | Slow | Responsive |
| Text Templates | Fewer | More |
| Basic Features | Most | Most |
| Advanced Features | Color Correction, Keyframe Effects; Audio/Video Scopes; Audio Equalizer; Motion-Track; Audio Normalizer. | PiP (Make video duet and react); Split-Screen; Blurring; Chrome Key; Mirror (Make video flip); Reversion; Audio Equalizer and Balancer; Mosaic, ColorNot. |
| SCORES | 78 | 93 |
Conclusion
If you're to select Kdenlive video editor, it won't be a bad idea either. It allows you to edit your video professionally and can help you attract an audience.
However, the problem you'll get with this tool is its tricky user interface. Luckily, you've got the perfect alternative to Kdenlive in the shape of AceMovi Video Editor, which is an extraordinary tool that grants you to explore all the advanced features without prior knowledge. Don't be hesitant, just give it a try!