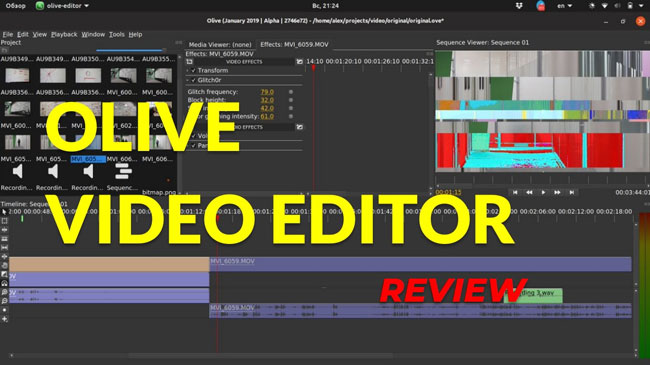 As an open-source & free film-making software, Olive video editor has attracted many professionals and beginners for its powerful and easy-to-use function, even big influencers and YouTubers recommend this video editor for kick-ass editing. Right now, you can download this software for Mac, Windows, & Linux. However, some users have encountered bugs and errors by using Olive. To repair this glitch, Olive's team has come up with Olive 0.2 Nightly Builds but still, they said that users need to use it at their own risk.
Don't worry too much! In today's content, you'll learn a complete review of Olive and the 5-step tutorial on how to use it properly, also, we'll share with you the best alternative of Olive which is quite safe and easy to use.
Part 1. How to Use Olive Video Editor
For the first time, using Olive could be a little challenging as it's different from the video editing software we usually download - Olive has 4 function plates, and you'd better get familiar with all of them in advance. But, you'll get used to it after reading this post. Now, following the steps, and you'll be able to edit videos without difficulty on Olive.
Import Videos to Olive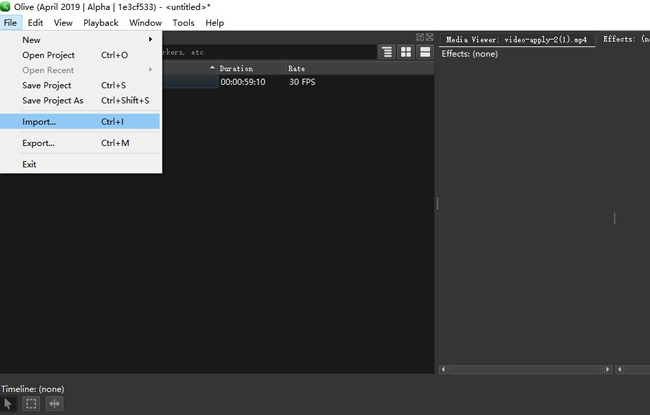 Open your computer's Olive video editor - Select Import from the file menu. You'll have a tab open from where you can select any video asset from your computer to work with.
Add Those Videos to Timeline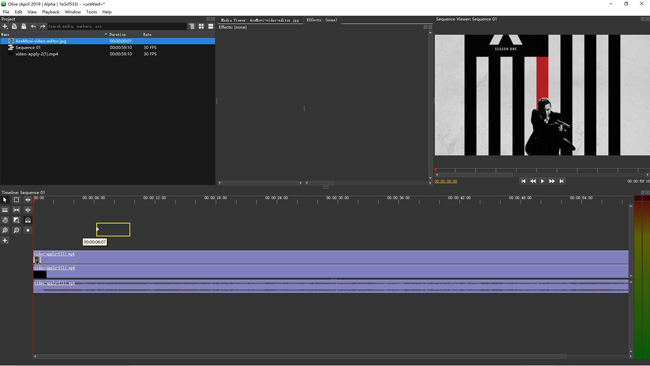 Everything will appear in the Project panel when you've imported the material. Add the videos to the timeline by dragging them there.
Begin to Edit Videos on Olive - Splitting, Trimming, Cropping, etc.
Now, you can edit the video. If you want to crop the video, drag the edges of the video to adjust the length. On timelines' left side, there are several tools available. You can use any tool suitable to make your video editing enjoyable.
Add Title to Your Video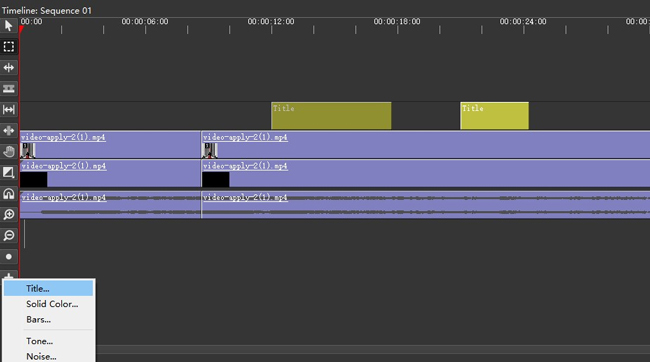 You will also see a + button that contains the tools. Click on the title. Next, move the cursor where you want the title to start. Next, click and drag to where you want to end. The title will be added to the video. Be sure to place the title layer above the video layer; otherwise, the title will not be displayed. When you select a title layer, options appear on the Effects tab. Now you can edit the title as you like.
Export & Download Video on Olive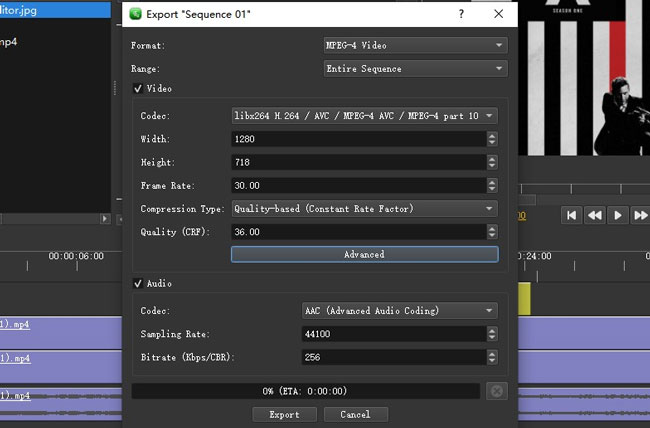 Alike, you need to open up the File > Export to download your new-made videos on Olive. You can change the video format as 3GPP, AIFF, Animated PNG, GIF, or FLV, etc., as well as set the Codec, Width, Height, Frame Rate, Compression, and Quality. Then, just hit the Export button.
Part 2. Olive Video Editor's Full Review
Want to know the features that Olive applies precisely? In the following, we'll introduce the UI, Basic Tools, Text Highlights, Effects, and more characteristics of Olive.
1. User Interface: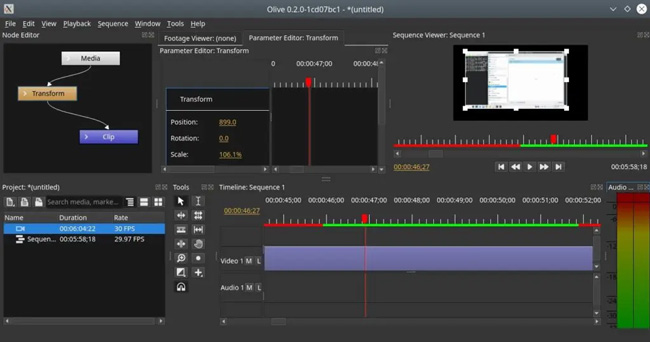 Olive's user interface is a bit of complicated so finding all the tools and using them to edit videos can be challenging for a new user. The timeline's left side has a few essential tools. Although they are apparently built in, newcomers should be aware of their capabilities. In a separate tab called Effects, you can change the sound and visual effects you've added to your project.
Olive's timeline is very congested, to be detailed, the upper timeline is dedicated to videos, while the below timeline is dedicated to audio. Furthermore, the media appears on the timeline as a fragile line with no preview. Thus, only the title of the video or audio will be visible.
2. Basic Tools:
Olive comes with all of the essential video editing tools. Adjustments such as reducing or increasing the size of an object or rotating it are all simple and quick to accomplish with the program. In addition, you can go through each frame and make any changes you like.
3. Text Highlights: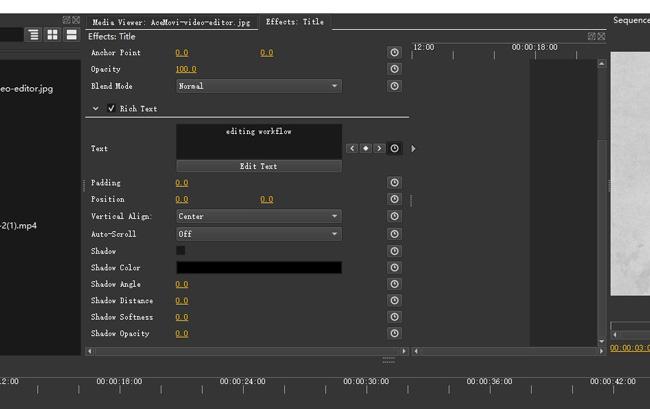 You can include text in your videos. You can include captions, titles, subtitles, and whatever else you want. Although the text will be minimal, you can change its features, such as padding and shadowing. Text inclusion is a simple process.
4. Effects on Video: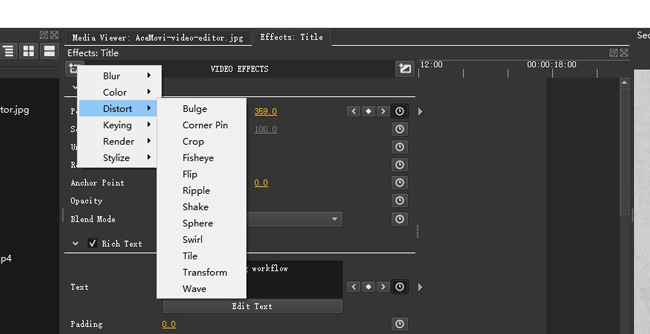 There are a variety of video effects, such as blur, color, correction, distortion, etc., to choose and make your video beautiful. You can use any of these to enhance your filmmaking efforts. Just pick what you need, and you're done.
5. Transition Tool: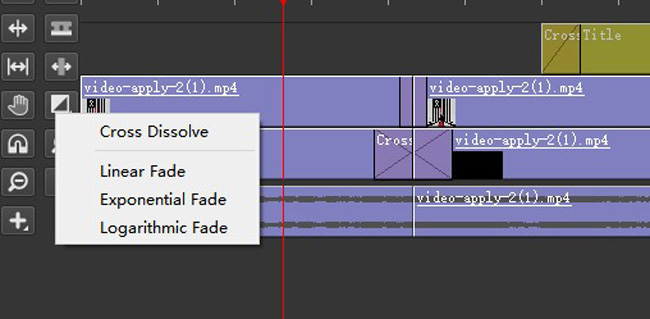 It also includes some fundamental transitions for use between video clips. And to add transitions, basically you need to move the mouse under the Transition tab and then hit it to choose Cross Dissolve, Linear Fade, Exponential Fade, or Logarithmic. After you've picked the one you like, most importantly, you should put it between two videos under the timeline.
6. Audio Tool:
Olive also has some essential audio editing tools. The video can be accompanied with any soundtrack. You can cut, split, and change the length of time it lasts. You may also change the panning and volume. It also offers a voiceover feature that allows you to record your voice.
7. Pros & Cons:
Now, let us learn a few advantages and disadvantages of Olive the open-source video editor: 
Pros:
Olive free video editor helps you to achieve your creative goals without investing a penny. It is available in Windows, Mac, and Linux
You have the option of adding several audio and video tracks to the timeline. Then, you can mix the media and get your desired result
It is wonderful that the timetable is so precise. In addition, you can zoom in on the video for complete editing
Audio can be directly recorded in the video editor before you begin the workflow
Cons:
There are two versions of Olive video editor and both Alpha software which means in the development stage, which means that bugs are possible to occur
Obsolete UI design make itself unfriendly for video editing beginners
Part 3. Best Alternative to Olive - AceMovi Video Editor [Easiest & Safest]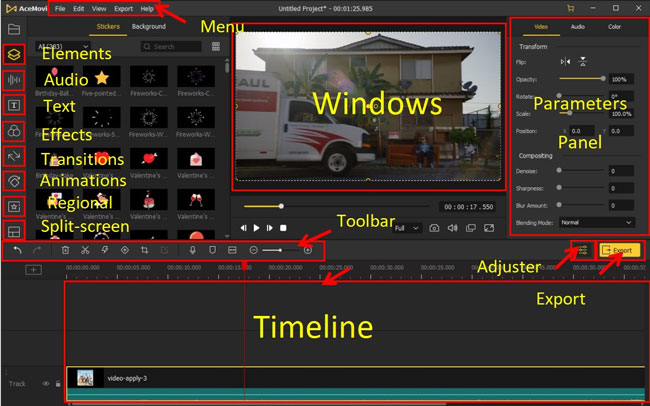 In terms of video editing, AceMovi Video Editor is outstanding for beginners and experts, with built-in advanced editor features. It includes VCRs, video editors, stunning video transitions, filters, templates, and animations, as well as everything else a video maker requires. Anyone may use it to make and embellish gorgeous videos out of any video material. And most importantly, unlike Olive, AceMovi is very safe and stable to use, and by which you may never encounter bugs and other system problems.
With AceMovi, all of the features can be oriented within few steps, for example, when it comes to importing files, you can firsthand drop it under the timeline instead of clicking some of the tabs like File > Import; if you'd like to add transitions, you just need to unfold the item contain and pick up the one you like; or to reverse video with this tool, you can right click the timeline and then to choose Reverse option. And for more usage and services, just download AceMovi Video Editor below.
Pros:
Clean user interface without bugs. Very easy to understand the tools and use them to enhance your video
There are many templates in the software, which you can use for your video. The search tool is also powerful and accurate
Advanced editing features are available, and this helps you to boost your creative skills without any hardships
Offers you many audio editing options, making your content flawless
Blesses users with extraordinary opportunities to create slideshow videos
You can explore the editing options, including trim, crop, themes, text, titles, picture-in-picture effect, transition effect, and many more
Cons:
The only con of this tool is its pricing system. If you are not a heavy user, then the price will be a barrier for you
Part 4: The Bottom Line
Olive video editor is a free, open-source tool with many features to enhance your video editing skills. We've gone over the UI, benefits, drawbacks, and other aspects of the Olive video editor. It's an introductory video editor that's quick and easy to use. It's an ideal tool for trimming, cutting, modifying the format or making other fundamental changes.
Moreover, the effects, text, and other sophisticated settings, on the other hand, are very rudimentary. TunesKit AceMovi is an excellent alternative video editor tool with many intriguing options that you may use. Without any difficulty, you can make excellent and captivating videos.