In such a short video-oriented era, most people are a fan of video and desire to create or showcase a DIY video by themselves. The tendency can be explained by not only the fact that short video is taking the world by storm, but that video helps people remember their impressive moments. After all, we often forget some memories as time goes by. Hence, this is what kind of roles video editing software plays.
If you are video editing beginner, from YouTube, Facebook, TikTok, Ins, or other social platforms, this article will open a new window for you. Some people may believe that only those professionals need to download this kind of software. I'd like to say that it is the software that can enable you to learn video editing quicker than resorting to related manuals first. Here is the 12 best video editing software for beginners. Here we go!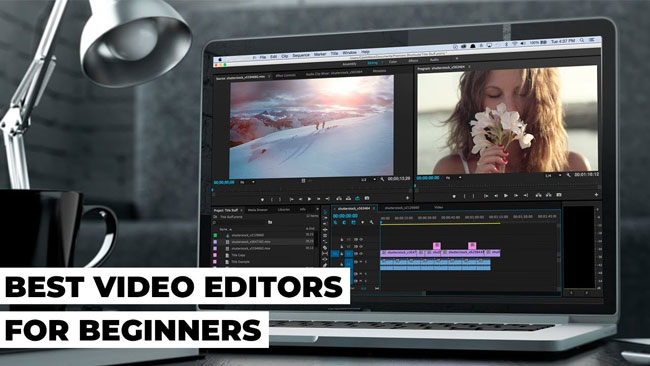 What Should Beginners Do First
This part would like to introduce some tips for beginners before selecting and downloading a suitable video editing software:
Confirming Your Main Purposes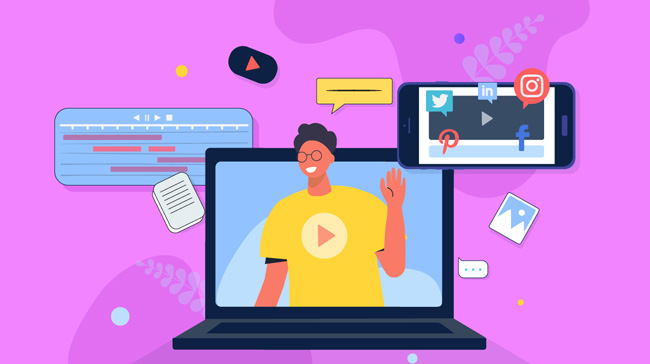 When it comes to video editing skills, a clip can be cut, edited, or recorded. Accordingly, there are video cutting, recording, and editing software for you. If you simply wish to cut or trim the duration of a video, a video cutter is a better choice.
But if you want to enjoy the experience more, a video editor can be a boon by combining the functions of trimming, editing, and recording. Before downloading a video editing software for a beginner, it is necessary and critical to figure out what kind of effect you want to realize.
Learning Some Common Terms
This section will not tell you that beginners must be an expert in terms of video technologies. What they need is just to know some common functions of video editors and what results they can deliver. Generally speaking, video editing software works well in several parts, including trimming the duration and adjusting the size and position of video images, recording and creating a new video, joining several videos, and adding special effects.
In terms of cutting or recording, video editing software in the market are similar. The main difference lies in the usage of special effects. The special effects such software can offer often consist of filters, transitions, animation, picture-in-picture, split screen, background music, color grading, chroma key, etc.
Other Features Beginners Should Look for
◆ Does it free? Usually, most video editors have a free version. The difference lies in some apps' limited functions in its free trial version. Or users can only use its free version within 15 days or a month.
◆ What formats or devices does it supports? Can it use the footage from your local files without converting it? Can it export to the places you want to share your finished footage?
◆ Now that you may be a beginner, then you'd better consider whether its interface is user-friendly or easy to use. Less is more. Actually, having complex and sophisticated functions may be counterproductive.
Top 12 Best Video Editing Software for Beginners
With good free easy video editing software, you can create a fine and pleasing video on your own. If only for the usual requirements for editing and adjusting video, all beginners can be helped by the following software. The 12 software are free video editors that not only come with the most basic yet necessary tools but also boast powerful features. However, not all video editors must have the same viewers. They have their own distinctive features and qualities.
Top 1. TunesKit AceMovi Easy Video Editing Software for Windows/Mac
Thanks to its intuitive and easy-to-use interface, TunesKit AceMovi is a tool for making personal and collaborative films, vlogs, and short videos. On top of its home page, users can find the usual button for trimming, splitting, reversing, slow motion, cropping, zooming, and keyframing. While on the left side, buttons for adding special effects are displayed.
AceMovi is multifunctional with a great variety of special effects. After editing, it can deliver satisfying results to common users. Of course, the edited files can be output at a fast speed of up to 60x. Also, it supports various formats and devices as well as both Windows and Mac systems. Therefore, whether you are Windows or Mac user, you do not need to worry about system compatibility.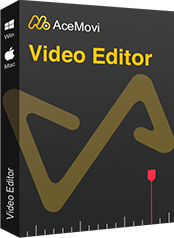 Key Features of AceMovi Video Editor
Security Verified. 7,012,354 people have downloaded it.
Pros:

Free trial version without any limitation
Intuitive and easy-to-use interface
Suitable for video editing beginners
Powerful editing functions, such as splitting or cutting; adjusting size, duration, position and resolution; adding special effects of stickers, filters, transitions, split screen, background music and subtexts
Additional function of video screening
Supporting both Windows and Mac; and various exporting formats including MP4, M4V, MOV, AVI, etc
Editing and export video files at a fast speed
Cons:

The free version has watermark
YouTube/Facebook/Vimeo/TikTok/... - How to Make a Video Easily with TunesKit AceMovi
Import Videos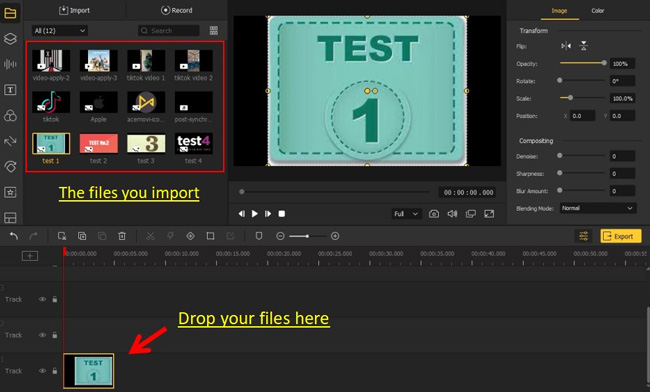 After downloading and installing AceMovi, you'll get into the interface of AceMovi. Here you can start editing a video by simply drag-n-drop.
Trim, Crop, Speed, Reverse, & Keyframe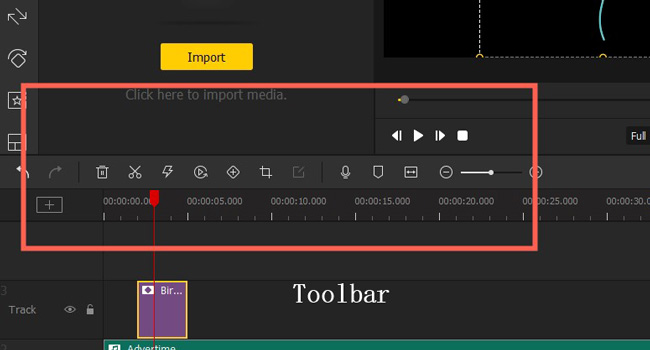 Upon the toolbar of AceMovi video editing software for beginners, Video Trimmer, Splitter, Reverser, Keyframing, Cropper, Zoom, and Voice-Over Adder can be accessed. For example, if you want to trim an MP4 video, firstly, move the playhead under the trimming point, then click the ✂ shape. That's it! You'll find the video trimmed successfully.
Add Background Music, Text, Sticker, Filters, & Transitions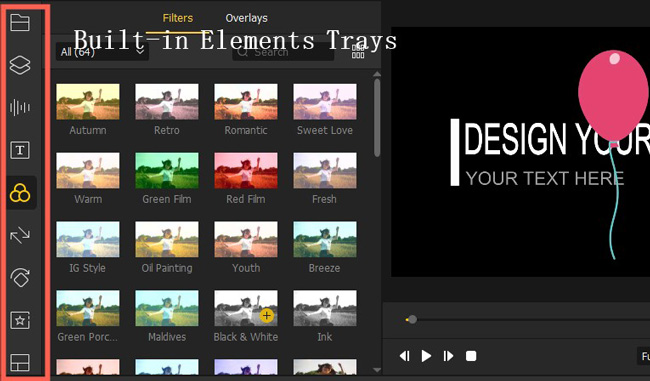 If you want to replace background music, you can go to right-click the clip to choose the detach audio from the video, then apply your music from the Audio tray. More trays like stickers, animations, transitions, overlays, and regional effects that you can navigate to.
Export Video at High Quality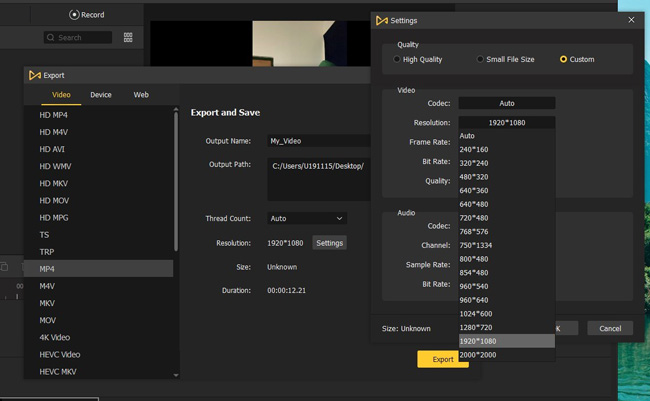 AceMovi is also one of the best editing software for YouTube, Facebook, Vimeo, and FLV. You can directly export videos in the best format for those social media. For example, if you go to Export > Web > YouTube, the video will be exported at HD, 0.264 codecs, and 16:9 aspect ratio.
Top 2. iMovie Video Editing Software for Beginners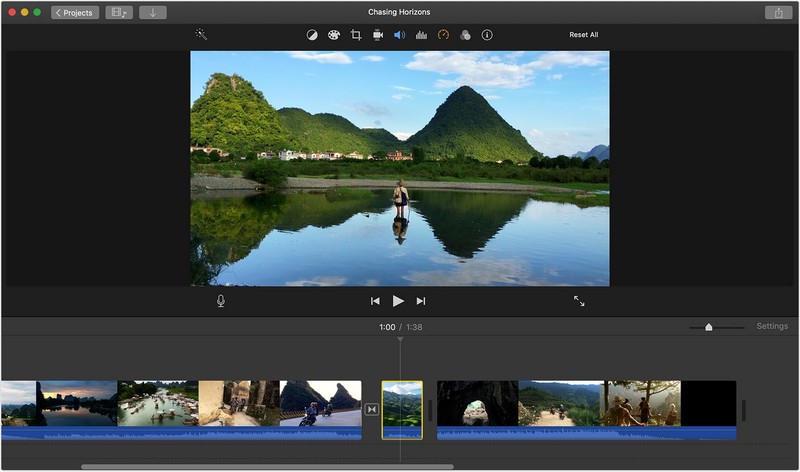 iMovie can be a very good option to begin your video editing trip, which has a clutter-free interface and workflow. This easy video editing software was also released the iPhone edition so you cannot use it on Windows or Android devices. When you've imported a video into iMovie, all key motions will be tracked so you can edit critical points bluntly. Besides, iMovie is fit for color grading and audio balancing.
Pros:

Beginners can find their wanted buttons on one screen
No watermark comes with
Lots of built-in elements
Easy learning curve
4K video editing
Cons:

Only for iPhone and Mac
Few music resources
Top 3. CyberLink PowerDirector Video Editing Software for Beginners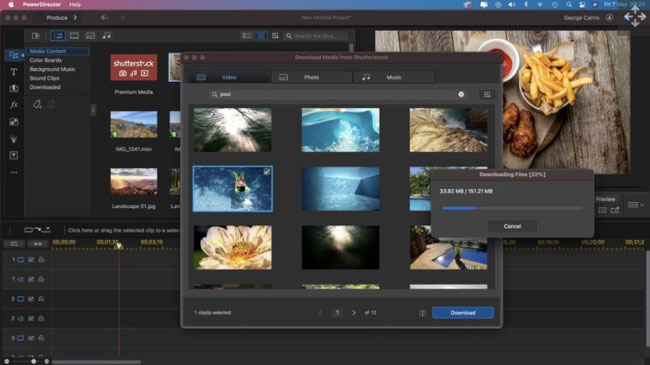 CyberLink PowerDirector is the fastest and easiest video editor that features 3000+ effects and templates. You can edit 4K video with H.365 easily on this beginners' easy video editing software. More advanced functions like Mas & Blend, Keyframing, Chroma Key, as well as AI Motion Tracking. However, there is a brand watermark on this video editor's trial version.
Pros:

Free video editing software for PC
You can download the free version on Windows and Mac
Updated many advanced effects
A plethora of templates
4K video editing
Cons:

30-day free only for each account
Top 4. WonderShare Filmora X Video Editing Software for Beginners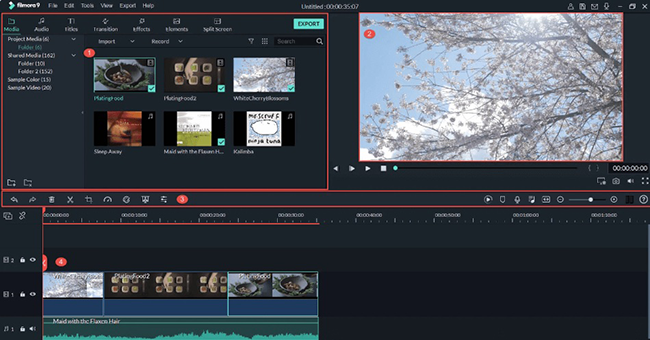 Wondershare Filmora is also a creative video editor for beginners. It is designed to produce high-quality results. Through the following interface, users can learn its main functions. You'll have the opportunity to add unlimited video, audio, or image tracks with this video editor. If you to begin editing, you can try to record a new clip or upload a file from the desktop.
Pros:

Multi-functional and easy-to-use
Full of special effects like filters and transitions
Additional function of video screening
Supporting both Windows and Mac
4K video editing
Cons:

Free trial version with limited functions, such as exporting footage 10 times with a Filmora logo, and 14 days free trial of animation tools
Top 5. Movavi Video Editing Software for Beginners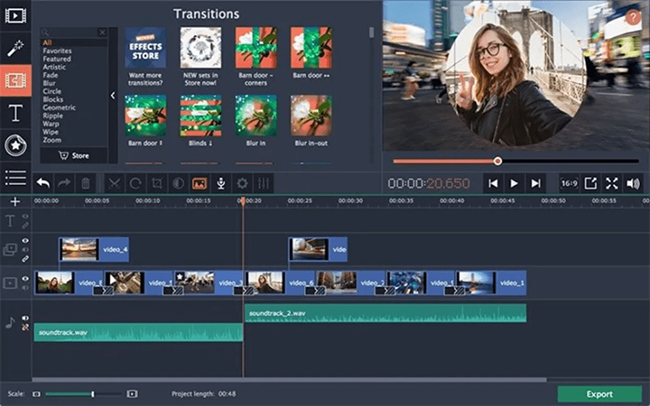 Movavi is another good and commonly-used video editing software for beginners. It is an intuitive yet powerful tool to add other content to your work, you can make small edits like trimming, cutting, flipping, converting, cropping, and changing resolution. However, you can only the trial version for 7 days yet with downloading the watermark.
Pros:

Editing at a fast speed and an efficient way
A good software for beginners from YouTube and Facebook
Diverse library of special effects like filters and transitions
A vast library of music and sound effects
More funny filters
Cons:

In terms of more filters or stickers, additional subscriptions or purchase from its website are required
7-day expiration on the free version
Top 6. EaseUS Video Editing Software for Beginners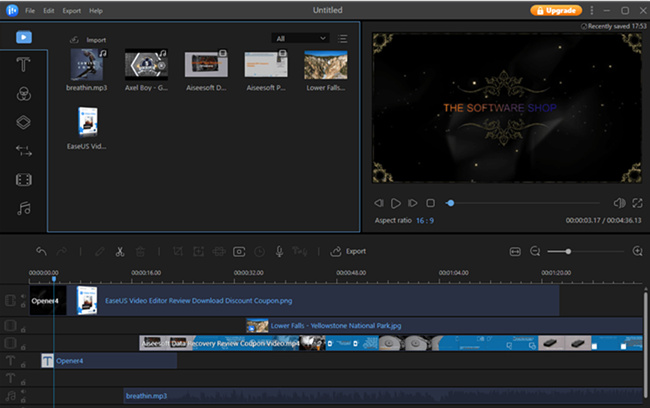 EaseUS is packed with an array of text templates, filters, overlays, transitions, as well as elements. For those people who want to make their video stand out, they can apply stylish effects with this easy video editing software like the slow-motion, duet, and PiP. You can share the video on social media with one click including Twitter, Facebook, TikTok, and YouTube. Moreover, EaseUS is also an inspiring color grading video editor you can apply the effects of Rainbow, Vignette, and Negative.
Pros:

Text-to-Speed
Easy to begin a new project
Mixed audio improvement
Connect to social media
Export at format for iPhones
Cons:

If you want to try advanced video effects and filters, remove watermark, export 1080p content, or use the 7/24 technical support, a full license is required.
Top 7. VideoPad Free Video Editing Software for Beginners
You can insert lots of sequences on VideoPad yet the video/audio track is limited. This is a really easy video editing software for beginners, to be detailed, if you want to cut crop or rotate a video after importing, just go to Effects > Crop or Rotate. So you can say that important buttons are combined and organized well on this software. Besides, you can try the effects like 360-Degree Mode, DVD, Text-to-Speech, Speech-to-Text, and Color Adjust.
Pros:

Simple interface yet powerful features
A suite of Express Animate, Debut, Prism, Disketch, WavePad, MixPad, etc.
Export to YouTube, Flickr, Dropbox, and OneDrive
Many interesting text effects
It won't add watermarks to finished work
Provide templates for you to make video quickly
Cons:

The interface appears a bit out-of-date
Top 8. GiliSoft Video Editing Software Free for Beginners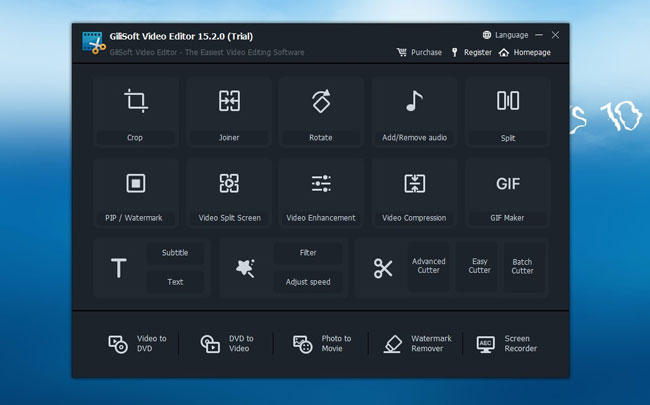 GiliSoft is an easy-to-learn video editing toolkit, you can go to the plate without any hassle. For instance, when you crop a video, you won't be distracted from other buttons like Trim and Reverse. On the interface, the buttons of Crop, Joiner, Rotate, Add/Remove Audio, Split, PiP/Watermark, and more are available. Below those buttons, you can choose to download plugins like Video-to-DVD, DVD-to-Video, Screen Recorder, etc.
Pros:

Video editing toolkit for beginners
Plugins include Screen Recorder and Watermark Remover
Export video losslessly
Easy Cutter and Batch Cutter
Comes with a PiP/Watermark
Cons:

Few element resources like transitions
Top 9. AVS Easy Video Editing Software for Beginners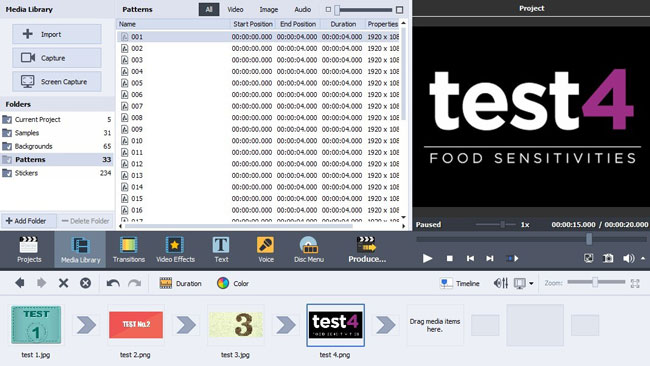 Being deemed as a powerful video editing tool for beginners, AVS compiles a Slideshow Maker and Disc Menu. You can find hundreds of effects and elements in this video editor like samples, patterns, and stickers. AVS has a beautiful video-making interface, you can edit videos with functions from the menu, toolbar, and canvas. For example, you can navigate to Projects, Media Library, Transitions, Video Effects, and Texts.
Pros:

Beautiful interface
Good at color grading
A library of texts and audio/voice effects
Create a slideshow in a couple of clicks
Brings with many projects
Cons:

The added watermark will be showed after downloading
Top 10. Olive Video Editing Software for Beginners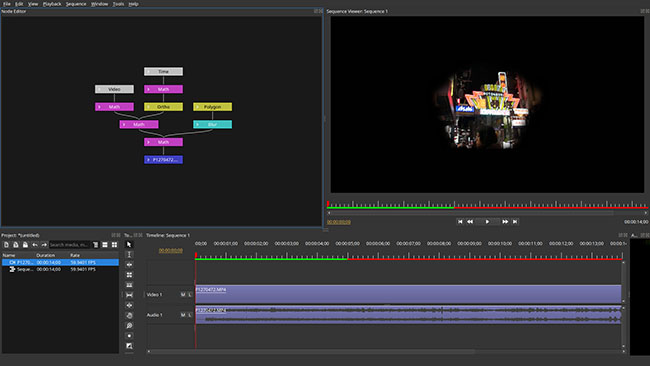 Released under the GNU GPL, Olive is an open-source and easy video editing software for beginners from YouTube, TikTok, and Instagram. Olive's interface is quite clean - the toolbar was set on the left side while the menu was on the top. You can drop the files under the interface to import video or audio tracks. More tools like Ripple, Razor, Slip, Slide, Hand, and Transition.
Pros:

Advanced ripple and rezor tools
Clean interface to edit video for beginners
You can find lots of editing buttons from the Edit menu
Playback video in real-time
Cons:

You need to open up the menu repeatedly
Top 11. OpenShot Video Editing Software for Beginners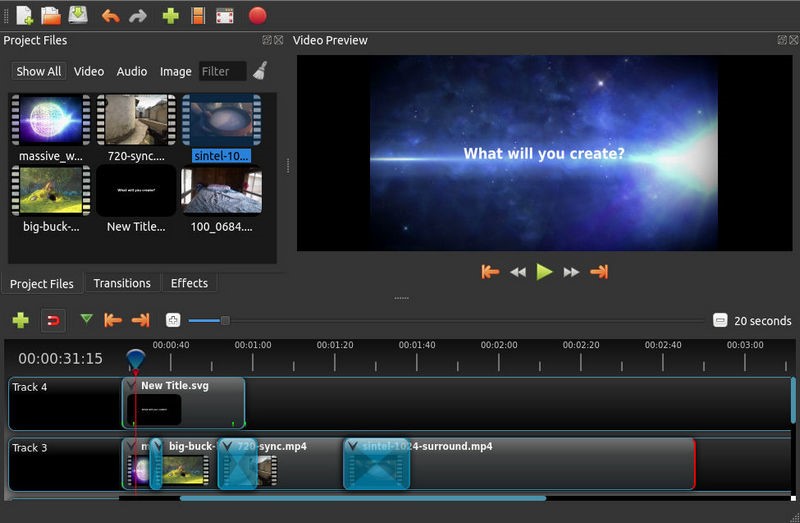 OpenShot is an easy-to-begin video making and editing software for beginners, with which you can apply transitions between and add effects to clips easily. You can click the Add a New Track to edit multiple videos at the same time. More importantly, OpenShot can help you play video in real-time without lags. The formats supported include MP4, WMV, AVI, MOV, etc.
Pros:

Beginners can find the editing buttons
Many transitIons and effects to add
Edit batch videos efficiently
No watermark along with
Cons:

Lacks effects for short video making
Top 12. ShotCut Video Editing Software for Beginners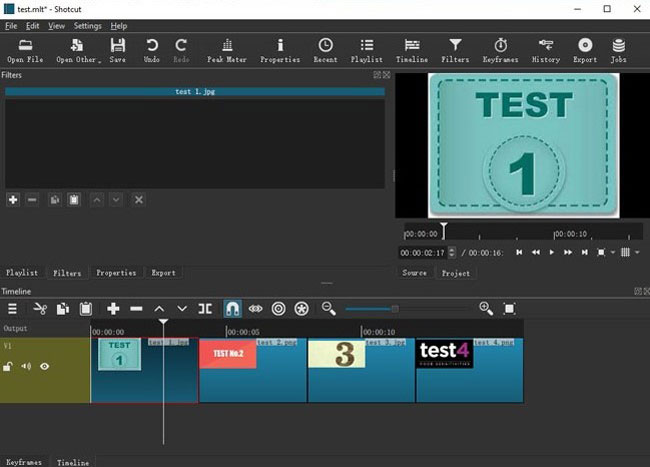 ShotCut is an integrated and easy-to-learn video editing program for beginners, advanced effects include Peak Meter, Filters, and Keyframes. ShotCut gets a plethora of properties like audio equalizer and playlist to help you edit video quickly. The interface is a bit falling behind yet you can still find simple editing features with it.
Pros:

No watermark
Free for downloading on PC
Motion Tracking
Unlimited tracks
Detailed properties in audio editing
Cons:

No stock music available
Final Words
In a word, the interfaces of the video editing software for beginners are clear and easy-to-use, and they will allow you to have a rich experience in idea creation. According to the information described, hoping you can find which software is more suitable for you.