Many people think Chromebooks aren't good enough to do great creations in the video, either holding that most of the video editing software on Chromebook is pricey or finding even some small video editing tasks that are difficult to do such as chopping, cropping, and converting.
No doubt that's untrue, for the simple reason that you'll find plenty of prolific video editors on Chromebook, while some of them are incredibly easy-to-use and even granted users with incredible technologies like Blurring, Split-Screen, and Chroma Key. So, if you're also searching for a suitable Chromebook video editing helper, just view this page herein we'll be sharing with you the 10 best video editors for Chromebook.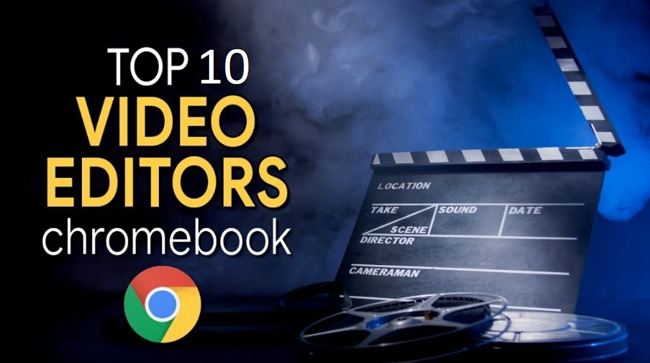 [2022] Top 10 Best Chromebook Video Editors
Top 1. AceMovi Video Editor for Chromebook [Discover]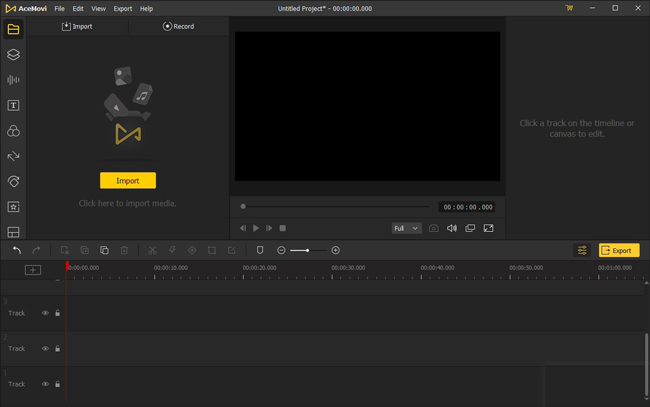 If you're looking for a user-friendly Chromebook video editor, TunesKit AceMovi must be the first one to opt for. It is probably the best video editor for Chromebook that allows you to explore countless spectacular editing features including video trimmer, cropper, converter, flipper, recorder, compressor, etc. In addition, AceMovi Video Editor doesn't shy away from generating top-notch video by applying tremendous wonderful transitions, filters, overlays, and animations.
Surprisingly, the interface of AceMovi doesn't ask you to put hard yards to generate exquisite content. Instead, you'll only need to follow a few steps to make your video pleasing to the eyes, for example, you can follow this tutorials on how to edit MP4 videos for Chromebooks. You're also allowed to try the built-in video elements by navigating to the 9 item containers listed up and down in your left hand like Media, Music, Sticker, and Text, more importantly, all of them are completely free.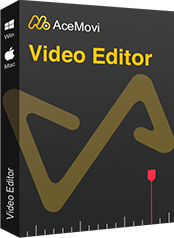 Key Features of AceMovi Video Editor
Security Verified. 6,785,664 people have downloaded it.
Pros:

Add sensational background to your video on Chromebook
You can download both the free and full versions on all types of Chromebooks
Very easy-to-use & cheap Chromebook video editor
Easy to apply split-screen features as well as PiP (Called Picture-in-Picture, making video duet/react)
Advanced effects are free-to-try without plug-ins downloading
Comes with a pretty manageable yet brilliant user interface
Screen Recorder & Camera Recorder
No lags when exporting high-quality videos
Cons:

3D/VR video editing techs still need improvement
Top 2. WeVideo Video Editor for Chromebook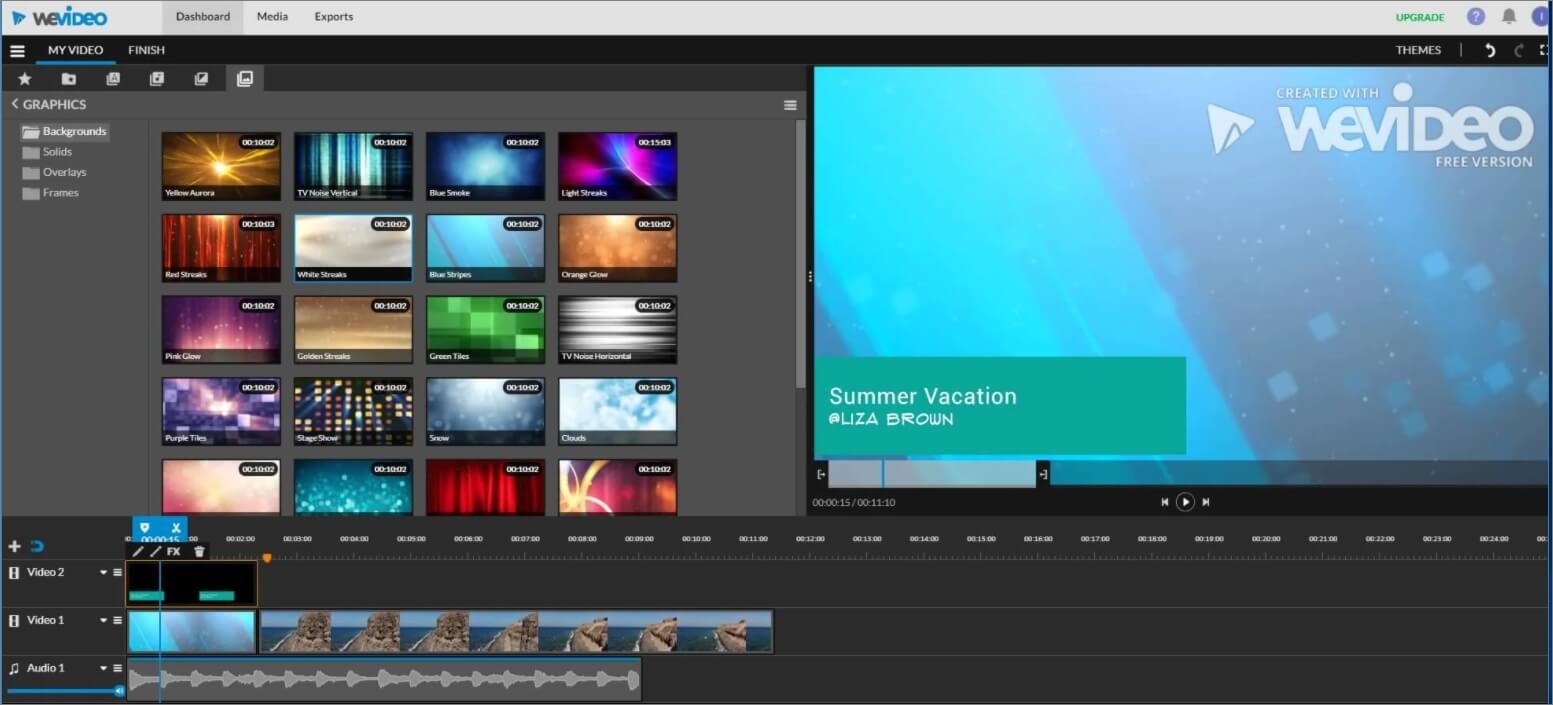 WeVideo is an incredible Chromebook video editor that creates stunning videos with minimal effort. It comes with inbuilt stock media, including tracks of audios, videos, and images. By the way, WeVideo also has cloud-based flexibility, meaning you can edit a video on two different devices for Chromebook systems.
Speaking of the pricing policy of the online edition, WeVideo has 4 plans - Free, Power ($4.99), Unlimited ($7.99), and Professional ($17.99). The services will be changed based on the subscription plan you've chosen, for example, with the Power Plan you're allowed to download video at 720p while the Professional Plan supports 4K export.
Pros:

Comes with features including a green screen, upload time, etc.
You can use both the PC and online versions for your Chromebook anytime
Allows you to share your video to different social media platforms
4K export is propped when you get the Professional Plan
Cons:

Comes with an unwanted watermark on the free version
Top 3. PowerDirector Video Editor for Chromebook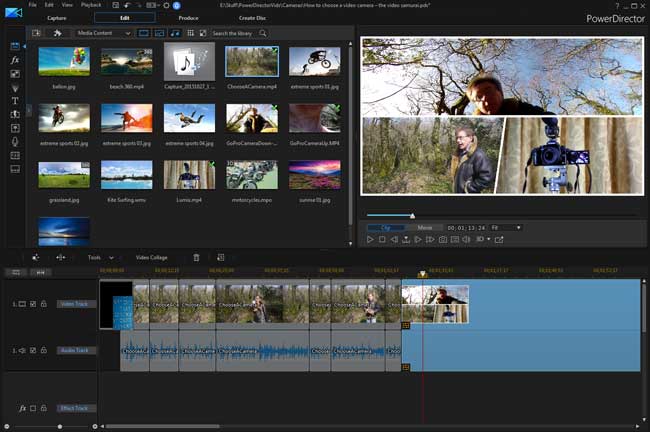 PowerDirector is a splendid video editor for Chromebook that generates flawless 4K videos. It will make your work top-notch by offering the speed adjustment feature that helps you slow track or fast track your video. In addition, using Chroma Key, you can also customize your green screen background.
Same as the WeVideo but a bit different point of PowerDirector is that you can download the mobile phone versions on iOS or Android devices.
Pros:

Comes with multiple transitions and filters
Add subtitles to videos on Chromebooks easily
Allows you to explore titles, stickers, and 400+ free templates
User-friendly for newcomers
Cons:

Supports limited Chromebooks
Top 4. OpenShot Video Editor for Chromebook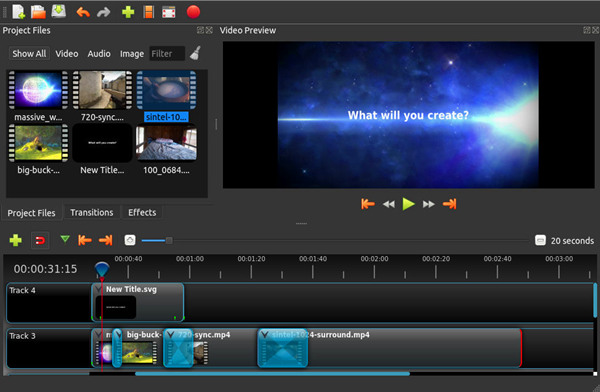 As one of the best Chromebook video editors in the market, OpenShot empowers you to explore creative video effects 3D animations and remove background features. Moreover, OpenShot for Chromebook supports 70 languages, meaning people from different regions can create videos using it. However, some users made the feedback that OpenShot lacks advanced effects like reversion and split-screen.
Pros:

User-friendly and simple interface
Wonderful editing features for Chromebook video editing apply
Supports formats like LAME, HEVC, AVCHD, WebM, etc.
Easy-to-navigate for Chromebook users
Top 5. Magisto Video Editor for Chromebook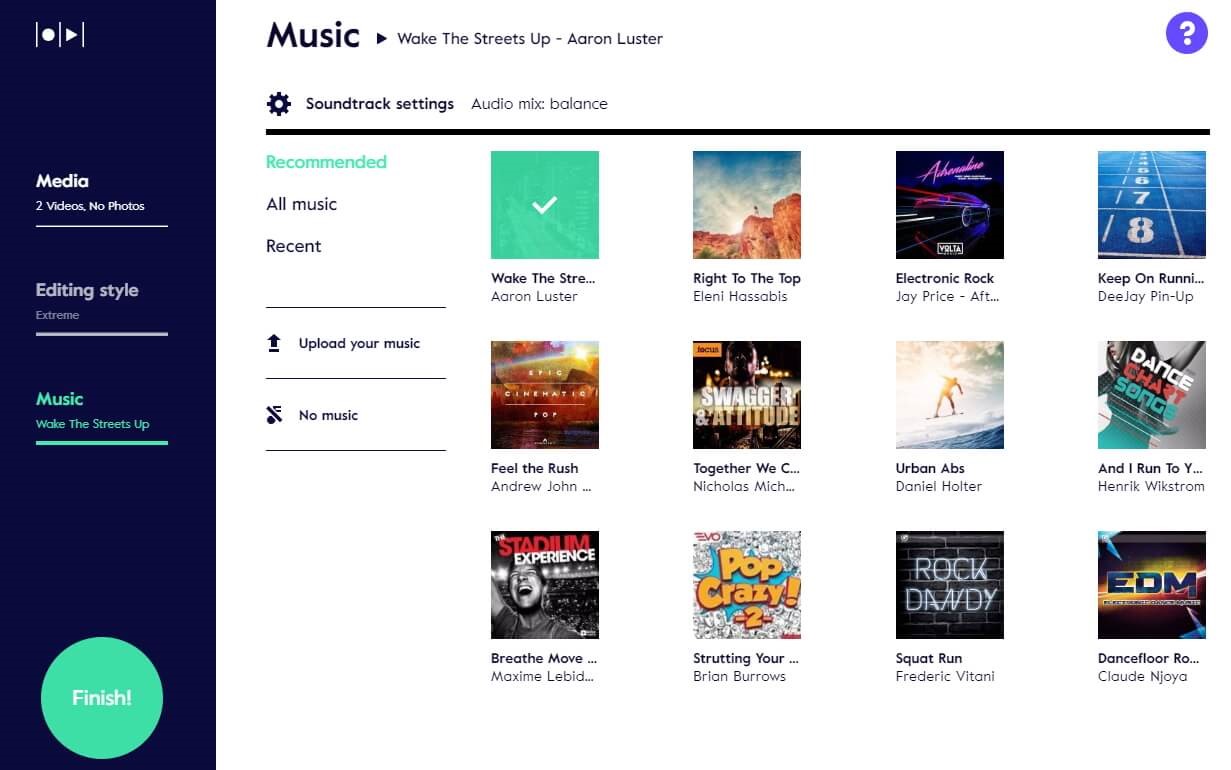 Magisto is a web-based Google Play Store application that creates unbelievable videos on your Chromebook. It allows you to create a picture collage, slideshow video, and a cool video. Moreover, the presence of AL means you can edit the video automatically. The editing process is far too easy as you'll only need to follow simple steps to get your job done.
With Magisto, you're granted thousands of music resources and editing styles so just choose it if you're searching for a powerful audio-video editor for Chromebooks.
Pros:

Comes with brilliant editing techniques, including filters, object detection, filters, etc
A plethora of music (Pop, country, jazz, classic, sports, etc.) for Chromebook users
You can add text/subtitles and stickers effortlessly
Cons:

Expensive premium version
Top 6. YouTube Studio Video Editor for Chromebook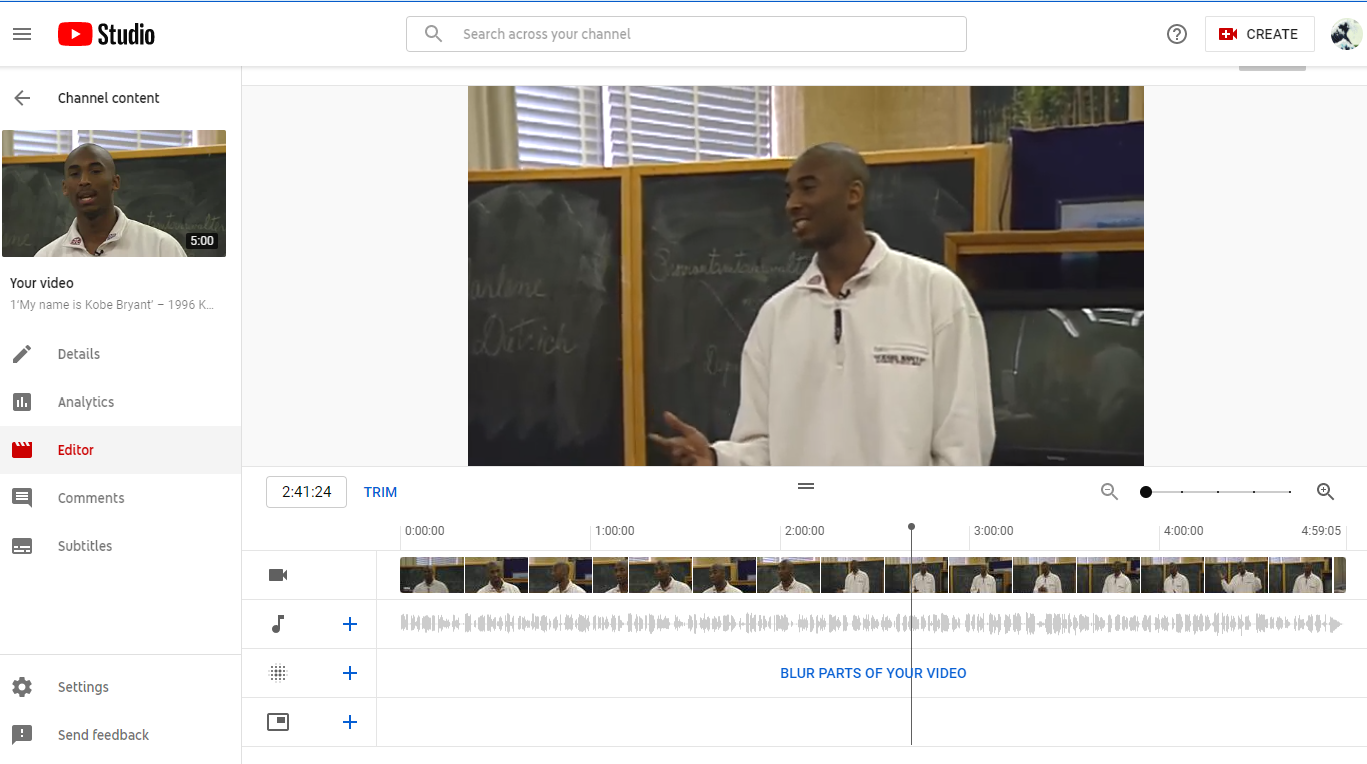 It isn't a video maker that can allow you to create a video. Instead, you can paste the YouTube video to make changes to it. YouTube Studio is a courageous video editor Chromebook that allows you to blur objects and cut your video. After saving the video, you can export it to multiple platforms directly with YouTube Studio.
Pros:

Free of cost for Chromebook users
Allows you to edit your video effectively
Upload on YouTube TV bluntly
Cons:

Lacks advanced features
Top 7. Google Photos Video Editor for Chromebook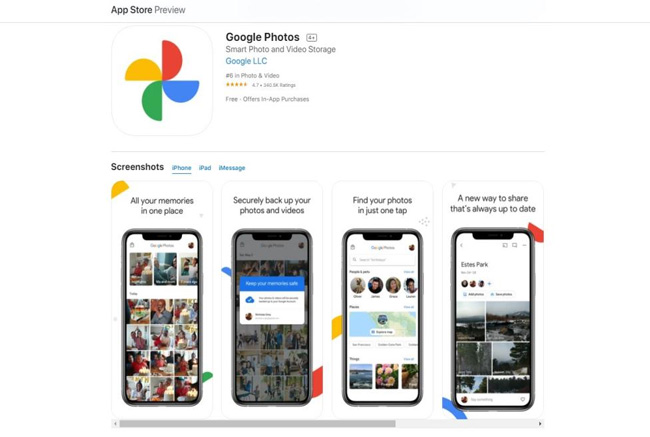 If you're looking for an application that can give your video a final touch, Google Photos can be an ideal option for you. It allows you to create photo books with advanced and content-aware filters. Moreover, Google Photos enables you to generate collages, panoramas, and moves from the clicked pictures.
To download Google Photos for Chromebooks, you should: (a) Download an emulator on your Chromebook, it can be BlueStacks or others; (b) Find the Google Photos in the market and download it; (c) Run it on your computer to edit videos.
Pros:

Bountiful in music resources
Robust system for running video editing features on Chromebooks
Allows you to share the videos on different social media platforms
Can be operated for iPhone, iPad, and Android
Cons:

Limited editing features
Top 8. Kinemaster Video Editor for Chromebook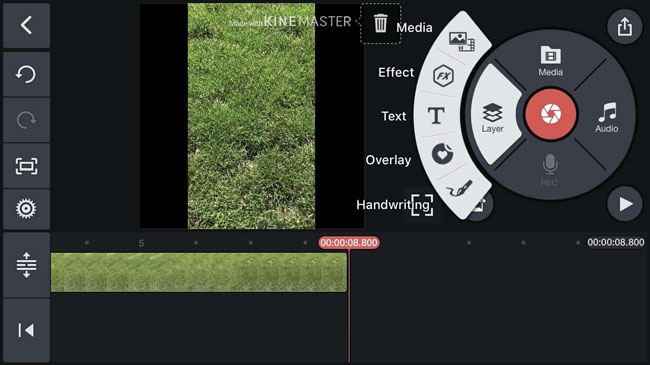 Would you like to acquire the services of a complete video editor for Chromebook? If yes, then you won't find any better option than Kinemaster. Apart from being a user interface, it allows you to explore many editing features. Whether you're looking to trim or splice your video, you shouldn't look beyond Kinemaster. By the way, KineMaster is a video editor for both iOS and Android users, so you can download it in the ways we mentioned previously.
Pros:

Comes with professional features
Download from Apple Store or Google Play
Offers Keyframe animations
Excellent performance on Chromebooks
Cons:

The free version comes with a watermark
Top 9. VivaVideo Video Editor for Chromebook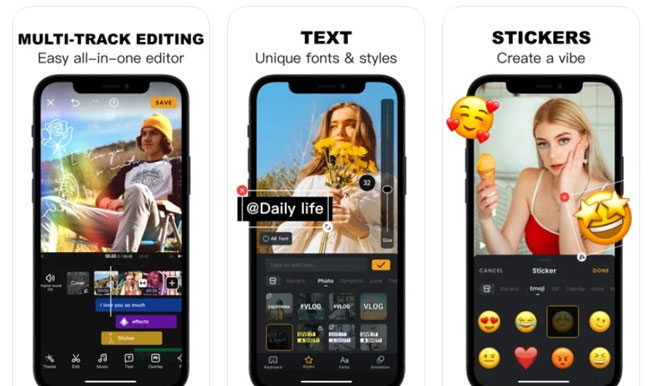 VivaVideo is a spectacular video editor that can surely make your video top-notch for Chromebooks. Many mobile users have been using VivaVideo due to its immaculate editing abilities like adding texts, changing into proper background audio track, and slowing motions. It also allows you to add animations and transitions. Moreover, you can split, merge, and change the playback of your video with VivaVideo easily.
Pros:

Flexible video editor for Chromebook
Motion-track effect to catch the keyframe on your screen
Comes with brilliant editing features
Rotate the video itself or the inner elements
Cons:

The free version comes with a watermark
Top 10. Hippo Video Editor for Chromebook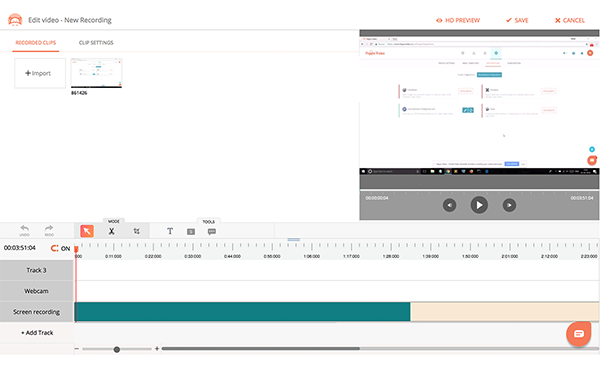 Hippo is a prolific video editor for Chromebook that allows you to perform multiple operations. It means you can marketize your video apart from editing it. Besides, Hippo also comes with both paid & free versions and allows you to crop, trim, and add text to your video. When it comes to the timeline plate, the Webcam and Screen Recording tracks mean you can capture the video by the screen/camera recorder inherently.
Pros:

It offers you tremendous editing features for free
Comes with modern editing features
You can record videos by the front-facing camera on your Chromebooks
Cons:

The paid version is expensive
Conclusion
If you're looking for a video editor that works on Chromebooks, you don't have to keep guessing for long, because we've presented you with 10 outstanding video editors. Each video editor has unique features that can make your videos incredibly first-class. But through a series of software tests, we found that AceMovi was the easiest tool to use. In addition to providing the one-stop service, you can purchase its premium version at a fairly affordable price. Give it a try!