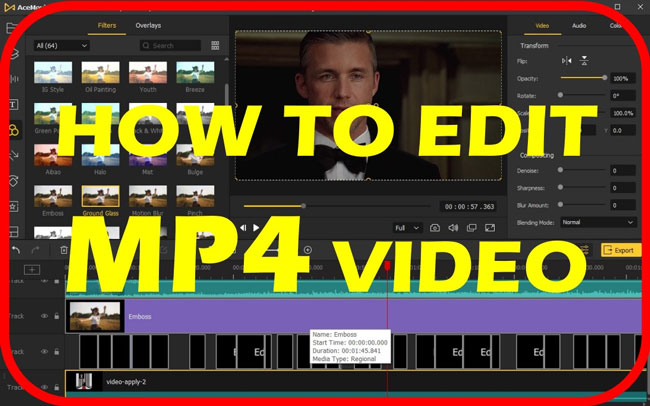 MP4 video (MPEG-4) has been widely used for movie making, editing, and saving. And many of us video makers may have those questions:
"How can I edit MP4 video on Windows 10 and Mac?" "What's the best free MP4 video editor?" "Does Windows 10 have a built-in video editor for MP4? How to use it?" "How to trim, crop, convert, and split-screen MP4 videos?"
If you're also confused about those questions and want to know how to edit MP4 videos, just follow today's content in which we'll share with you the best free MP4 video editors for Windows, Mac, mobile and online, as well as the detailed tutorials on editing MP4 videos with those software.
Part 1. MP4 Related FAQs
This section mainly talks about the explanation and usage of MP4 video, the differences between MP4 and other video formats as well as the best video format for social platforms like Facebook and YouTube. Let's get started!
1. What Is MP4 Video?
MPEG4, the so-called MP4, was originally made by the MPEG (Moving Images Expert Group) in late 1998 as an orthonormal video encoding file for windows and mac. Even if computer users can use over 20 sorts of MPEG criteria, MP4 is still the most frequently used in the video format field. Right now, MP4 video format is used worldwide for DASH (Dynamic Adaptive Streaming over HTTP) and Apple's HLS streaming. And MP4 is can run either codec H.264 & H.265 (HEVC) for any video or AAC(Advanced Audio Coding) for any audio.
2. MP4 VS Other Video Formats: Which Is Better?
Let's see the ins & outs of some well-known video formats:
| | Pros | Cons |
| --- | --- | --- |
| MP4 | (1) Compatible with the most modern technologies besides iTunes; (2) Has less video quality loss when streaming over the internet; (3) Used for social media like YouTube and Ins, etc.; (4) Easy and convenient to edit; (5) Large capacity. | May get stuck and crash when downloading. |
| WEBM | (1) Open-source & free-to-use; (2) Widely used for websites like YouTube and Wiki-media. | Cannot play for many portable devices like Mozilla Firefox and Google Chrome. |
| MOV | Simple to be edited; (2) Arranged with an attractive design; (3) Easy to be edited with other formats. | Takes a relatively larger capacity. |
| WMV | Small size so that it even can be transmitted by e-mails in minutes. | Cannot run on the mac-OS system. |
| MKV | Supports lots of codec; open-source; (2) Contains endless image, video, & audio files. | A bit complicated to use |
3. What Is the Best Video Format for Instagram, YouTube, Facebook, & TikTok?
Without any doubt that MP4 is the best video format for most social platforms because of its adaptability, convenience, and capacity.When it comes to the best parameters of MP4 that post on social websites, specifically, you'd better edit MP4 at 1080p, with the aspect ratio of 16:9 for YouTube TV and TikTok, while editing MP4 at 720p, with the aspect ratio of 1:1 for Facebook and Instagram.
Part 2. Best Video Editors for MP4 & User Tutorials on How to Edit MP4 Video on Windows, Mac & Online
1. How to Edit MP4 with AceMovi Video Editor [For Both Mac & Windows 10]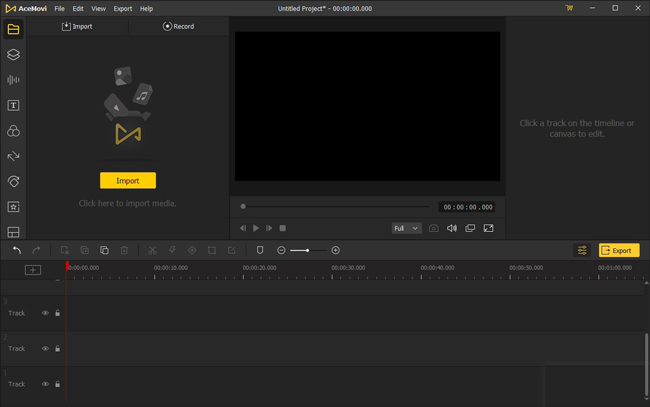 A good video editor matters very much in editing MP4 videos and this is the reason why we recommend AceMovi Video Editor for you. Now, you can download AceMovi free at any time for both Windows and Mac systems. Furthermore, all the basic and advanced features are free AceMovi's trial version yet you need to pay for the VIP service to remove the watermark ($19.95 Monthly & $59.95 Perpetually).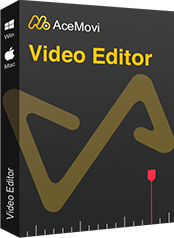 Key Features of AceMovi Video Editor
Security Verified. 5,481,347 people have downloaded it.
Pros:

Useful & convenient to edit MP4 videos
Free to download for Windows 10 and Mac
A plethora of stickers, texts, sound effects, etc.
You can convert MP4 video into hundreds of other formats
Split-Screen, PiP, Blur, Mosaic, Fast/Slow-Motion
You got lots of usr tutorials from the official webiste
Stable OS & you can export at the aspect ratios of 1:1, 4:4, 3:4, 9:16, 6:19, etc.
Dirt cheap to make a subscription
Cons:

No edition for mobile phone
AceMovi is a very easy-to-learn MP4 video editor so you can edit the MP4 video like splitting, cropping, combining, converting, compressing, adding video elements (text, filter, sticker, music background, overlay, transition, animation, etc) in a couple of clicks. In the following, you'll learn how to use AceMovi to edit MP4 videos.
How to Trim & Split MP4 Video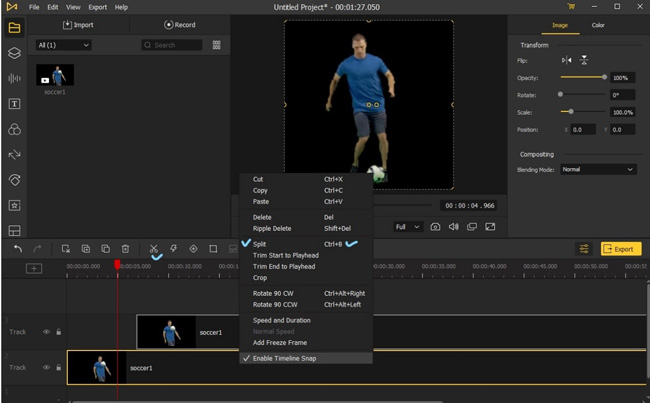 You need to: (1) Drop MP4 video files under the Track; (2) Move the red controlling line to hit the splitting point; (3) Like the above image shows, you got three ways to trim MP4 video, among which the shortcut Ctrl + B is the easiest method.
How to Crop & Resize MP4 Video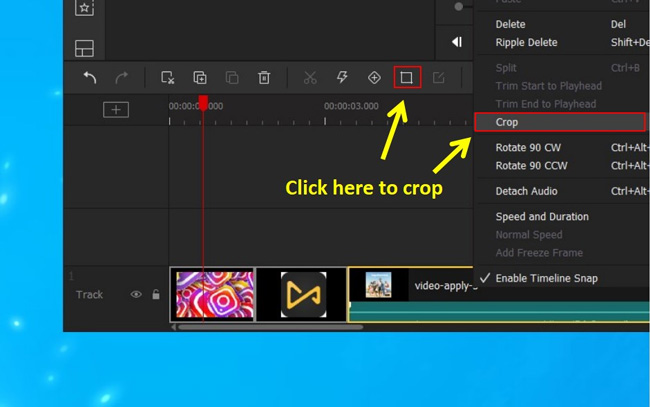 You can click the Cropping tab under the timeline and then customize the size of MP4 videos at 16:9, 9:16, 4:3, 3:4, 1:1, or others. Another method to do this is to right-click that MP4 clip to choose the Crop option, then the cropping area will pop up.
By the way, Have you noticed the item containers on the left side? By clicking them, AceMovi will change the item windows so that you can try other MP4 video elements.
How to Add Text to MP4 Video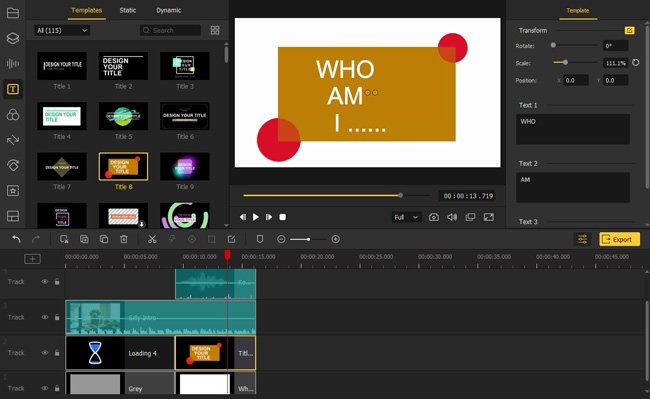 You can choose from 150+ different genres of texts in AceMovi, and normally, drop the text under a new Track, then change its font, color, size, opacity, etc. Based on the MP4 videos, sometimes the dynamic texts appear more attractive, while the text templates are very useful because you just need to change its content or resize position.
How to Add Transition to MP4 Video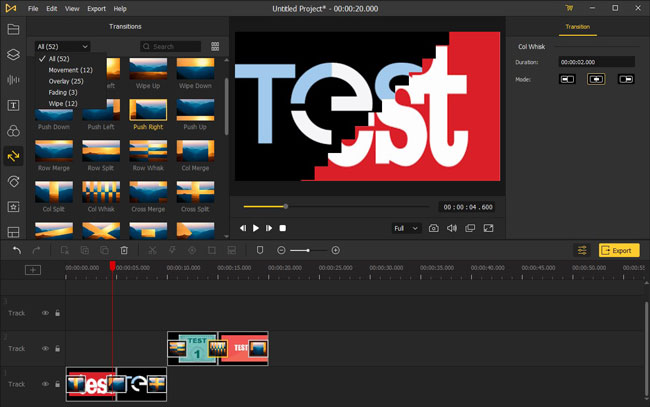 There are many sorts of transitions like Movement, Overlay, Fading, and Wipe built in the Transition Container. You need to drop the style you like between MP4 clips and you're allowed to check if it's useful in real-time.
How to Use Advanced Features to MP4 Video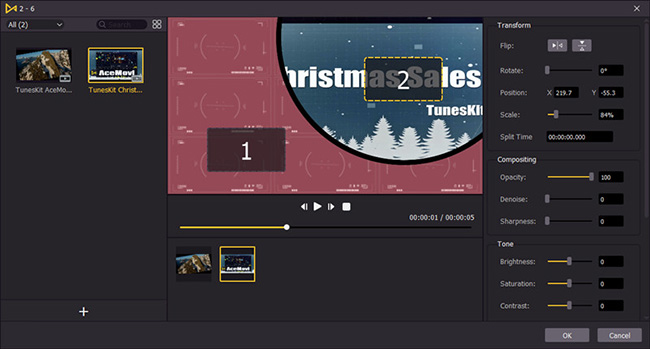 You can use slows of advanced video effects into MP4 video such as split-screen, PiP (picture-in-picture), mosaic, magnify, slow/fast-motion, blur, etc. If you want to make an MP4 split-screen video, you can click the Split-Screen container > choose the style you want > import videos > change parameters > click the OK.
How to Download & Convert MP4 Video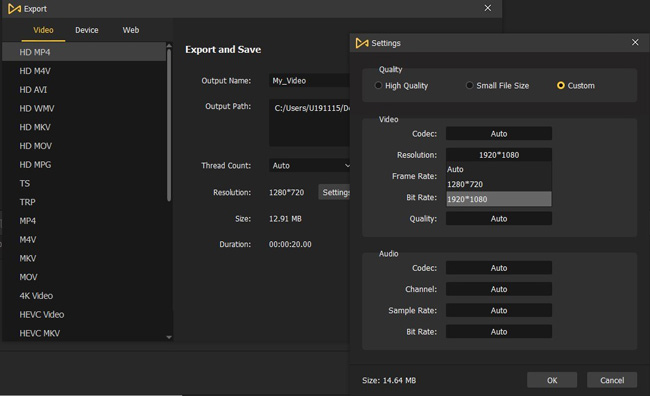 Click the yellow button Export and then you'll see three options Video, Device, and Web, which represents what video format you can convert into or download on desktop. For instance, if you choose the Web icon > YouTube, AceMovi will download the MP4 video on your computer with the best codec, resolution, and size for YouTube Studio. And if you choose the Video > MOV, AceMovi will convert the new-made MP4 video into MOV format.
2. How to Edit MP4 by the Windows 10's Hidden Video Editor - Windows Movie Maker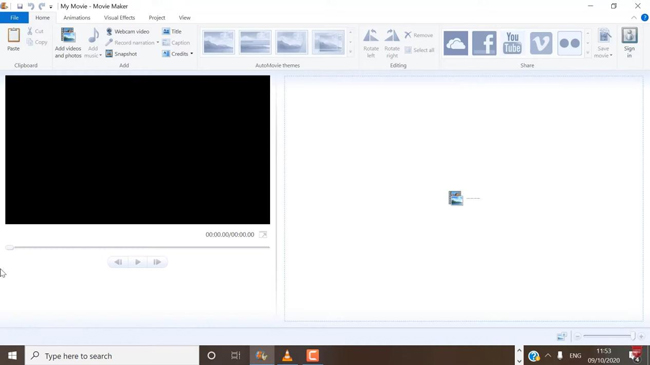 We all know that Windows is inherently embedded with an MP4 video editor named Windows Movie Maker, which can help you edit MP4 format like trim, crop, rotate, add title, add photos, and apply animations, etc. And the shortcoming is there are fewer video editing resources for MP4 and advanced features like split-screen and picture-in-picture. Now, let's try to edit MP4 videos with the Windows Movie Maker.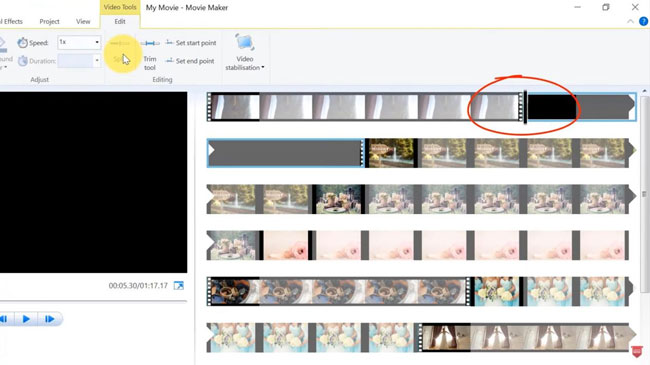 To cut and edit MP4 videos, all you need to do is: (1) On Menu, click the Home to import MP4 files; (2) You will see the MP4 thumbnails on your right hand, in this case, you need to move your mouse to hit the cutting point; (3) On Menu, click the Edit > Split, then you'll find that your MP4 video has been cut into 2 parts; (4) To export and share MP4 video on Windows Movie Maker, click the logos of iCloud, YouTube, Facebook, Vimeo, etc.
3. How to Edit MP4 Online - Ezgif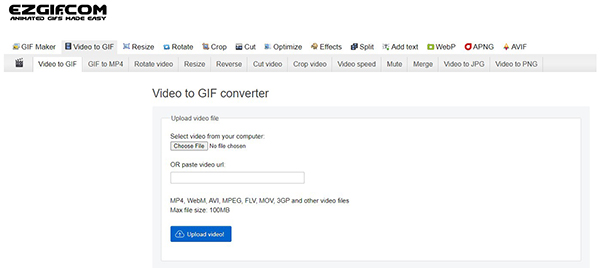 Ezgif is a very good online MP4 video editor and by which you can download MP4 video without any watermark left. Unlike AceMovi Video Editor and Windows Movie Maker, Ezgif is a layering-based MP4 video editing tool, in other words, you need to find the correct function area to operate the MP4 editing workflow. As you can see from the image, Ezgif can assist you to convert MP4 video into GIF, JPG, PNG, AVI, 3GP and rotate, resize, split, mute, merge MP4 videos. However, you should only import the MP4 video of less than 100MB into Ezgif.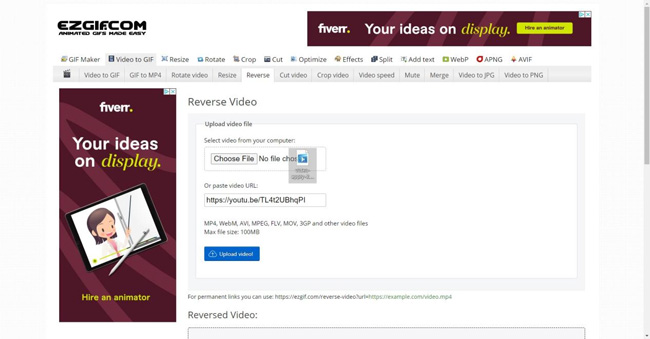 This is the tutorial on how to reverse MP4 video on Ezgif, all you need to do is: (1) Browse into Ezgif online MP4 video editor; (2) Click Video-to-GIF > Reverse; (3) Drop the wanted MP4 videos or Past the URL of MP4 video from YouTube and others; (4) Reverse > Download. In the process of downloading MP4 video, your video won't be printed with any watermark.
Part 3. Other MP4 Video Editors You May Also Like
Want to try the ready-made MP4 video templates? Want to use more interesting MP4 editing features? And want to edit MP4 videos on iPhone and iPad? Just scrolling down to see some other very goof MP4 video editors - Kapwing, VLC, and Inshot.
1. Kapwing: Online, Easy, & Ready-made MP4 Video Templates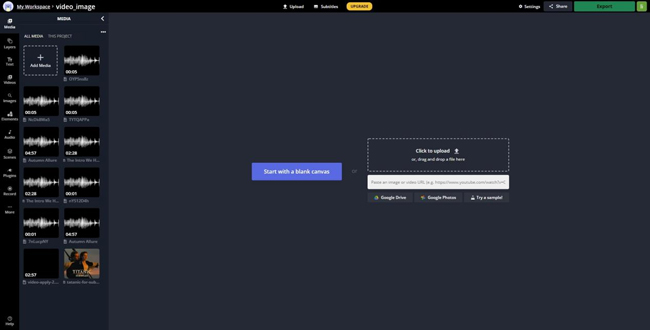 Kapwing is another online MP4 video editor and unlike Ezgif, you don't need to find the feature button one by one. And the significant point of Kapwing is that you can apply a plethora of MP4 video editing templates for Instagram, Facebook, TikTok, etc. And those MP4 templates can be downloaded free with synchronous text, audio, color, transition, filter, etc. And the cons of Kapwing are you cannot import MP4 video at 720p or higher for free, so you need to order the subscription of 720p or 1080p.
2. VLC Media Player: Desktop, Stable, & Interesting MP4 Video Effects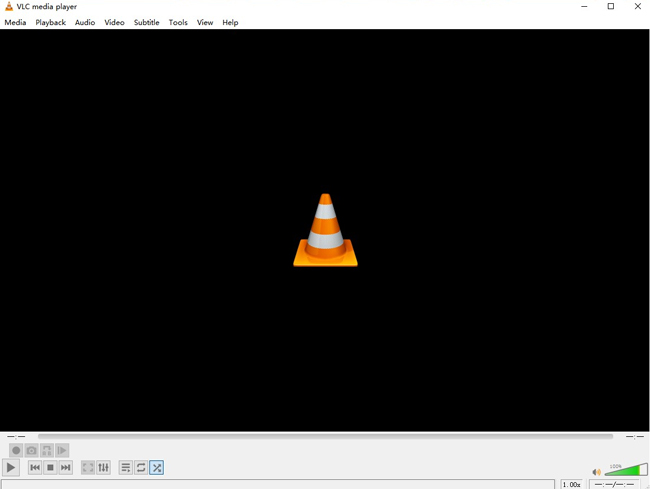 VLC Media Player is an integrated MP4 video editor for both Mac & Windows. VLC contains the majority of basic and advanced video editing features like MP4 video chopping, cutting, track syncing, VLM Configuration, audio equalizer, interactive zoom, mirror, anaglyph 3D, etc. But VLC is not user-friendly for beginners so that you'd better learn from the tutorials of editing MP4 video from the internet. And when you're familiar with VLC, you'll find it's easy to edit MP4 videos.
3. InShot Video Editor: Phone, Comprehensive, & Thousands of MP4 Video Elements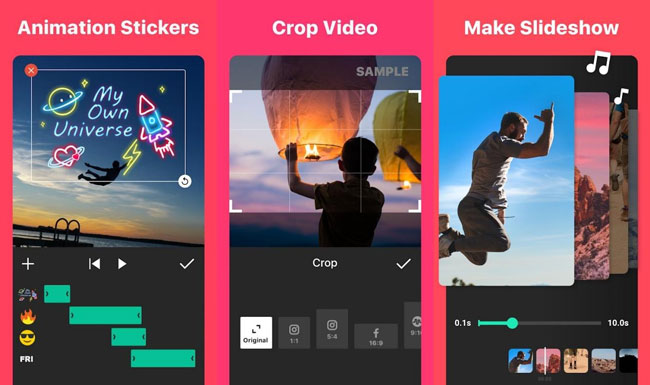 Want to edit MP4 video on iPhone, iPad, or Android devices? By testing, we think the Inshot MP4 video editor can be a very good option. You can download and install Inshot free from Apple Store or Google Play. And most importantly, Inshot contains thousands of royalty-free music resources for MP4 video including pop, rock, classical, instrumental, etc. Besides, you can add tons of captivating subtitle templates, stickers, filters, and so on into your MP4 video.
Part 3. Lastly
That's all for today's sharing about editing MP4 videos on Windows 10 and Mac, hoping it could be useful and helpful for you. If you have any questions or anything to share with us, please leave your comment below, we'll make a reply ASAP.