Since a large portion of audiences custom to read subtitles when watching your posted content on those popular media, not to mention that foreigners are very likely to jump over if they don't understand what you want to convey because the languages, without exception, you've to add texts to narrate the voice track in the middle bottom window.
It's easy to get lost in the subtitle-editing forest where hundreds of types of applications and online tools are open for downloading and using. But do you know which one makes our post-production effective and convenient? That's it! Now, I'm going to show you how to add subtitles to MP4 with the best titlers.
Add Subtitles to MP4 Videos with AceMovi (Win/Mac)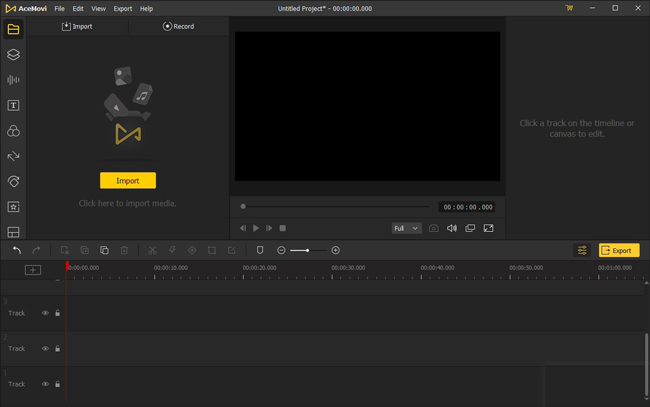 With a couple of clicks on the screen, you have the easy experience of adding subtitles to MP4 video in this one-stop video editing editor AceMovi. More formats of AVI, WMV, MOV, M4V, DivX, and MKV are involved in the software, citing you can also add subtitles to other video formats or convert other formats to MP4 without delay.
Surprisingly, AceMovi is designed with a variety of subtitle sorts, including both dynamic and static text templates. The built-in fonts have attracted a lot of users who are accessible then to fine-tune the subtitles' size, opacity, scale, font style, color, blur, and offset.
It's easy to use this video editor in trimming, cutting, splitting, merging, cropping, reversing, mirroring (flipping), and speeding any video or audio clip. The timeline contains trackless sequences for you to apply new media. Shortcuts and drag-n-drop editing customizations are at your disposal. Now, we're continuing to learn how to add the subtitle track to MP4 in AceMovi.
AceMovi MP4 Subtitler
Edit meticulous subtitle font, color, size, and more
230+ text templates and subtitle genres
A library of audio effect templates
Customize the text size and location in the canvas
Friendly timeline and toolbar for entry-level editors
Export your video to HD, Full HD and 4K resolution
Overlay texts on video to make intro and outro
Video Tutorial: How to Add Subtitles to MP4 Video with AceMovi
Here comes the step-by-step guide about how to add subtitles to your MP4 video with AceMovi. The precondition is that you've downloaded and installed AceMovi on your desktop. You can begin to edit the subtitles even without registration.
Import MP4 Media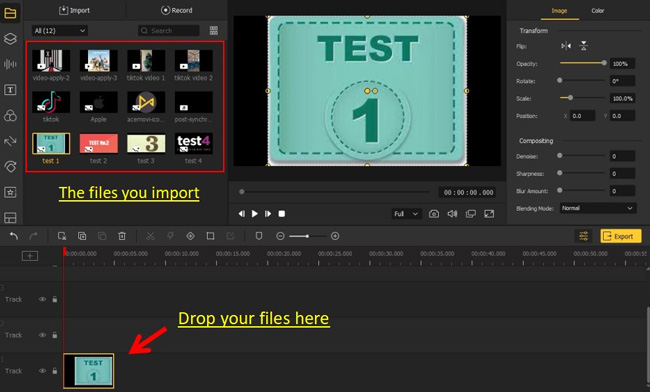 Press the "Import" icon from the Media panel to upload your files to AceMovi. Or you can directly drag-n-drop the files under the timeline track.
Add Subtitles to Video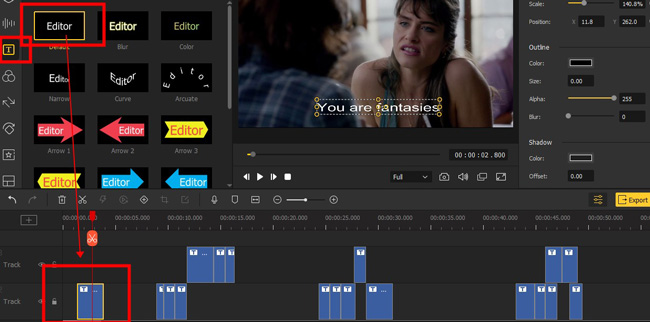 Next up, click into the Text plate, then drop one of the subtitle templates under the timeline. You can drag, hold, slide and drop its edge to adjust the duration.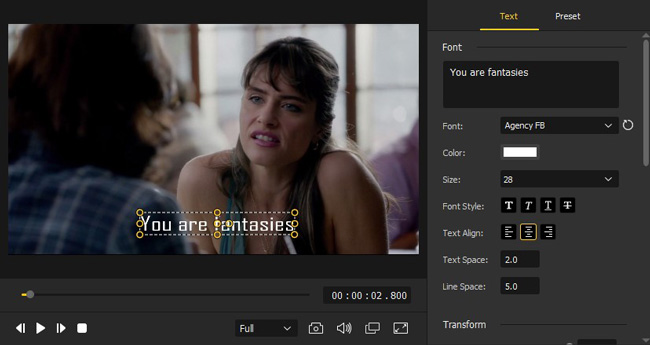 You can edit the size and position on the canvas to make customizations. For advanced parameter settings, you need to click the subtitle track from the timeline, then go to the "Properties" and "Text" on your right-hand buttons.
Download the Edited, New MP4 Clips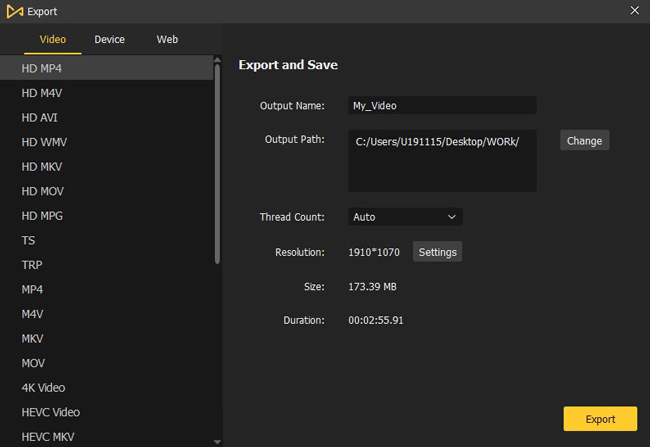 You may want to download the video to social media like YouTube and Facebook, you can click the "Export" and "Web" to realize this. If you want to export the file into a specific folder, just choose the target format and the save path directory before hitting the final button.
How to Add Subtitles to MP4 Online Free with Clideo

Want to know how to add subtitles to MP4 without encoding online? Clideo performs it's ability in editing subtitles for MP4 footage. You have options to add subtitles to the video manually, insert a new SRT file, or let the website add subtitles to your video automatically.
Strictly speaking and by testing, Clideo is not a streamlined online free video editor. The features are separately located on the screen for multiple purposes. In other words, one screen deals with one project. Downloading video at HD resolution is allowed, yet you cannot remove the watermark for free.
Choose a Mode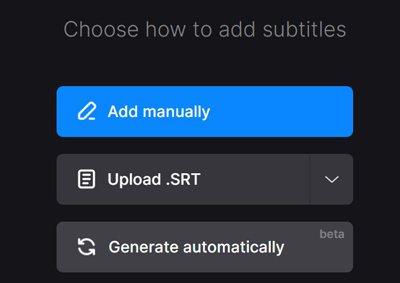 Firstly, you need to upload your videos from the folder, Dropbox or Google Drive. Then you have three modes to choose from, they are "Add Manually", "Upload .SRT", and "Generate Automatically". If you want to add an SRT file to MP4, just click the "Upload .SRT" line.
Add Subtitle to Video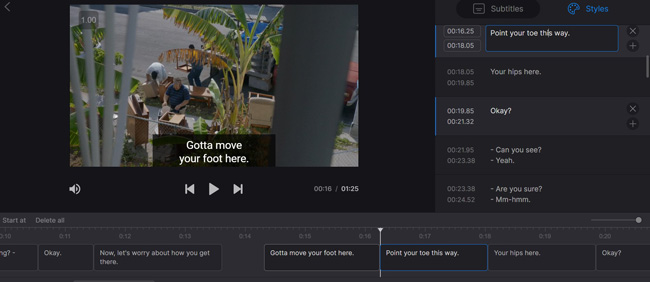 You've already uploaded the SRT file to MP4, now you can edit the duration and perform any new content. You can play the video in real-time to check whether the subtitle is in sync with the imported clip.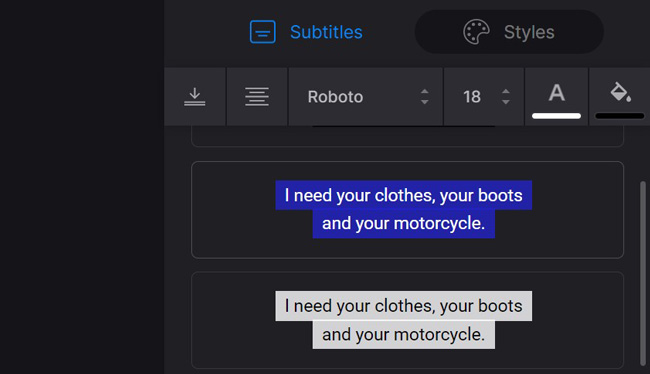 Click the "Styles" to switch to edit the subtitle color, font, size, alignment, and many more. You will see the differences in the plate with Clideo beyond expectations.
Download MP4 from Clideo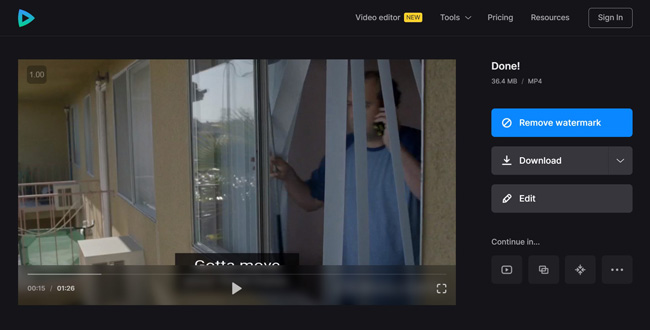 It's direct to download the video on HD resolution with Clideo's customized braNding watermarks. You need to upgrade to the premium accounts to remove the watermark completely.
How to Add Subtitles to MP4 on Android and iPhone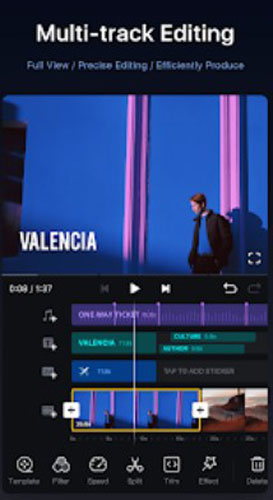 Try to figure out which one is the best application to add subtitles to MP4 on mobile phones? With millions of active users around the video-creation field, VN is a streamlined video editor brings video templates and photo slideshow templates. It's watermark-free right now and provides users with 1080p resolution exporting.
You can download it on both iPhone and Android devices for free. It's easy to add subtitles, trim, combine, split, speed up, slow down, apply background music, etc. Keep scrolling down to learn the tutorials!
Import MP4 Clips to VN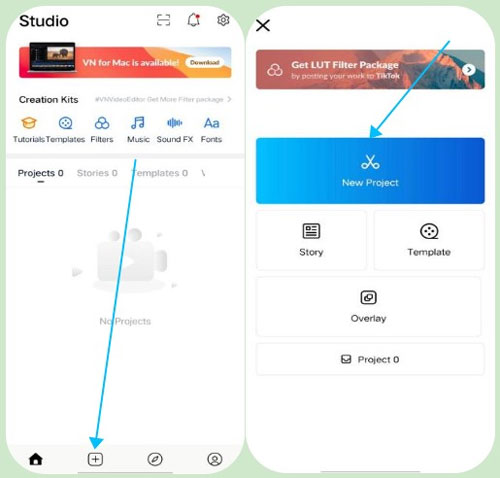 Lanching VN on your mobile phone, click the "+" icon to start a new project and make files imported. You need to log in to get a new account in VN.
Add Subtitles to VN on Your Phone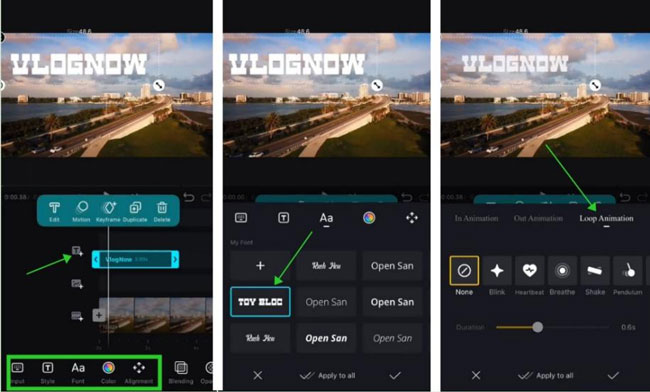 Hit the "Text+" button to choose one of the text templates from the built-in stock. There are a plethora of genres with various fonts, colors, overlaying modes, and shapes. You can also add animations to the subtitles, such as the "Blink" and "Shake".
Export Your Videos from VN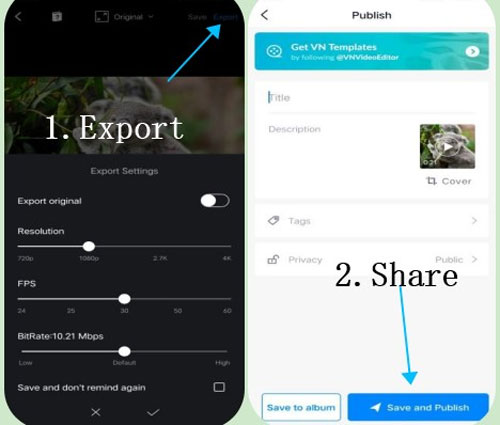 The button to export and share your masterpiece is set in the right upper place. You can set the resolution on 720p, 1080p, and even 4K. The FPS values range from 24 to 60. It's accessible to save your clips to album or share to your social accounts.
Finally
Compared to using Clideo and VN, we deem AceMovi is more fit for editing large and multiple MP4 files with subtitle templates and many more advanced tools like the green screen and webcam recording. Also, Clideo is supposed to add SRT subtitles to MP4 videos within minutes.