The subtitle, far and away, makes itself indispensable for an integrated video in enhancing storytelling & foreign language translation. However, we may be vexed with the questions of how to add suitable subtitles to videos and which one is the best subtitle editor on Mac.
Don't worry! Hereafter we're going to share with you top 6 best subtitle editors for Mac, including both free and online subtitle editors per their built-in features, compatibility, price, advantages and disadvantages.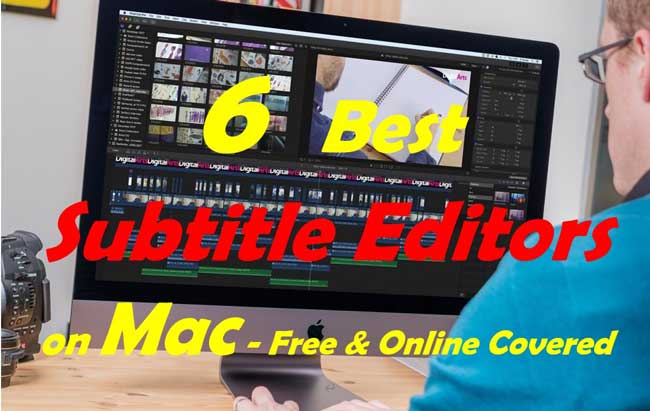 Top 1. AceMovi Video Editor
As a fully-featured & all-sided toolkit, AceMovi is recognized as the best video subtitle editor on Mac for adding common or specialized subtitles. With AceMovi, except for loads of genres of subtitles such as the style of Blur, Narrow, Curve, Arrow, and Bubble, you are also empowered to choose dynamic captions, like Flash, Float, and Brake.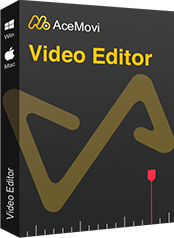 Key Features of TunesKit AceMovi Video Editor
Security Verified. 5,481,347 people have downloaded it.
Built-in Features::

Effortless ways of subtitle adding
Easy-to-use & clutter-free interface
Faster audio & subtitle sync rendering
An abundance of static & dynamic subtitle styles
Customizable and stretchable alteration in the canva
More precise parameter settings in the Text & Effect
Price: Free trial, no days & times restrictions, no registration

Compatibility: macOS 11 – 10.12, OS X 10.11 – 10.8
The following is a five-Step tutorial for you to edit subtitle by few clicks with AceMovi:
Step 1 Download AceMovi and launch it
Step 2 Import video by drag-n-drop straightly
Step 3 Make a selection of font, color, style, size, language, and position, etc.
Step 4 Review the sync rendering among video, audio, and subtitle
Step 5 Export the video and check your works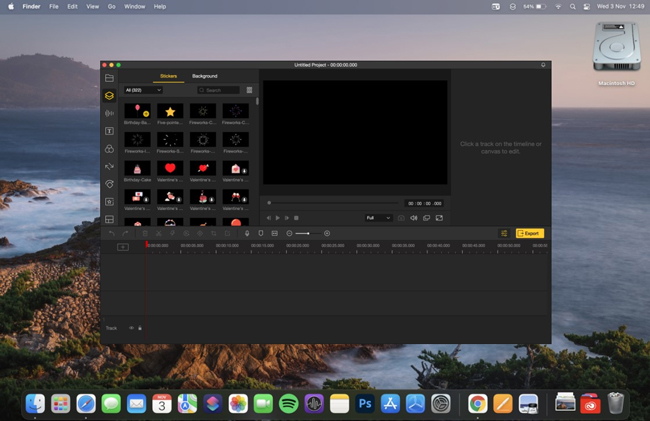 For a more detailed tutorial of editing video subtitles with AceMovi, you may like this page: How to Add Subtitles to A Video.
Top 2. Jubler Subtitle Editor
Jubler belongs to one of the best-performed open-source tools, which is especially used to polish text-based subtitles. Whatever adding new subtitles or covert, correct, and refine already-existing subtitles, Jubler will never let you down.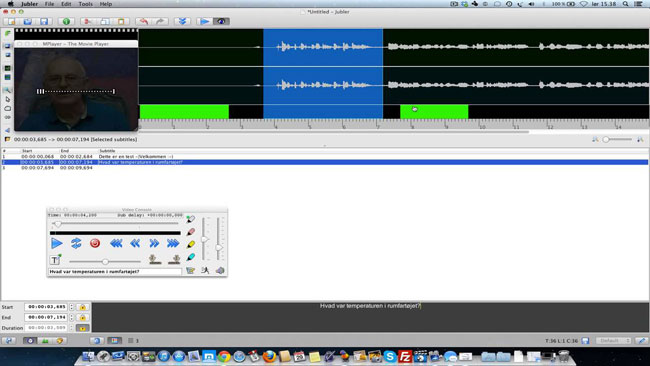 Price:
Free trial, no days & times restrictions, no registration
Compatibility:
Almost, but XQuartz should be downloaded in case you cannot download MPlayer, and macOS X 10.6 users need to download the installation bundle
Built-in Features:
Various colors could be marked in real-time
Application update automatically without hassle
Spell check after workflow by professional dictionary
Graphical subtitle playing by using the FFMPEG library
Shortcoming:
Need to install MPlayer OSX Extended as a helper for subtitle viewing
Top 3. VideoProc Converter
Working with hundreds of subtitle features, VideoProc Converter helps you enable, disable, and extract subtitles, along with ways of choosing the language and adding external subtitle files to video. What's more, VideoProc allows you to search and select subtitles online from famous movies or TV episodes.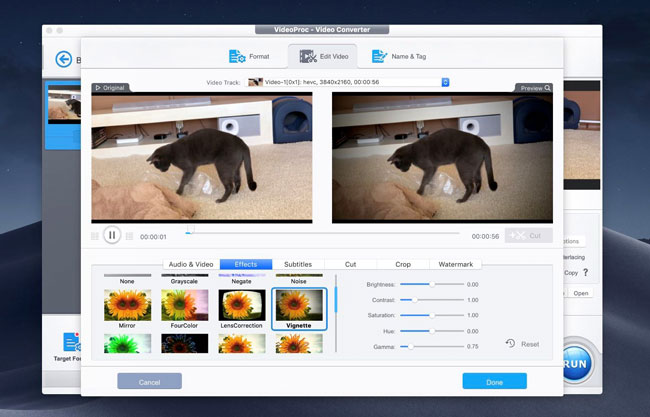 Price:
Free trial, less than 5 minutes subtitle editing, registration required
Compatibility:
Built-in Features:
Overall subtitle editing features
Intuitive layout & simple learning curve
Full hardware acceleration up to 47x real-time
Online search from famous movies and TV episodes
Shortcoming:
Subtitle formats limitation: only 3 (.ass, .ssa, .srt)
Top 4. Aegisub Advanced Subtitle Editor
Aegisub, a cross-platform & pro subtitle editor, was created along with the real-time preview and audio waveform viewer. Like the name, Ageisub is deemed as a more professional tool to edit captions, consequently, just pick it up provided that you're a vocational subtitle worker!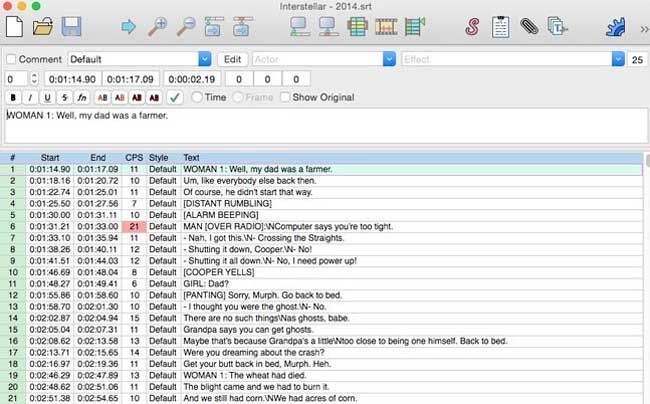 Price:
Compatibility:
Built-in Features:
More high-end subtitle functions
Easier to make critical timing point
Auto-save in case of losing files by accident
Real-time preview & audio waveform viewer
Shortcoming:
Not friendly for beginners
Top 5. SRT Edit Pro
SRT Edit Pro, a subtitle editor with an easy-to-master user interface, has attracted many for the powerful & accurate features and the design idea of intuitive & simple. So, you can drag in the waveform to make, alter, or input timecode without lags way on SRT. Meanwhile, you can merge or split subtitles straightly in the timeline zone.
Price:
Compatibility:
Built-in Features:
Multiple lines for subtitle edit
Support all of the drag-n-drop
Pro in timecode adding and operation
More file formats included, like MKV, AVI, MP4, and M4V, etc.
Shortcoming:
Not support two formats: DRM, 3GP
Top 6. Kapwing(online)
As the most intriguing online video editor, Kapwing was designed for collaborative use especially. And you'll get the one-stop service on Kapwing, like subtitle editing tutorials and more social media source engagement, as well as a variety of formats and sizes.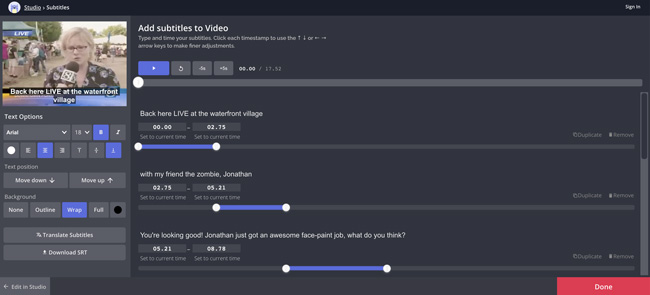 Price:
Free trial, no watermark, need registration, less than 7 minutes edit, less than 2 days store
Compatibility:
Built-in Features:
Online subtitle editor without watermark
Comprehensive tutorials for newcomers
More kinds of font, color, and audio provided
Fast channel to post on Twitter, Facebook, and Google Drive
Shortcoming:
A higher requirement in internet quality
Possibility of personal data leak
All in All
What we've chosen for you here in this article are the most professional and almighty subtitle editors for Mac, no matter whether you're unskilled or specialized. When we calling back to the very beginning questions, I believe, you must have gotten the answers about how to choose the Mac subtitle editor, and which one can make your workflow shining over others.