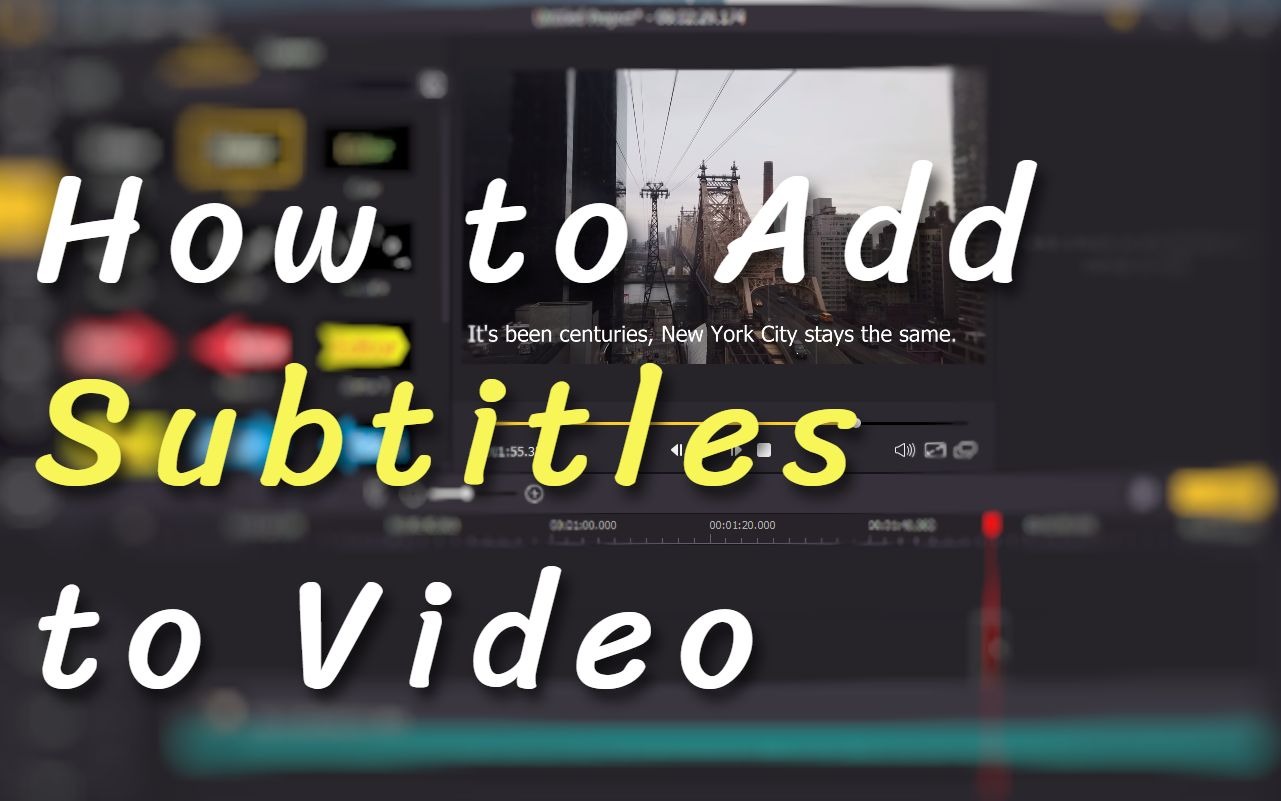 Video content is all about storytelling. People watch videos on YouTube, Instagram, articles and almost everywhere. It happens to many people that when they watch a video with no audio or they're not able to turn the sound on, subtitles and captions become the most important way to convey information from a video.
With subtitles, people can enjoy the video and understand what the video is about even without sound. Sometimes subtitles are even more than telling what it is about in the video but become an unexpected part of the video that surprises viewers.
In the following parts, I'm going to show you how to add subtitles to video and to edit your subtitles to make them look smoother in the video.
App to Add Subtitles to Video
In general, it's not a difficult task to add subtitles to your video, and the handiest tool is to use the TunesKit AceMovi. There're many advantages using this tool to add subtitles to your video. You can type in any text message within the tool and make it appear on the screen right away. After that you can adjust many properties like the font, text color, size, position and more. Beside plain text subtitles, you can even add effects to your texts to make them look more attractive.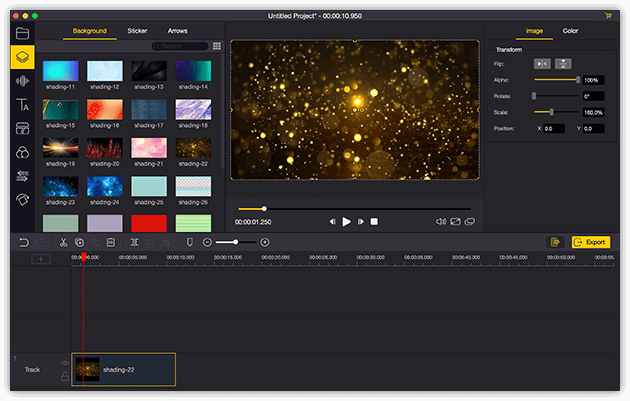 TunesKit AceMovi Video Editor is a well-established video editor that provides multiple effects and transitions. It comes with a screen recorder which can record images as well as the sound coming out of your computer. As a well-established video editor, AceMovi is equipped with features like split screen, filters, animations, texts, music library. By adding texts to your video, you can make them as subtitles to show what's being said in the video simultaneously.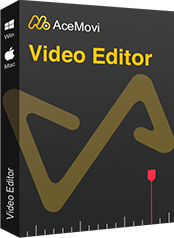 TunesKit AceMovi Video Editor
Security Verified. 5,481,347 people have downloaded it.
Basic and advanced features that make your video better
Multiple filters, transitions, text, sound effects, music
Optional texts including static texts and dynamic texts
A variety of output options to choose from format, device, social platform
Add subtitles to video in just a few steps
How to Add Subtitles to Video in TunesKit AceMovi
Before you create a video overlay, make sure that you have already installed TunesKit AceMovis on your computer, this software currently supports Windows and Mac systems. Once you have downloaded the installation file, follow the on-screen instructions to complete the setup process.
Add Video Files to TuneKit AceMovi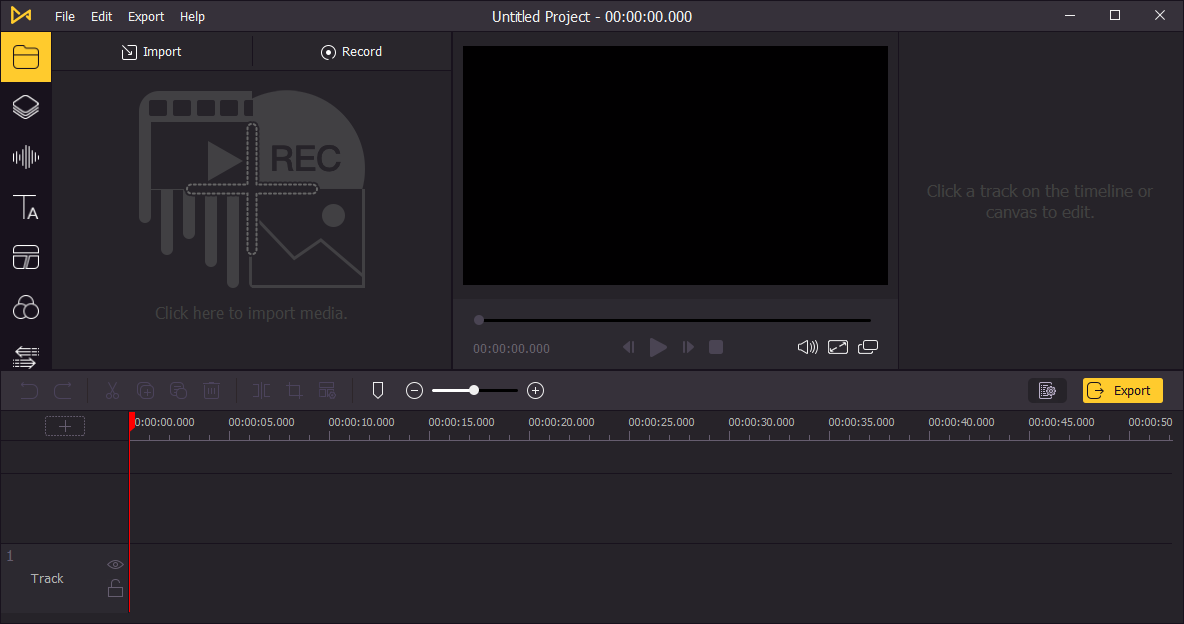 Open TunesKit AceMovi on your computer, then import your video footage to the media box. Or you can directly drag your video to the timeline.
Add Subtitles to Your Video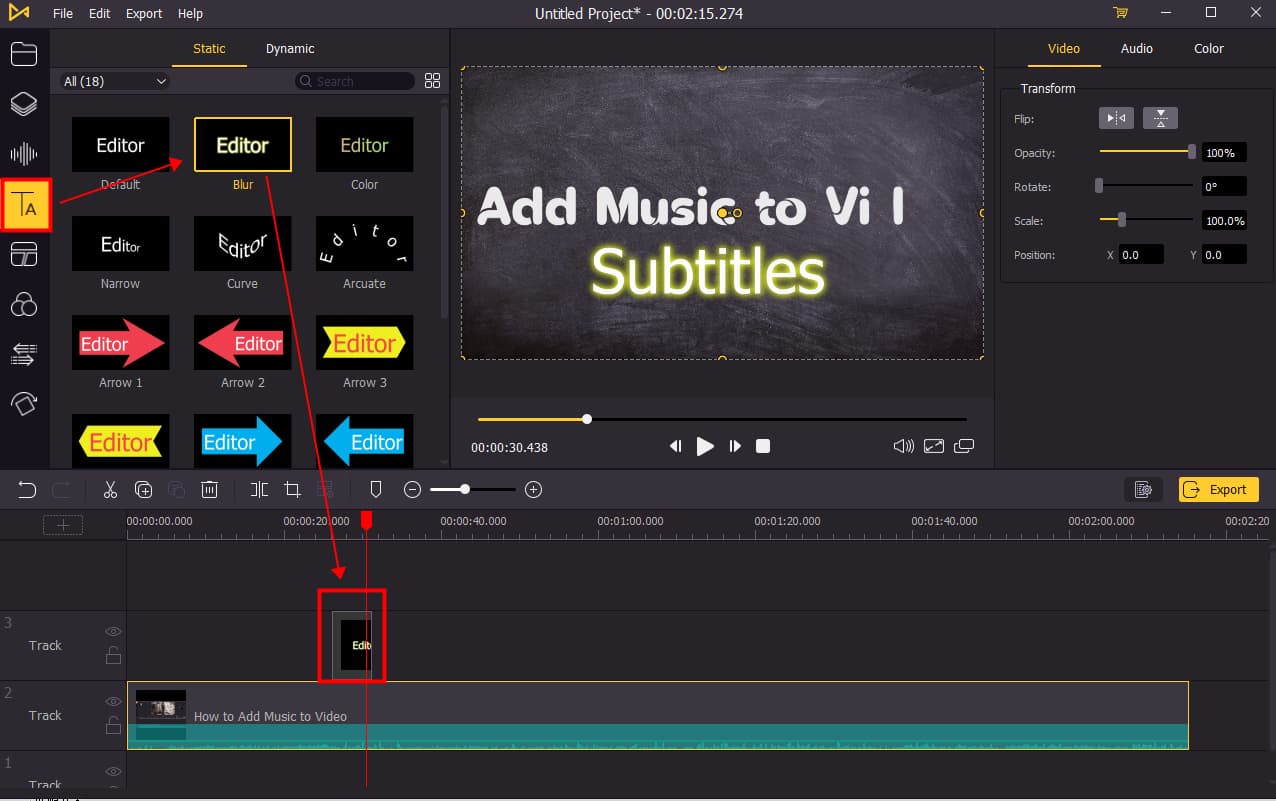 Before you add subtitles, you're supposed to move the playhead to the point where you want your subtitles to appear. And then go to the left panel, click on the

and choose a text type. Now you can start typing in your subtitles on the upper right panel of the interface.
Design the Subtitles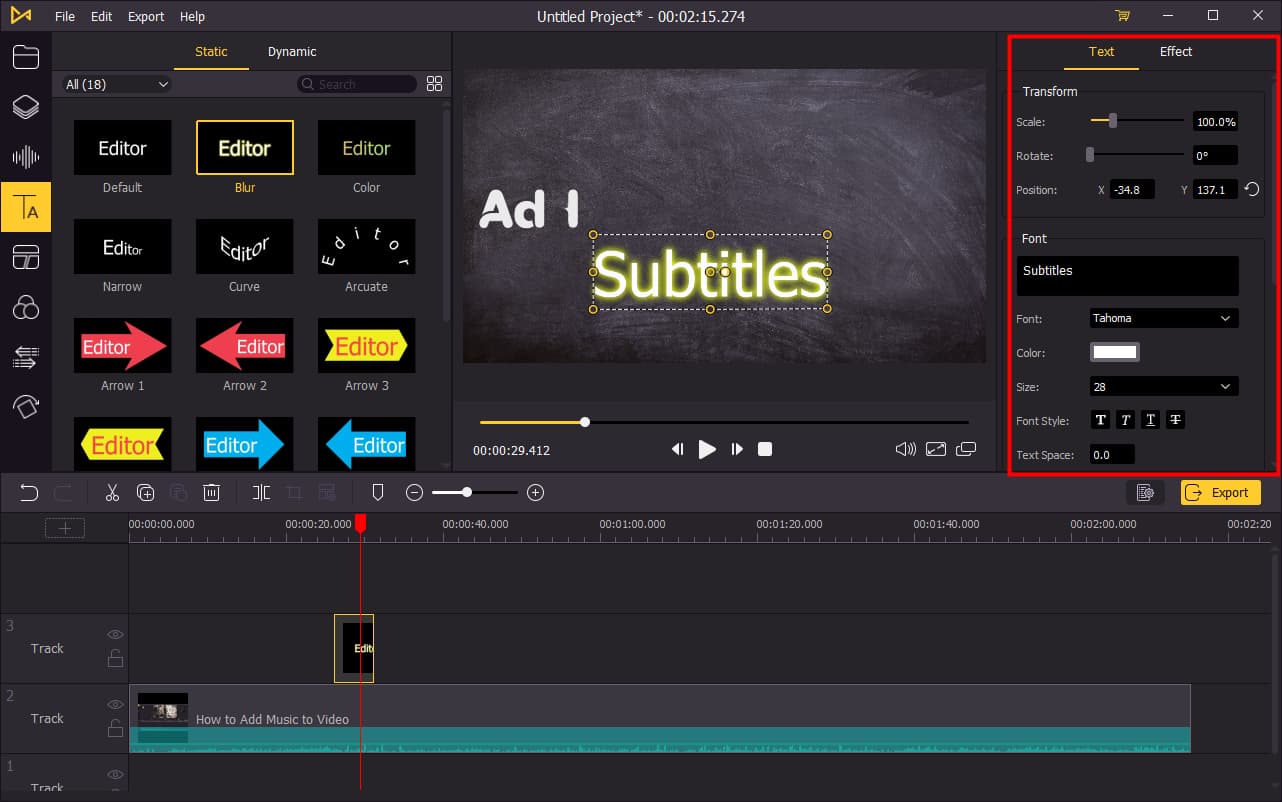 Once you have typed in the subtitles, you'll need to adjust them to fit into the video. To change the duration of your subtitles, hover your mouse over the start or end point of the subtitle track and drag it to lengthen or shorten the track.
The original text you type in might not be at the right position on your video, so you'll need to change the position by directly dragging the text on the canvas. Drag the edge of the text, so that you can scale down or scale up the text.
The last thing you can do to your text is to change the look of it. Click on your text track on the timeline, then head over to the upper right panel. Under Text you can change the font, text color, size, style and text space. Scroll down a bit, you can add outline and shadow to your subtitles.
Now you've done adding subtitles to your video, but before you export the video, it'd better to double-check it. Press the Space button to preview your video, you can see if the subtitles properly show up on the screen.
Export Video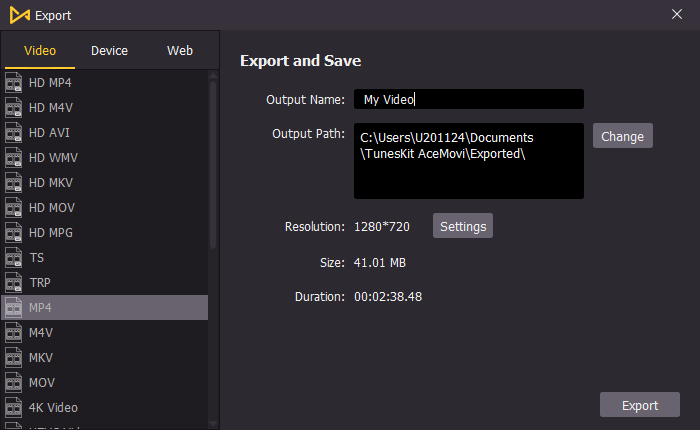 Once done editing, click the Export button on the middle left and export your video. Click the Settings, you'll be able to choose the output parameters. And by clicking the Change button, you can change the output location.
How to Add Subtitles to YouTube Videos
There're times when you just made a long video and there're many dialogues or voiceovers on it. You know that it'd be better if there're subtitles in your video. What you can do to add subtitles to your video before making it public on YouTube? Well, you don't need to do it manually. There's a hidden feature on YouTube that can help you add subtitles.
Step 1: Upload your video on YouTube, but don't make it public.
Step 2: After a while, your video will finish processing. Go to YouTube Studio and choose the video you just uploaded.
Step 3: On the left panel, click the Subtitles button, then download the auto-generated by hovering your mouse over the subtitles > click the three-dot on the right > click Download > Choose .srt file.
Step 4: Download TunsKit Video Converter and upload your video on this tool.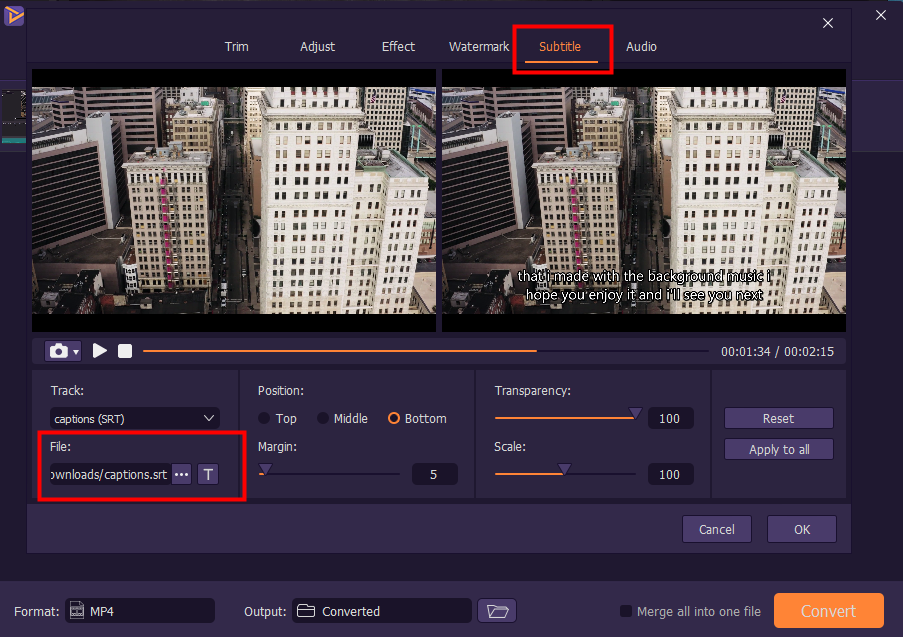 Step 5: Go to Edit > Subtitle. Click the three-dot under File and choose the subtitles file downloaded from YouTube.
Step 6: Click OK, then click convert. You'll get the video with subtitles on it.
Bottom Line
It's easy to add subtitles to video in TunesKit AceMovi even if you're a noob video editor. One thing you should know is that when you add subtitles to your video, make sure that the text won't affect the video content. You can adjust the size of your texts to perfectly fit them in your video.