Many ways are available to remove the background music from your MP4 file. In simple terms, you can find a video editor to make the audio track detached, then choose to export it as an MP3, MKA, AAC, or OGG file; the second way is importing it to a specialist audio editing program like Audition, then you download the file as customary; or you can directly launch the hidden recorder to perform an audio capturing (the shortcut for Windows to record: Win + R). One of the problems is if you want to extract audio from multiple MP4 files, the latter two ways seem powerless. Now, you must want to know which one is the best batch MP4 audio tracks extractor, here we go!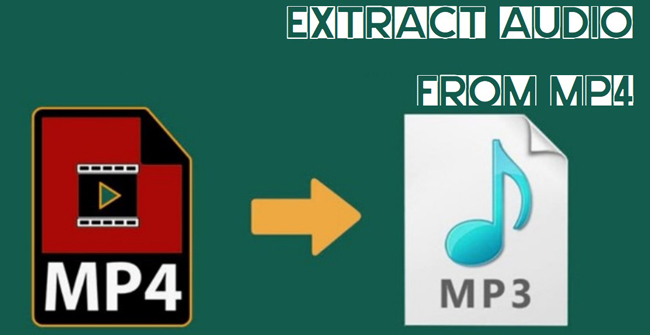 AceMovi - How to Extract Audio from MP4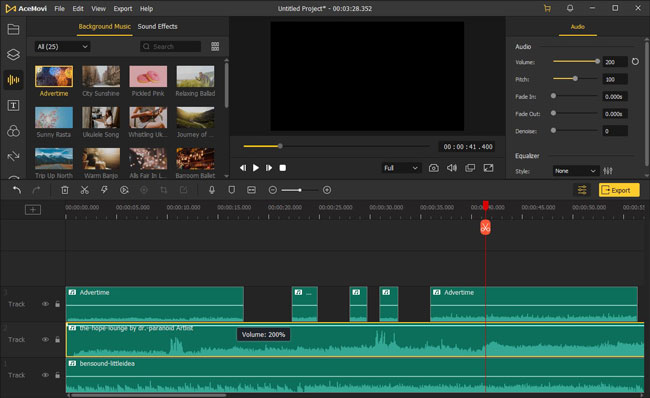 AceMovi is the NO.1 software for users to edit and extract audio from MP4 video quickly. This is an MP4 video editing toolkit, which compiles the MP4 video trimmer, cutter, splitter, recorder, reverser, and converter. Perfect for YouTubers, Facebookers, and TikTokers, they can enjoy advanced split-screen and slow-motion features set in AceMovi.
There is a trackless timeline to put any format of your music, video clip, subtitles, and pictures, signifying that you can add as many MP4 files to AceMovi as you want. Besides that, it's direct and easy for you to convert other video formats to MP4, then detach the background song to your designated folder. In short, AceMovi is an overall video and audio editor. Download AceMovi here!
AceMovi Audio Extractor
Import/export audio files at 320 Kbps
Covert any other format to MP4 or MP3
Apply slow-motion and fast-motion to clip
Beginners can master it without any trouble
Simply equipped interface and timeline
A set of tools to edit music and video clip
Denoise and equalize the background
AceMovi Video Tutorial: How to Extract Audio from Video
For uploading your MP4 files to AceMovi, you can choose to click the "Import" icon, or simply drop the media under the timeline.
Commence Extracting Audio from MP4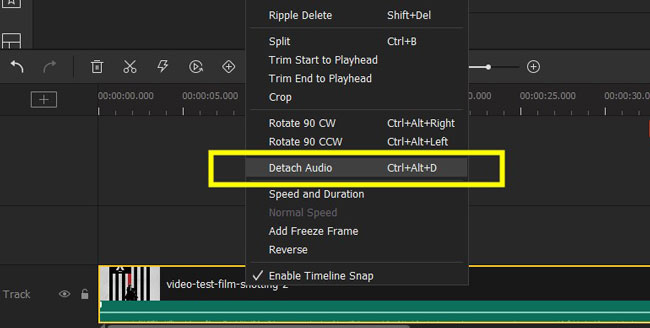 Firstly, pitch on the MP4 clip from the timeline. Then use the shortcut (Ctrl + Alt + D) to detach the background soundtrack. You can also right-click it to operate the feature. Afterward, you need to remove the video track from the timeline by pressing "Ctrl + X".
Export the Extracted Audio File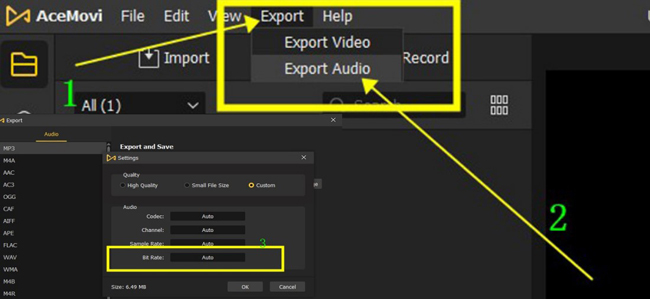 Congratulations! The mission is complete. If you want to continue, you can use the audio trimmer, slow-motion maker, reverser, equalizer, or converter. When downloading the file into your computer, you need to click the "Export" and "Export Audio" from the menu where more parameters are included, such as codec, sample rate, etc.
123APPs - How to Extract Audio from MP4 Online Free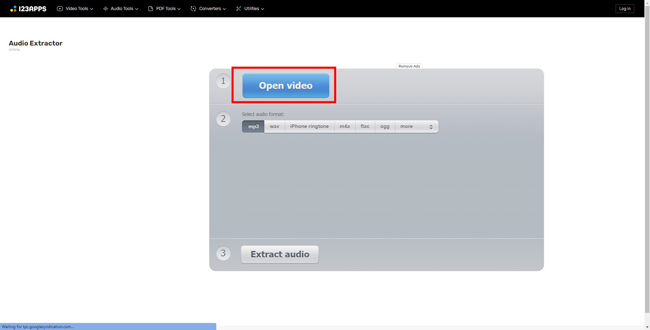 If you don't want to install and download any software or app, 123APPs must be one of the best options based on our test. It goes with various features on the website, yet they are separated from each other for the reason that 123APPs is designed for beginners in the video creation field. In other words, you can use it to extract audio, trim our unneeded soundtracks, speed up songs, or merge music conveniently.
When it comes to how to use it to extract audio from an MP4, you need to click the "Open Video" to import your files first and foremost.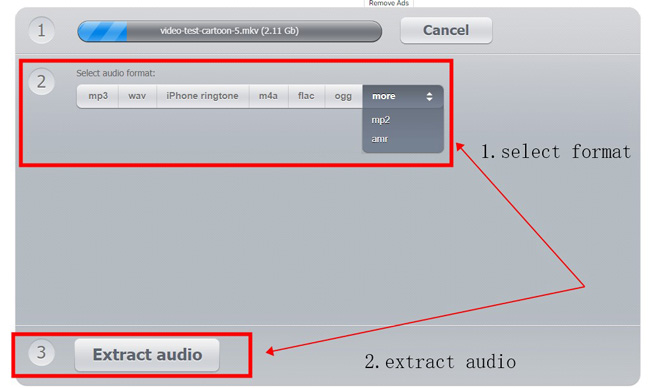 Next up, you should select the output audio format from MP3, WAV, iPhone ringtone, M4A, FLAC, OGG, MP2, and AMR. Compared to AceMovi, 123APPs contains fewer formats in the stock. Also, you cannot upload a video that is more than 500MB. In the final step, click the "Extract audio", after a while, you download the extracted audio online.
InShot - How to Extract Audio from MP4 on Mobile Phones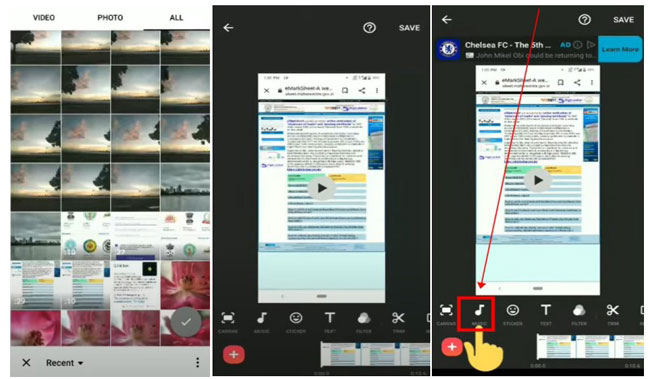 Want to know how to extract audio from video MP4 on your mobile device? One of the best answers is InShot, which is a multi-purpose video editing app that comes with slideshow templates as well as a vast library of stickers, background songs, subtitle genres, and resolution options.
It's not a streamlined tool that provides you with unlimited tracks. To begin with, you should upload the MP4 files from the album. When you see the operation workflow, click the "Music" icon from the toolbar.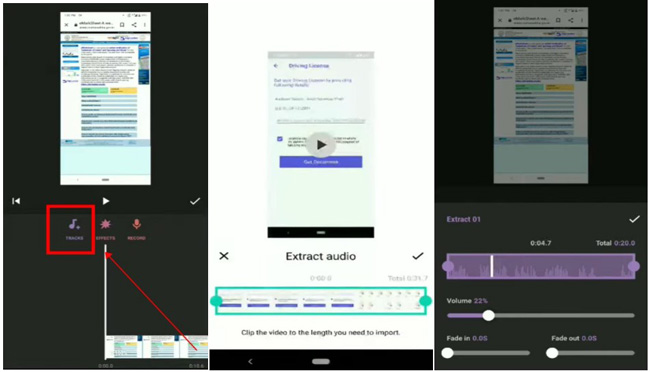 Tap on the first icon "Music +", then you will see the option to extract the audio. InShot will bring you to the next page where you can trim the extracted audio to any clip you want. Lastly, when back to the canvas, it's accessible to use fade-in and fade-out sound effects and boost volume. As for exporting, you can click the button in the upper right place.
VLC - How to Extract Audio from MP4 in Linux, Mac, and Windows
By testing, Audacity is incapable of extracting audio from MP4 files. If you desire to find a way to make extraction in Linux, Mac, and Windows, the VLC Media Player will make your job easy and cushy. VLC is not merely a brilliant video player that performs high-quality movies without frame dropping, but an audio recorder and extractor. The effects set in VLC include Equalizer, Compressor, Spatializer, and Stereo Widener as well. You may find it complicated to use at the very beginning because it's not a non-linear tool. Don't worry. Here is the guide.
Different from AceMovi and 123APPs, you don't need to import files to VLC. All you need to do is to click the "Media" and "Convert/Save..." from the menu.
On the first page, click the "+" to select the MP4 file. Next up, perform an option "Audio - MP3" from the dropdown plate "Profile". Then preset the destination file. Lastly, click the "Start" icon to launch this program.
Conclusion
What's the difference between those ways to extract audio from a video? You may find that AceMovi is able to extract multiple audio tracks from MP4 even a whole movie while offering more features and effects for further creation; the 123APPs and InShot help you detach the audio from MP4 online and on a phone respectively, and; you can use VLC to perform the audio-extraction feature in Linux system yet with a hard learning curve.