Music editing & production can be simply divided into recording, cutting, volume boosting, speeding, compression, equalizing, de-noising, and converting. That is to say, people cannot miss every point of the process when they're about to make HQ or SQ music. You may have captured a clip of a song and now trying to cut unnecessary parts out. It can be a very easy process in case using a good, professional audio cutter, doesn't it? For narrowing down the options, we'll share with you 4 selective tools to cut music for personal and commercial use. Let's begin using them by following the steps below!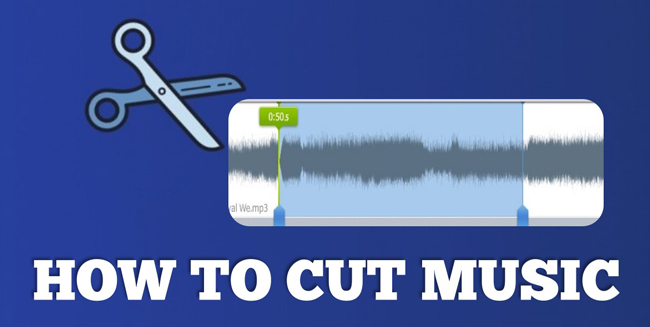 TunesKit AceMovi: How to Easily Cut Music for Computers
You can download and use TunesKit AceMovi as the best music cutter, trimmer, speeder, compressor, recorder, converter, and equalizer. You can apply all of those features within TunesKit AceMovi on the trial version that comes with no expiry and registration.
Almost all popular audio formats are included in this tool, such as MP3, AAC, OGG, CAF, AIFF, WAV, M4A, and ALAC. In other words, you can convert music to any other format with one click. In addition, TunesKit AceMovi supports up to 320 Kbps and 48 kHz. Now, follow me to learn the tutorials!
AceMovi Audio Cutter
Cut multiple music files at once
Support a lot of audio formats
Change audio speed from 0.01x to 100x
Extract soundtrack from your video
Remove background noise automatically
High quality of bit rate and sample rate
Quickly export file at audio format
Plenty of audio effects and music resources
TunesKit AceMovi: How to Cut a Song on Computers
Get TunesKit AceMovi from this page. Import your music to interface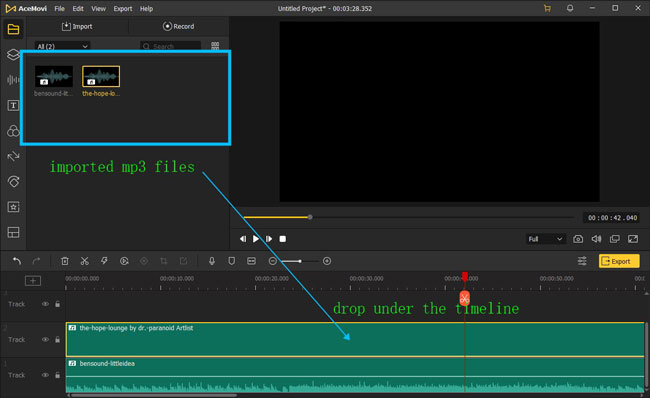 AceMovi supports you to drag and drop music files under the track directly. Alternatively, click the "+" icon to select your files from the local folder and add them to the timeline.
Place playhead to cutting points and click "Trim" button from toolbar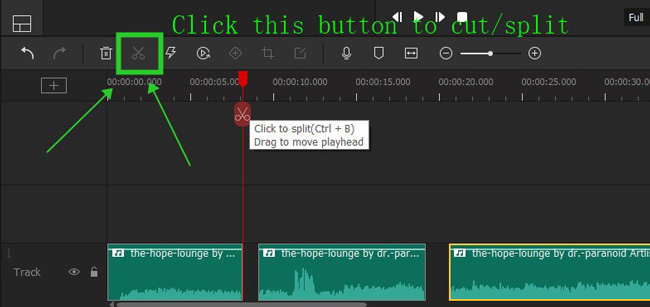 You need to place the playhead under the cutting points or play the audio. At the cutting point, click "Trim" from the toolbar. The shortcut to cut a music track is Ctrl+B. Also, you can right-click the music track to choose "Split". Afterward, you can move the sequences of each split clip.
Download music by clicking on menu "Export" and "Export Audio"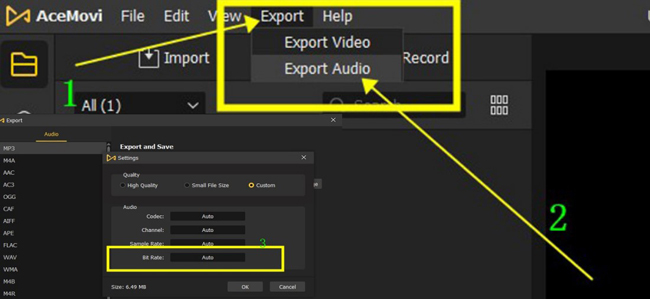 If you want to export audio from TunesKit AceMovi, click the "Export" > "Export Audio" from the toolbar on the menu. At the next workspace, you can control video bit rate, quality, codec, and more settings. That's all for AceMovi's tutorial. If you want to enjoy more features, download AceMovi here!
How to Cut Downloaded Music with Audacity
Want to find a professional audio cutter for Windows and Mac? As a free, easy-to-learn, multi-track song cutter, editor, converter, and recorder, Audacity's interface can be translated into more than one language. This software is a bit complicated for newcomers, but this tool will give you hints to help you easily cut a music file for free. Here are the guides to cutting music on Audacity.
Click "Open" from the meanu to upload your music to the timeline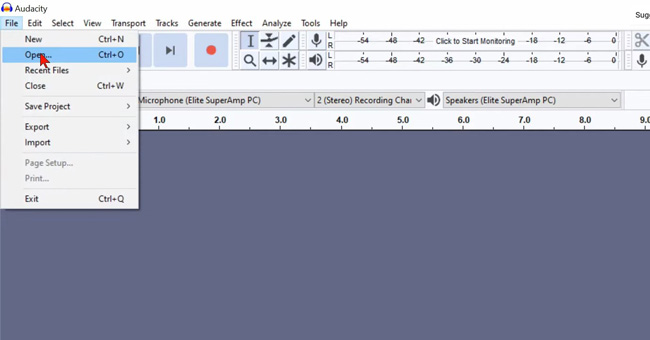 To begin with, you should upload your music to Audacity. To do this, you need to press "File" and "Import" to select the files. Then you will see the sound from the interface with waves.
Double-click the track to select the cutting area and then click "Cut"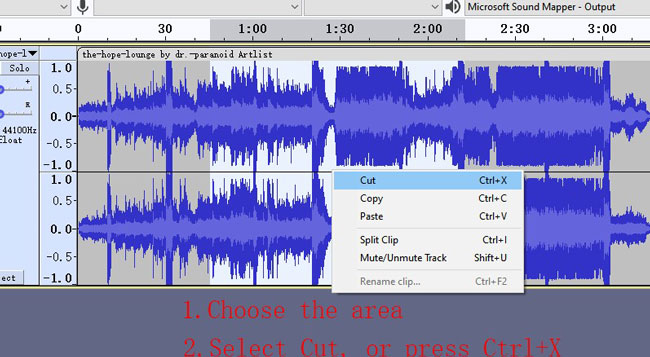 Users need to select the cutting area from the interface of Audacity. Right-click the track on the timeline and select "Cut". You will see the selected parts will be removed completely. By the way, the shortcut to cut music is Ctrl+X.
Follow "File" > "Export" to set the output format and save path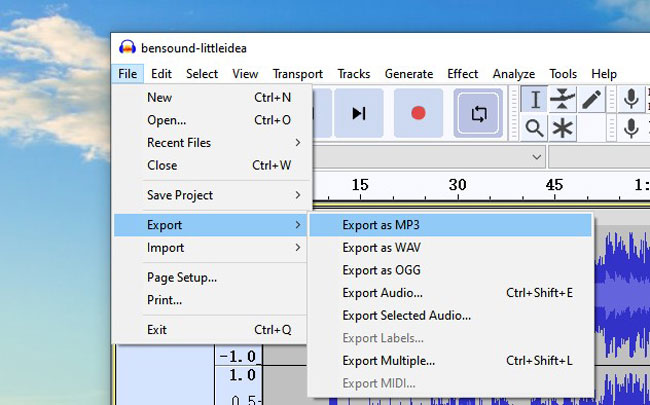 If you want to apply other features or effects to edit your music, you can select them from the interface. As for exporting the cut music, just go to "File" once again, and set the final format from the "Export" plate.
How to Cut MP3 Music Online Free with 123APPs
If you're an audio editor who wants to cut music online free, then 123APPs1 will be one of the best picks. Compared to other online audio cutting programs like Kapwing or FlexClip, 123APPs is completely free for splitting music. And the file size is limited to 200MB. On top of that, you can switch to boosting the volume or converting the output format. Continue to learn the tutorials!
Browse 123APPs online, and go to "Audio Tools" > "Trim Audio"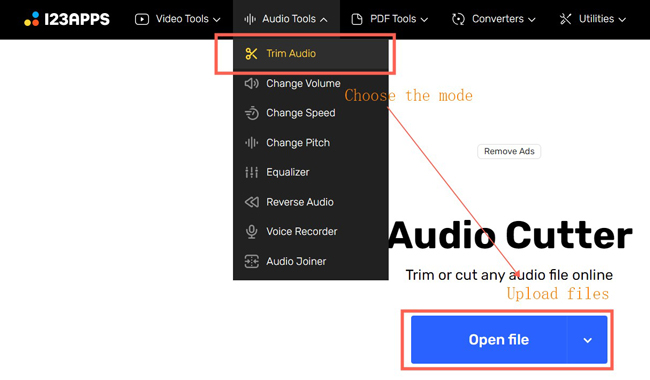 You can search for the 123APPs online music splitter on any browser. On the interface of this website, you should choose the panel of "Audio Tools" and "Trim Audio". Later, upload your music files to this tool.
Drag and put the edges of the music track. Download music on your computer

Splitting music is very simple under the interface of 123APPs. All you need to do is move the edge lines of the soundtrack and play it to check whether it's perfect for your requirements.
How to Cut Music on iPhone & Android by Bomix
Bomix is the recommended app to cut music on your mobile phone. This app is designed for recording, splitting, speeding, extracting, and distorting music powerfully. Moreover, Bomix comes with a linear interface so you'd better use it to cut a few music files, otherwise, you may find it wastes your time. Have you downloaded it on your mobile phone successfully? If yes, follow our guides!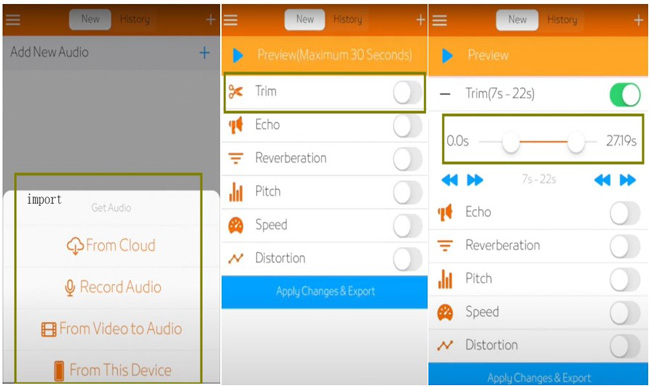 To begin with, you can import videos from Cloud, recordings, video, or your device. Choose one and upload it to Bomix. In the next step, choose the "Trim" option to cut music. There are many more features, such as Echo, Reverberation, Pitch, and Speed. After that, move the starting and ending points of your music to cut it. Once finished, press "Apply Changes & Export" to save the music on your album.
Lastly
Here are four simple ways to help you cut a piece of music. By comparison, TunesKit AceMovi and Audacity are used for Windows and Mac, and both of them are fit for batch song editing. You can use 123APPs and Bomix online and on mobile phones respectively, but you'd better give up using them to cut multiple MP3 music files.