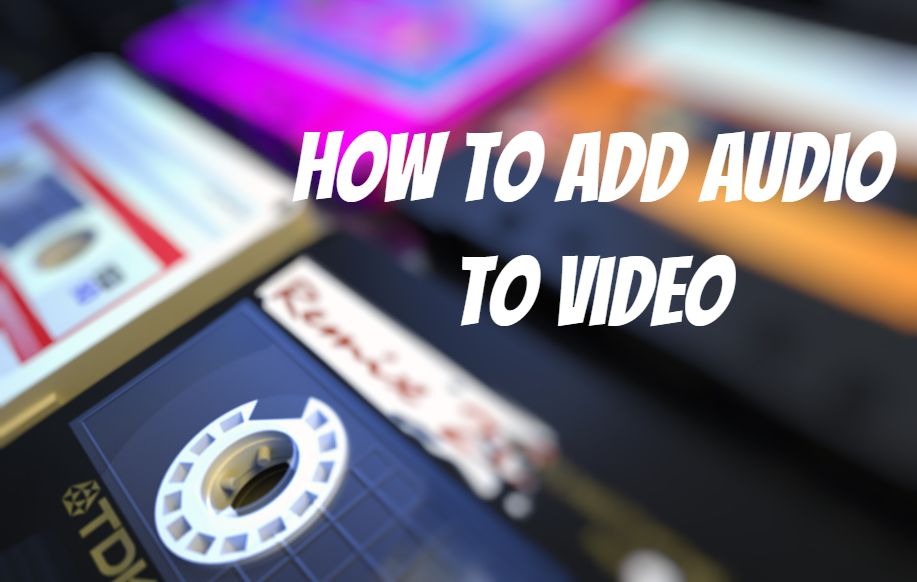 People nowadays are excessively relied on videos to go through the days. No matter you want to learn things, or watch an interview, videos are always one of the best choice. But without audio, video is only a half-done work.
In a music video, you need the background music to boost the vibe. In an interview, you won't understand anything without the sound. The audio can make your video more engaging and entertaining, and it's not that hard to add audio to a video.
In the following parts, you will learn how to add audio to audio in just a few simple steps.
Do You Need An App to Add Audio to Video?
You might have found some online websites that offer features to add audio to video. But in most of the cases, these tools online are not capable to handle multiple soundtracks and edit them under the same project. So it's always preferable to download an app to add audio to your video.
Speaking of which software you can use to add audio into a video project, there're always more than enough to choose from. But since it's not a complicated feature, you don't need to get yourself a Premiere Pro or Final Cut to be able to add audio to your video. So, which one you should choose?
Well, with TunesKit AceMovi, you can easily add audio to video in very simple steps. No matter it's background music, a narration or a dialogue, you can all add it to your video and match perfectly with your video.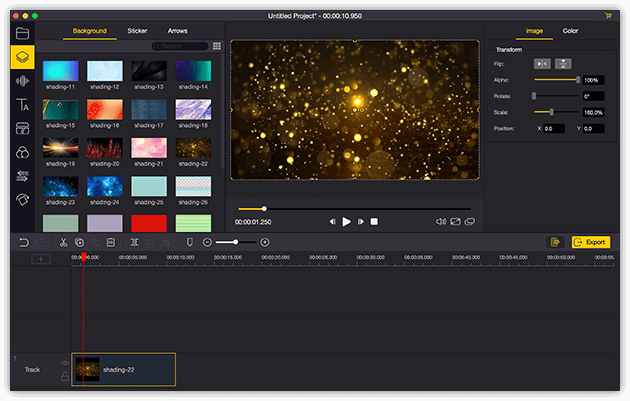 TunesKit AceMovi Video Editor is a one-stop video editor that provides multiple effects and transitions. It comes with a screen recorder which can record images as well as the sound coming out of your computer. As a well-established video editor, AceMovi is mounted with features like split screen, filters, animations, texts, and music library. You can directly add your audio to this tool and match the video to make your video more charming.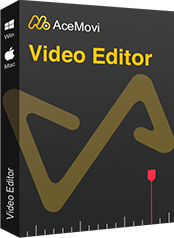 TunesKit AceMovi Video Editor
Security Verified. 5,481,347 people have downloaded it.
Extended range of features that make your video better
Multiple filters, transitions, text, sound effects, music
User-friendly interface
Well-rounded output options to choose from format, device, social platform
Add audio to video with simple steps
How to Add Audio to Video in TunesKit AceMovi
Before you add text to your video, make sure that you have already installed TunesKit AceMovi on your computer, this software currently supports Windows and Mac systems.
Add Audio and Video Files to TuneKit AceMovi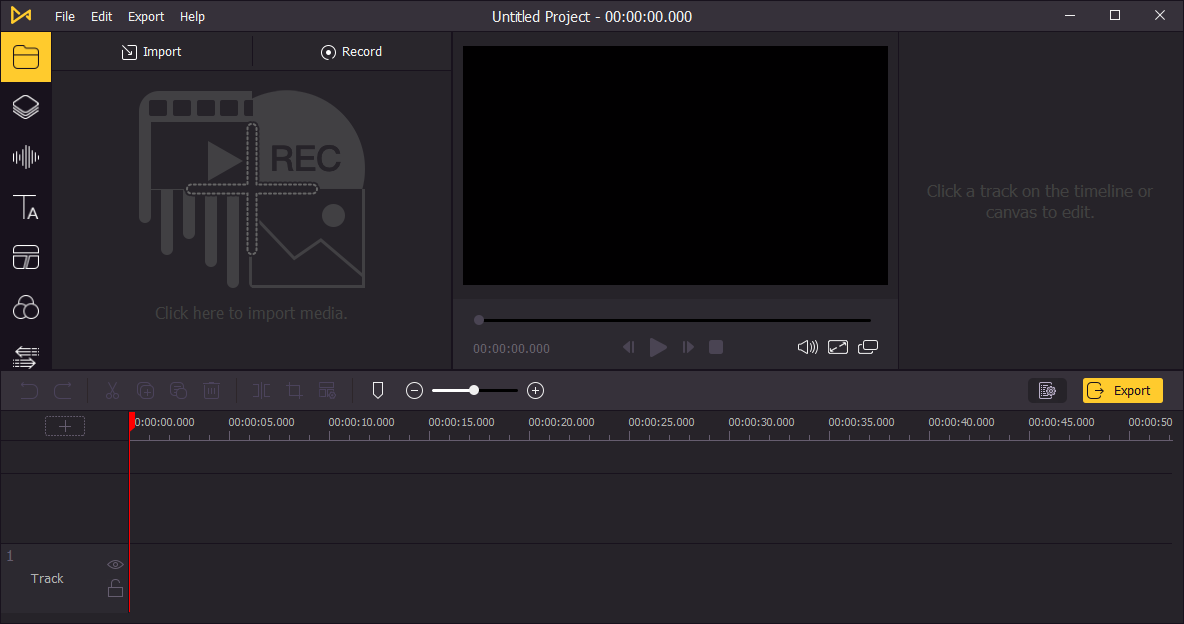 Open TunesKit AceMovi on your computer, then import the audio and your video footage to the media box. Or you can directly drag them to the timeline.
Adjust the Audio
Once the audio and the video footage are added to the timeline, click on the audio so that you can adjust it. Headover to the upper right panel, you can adjust the volume of the audio clip. And you can fade in and fade out the video by dragging the markers, or you can directly type in the fade in and out duration.
If your audio contains a lot of background noise, you can use the Denoise feature to filter out the noise from the background to make the audio clearer. Also the TunesKit AceMovi offers a built-in equalizer with 5 presets to adjust the frequency of the audio.
Match the Audio with Your Video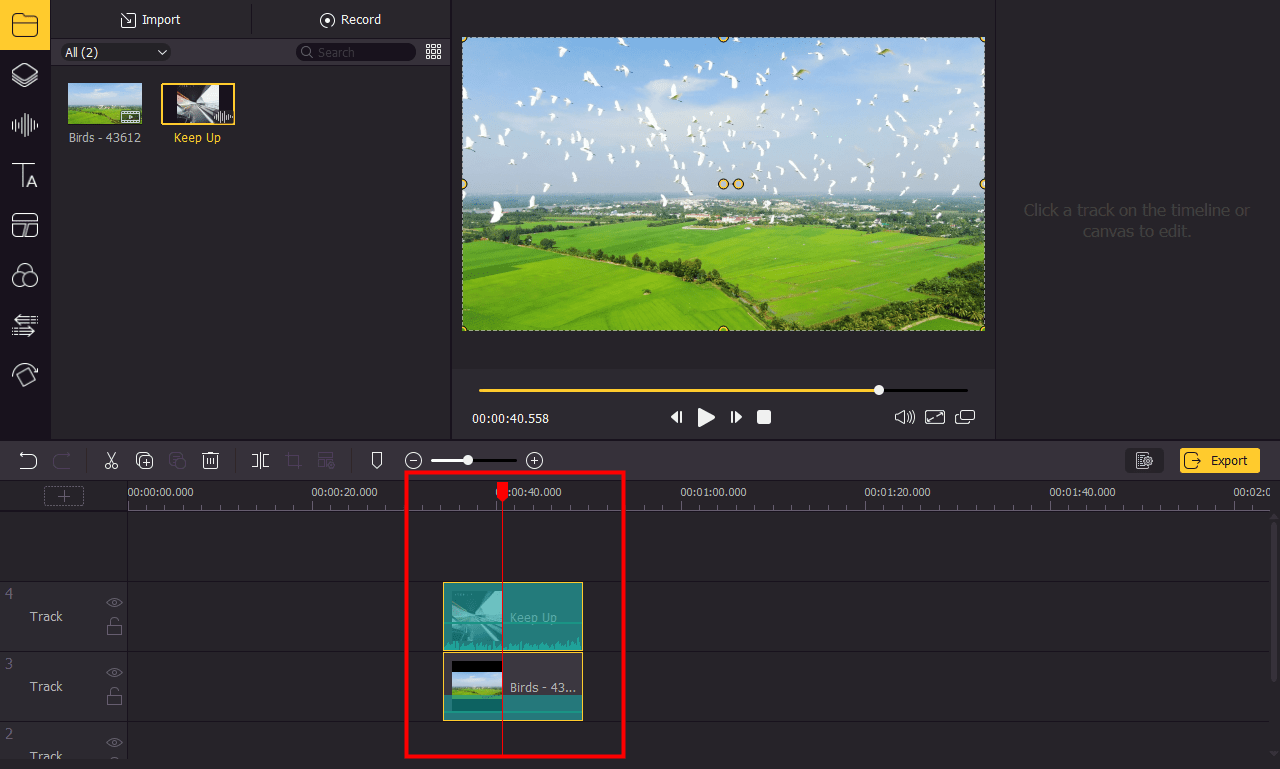 On the timeline, you can hover your mouse over the start or the end of the audio to adjut the length of it. Or if you want to trim your audio track into several parts, click on the audio track on the timeline and move the playhead to the time point you want to cut. Then right-click on the audio and click Split. You can then drag the smaller clips of the audio to match your video.
Export Video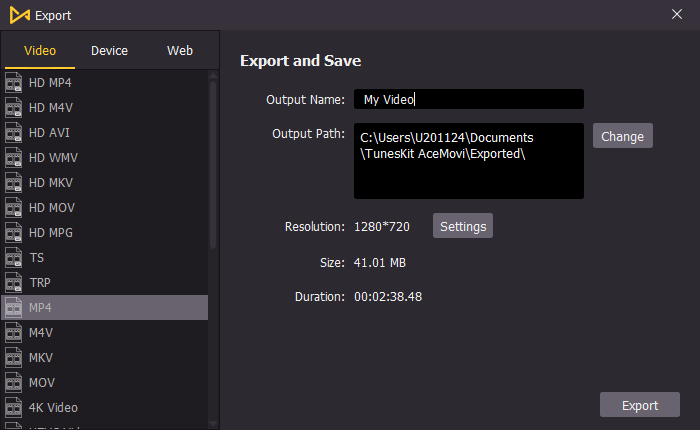 Once done editing your text, click the Export button on the middle left and export your video. Click the Settings, you'll be able to choose the output parameters. And by clicking the Change button, you can change the output location.
Bonus Tips: How to Add Your Own Audio to A YouTube Video
To add audio track to a YouTube video, you'll need to download the video from YouTube first. You can check out the link below to learn how to download a YouTube video.
After downloading YouTube video to your computer, you can follow the steps above to add your own audio to the YouTube video in TunesKit AceMovi.
Video Tutorial: How to Add Music to Video
Bottom Line
Adding audio to your video won't inquire you to have a lot of video editing knowledge, but it may take a while to perfectly match your audio with the video on the timeline so that the combination won't make views feel weird or uncomfortable. Click the buttons to download TunesKit AceMovi for free, now you can start adding audio to your video right away.