Industry-leading performance in audio quality and conversion ratios may be found in Analog Devices' array of sample rate converters. Both high-end consumer applications and budget-conscious consumer applications can make use of these converters.
The standard sample rate for a CD is 44.1 kHz, which means that every second of the recording contains 44,100 samples. Sample rates are expressed in kilohertz (kHz). Unlike images, you won't see or hear any fuzzy blocks; instead, the music will only get drabber if the quality declines. If you want to convert audio sample rate, this post will be helpful for the 7 best audio sample rate converters will be shared with you.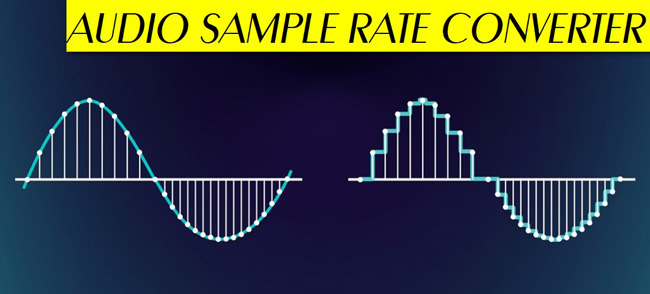 1. TunesKit AceMovi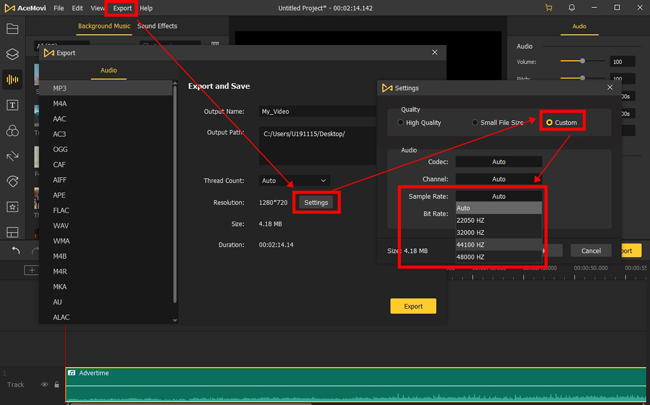 You can produce and edit songs and movies with the help of TunesKit AceMovi Video & Audio Converter without delay. AceMovi is a handy tool with a straightforward interface that makes it different from other complicated programs. More parameter settings (sample rate, bitrate, codec, etc.) for the soundtracks are easy to operate even if you are a first-time editor.
This software provides an extensive range of element templates and effects, such as picture-in-picture, split-screen, green screen, and high-fidelity transitions and animations. You may organise your target sources to appear in the timeline by adding them to AceMovi. Any modifications you make while editing are visible in the preview window.
Additionally, it offers versatile export audio choices. You can quickly store them in audio formats like MP3, WMV, M4A, FLAC, etc. So, it can be also an audio sample converter. When it comes to the tutorial, all you need to do is import file to the timeline, click the Export icon from the menu, and choose to convert the sample rate as you want.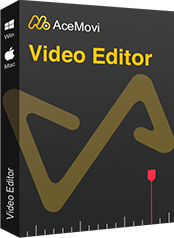 AceMovi Sample Rate Editor
Security Verified. 5,481,347 people have downloaded it.
Support to output the audio track merely
MP3, AAC, AC3, FLAC, M4A, and more audio formats
22.05 kHz to 48 kHz are easy to set in one click
Denoise and sync the audio and video
Able to extract and edit the audio from a video file
More features like reversion and fade -in/-out
AceMovi Sample Rate Editor
Support to output the audio track merely
MP3, AAC, AC3, FLAC, M4A, and more audio formats
22.05 kHz to 48 kHz are easy to set in one click
Denoise and sync the audio and video
Able to extract and edit the audio from a video file
More features like reversion and fade -in/-out
2. Audials Music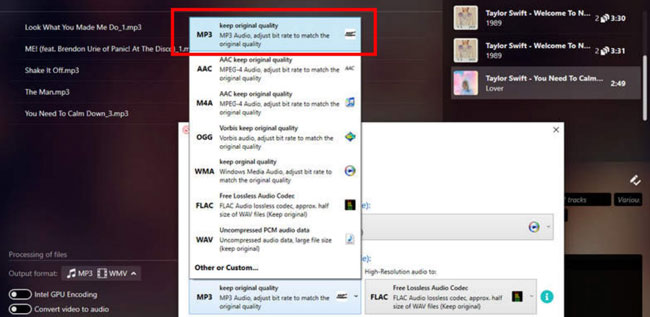 We recommend this responsive audio sample rate converter as the first-class one. When you initially launch the program, there is a learning curve, but you'll find that the features make converting software directly from websites like Spotify and Deezer an utter pleasure. With the aid of the most recent 2024 version of the program, you may swiftly and legally record music and audiobooks from your preferred streaming sources.
While you convert the tracks, the software ingeniously labels and adds information, doing all the work for you. We also adore the fact that you can record music up to 15 times faster than with standard playback thanks to the feature's quick recording capabilities.
Given that most audiobooks are over 10 hours long, there is even the option to convert them at a 10x faster rate. The software's only significant drawbacks are that it can be challenging to navigate all of its functions and that it isn't the most affordable option, but if you frequently need to batch convert audio files, it is well worth the money.
Pros:
Burn files to CD
Convert video files to devices
Share to Spotify and Deezer
Record a piece of music or video from Amazon
Diverse audio resources supported
Cons:
Only apply for Windows systems
It has fewer editing features to enhance the audio in a video
3. Switch Audio Converter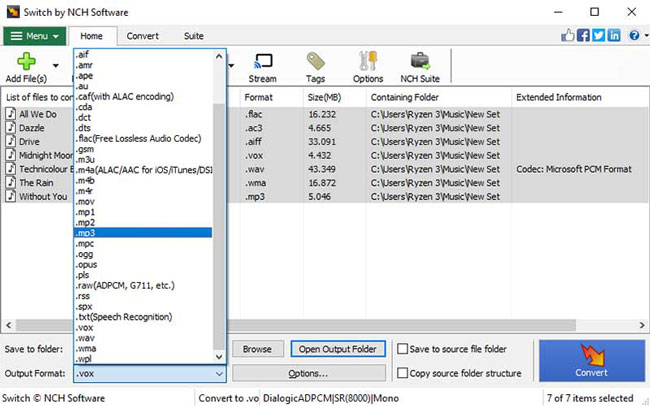 Switch Audio Converter Plus was an easy-to-use audio sample rate converter for several years but has lost ground to some rivals. While not the most feature-rich, it's fast, simple, and has all the tools you need to batch-convert sample rate effectively.
It has wide support for all the major audio file types: in total, it's compatible with 40 audio formats that can be converted to 26 output formats. Not only can this software manipulate sample rate conversion from larger lossless formats to smaller formats to save space, but it can also extract the audio from DVD and other popular video formats like AVI, MOV, and MPEG.
If you're converting from older formats, Switch has audio normalization, which will enhance the quality of the recording, and eliminate some of the noise. While this is all done automatically, you can also adjust levels and clip your audio files manually, to retain total control.
Pros:
Major audio file types covered
Convert multiple audio files
More metadata options for overall audio editing
Trim and combine songs
Make music streamed
Cons:
This software needs a real-time performance monitor
There is a lack of sound effects, such as the fade-in/out and reversion
4. Freemake Audio Converter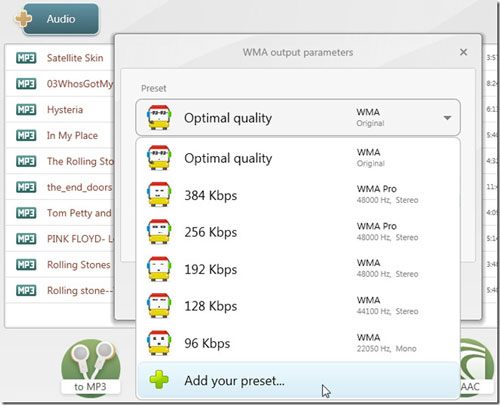 Freemake is (mostly) a professional audio sample rate converter. We say 'mostly' because although it is indeed free to download, this version only lets you convert audio into files of three minutes or less. So, if you're converting audio to MP3 to listen to music on your smartphone, this isn't suitable for the majority of tracks you'll be converting.
If you want the full feature set you need to pay to upgrade. Freemake also tries to download an extra program to your PC when you download the Audio Converter, so you need to opt out of that.
Aside from this, however, it's a decent piece of sample rate converter software, especially as it's free. While conversion of files is slow compared to Switch and Audials Music, Freemake can handle batch conversions and will optimize the audio sample rate for you to 480 kHz degrees. It's easy to use, and won't take up much space or resources on your computer.
Pros:
Set the audio bitrate from 96 Kbps to 384 Kbps
Convert file to MP4, WMA, WAV, FLAC, AAC, M4A, and OGG
Stellar features to edit multiple audio tracks
First-time users' helpful tool
Cons:
You will be faced with a 3-min limit in file conversion for a free account
There are plugins to download extra if you want to do the further operations
5. Stellar Audio Converter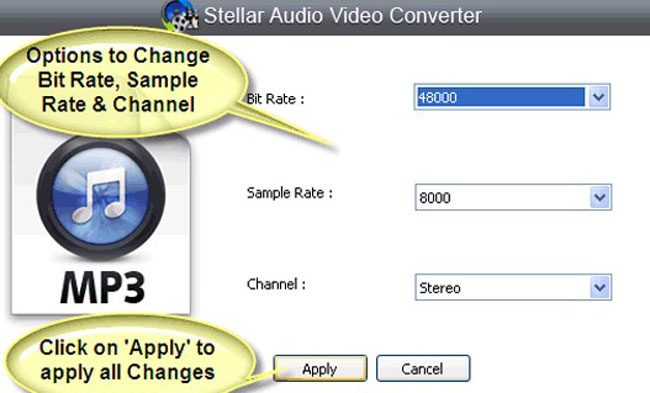 Stellar Audio Video Converter is a mid-range tool with a very easy-to-understand interface. If you need a reliable program that is very basic to use, this is a good option. It's a solid performer that doesn't really do anything better or worse than the other packages in this guide.
It's mid-priced, mid-speed, and has limited (but not totally sparse) features. However, a bit advantage here is that Stellar has a built-in video editor, which makes it one-stop software for anyone converting sample rate to add to their video projects. You can make all kinds of videos, adding in converted audio as you choose, whether that's the same format, cut down, or stitched together with other files. You can even use this to make GIFs too.
Pros:
Built-in editing tool for video and audio
Cutter-free Mp3 sample rate converter
Able to process WAV, MP4, and FLAC
A full range of bitrate and sample rate values
Cons:
For Windows users only
It doesn't have any sound effects and music resources
6. Xilisoft PSP Video Converter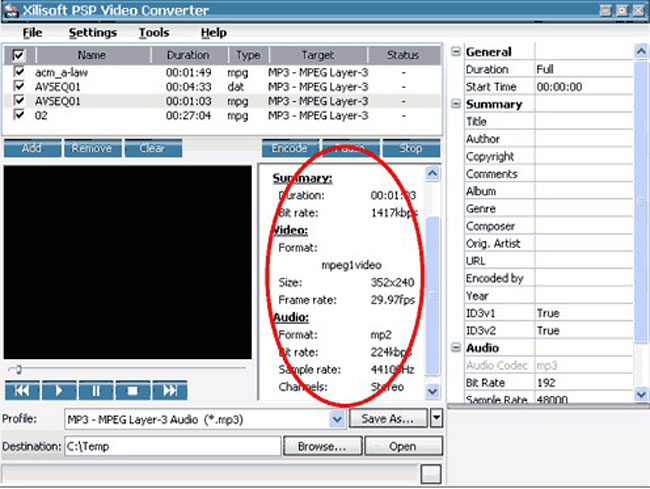 If professionalism is the most important factor you prefer, then Xilisoft PSP Video Converter is a good option. It's fully compatible with Mac and Windows and is smart to use on both audio and video formats, especially if you're looking to convert the audio sample rate to 44.1 kHz in single files or small batches.
The normalization here is particularly good, so is a good software to pair with any kind of audio conversion from cassettes or older LP records. There are downsides, however. The price is one - this software costs as much as Switch, but is much slower in its audio conversions, so if you're doing larger batches of files we really can't recommend it. It has all the same compatibility as other software, which is good, and it can also be used to take audio from video formats.
Pros:
Stable WAV sample rate converter
Play your the changes of video and audio in real-time
Provide advanced parameter settings, for example, the encode and URL
With one mouse click, you can convert many files' sample rate
Concise user layout
Cons:
It is a bit expensive for amateurs
The tool needs powerful 4K resolution editing features
7. Aconvert.com

Aconvert.com is a one-stop audio sample rate converter online free that supports lots of file formats. It's really easy to use and lets you convert files online without having to download any software. What makes Aconvert.com unique is that it offers channels to upload files via URL, local directories, Google Drive, and Dropbox.
It's not the first service or program I'd try, but it works for what it does. We found it to be slower than most other sample rate converter online tools, but if you're disappointed with some other file converters or really need to complete your file conversion online, give Aconvert.com a try to change sample rate online.
Pros:
10+ audio formats preset
Convert audio sample rate online free
Switch to cut, merge and compress files on one webpage
It is easy and quick
Cons:
The website consists of obtrusive advertisements
Users cannot extract the audio from video with it
Lastly
An excellent audio sample rate converter attempts to change the sampling rate of a signal without destroying the relevant signal information. AceMovi is the most recommended one among the 7 software. Generally, one wants to reduce the sampling rate of an audio signal to reduce the computational burden of required digital signal processing algorithms. If you want to fully enjoy music, play it using your preferred sound tool online on a desktop.