A variety of reasons behind reversing an audio track: searching for hidden meanings in audio, making odd sound effects, or learning how to play music backwards. There is an unexpectedly wide range of applications for reverse-playing audio files and reverse-fixing songs, whether they are a snippet of popular music or other formats of media of MP3, M4V, AAC, FLAC, OGG, or AIFF.
If you want to use the best audio reverser and editor, you've come to the right place. In this article, we'll walk you through some of the most alluring software options as well as online solutions. The most surprising sector is that here is available for you to learn how to edit and reverse the video's audio.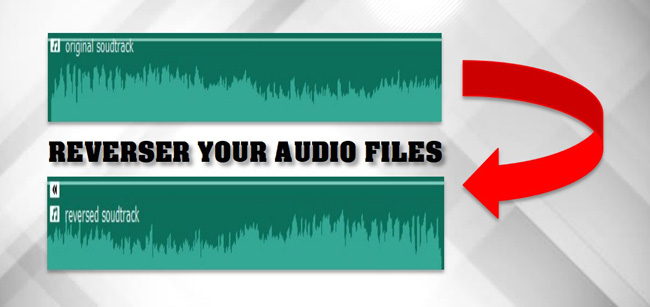 AceMovi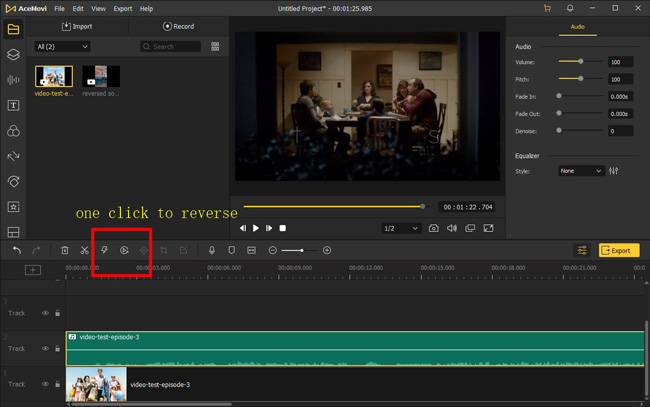 To play audio in reverse temporarily or turn a piece of music to be reversed permanently, AceMovi makes those missions effortless with one click on your desktop. AceMovi begins with a full stock of HQ and SQ audio types, that is to say, you can reverse all of the common audio formats, for example, MP3, AU, APE, CAF, AAC, AC3, ALAC, MKA, M4B, M4R, WAV, and M4A.
One of the functions that you need to know is this software brings you access to edit and reverse video audio. You are capable of using it to extract audio from video, increase or decrease volumes, change files' pitch, apply fade-in/-out effect, denoise the background, and convert audio to other formats.
This is a toolkit for both personal and commercial usage on Windows and Mac. If you are a beginner in the short-video creation platform or filmmaking field, you must find it simple and convenient, and effective. Now AceMovi's trial version comes up without expiry and duration limits compared to other tools. Try it here.
AceMovi Audio Reverser
All popular formats of audio/video supported
Very easy for first-time users
Trim, combine, convert, cut and speed up clips
Professional parameter settings of bitrate and codec
Make your video's audio extracted and reversed
Provide royalty-free background music and effects
AudioTrimmer

With the audio file size limit of 50MB, the AudioTrimmer is a free online audio reverser. Whenever you wish to play music backwards, this program lets you reverse audio files. It does not involve any complex programs and can be downloaded to your device effortlessly.
The features of Online Mp3 Reverser are fixing your reversed audio tracks by converting audio files, reversing sound effects like noise risers, reverse cymbals, etc., as well as generating something new from the weird reverse audio effects and noises. Besides, this platform compiles MP3, OGG, M4R, AIF, AMR, FLAC, M4A, WAV, WMA, and so on.
Pros:

Straightforward using workflow
Fully website-based mode
The majority of formats included
Switch to trim, convert, and booster the volume
Cons:

It cannot extract the audio from video
You will be faced with a 50MB file size limitation
3PM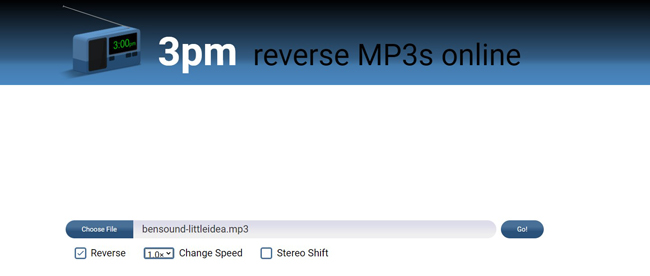 Do you wish to have fun while listening to your voice files or mp3 music? Definitely try 3PM Reverser and you will never be disappointed. This audio file reverser tool lets you turn the music to the reverse mode without quality loss. You have the buttons to change the file playback speed from 0.5x to 2.0x.
The features of 3PM are playing reverse sound with just a click of the button, an efficient reversing workflow, supported file formats WAV, OGG, MP3, etc., and a maximum file size of 20MB. The biggest difference between 3PM and other audio reverser online tools is 3PM has no ads.
Pros:

Promote the beat and style of your music
Responsive system
Change audio speed
Shift the stereo online
Cons:

It's unable to play the reversed music
There is a file size limit
123APPs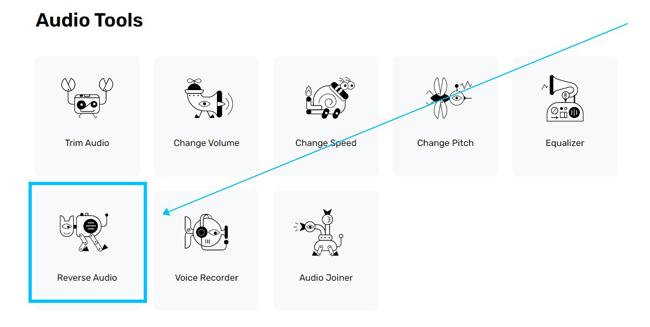 Reversing audio without size limit online is uneasy to operate, yet you can try 123APPs, which offers a sound reverser in various products, series, styles, and ranges from several manufacturers. You can choose your reverse audio tool with the exact specifications you are looking at. It is completely free and empowers to play audio in reverse online with a couple of taps.
The features of 123APPs are choosing from the reverse audio tools category potentiometers that are the reverse audio tool filter, selecting orientation, style, resistance, voltage rating, tolerance, etc., and applying a smart reverse sound filter of your choice. You even have the opportunity to upload files via URL, Dropbox, and Google Drive.
Pros:

Completely free
Drag-n-drop layout
Able to process large-sized file
Go to edit the audio with the trimmer, merger, speeder, and more built-in features
Cons:

You will see a lot of ads on the screen
It's unfit for batch audio files reversion
Pixiko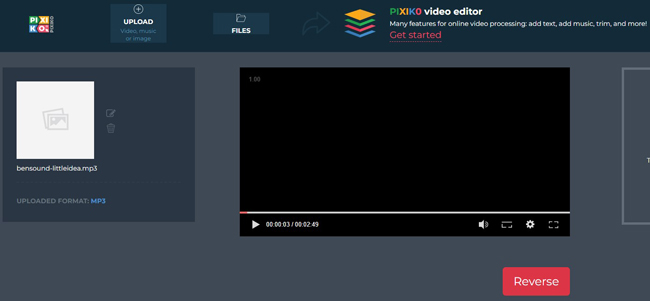 If you want to use an audio reversing tool that offers a real-time performance monitor, Pixiko suffices for your demands. It is an online free audio reverser with simple and easy-to-understand instructions to get the reverse audio output. This tool comes with a drag-n-drop audio-reversing interface that supports you to add multiple files at once.
The features of this tool are uploading any video or audio files up to 100MB in MP4, WebM, AVI, MPEG, FLV, MOV, and 3GP formats, as well as pasting direct URLs is also an option to play music backwards. You can turn on the Autoplay mode to play the results over and over again.
Pros:

Real-time performance monitor
Make your files picture-in-picture
Loop and autoplay your files on the screen
Adjust the speed up to 2x (the lowest speed is 0.5x)
Share to Facebook and Instagram directly
Cons:

There will be a watermark on your exported media
Audacity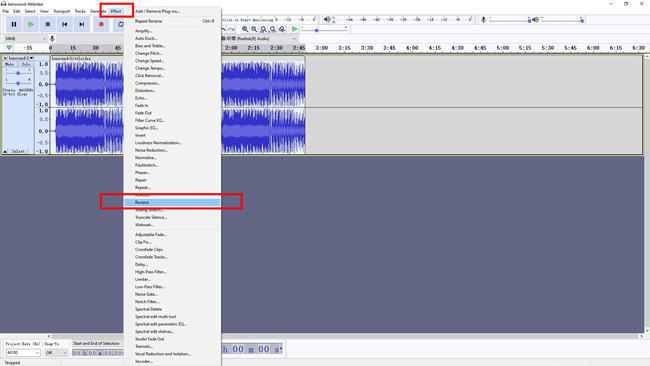 As one of the best free audio reverser software, Audacity is an open-source and cross-platform audio editor with uploading, recording, editing, effects, fading, zooming, mixing, and toning.The attention-grabbing feature of audacity is you can digitize your recordings. This lets you play music backwards as well.
The main features of Audacity are recording live audio, mixing, and digitizing, handling plug-in Manager, supporting a large range of keyboard shortcuts, and exporting in various file formats. How to fix reversed audio media with Audacity? You need to import files first and foremost, then click the "Effects" and "Reverse" buttons to complete this mission.
Pros:

A full set of audio editing, mixing, toning, and reversing features
Reverse batch audio files
Free and no registration
Record a new audio clip without delay
Compatible with low-end PCs
Cons:

The hard learning curve, e.g., you need to learn to select the clip before any editing
Audioalter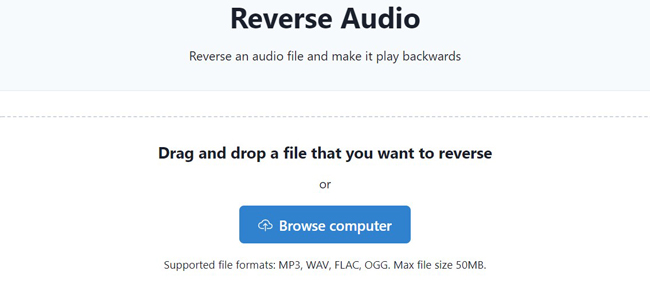 Now, you can easily reverse sound with the Audioalter audio reversing and editing tool in just a few clicks. You just need to select the audio file and double-click on it to open the tools option. Find the reverse checkbox to play music backwards. Many more features are useful, including but not limited to 3D Audio, Auto Panner, Bass Booster, BPM Detector, and Converter.
The features of Audioalter are adjusting playback speed, removing background noise, equalizer settings, audio effects like low pitch, high pitch, echo, and more, as well as several transitions, titles, and filters. The file size is limited to 50MB. You can download the reversed audio online.
Pros:

MP3, WAV, FLAC, OGG, and more audio formats
Drag-n-drop files to launch a new project
Reverse audio without losing quality
A series of audio-editing effects and functionalities are provided
Cons:

A lot of ads
Max file size 50MB
The Final Talking
When you apply audio effects or play audio reverse, you can obtain unexpected results. Reverse audio processing can provide you with endless enjoyment. By using reverse audio output, the aforementioned technologies enable you to produce high-quality sound effects. To fully enjoy music, play it backwards using your preferred reverse sound tool online, on a desktop, or on a phone.