Digital media has provided us with several creative choices for converting one kind of video or audio information into another, resulting in some astonishing results. Due to this, one of the sophisticated capabilities included by many video editing apps is the ability to generate reverse effects on videos.
You've probably seen a lot of reversed videos on TikTok, YouTube, or a boomerang video on Instagram - it's a funny effect on videos. That's why reversed videos are quickly becoming the most popular form of entertainment. With the introduction of multiple video reversing tools, finding a good tool for this task can be overwhelming. However, you don't have to keep searching anymore because, in this article, you'll discover the finest video reverse app. Let's get going!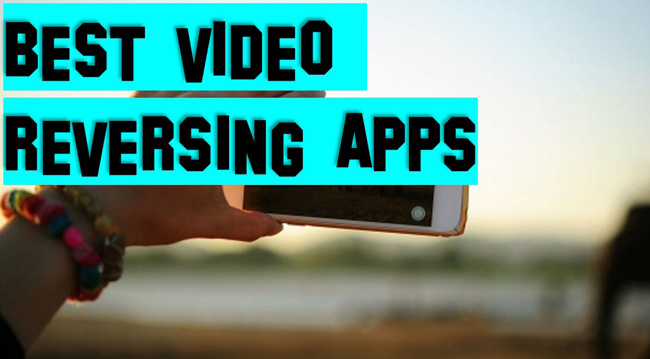 Video Reversion Frequently Asked Questions
A. Can iMovie reverse a video?
Yes, you can use iMovie to reverse a video. All you need to reverse an individual video clip in iMovie is double-clicking it in the Project browser or selecting several clips and then doing so. Select the Reverse option in the Clip inspector that appears, and then click Done. The video will now play in reverse in your project.
B. How to reverse videos on YouTube?
There's no built-in way to reverse a video on YouTube. To reverse a video for YouTube accounts, you need to download it and then reverse it using video reversing software, such as TunesKit AceMovi Video Editor or Adobe Premiere Pro. To be detailed, on TunesKit AceMovi, all you need to do is import your files to the timeline and click the "Reverse" icon from the toolbar.
C. Why is reverse a video on a computer tends better?
The process of reversing videos on a computer is preferable because it is a helpful skill that an editor can employ in various contexts. Whether you are reversing videos to increase their visual impact or to find a solution to an editing issue is true. Choosing software makes your work becomes quick and simple to some degree. And some of the apps are unfit for batch file editing.
5 Best Free Video Reverse Apps Download for Mobile Phones
Top 1. VN for iPhone and Android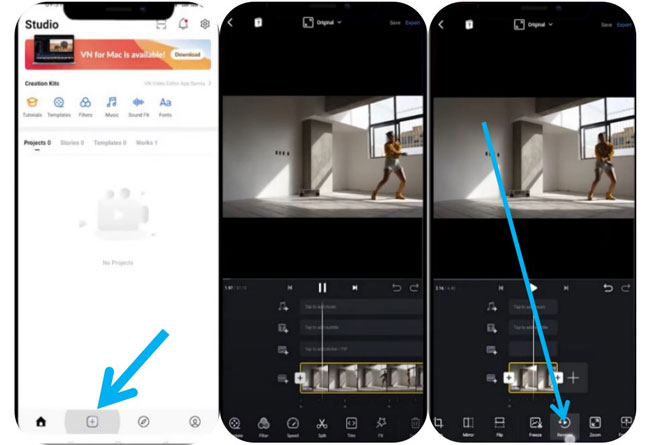 VN is a streamlined video reverse app tool that allows you to reverse and edit movies and clips. You may use it to edit videos manually or use one of the templates given by the service for slideshow or fresh file recording. It is compatible with iPhone and Android, and can be downloaded for free.
On the interface of VN, users can edit multiple tracks for videos, texts, background music, or images. For example, you can overlay animated subtitles under the screen with personalized fonts, sizes, colors, animations, and other settings.
The length of time it takes to download a video is determined by its size. This app is simple to use, and you don't need to contact an expert, making it accessible to a broad spectrum of individuals, from private writers, bloggers, and camerapersons to film industry professionals. Furthermore, its free service model provides just 5 GB of data storage, limiting your ability to utilize massive films.
Pros:

The nonlinear interface has multiple tracks for texts, videos, music, and images
Export video on 1080p or 720p for free
Stable and responsive system
A vast choice of video filters to enhance the background color
Advanced curve shifting
Cons:

VN cannot edit or download video on 2160p/4k
Compared to video editing software, you may find the timeline is congested when editing multiple materials at the same time
Top 2. iMovie for iPhone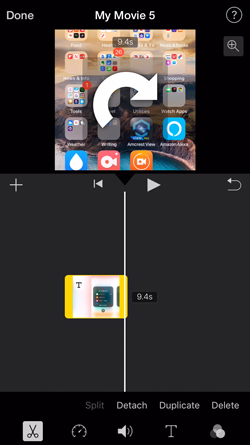 Apple Inc. released iMovie, a video editing program, in the fourth quarter of 1999. It is a pre-installed, easy-to-comprehend video reversing app because of its extensive timeline editing function and three-pane editing capability for enhancing and editing video material.
It includes basic editing features like splitting a clip, reducing file sizes, blending GIFs, cropping and rotating into any manner, and more. Besides that, the iMovie reverse video app allows you to reverse video clips and make it be in sync with the audio with a single click.
It also has sophisticated editing tools, including video transition, 4K video compatibility, Chroma Keying, and more. Most notably, it can swiftly and seamlessly reverse films at any speed. Finally, users may improve the Reversed movies using the video filters and effects available.
Pros:

Watermark-free service
No need to download it because it is pre-installed on your iPhone
Detach audio from the video
Change video sped at 0.5x, 0.75x, 1.25x, or 1.5x
Multiple sound effects to upgrade the sound quality
Cons:

It cannot run on Android phones
iMovie needs to update the split-screen for PiP or react/duet materials
Top 3. VideoShop for iPhone and Android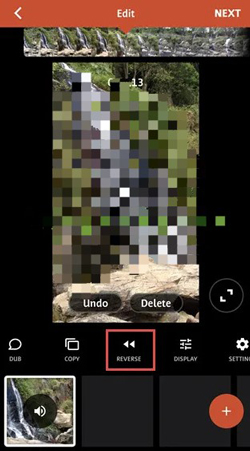 Which app to play a video in reverse is made for beginners? VideoShop is a multipurpose editing tool with reverse playback and customizable speed. It includes the greatest filters, tools, and effects for improving video quality.
And with the built-in included music, filters, templates, stickers, and video effects, this program may effortlessly and quickly create and edit a fantastic film. On the user-oriented interface, finding the buttons to operate editing makes this video reverse app stand out.
Furthermore, the program has several editing capabilities, including splitting, cropping, traditional transitions, voiceover recording, rotating, sound mixing, and color modification, providing users with complete control over their work.
Pros:

Reverse your videos on your phone with one click
Share videos on social media like Vimeo, Instagram, Facebook, WhatsApp, etc.
30fps and 15s slices are supported
Easy-to-use for entry-level editors
Creative features for tilt-shift, rotate, and flip
Cons:

You're not suggested to import multiple files to the interface of this app because it is a linear editing program
VideoShop needs a subscription to remove the final watermark from the screen
Top 4. Funimate for iPhone and Android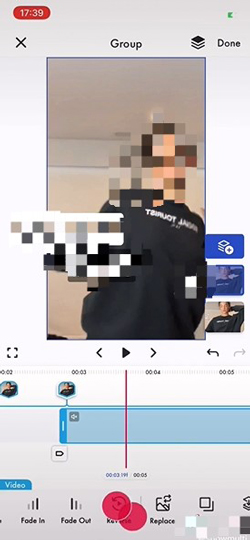 With over 10 million installs and over a million reviews, Funimate is a full-featured video reverse app that easily reverses the movie. This app got an average score of 4.3 stars out of five. It provides us with a plethora of functionalities that were previously available in a desktop video editor.
We may use this app to reverse videos and audio to produce fantastic and unique films by creating beautiful montages, using sleek transitions, animations, animated words, and filters. It also enables us to replace the backdrop to customize our projects.
Funimate will assist you in creating amusing films to share with your subscribers and friends. All types of FX effects, like hearts or glitter, as well as stylish text and sound effects, may be added to your recording with a few clicks.
Pros:

Sleek video transitions
Interactive timeline
Overlay files under files to make the effect of split-screen
Linear, straightforward user interface
Auto motion detector to edit important frames
Cons:

Watermarks and ads and magic effects can be touched with the Funimate PRO only Not good for batch media
Top 5. KineMaster for iPhone and Android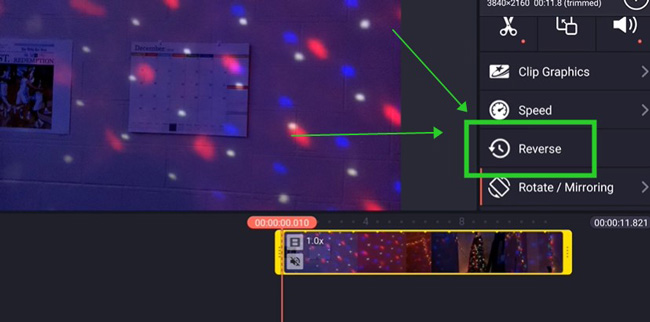 KineMaster is a horizontally-designed backwards video app for mobile phones. KineMaster assists users in various ways, including conversion, text addition, background music application, and video creation using pre-made templates.
Most of the common effects and features on KineMaster are free to test. After you've finished editing your video, you may post it on social networking sites directly from the app.
On top of that, KineMaster is great for cutting videos, creating memes and gifs, scaling the original clip for social media sites, and adding/removing audio. You can also reverse a video, modify the pace, and convert a picture to a video or vice versa.
Pros:

Motion tracking
Trim or split a video clip
Remove the background with the green screen
Compatible with iPhone and Android apps
Reverse clips with one click
Cons:

KineMaster is not supposed to preview the audio
The timeline cannot edit two or more videos by converting or combining
How to Reverse a Video without an App - Choose TunesKit AceMovi for Your Computers
You may find that reversing or editing multiple videos cannot be manipulated smoothly on mobile phones because the screen is so small. And in many cases, apps lack advanced features like split-screen and keyframes. In this case, you can switch to software for video-making. Here is the recommended video reverser software for beginners and pros.
TunesKit AceMovi Video Editor is a dependable editing program that includes all commonly used capabilities. Aside from reverse-playing your YouTube videos, you may add stickers, filters, transitions, pictures, and audio components. The good thing is that they are included in its standard library, so you can quickly apply them to a single screen.
The interface is fairly simple, allowing even inexperienced people to utilize it effectively. AceMovi's built-in library has a large selection of background music, movements, effects, and animations.
Use the editing toolbar to cut, change, and edit your material easily. The Import Window allows you to effortlessly import images, music, and video into your project. The Preview Window also allows you to preview your video before posting it. Edit video with TunesKit AceMovi to reverse your videos here!
AceMovi Video Reverser
Reverse both song and video
Process batch files fast
High-quality export channels
No file size and type limit
Crop a video for any media like Instagram
Reverse footage with one click
High-fidelity transitions & filters
The Final Verdict
With the rise of smartphones, creating videos is becoming an increasingly exciting experience. Playing a video backwards is becoming a social craze, and it can change even the most memorable moments by turning them into comical. We hope you've found the best video reverse applications after reading this article if you wish to reverse a video.