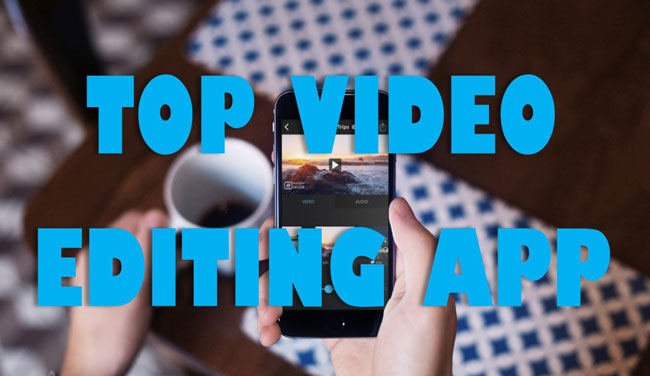 Are you looking for the best video editing apps? No need to explore any further for the most awesome video editing app! Even while video editing has typically been done on a desktop, the quality of mobile apps has grown so much that mobiles and tablets may now be used as viable platforms for video editing.
In addition to improvements in quality, the availability of applications has made advanced video creation more accessible than ever before. When the shift to mobile devices occurred, there was no longer a need for the most up-to-date and expensive technology to get the job done. You can see from our list of the top 10 video editing apps that are also quite reasonable these days – sometimes even free!
VN Video Editing App for Watermark-Free Use
Used for YouTube, Facebook, and many more social media around the world, VN is the best video editing app recommended in this post. High-definition output with your wanted aspect ratio is easy to tackle with this video editor.
On VN's 3-panel streamlined workflow interface, users have quick access to all built-in features and effects, including transitions, sound curve, color grading, clip speed, and audio bitrate. VN compiles a slideshow maker, a video editor, and a video recorder. This is a watermark-free video editing app for both Android and iOS. Video templates are provided on this tool's robust timeline as well.
Pros:
Ovelay images, texts and clips without limits
Video templates made previously
Responsive and quick to learn for beginners
Clutter-free user editing layout
The advanced timeline compiles a set of tools for the improvement of video's sound and color
Cons:
It is not a video-sharing and - chatting community, only for editing videos on mobile phones
Unable to edit and output 4K clips
TikTok Multipurpose App for Video Editing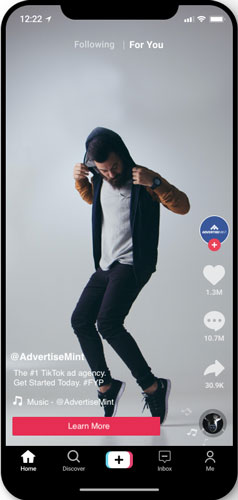 If you think TikTok is an app for viewing what others are doing in daily lives, then you may miss TikTok's ability to create fantastic results. TikTok is not a streamlined free video editing app, yet millions of users are addicted to it and have been making content for going viral. Trimming, cutting, cropping, splitting, sharing, speeding, blurring, flipping, and other common or advanced features are at TikTokers' disposal. Most notably, TikTok provides users with duet and react buttons to let them play with others in a video.
Pros:
Top-notch VFX and filters
Millions of royalty-free music
Video talking and sharing community
Easy-to-find interphase
Record a new clip and begin to make content in a breeze
Full of images and footage
Cons:
You cannot download videos from TikTok without watermarks
TikTok is not a good app for multiple video editing
KineMaster Video Editing App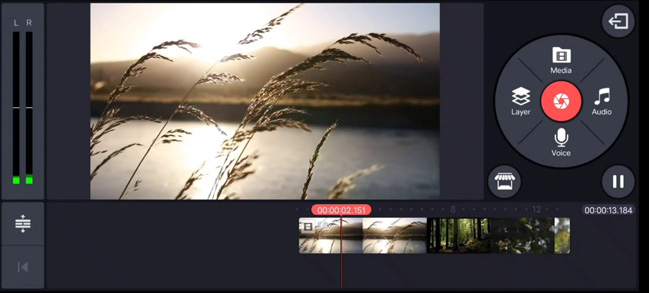 When you first open KineMaster, you're worried because it wants to sign you up for a subscription immediately. But whether you're prepared to spend it or not, it quickly becomes evident that this is robust and usable software.
Clips are easy to import, and the software makes excellent use of screen real estate. A toolbar borders a massive preview for necessary actions, and a camera-like capture icon demonstrates the rapidly accessing media, audio, and overlays by default. It appears busy, yet it feels efficient when functioning.
You have free access to most of the toolset, if not all of the assets. At the very least, this means you can try before you buy it.
Pros:
Ready-made graphics, images and footage
Horizontal video editing workflow
Incredible motion-tracking technology
Sound effects and background music are free
4K 2160p, QHD 1440P, FHD 1080Pm and more resolutions
30, 25(PAL), 24(Cinema), and more frame rates
Cons:
Leave a watermark on your exported video, if you use a free license
Export crashes and errors happen sometimes
You cannot use chrome keying on Samsung and some certain Android models
iMovie Intuitive & Free Video Editing App
iMovie has a long history of combining ease of use and power. It isn't as good as TikTok and InShot and does the job. You could say the same thing with its smartphone version. As the best video editing app for iPhone, iMovie puts a collection of clips on a magnetized single-track timeline once you load them. Clips can be quickly shuffled, and if you don't enjoy staring at thumbnails, you can touch to zoom the timeline.
Although it's built on themes, fonts, colors, and background can be changed via the header editor. You may also play with green screen, split-screen, and image effects, apply effects and transitions, modify clip rates, and add an audio overlay.
In the end, iMovie sacrifices depth for quickness. Therefore, their top pick for the title of "greatest editing video app". Some elements, such as the intuitive but restricted interface and movie template that teach individuals about film building and shot kinds, are intended for newbies.
Pros:
Customers of Apple get it for free
The user interface is simple
Compatible with all current Apple devices
20+ storyboards that help you get started with popular videos
Cons:
It's time-consuming to import MP4 files for editing
Only for iOS
Specific MP4 files aren't compatible with iMovie. They need to be changed to an H
Clips Best Aesthetic Video Editing Apps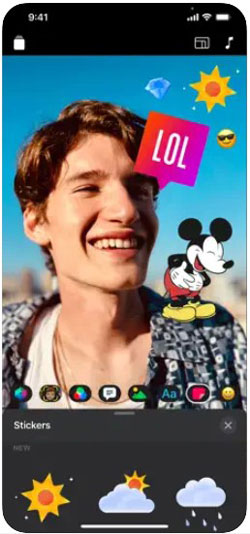 This app aims to blend iMovie's simplicity and elegance with the immediacy required for generating videos for social media. For that purpose, it uses a methodology that is considerably different from standard video editing, but it succeeds in getting you in the present and focusing on what matters.
Instead of uploading a clip to your schedule, you place it on the screen, scrub to where you want to start, then use the play button to record the part you want. Some of these are a little gimmicky, but Clips offers features that effectively combine fun and creativity, allowing you to create mini networking site movies in double-quick time.
Pros:
Many emojis and memojis
Specific scenes to change your video background
Live titles and captions
Immersive camera effects and artistic filters
Cons:
It cannot resize the video screen
Irrelevant and half the music tracks are copyrighted
It is impossible to trim the middle parts of your clips
GoPro Quik 360-Degree Video Maker App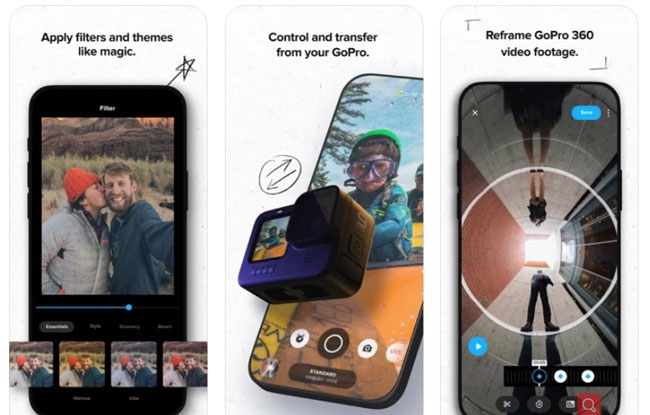 You want an application to perform the heavy lifting for you. That's where the original Quik came in handy. As a result, you might be a little worried when the latest iteration cheerfully reveals on the initial launch that "they rebranded the GoPro app Quik."
Quik, on the other hand, is mostly undamaged. You may still select films from your device, which the program automatically cuts into a highlights package with a tap. The design, trimming and highlight points, music, and formatting can all be tweaked.
There has been tinkering on the part of GoPro. When comparing the output of the old and new Quik apps when producing similar projects, the older Quik's production is more vibrant and enjoyable. The latest program also wants you to subscribe, giving you access to more filters, themes, and music, a more sophisticated slow-down tool, and (soon) online backup.
Pros:
Video montages will love it
Different orientations are possible
It comes with built-in themes
Automatic highlight videos
Choose from dozens of filters
Cons:
The videos must be less than 60 seconds long. Therefore, the software is inappropriate for long-form videos
The software does not allow you to capture content
VideoGrade Colorful Video Editing Apps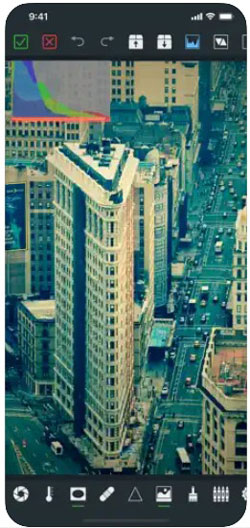 What are good editing apps for videos? VideoGrede must belong to one of them. Color grading will almost certainly be a component of your video-editing workflow, whether for remedial or stylistic reasons – at least if you're not just throwing random cat movies on social media on the spur of the moment. You'll want to repair color-cast issues and employ color for emotional and contextual impact for anything more deliberate.
For the price of a cheap meal, VideoGrade gives you a surprising amount of creative power, all bundled up in an easy-to-use interface. Load a video, and you may modify temperature, sharpness, saturation, and color channels using a variety of sliders. If you want to be more creative, you can try blooming, posterization, pixelation, and rotation.
Pros:
The app offers a live preview, split-screen comparisons, and the ability to save settings
Several presets are available for exporting your film
Color correct any video recorded
Real-time previews, color histograms and clipping previews
Full HD, HD or choose between them to export
Cons:
Sometimes the screen gets blank
PowerDirector Full-Feature Video Editing App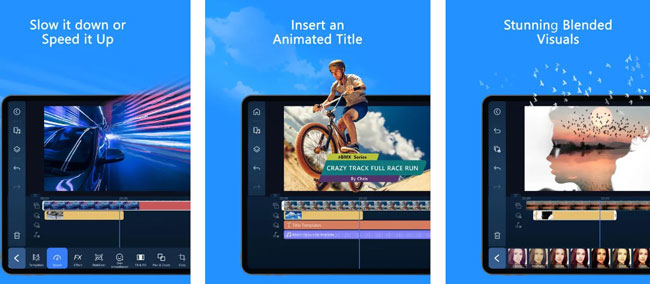 What apps do YouTubers use to edit their videos? PowerDirector is tested and proven to be the action-packed tool for YouTubers. PowerDirector's mobile UI condenses all of the features of its desktop counterpart. Multi-track with 4K editing is included, providing your movies a professional look that will make them stick out on social networks.
Although if you don't possess pro-level knowledge, the solid tools and straightforward timeline allow you to get up and dash. You can use a linear workflow to connect your clips. For sound design in your projects, the audio mixer is ideal.
From composition to speed tweaks, the app contains a variety of visual effect options—intro and outro templates for YouTube. There's also a motion title library with stylistic transitions. As for the final results, PowerDirector can output videos in HD 1080p, but if you purchase the premium edition, you can output videos in 4K.
Pros:
Trim, split, and rotate videos with only a few clicks
Drag and drop to create jaw-dropping effects and transitions
Stunning blended visuals
Royalty-free stock library of music and footage
Easy-to-navigate timeline
Cons:
Figuring out and remembering how to use the blurring feature might be difficult. It can be uneven in terms of how it is implemented
Also, a feature for inserting intros into the video is a little problematic
Filmmaker Pro Crafted Video-Making App
Filmmaker Pro, the app includes all the advanced tools you'll need to create award-winning films. You have complete control if you want to edit chroma key clips or switch chroma keys.
While Filmmaker Pro lacks a multi-track editor, it more than makes up for it in other ways. For example, it personalizes 4K video with 30 filters and 17 transitions. It also has an Audiometer, which makes adding a voiceover a breeze. Filmmaker Pro is a freemium app with in-app purchases for the most valuable features.
Pros:
Trim, split, and rotate videos with only a few clicks
Drag and drop to create jaw-dropping effects and transitions
Stunning blended visuals
Royalty-free stock library of music and footage
Easy-to-navigate timeline
Cons:
There is no PC or android version for this app
Also, a feature for inserting intros into the video is a little problematic
InShot Video Maker App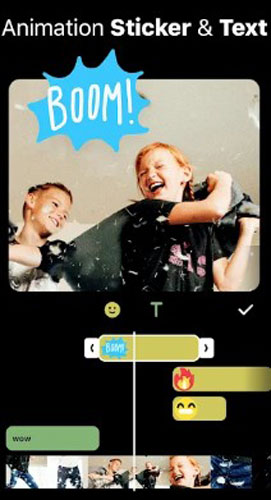 InShot ties its creation of social media content. The program comes with all the necessary editing capabilities and a user-friendly learning curve. It even has additional options you won't find in other editing tools, such as speed adjustments.
The all-in-one program may be used to edit both videos and images. It includes pre-made themes for TikTok and Instagram, among other social media platforms. Even if you have no prior expertise with video editing, the user-friendly profile makes it simple to import, edit, and personalize your clips. InShot does not meet the professional video editing app's requirements.
Pros:
Trim, split, and rotate videos with only a few clicks
Drag and drop to create jaw-dropping effects and transitions
Stunning blended visuals
Royalty-free stock library of music and footage
Easy-to-navigate timeline
Cons:
The watermark is the sole negative aspect of film. To disable it, you'll need to upgrade to the paid plan
Only one track for video editing
The Bottom Line
We have covered as many areas as possible in the list of top video editing tools mentioned above, so there should be something for everyone. For applying more pro-level features and resources to your videos, e.g., the split-screen and color grading, a computer video editor is necessary for you. AceMovi is one of the best software proven and tested for higher-end video editing, recording, joining, splitting, converting, etc. AceMovi has released versions for Windows and Mac without expiry, go to try it creatively!