Movie editing used to be a time-consuming and difficult procedure, but now it's as simple as shooting a selfie to capture and edit a short video using your smartphone. Many applications now provide royalty-free music, allowing users to produce flawless lip-sync films.
These applications allow you to join a community of short music video artists and create fun films in which you dance and sing along to your favorite tunes. If you want to join this booming community but aren't sure which app to use, you've come to the right spot since we'll show you some of the finest music video maker apps on iOS and Android in today's post. Ready? Start Now!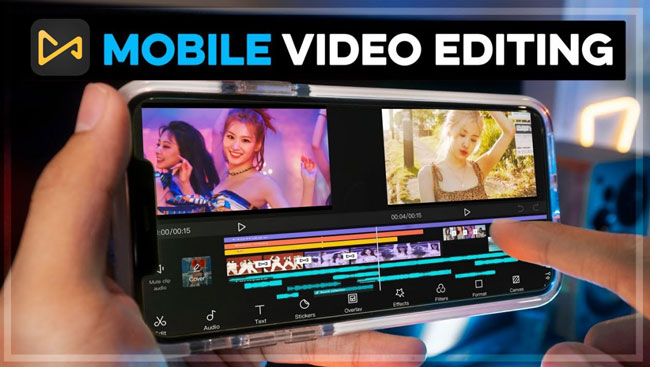 Filmr Music Video Maker App
Filmr, called InVideo also, is an extremely user-friendly music video making app for Android and iOS devices. It's a free app to make videos with pictures and music. It boasts a simple, quick, and intuitive interface suitable for both novices and expert video makers. Transitions, effects, filters, and other effects is supposed to transform your plain video into something outstanding. If you want your movies to have speed, agility, and a professional look, Filmr is the way to go.
Besides, Filmr is able to edit 4K(2160p) videos at 60 fps on the go and sync music with gen with the streamlined UI. If you want to use this app to make video with pictures and music free on iPhone or Android, you can choose to add a new music track from local album or select a wanted music from built-in music library.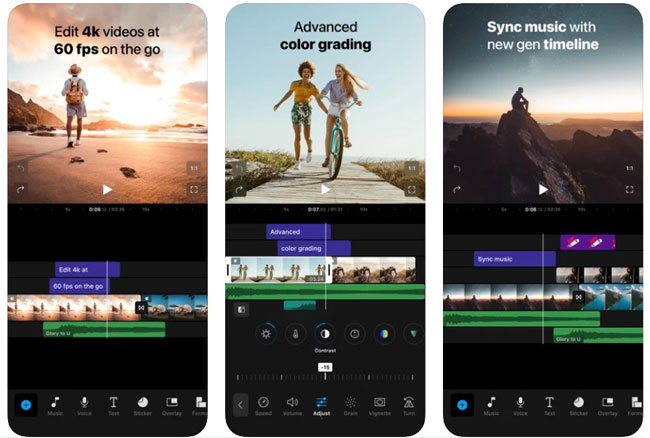 Size: 277.5 MB (v8.0.3)
Compatibility: iOS 13.0 and later
In-App Purchases: $4.99 - $169.99
Ranks: 4.5 out of 5 on Apple Store; 3.5 on Google Play
Pros:
Unlike other programs, it features a vertical editing timeline, making video editing a breeze
There are no advertisements
Export to any social media app or save to a gallery
Allows you to do a simple search to find any song or add music from your current files
Brilliant non-linear user interface
Cons:
In the Android version, there is no undo option
It doesn't support various languages
TikTok Music Video Maker App
TikTok and Musical.ly have combined to become the single best app to make videos with pictures and music that allows you to easily produce lip-sync videos. The software gives you access to a large music library where you can discover songs from the Pop, Rock, and R&B genres; all you have to do now is browse through it, pick a song you like, and press the Record button.
Easy-to-use cut and trim tools, duplicate video, and merge choices are included in TikTok's video editing features, giving you total creative control over the material you create.
You may also add graphic effects and stickers to your movies and use some live streaming filters if you choose to go live. TikTok, which has Musical.ly, is a social network having millions of subscribers in addition to being a good music and video editor. You might get inspiration for the next project by browsing through music videos provided by other producers on our platform.
See More: How to Edit TikTok Videos.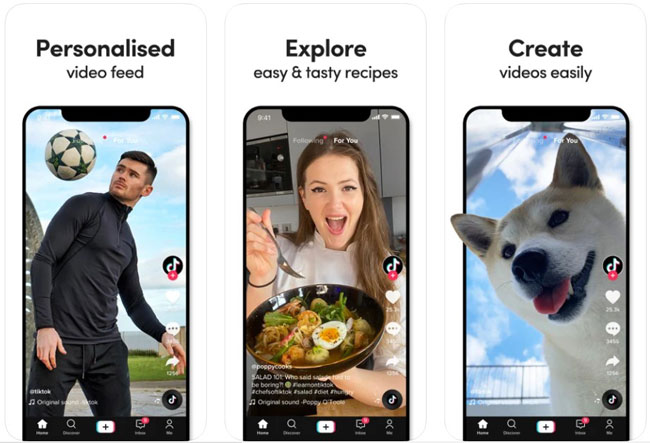 Size: 303.1 MB (v24.4.3)
Compatibility: iOS 10.0 and later
In-App Purchases: $1.19 - $299.99
Ranks: 4.8 out of 5 on Apple Store; 4.5 on Google Play
Pros:
Millions of free music sounds and clips
Cover major types of music like Hip Hop, Rap, EM, Rock, Rock, and Coutry
A smart set of video eding tools
VFX abound
Easy-to-use profile
FilmoraGo Music Video Maker App
Filmora Go is a sophisticated video editor software for Android phones, and it's one of the finest free video editing applications for Android devices that won't add a watermark or limit the length of your movie. It offers a large range of effects and presets to help you make great films. You may share your films with your friends on Youtube, Instagram, Facebook, and WhatsApp right from the site.
Different from other video maker app with music, FilmoraGo makes 600+ video templates and 1000+ featured music possible. This is an app to make video with pictures and music on the smart timeline, where you can trim unwanted soundtrack parts as well. More video editing tools like Speed Control, Chroma Keying, AR Stickers, and 1080p Export are provided.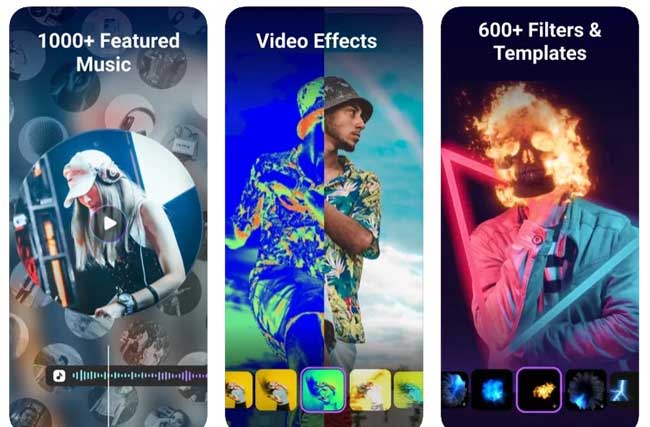 Size: 223.9 MB (v6.6.0)
Compatibility: iOS 12.0 and later
In-App Purchases: $1.19 - $42.99
Ranks: 4.7 out of 5 on Apple Store; 4.7 on Google Play
Pros:
Simple to use and plenty of free features
The PRO edition includes high-quality preset templates
Professionally produced and high-definition videos
A plethora of video templates and featured music resources
Easy-to-learn video editing workflow
Cons:
Video editing is difficult due to the horizontal chronology
The audio fades away near the conclusion of the film
Adobe Premiere Rush Music Video Making App
As one of best apps to make music videos, Premiere Rush compiles all the functionality you'd expect from an Adobe program. Using the app's built-in camera, you can effortlessly shoot quality films and edit them with drag-and-drop capability. You may sync your movie to the beat of your choice of audio and add all of the standard finishing touches, such as titles and transitions.
Premier Rush was created with sharing in mind, making it simple to resize your movies for various social media platforms and publish them instantaneously. There are over 1000 new soundtracks, animated titles, and transitions. The audio and sound maker built-in is power-up and you find it easy to make a video with music and pictures. The auto-ducking and voiceover are offered as well.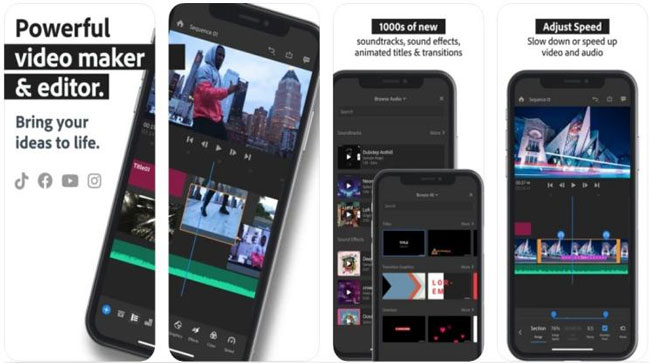 Size: 452.6 MB (v2.2)
Compatibility: iOS 13.0 and later
In-App Purchases: $4.99 - $29.99
Ranks: 4.6 out of 5 on Apple Store; 3.2 on Google Play
Pros:
A comprehensive set of basic functions
Adobe integration
Excellent customer service
Automatically reframe
Share to social media like YouTube, Instagram, TikTok, and Facebook
Cons:
To access all the tools and the whole content collection, you must upgrade to premium
KineMaster Music Video Making App
KineMaster is an Android music maker video app with a lot of features. It features simple-to-use yet powerful tools. It includes over 2500 transitions, effects, films, photos, and transitions that may be downloaded. KineMaster audios are now much more immersive and powerful thanks to the addition of EQ settings, ducking, and loudness envelope tools. Unlimited exports in resolutions up to 4K are included in the premium membership.
Different from other music video-making apps, KineMaster features a linear interface and a simple set of function buttons on the bare-bones interface. You can stylize your video type, record a new soundtrack, enable chroma key, and razor-sharp quality with KineMaster.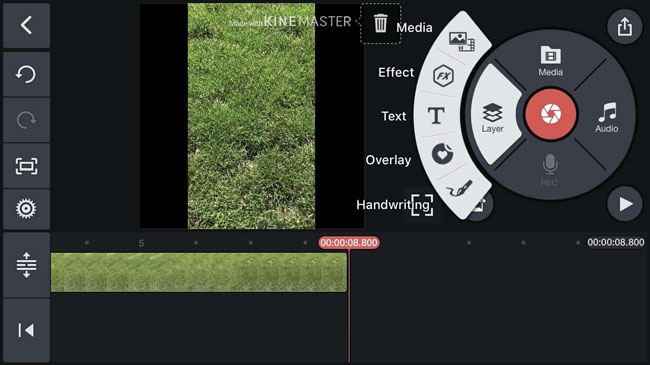 Size: 104.5 MB (v5.2.11)
Compatibility: iOS 13.2 and later
In-App Purchases: $3.99 - $27.99
Ranks: 4.7 out of 5 on Apple Store; 4.2 on Google Play
Pros:
Consistently updated Youtube channel for how-to tutorials
Advanced designers will appreciate the ability to add several audio and video layers
It can download many elements from its asset shops, such as stickers, photos, and backdrops
Animation and intro templates
Cons:
The subscription doesn't always reflect across devices
The app only works in horizontal mode, which can be unsettling
Extremely advanced for beginners
WeVideo Music Video Making App
You don't have to be Quentin Tarantino to produce 4K movies, thanks to WeVideo's simple UI. WeVideo music video maker app gives you complete control of all creative aspects, including text, transmissions, and motion effects.
With simple green screen special effects, you may even let your creativity go wild. Thanks to cloud storage, you may start a project on one device and finish it on another. Plus, when you sign up for one of their programs, you can access a huge collection of licensed and royalty-free video clips, photos, and music tracks to give your film that extra polish.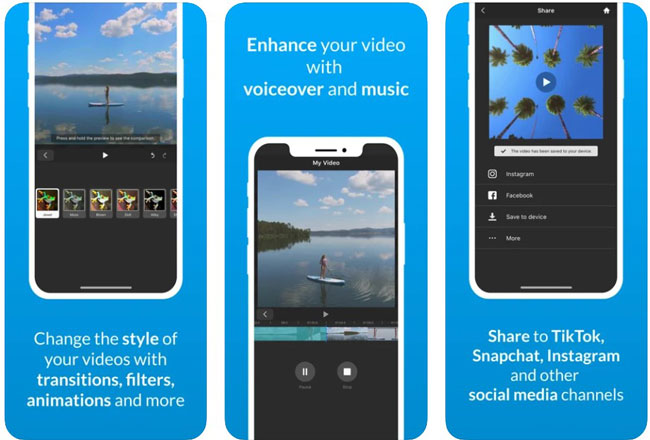 Size: 62.1 MB (v5.4.6)
Compatibility: iOS 13.0 and later
In-App Purchases: $9.99 - $449.99
Ranks: 4.6 out of 5 on Apple Store; 3.8 on Google Play
Pros:
Clean UI
Cloud storage for many devices
Edit video with transitions, filters, and animations
Add a new voiceover or music track easily
Post your edited video on TikTok, SnapChat, and Instagram straightly
Cons:
The free edition has a watermark and restricted features
Splice Music Video Making App
Splice, GoPro's mobile app to make videos with music, boasts many accolades and claims to deliver desktop editing capability on your iPad or iPhone. Trimming, cropping, effects, titles, speed changes, animation, transitions, and music are all accessible in this popular video editor, which has a cultish following of Splicers.
One of Splice's most valuable assets is its music collection. It has a wide library of free music and sound effects that you may overlay over your video and the option to sync your movie to the beat of your soundtrack.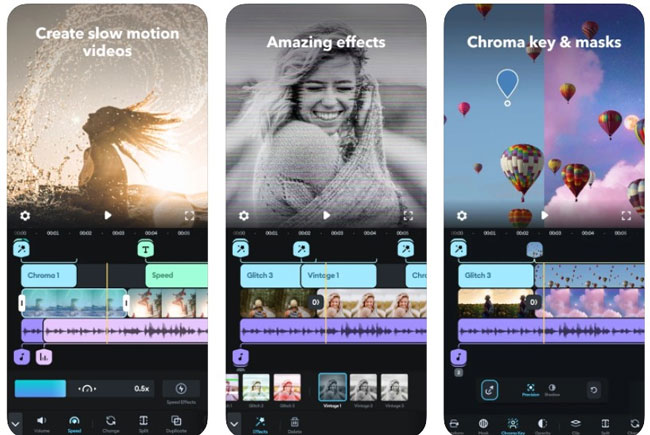 Size: 272.2 MB (v4.25.7)
Compatibility: iOS 11.2 and later
In-App Purchases: $2.99 - $69.99
Ranks: 4.6 out of 5 on Apple Store; 4.7 on Google Play
Pros:
GoPro-developed, award-winning, and highly acclaimed
Advanced chroma keying tool
iPhone and Android are supported
Edit multiple tracks
Make a video with a vintage filter
TunesKit AceMovi - The Best-in-Class Music Video Editing & Making Software You Must Try
TunesKit AceMovi Music Video Editor has a simple interface with 200+ background music and sound effects. You can also try out basic editing of video cutting, rotating, recording, cropping, reversing, split-screen, and so on, as well as elements including animations, transitions, cool filters, text, and background music to make your editing experience better and easier.
The supported output formats in AceMovi have been customized to suit iPhone, iPad, Apple TV, Galaxy series, Huawei, Xbox, PSP, LG TV, and other devices. It can also export and share polished videos to any site, including YouTube, Vimeo, and Facebook.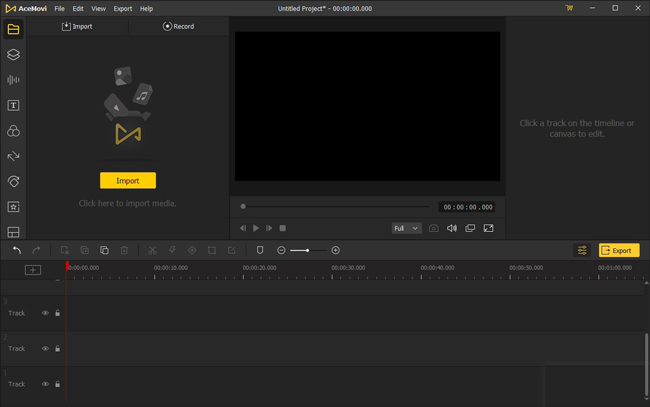 Size: 95.2 MB (v4.9.6)
Compatibility: macOS 10.8 and later; Windows XP and later
In-App Purchases: $15.59/Month, $49.95/Year, $69.95/Lifetime
Ranks: 4.8 out of 5
Pros:
A vast library of background music and sound effects
Beep a video in a breeze
Detach or extract your audio from video easily
Edit multiple videos quickly
4K video editing up to 60 fps
Audio editing only is available
Download in best format for YouTube and Vimeo
Cons:
You find 8K video editing may encounter stuck with AceMovi music video editing software
Learn How to Edit Audio in Video with AceMovi
Conclusion
With more music video maker apps for iPhone, iPad, Android, and PC than could shake a clipboard at, figuring out which interface and functionality work best for you is a case of trial and error. We have presented a list of the eight best apps for making music videos. Hopefully, this list will help you!