Movie trailer making must be one of the most important sections for film propaganda and post-production because those kinds of movie trailers always carry an air of something big in cinema that is around the corner. However, for a professional film maker, some movie trailer-making tasks might be taken on mobile phones sometimes. If you are just looking for a movie trailer making apps, look no further!
Here in today's content, we'll give you around of 8 best free movie trailer making apps used for both Android & iPhone, with their key features, pros and cons covered. Here we go!
Top 8 Free Movie Trailer Making Apps for Android & iPhone/iPad
1. InShot Video Editor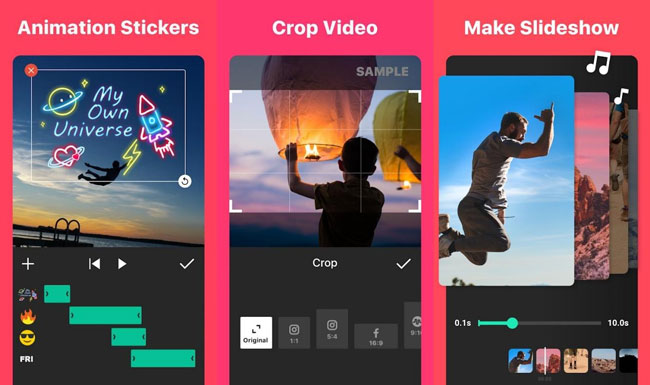 InShot is an all-in-one free movie trailer maker and movie trailer editor for both Android & iPhone users. You can choose three different projects to begin your movie trailer making - Video, Slideshow, & Collage. For example, the slideshow helps you create a streaming video playback, to use it, all you need to do is choose the movie photos you want to use and then add filters, stickers, background color, animations, and transitions, etc.
Afterward, InShot provides the matched aspect ratios and resolutions of Facebook and Instagram videos, so if you want to post this movie trailer on such social platforms, just open up the vids cropping panel.
Pros:
1000+ funny stickers, texts & memes
Adjust the size of movie trailers
Share on Ins, TikTok, Whatsapp, etc.
Add voice-over & sound effects
[Basic] Trim, cut, merge, crop, reverse, speed movie trailers
[Advanced] Keyframes, PiP, Chroma Key, MasK, & Color Picker
[Advanced] Keyframes, PiP, Chroma Key, MasK, & Color Picker
Cons:
Watermark added in all video content
Advertisements pop up when downloading
2. Movavi Video Editor Plus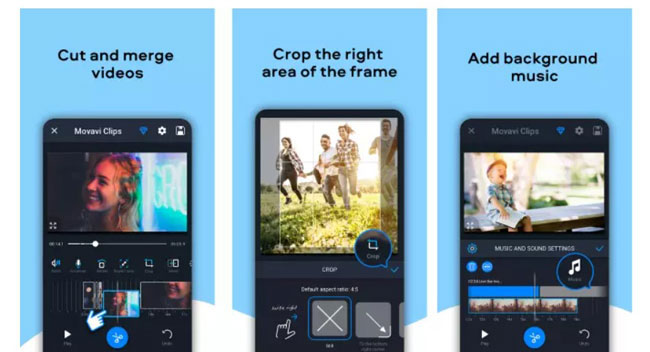 Movavi Video Editor Plus is one of the best movie trailer making apps that features the most essential video features you can use on its desktop version. Meanwhile, you'll find it's very easy to use because you can apply all the function buttons on the streamlined interface, viz., you don't need to open up the layered effects containers one by one. Also, Movavi provides lots of tutorials for movie trailer making, you're allowed to learn from it at any time.
Pros:
A plethora of stickers, texts, & filters
Adjust volume & use the sound effects in movie trailers
Share to Facebook, YouTube, & Instagram
[Basic] Chop, mix, merge, rotate, crop, record
[Advanced] Speed up, overlay music, preview in real-time
[Key] Streamlined timeline & toolbar
Cons:
Not used for H.265
A bit slow in rendering movie trailer
3. FilmoraGo - Video Editor & Maker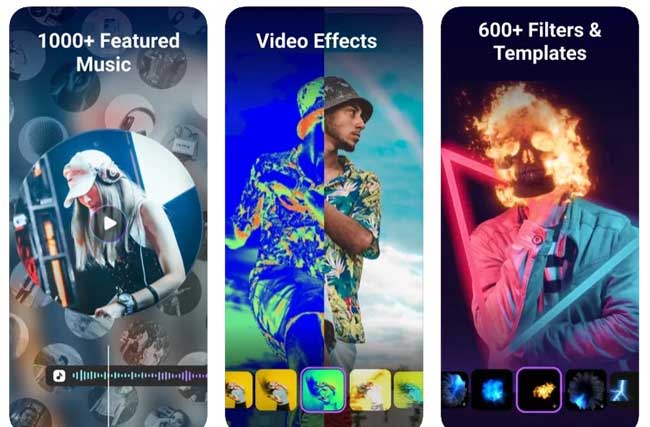 FilmoraGo is the best free HD movie trailer maker with bountiful built-in effects, filters, background music, emoji, text, etc. FimoraGo has two outstanding features - music & effects. To be specific, FilmoraGo provides 1000+ different genres of music, containing brisk, sightseeing, rhythmic, pop, and healing, so if you're demanding in the quality and beats of background music, FilmoraGo won't let you down. The other salient feature is the video effects, viz., you're available to slews of stunning video effects, such as Glitch, VCR, Split-Screen, and Flame.
Pros:
200+ stickers and emoji for movie trailer
Adjust resolution & frame rate
Keyframing animation function
Share to IGTV, YouTube, & Facebook
[Basic] Add texts, filters, stickers, & music
[Advanced] 4K export, speed control, reverse
[Key] Thousands of featured music, 600+ templates & filters for movie trailer
Cons:
Register in requires
The free version gets a watermark
4. VivaVideo - Video Editor & Maker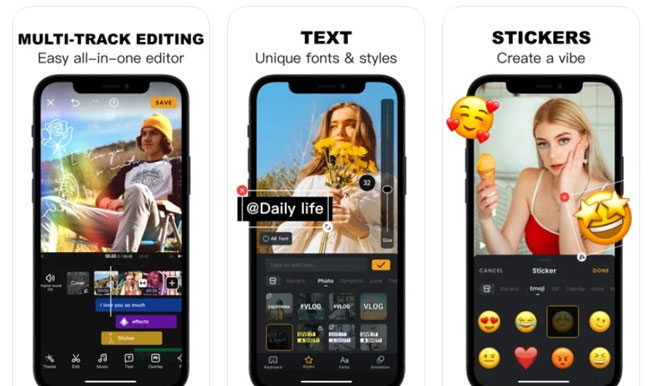 VivaVideo belongs to one of the best multi-track movie trailer makers so that you can easily adjust the text, audio, video, and image just under the track. Below, you'll find the toolbar where comprises all the important features for movie trailers and by which you can pick up the wanted filters, music, subtitle genre, and overlays in a couple of clips.
Besides, you can arbitrarily resize and adjust the movie trailer in the designated area, and here let me give you a quick start to crop your movie trailer: Open up the Edit icon > Hold-&-drop the slider > click the OK button.
Pros:
Creative interface
Different types of stickers & emoji
Blur the background of your movie trailer
[Basic] Edit with music and themes, split, crop
[Advanced] Control speed from 0.1 - 10x, VHS & FX effects
[Key] Multi-track design
Cons:
Not support GIF
Lags may occur when editing longer movie trailers
5. PickPalyPost Video Editor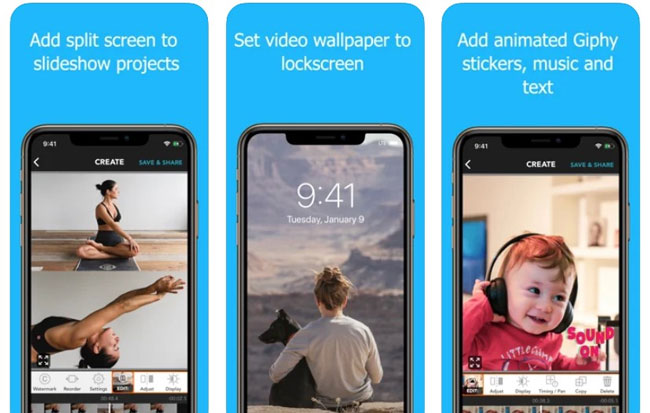 PickPlayPost is a collage and slideshow app for both Android and iOS, and all the files you import into PickPlayPost will be motion-tracked as a series of keyframes. When it comes to PickPlayPost's movie trailer making features, not only can you apply video collage, image collage, & photo grid collage, but also you can edit this trailer with GIFs and memes. Besides, PickPlayPosy has a very simple layout - Canvas, Toolbar, & Motion-Tracking, so that you can well arrange the video elements in your movie trailer.
Pros:
Adjustable photo and video collage
Featuring your movie video intelligently
Vertically and horizontally editing style
Very brilliant meme generator
[Basic] Trim, add music & subtitle, insert background
[Advanced] Mirror, stitch photos, automatically synchronization
[Key] Collage video & photo feature
Cons:
No iCloud service for iOS users
6. GoPro Quik: Video Editor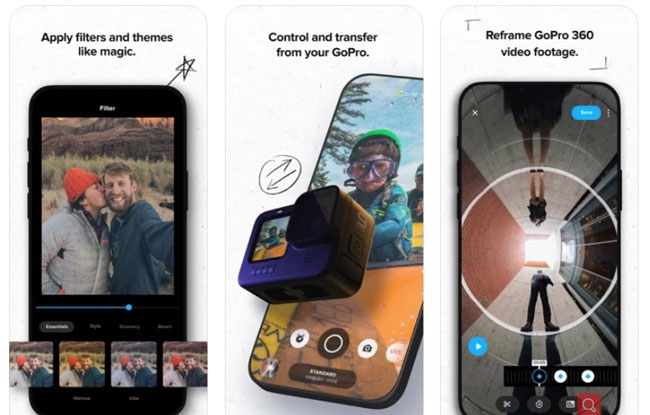 GoPro Quik app plays a very important role in the GoPro family and designs with a library of Quik-exclusive filters. By GoPro Quik, you can control and transfer from your GoPro camera at any time or you can import videos at 100% quality from the GoPro Cloud directly. GoPro also gets a lot of functions for movie trailers making, for example, you can apply ready-made templates, magic filters, and background themes. There's one thing you must know about GoPro Quik: 3D footage editing, by this tool you can make your 360 movie trailer with all the built-in features by Quik.
Pros:
Automatically backup movie trailer footage
Auto-upload into GoPro Cloud
Connect to GoPro cameras quickly
Beat-sync the edits of your movie trailer
[Basic] Customize, apply filters and themes, sync music
[Advanced] Slow/Speed-motion, optimize environments
[Key] 3D footage editing
Cons:
Music should be limited in the 60s
Cannot adjust the styles of fonts
7. Funimate - Video Editor & Maker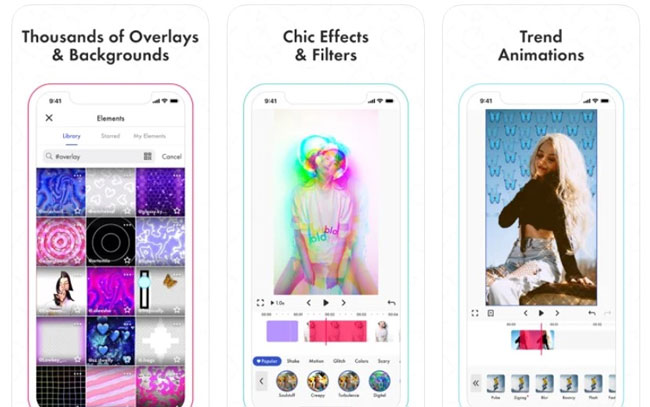 Funimate is a very chic and attractive movie trailer making app and contains a vast library of colorful video genres. With Funimate, you can apply thousands of overlays and backgrounds from the resource stock, and you can even edit and cut the video effect under the one-line track. In addition, you're allowed to try AI effects into your movie trailer like Shadowing, Phantom, Shaking, Virtual Weather, etc.
Pros:
Awesome transitions styles
Built-in element library for movie trailers
Intro & outro video effects applied
[Basic] Movie trailer merge, cut, trim, text add
[Advance] Effect mix, video mask, music-sync
[Key] AI effects
Cons:
Log in requires
Languages limits in English
8. Splice - Video Editor & Maker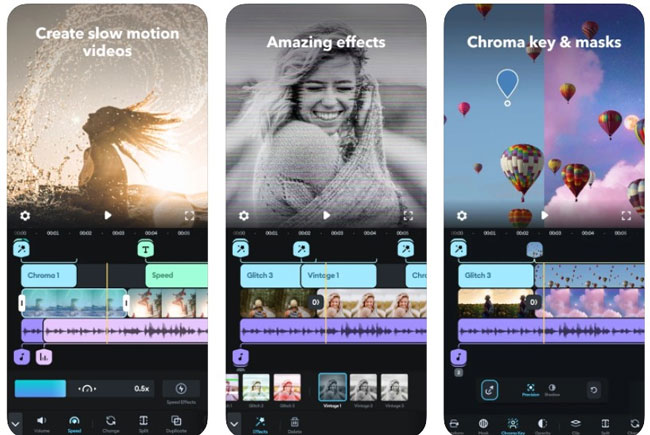 Splice is a pro-level movie trailer making and editing app with high-precision sliders, an intuitive toolbar as well as multi-task working tracks. As the above picture shows, with Splice, you're able to drop elements under any part of the track and then you can preview your movie trailer in real-time. Meanwhile, you can adjust the speed with a highly precise slider from 0.1x to 5x and render your video with 50+ different sorts of transitions and filters.
Pros:
Add titles & overlays
400+ songs in stock
Import photo at the perfect length
Adjust the right aspect ratio
[Basic] Add background, trim, cut, mix
[Advanced] Speed changer, timelapse & hyperlapse
[Key] Multi-task working tracks & pro parameter settings
Cons:
Get crashed when downloading music tracks
Best Movie Trailer Making/Editing Software for Win 10 & Mac - AceMovi Video Editor
It's very happy to share with you those movie trailer editing apps. But if you want to make movie trailers with more video effects and features in a quicker and easier manner on Mac and Windows 10, AceMovi Video Editor would be a very good option for you to choose.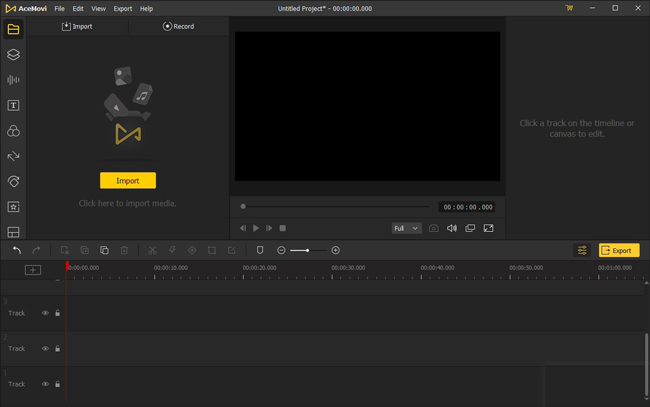 AceMovi can be downloaded for free right now without registering and even no limitations in video length (as movie trailer apps cannot support larger files), at the same time, you can import any format of video, audio, & image into Acemovi, in other words, you don't need to convert video formats in advance, and even you can convert your new-made movie trailers with AceMovi offline at any time.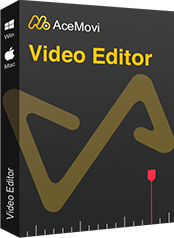 Key Features of AceMovi Voice Over Video Editor
Security Verified. 5,481,347 people have downloaded it.
Pros:

Ready-made texts, audios, & filters
Fully-featured & streamlined toolbar
Unlimited numbers of tracks for movie trailer elements
Hundreds of video, audio, & image formats support
No register and no usage & times limit
[Basic] Chop, split, combine, speed, crop, convert, and compress
[Advanced] Split-screen, PiP, Voice-over, Blur, Mosaic, and Key-framing
[Key] Easy-to-use & Budget-friendly for movie trailer makers
To Conclude
All of the 8 movie trailer making apps are free-to-use and you can download them from Apple Store, Google Play, or other application shops yet some of them offer in-app VIP services and purchases like exquisite templates, stickers, filters, songs, etc.
If you got lots of movie trailer making jobs to do, you'd better use the desktop version such as AceMovi Video Editor, because it helps you solve multi-task video making and editing in a couple of clips. Most importantly, AceMovi is free-to-download & has no log-in as a precondition, the only purchase within is getting rid of the watermark.