In this digital transformational world, everyone needs to market their business professionally and engagingly, and videos are exactly right for this purpose. Many people, including vloggers, YouTubers, and TikTokers, try to work on their videos to make them more interactive. For this, they need to work with a third-party video editing application. However, few people know the best iPhone video editors who can help them make their videos state-of-art.
Worry no more because this article will give a brief overview of some of the top-ranked video editors for iPhone. You can edit your videos remarkably with these apps without any format restrictions.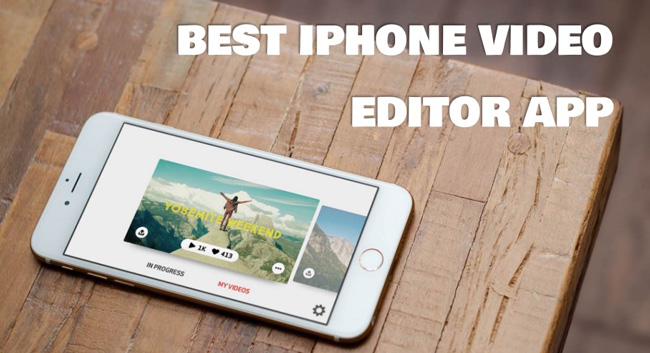 Four Things to Consider When Choosing an iPhone Video Editor
There are thousands of video editors in the App Store, and you can use any of them to edit your video file. However, the quality of the expected results is not guaranteed. That is why here are some of the important things and points that you should consider before using any iPhone video editor:
1. Features and Effects
Tools for video or image editing are a never-ending thing. Every day brings a new trend, and a person who works as a video content creator needs to follow these trends. Thus, before using a tool, analyze if its features and effects are upgraded and how you can use them. A good assistive tool will always support all the latest and standard features required for video editing.
2. Editor Interface
The interface is the first part of any tool which a user encounters. If the interface is untidy and poorly organized, video editing will be difficult. You must first ensure that the tool you will use comprises a user-friendly interface so you can easily use every feature.
3. Supporting Formats
Before using or buying any video editing software, make sure it supports the formats you need. Because what is the meaning of buying a tool when it doesn't even support the format you want? There are multiple video and audio file formats, and a useful tool should support all of them.
4. Pricing
Sometimes, you pay lots of money to use a standard feature of a video editor, and even after spending so much money, the results are not good. Thus, before buying any tool, you must look into it and assess how much advantage you can have after buying it. Moreover, make sure what you buy is important for you because there are some features that a person never uses even after buying the subscription.
7 Best Recommended Free iPhone Video Editor Apps
Every person has a different taste when it comes to video editing. Whether you want to give an aesthetic look to your video or feature a retro touch, these tools can help you all. Some of the helpful and popular video editors which comprise tons of eye-catching features are listed here:
Top 1. Splice
This is a simple yet powerful and the best video editor for iPhone by which you can create fully personalized videos. With Splice, you can refine your clips by adding and adjusting saturation, contrast, exposure, and many other things. This tool lets you remove the background in a video file with its chroma key. There are many effects, filters, and transition styles by which you can make your video more engaging and attractive.
Sharing videos directly to social media platforms like TikTok, Mail, Facebook, Instagram, and Messages is also very convenient with this tool. You can also save the edited video directly to the camera roll. Now you cannot only enhance the video quality, but you can also upgrade the music quality in your video files. There are 6000 royalty-free soundtracks, and you can use any of them in your video.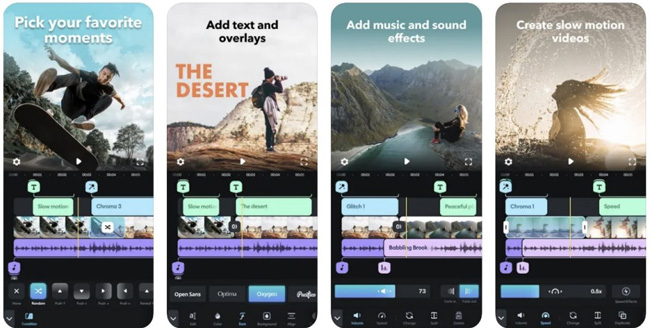 Pros:
No watermark on high-quality output
Multi-track timeline to mix content
Real-time motion tracking
Plenty of sound effects
Add transitions or watermarks
Cons:
7-day free trial
Small video editing buttons
Top 2. PowerDirector
With total ratings of 18.5K, this exceptional video editor can make your stunning and captivating. This app has many exciting features, including editing, exporting, replacing backgrounds, and fixing shaky cam footage. With this tool, you can create efficient and eye-catching animated titles that show the concept of the video files.
Moreover, this video editor iPhone allows its users to add voice-overs in a video while controlling its playback speed. This tool has many types of stickers, stock footage, and sounds so that you can use them easily. Creating videos with collages and PIP overlays is far easier with this tool.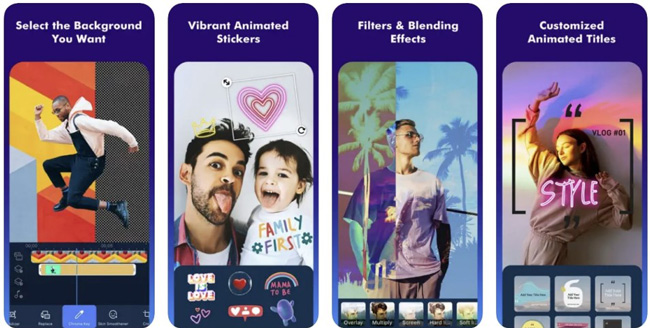 Pros:
Remove video background easily
Overlay another video footage
A host of stickers and emojis
Eye-grabbing blending effects
Customized video subtitles
Cons:
Some built-in features are locked
It does not provide ready-made aspect ratios for social media
Top 3. GoPro Quik
Both free and paid versions of this app are available, and you can use these versions according to your needs. This tool allows you to add cinematic transitions in a video and synchronize them to music accordingly. One of the most assistive things is your shot will be auto-upload to the cloud, and you can access it whenever you want.
Moreover, you can post all of your important and private shots to your private Mural present in this app, so you can never lose them in the camera roll. GoPro also allows users to control the video speed, making them super slow, fast, or freeze. You can also share the videos directly to your social media account by using this tool.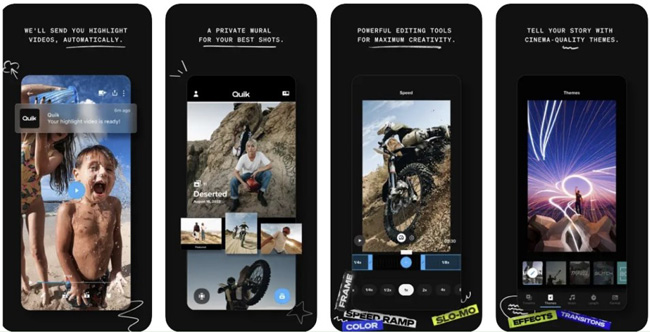 Pros:
Automatically connect to GoPro camera
Excellent 360-degree video making
Beautiful video filters to overlay
Colorful subtitle fonts and colors
Easy to edit and learn
Cons:
Some video formats are not supported
Only a few video effects
Top 4. Adobe Premiere Rush: Edit Video
If you want to shoot pro-quality videos and start editing immediately, you can do this by using this tool. It comprehends a built-in camera functionality that gives your videos an HD outlook. It is the best video editor for iPhone without watermark. With Adobe Premiere Rush, you can create videos swiftly and share them on multiple social sites without compromising on video size and quality.
Moreover, this tool allows you to arrange audio, videos, and graphics, and you can proficiently trim the unrequired part of a video. You can bring your videos to life by adding original or royalty-free soundtracks. If you are a premium user, you can work on your videos with advanced audio tools and additional premium features like automatic reframing.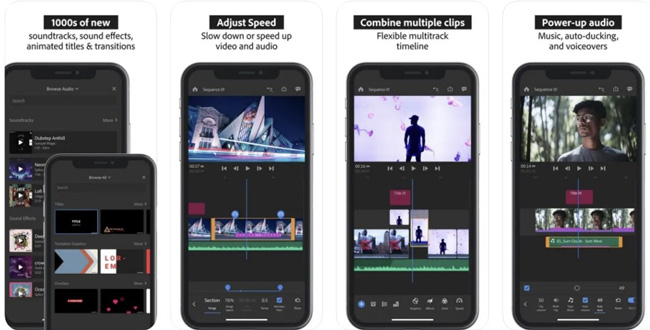 Pros:
Text templates
Meticulous cropping
Change video playback speed
250 channels of live streaming television
Add voice-overs
Cons:
Paid version limits
Crush sometimes
Top 5. FilmoraX – Video Editor & Template
If you are looking for the best iPhone video editor, which should have innovative and exemplary features, Filmora is the answer. It is a powerful tool by which you can manage multiple timelines and add perfect sound effects in videos accordingly. This tool also allows you to control video file playback speed as it supports fast and slow motions. This tool supports highly upgraded video templates, and you can create innovative videos using them.
Moreover, you can also merge, duplicate, split, or trim the video files without following any complex procedure. This tool has a diverse range of video effects that you can use to make the video files more engaging. You can alaso add filters and text overlays in videos with this tool.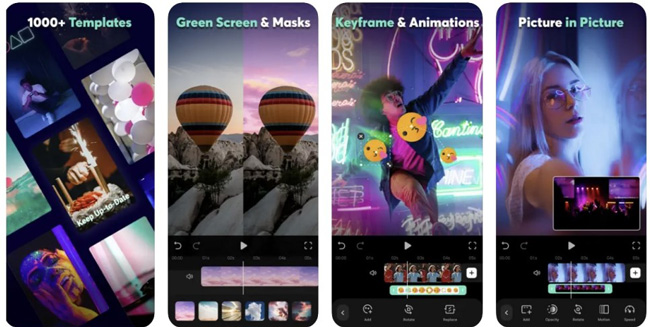 Pros:
Royalty-free music resources
A lot of video templates
Edit video background with green screen
Slow motion or fast motion
Nonlinear user operation interface
Cons:
Many in-apps purchases
It will go stuck when editing high-quality files
Top 6. iMovie
This best video editor app for iPhone free app is specifically created with a streamlined design and engaging interface for iOS platforms. With this exceptional application, you can create Hollywood-style trailers with just a few taps. You can give a perfect look to your movies with 13 Apple-designed video filters. iMovie also allows you to customize the video's title by changing its location, size, color, and fonts.
Moreover, transferring projects between iPhone and iPad with the help of AirDrop and iCloud Drive is far easier with this tool. If you want to edit on a big screen, you can connect an external display to your iPhone and iPad.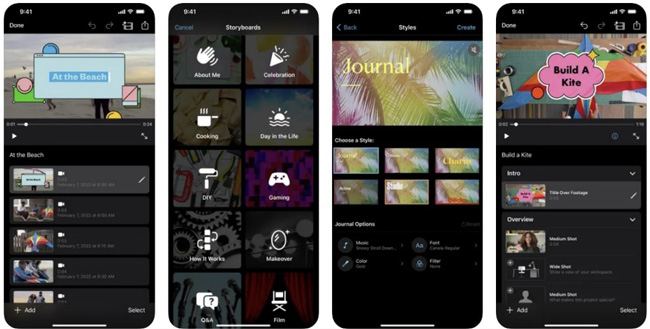 Pros:
Pre-installed in iOS
Watermark-free downloadings
Save your video in the iCloud
Video effects and sound effects
Add caption or subtitle
Cons:
No music resources
Edit MP4 videos with iMovie is slow
Top 7. InShot
InShot has been a popular choice for quite some time and ranks #22 in Photo and Video apps category. This tool can help you with video and photo editing without format restrictions. You can add music, text, transitions, and emojis to make the film more engaging. This tool also allows users to trim the required parts of a video and merge multiple video files.
As for video speed, InShot now supports video ramping, which is quite a useful and intuitive feature of video editing. There are lots of cinematic filters which can convert a simple video file into a piece of art. The videos edited with this tool can be shared across multiple apps like YouTube, Twitter, Instagram, and WhatsApp. It is one of the best free video editor apps for iPhone.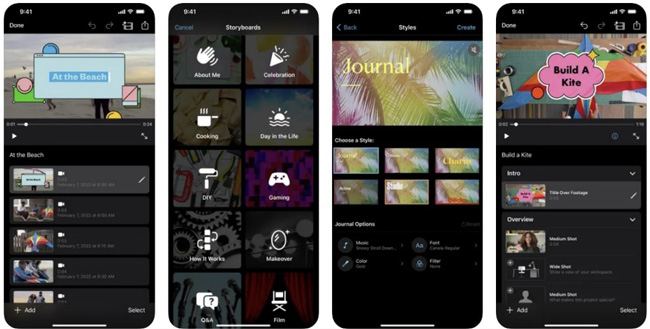 Pros:
A plthora of smooth transitions
Prepared slideshow making with music
Motion detection
Crop the width and height of a video
Change video speed or reverse video clip
Cons:
Watermarkings
Limited recording
Wrapping Up
Considering all the information related to the 7 top-rated iPhone video editors discussed in this article. There are both paid and free versions of these editors, and you can enhance any video with them. But you will find it hard to edit multiple audios, videos, and texts on the tiny timeline of an app. You can turn to software for video editring, like AceMovi Video Editor - A free-to-download, all-in-one video production toolset for creative design in the color, soundtrack, and background of your video footage.
TunesKit AceMovi - Best Video Editing Software for Beginners