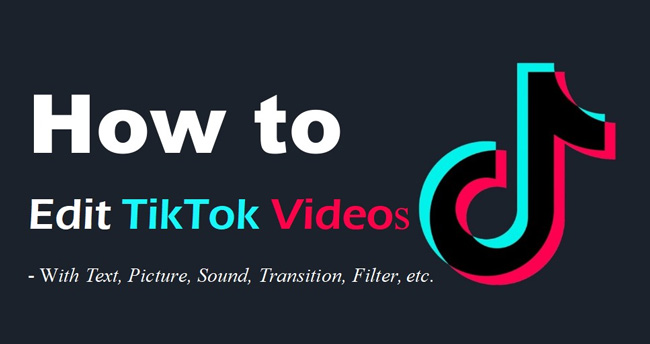 According to the TikTok statistics that we picked up, in 2021, there are 1 billion active monthly users in TikTok. Since TikTok was initially launched in September 2016. we can see that it has gained the popularity extremely fast within just 5 years. And undoubtedly, people are spending more and more time brushing short time videos in TikTok.
I believe that you'd like to make excellent TikTok videos as well of being here. So in the flowing, we'll give you the best guides on how to edit TikTok videos on PC, Mac, iPhone & Android.
Part 1. How to Edit TikTok Videos by TikTok App Itself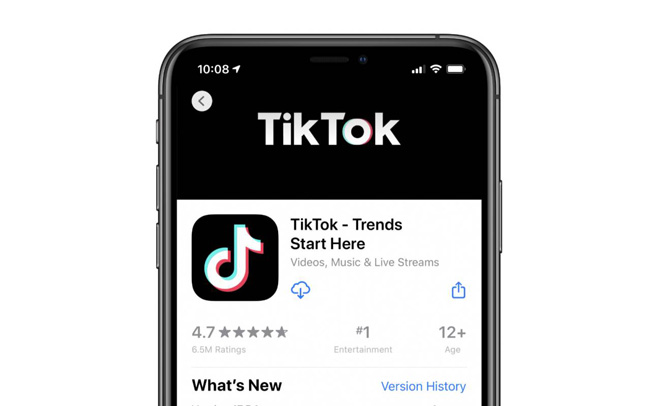 TikTok itself, without a doubt, is a very powerful and multifunctional application to edit TikTok videos. The TikTok app can be the best choice for you if you'd like to edit TikTok videos on both iPhone and Android, now you're able to find the free source to download TikTok from Apple Store, Google Play, or any other downloading platform.
Now, we're going to have a short view of the pros & cons of TikTok video and by which you'll also know why it's better to choose TikTok app to edit TikTok videos and when you should choose other video editors in keeping with the shortcomings of TikTok app. Let's get started!
Pros:
Personal account to save videos in the cloud
Record video by front/rear-facing camera
Thousand of free music with special effects
Slow/Fast-motion effect
Intelligently beautify your face
Lots of genres of video filters
Popular effects reversion, Sudoku, duet, etc.
Share videos or chat with others conveniently
Cons:
[Waste of time] Doesn't support multi-task workflow for editing TikTok clips
[Watermark Embedded] Apparent watermark will be added automatically when downloading or sharing videos
Tutorials of Editing Videos by TikTok Application
Below is a 6-step guide of how to edit TikTok videos on the TikTok app and we made it mainly from those aspects: prepare-to-start, apply background sound, change video speed, try some of the built-in effects, edit with texts, and lastly, upload videos in TikTok.
Begin to Edit TikTok Videos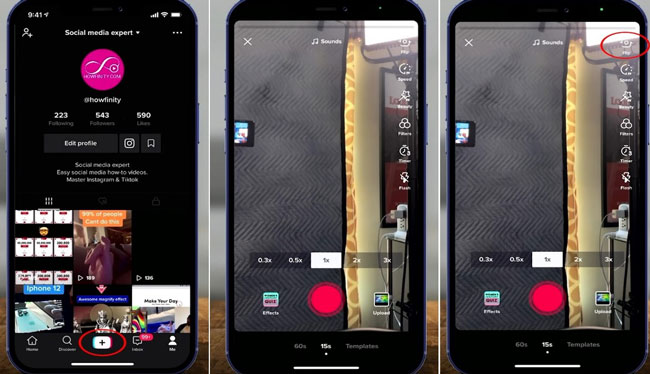 First and foremost, you need to get a TikTok account, that is to say, you're not allowed to edit any personal video or "Like", comment and download others' videos if you haven't registered a TikTok account (tips: you can log in TikTok by phone, email, Facebook, Google, Twitter, Apple, and Instagram).
As the above picture depicts, you can see the user profile on your phone, and here you should click the + to start. And you can see the Record (Red icon), Effects, Upload, Flip, Speed, Beautify, Filters, Timer, & Flash on the next pop-up page, also, you can see the duration setting for TikTok videos very below.
Apply Sound to TikTok Videos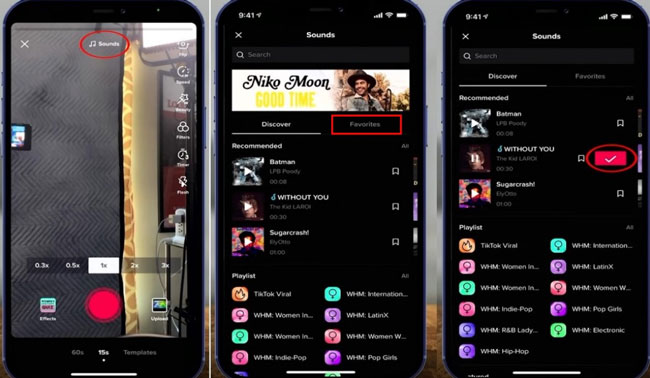 You got 3 ways to edit TikTok videos with your favorite sound: (1) Open up the music stock; (2) Upload from local music files; (3) Or, you can select music from the Favourite plate that includes all the music you choose while you're brushing other TikTok users' videos.
Set Speed: Slow-Motion & Fast-Motion for TikTok Videos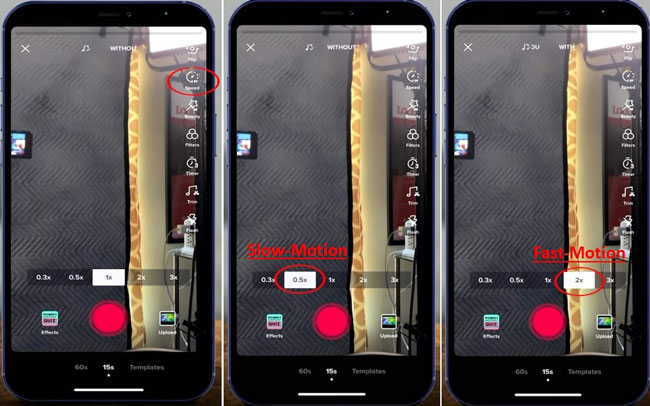 You can change the speed, viz., apply the slow or fast motion effect in your TikTok videos. Generally, 1x represents normal, 0.3x or 0.5x slow, and 2x or 3x fast. And if you're unsure which speed to choose, you can try one by one while playing videos in real-time.
Use Effects: Popular Effects for TikTok Videos
Applying the popular video effects for TikTok videos, admittedly, is the funniest part because it makes your TikTok videos cool, eye-catching, and very fashionable. For example, the Nine Camera effect is just like the Sudoku which duplicates the other 8 windows, and each window plays different yet sequential motions.
And then you can use some of the filters like Slip, Horizon, Scroll, etc., let me give you an example, the Turn on TV transition works to play TikTok video from the form of a small aperture switching to the entire screen.
Edit TikTok Videos with Text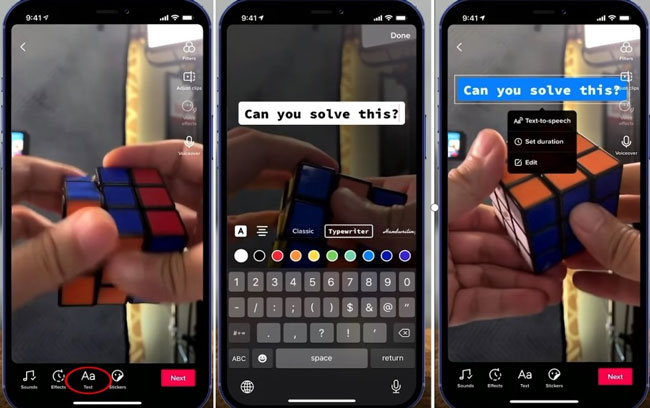 TikTok contains a plethora of text templates and you can use them online. And to edit TikTok videos with text, you need to open up the Aa tab > input words > choose your preferred text template > right-click to set the duration and text-to-speech.
Post & Download TikTok Videos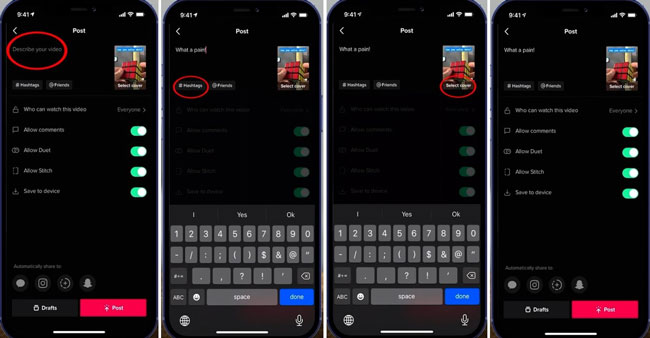 Congratulations! You just edited your TikTok video on your mobile phone successfully, now just click that red button Next. Afterward, you can describe, add Hashtags, @ friends, select cover, or set the authorization of comment, duet, and stitch for other users on the uploading page.
Part 2. How to Edit TikTok Videos for Mac & Win 10 - AceMovi Video Editor [Hottest!]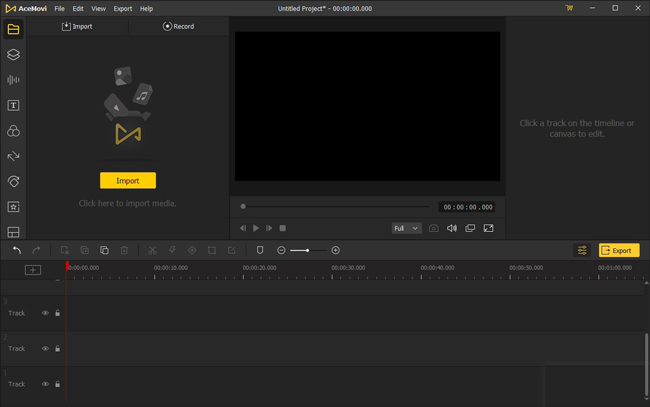 The whole process of editing TikTok videos seems a little hard? To some extent, I agree with you. Like we said before, as an application, TikTok is unavailable for editing multiple TikTok video clips and maybe time-wasting. And it is, indeed, the reason why we recommend the best software AceMovi TikTok Video Editor for you, which can be downloaded free for Win & Mac, and you don't need to register to get the authority to edit TikTok videos.
By testing, we think that AceMovi is very pragmatic and easy to use, and the reasons lie in that AceMovi contains a streamlined track and 9 intelligent item containers. To be detailed, you can add endless TikTok clips into the track and then click options to trim, cut, combine, speed up & down, add voice-over, etc.
Here you can download and install AceMovi TikTok Video Editor for free directly, by the way, you don't need to worry about the TikTok files you import and export for AceMovi can run most of audio, video, and social media formats like HD MP4, HD AVI, HD MOV, HD WMV, HD MPG, MPEG-1/2, DivX-DVD, 4K Video, iPhone, iPad, Galaxy, Motorola, YouTube, Facebook, etc.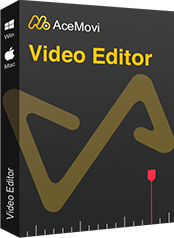 Key Features of AceMovi Video Editor
Security Verified. 5,481,347 people have downloaded it.
Pros:

AceMovi is a great TikTok videos editing software that offers brilliant editing services with great control on Mac & Win
Using AceMovi, you can edit TikTok videos in any manner you want. For instance, you can crop, trim, rotate, or adjust the size of the video with ease.
Allows you to import the videos of multiple file formats, including AVI, MP4, MPG, WMW, and many more.
Robust operating system, you can edit your TikTok videos losslessly & export TikTok videos at high quality
Cons:

AceMovi, right now, doesn't offer edition for iPhone
Tip 1. Edit TikTok Videos with Text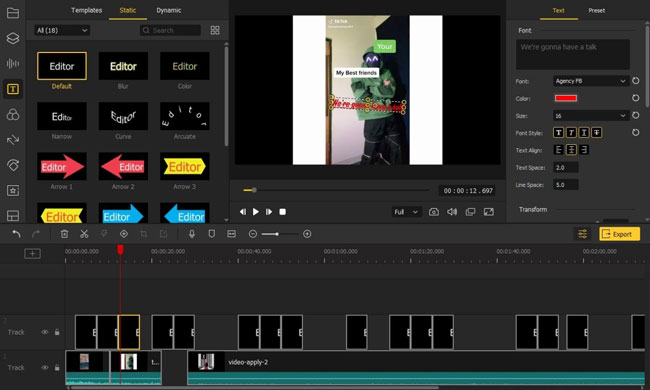 With AceMovi, you can import any TikTok video file by dropping it under the track directly. To edit TikTok videos with text on AceMovi, you should:
Step 1. Open up the Text container;
Step 2. Select the text template, it may static or dynamic;
Step 3. Drop the text under the Track 2;
Step 4. Add content, adjust font, color, size, align, space, and more by the Text Plate on your right hand.
By the way, AceMovi has 150+ genres of text styles for TikTok videos editing and you can use them for free.
Tip 2. Edit TikTok Videos with Pictures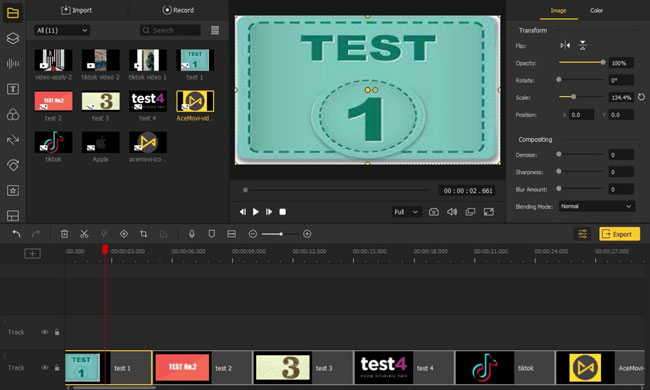 To make a TikTok slideshow, you should just put all the TikTok image files one by one under Track 1, and you can right-click them to cut, copy, delete, ripple delete, split, rotate, and change duration. And remember to remove the red controlling line to hit the cutting point when you want to cut this TikTok video.
Tip 3. Edit TikTok Video with Sound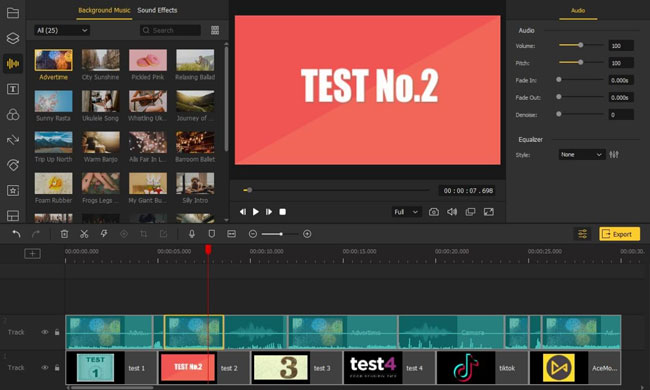 AceMovi gets a library of popular background music including the styles of pastime, humor, travel, weather, piano, barroom, banjo, etc., along with some usually used sound effects like beep, error, shot, jingle, and more.
And to edit TikTok videos with those soundtracks, you should just drop them under a new Track > balance duration & position > adjust volume, pitch, & denoise > check to make sure your TikTok video is synchronous.
Tip 4. Edit TikTok Videos with Transition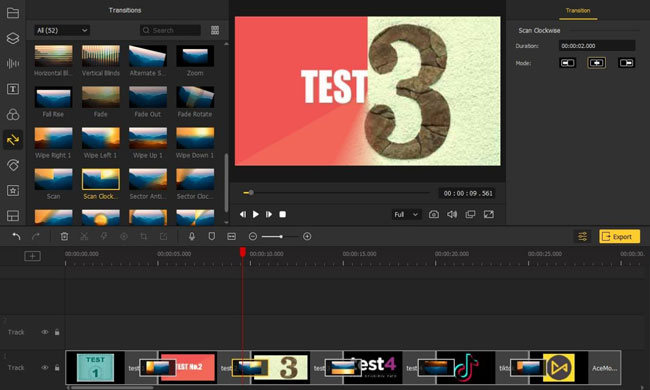 Transition enhances the visuality of TikTok videos by smoothing the frame switchover in the form of slide, wipe, push, row, merge, cross, grid, zoom, and so on.
To edit TikTok videos with transitions, just select the transition genre you want and then put it between frames.
Tip 5. Edit TikTok Videos with Split-Screen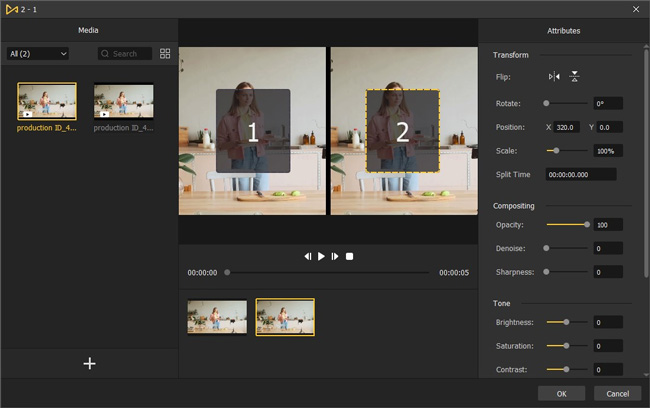 AceMovi includes many advanced features as well like Picture-in-Picture, Mosaic, Blur, Magnify, ColorNot, Voice-Over, Split-Screen, Slow-Motion, and more.
As you can see from the picture, that's the split-screen effect, which means that your TikTok video will be separated into 2, 3, or more windows and you can play more videos at the same time, for example, the TikTok Duet and the TikTok React can be made by the split-screen effect "2-1".
To make a split-screen TikTok video, you need to open up the Split-Screen container and choose the style you like, later dropping thumbnails under the windows as well as making some parameters such as flip, scale, position, opacity, brightness, saturation, and contrast. For more interesting features to apply in TikTok videos, click below to install AceMovi TikTok Video Editor.
Part 3. Other Professional TikTok Video Editors Recommended
For more advanced features to edit TikTok videos? That's why we also prepared other three very good TikTok video editing tools - Kapwing, VSDC, & Adobe Premiere Pro CC. Now, let's see the details.
1. Kapwing [Online]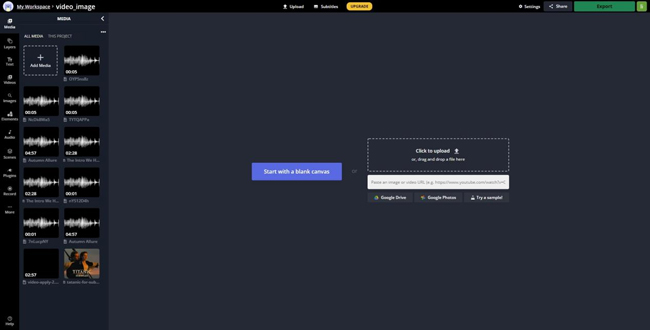 Kapwing is an online video editor so that you can edit TikTok videos without downloading any software. And some of the common editing features like Text, Image, Timeline, Scenes, Audio, Subtitles are built in the toolbar.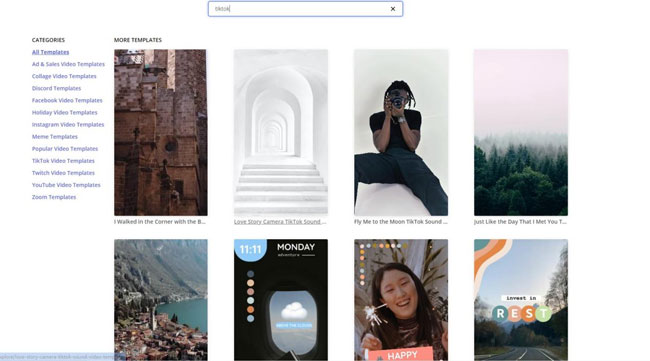 Most importantly, Kapwing provides hundreds of ready-made video templates for TikTok users include themes of Birthday Vlog, TikTok Intro, Travel Memory, Red Flag Mini, etc. Right now, all of them are free-to-use without any watermark left with yet you can only export them at 480p for free. And another shortcoming of Kawping is the rendering speed of effects for TikTok video is a bit slow so you'd better prepare a good internet environment.
2. VSDC [Pro for Windows Users]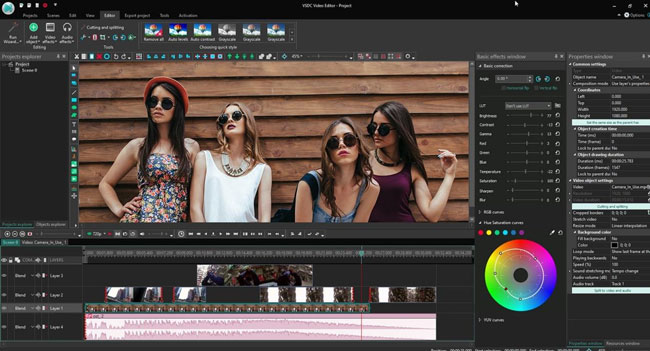 VSDC is a pro tool to edit TikTok videos with projects like Blank, Slideshow, Record, etc. You can set more precise properties in settings, charts, titles, background color, music, font, hue saturation, etc. And the most outstanding point for VSDC is that you can use some of the advanced effects to edit TikTok videos - 360/3D Editor, Motion Tracking, Beat Editing, Chroma Key, 3D Chart, Mask Tool, AI Art Generator, and so on.
However, VSDC is not friendly for new TikTok video makers and some of its advanced features should be paid. And you should be a Windows user only.
3. Adobe Premiere Pro CC [Pro for Mac Users]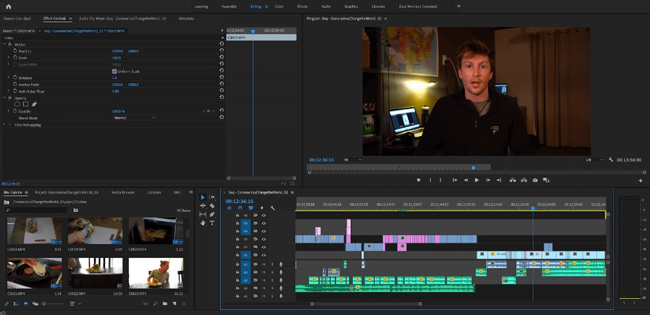 Adobe Premiere Pro CC is a pro software to edit TikTok videos for Mac users only, which comprises a multi-functional track panel and has divided features into windows like Assembly, Editing, Color, Effects, Audio, Graphics, and Libraries. So unlike AceMovi and VSDC, Adobe helps you edit TikTok videos in a designated area, for example, by the Effect area, you can try all of the effects and set parameters without the visual disturbance from other functions. But you may need to pay around $400 to get a one-year subscription.
Part 4. The More Concern for TikTok Videos - How Do I Make My TikTok Go Viral After Posting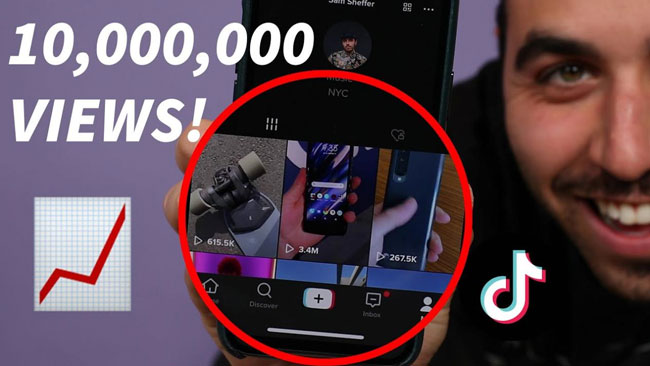 Getting more views and likes for TikTok videos is an integrated workflow, let's see what should we do and how to do it:
(1) Confirm a theme - you should select a field and better not change it any time;
(2) Optimize TikTok video content - creative thinking with practical making never fade out but you can also try to see the trendy styles extensively used by other TikTok users;
(3) Upload Videos on TikTok regularly - you should set a fixed time to upload videos;
(4) Likes, Views, & Comments others' TikTok videos - you should care about the collaboration effect and make your action active;
(5) Keep from TikTok shadowbanning - you should care about getting rid of shadowbanned by TikTok;
(6) Use TikTok pro account for data analyst - you can use apply for TikTok pro account to analyze the details of Views & Likes that happen to your video, here's the way: Go to Profile Window > Private & Settings > Manage My Account > Switch to Pro Account.
(7) Other ways to get views and likes for TikTok video include making an attractive description choosing related Hashtags, and setting a funny cover, etc.
Part 5. The Bottom Line
I am very happy to share with you the best tools to edit TikTok videos and the ways to improve your TikTok account. And the most important thing is choosing the right method for yourself t and practicing it.