When you record a video, there might be inconveniences like lack of sufficient light, positions. You can rectify the recording flaws using video editors, brighten video apps, video optimizer programs. In this article, you will get glimpses of the best tools to ease your selection process. Quickly surf the below content and identify the perfect video editors to enhance your videos. You can add multiple effects to the videos using the built-in features. The efficient video editors work on every element of the videos to improve their outlooks for desired results. You can convert the videos optimally and increase their resolution, visibility factors in no time.
The below-discussed applications consist of unique features to alter the video attributes for expected outcomes. Most applications are comfortable to work with due to their user-friendly interface. You can download them without any hesitation and edit your videos for professional results.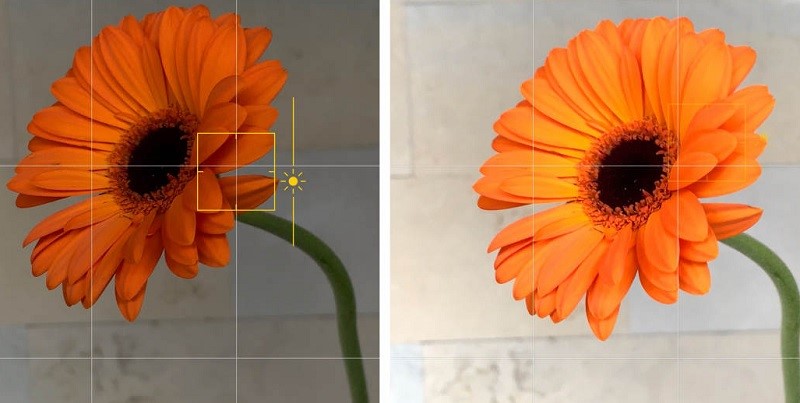 TunesKit AceMovi Video Editor- Best Effective Brighten App for Videos
TunesKit AceMovi is a reliable video editor that works efficiently for your needs, and you can customize your video clippings according to your desires. In this application, you can find surplus features that create a positive impact overall on the videos. You can edit them professionally and bring desired effects to the videos to acquire a realistic view. This tool helps you to modify every element in videos and its related attribute. You can connect the audience optimally using the edited videos. It is high time to quickly surf the below features of TunesKit AceMovi Video Editor for better understanding.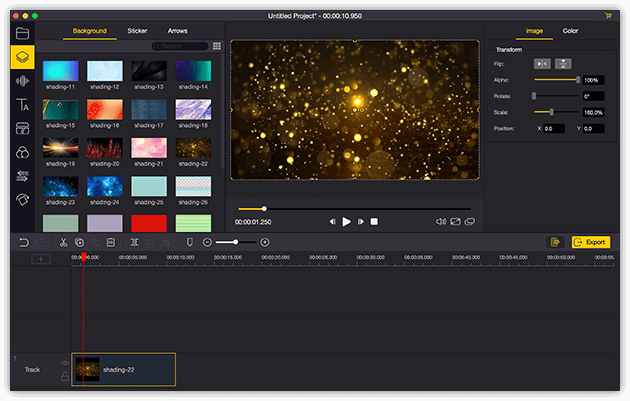 The Features of the TunesKit AceMovi application:
This app contains a toolbar displaying icons to crop, trim, cut and brighten the videos.
It is compatible with all video file formats.
You can make professional edits to the videos.
Export and import the videos file optimally.
Add transitions and animations to create responsive videos for your needs.
These are the remarkable features of the TunesKit AceMovi Video Editor tool. You can download this app and explore its features to edit your videos outstandingly. Choose TunesKit AceMovi Video Editor without any hesitation.
Here are the guidelines to brighten your videos using the TunesKit AceMovi Video Editor app:
Step 1: Download the Application
Visit the official webpage of TunesKit AceMovi Video Editor and download the app as per your OS needs. You can either go for Windows or Mac version and install the tool. Then open the app by double-tapping the tool icon.
Step 2: Add Video Files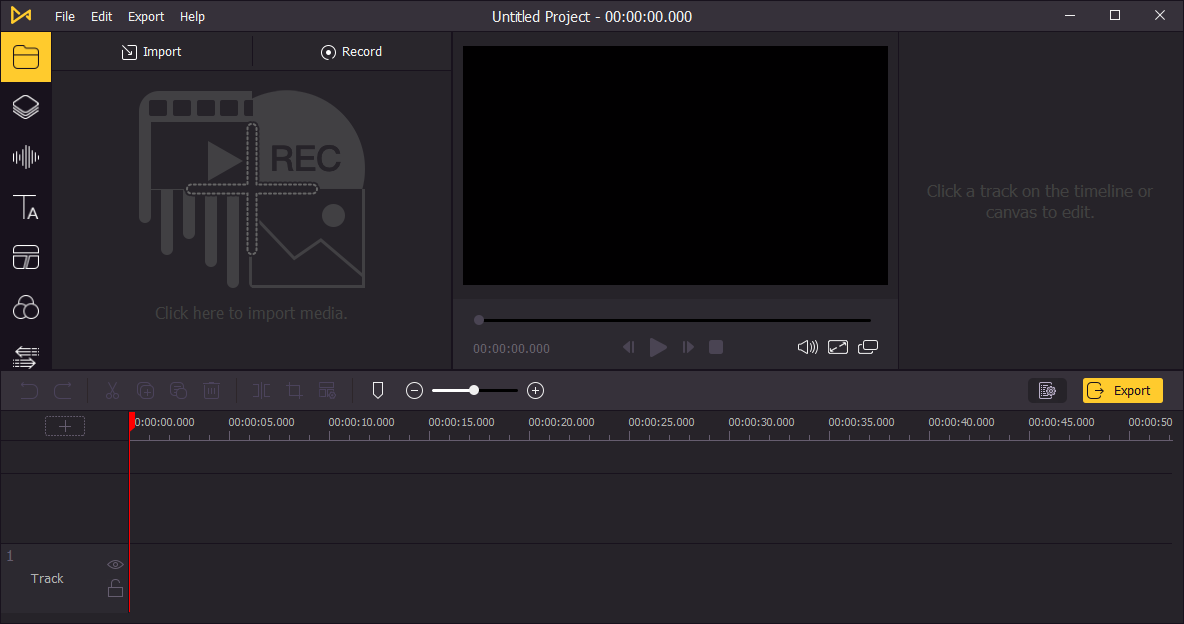 You can press the 'Open File' icon to add video files to the working space. You can also drag and drop the video files into the timeline to make desired edits to the video.
Step 3: Brighten the Video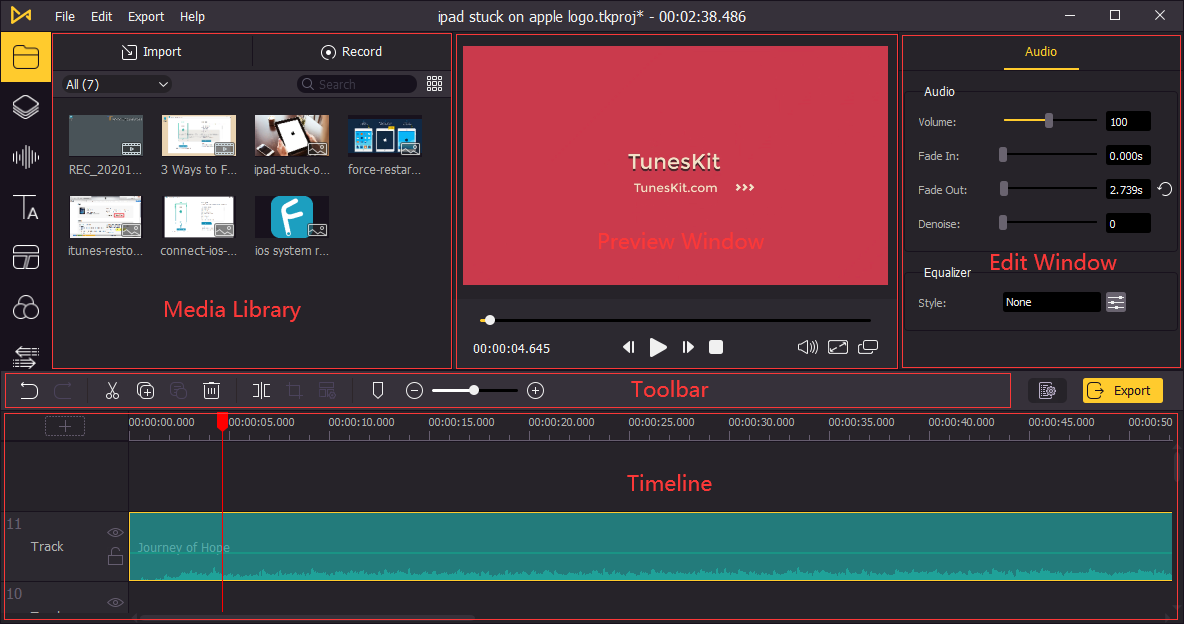 In the top right panel, tap the 'Brighten' icon to increase the brightness level in the video. You can also make further edits like trim, cut, crop to enhance the video appearance.
Step 4: Preview and Export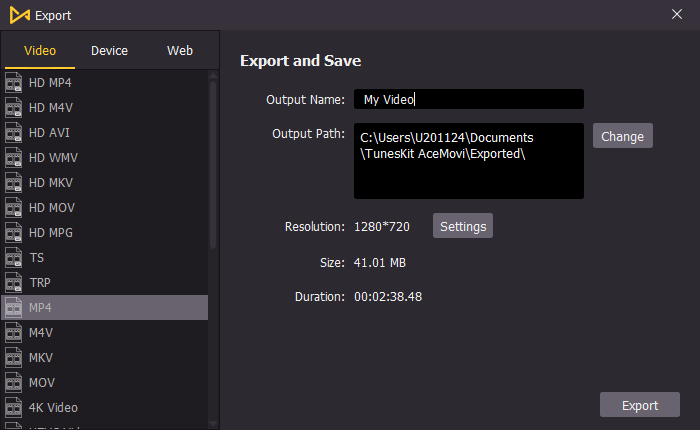 Finally, you can save the changes and make a preview before exporting them to the desired location. During the export action, there are options to modify the file format as per your needs.
Use the above instructions to brighten the videos. There are surplus built-in tools to personalize the videos. Make the perfect taps on the editing icons to optimize the videos.
Other 10 Best Brighten Video Apps
If you had recorded a video in dim light, then there is a need to brighten the videos and customize them optimally to obtain high-quality results. In this section, you will learn about the top 10 brighten video apps that help to edit the videos. Here, you will get insightful ideas about the best to brighten video apps. These are reliable tools, and you can opt for them without any hesitation.
1. InShot
The Inshot is an effective program to work with large-sized videos. The built-in tools are flexible to use and you can easily reach for them due to their well-structured format. It is compatible with Android and iOS gadgets.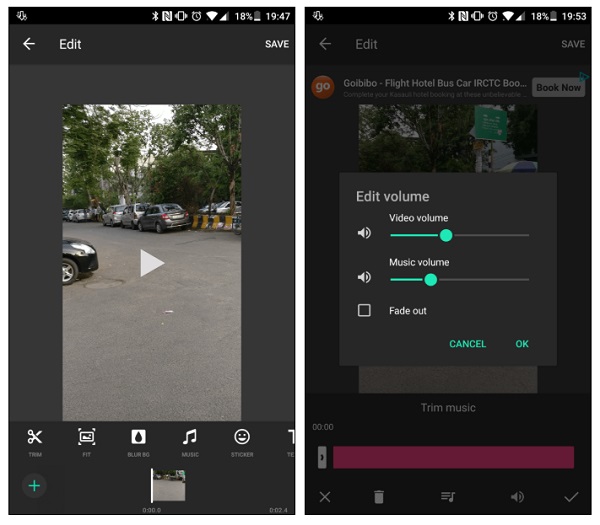 Pros:
Add filter effects and brighten the video footage professionally.
You can insert texts and emojis into the videos to create an interactive media file.
Cons:
To get rid of watermarks, you must purchase the paid versions.
2. BeeCut
It has an enhanced color scheme to brighten the videos as per your needs. You can edit the videos comfortably and compatible with all video file formats.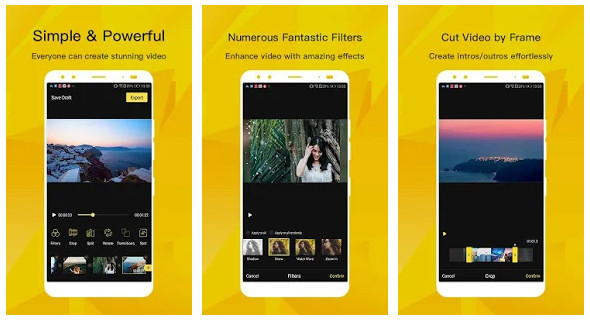 Pros:
It has outstanding transition options.
You can use this program to perform professional edits on the videos.
Cons:
This app struggles to handle large-sized videos.
3. Ultralight
This app works well with your iPhone. You can brighten up your videos in no time. It is an elegant app and creates an outstanding video through its professional edits.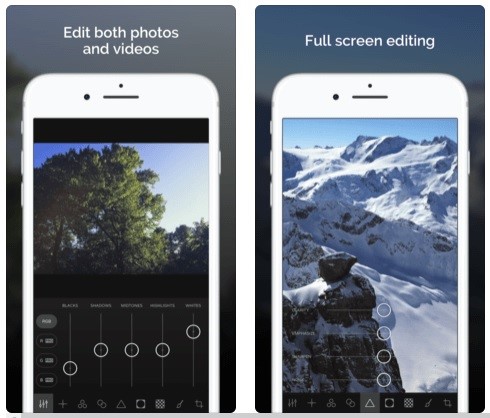 Pros:
It has a simple interface.
The filter options and edit tools are appreciable.
Cons:
It has a complex environment
4. Magisto
This app implements artificial intelligence technology to brighten dark videos optimally. It has auto-cropping with unique features like video stabilization, facial recognition. This program performs well on the iOS and Android platforms.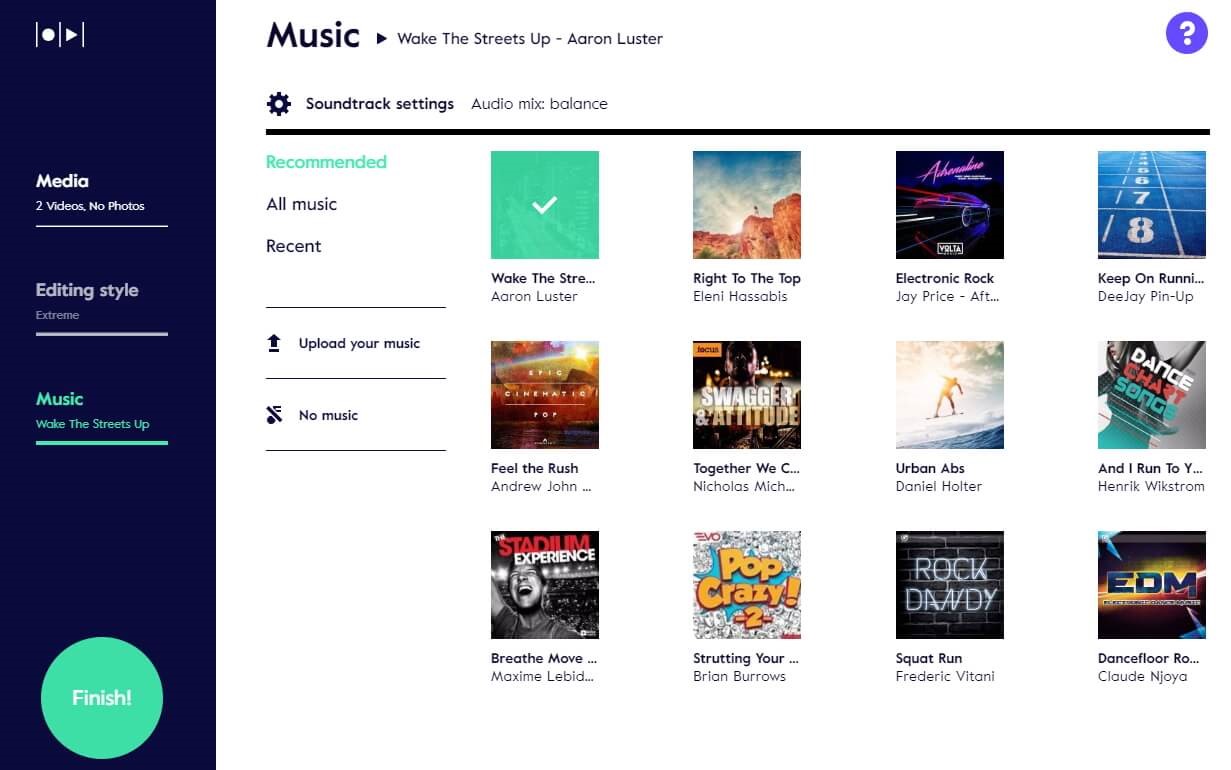 Pros:
It provides you with robust editing.
This app has a comfortable interface.
Cons:
The advertisements often interrupt the editing tasks, and it annoys you a lot.
5. ActionDirector
The ActionDirector app allows you to edit the videos comfortably with high-quality resolution. You can append soundtracks to the footage and perform the crop, trim on the videos flawlessly.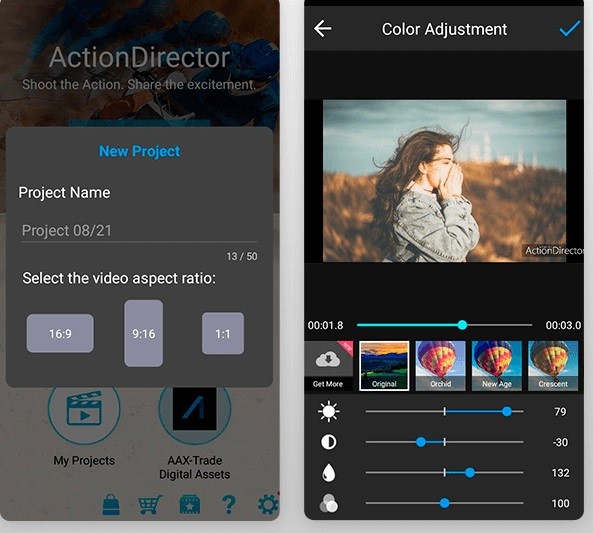 Pros:
There are options to personalize the colors and brightness of the videos.
You can add amazing effects to the footage.
Cons:
It takes a long loading time while handling large-sized video files.
6. Chromic
You can create a cinematic video using this mind-blowing app. This app permits you to add more dramatic features to the footage. You can convert dark videos into bright ones through its built-in tools.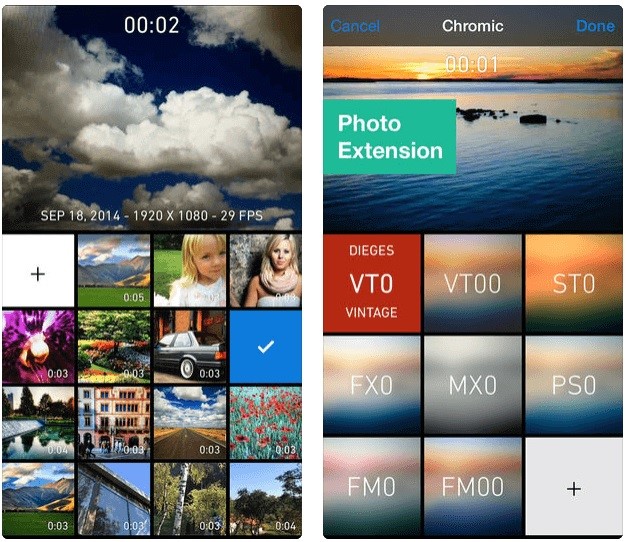 Pros:
This app assists you to preview the filter effects on the videos in a live mode.
It offers you a high-quality color correction for your videos.
Cons:
Few filters have a price tag, and you must purchase them to use them in your videos.
7. A Color Story
This app enhances the video footage through its built-in tools. The user-friendly interface improves your editing experience. It has filters to embed realistic effects on the footage.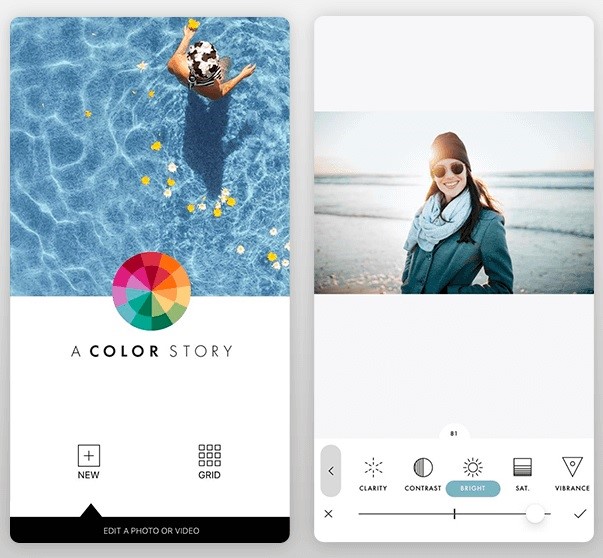 Pros:
You can create filters using this tool.
This app allows you to perform accurate editing on the videos.
Cons:
It is hard to upload videos that exceed more than 1 minute.
8. Filme
The Filme is a prestigious product from iMyFone. You can use this tool to edit the videos professionally. It is compatible with Windows and Mac platforms.

Pros:
It has unlimited collections of filters, animations, and transitions.
This app provides you with mind-blowing editing options like crop, trim, cut.
Cons:
The free version gives you limited access to the built-in feature. You must purchase the subscription scheme to use all its functionalities.
9. FilmoraGo
The FilmoraGo app brightens the videos optimally. It supports 4K resolution videos. You can add filters, crop, and trim the footages as per your needs.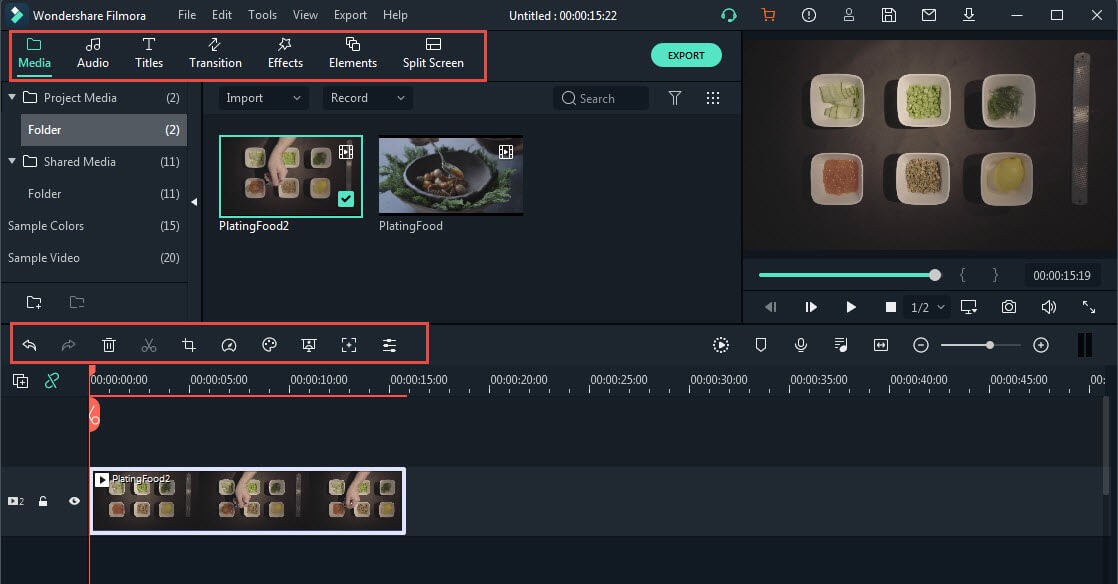 Pros:
You can preview the changes before exporting them to the desired storage location.
This app allows you to add stickers, background colors to your videos.
Cons:
It cannot support Android devices.
10. Filmmaker Pro
This app assists you to perform professional edits on the videos. You can export the edited videos to any social media platform. Using this app, you can create Hollywood-style videos.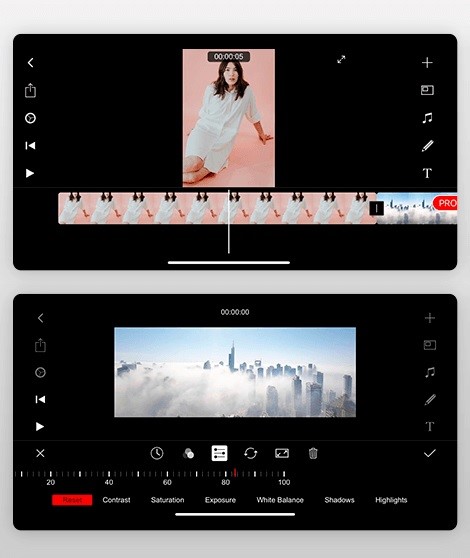 Pros:
This app handles ultra-HD videos efficiently.
You can set speed limits for the videos.
Cons:
It has a complex interface and not suitable for beginners.
Summary
Thus, you had an informative discussion about the brighten video apps. It is high time to choose the perfect one that meets your needs. You can create professional videos using the above-discussed reliable programs. Choose the TunesKit AceMovi Video Editor app to unleash your imagination. You can work on the videos beyond imagination using this tool. Stay tuned to this article to explore the exciting facts about video editors.