When you record a video, there might be inconveniences like a lack of sufficient background light, hue balance, or color contrast. You can rectify the recording flaws using powerful brighten video apps on your cell phone. The below-discussed options consist of unique features to alter the video color attributes for expected outcomes. Most of them are comfortable to work with due to the user-oriented interface.
On top of that, you can add multiple effects to the videos using the built-in features. These efficient video brighteness editor apps work on every element of the media to improve the outlooks for desired results as well as convert the videos optimally and increase the resolution or visibility factors in no time.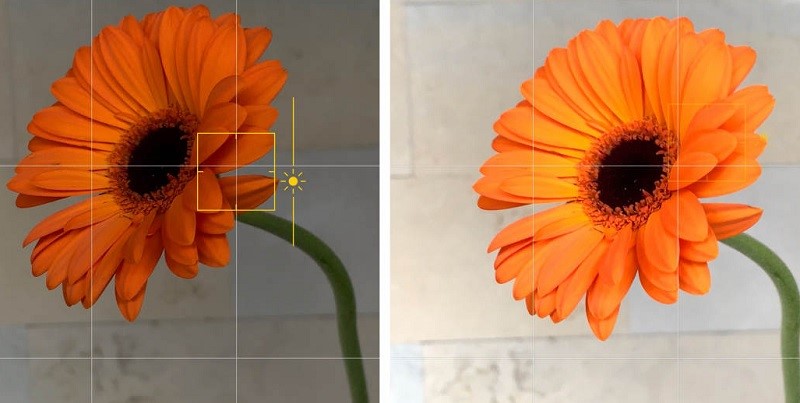 5 Best Free Brighten Video Apps on iPhone/iPad
In the first part, we're going to review the best iOS video color brightening and editing apps that are popular among content creators at present. Let's go!
Top 1. iMovie
iMovie has an enhanced color scheme to brighten the videos as per your needs. It can edit the videos comfortably and compatible with all video file formats. The color parameters are set inside the "Settings" on the interface. Alternatively, you're able to brighten the background of your imported files with the video filters from the built-in stock. For example, Blockbuster enhances the background hue greatly.
Different from InShot and TikTok, iMovie is a professional Apple video editing app, which comes with no exporting brand watermarks. The best format for iMovie is MOV. Also, MP4, AVI, WMV, MKV, and more types of videos are supported to be cut, split, cropped, or reversed by iMovie.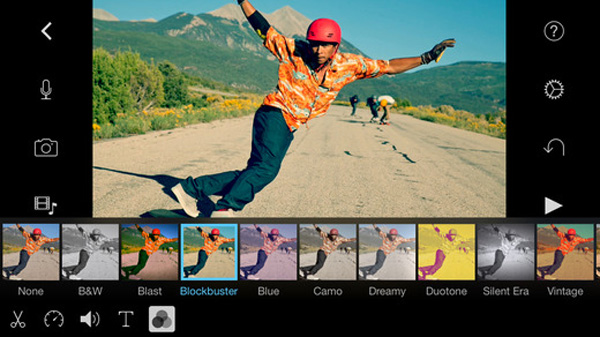 Pros:
Outstanding transition options
Diverse video filters
Watermark-free
Pre-installed on your system
1080p output presets
Cons:
A little frame glitch may occur when editing MP4 videos
No presets for split-screen and PiP
Top 2. VN
You can create a cinematic video using this mind-blowing app - VN, which is one of the best free video brightness editors that permit you to add more dramatic features to the footage. You can convert dark videos into bright ones through its built-in background adjustor. Exposure, contrast, brightness, and saturation are available. Likewise, you can apply engaging filters.
When it comes to the user experiences using VN. You find the streamlined interface with unlimited tracks for multiple videos, sounds, subtitles, and images. Edit videos like a pro is not a big problem with it. Besides that, gives you channels for sharing the results on social platforms with personalized titles and descriptions.
Pros:
Preview the filter effects on the videos in a live mode
High-quality color correction
Increase video playback speed via the Curve
Ready-made templates and projects
Add titles and subscriptions before publishing
Cons:
In-app puerchases
Troublesome timeline for batch editing
Top 3. Ultralight
Ultralight works well with almost all versions of iPhone and has good comments. You can brighten up your videos meticulously with the tool sliders in no time. It is an elegant app and creates outstanding videos through its professional edits. You find the important actions will be detected automatically by the motion tracker, which simplifies the process of editing frames.
Different from iMovie and VN, Ultralight is easier due to the linear profile, meaning that you can make a precise operation by following the guides given by the system. For instance, when you plan to adjust the brightness and contrast of the background color, all you should do is open up the "Color Correction", then the workspace will pop up with presets.
Pros:
Playful interactions with precise control
Appreciable filter options and edit tools
Edit like a pro
On-screen user interface
Automatically save your files in a non-destructive method
Cons:
A little expensive
Single video color brightening track for each project
Top 4. A Color Story
A Color Story enhances the video footage through its built-in tools of well-designed filters and 120+ visual effects. The user-friendly interface improves your editing experience by providing an easy process. It has a palatte to embed realistic colors on the background of your recorded footage. With the touch tools, users can brighten, saturate, hue, and soften the quality of the clips.
There are over 120 effects to add, drag, put, and rotate the frame to a perfect point. You can use the blend modes to mix multiple layers, color fogs, light leaks, hue flares, and more elements. As for exporting, A Color Story saves your video at any time. You can enjoy the trial version for free right now.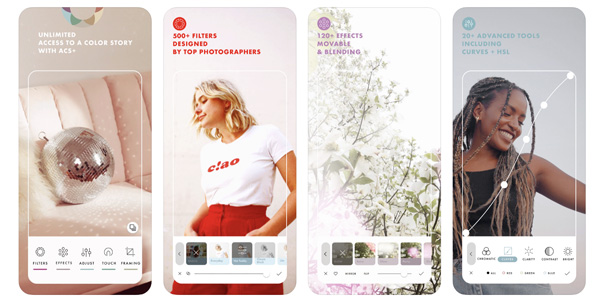 Pros:
HSL and functioning curves
Edit batch images and videos
Cutomized presets for specific projects
500+ video filters
Follow and enjoy the samples posted by A Color Story on Instagram
Cons:
A lot of effects and filters need a purchase
Confusing user workflow
Top 5. Magisto
Magisto implements artificial intelligence technology to brighten dark videos optimally. It has auto-cropping with unique features like video stabilization and facial recognition and performs well on iOS and iPad devices. To begin with, you can choose an off-the-shelf layout for creating a photo slideshow or a frame-by-frame video.
When you want to adjust the brightness of the uploaded video with Magisto, you can either slide the touch tool of color grading from the professional panel or apply high-quality video filters on the stock. In addition to the color enhacenment, Magisto is alive with amazing font collections and music libraries.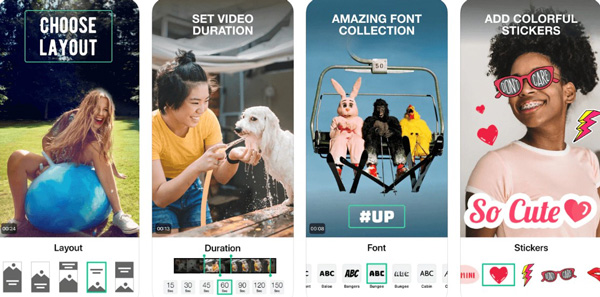 Pros:
AI-driven tools
Presets for making animated photo slideshow
Designed templates for birthday, invitation, anniversary, etc.
Change the styles, colors, fonts, alignment, and location of the subtitles
Post and share the scroll-stopping clips
Cons:
Many of the built-in features are paid
Download each movie needs you have been licensed
5 Best Apps to Brighten Dark Videos on Android Devices
In this section, you will learn about the top 5 video brightness editor and maker apps for Android that help to edit the background color of your videos. These are reliable tools, and you can opt for each of them without any hesitation.
Top 1. PicsArt
PicsArt is an effective program to work with large-sized videos. Built-in tools are flexible to use and you can easily reach for them due to their well-structured format. It is compatible with Android and iOS gadgets but performs better on Android platforms. On the timeline for adjusting the color, users can control the brightness amount from the "Brightness" panel.
Compared to other brighten video apps for mobile phones, PicsArt can let you be a pro in the video-making field. You find a full series of color grading features, including brightness, contrast, saturation, hue, and more. These features belong to touch tools that can be manipulated as wanted.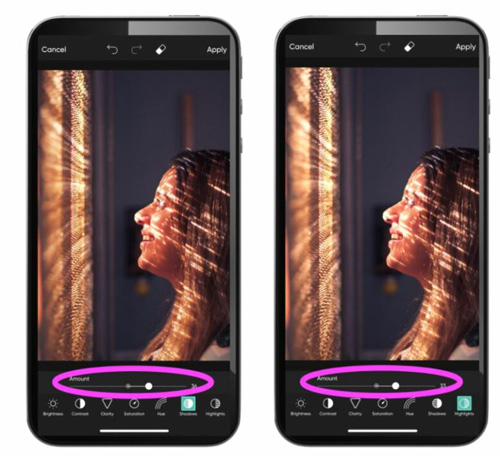 Pros:
Add filter effects and brighten the video footage professionally
Insert texts and emojis into the videos to create an interactive media file
Remove and replace video background
Video templates for Instagram, Facebook, YouTube, and more
Overlay moving texts with wanted color and font
Cons:
To get rid of watermarks, you must purchase the paid versions
The drafts, projects, and packages may impact the storage of your phone, so you'd better check them and make sure you still have enough space for other activities
Top 2. KineMaster
KineMasyer brightens the videos optimally in 3 ways - Brightness touch tool, filters and effects, as well as background replacement. It supports 4K resolution output options, but, you may need to wait for a long time. You can record, convert, combine cut, compress, crop, and trim the footage losslessly. The timeline contains only one track for each project, so you can edit one file every time.
Why do we say KineMaster stands out and becomes one of the best apps for creating and brightening a video on our phones? You find that it comes with a different screen, which is horizontal. Consequently, users can edit a video with multiple texts, effects, functions, and shapes like a pro. They don't need to worry about the size of the screen anymore.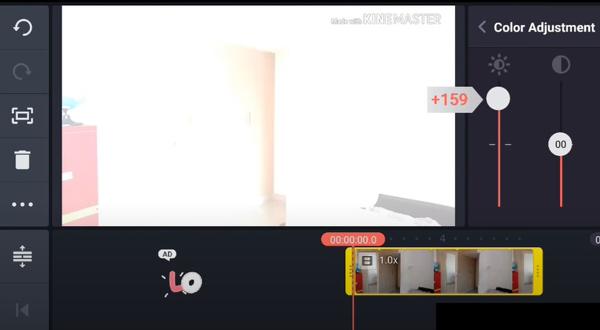 Pros:
Preview the changes
Exporting to the desired storage location
Add stickers and background colors
Green screen function is available
Video size presets for different platforms
Cons:
The audio-editing features are limited, for example, you cannot edit the audio pitch or playback speed
Top 3. VideoLeap
VideoLeap is a prestigious product from Lightracks. You can use this creative, free video brightness editor app to edit videos professionally and smartly. The same as VN and Splice, VideoLeap is embedded with a streamlined interface that is made for batch editing. What's the difference is that the timeline is easier and cleaner because they take up more space on the screen.
This app is fit for editing 9:16 video clips for TikTok and Instagram postings. Also, you can convert the original 16:9, 1:1, 5:4, or other aspect ratios into 16:9 and then begin to edit. Vibrate and Warmth are available on the toolbar for improving the background color.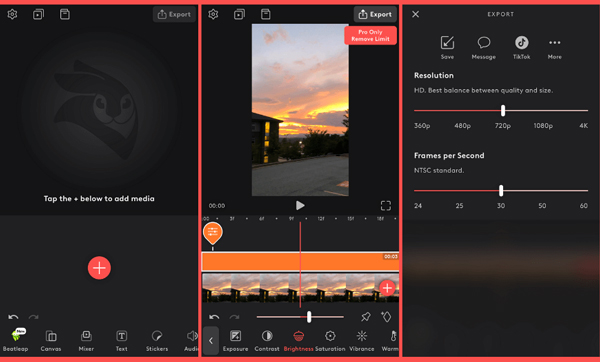 Pros:
Ready-to-go video templates to elevate your creativity
Ever-growing sound effects, stock footage, and stickers
Animated texts
A library of filters
Scroll down others' videos
Cons:
When you exporting large size video on 1080p or higher quality, this app may cause the black screen
Top 4. ActionDirector
The ActionDirector app allows you to brighten a video comfortably with high-quality resolution. You can append soundtracks to the footage and perform the cropper or trimmer on the videos flawlessly. ActionDirector lets you input the project name and choose from ready-to-go video aspect ratios of 16:9, 9:16, or 1:1. On the profile, you can launch the AAX-Trade Digital Assets for full features.
Once entering into the video color improvement process, you have four touch tools to control, they're brightness, contrast, hue, and vibrate. The changes will be rendered by the performance monitor in real time. You can apply the filters at the same time. Editing the video with pan & zoom, sharpness, and smoothing tool are at your disposal.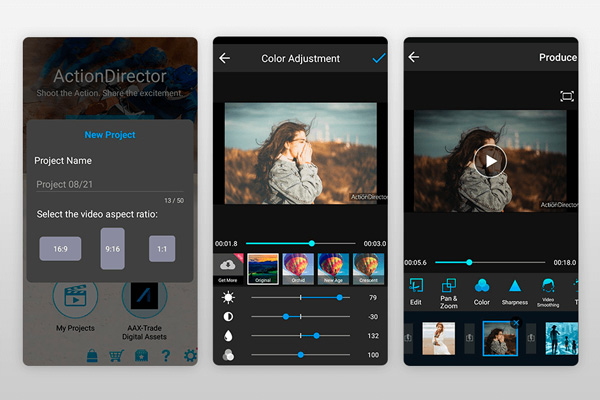 Pros:
Record a video with the phone's camera
Stunning transitions
Change video playback speed to make slow-motion content
Ultra HD 4K video making adventure
Replay or rewind the clip by highlighting it
Cons:
Watch a 30 seconds ad to remove the watermarks, and somestimes this feature won't work at all
Top 5. Filmmaker Pro
Filmmaker Pro assists you to perform more skilled video brightening and editing. You can export the edited videos to any social media platform like YouTube, Instagram, TikTok, or Twitter. Using this app, you can create Hollywood-style videos with fantastic effects like split-screen and audio-fading. There are plenty of free transition and filter resources to apply.
The stock of stickers and shapes makes it funny and interactive. Users are given a plethora of text templates to overlay on the screen, including but not limited to dynamic, static, and some intro templates. But more than that, you find a full series of dimensions from Filmmaker where even the 2:1, 2.2:1, 1.85:1, and more are included.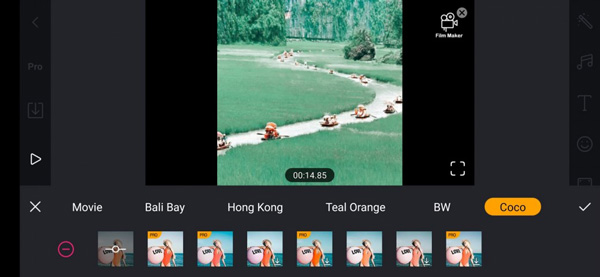 Pros:
Handle ultra-HD videos efficiently
Set speed limits for the videos
Remove background elements intelligently
Full options of aspect ratios
Interactive and interesting interface
Cons:
The text and music may go to crash and cannot be removed when editing
You need to spend more time in uploading files
TunesKit AceMovi Video Editor - An Effective Video Brighten Software in Windows & Mac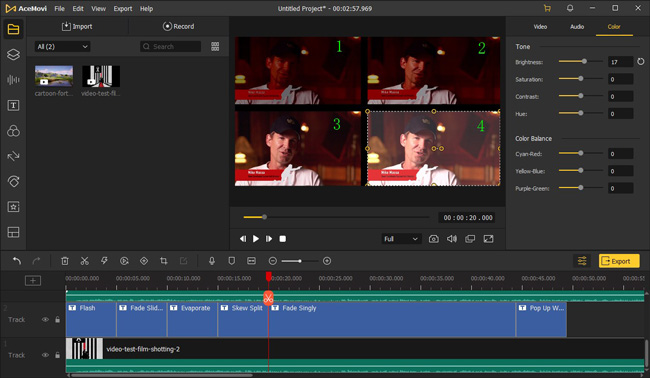 You may find that some of the apps need you to buy licenses for unlocking built-in filters and more features. Meanwhile, you cannot fast upload multiple videos to the stock of the app from your phone. To solve these problems, you can try software.
TunesKit AceMovi is a reliable video color editor that works efficiently for your needs, and you can customize the brightness, hue, contrast, and color balance. In this software, you find surplus features that create a positive impact overall on the videos.
This tool helps you to modify every element in videos and its related attribute. You can connect with the audience optimally using the edited videos. Compared to the video brighten apps, AceMovi comes with a free trial version for both Mac and Windows, even low-end systems can operate it well. No in-app purchases in effects and filters.
AceMovi Brighten Software
It is compatible with all video file formats
Make professional edits to the videos
Export and import the videos file optimally
Add transitions to create responsive videos
Ready-to-go split-screen templates
Reverse, speed, convert, record, and enhance
A stock of sound effects and video filters
2160p, 1080p, 720p, and 480p output options
How to Brighten a Video with TunesKit AceMovi Step by Step
Above, you just reviewed the remarkable features of the TunesKit AceMovi Video Editor tool. You can download this app and explore its features to edit your videos outstandingly. Here are the guidelines to brighten your videos using it:
Install and operate AceMovi from desktop. Add videos to the interface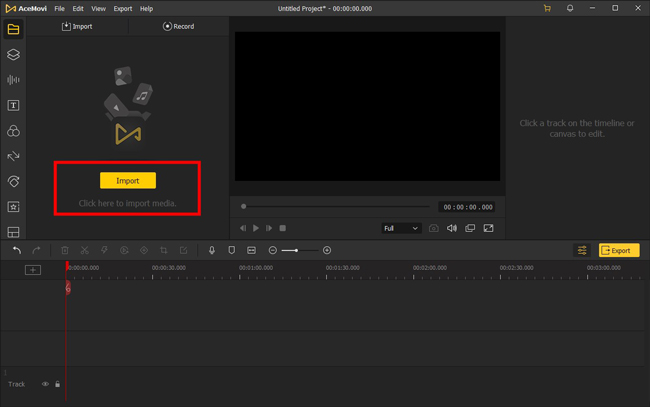 Visit the official webpage of TunesKit AceMovi Video Editor and download it as per your OS needs. You can either go for Windows or Mac version and install the tool. Then open it by double-tapping the tool icon.
You can press the "Import" icon to add video files to the working space. Or drag and drop the video files into the timeline to make desired edits to the video.
Commence brightening the video in the right upper Properties panel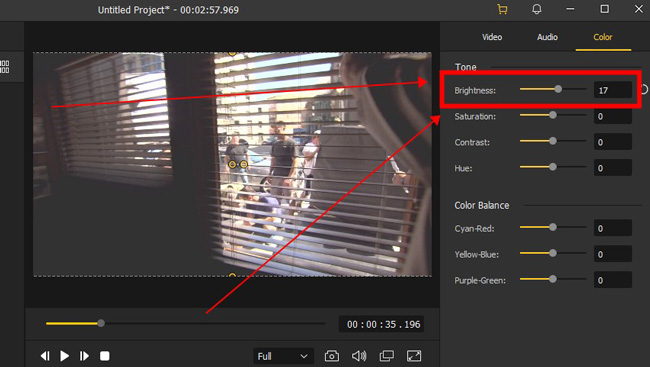 In the top right panel, tap "Brightness" from "Properties" > "Color" to increase the brightness level in the video. You can also make further color grading edits like saturation, contrast, hue, cyan-red, yellow-blue, and purple-green.
Click Export to download the brightened video. Set save path and resolution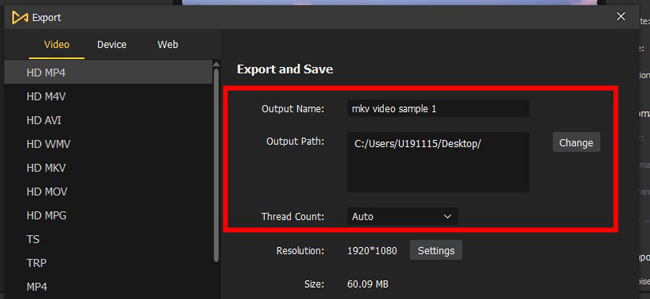 Finally, you can save the changes and make a preview before exporting them to the desired location. During the export action, there are options to modify the file format as per your needs.
Use the above instructions to brighten the videos. There are surplus built-in tools to personalize the videos. Make the perfect taps on the editing icons to optimize the videos. For more guides and features of AceMovi, download it from here!
Summary
Thus, you had an informative discussion about brighten video apps. It is high time to choose the perfect one that meets your needs. You can create professional videos using the above-discussed reliable programs. You can work on videos beyond imagination using these apps. Stay tuned to this article to explore the exciting facts about video color editors.