Colors bring an emotional and psychological tone to the process of creating video content, which establishes unique styles that make your story recognizable and eye-popping. There are many basic factors that have an impact on the video color, and Sharpening is one of them that you cannot overlook. Now, you may come to a situation in which you watched or recorded a video, you like it very much but you found it was blurry. Don't worry! In this article, we're about to recommend 5 nice video sharpener options that can sharpen the blurry parts of a video and enhance the video quality. Just review this and learn the tutorials step by step!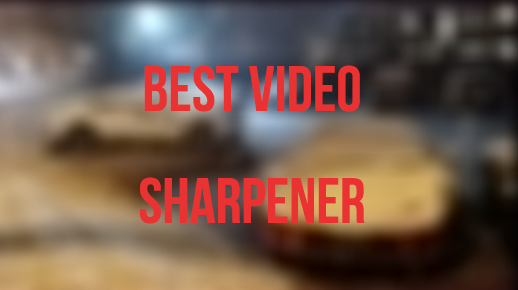 Why Sharpen a Video?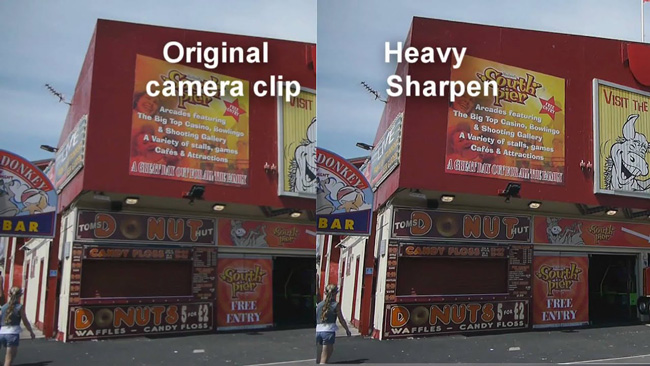 The purpose of sharpening a video is to increase the contrast of edges, which generates an air of video sharpness while making blurry frames look clearer and crisper. In other words, no matter what reasons made video blurry video, users can apply third-party apps or software to fix the blurry problems to make videos brings a visually new, clear look and focused images.
The Best Video Sharpening Software - TunesKit AceMovi
TunesKit AceMovi is the best video editing software for beginners to sharpen any format video like MP4, AVI, WMV, and DivX. You can run it on both Win and Mac. It is really a customizable, easy-to-control video sharpener. If you are trying to crop video, put filters, insert new audio or overlay subtitles, TunesKit AceMovi can be the best choice for you.
With this software, you can sharpen or edit your videos, requiring no professional skills. Though you are a video editor beginner, you can edit awesome videos TunesKit AceMovi. Now, try the free version on your computer and start sharpening your media with it.
AceMovi Video Sharpener
Beautiful, customized interface
1080p/Full HD and 2160p/4K resolutions
Mosaic and blur any parts in video
Reverse video or change video speed
A handful of video subtitles and stickers
Popular media formats are supported
Download free trial for Win and Mac
How to Sharpen a Video with AceMovi for Computers
Download AceMovi on computer. Import your video files to timeline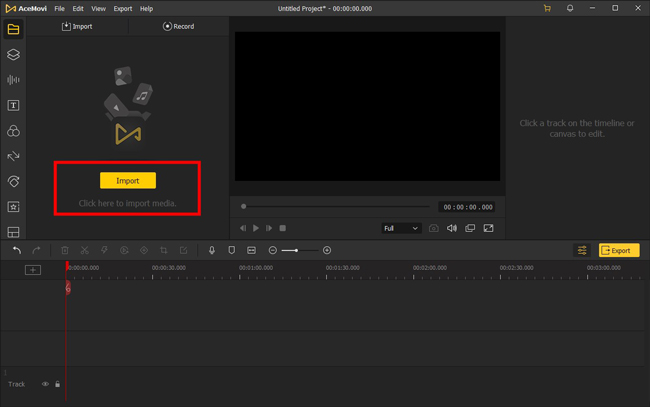 Click the "+" button and you can see the menu. Then choose one project you're going to edit or sharpen. You can add videos to the media library easily. Now, drag and drop the video to the track so that you can start to sharpen your video.
Go to "Regional" to add the filter "Sharpen" to a new track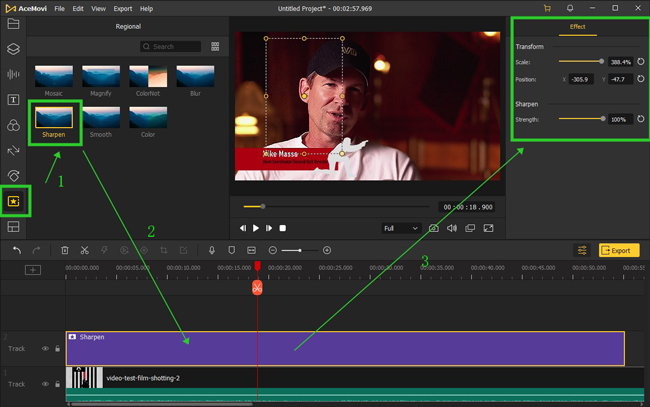 Click the "Regional" icon from the left sidebar, and you can see 7 different regional effects for you to choose from. Select and drop the "Sharpen" to the timeline. You can customize the strength and scale of the sharpening filter from the "Properties". You'll see the differences in real-time.
Navigate to "Export" to choose the final file format and set parameters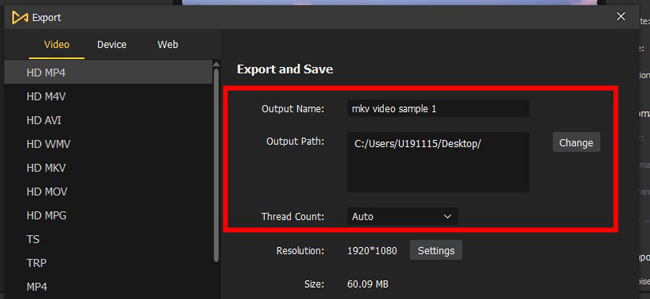 The last step is to export your video. Click the "Export" button and you can see this window. On the left side, you can choose the video format. On the right side, you can rename the video and change the location. By clicking the export, you finish the video sharpening and you can watch the video when the export is finally done.
How to Sharpen a Video with Online Video Sharpener Flixier
If you want to sharpen a video online, then Flixier must be one of the best options. On this website, you don't need to download any applications and software. Just add your videos to the interface and apply the built-in features, such as trimmer and cropper. Most importantly, you can add various effects to the video from panels that Flixier offers. Let's learn how to sharpen a video with Flixier.
Visit Flixier and click the "+" button to upload your videos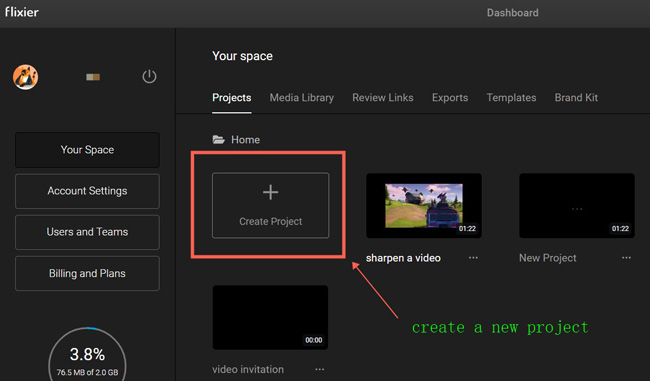 You need to register to Flixier first. Next up, click "+" to start a new project on this website. Flixier saves your video automatically on the interface so that you can re-edit it or download it at any time.
Go to "Regional" to add the filter "Sharpen" to a new track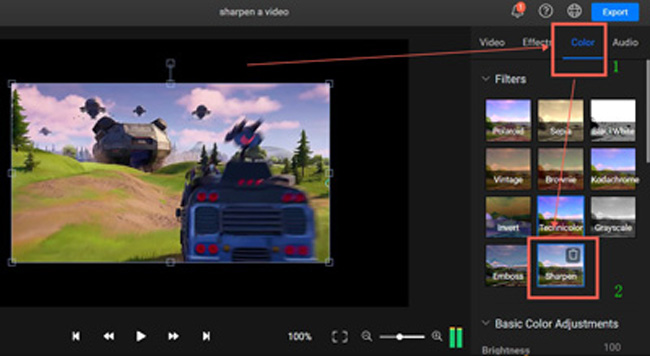 Find the "Color" > "Filter" > "Sharpen" in the right sidebar, then you can sharpen the video directly. There are many more filters to apply such as Vintage.
Go to "Export" in the upper right corner and set the format as "Video"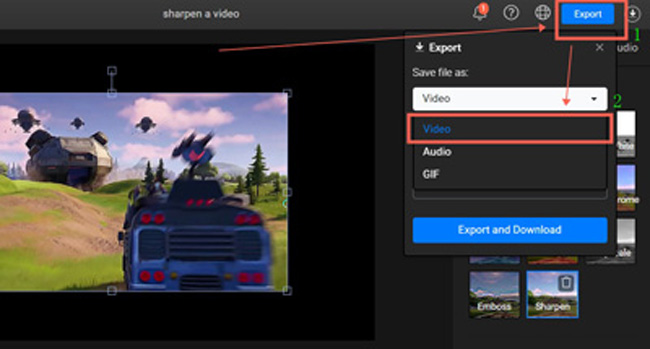 You can convert the original file format into MP4, GIF, or GIF. To be specific, you need to click "Export" and "Video" to download the file in video format. When the downloading process is over, you can get your video from Flixier.
How to Sharpen Videos on iPhone & Android with VN
Want to know which app is the best option to sharpen videos on mobile phones? You'd better give VN a try, which is fully featured and comes with a video sharpener, cropper, trimmer, cutter, speeder, and converter. You can easily apply color filters and fine-tune color settings with this app. Download it on your phone and begin to learn the following steps.
Click "New Project" to begin uploading your videos to this app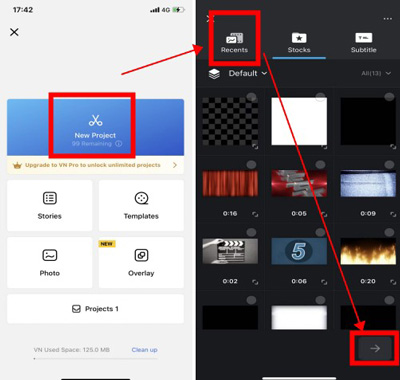 First of all, you need to import videos to VN by clicking "New Project". You can also add stocks and subtitles from the built-in library that is royalty-free.
Open up the "Filter" > "Adjust", then select the "Sharpen" filter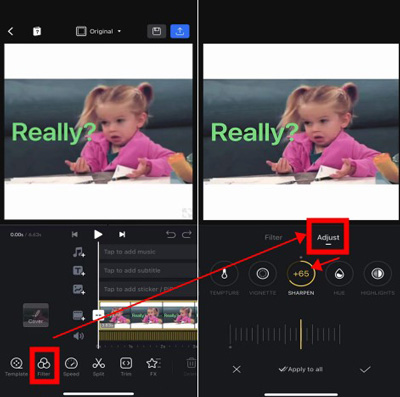 Sharpening is one of the filters in VN. To put it on your computer, you need to navigate to "Filter", "Adjust", and "Sharpen". You can control the degree by sliding the bar as well. Once you think it's ok, click to apply it.
Define the resolution and bit rate, then publish or save the video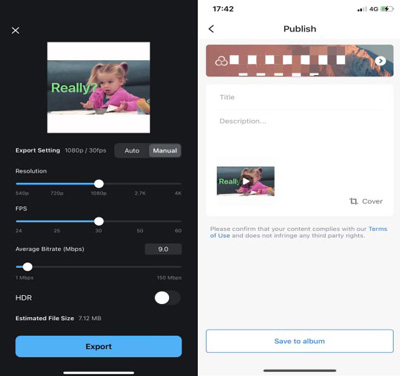 Press the "Download" button in the right upper place. Then you are empowered to convert resolution, bit rate, and other parameters based on your needs. But more than that, you can add a title and description on the final page before saving it to the album.
More Video Sharpening Software Alternatives for Windows & Mac
1. DVDFab Video Sharpener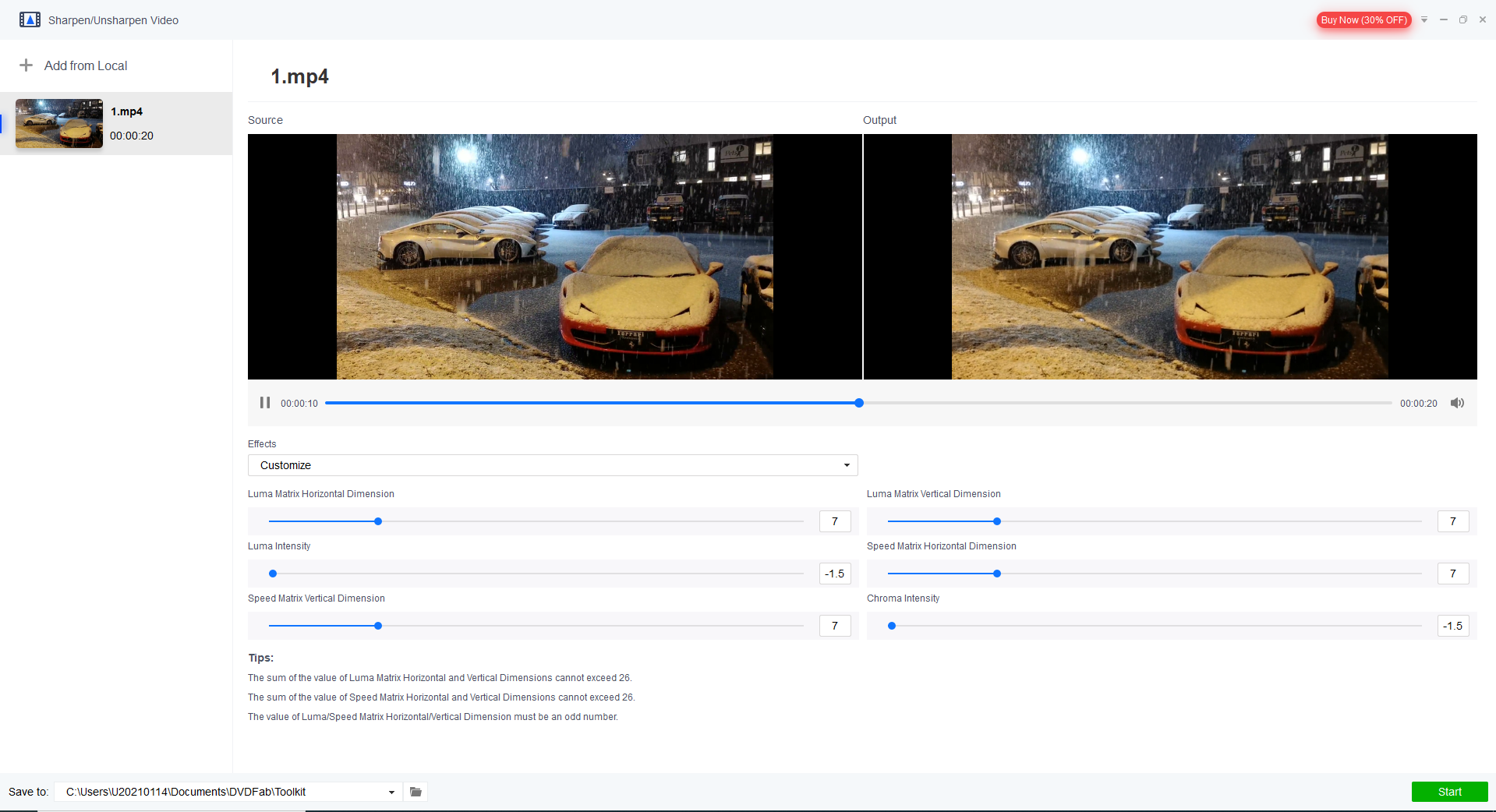 To sharpen your video, DVDFab Video Sharpener can be a good choice for you. The picture I showed above is the main interface of the DVDFab Video Sharpener. The method of how to sharpen video with DVDFab Video Sharpener is easy.
Firstly, add the video media. Done that, you can see two display windows. One is Source, another one is Output preview. Users can drag the slider to adjust the effect. With DVDFab Video Sharpener, sharpening videos can be done quickly and easily. Why not have a try if you want to sharpen your video?
2. Movavi Video Editor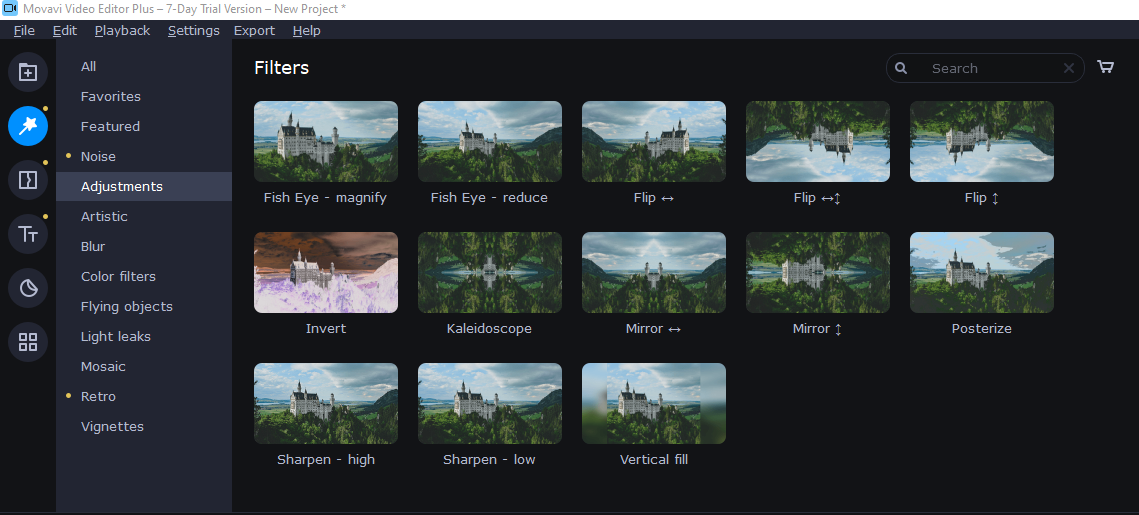 Movavi is a simple and easy-to-use video editor which can help you edit and create good content within minutes. You can enjoy its free trial for 7 days together. Here are some tips about how to sharpen your videos with this software.
To begin with, add or drag and drop your video files into the nonlinear editing timeline. Next up, find the Filters feature. You can use the sharpen effects in it. However, it's only available to add it to the whole video and you can't change the scale or position. Compared to AceMovi and VN, you'll feel some limits when you use Movavi to sharpen your videos, but it is still a good try.
Summary
Even though you never edit a video before, you can easily sharpen your video with those introduced tools. The sharpening features of them are bountiful and you can apply them to edit your video creatively. Besides, the detailed tutorials can save you a lot of time in learning and you can enjoy time editing videos.