Uploading videos on social media platforms requires more than just shooting and sharing. Applying certain effects and filters might be the right step to make your video eye-catching and stand out. This is an important step, especially for TikTok clips, YouTube videos, and Instagram posts, as good filters for videos can completely change how a video looks.
Different types of video effects software are available; adding them to a video can make it look vintage, modern, dull, vibrant, or entertaining. If you are looking for the best filters to apply to your videos, try to get one of our nine best free video filter software and enjoy freedom when making your videos.
AceMovi Free Video Editor with Filters
OS: Windows 10 & Mac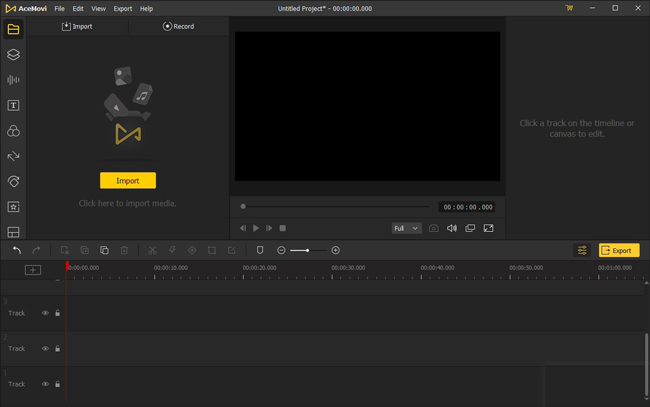 AceMovi is one of the best video filter software you can use on Windows and Mac thanks to a wide array of incredible filters and effects that can improve the quality of videos and images. It is a simple yet powerful program for first-time users and experts to increase the engagement of videos.
Video editing using the software can be stored in different output formats like WMV, MKV, M4V, AVI, MP4, DivX, and others. Therefore, sharing them directly on social media platforms YouTube and Facebook is easy. AceMovi has many amazing features, like the preview window that shows changes made on the video before exporting in real-time. It is well-maintained and updated regularly, with new features added to each update. Now, boost your workflow with AceMovi!
AceMovi Video Filter Provider
Easy-to-navigate menu
Compatible with many devices and output formats
Friendly interphase design
Hundreds of filters and overlays
Put filter to video in one click
Proven HD video editing up to 60fps
No in-app purchases
Lightworks Video VFX Editor
OS: Windows 10, Mac, Linux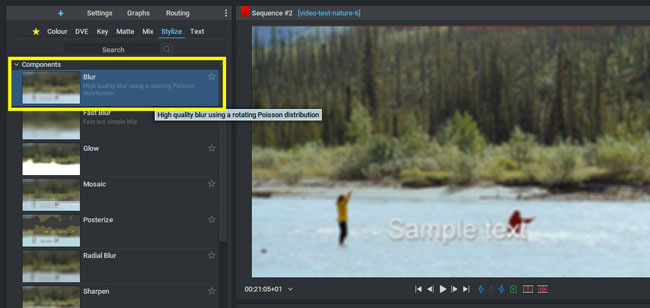 Want to try professional video filters, like Blur, Glow, Mosaic, Posterize, Radial Blur, Sharpen, and Obscure? Lightworks is an all-in-one video editing software with versatile filters and effects, along with advanced tools for color grading and sound enhancement. You find this tool watermark-free only for H.264/MP4 export on your free license. That is to say, other formats like AVI and WMV are impossible if you log in without upgrading. However, most features and filters are free for you. This free video filter software may be difficult to learn for beginners.
Pros:
Automatic vignettes
Portable audio editing
Free to use without watermark
Unlimited audio and video tracks
Corner gradient and 3D DVE
Cons:
Lmited ouput resolution and formats
It need you to log in regularly
Complicated layout for newcomers
iMovie for Apple
OS: Mac & iOS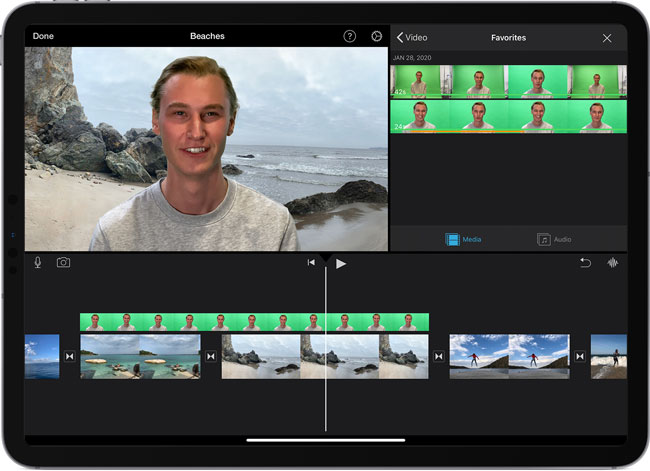 iMovie offers the best filters for video editing available on Mac and iPhone, suitable for both novices and amateurs in creating content of high quality. This video filter software is straightforward and easy to use. Working with it requires little technical knowledge. The drag-drop functionality makes it easy to import and apply effects and filters to videos. After editing the video, saving and uploading videos occurs online, making it comprehensive. The videos may be kept in different formats to be uploaded later on as well.
Pros:
Smart object tracking
Clean interface arrangement
4K video for stunning cinema-quality films
Turn your video into split-screen and picture-in-picture
10+ creative high-fidelity filters
Cons:
It takes up plenty of HDD space
You find it cumbersome to import and export MP4 files
HitFilm Express Video Editing Software with Filters
OS: Windows 10 & Mac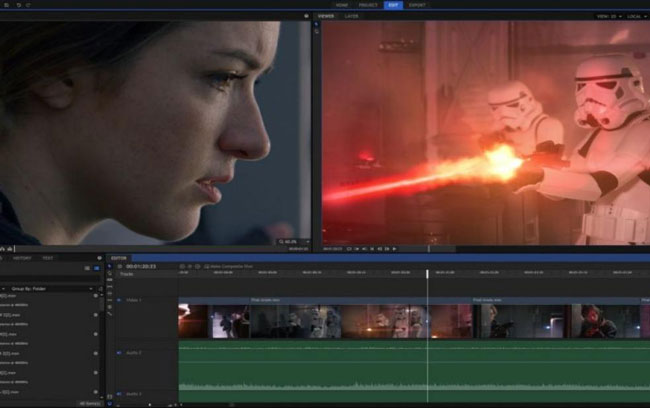 HitFilm Express is a professional video filter software for PCs and is appropriate for both individuals and commercials. It is a multipurpose program with approximately 180+ special features, including filters and color correction. As a content creator working on a project or a professional filmmaker, you can easily learn how to use the free version. However, because HitFilm is feature-packed, it may take some time to download. There are also online tutorials to help beginners easily navigate the application when stuck at any point.
Pros:
Intuitive interface
Drag-n-drop transitions
High-quality light leaks, glows, 3D light leaks
A vast library of images, music, footage, etc.
Object tracking tech
Cons:
Low export performance
You need to buy the add-ons to unlock some built-in functions
CyberLink PowerDirector Video Editor
OS: Windows 10 & Mac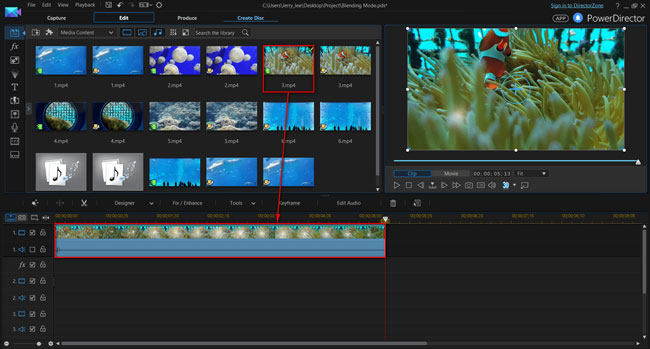 CyberLink PowerDirector is one of the best beauty webcam video filter software for PCs with over 200 improved reality filters that can bring life to life recordings and meetings. The software is integrated with video conferencing platforms like U-meeting.
Many content creators often use YouCam during live streams on YouTube and Instagram to connect with their followers classically. You can also apply makeup in actual time to lower apparent imperfections and wrinkles on your face.
Pros:
3,000+ effects and templates
4K HEVC H.265
Create artistic content with layer, shape, and blend
Smooth animated keframing
Advanced chroma key and AI motion tracking
Wind removal and speech enhancement
Cons:
Some buttons and functions are hard to find
The advertisements to upgrade need to go
InShot Video Filter Adder for Mobile Phones
OS: Android & iPhone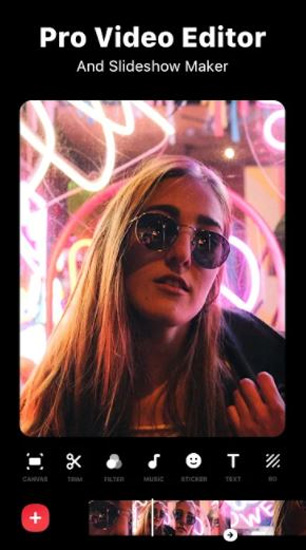 InShot is a free video filter app for mobile phones that can be used to improve the quality of your clips easily. Aside from its amazing filters and effects, it is an impeccable video editor with editing functions such as trimming video portions, joining clips, and adding music, captions, and stickers. InShot is available for mobile devices, making it very convenient and portable to use.
The edited videos can be easily exported and shared online. However, it is not advised for videos that run for hours because the software suffers from difficulties when editing for a long time, causing it to crash.
Pros:
Filters and effects: Bright, Dark, Cinema 01, Glitch, etc.
Trendy vlog music
Trim video clips quickly
Adjust video speed
Make video collage
Cons:
Watermarkings
There is one track for video editing only
VN Watermark-Free Video Editor App with Filters
OS: Android & iPhone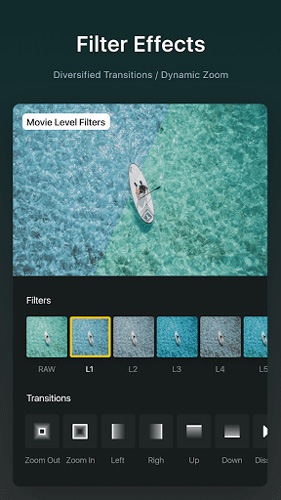 VN is a highly recommended video filter software with over 200 different filters and effects. It is a unique software running on the Android and iOS Operating systems that produces high-quality video. This app is easy to use and has many features.
VN is highly comprehensive as a video filter software. Drag and drop your videos into the working interface and turn them into brilliant works of art. The free version will allow you to export videos up to 10 times. Anything aside from that, you should be looking at the paid versions or another video filter software.
Pros:
Excellent feature for a free trial
Suitable for beginners and experts
Multiplatform software
Plain user workflow
Stremlined video editing view
Export at 720p and 1080p resolution
Filto Video Beauty Filter for Mobile Phones
OS: Android & iPhone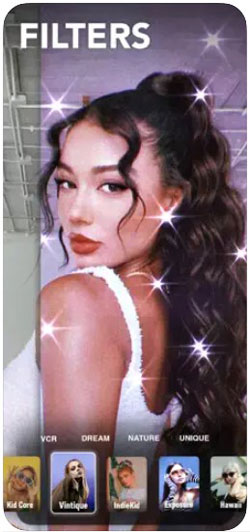 Filto brings out creativity, and many content creators love this video editing software because it creates multi-style content. The software has many unique aesthetic glitter filters regularly updated by the creator. You have the option to edit your videos anyhow you want and easily share your creations on social media platforms to show your wonderful work. Almost 50 common colors are available and can be exactly matched to the tones of your edited video.
Pros:
Many aspect ratios to set
A plethora of stickers and emojis
Aesthetic effects and filters in stock
High-level music quality
Simple user profile
Cons:
Unfit for editing multiple clips
Prequel Aesthetic AI Video Effects App
OS: Android & iPhone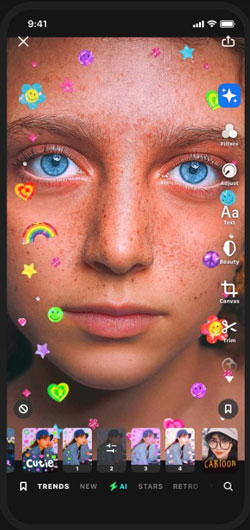 The Prequel is a pure video filter app suitable for beginners. With this application, one can be creative and put thoughts into words through videos. The Prequel comprises many modern effects, like canvas, metal, and sparkle. It has a nice color collection that may be employed to edit filters or effects on a video. At present, you have access to VHS, Stardust, Disco, Monroe, Retro, and Vintage to apply in your videos.
Pros:
800+ top-notch effects and filters
Switch up the vibe with vintage, retro, Y2K, indie Kid style, etc.
Make engaging profile images
Full of video templates
Precise parameters for color
Cons:
3 day trial for new users
Conclusion
Choosing the right software to edit your videos should not be a case of trial and error. The listed software can meet your requirements if you need an editor for entertainment or business purposes. However, AceMovi and Lightworks offer the best video editing experience. It is ideal for those new to editing and capable of dealing with more advanced tasks.