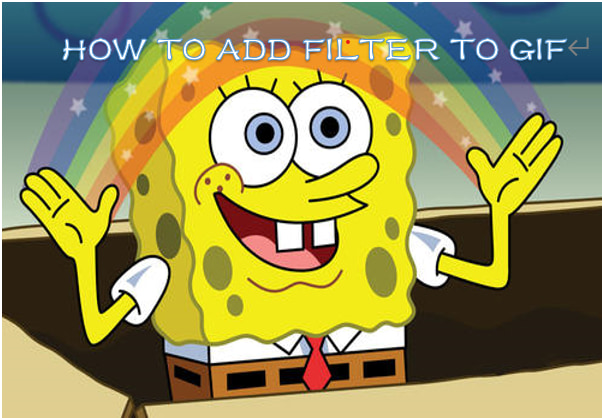 GIFs are widely used in today's society, especially among young peoples, with its short, small and funny features. No matter when we chat with others on social media or when we want to make some interesting videos or even when we intend to make our PowerPoints more entertaining, GIF will be a good choice. But we can also notice that the most unique and popular features of GIF is that it allows users to customize their own GIFs.
Filters depends a lot to some extent. It consists of a lot of magical effects. By adding filters to the GIFs, you can enhance your GIFs and make it more entertaining. Then, how to add filter to GIF? In the following part, this article will devote itself to introducing some ways to solve the problem of adding filter to a GIF and therefore remove your confusion.
Best Way to Add Filter to GIF
You may have already learned that there are several types of apps or online tools that enable you add filter to a GIF. But at the same time, you may probably have found that there are more or less problems with them. Maybe some of them are too slow to export the GIF. Maybe some will result in the loss of the quality. Or maybe some require relatively high professional technics. Then you may wonder: is there a powerful app to perfectly match your need? TunesKit AceMovi will be the answer.
With TunesKit AceMovi, you can easily add a filter to a GIF within several simple steps. Firstly, you won't have difficulties in formats. AceMovi supports a large number of imported formats and exported formats. You can easily import the GIFs you intend to template. Most importantly, it provides a built-in filter library rich in filter effects. You can directly choose the filter you prefer most and try it on your GIFs to make it more appealing.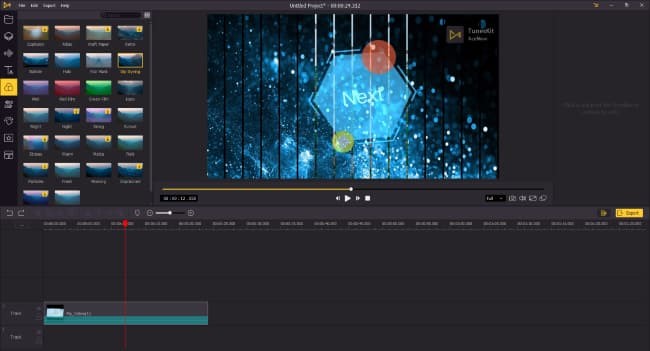 TunesKit AceMovi Video Editor serves as an all-in-one video toolkit that offers multiple features and effects. As a well-designed video editing software, AceMovi is endowed with features like filters, animations, transitions, texts, music library and audio detaching. You can directly add your favorite GIFs to this tool and start to customize it with various amazing filters.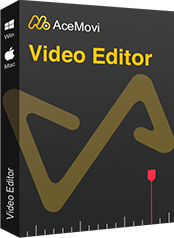 TunesKit AceMovi Video Editor
Security Verified. 5,481,347 people have downloaded it.
Well-designed features that make your video better
Abundant filters, text, animation, sound effects, music
User-friendly interface
Support lots of import and export formats
Add filter to GIF in just a few steps
Steps to Add Filter to GIF in TunesKit AceMovi
Now, a detailed and easy-to-understand tutorial will be offered in this part. Since TunesKit AceMovi is a necessity here, before you add a filter to a GIF, please make sure that you have already installed TunesKit AceMovi on your computer.
Add GIF file to TuneKit AceMovi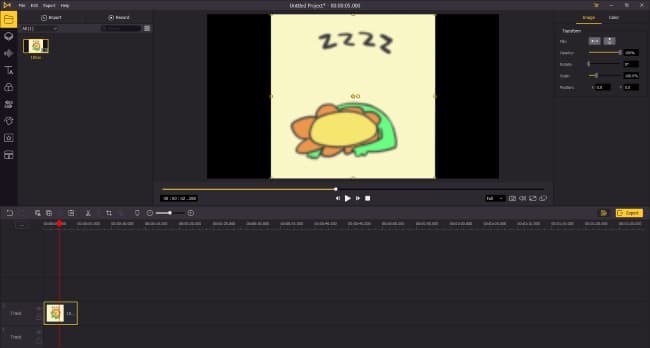 Three choices are available:
Open TunesKit AceMovi, click the "Import" button on the top left to import the GIF files and then drag them to the timeline.
Drag and drop the GIF files into the media box directly and then drag them to the timeline.
Just drag your GIF files to the timeline directly.
Add filter to your GIF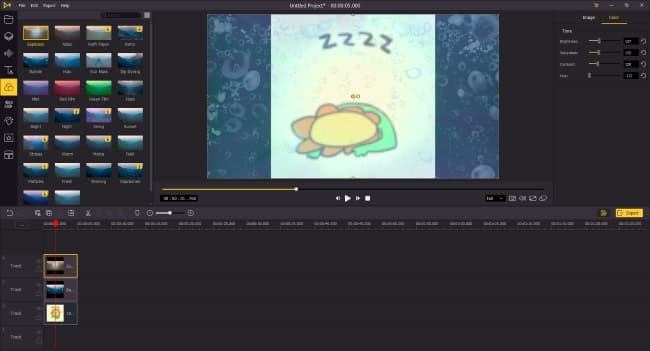 After adding your GIF pictures to the timeline successfully, it's time to start your edition of the filter of GIF.
1. Move the cursor to "filters" icon on the left bar.
2. Search for all the filters and click the one or more that you prefer.
3. Right click and add it or them to the timeline (or directly drag them to the timeline).
Adjust the filters of your GIF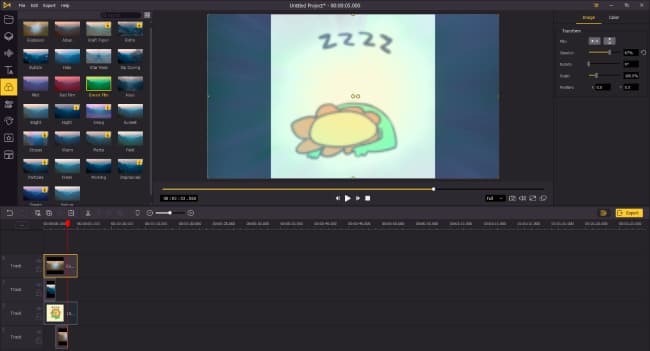 To better reach users' requirements, TunesKit AceMoci also supports editing the filters added to your GIFs.
In terms of image: you can adjust the opacity, rotation, scale and position of the GIFs and the filters by dragging the markers or just setting the numerical value. In addition, you can also choose the flipping way to flip to different filters and edit them, including horizontal flip and vertical flip.
In terms of color: you are able to adjust the brightness, saturation, contrast, and hue of your filters. The same, you can drag the markers or directly type in the numerical value of them.
Except by these, it is also available to adjust the position and duration time of the filters you've added to your GIFs. Just drag the filters and move them to the positions you want on the timeline. If you don't want it to take effect during all the playing time of the whole GIF, it's OK for you to reset the duration time of each filter. You can simply adjust the length of them on the timeline.
Export GIF as video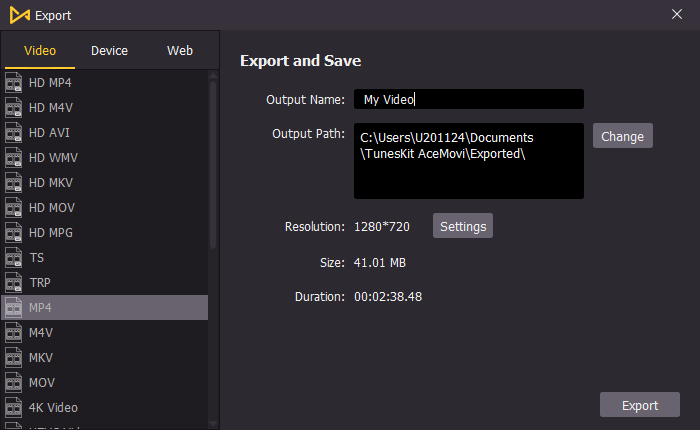 Once finished the steps above, it is time to export your wonderful GIF and share it with others. Click the "Export" button on the middle right and export your GIF as a video file. You can also edit the output name and change the output path. Then choose the output format you want and enjoy your amazing GIF with your friends.
Video Tutorial: How to Add Filter to GIF with TunesKit AceMovi
Add Filter to GIF Online
There is a free website called Ezgif that supports you to add filters to GIF online for free. And the steps are also simple as follows:
Step 1. Upload a GIF by choosing file or pasting the GIF URL.
Step 2. Choose the filters provided.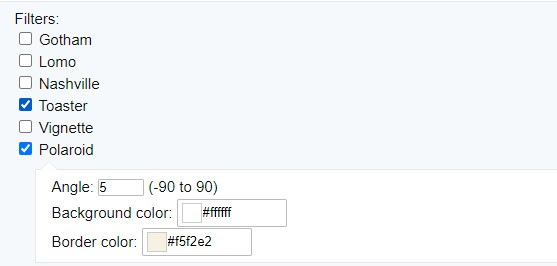 Step 3. Click "Apply Effects".
Step 4. Save GIF with filters.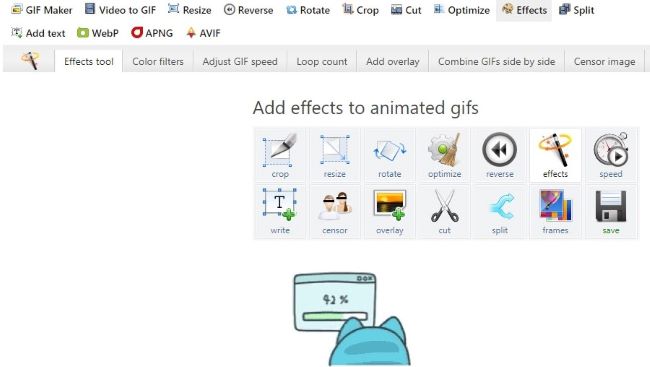 Although Ezgif serves as a simple and free online GIF editor, there are also some drawbacks that needed to be informed here. There are only six filters available: Gotham, Lomo, Nashville, Toaster, Vignette and Polaroid. And you can't preview the effects while editing but just see it in the "Output Image" after you finished.
You can go to try it by yourself and do some basic animation of your GIFs.
Conclusion
Adding filters to GIF is common in our daily life. By referring to the steps above, you may no longer be confused and have a clearer knowledge about how to add filters to your GIFs. By adding filters, you can customize your GIFs and make them more charming with TunesKit AceMovi, which is devoted to matching your various need with its multiple features and rich resources. And please don't worry about the using method. It is the simple and intuitive interface that makes TunesKit AceMovi stand out from other video editors in the market.
Go to have a try and hope that you'll enjoy it.