With short, small, and funny elements, GIFs are widely used and shared in today's society, especially among young people. Whenever we chat with others on social media, generate interesting clips, or just intend to make our PowerPoints more entertaining, GIF will be a good option.
The filter effect makes a GIF active by changing the style. Filters consist of a lot of magical effects. By adding filters to the GIF, you can enhance your GIF and make it more distinctive. However, do you know how to add filter to GIF? It's an easy job. In the following part, this article will devote itself to introducing the best ways to solve the problem and therefore remove your confusion. Let's get started!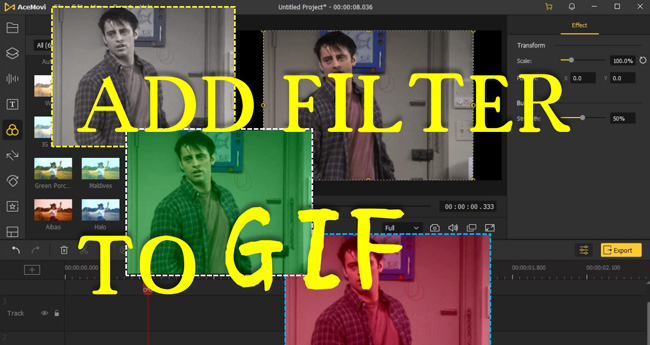 The Best Software to Add Filter to a GIF - AceMovi
With TunesKit AceMovi, you can easily add a filter to a GIF within several simple steps. And more importantly, you won't have difficulties in formats because AceMovi supports a large number of media formats, like GIF, PNG, JPG, MP4, AVI, DivX, etc. It's allowed to import any size of GIF you intend to template.
What makes it amazing is that AceMovi provides an effect library rich in filters and overlays, and you can directly choose the filter you prefer most and try it on your GIFs to make them more appealing and attractive. Download AceMovi here and use it for creativity.
AceMovi GIF Editor
Import multiple GIFs
Easy-to-learn timeline
Vast filter tutorials
Customized filter effect
Add keyframes
Most formats supported
Convert videos/images to GIFs
How to Add a Filter on a GIF with TunesKit AceMovi
Get AceMovi on your desktop. Drop GIFs to the timeline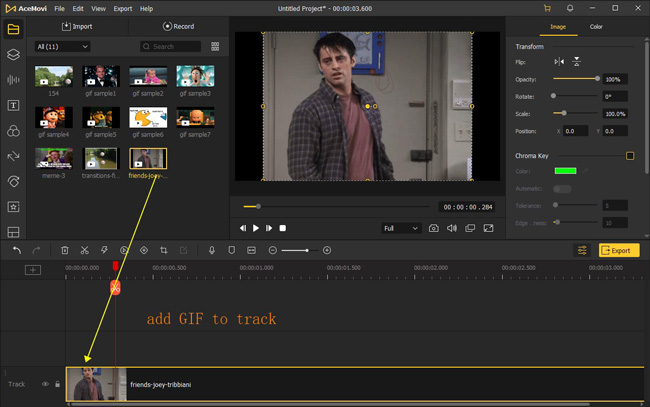 Download and use TunesKit AceMovi, then click the "Import" button on the top left to import the GIF files and drag them to the timeline.
Open up Effects panel, and choose your preferred filter type from it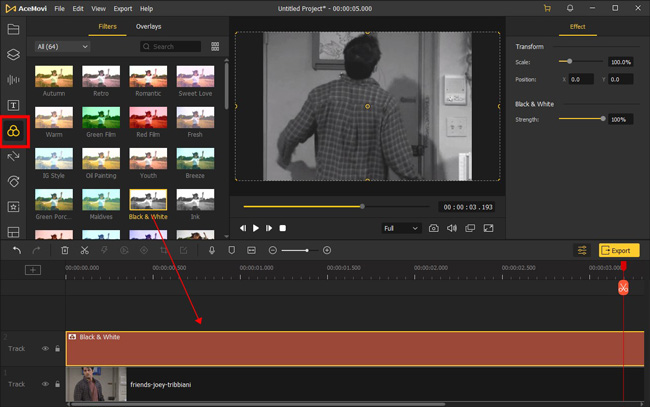 After adding your GIF pictures to the timeline successfully, it's time to start your edition of the filter of GIF. Just move the cursor to the "Elements" > "Filters" icon on the left bar.
You can search for all the filters and click the one or more that you prefer. Next, right-click and add it or them to the timeline (or directly drag them to the timeline).
Fine-tune the picked filter with strengthen and scale, or balance multiple filters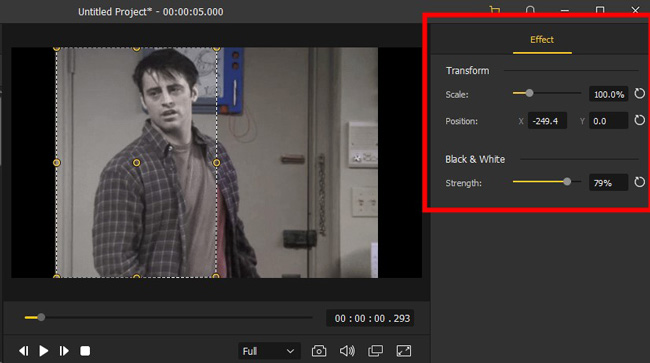 You can change the filter effect by sliding the strengthen and scale. Note: The filtering area can be changed on the performance monitor.
Download the filtered GIF from AceMovi, then share it to your friends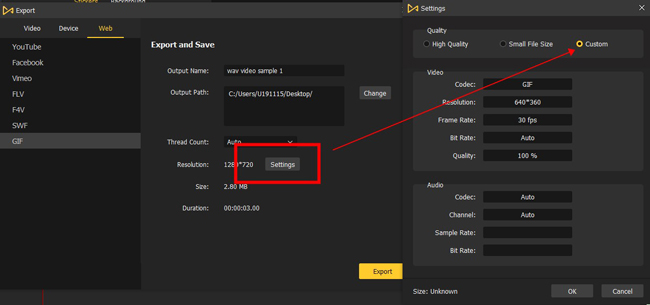 Once finished the steps above, it is time to export your wonderful GIF and share it with others. Click the "Export" button on the middle right and go to "Web" > "GIF". You can also edit the output name and change the output path. Then choose the resolution that will decide the file quality.
How to Add a Filter to a GIF Online - GifGit
There are websites available for you to add filter on a GIF in a few clicks. If you want to edit GIFs with a filter online, the GifGit must be one of the options for you. It's a free online GIF editing and building program with GIF Creator, Editor, Cropper, Resizer, Titler, and Effects Actor. Many parameters can be adjusted by it, such as blur, brightness, and grayscale. If you don't want to download anything, follow me to try it.
Visit GifGit website. Go to "Effects" window and import your GIFs
To begin with, you can enter into GifGit website by any browser. Then navigate to the toolbar, find the "Effects", and click it.
Then you need to import files to this website. Different from the EZGif that you can import via URL, the GifGit allows you to import files locally.
Overlay your desired filter type on your GIF in real-time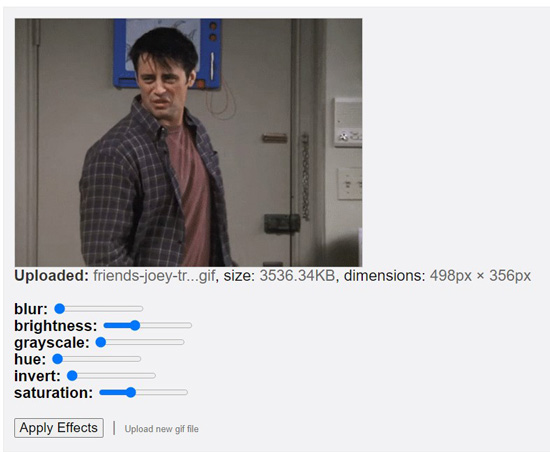 Next up, for example, if you want to add the "Blurring" filter to your GIF, all you should do is slide the "Blur" slider to adjust the values. There are many more filters set, including but not limited to brightness, grayscale, and hue. You can even apply them to the same GIF together.
Overlay your desired filter type on your GIF in real-time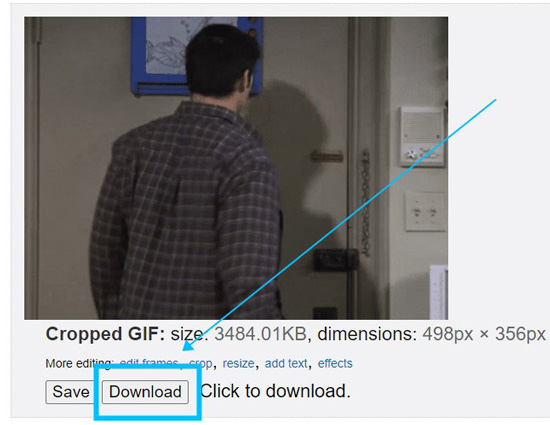 Click "Apply Effects" to operate this workflow. After a while, you see the filtered GIF below. You can click to download it for free.
How to Add Filter on GIF for iPhone and Android - InShot
Want to try eye-catching filter and add it to your GIF? By testing, video editing applications provide users with more genres of filters, yet some of them are only open for licensed accounts. Even so, you can enjoy a lot of filters for free.
One of the recommended options is InShot, which is a colorful and popular tool for editing videos, GIFs, and audio on mobile phones. Now, I am going to show you how to filter a GIF by it.
Get the InShot app on your device. Then click to import GIF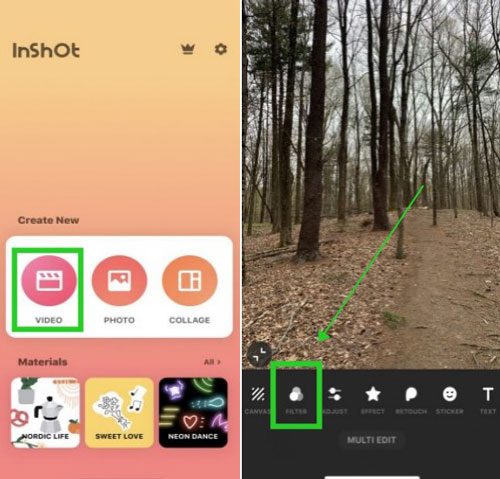 InShot can be downloaded for free on both Android and iPhone. You can create a personal account with it to save the edited files. Next up, click to add the GIF to this app, then slide the toolbar and tap on the "Filter" icon.
Add filter to the imported GIF. You can unlock premium filter resources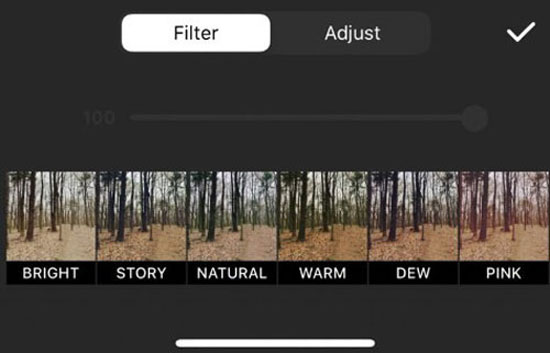 Go to the "Filter" panel, which is able to filter your GIF with Bright, Story, Natural, Warm, and many more effects. You can pick on the wanted filter, then choose to adjust its strength.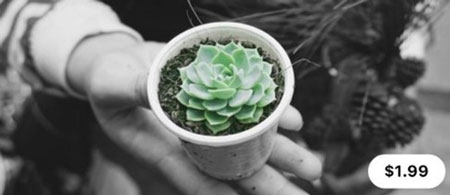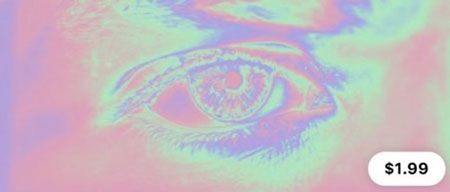 If you want to try advanced filters with InShot, you can unlock the premium services.
Adjust tints of the selected filter. Share the file with others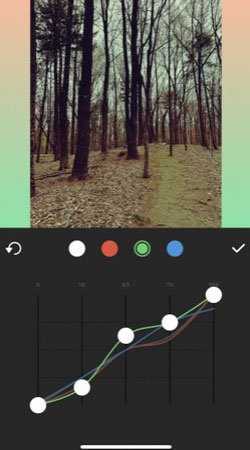 In addition, you can manipulate the tints of white, red, green, and blue to balance the filter in real-time. If you don't like the effect, you can redo it. Then click the "Ok" and share this GIF with your social accounts.
Lastly
Adding filters to GIF is common in our daily life. By referring to the steps above, you may no longer be confused and have a clearer knowledge of how to add filters to your GIFs. By adding filters, you can customize your GIFs and make them more charming. And please don't worry about using those methods.
Go to have a try and hope that you'll enjoy it.