Graphic Interchange Format (a.k.a. GIF) is designed to help people express ideas implicitly and transfer information about their content, market, and products to others. Because of the animation and convenience, GIFs are grabbing more attention from us YouTubers compared to lengthy videos. In some cases, it's amazing to upload GIFs to boost social media performance on the YouTube community and capture more likes and followers.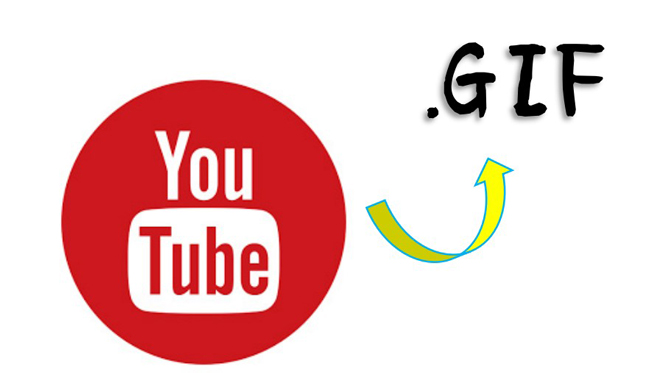 This article will differentiate between a GIF and a video, and you'll get to know the purpose behind making a GIF out of our YouTube videos. More importantly, we're about to provide you with the 8 most efficient YouTube video-to-GIF converters. Just run through this article now!
The Differences between GIF and Video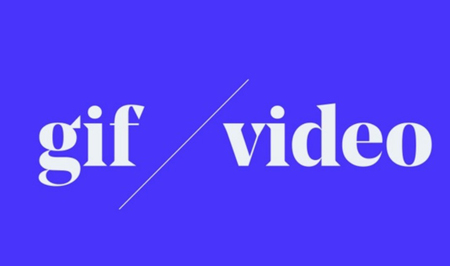 Some distinguishing features separate GIFs and videos. GIFs are similar to videos because they have a series of images and frames that move. But GIFs don't have music or audio, while videos are embedded with soundtracks that can be mixed and enhanced per your needs.
When it comes to the file quality, a GIF file is created with a low frame rate (Kbps) compared to the higher frame rates of a video. As a result, with high frame rates, videos provide smooth motion and a well-performed display. Meanwhile, GIFs have a small size and can be downloaded or shared in seconds.
One of the notable things is that GIFs loop while videos do not have a loop feature. The length of videos can vary according to requirements and content, but GIFs are not lengthy.
The Purposes to Make a GIF from a Video
GIFs are used to convey emotions, reactions, information, and ideas. People used to convert part of YouTube videos, TV shows, and films because moving images are more appealing to viewers than long videos and written content.
GIFs are a great source of creating a wide following on social media platforms by interacting with large audiences. YouTubers also add GIFs to contact clients via emails, enhance digital marketing, and make how-to-videos. Following are some purposes of converting YouTube videos to GIFs:
1. Social Media
2. Marketing
3. Advertising
Now, you may want to know which one is the best tool to convert YouTube videos to GIFs. Below are your options and you can choose them based on the devices you're using, along with step-by-step tutorials that can help you generate an animated GIF from a YouTube video without effort.
AceMovi - The Best YouTube Video Converter to GIF for Windows/Mac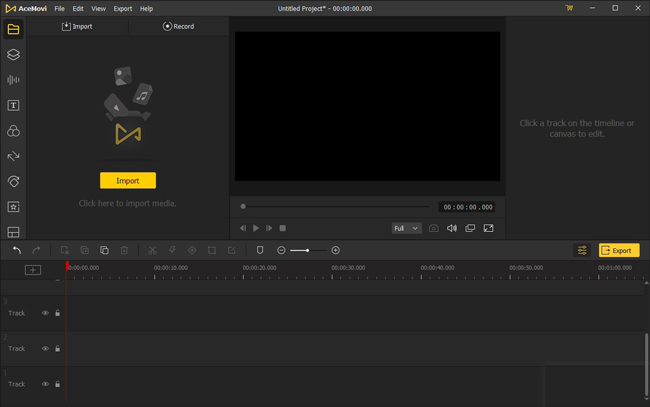 AceMovi Video Editor is the most selected, interface-clean YouTube to GIF converter. With multi-track editing features, it enables you to convert exceptional GIFs from YouTube videos. You can flip, crop, rotate, split, add audio, add text, control the speed of the video and create imaginative GIFs.
By AceMovi, advanced features like overlays, filters, transitions, picture-in-picture, and keyframing are offered. Also, the converter has a recording tool through which you can record your computer screen and make a slideshow of images with moving texts. Moreover, you can save your files in multiple formats and share them online on all social media platforms.
AceMovi GIF Maker
Download the trial version for free
High-quality resolution downloading
A handful of stickers, music, and emojis
Change video background by the green screen
Convert YouTube video to GIF with several clicks
Screen recorder and webcam recorder embedded
How to Convert YouTube Video to GIF on PCs with AceMovi
Download and launch AceMovi Video Editor on your computer, you can choose to register or not. Now, follow the 3-step guidance below:
Add the original YouTube videos to the interface via the "Import" button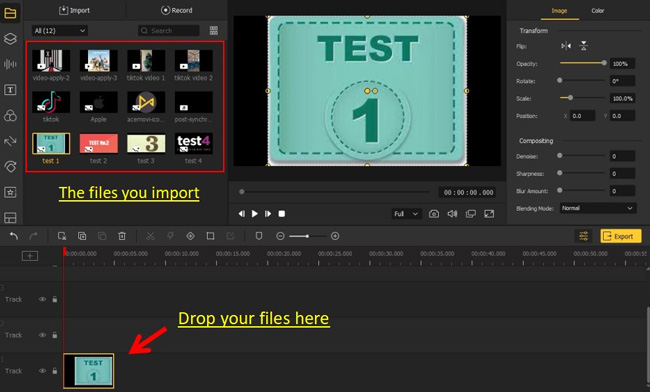 The "Import" button can help you upload files to this software. Besides that, users can press the "Record" icon to record new footage.
Click the "Export" > "Web" > "GIF" to define the output format as .gif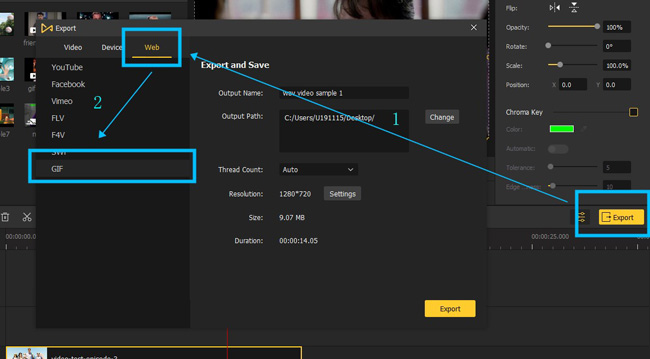 Click the "Export" icon in your right-hand place, then go to "Web" and "GIF". In this manner, AceMovi will export your YouTube video as a GIF file.
(Optional) Edit the GIF paramter settings based on your requirements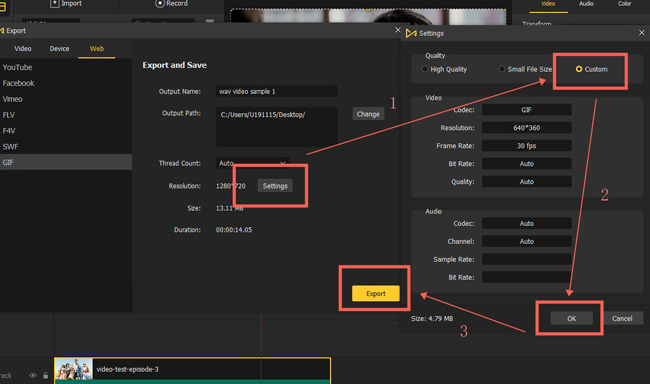 This is an optional step for users who want to change related settings such as file quality, resolution, frame rate, bit rate, and more aspects. You should navigate to "Settings" and "Custom" to operate this feature in AceMovi. That's all about this program, download it here!
4 Best Online YouTube Video to GIF Converters
Don't look down upon some online video and GIF editing tools because you can use them without downloading software or app. Some of them provide you with a one-click feature to edit GIFs with cropper and converter. Keep going!
1. GIPHY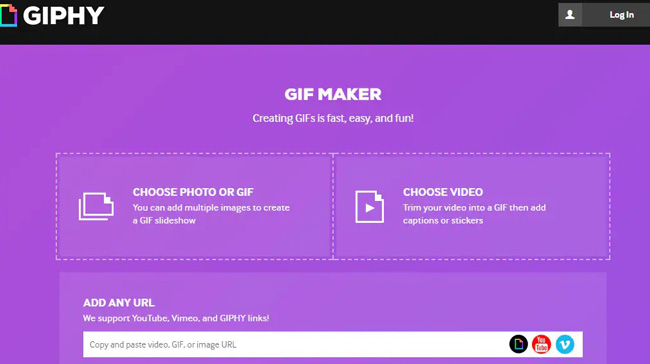 GIPHY YouTube Video is a helpful online tool that helps you create GIFs from YouTube videos. The website is free so that you can produce mesmerizing GIFs without limits and watermarks. However, users are required to create a free account before using the GIPHY editor.
Adding animations, memes, text, filters, and some other effects to your video are supported. The converter also has features like trim, cut, speed, and duration. You can easily resize your video and create GIFs freely. Besides that, the converter is compatible with both Android and iOS devices.
Pros:
A ton of GIF resources
Web-based operation
Share GIFs with friends
Import files via URL
Trim YouTube video before conversion
Cons:
Registration required (You cannot use a Google account to log in)
2. VEED.IO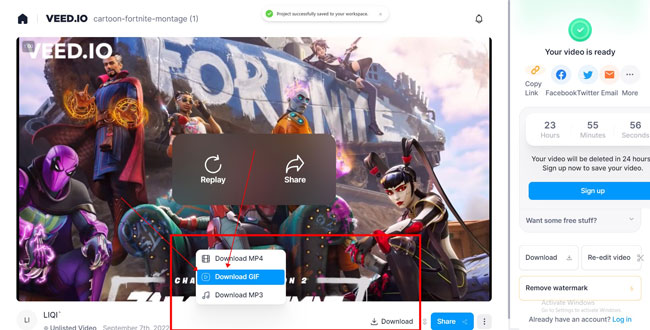 As the easiest YouTube video to gif converter online, VEED.IO enables users to make Gifs quickly. With a few simple clicks, you can crop and edit YouTube videos. For using the VEED converter, there is no need to download the software, and rather you have to visit its website and import your videos there.
It's allowed to set the size, speed, and duration, add text and color, change the font, and many other customization options to your YouTube videos. The converter supports all audio and video output formats so you can convert your videos in a GIF format or any other MP3 or MP4 format.
Pros:
All-in-one YouTube video editor
Post video on Facebook and Twitter
Play GIF in real-time
High-quality output resolution
Easy for beginners
Cons:
There is a branding watermark with the trial version
3. FlexClip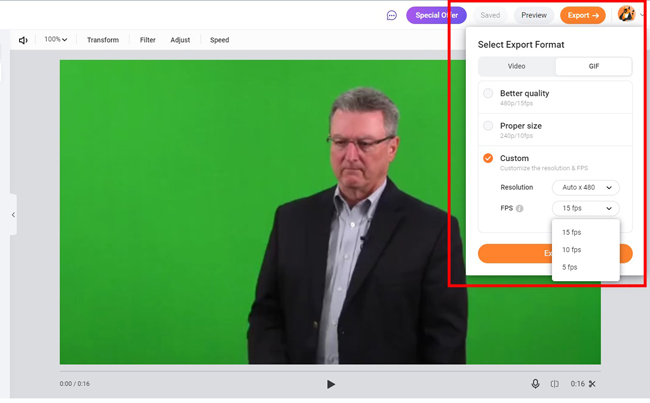 FlexClip GIF Maker is an online YouTube to GIF converter that is free. You don't need to download the program on your computer or Android and iOS devices. The converter is available online; you can convert videos anytime and anywhere.
Using FlexClip GIF Maker does not require any graphic designing techniques, meaning that you can easily apply this multi-functional tool. The converter only needs high-speed internet and a web browser to create amazing GIFs. You can add text and graphics and set frame size and speed.
Pros:
Convert YouTube videos to GIFs for completely free
Up to 480p resolution
Customize output quality
Add filter add texts to the GIF
Save converted media online
Cons:
This program needs to level up the supported resolutions
4. EZGif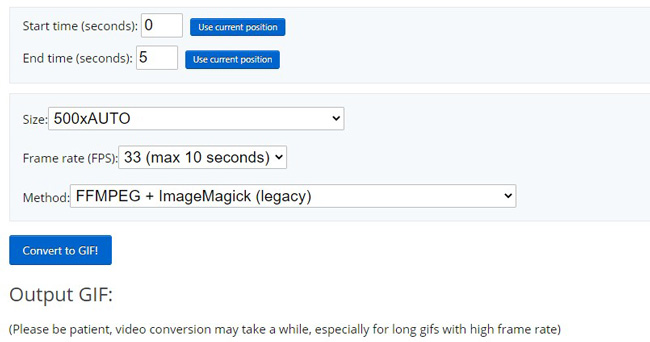 EZGif enables users to convert multiple YouTube videos to GIFs on one screen but the file size is limited to 100 MB. You need to do a few clicks, and the website will generate beautiful GIFs for you. EZGif is compatible with Android and iOS devices, which has a simple, linear user interface that provides a series of tools to edit a GIF from a YouTube video.
With this online free YouTube GIF converter, you can add filters, frame rate, captions, frame size, resolution, subtitles, and much more to your GIFs. Users must activate developer mode on their Android devices to use the converter.
Pros:
Clutter-free layout
Turn a video to a GIF on one screen
Watermark-free for all licenses
Change the playback speed
Crop unwanted video borders
Cons:
There is a 100MB file size limit, and you'll see a lot of ads on the screen
3 Best Apps to Convert YouTube Video to GIF Free
Want to find a good way to convert YouTube video to GIF on your mobile phone? We'll show you some of the best applications that you can download and use for free on iPhone and Android. You can complete the mission with several finger points. Just continue to scroll down!
1. GIF Maker - Maker Video to GIFs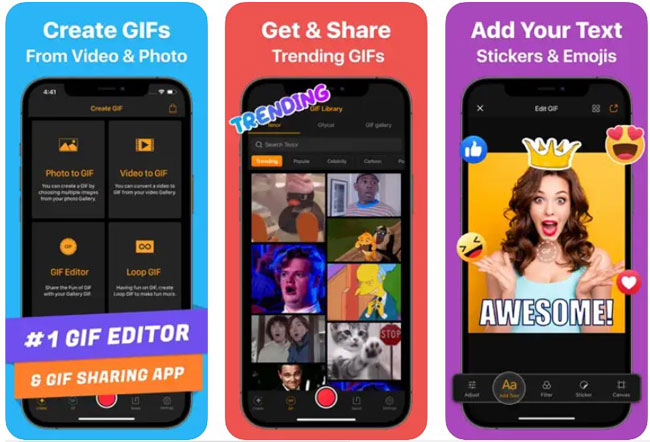 GIF Maker - Maker Video to GIFs has a plethora of GIF editing options that enable users to create eye-popping files from YouTube videos. You can import media from many more social media apps such as YouTube, Instagram, and your local drive.
With the GIF Maker app for iPhone and iPad, you can customize your videos with the caption, resizing, decoration, filtering, and other creative effects. The converter provides tabs to control the frame rate, filters, speed, duration, resolution, and add text.
Pros:
Get a mountain of popular GIFs
Adjust the playback and backward speed
Create boomerang GIFs from videos
Upload created GIF on social community
Specific panel for looping GIFs
Cons:
This app is designed for iOS users only
It has in-app purchases
2. Video to GIF - GIF Maker
Video to GIF is one of the simplest YouTube GIF converter apps working with almost all social media platforms, including Vines, Facebook, Instagram, and others. You can add videos from your computer or other devices to convert them and create GIFs.
The converter provides a direct feature interface for converting videos to GIFs. Also, you can add blurry effects, including black, white, and padding filters. With Video to GIF, you are accessible to use an advanced feature that presents you with the most exciting part of the video to create a GIF.
Pros:
Specialist panel for YouTube to GIF
Edit live photos
Add animated texts
GIF templates abound
Share to Facebook and other media
Cons:
You cannot use it on iPhone or iPad
There are several advertisements
3. GIF Maker, GIF Editor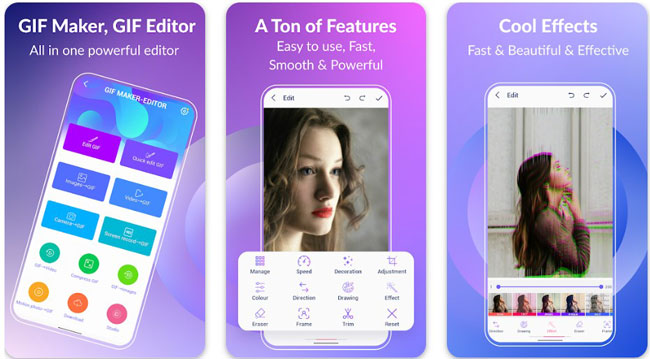 GIF Maker, GIF Editor is powerful, fast, and simple to use. You can edit, personalize, and customize your videos by adding text and captions. The cool features of filters and overlays can make your editing stand out from others. On top of that, users are given various projects to choose from on the default page.
You can add start and end time, output size, frame rate, resolution, and speed of the videos. With GIF Maker, GIF Editor, easily converting YouTube videos to GIFs isn't a tough job. It has a faster speed of 30x to convert videos.
Pros:
Pre-designed projects
Loop a GIF
Adjust file speed
Cool effects and filters
Convert many formats to GIFs
Cons:
Linear user interface
For Android devies merely
Conclusion
Not every video editing program supports you to convert YouTube videos to GIF, particularly when that software is incompatible with the .gif format. You don't need to worry about using the recommended YouTube-to-GIF converters from this post. And on top of that, you'd better add texts and apply the filter to the GIF to make it better with those tools.