Are you looking for a video meme maker? Then look no further. The best easy-to-use video meme maker is finally here. With a robust toolset, you can create funny videos using stock pictures, texts, animations, and effects. You don't need to have a rich video editing experience, all you have to do is to add the desired elements to the video and edit these elements with the intuitive features. After finishing the video memes, it is fun to share them on social media.
Follow up, you'll learn how to make a video meme by powerful tools on different devices. We'll also cover the best website to help you find and download popular memes online for free.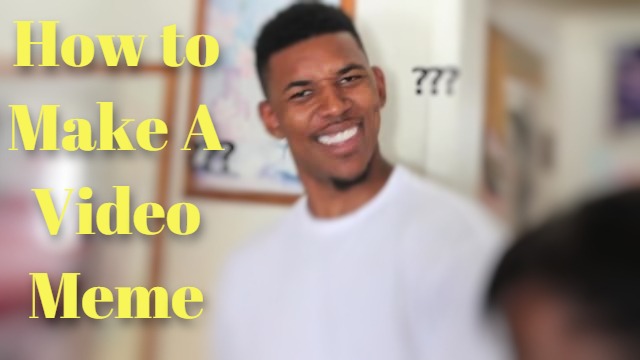 How to Make a Video Meme on Computers by TunesKit AceMovi
1. Find the Video for Your Meme
Inspiration is the start of a video meme, it could be a funny fail video, a wholesome interaction, or an amazing trick shot. Any of these can be good material for creating video memes. The media can also be a short GIF image, and some PNG or JPG files if you need them to be on your video meme. Once you found these materials, download them to your computer and now we're good to go.
2. Make a Video Meme in TunesKit AceMovi Video Editor
TunesKit AceMovi is the perfect meme video maker to make your video meme with moving text. You can upload as many files as you want in any format and start editing right away. With multiple cool features like text, stickers, filters, aminations, and more, you can make your video meme go viral.
That software is a versatile video meme editor that provides multiple effects and transitions. The screen recorder can record images as well as the sound coming out of your computer. The user-friendly interface comes with all the effects and tools you need to embellish your video. Use the program here.
AceMovi Video Meme Maker
Static and dynamic texts to overlay
Simple-to-comprehend user guides
Multiple video/audio/image formats support
Enhance the color of a video meme
Streamlined interface for batch editing
Ready-to-use screen & webcam recorder
Download your edited file on high-quality
Next up, I'm going to show you how to make a video meme in TunesKit AceMovi. Before you edit your video, make sure that you have already installed TunesKit AceMovi on your computer, this software currently supports Windows and Mac systems.
Add media files to TuneKit AceMovi. Click Import to upload files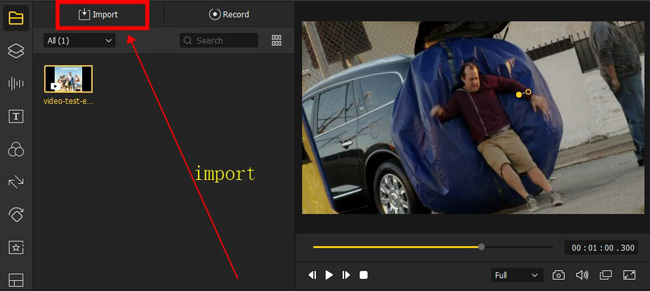 Launch TunesKit AceMovi, then import your photos, video clips, or other media files to the Media box. You can click on the "Import" button to upload or directly drag and drop the media files into the interface. Also, you can click "Record" to capture a new clip with screen recording or webcam recording.
Set up the reolution and frame rate by going to File > Project Settings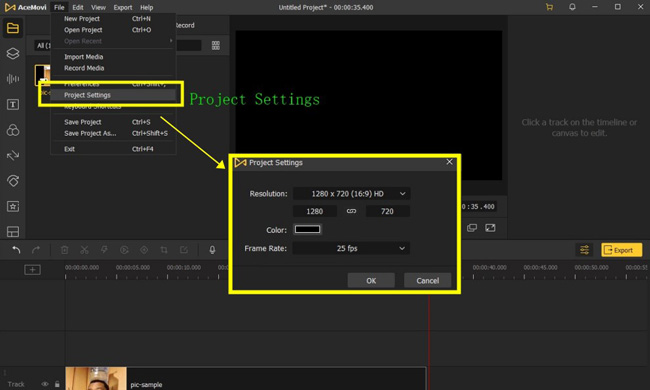 Before getting started, you'll need to go to File > Project Settings set up your project, including the resolution, color, and frame rate. When finished, click "OK" to save it. If you're going to upload your video meme on YouTube, 1920*1080 is the best option. And 1:1 or 4:5 are the ratios for Instagram Feeds.
Create a video meme with personalized text, sticker, music and other elements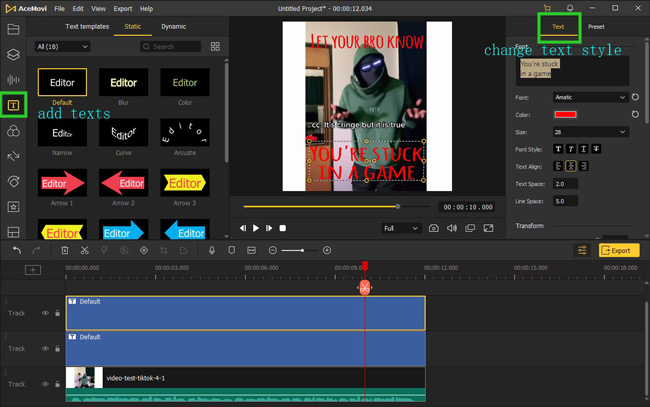 To add your media to the timeline, you can directly drag and drop them one by one. Or you can press "Ctrl+A" to select all the media files and put them to the timeline.
On the left panel, it is allowed to add stickers, moving text, filters, animations, and other effects to your video meme. You can pick up the wanted text sample and choose to edit the color or other parameters. Just add them on top of the video track, adjust the duration on the timeline, and change the position on the preview window. You can easily finetune them to perfectly fit into your video.
Export video meme to a designated place on high-quality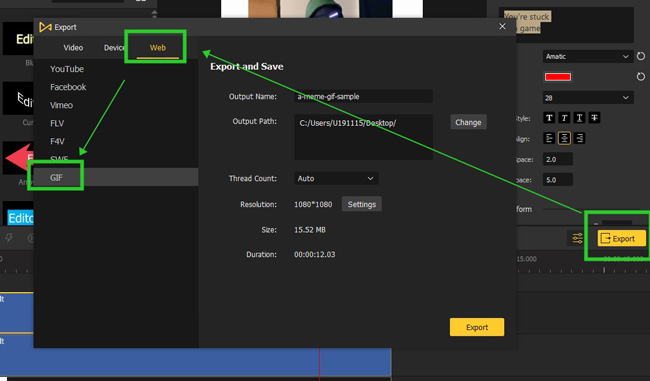 Once done editing your collage, click the "Export" button on the middle left and export your video. Go to "Settings", you'll be able to choose the output parameters. And by clicking the "Change" button, you can change the output location. Choose TunesKit AceMovi for your amazing video meme-making journey!
3. Share the Video Meme on Social Media
Since you have set the ratio of your video meme in the previous step, now you can directly share the video meme on your social media with the perfect size.
How to Make a Meme from a Video Online Free with VMM
Want to master the way how to make a meme video online? We all know that online video meme maker is more lightweight, which is alive with a simple on-screen subtitler and padding maker. Users are even allowed to cover the watermarks or other private content with built-in shapes. You can learn how to make a video into a meme online through the following steps.
Find Video Meme Maker from browser. Add files by drag-n-drop or URL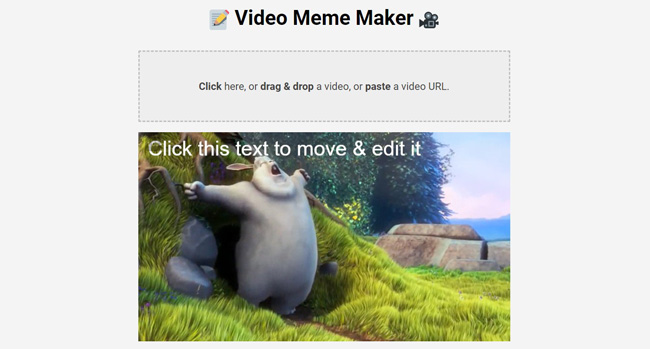 You can visit the Video Meme Maker website on any browser. Three ways for importing and uploading your files to this program - Click the blank box, drag-n-drop, and paste the video URL.
Add a text block on the screen. Change the text style in color, font, and size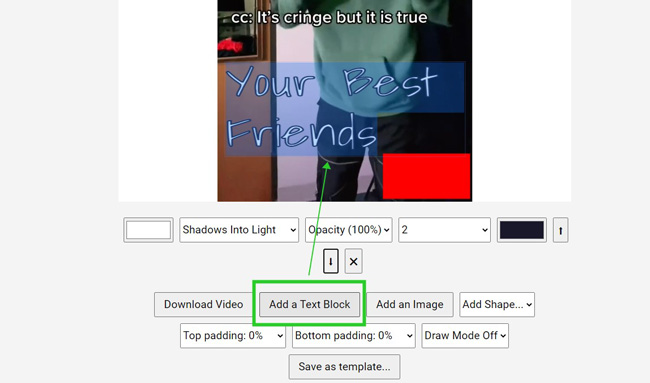 Click the "Add a Text Block" panel from the user interface. You can move the panel on the screen. Then adjust the style of the text in color, font, location, position, opacity, and shadows.
Sometimes you may want to add shapes to cover watermarks or human faces. You can easily reach it by clicking "Add Shape" from the toolbar. More than that, you're allowed to add padding areas in the top or bottom place.
Change the playback speed, preview the effect, and download the file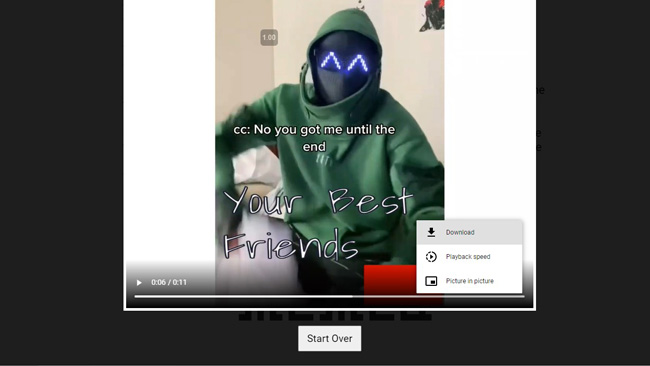 If you like the file design, save it as a template for the next editing. Press "Download Video" to export the video meme. When a new window pops up, click to adjust the speed of the playback, or you can preview the effect before downloading the meme video.
How to Make a Meme Video on iPhone & Android with Memedroid
Wanna learn how to make video memes on iPhone and Android phones? In this part, I will show you the Memedroid app for creating funny video memes with pre-made memes and GIFs. On this app, you can review and comment on others' works. It is available to join a community for sharing your video memes. When it comes to the functions in this app, users are capable of adding text, colors, stickers, and numbers.
The app features a rich meme template library and just basic text tools. Memedroid is constantly updated with funny memes, hilarious pictures, and the most viral humor content on the web all for free. You will find tons of funny pictures and awesome memes on Whatsapp and Instagram.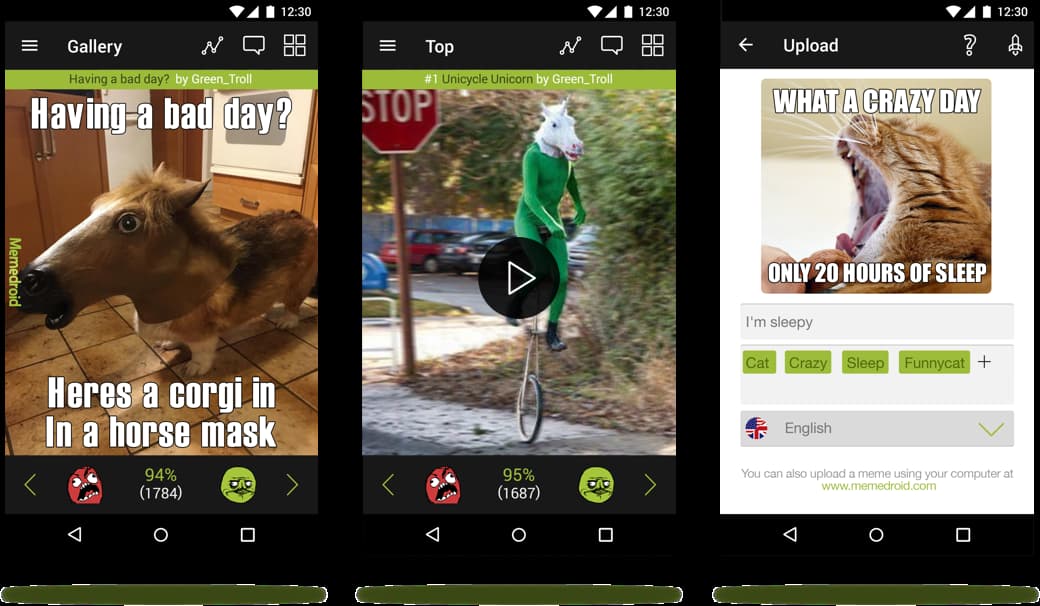 First of all, you need to log in to this app and create an account. You can review the video memes that have been posted by other people. If you like that, you're accessible to collect it or make a comment.
When it comes to making your video meme, go to the "Creation" channel where you need to upload the original file, add diverse text content, fine-tune related parameters as well as share the files on social media. If you post it on the Memedroid app, you can compare the people who like it and who dislike it.
Other Apps to Make Meme Videos You Can Try
1. PhotoDirector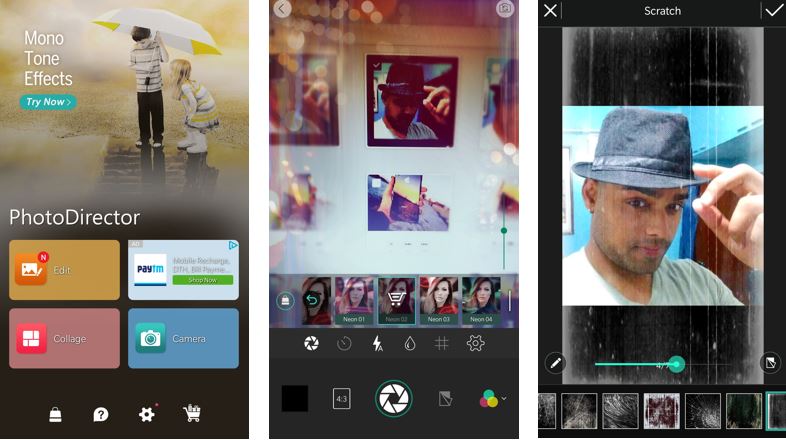 Compatibility: Android, iOS
PhotoDirector is the leading choice among high-quality meme generators on iPhone and Android devices. The powerful yet friendly features make it accessible, whether you're a veteran meme maker or a beginner. The app even lets you animate photos with AI.
2. Mematic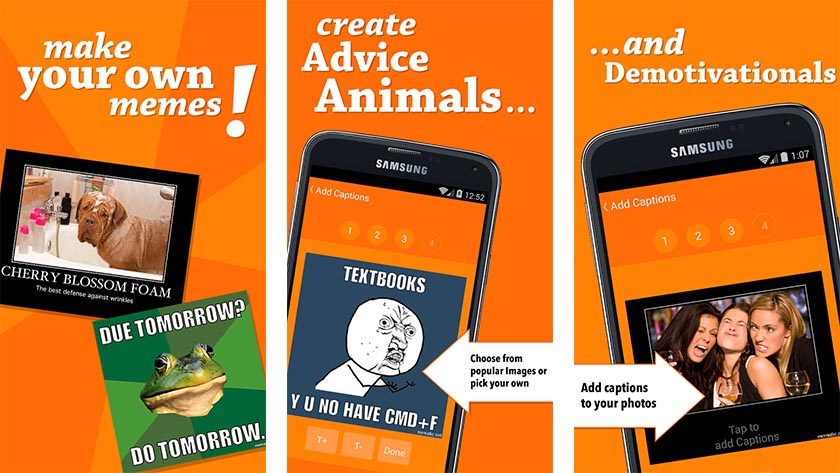 Compatibility: Android, iOS
Mematic is one of the most popular meme maker apps with over 10 million downloads. You can add captions to photos and videos, apply your own images, or access a large collection of memes. You can freely arrange text, images, and stickers. If you prefer, choose one of the quick styles to create modern and classic memes within seconds.
CHEEZburger - The Best Meme Downloading Website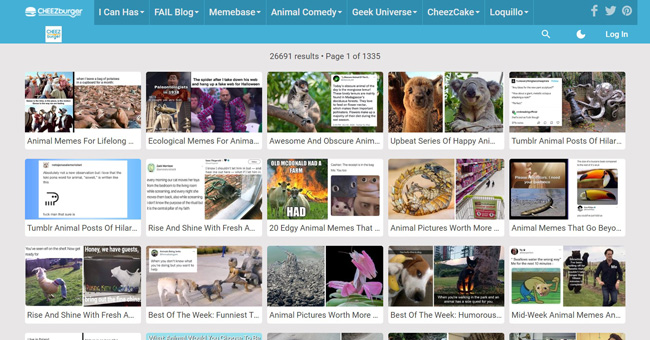 The CHEEZburger is a great website to download multiple types of memes and GIFs online for completely free. The interface is used to navigate to specific topics like "FAIL Blog", "After 12", or "Autocowrecks". Different from most video meme downloaders, you can read the content to know why that meme is so interesting and when it was created.
In addition, using the search bar to find related results are so convenient. For example, you can put the content "Animal" in the box. Then you see thousands of animal memes pop up with preview pictures. For sharing one of the memes on the social platform, you need to log in at the very beginning.
Final Verdict
You can make a video meme on a computer, online, or phone after learning those methods. But for more cool effects, make one with TunesKit AceMovi and Memedroid are the better choice. You can add captions, animated texts, and sound effects to your meme to make it stand out. By the way, join in a group to discuss and share your meme video works is also interesting .