Nowadays, the meme has become one of the most commonly-used and amusing elements in our discussions, usually, it'll just appear after the dialogue box. But how do you know the way to make & edit a meme? First and foremost, you need a meme generator. If you are new before the meme-making game, you may be wondering what meme creator apps other meme-makers are using to make the greatest memes. And in today's post, I'll show you the top 11 best free meme generators and editors, including some blank meme generators and AI meme generators, together with their distinctive features and ratings so that you can choose the proper one for you effortlessly. Not only here can you navigate to meme generators for PC and online but also you can try some meme generator apps on mobile. Now, let's get started!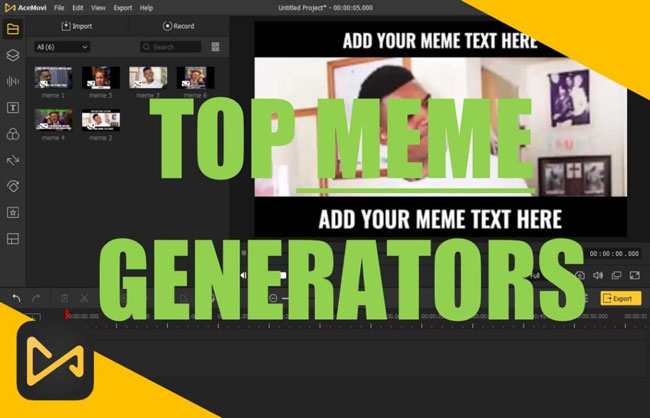 Top 10 Best Sports Video Editors to Make Highlight Videos with Ease
Accept it! Memes can make people laugh a lot and implicitly show the connotations inside your words. Various humorous memes can be found on social media platforms like Facebook and Twitter.
Herein you'll find it's very easy to create a blank meme, Bernie meme, Drake meme, Spongebob meme, or other social memes by using AceMovi Video Editor and iMovie in this part.
1. TunesKit AceMovi Meme Generator
All meme elements can be put into the TunesKit AceMovi regardless of the meme type is a GIF, image, or even a short video. AceMovi is one of the easiest meme generators and makers for beginners and skilled men. And you can download it for free at any time.
AceMovi also plays the role of a good Meme text generator, you can find more than 100 different types of ready-made meme texts, 20+ static meme texts as well as 40+ dynamic meme texts. You can add the wanted one just by going to Text > Text template, Static, or Dynamic, and then put the genre on the meme generating timeline.
Apart from meme texts, this tool empowers you to apply meme filters and overlays to make some color grading. More importantly, all of those meme elements are free to use on the trial version of AceMovi. And in the following, you can download this meme generator directly. After you download and install AceMovi, let's go to the basic tutorials on how to make a GIF meme. And you may also want to know how to make a video meme.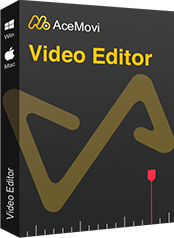 Key Features of AceMovi Video Editor
Security Verified. 7,020,157 people have downloaded it.
Pros:

A brilliant meme generator for beginners
Various types of meme texts and meme fonts
Able to make a blank meme, Bernie meme, Drake meme, Spongebob meme, etc.
Free to download
Very cheap to get the watermark-free feature
Export to high-quality GIF
Reverse or slow-motion the rotate videos
Change the resolution in real-time
Cons:

Lacks ready-made meme templates
How to Make Your Own Meme: Following This!
Download TunesKit AceMovi
Do not forget to download and install the AceMovi meme editor before doing any workflow. You can get this toolkit on Macs or Windows. And you can pay $19.95 to get the monthly plan, $39.95-year plan, or $59,95-lifetime plan. The formal license will completely remove the embedded watermark.
Import Meme Elements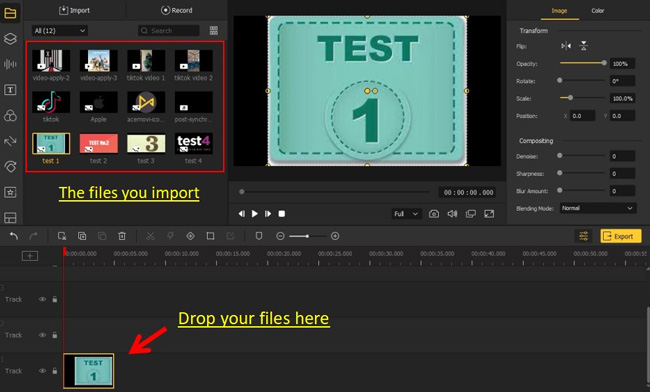 With AceMovi meme generator, you can just drop all the elements under the track. Or you can click the Import > Add to Timeline if you're planning to use those filers later.
Commence Making a Meme on Your Computer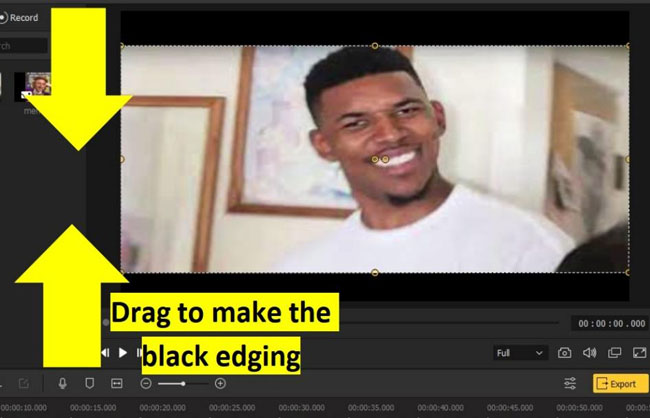 You can just drag the windows' edge to resize the meme. This step will leave two black edgings on the top and bottom.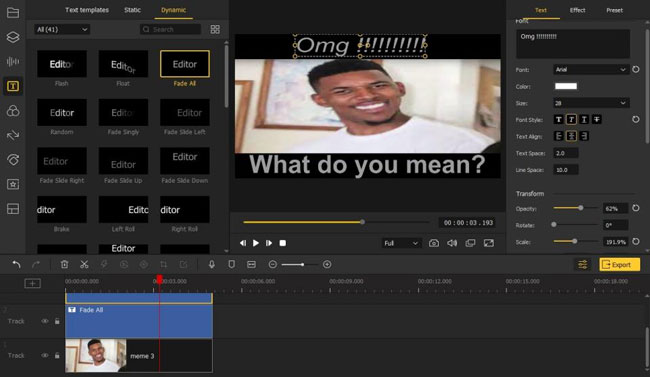 You can pick up one meme text from the panel on your left hand. And then go to the Properties > Text on your right hand. You'll find the parameters to set meme font, meme font style, meme font color, meme font opacity, etc. Set the parameters based on your requirements!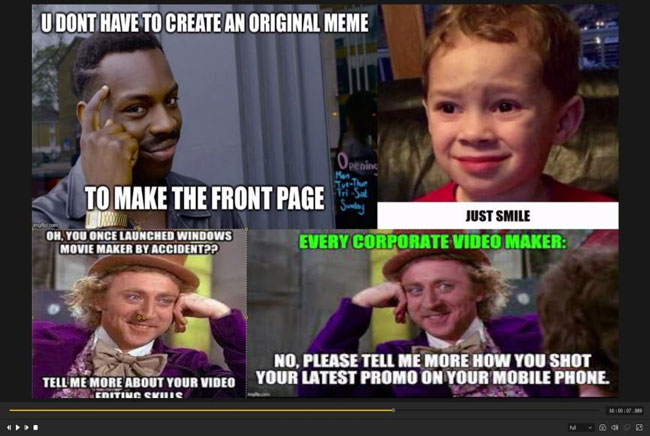 Here are more meme styles you can try with AceMovi!
Import the Newly-Generated DIY Meme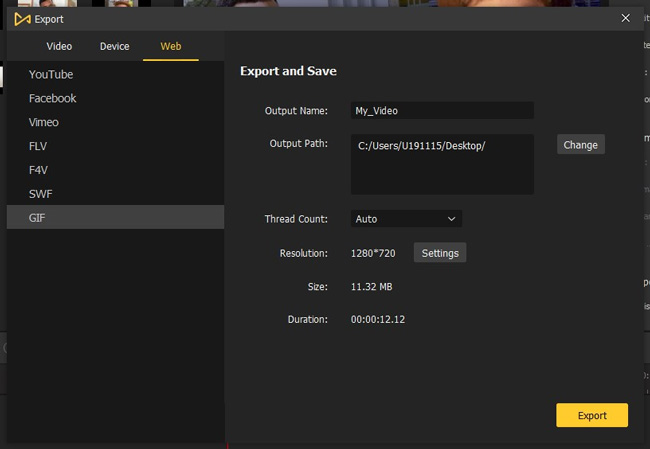 Actually, if the meme is a photo, you can just take a snapshot (With AceMovi, the Snapshot button is just beside the Play button). But the GIF meme should be downloaded in a different way, you need to click the Export button, and go to Web > GIF. Here you can also set the resolution, thread count, and output path.
2. iMovie Meme Generator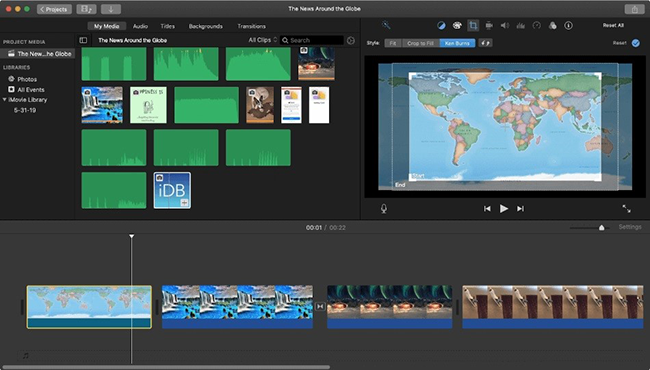 iMovie is an open-source meme generator and editor yet only for Mac and iPhone users. You can add import any format of your meme into this tool like videos, photos, or GIFs. And there won't be any watermark left with your exported memes.
iMovie comes with 30+ types of meme texts and you're free to change the meme font, set the meme aspect ratio, post on social platforms, and share via e-mail. With this meme generator, you don't even need to learn the tutorials given on YouTube because all the built-in features are well organized on the toolbar. So if you're a Mac user, don't miss out iMovie meme editor.
Pros:

A meme generator for both Mac and iPhone inherently
Lots of meme texts to choose from
Edit batch memes easily
Watermark-free
Quick rendering speed
Cons:

No meme templates
No version for Windows
5 Best Free Meme Generator Apps for iPhone & Android
In this section, you'll see 5 very user-friendly meme generator apps and you can download them all on your devices no matter iPhone, iPad, or Android. Actually, the meme generator apps come with more meme templates and meme renewals. Just keep scrolling down!
1. Creative Cloud Express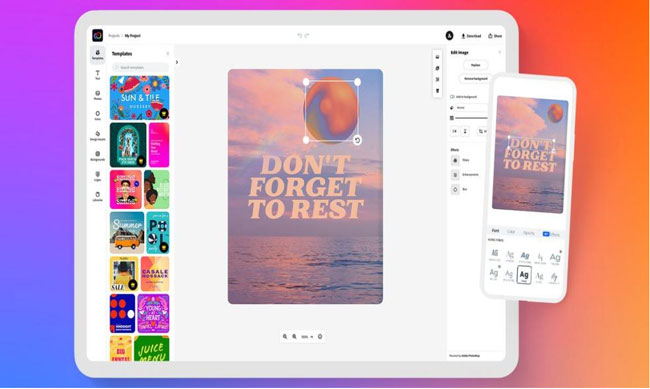 Creative Cloud Express, also named Adobe Spark Post is an elegantly designed meme generator. We've all heard about Adobe for a long time, so we don't need to be reminded of its capabilities. If you think of it as a meme generator, you'll be able to choose from an infinite number of backdrops and text appearances. Hundreds of meme templates and meme fonts are built-in this app.
Pros:

Can do the task in a few minutes
There are no particular design abilities necessary
Professional themes are available
Cons:

Images have a watermark
This might be an issue if your images aren't in PNG format
2. GATM Meme Generator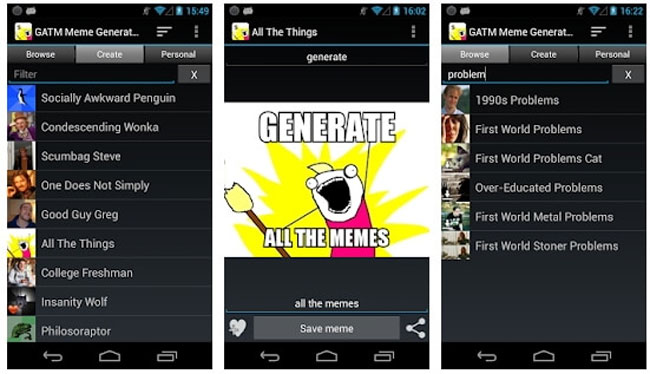 This program is not only a strong meme generator, but it also makes finding new memes simple. The browsable material is updated daily, ensuring that you are constantly up to date on the newest meme trends. You're allowed to choose from a bunch of meme templates with this meme generator app, no matter Bernie meme or Spongebob meme.
Pros:

The software has a large template collection and the ability to submit your photos
All memes created are watermark-free and may be shared directly from the app on Facebook, Twitter, and other social media networks
GATM Meme Generator is free to download
Cons:

The meme text formatting features are limited
3. Memedroid Meme Generator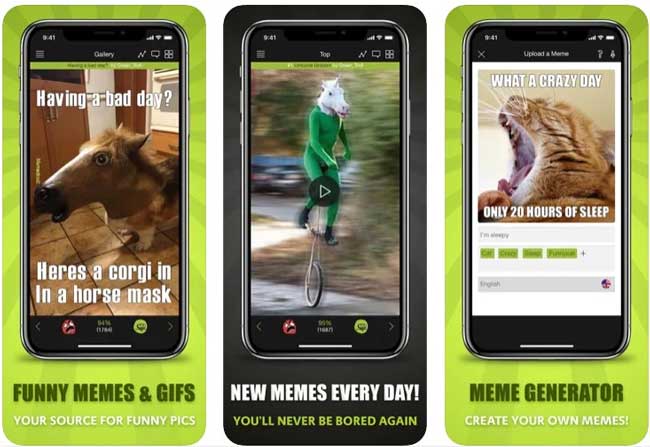 When it comes to creating viral memes, most meme-makers will suggest this MemeGenerator. This is one of the most popular meme generator apps, which allows you to browse through their extensive image library and simply submit your photos.
Besides, with Memedroid Meme Generator, you can set the meme text freely on the specialized page, or even change the bit rate. And you'll receive a library of meme templates every day, you can choose to edit it or use it in your dialogue.
Pros:

There are several categories to choose from
Memes may be easily sent and shared
Up-to-date meme resources every day
Share with friends directly
Cons:

It features a registration procedure rather than a simple drag-and-drop method
4. Tumblr Meme Generator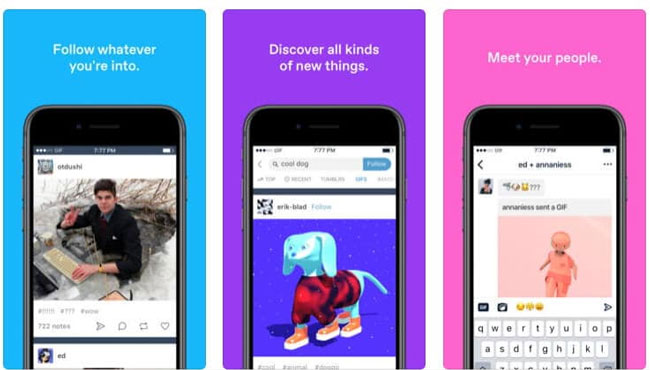 Tumblr is a social media platform to establish an account and share photos and videos. A GIF editor and photo editing capabilities are included in the iPhones and Android Smartphones software. You're allowed to meet new meme-sharing friends with this app or follow some popular meme editors on your group in addition to making your own memes.
Pros:

Change meme font, size, and color of the text
Add as many stickers as you like to your memes
Find many kinds of photographs from pet pics to vehicles and fashion shots
Follow someone who is good at DIY memes
Cons:

Before sharing memes on your other social media networks, you must first upload them to this platform
5. Meme Producer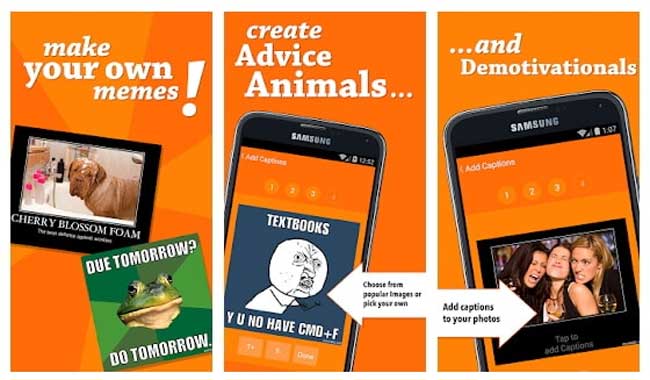 The fact that this meme generator has over 100.000 installations on Google Play demonstrates how fantastic it is. Mematic is meant to help you quickly and easily make memes. All you have to do now is add captions and share the meme with your friends.
You can download this meme generator app on both iPhone and Android. It's very quick to operate this meme generator editor on your phone. Many animal memes are up-to-date and all of them are free to share or reedit.
Pros:

Free meme generator comes with no watermark
Gives you access to hundreds of classic meme images
Simple to use, so even if you've never used Mematic before, you won't have any trouble creating memes
Quick speed to renewal
Cons:

There are no photo editing features in the program, and basic text formatting tools are available
4 Best Free Online Meme Editors & Makers
You're saying that you don't want to download any apps and software? Here's the solution. With the 4 best free online meme generators, you'll find more types of meme templates and meme elements yet you may need to check the internet quality before using those tools. Keep reading!
1. ImgaFlip Online Meme Generator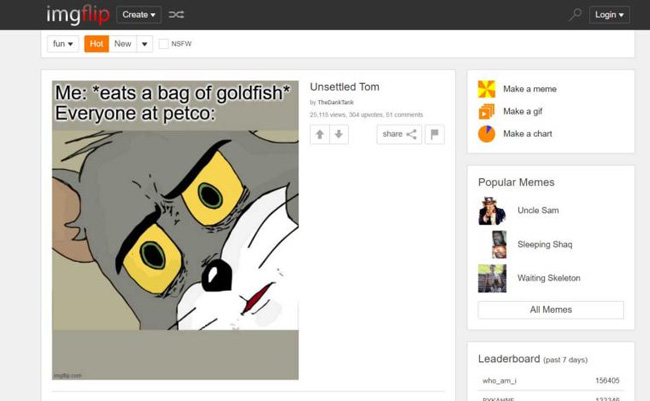 If you like memes, you've probably come across this very popular meme creator page. ImgFlip meme generator is an online meme creator that allows you to create memes without registering. ImgFlip has a large meme library to select photos and write captions. After that, you may quickly post the memes on social networking sites. You may also edit existing GIFs on the site. All the meme-making tutorials are very simple to carry out on this online meme generator.
Pros:

Ai meme generator online
Alter photos into posters, banners, and more, in addition to memes
Popular meme templates to choose from
Free to use
Cons:

The user interface may appear a little messy
On the meme, there will be a watermark
2. Makeameme.com Online Meme Generator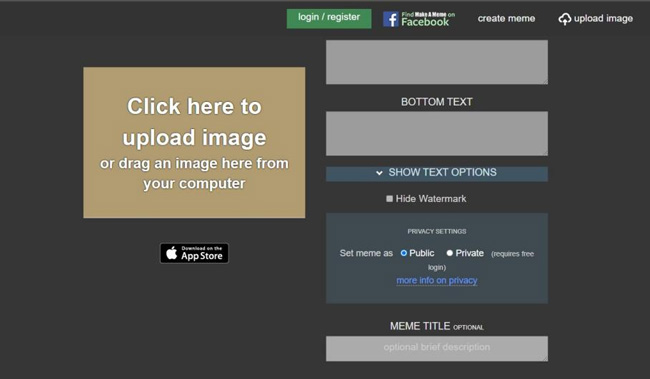 Makeameme.com is a social networking site to create a profile and upload photographs and videos. This program includes a GIF editor and picture editing features. You may customize the text by changing the font, size, and color and adding as many stickers as you like to your memes. Makeameme.com may be used to locate a variety of photos, including pet photos, autos, and fashion images, as well as memes. You must first publish memes to this site before sharing them on other social media platforms.
Pros:

Loads of music and audio effects for sports videos
Set meme as private or public
Watermark-free
No meme templates
3. Canva Online Meme Generator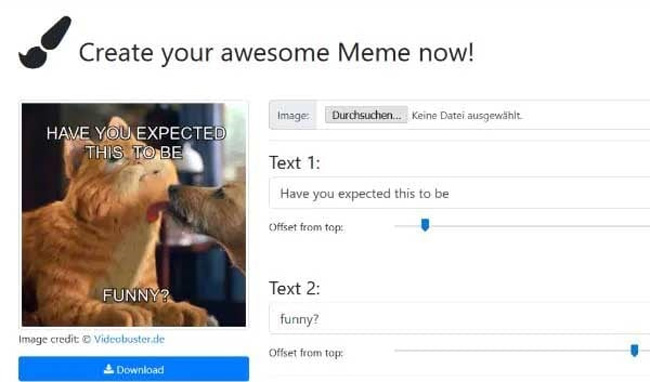 Canva's Meme Generator is ranked second on the list, with millions of stock pictures available to users. You can use your photographs to build memes and change the font and text colors. To make your own meme with this generator, you can directly put the images inside and then try to add texts. Also, you can browse many more meme templates with this generator.
Pros:

30+ filters and transitions for sports video making
It's free and simple to use
There are several templates to pick from
User-friendly
Cons:

Watermarks will be added to premium photographs
4. Pinterest Online Meme Generator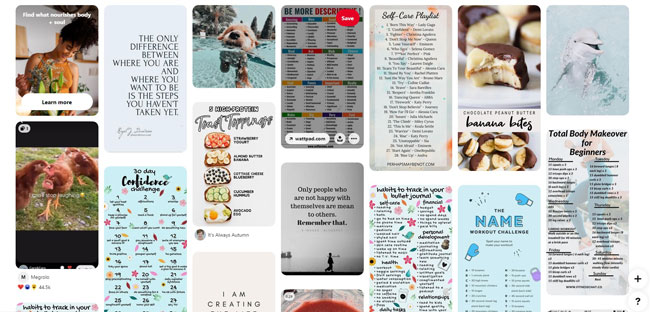 Pinterest and memes are inextricably linked. Memes and Pinterest have coexisted in the past and continue to do so presently. Do you want to discover why this website is so successful? Some of the most viral memes in history were created on this site.
Pinterest, the most popular meme creator online for free, allows you to do things like upload photographs, alter them, and share them on social networking sites.
Pros:

Provides the benefit of using the default picture background
There are several editing possibilities available
Bountiful in meme templates
Free to add background
Cons:

It is necessary to create an account to contribute memes
Conclusion
Making a meme requires creativity and a sense of humor, but you'll also need a strong tool that allows you to communicate your thoughts exactly as you want. A decent meme generator tool can let you forget about the technical aspects of meme creation so you can concentrate on what matters most.
What's your favorite software for making memes? Share your thoughts below!