VFX plays a huge role in today's trendy video sharing & editing social platforms like TikTok and YouTube. In the previous sharings, we together learned the Chroma Key(Green Screen) video maker, Slideshow maker, Split-Screen maker, and Boomerang video maker.
And in this sharing, you'll see the best video speed controllers for any video resource. Similarly, a video speed controller can be used as a Slow/Fast-Motion maker, the former helps you adjust video speed in real-time while if you want to make the video speed inherently changed, only the latter is possible.
Now, go and play with these great video speed editors as well as extensions built-in Chrome, Firefox, & Safari!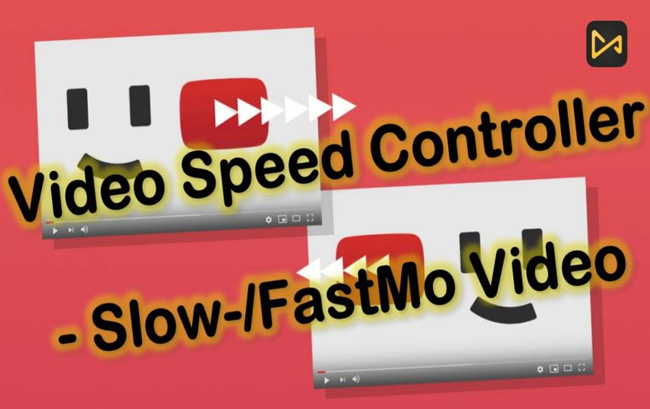 Video Speed Controller Software or Web Extension?
There are differences between the video speed controller software and extension. For example, you may find it easy and flexible to adjust the video speed yet you cannot make the adjusted video speed fixed.
Let's see what we should opt for according to different circumstances.
| | Video Speed Controller Software | Video Speed Controller Web Extension |
| --- | --- | --- |
| Pros | Make a great slow-motion or fast-motion video; Stable; Safe; Large storage; Without Ads; No lags; More interesting video editing features and effects to discover. | Quicker and simpler; Speed up or slow down a video in real-time; No downloads; Free (Need Login). |
| Cons | Some tools need downloads and subscriptions to operate. | Only change the speed; Ads; Require high-end computers. |
7 Best Video Speed Controlling Software, Online Tools, & Apps
Want to make a video with slow-motion or fast-motion effect? Now, try to take advantage of the following video editors. Also, you can use them to play your videos and films at wanted speed.
Top 1. TunesKit AceMovi: Video Speed Controller Software
TunesKit AceMovi has attracted more than millions of active users spread over the world. It's overwhelmingly easy to begin video editing with this program, users frequently prefer to deploy the Video Speed Controller, Webcam Recorder, Video Splitter, Video Cropper, Video Reverser, Soundtrack Equalizer, Split-Screen Maker, File Converter, Titler, etc.
Another point that makes TunesKit AceMovi different from other video editors lies in the supported import/export formats. MP4, AVI, MPG, 4K Video, HEVC MKV, MPV, TRP, WMV, M4V, DivX, DVD-Video, WebM, and many more types of formats are functional. For uploading videos on YouTube and Facebook, AceMovi'll export the new-made video at AutoFit quality with one click.
[Tutorial] As for controlling video speed with AceMovi, you need to import files via drag-n-drop or go to the Menu > File > Import Media. Then click the ⚡ icon on the toolbar with which you can customize the video speed slider in real-time. Now, give it a try!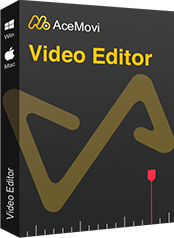 AceMovi Video Editor
Security Verified. 6,791,228 people have downloaded it.
Reasons to Try:

Control video speed from 0.01x - 100x freely
Easy-to-use workflow
Lots of templates like texts, background music, and charming filters/overlays
Make a slow-motion video in a couple of clicks
Export video at HD quality with 60fps even
A series of video/phone/web formats
Downsides:

The trial version brings a watermark
Top 2. VideoProc Vlogger: Video Speed Controller Software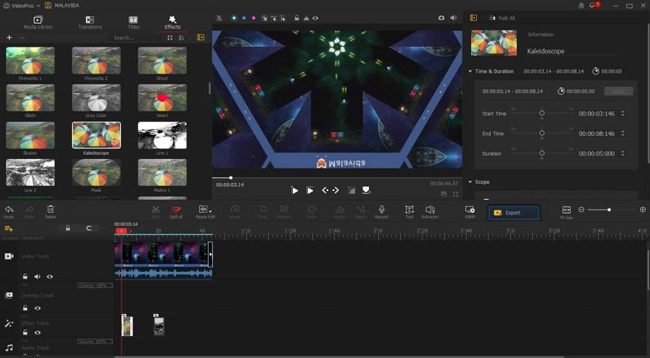 With an intuitive and easy-to-follow interface, even beginners will find VideoPro Video Speed Controller to hit their video-making & -editing road. Video Pro Vlogger is a tool with powerful motion effects, it catches every keyframe in your videos and makes them become cooler by applying features.
To be detailed, cinematic camera movement will be fast created through 28 motion presets of Tilt, Roll, Dolly, and Truck.
[Tutorial] Why do we praise VideoPro Vlogger as a well-performed video speed controller? You can drop your files under the timeline bluntly the go to the toolbar to click the Speed tab. In the pop-up channel, try to control the video speed based on your requirements like 0.25x, 0.5x, 0.75x, 1.25x, 1.5x, or 2x.
Pros:

Create camera movements technologically
3D LUTs & various filters
Fix grainy pics/photos
Motion-tracking to make keyframes
Render effects for video in real-time
4K and 8K support
Cons:

Fewer formats supported
The free trial processes 5-min files only, and only features basic edits
Top 3. VLC: Video Speed Controller Software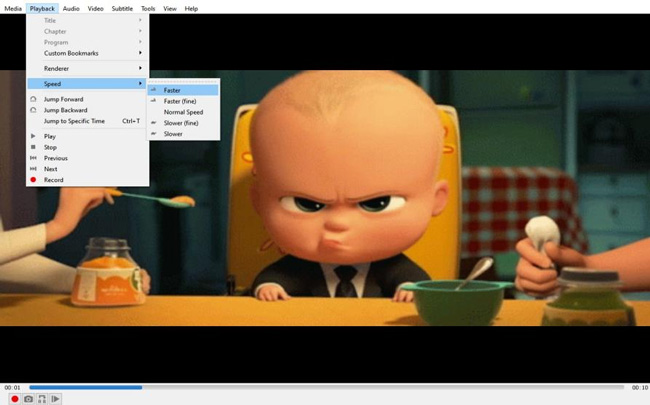 Want to try an open-source and multimedia solution for controlling video speed on Windows, Mac, and Linux? I think VLC must be your great choice. VLC gets a dropdown menu-based video editing interface and the most frequently used tool is the Effects & Filters(Ctrl+E) which navigates to Audio Effects, Video Effects, and Synchronization.
DVDs, Audio CDs, VCDs, and more multimedia sorts are available with VLC. And you can convert or export videos with no watermark.
[Tutorial] Most of the missions will be solved upon the menu. Right now, open up the folders of Playback > Speed > Faster/Normal/Slower.
Pros:

Easy to download on your device
Nonlinear video speed controller
Watermark-free
Full of effects and filters
A smart video player
Aspect ratio changer
Cons:

Complicated to begin
Top 4. 123APPS: Video Speed Controller Online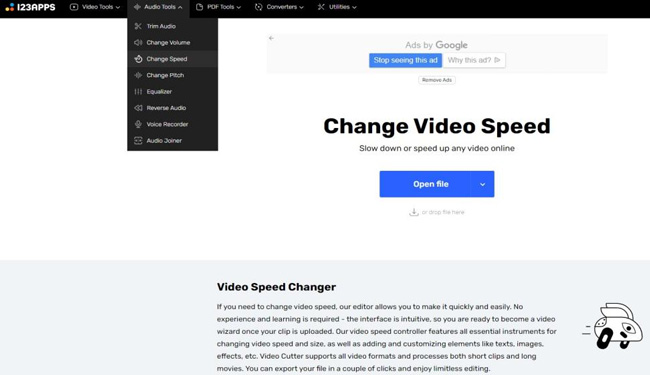 Here you got a video speed controller online tool. With this one, speeding up or slowing down video is easy to come into effect - 123APPS nonlinear online video editor. 123APPS compiles a set of tools like Video Trimmer, Video Looper, Text Adder, Video Resizer, Video Flipper/Rotator, Video merger, and so forth.
[Tutorial] With 123APPS, no experience and learning is required when it comes to controlling video speed, all you need to do is upload a video, set up the playing speed(x0.5, x2, x3), select encoding format, and download your work.
Pros:

Plain user interface
Brilliant PDF tools and Converters
Fast video speed controller online
Google Drive, Dropbox, and URL are supported
Great audio track dealings
Cons:

Ads
May become unstable and lags
Top 5. Adobe Creative Cloud Express: Video Speed Controller Online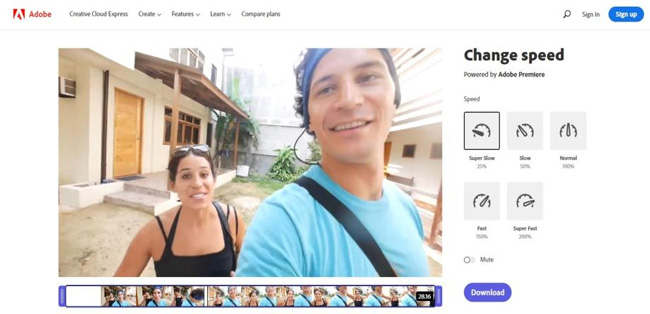 Adobe features an online speed video controller for free yet registering is required as the threshold. About video speed, 5 options are set, they're called SuperSlow(25%), Slow(50%), Normal(100%), Fast(150%), and Super Fast(200%). In this process, you can choose to mute your video while playing it in real-time.
Pros:

Easy to follow the tutorial
Mute the background music is accessible
Video Trimmer
Download and share for free
No Ads
A very stable rendering quality although it's an online video speed controller
Cons:

You need to login
Cannot customize video speed/limited choices
Top 6. Video Speed: Video Speed Controller App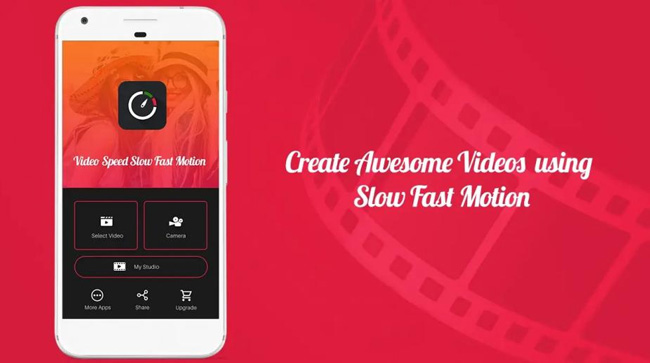 Let's go to a video speed controller app for iPhone and Android, it's named Video Speed actually but its features are not limited to changing video speed. Begin with selecting a video from local or capture a video by the rolling camera. This app can add a music track to your videos, and even you can listen to the video beforehand.
[Tutorial] Import your video from Select Video or record a clip then go to edit it. Fast your video up to 4x or slow down it to 0.25x. Other options like 1.25x, 1.5x, 1.75x, 2x, 2.25x, 2.50x, 2.75x, 3x, 3.25x, etc. Lastly, process it and make high-quality output.
Pros:

No hidden purchase-ins
Users are available to apply FFmpeg with the permission of LGPL
A full selection of fast/slow speed options
Support MP4, WMV, 3GP, AVI, MPG, MOV, etc
Add music to the video quickly
No Ads
Cons:

Limited features to improve your video
Top 7. SpeedPro: Video Speed Controller App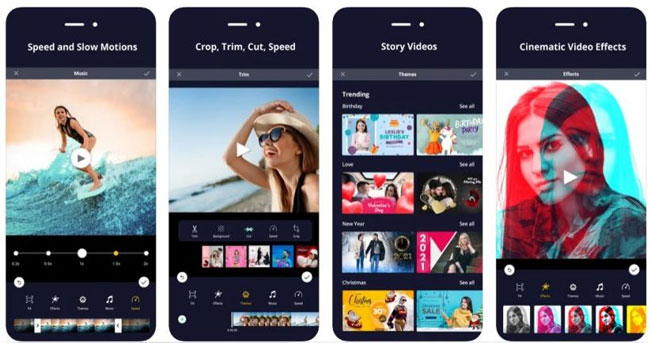 SpeedPro is a professional video speed app for both iOS and Android systems and makes itself outstanding by the full-featured program. This is not a completely free video editing app, someone holds the comment that SpeedPro is full of ads and watermark. To make it better, now buy it for $2.99 is advised.
[Tutorial] You can treat SpeedPro as InShot and TikTok, but this app is more advanced at controlling video speed. The speed slider is set inside the toolbar with a range from 0.2x to 2x. Just go to finger, hold, and drop the slider as your wish. You also can trim, crop, resize, add music, and add a sticker to your video.
Pros:

Professional video speed controller app
Download free for iOS/Android
Make story videos easily
Cinematic filters and overlays
Save your video to camera roll upload on YouTube/Ins/TikTok
No Ads
Cons:

Comes with ads and watermarks
3 Best Free Video Speed Controlling Extensions - Speed Up/Slow Down
Want to know the basic guides of using video speed controller extension online? Very easy and there is no download! Here select from the three extensions for Chrome, FireFox, and Safari.
1. Video Speed Controller Chrome Extension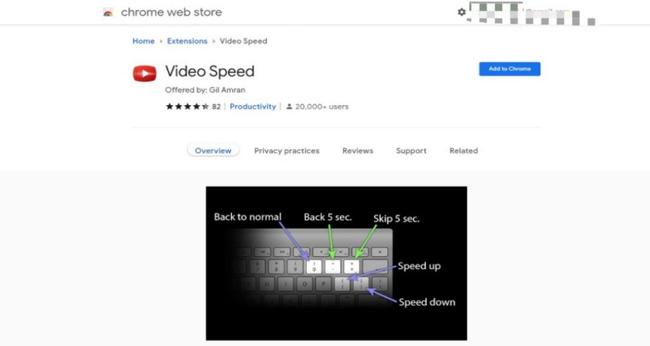 The best easy-to-use video speed controller Chrome supports is the Video Speed, offered by Gil Amran. 20,00 users have added this video speed controller chrome extension. You can easily find this extension on the chrome web store, to be detailed, go to Home > Extensions > Video Speed > Add to Chrome. That's free and versatile to grab into.
[Tutorial] So how to use this video speed controller? You just play any video on the chrome web, and the "0" make the video back to normal speed, the "-" back 5 seconds, the "=" skip 5 seconds, the "[" will speed up your video with 0.01 per time(holding it for quicker), while "]" slows down your video.
Pros:

Free to add to chrome
Popular and easy
Versatile in controlling video speed
Cons:

May mixed up with shortcuts
2. Video Speed Controller Firefox Extension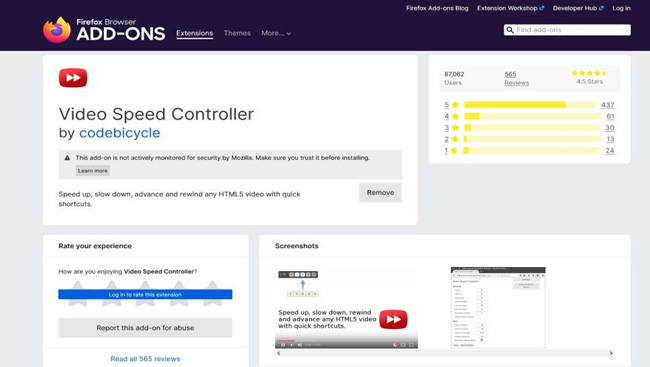 Heard you prefer the Firefox Browser to make daily searches and video plays? Firefox is an efficient web browser designed with a well-orchestrated navigating UI. To use the video speed controller on Firefox, try to follow the sequences of Home > Extensions > Video Speed Controller > Add. If you click the Remove, this Firefox extension will be deleted.
[Tutorial] So how does the video speed controller work on Firefox? When you installed the Video Speed Controller extension directly navigate to a page that supports HTML5 video, and a speed indicator will pop up in the top left corner of this media player.
Briefly, the "S" means decreasing playback speed, the "D" increasing, the "R" resetting, the "Z" rewinding 10s, the "X" advancing 10s, and the "V" showing/hiding the controller as your want.
Pros:

Easy to find and install
Completely free
Operating without lags
Complete buttons to control the speed
3. Video Speed Controller Safari Extension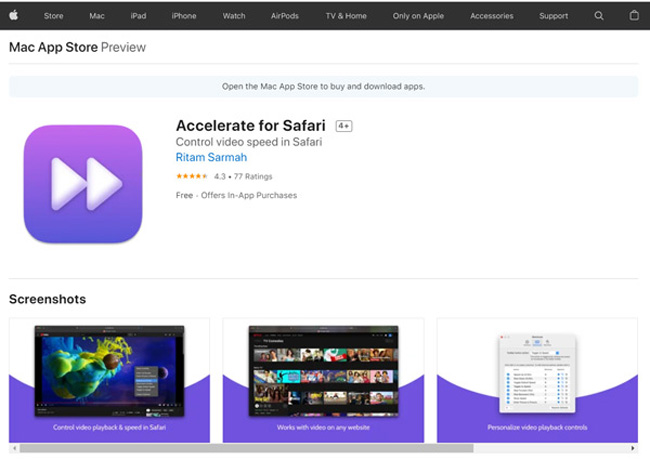 Mac App Store also provides a video speed extension to install and one of the recommended tools called Accelerate for Safari with which you're allowed to speed up and slow down video anytime like YouTube videos. If you want to change the shortcuts, go to your MAC settings > Extensions > Accelerate for Safari.
[Tutorial] So how to use the video speed controller chrome extension? By default, the "D" is made to speed up your video, the "S" slows down, the "R" toggles default speed, the "A" toggles 2x speed, the "V" shows the current speed, and the "P" enter PiP.
Pros:

You can control video speed anytime
A full set of speed controlling presets
Free to install
You can change related extension shortcuts
Cons:

Still possible go to strike
Lastly
What's your experience when using those recommended video speed controllers? In fact, you'll find they are the same in controlling video speed, while the differences lie in that which one offers an easier process. Besides, if you find the shortcuts uncomfortable to use, give it a change from the Preferences.