MP3 bitrate is the number of bits used per unit of playback time which in other words depict a steady audio stream after source coding. It defines the size and quality of the MP3 media. Nevertheless, in general, the higher the bitrate means the better the sound quality will be, and the larger the file size. Another factor is the amount of music stored on your device. Often it is the case with most users that they have hundreds or thousands of HQ/SQ music files stored on their device which makes the phone overloaded, decreasing the speed.
Therefore to fix this problem many want to compress audio files while maintaining a reasonable audio quality. To do this the most effective solution is to adjust the audio bitrate and use an MP3 bitrate converter. I have 6 recommendations for you on this page, let's commence!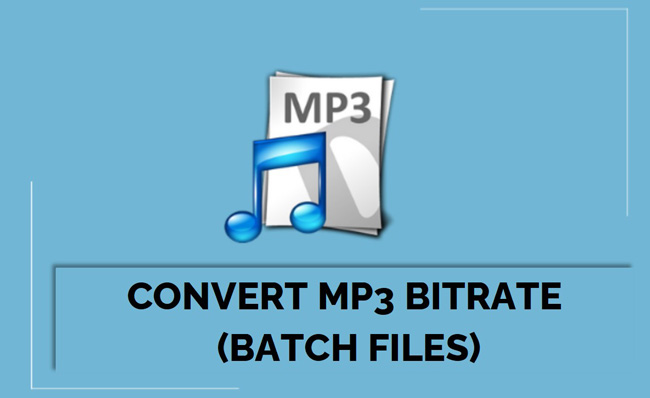 AceMovi: Best Sound Bitrate Converter Software Works with Mac/Windows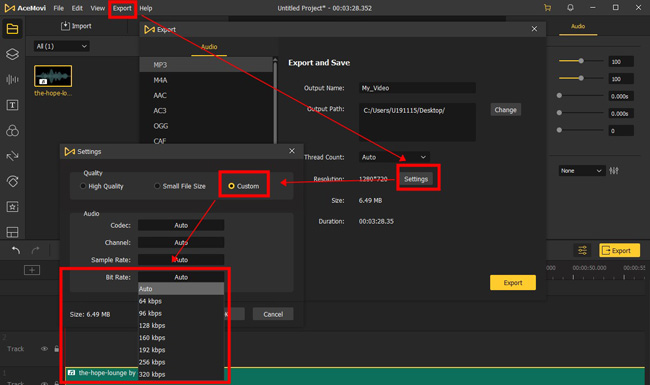 When you have decided to use an MP3 bitrate converter. What do you expect? Certainly, a converter helps you change the audio bitrate while keeping the perfect balance between quality and size. To suffice your requirement we have got the ideal software TunesKit AceMovi. This tool is used to convert music bitrate to lower or higher bitrate, or convert mp4 to mp3 with the wanted bitrate setting.
This impressive tool comprises easy-to-explore and simple settings that help you change audio bitrate from 64 kbps to 320 kbps with simple clicks, meaning that you can convert the bitrate of MP3 from lower to higher. And more importantly, exporting the audio track only is allowed with it.
AceMovi can be used virtually on low-end computers and supports most audio formats, including but not limited to MP3, M4A, AAC, AC3, AIFF, ALAC, etc. Overall it is the most powerful desktop audio editor and bitrate converter for Windows and Mac users to change batch MP3 files.
AceMovi Bitrate Converter
Convert audio bitrate range from 64 to 320 kbps
Export audio track only or a video with an audio
Convert audio values, like sample rate and codec
Support music formats of MP4, FLAC, AC3, etc.
Extract audio from a video file to change bitrate
25+ background music & 165+ sound effects
Guides to Convert Bitrate of MP3 with AceMovi Easily
A handful of video bitrate converters are versed in converting and controlling audio bitrate because the soundtrack is one of the key elements for a video. For AceMovi, you need to learn how to import, where to find the audio-exporting button, and which buttons are designed for users to convert audio bitrate. On this page AceMovi Media Bitrate Converter offers you demo versions that are the latest and safe. Come with me to learn the tutorials in the following.
Add your MP3 files to the timeline track by clicking on "Import" from Media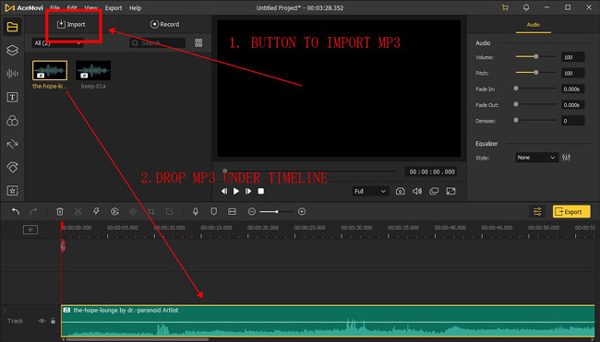 At the first sight you load on the UI of AceMovi Video Editor, and click the "Import" icon to add your music to this software. Then drag their thumbnails and put them under the working track.
Go to menu, find "Export" > "Export Audio" > "Settings"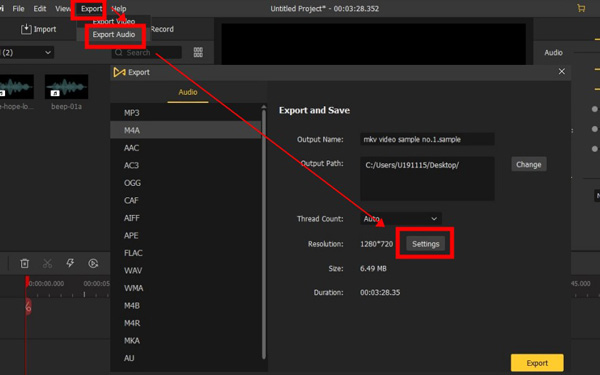 As we said, editing MP4 is a bit different from controlling MP3 by AceMovi. If you want to convert a solo MP3 file, go to "Export" > "Export Audio" > "Settings" from the menu. You see the pop-up workspace whose name is "Export", meaning that you're in the place to set the final settings of audio merely. If you need to download a video from AceMovi, click the yellow button from UI directly.
Choose auto-edit-bitrate or manually change the bitrate of your MP3 file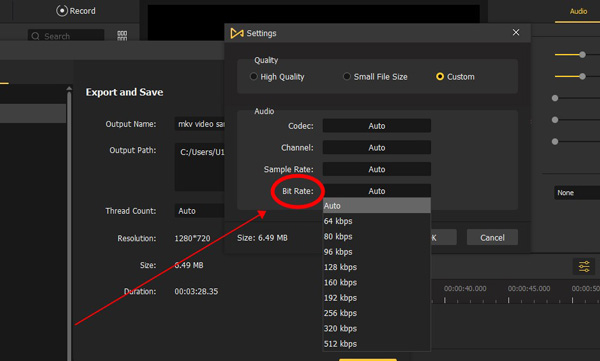 Click "Settings" to get into the page used to manipulate advanced variables such as codec, channel, sample rate, and resolution. To automatically convert MP3 bitrate, press "High Quality" or "Small File Size" from "Quality". If you want a precise degree of bitrate, choose "Custom" > "Bitrate" in which you're empowered to select 64 to 521 kbps. After that, pick up the audio format and output path to get your audio.
Other Free MP3 Bitrate Converter Recommendations in 2023
Want to use online MP3 bitrate converters or other the same kind tools to compare until finding the best one? More audio bitrate changers are provided to empower you to enjoy music with excellent sound quality. With dozens of options in front of you, choosing the best one can be a daunting task. Therefore here we have offered five other sound file bitrate conversion options.
1. SuperSimple (OS: Windows, Mac, Linux)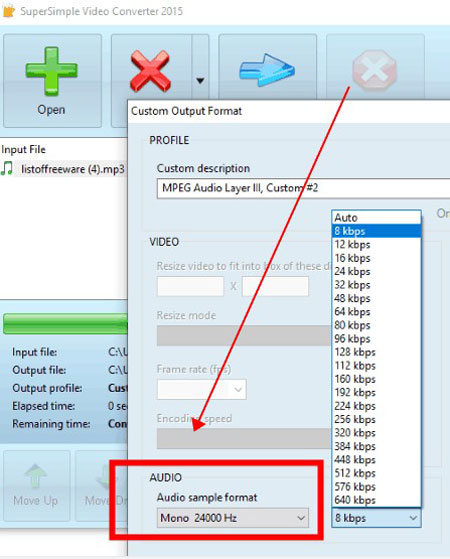 SuperSimple is a handy and free bitrate MP3 converter, which is often used by audio editors for movie post-production. Despite being simple and quick this software works on multiple devices. It enables users to not only change the audio and video formats of input media files but also allow them to modify their audio bitrate, resolution, output channels, as well as frame rate.
Most importantly, the biggest difference between other audio converters and SuperSimple is that SuperSimple covers wider arranges of bitrate values ranging from 8 kbps to 640 kbps. Some of the formats supported by this software include MP3, OGG, AAC, WMA, MP2, WebM, MKV, AVI, MOV, OGV, etc. In addition, you can even merge multiple audio files to form one large sound.
Pros:
Input multiple MP3 files to convert
A wide arrange of bitrate values to set
Change more types of audio metadata
Easy tutorials for newbies
Cons:
It's available for Windows only
2. 123APPs (OS: Online)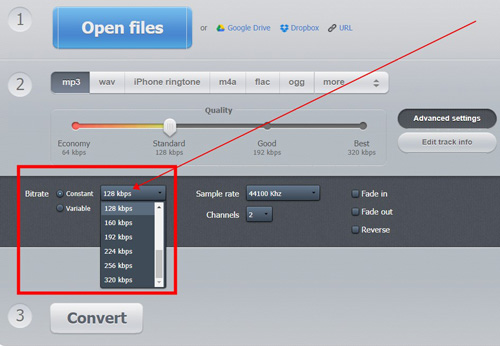 123APPs is the last but not the least online audio bitrate editor you can use for free and export video up to 720p resolution. It is used to perform audio and video conversion at high quality. As a web-based tool, it allows you to change a set of media parameters such as format, variable, effects, sample rate, and channels.
It supports sorts of audio file formats like AAC, AC3, MP3, WAV, etc. Moreover, this mp3 bitrate converting option provides you with the point to add and process multiple files at the same time. With this program you can easily and quickly reverse songs as well.
Pros:
Upload MP3 file from the directory, Google Drive, Dropbox, and URL
Quality options from Economy (64 kbps) to Best (320 kbps)
Convert mp3 bitrate online with no extra downloads
Apple fade-in and -out effects
Reverse your song in one click
Cons:
A lot of ads on the webpage when you convert files
It needs more types of audio formats
3. VLC Media Player (OS: Windows, Mac, Linux)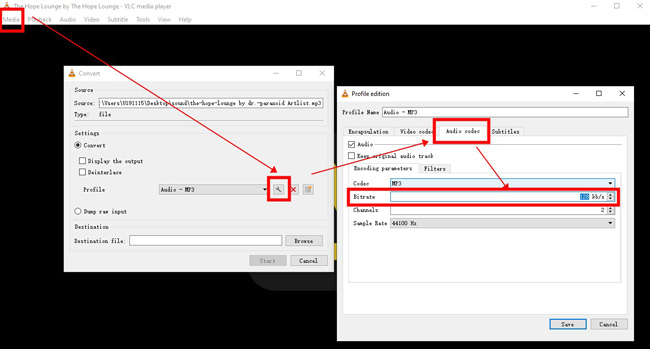 Want to use one of the most commonly seen media players to convert MP3 bitrate without delay? VLC is an open-source and versatile software where you can play almost any video or audio-supported video. It is a free and linear audio bitrate converter for Windows, macOS, and Linux.
People who have used this tool are aware of its impressive features and unique effects. It allows its user to not only change MP3 or AAC bitrate but also file format. Another feature of this audio file bitrate converter is that it is powerful for batch audio value changing. You can say it's remarkable software that is efficient at doing many more video-related tasks.
Pros:
Robust system for Windows, Mac, and Linux
Convert any type of audio file losslessly
Edit video without branding watermarks
Customize MP3 bitrate for free
Cons:
You need to learn tutorials if you are a newcomer
It's unfit for batch MP3 audio bitrate conversion
4. TEncoder (OS: Windows)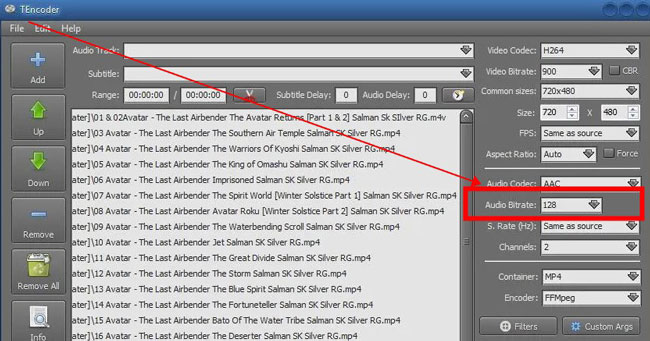 TEncoder is an excellent option for converting MP3 bitrate for free and making songs attention-grabbing. It is used for both beginners and professionals. Moreover, it allows for batch MP3 file editing, which permits you to manipulate the audio bitrate of multiple files simultaneously.
With this tool, you can also alter the parameters of input files such as video resolution, audio frequency, screen aspect ratio, frame rates, audio channels, audio codec, encoder, and more. Thanks to this software you can also download videos by using their URL links, or further preview, edit, add watermarks, etc.
Pros:
All-in-one audio editor for PCs
Brilliant batch mp3 bitrate converter
Convert mp3 to lower bitrate easily
Sorts of audio formats can be processed
Change audio parameters from a video
Cons:
There is a lack of the performance monitor to playback the video changes
5. QWinFF (Windows & Mac)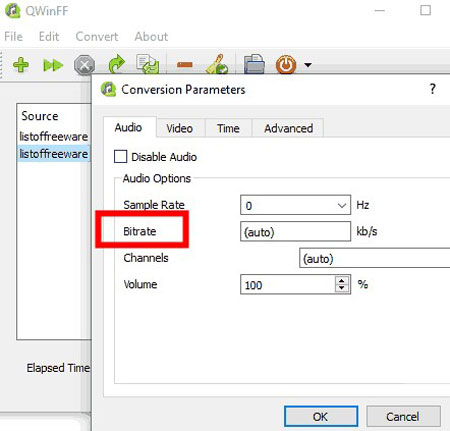 QWinFF is known as the free audio bitrate converter software which enables you to change not only audio and video file format but you can alter output audio quality. The advantage of this tool is that it is simple, easy, and supports many formats including MP3, AIFF, MP2, WMA, AC3, MP4, AVI, WMV, etc. Batch conversion is also possible.
To convert your MP3 files with QWinFF, you need to upload the wanted files to the "Source" palate at the very beginning. You can convert as many files as you want. Then click the "Convert" button from the menu in the left upper place to click the "Audio" and "Bitrate" to convert the default value to your wanted kbps.
Pros:
Straightforward interface design
Change MP3 sample rate, bitrate, channels, and volume in one screen
Batch MP3 bitrate converter with QS output service
Trim and split the audio into a video
There is no real-time playback window
Cons:
Large files are easy to go crush when converting the bitrate
Frequently Asked Questions about Changing MP3 Bitrate
Q1: Is it free to convert the bitrate of my MP3 files by AceMovi Video Editor?
Yes, AceMovi is free to edit audio files, including MP3, AAC, FLAC, etc. Apart from decreasing or increasing the audio bitrate as per your needs, AceMovi is an all-around audio and video editing option that helps users to create fantastic, high-standard content in a few minutes. Follow the basic subscription of AceMovi to open a new video editing world.
Q2: Which is the best MP3 or audio quality for YouTube channel?
There are different requirements for quality in the YouTube channel. To be exact, the low audio quality needs 48 kbps, the normal is 128 kbps while the high is 256 kbps, with mp3., aac., or other high-quality audio format output.
Q3: What happens if the audio bitrate is high?
First, the file size is bigger. Then, the quality is better. But it doesn't mean that the higher the audio bitrate, the better quality of your file. You'd better check the requirements of your device or platforms that you plan to upload. In fact, 256 or 320 kbps are standard normal than others.
Conclusion
That's all for how to change MP3 bitrate with the top best MP3 bitrate converter. You can choose the online bitrate converter as per your need. However, AceMovi and TEncoder are overall simple tools that are jam-packed with impressive features. While SuperEasy compiles even 8 kbps to 640 kbps in the parameter setting panel.