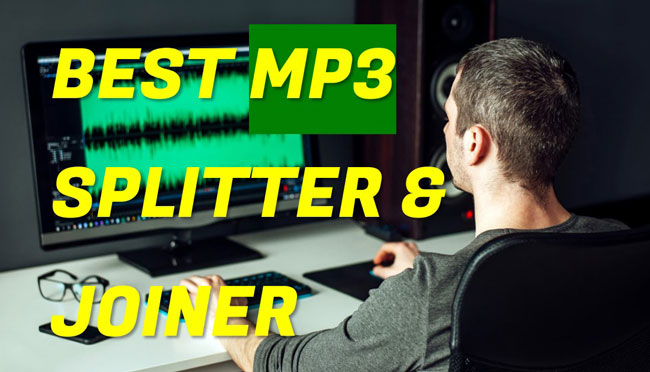 Every music lover splits and joins MP3 files to get a particular part for several purposes - It can be for memes, ringtones, presentation audio clips, blending into multiple songs, or other things. In a word, the better the MP3 splitter and editor, the better the MP3 output quality and editing experience.
Plenty of MP3 splitter software available in the market that boasts ease of operation and cost-efficient subscription when working with MP3. When looking for the best ones, there are many points to keep an eye on. With these qualities in mind, below are the 10 best MP3 splitters you can use to split and merge various songs for a wanted process. It's time to hit the road!
AceMovi Easy-to-Use & Free MP3 Splitter for Win/Mac
Most times, the audio files you want to work with are in a video clip. If you fall into this scenario, then AceMovi Audio Editor is your best MP3 splitter and extractor. The video editing software will allow you to split the video clip to get the exact part where the audio is located. You can then export it as an audio file and have an MP3 to make further edits like joining and converting.
AceMovi is known for its feature-ruch functionality and convenient UX. You don't need to do much or learn tutorials online to master AceMovi. You have quick access to all built-in function buttons to hit your road. For instance, the video will become split-screen by clicking the "Split-Screen" from the left sidebar; You can add background music to the video by going to the "Music" in stock.
AceMov has been updating video templates for your festivals, weddings, school projects, training, and more. Click here to edit and split your MP3 files!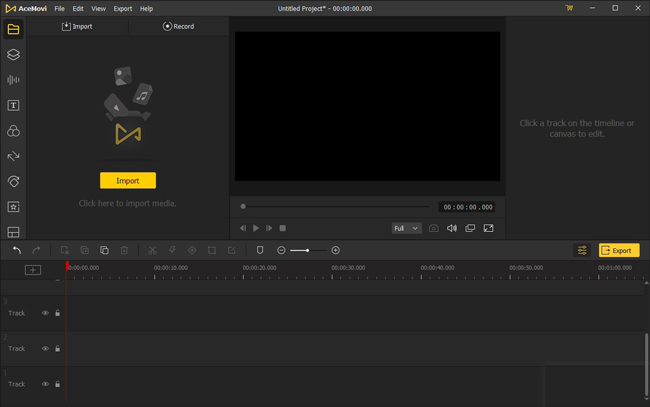 AceMovi Easy MP3 Splitter
Convenient editing process
Supports M4A, M4B, M4P, M4R, MP3, etc.
Soft learning curve
Split MP3 in a breeze
Royalty-free music and audio effects
Dub a video professionally
Change audio bitrate, codec, sample rate and speed
Audacity
Audacity is one of the best tools for splitter MP3 on our list for many reasons, such as it provides an audio mixer and waveform. More is that the software is free, meaning access is not restricted. And it is open-source, indicating that improvements are constantly made to make it better than other market players. Feature-wise, the software has a friendly interface so beginners can easily interact and split audio files.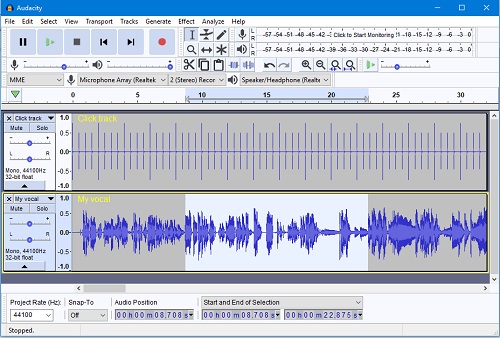 Pros:
Cut and combine audio clips
Remove background noise
Add special effects
Create your personalized recordings
Cons:
Several bugs due to being open-source
Limited in terms of mixing audio
Does not have a user-friendly interface
Free MP3 Splitter
The free MP3 Splitter makes it easy to trim your audio files to your taste. It also allows you to add a personal touch to the split parts. The application has a friendly interface that makes it easy for beginners to split music as they like. It is free and allows you to track the audio files, making multiple MP3 splitting easy and quick to come into true without losing original quality.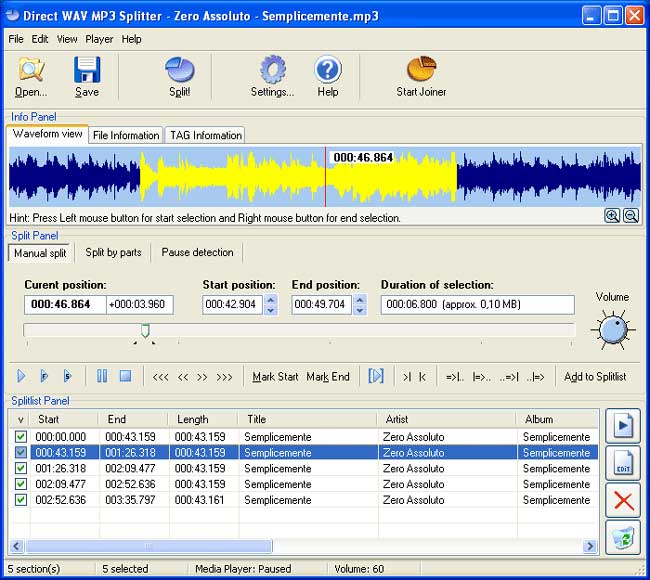 Pros:
Comes with an easy installation process
User-friendly interface
Instantly split a song and join it with others
Major audio formats supported
Cons:
It does not have a special audio effect
Absolute MP3 Splitter & Converter for Windows
Absolute MP3 Splitter & Converter is a tool available on Windows OS that allows you to split and join MP3 files. It also has several editing features that allow you to adjust the volume of the audio clip, fade in and out, mute it, and undo/redo options. Open Absolute MP3 Splitter on your computer, import the audio you want to split, and let the process begin. Absolute MP3 splitter free download and try is available.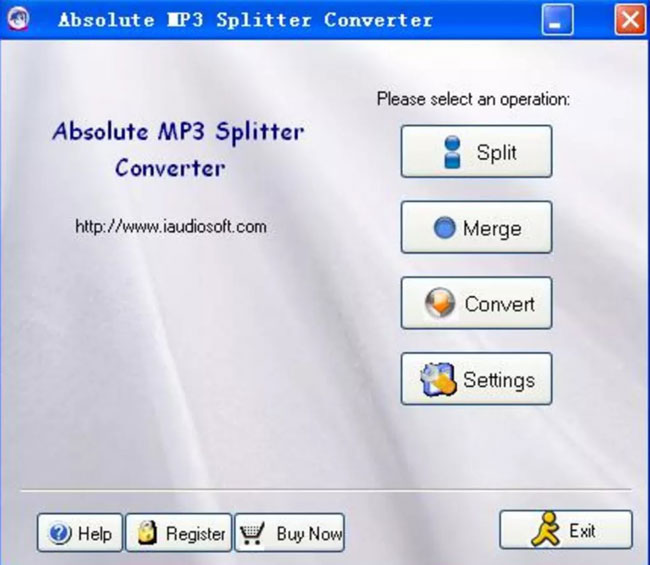 Pros:
Available online and on other OS
Professional editing features
It has a quick interface
Compatible with several output formats
WavePad Audio File Splitter
WavePad is another audio file splitter you should consider if the above doesn't appeal to you. The tool has a comprehensive working that allows you to split audio files without regard to size. It is available on Windows, iOS, and android and has intuitive functionality. It also supports other audio formats, such as WAV, VOX, GSM, WMA, AU, AIF, and FLA.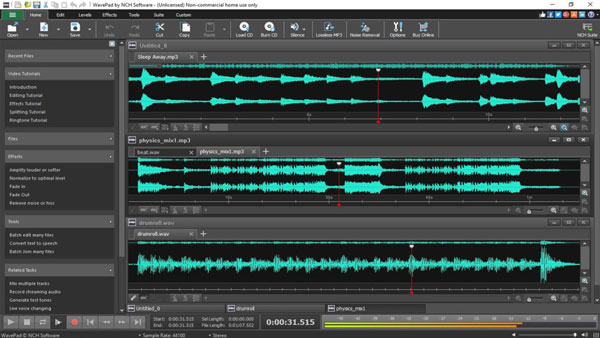 Pros:
Split multiple audio files at once
50+ supported audio formats
Reduce audio noise
Scrub, search and bookmark audio for precise editing
Spectral analysis (FFT), speech synthesis (text-to-speech), and voice changer
Cons:
Not customizable and user-friendly
MixPad
As a brilliant multitrack recording and splitting software, MixPad is the top option for those who like producing their music themselves. The toolkit is compatible with several audio formats and allows you to split and join multiple audio files. It supports multi-track recording along with various audio formats. You are allowed to add audio effects to your video, including EQ, compression, reverb, and more.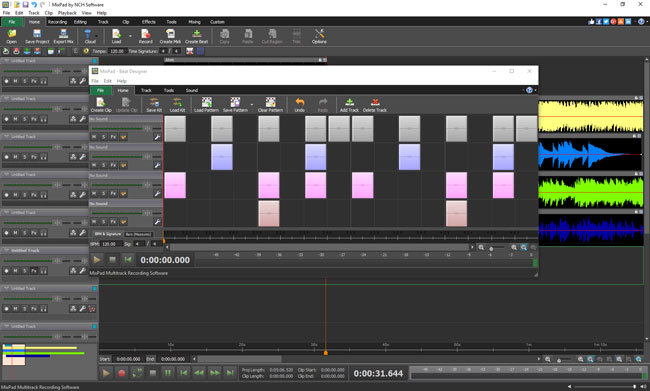 Pros:
Mix and record voiceover and music
Royalty-free sound effects
Support VST plugins
Load any audio file
Use the Beat Designer to craft your own beats or start with a sample pattern
Cons:
Unable to edit the MP3 file in a video
MP3 Toolkit
The MP3 Toolkit is available on Windows and allows you to edit audio files using its features. Editing functions include splitting, merging, cutting, ripping, tag editing, and converting. The software is free and suitable for working without regard for number and size. For multiple editing, you can split and join multiple songs in an already set order. You find it easy and quick to get started with an MP3 splitting project.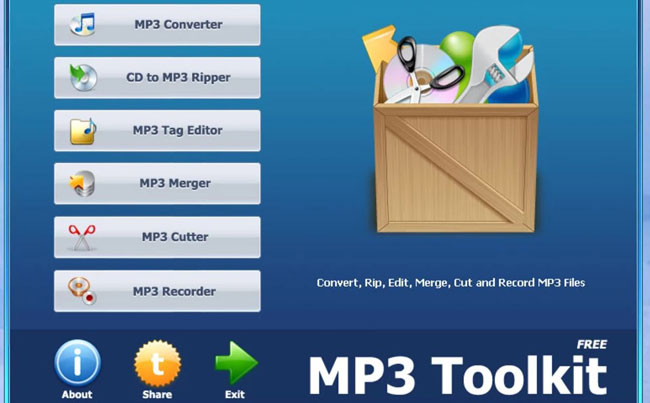 Pros:
Convert, rip, merge, cut, record and tag edit
Cut MP3 to pieces
Convert audio files to MP4
Detach/Extract audio from video files
Record sound to MP3 format
Apowersoft Free Online Audio Editor
Apowersoft is a powerful MP3 Splitter famous for its seamless operation and an easy-to-learn interface. The unique thing about the tool is that it supports different audio formats such as MP3, FLAC, M4A, OGG, and AAC. Also, there is no limitation on the size and number of audio files you can work with. You can also mix several audio files and edit them accordingly.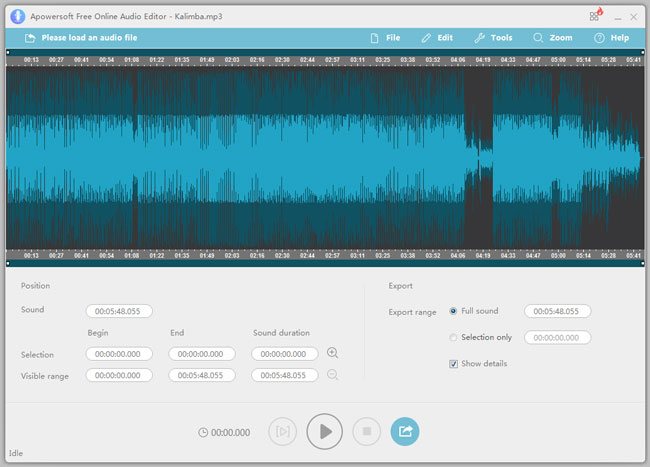 Pros:
Many editing features such as merging, fade-in, etc.
Unlimited editing
All features are available for free
Split and join MP3 files with ease
Mix sound file online
Combine songs into one
MP3CUT Online Splitter
123APPS compiles a smart array of audio and video editing technologies. The MP3 splitter and cutter of it is easy and functional at present. Google Drive, Dropbox and URL copying-n-pasting are some of the channels to make imports. This web-based MP3 splitter and joiner supports over 300 different formats. Users can create iPhone ringtones in one click and save them in M4R format.

Pros:
Fade in and fade out smoothly
Split MP3 online with any downloading
Extract an MP3 file from a video
You can edit and split MP3 via URL
Split files at a high speed
Cons:
You may see Ads on the interface
Audio Trimmer: MP3 Splitter Online
If you want to find a portable and online-based audio splitter and editor toolkit, AudioTrimmer shows its power and tech in this aspect. Audio trimmer, MP3 converter, Tempo changer, audio reverser, volume booster, and more interesting tools are provided here. You can make ringtones with this built-in royalty-free music resource and audio effects. MP3, M4A, WAV, OGG, M4R, POUS, APE, AIFF, and more formats are included. Now, dive into this MP3 splitter on Windows 10 and Mac.

Pros:
Easy-to-use design
Split MP3 files automatically
Upload unlimited files
A full set of tools to edit audio
Tempo changer and audio reverser
Conclusion
Many Mp3 splitters online are at your reviews, each having unique features and characteristics. For normal audio splitting, the ten can do the job losslessly. However, you can use AceMovi and Audacity to split the audio if you are working with a video file. Go through the article to learn the best MP3 splitters you can use to split and edit your audio files.