The audio quality determines to a large extent whether an audio is bad or good. Except for speed, duration, codec, bitrate(kbps), pitch, and many more basic values of an audio track, volume is the most fundamental factor that is bound to be synced and balanced in the first place for making Hollywood-quality postproduction or broadcasting.
There's a condition where you find the volume of MP3 is too low to hear even if you've slid the bar to the rightmost. The glitch lies in the fact that the creators mistakenly set the inherent MP3 volume, and the only way out is to edit it using an audio editor. It's a piece of cake! I've tested some tools in practice and am going to share with you how to make MP3 louder. Let's dive in together.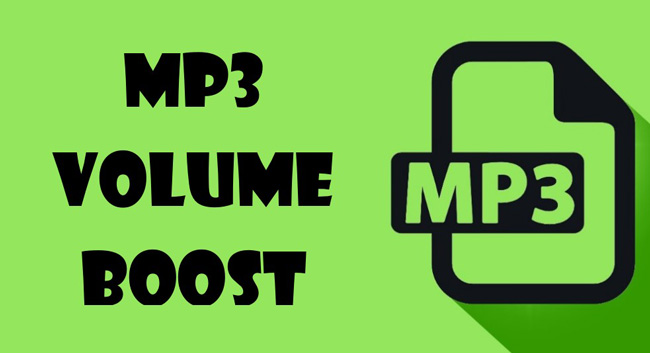 How to Make MP3 Louder with AceMovi Audio Editor on PCs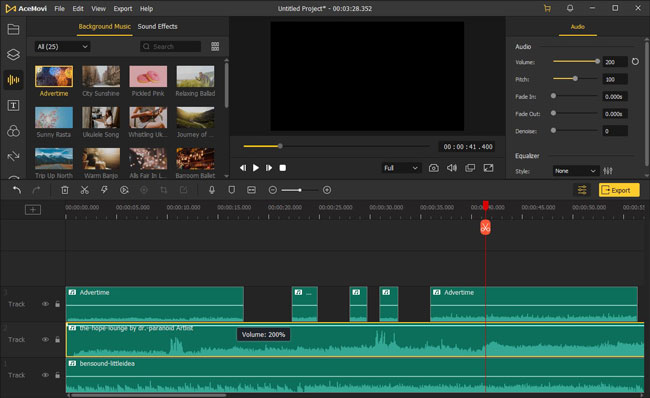 Recording audio from microphone, making MP3 louder, trimming out unwanted sound clips, denoising background noise, and converting MP4-to-MP3(or M4A, AAC, AC3, OGG, CAF, AIFF, APE, ALAC, AU, etc.) are easy and basic for AceMovi Audio Editor. But more than that, AceMovi shows ability in editing the soundtrack in your videos - Euqalizing, extracting, reversing, speeding, slow-motion, exporting, and more features are offered on the free trial version of AceMovi.
AceMovi is a proven easy-to-navigate software for creating high-fidelity audio and video footage. The profile covers all built-in buttons of functions and effects to enhance and boost your drag-n-drop files from YouTube, TikTok, Facebook, and any other social platforms. 300+ stickers and text templates, as well as music resources for free lienceses with this toolkit. Now, produce magic with AceMovi!
AceMovi Audio Editor
16+ popular audio formats are supported
200+ royalty-free music and sound effects
Prompt audio bitrate up to 320 Kbps
Switch from Mono and Stereo modes
An intelligent array of audio editing tools
Able to record and export sound track only
Increase MP3 volume in a couple of clicks
Learning Tutorials of AceMovi: How to Make an MP3 File Louder
To Import MP3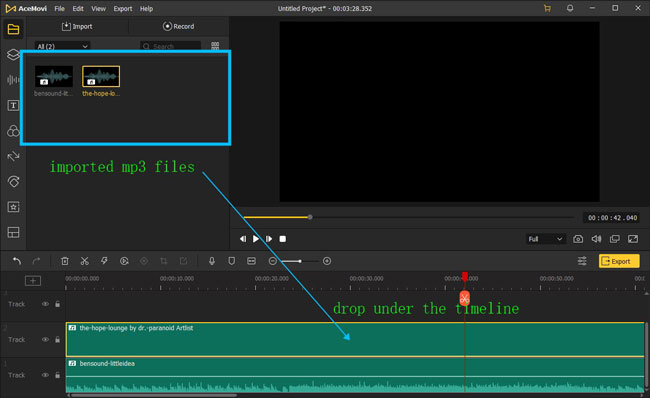 AceMovi comes with a drag-n-drop interface for users, you can make imports by dropping your MP3 files under the timeline directly. This tool supports you to add unlimited soundtracks and video tracks.
MP3 Increase Volume - 2 Ways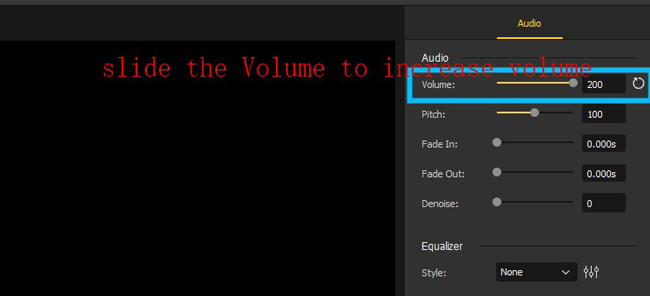 A full set of volume, pitch, fade in, fade out, denoise, and more are built-in AceMovi's panels of "Properties" and "Audio". You can slide the "Volume" slider to make MP3 files louder by up to 200%.

Another way is to hold and drop the volume line from AceMovi's timeline. It is deft and easy to do.
Export Audio Track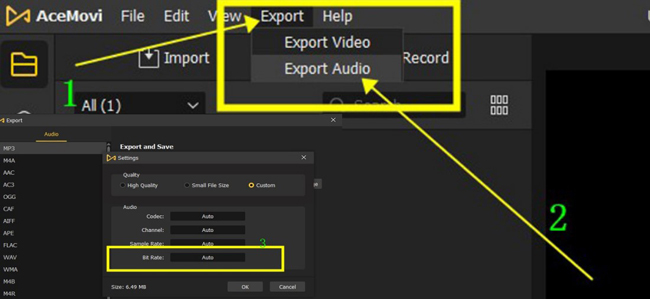 For exporting the volume-increased audio track from videos or converting videos into audio, click "Export" and "Audio" from the menu on the left-upper place. If you need to export your videos, click the "Export" on your right hand. Then you will see channels to download videos in various formats of audio and social media. For more services and features, click here to get AceMovi!
How to Increase Volume of MP3 Recording Online for Free
Want to make MP3 louder online directly from a web browser? MP3Louder.com is one such wonderful website that allows users to increase the volume decibels of uploading MP3 files online without downloading any complicated software. On the main page of this tool, you can simply select MP3 files from local and choose the decibels(1 to 50) to apply. More recommended sites include video compressor, video converter, word compressor, and audio remover. All are free to try, whereas you will find some ads.
Select Your MP3 Files

It is required to click the button "Browse..." to select files from folders of your computer or mobile phone. Compared to AceMovi, which is able to make MP3 audio louder and export single audio track from your imported videos, we found this online MP3 volume booster cannot deal with MP4 files.
Make MP3 Decibels Higher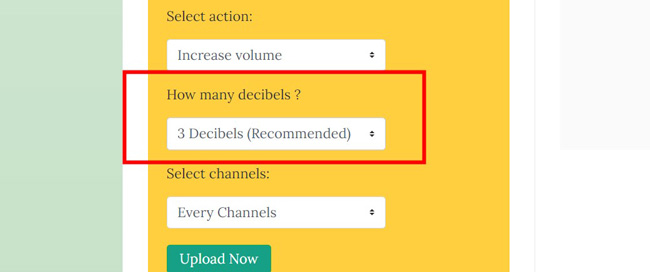 For the MP3 increase volume, you need to select action to increase volume first. The most essential step is to set the decibels of your MP3 files. MP3Louder supports you to expand volume decibels from 1 decibel to 50 decibels. Once over, click the "Upload Now" button to download the new, optimized MP3 file.
How to Make an MP3 Louder with Audacity
"Open-Source", "Cross-Platform", "Free-to-Use" and "Multi-Track" are some of the known labels of Audacity - A released digital audio editor and recording software for Windows, Mac, and Linux. This tool supports 16-bit, 24-bit, and 32-bit.
The built-in sample rates and audio formats are going to be converted using high-quality resampling and dithering. Besides that, tracks and selections are completely manipulated employing a large range of keyboard shortcuts. Now, we are going to make an MP3 sound louder with Audacity.
Import Files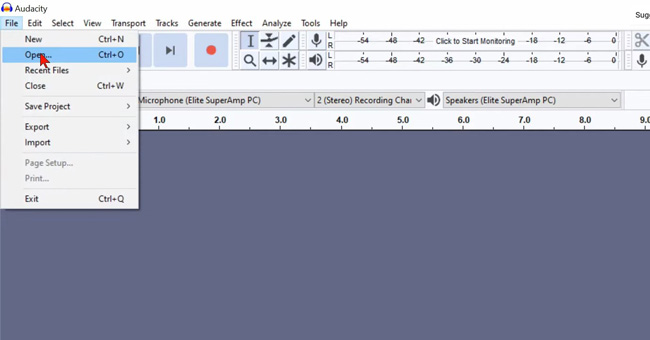 On the interface, go to the menu "File" and "Open" to select your files, or press the shortcuts "Ctrl + O".
Way 1 - Increase dB to Make MP3 Sound Louder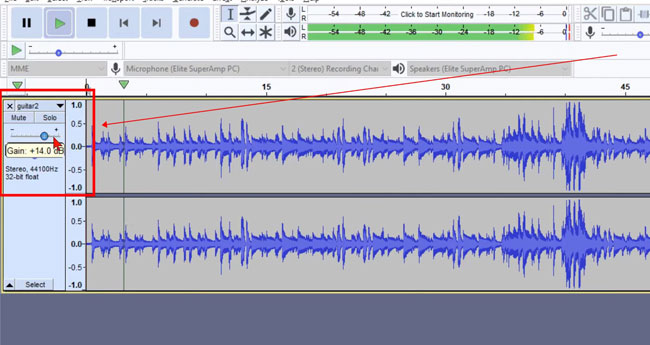 One way is to regulate the value of your imported MP3 files under the timeline. Audacity allows you to play the video in real-time while altering the gain and dB of your MP3 files.
Way 2 - Use Audacity's Audio Amplifier
Another way functional and straightforward is to operate the built-in MP3 amplifier by clicking on the buttons "Effect" and "Amplify".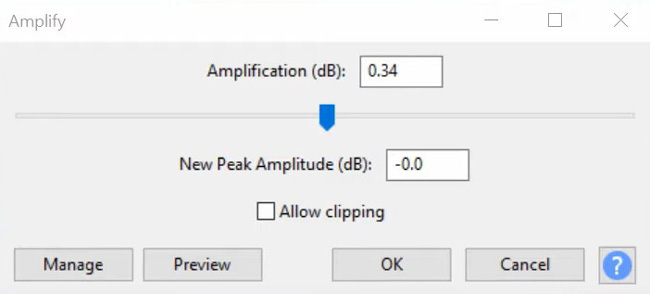 Now, you can see the basic settings on Audacity's Amplifier. It is fairly simple to make MP3 louder by modifying the amount of amplification and new peak amplitude.
Final Words
The presented online audio editor is supposed to be used on both mobile phones and desktops, meaning that you can use it on a webpage for free, yet the only thing you need to care about is you cannot use it to make the MP3 louder from a video. In this case, AceMovi and Audacity come to your rescue. AceMovi is easy for first-time users with built-in video templates and a brand-new interface, while Audacity is a high-impact audio editor that comes with complicated learning curve.