Music mixing is the process of integrating and blending numerous sounds into one. The ultimate goal is to create audio that the audience loves listening to. To do so, you'll need professional music mixing software.
Whether you're a musician, a film crew, a music production, or simply making distinctive ringtones for your phone, selecting the best audio mixer software might be advantageous. There are various possibilities for finding the best free software for audio mixing on the market.
Some are free, while others need a fee, or have extra features or are tailored to a certain operating system. The top 9 sound mixer software programs are listed here, from which you may pick the one for your needs. Here we get started!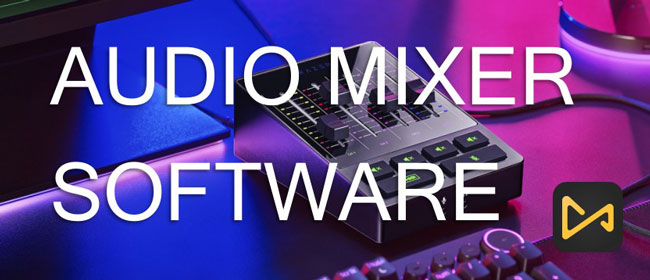 What is Audio Mixing and Why We Need It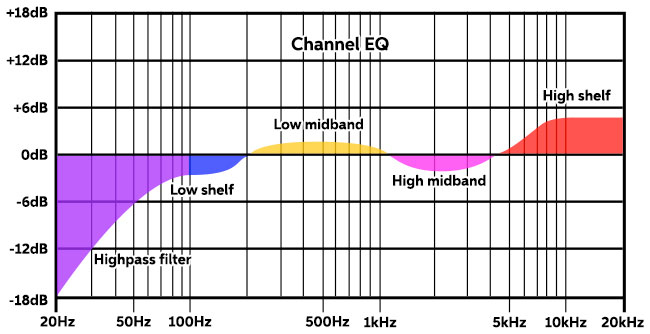 Audio mixing is a technique for altering the balance between audible frequency components. Previously, equalization was accomplished using a variety of hefty devices known as equalizers.
On the other hand, sound mixing programs are employed to achieve the same goal. A variety of PC equalizer software allows you to do equalizing tasks in a matter of seconds. This software may use audio tools like Equalizer, Environment, Surround, Base Management, and others.
The following is a list of the multimedia sound mixing software for PC, online, and mobile phones, their most popular features, and free audio mixer software review links. The list includes open-source (free) and commercial (paid) software.
AceMovi Free Audio Mxier Software for PCs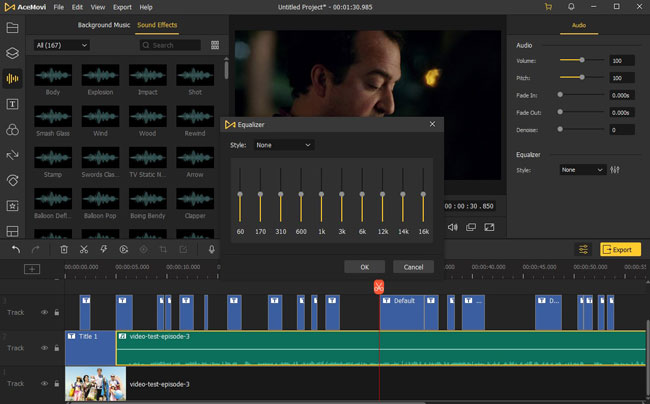 TunesKit AceMovi, being one of the most populars multipurpose and competent audio and video mixers for streaming, has attracted milliongs of loyal users. It is compatible with Windows and Mac computers and includes various audio editing tools such as Stickers, Text, Filters, Transitions, Animations, Split-Screen Samples, and more. Most importantly, you can turn to trim, split, equalize, record, mix, enhance, denoise, and convert the audio in your imported media.
On AceMovi's user-friendly interface, you can produce a spectacular film yourself even if you have little experience with video editing. In addition, AceMovi is a multitrack audio recording and mixing software to be downloaded for free yet you need to follow the subscription to remove watermarks.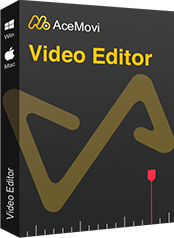 Key Features of AceMovi Video Editor
Security Verified. 12,000,392 people have downloaded it.
Pros:

The UI is user-friendly and welcoming to newcomers
To use overlays, filters, transitions, text, sound effects, and patterns
In a few simple steps, you can create spectacular mixing audios
Audio mixer Mac software, also for Windows
A full bunch of audio editing features
AceMovi Audio Settting helps you change audio bitrate, convert audio file, switch audio output codec, and speed up or slow down audio speed
Cons:

Only with pemium licens can you remove the AceMovi's branding watermarks
Learn How to Use AceMovi Software Audio Mixer
Import Audio and Video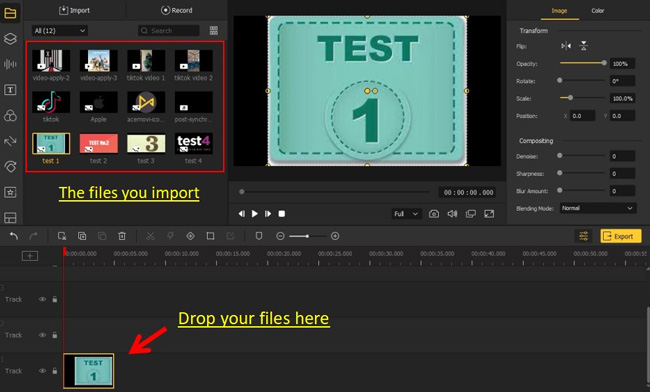 Make sure that you have successfully downloaded AceMovi on your computer. Drag-n-drop the wanted audio and video files under the timeline. If you have a video and you want to mix its audio track, double click it on the timeline and select "Detach Audio"(Ctrl+Alt+D).
Commence Mixing Audio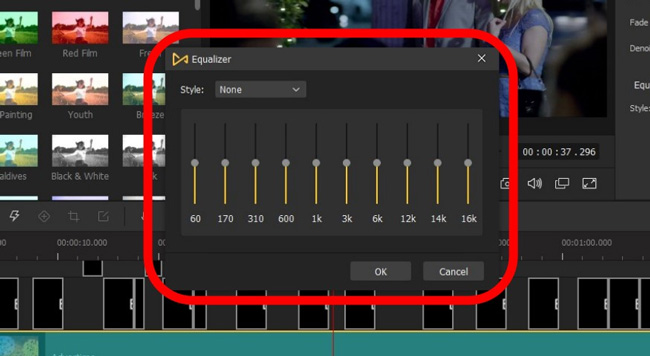 Now go to "Properties", "Audio", and "Equalizer" on the right sidebar. Then TunesKit AceMovi's free audio mixing software merges under the canvas. Now you are supposed to mix Environment, Surround, Base Management, Streaming, etc. Applying sound styles is available, likewise. AceMovi supports the styles of Pop, Dance, Blues, Soft, Classic, Country, and so forth.
Export Audio or Video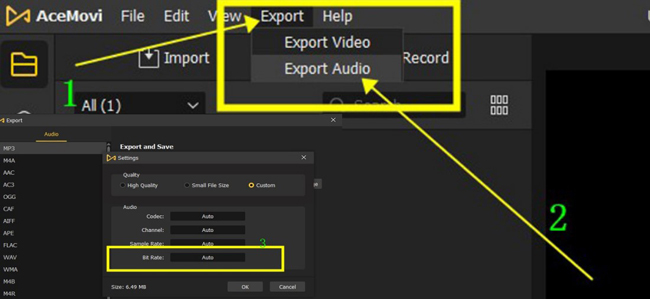 If you only want to export your audio, go to the menu to find "Export" and "Export Audio". Here you can change audio parameters, such as bitrate, codec, quality, sample rate, save path, and quality.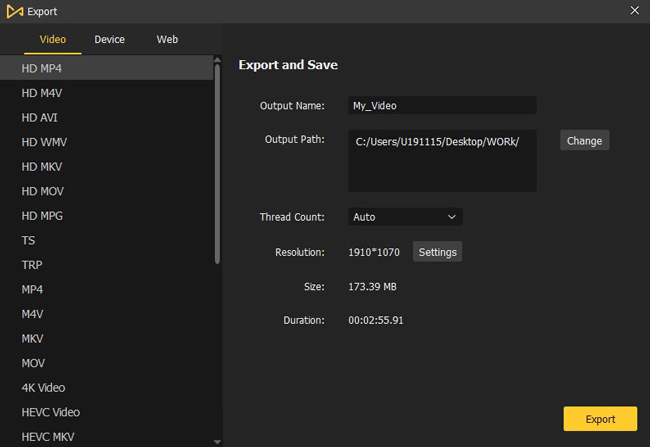 For exporting video files, go to the "Export". You will see many selections of video formats, including AVI, MOV, MP4, DivX, WMV, MPEG-1, MPEG-2, M4V, YouTube, Vimeo, Facebook, iPhone, Apple TV, iPad, and more.
VoiceMeeter Free Audio Mixing Software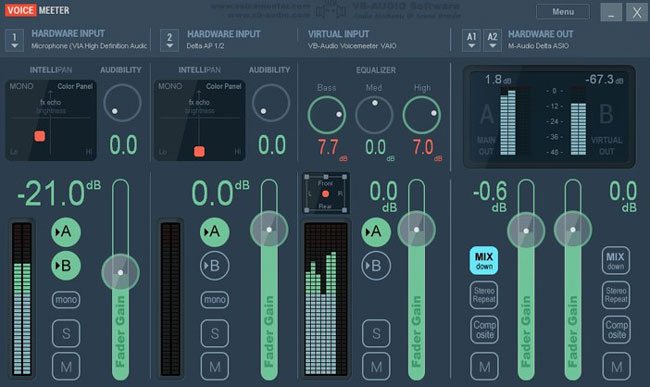 As one of the recommended best audio mix software, VB-Audio VoiceMeter is an intelligent software made for VOIP creators, Broadcasters, Podcasters, and Video Gamers. This audio mixer software for streaming free supports full input channels. To be detailed, you use the built-in Hardware Input Channel 1, Hardware Input Channel 2, and Virtual Input to mix audio dB and enhance audio's mono effect.
Pros:
Multiple sound inputs
Advanced mono effect editor and color panel
Easy-to-learn audio mixing interface
VBAN-Buttons for Android users
Audio waveforms and changers
Free to download and use
Cons:
Unable to mix audio and video at the same time
Adobe Audition Audio Mixing Software Free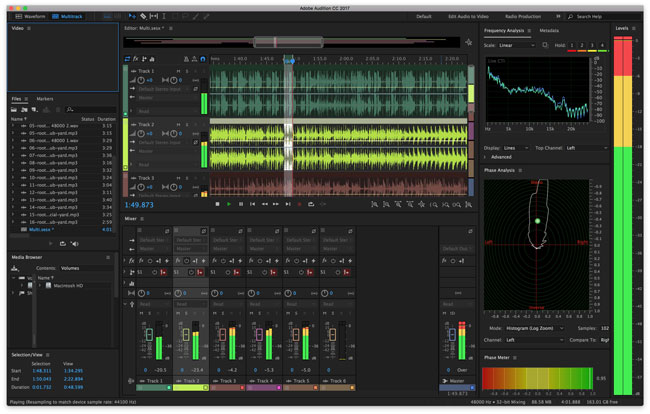 It's geared toward professionals with powerful features like multi-track editing and mixing, Auto Ducking, and clip editing. As a digital workstation that features non-destructive mix/trim audio buttons, Abobe Audition has attracted millions of users around the world. Audition also gives tutorials inside the interface like how to record and mix audio professionally and quickly. This software is sold for $19.99 every month. You find it good and easy to use but difficult to master for video sound, sound mixing, and voice-over editing.
Pros:
Exellent User-interfac
Large stock media library
Exceptional screen record features
Create and make GIFs
Lower thirds, action icons and images
Cons:
It's a touch too complicated for a newcomer to grasp
For music productions, it's not good enough
This program is available on a subscription basis
Logic Pro X Audio Mixer Software Free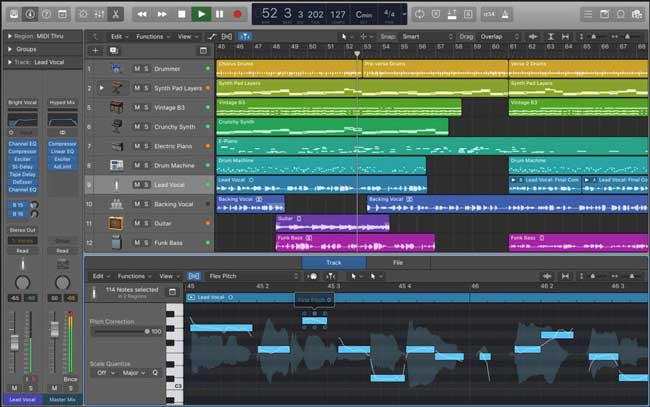 The Logic Pro X audio mixer software is appropriate for both experienced users and newcomers. Flex Time, automated time matching of separate tracks, Flex Pitch, arpeggiator, and other basic and complex capabilities are all included. When it comes to supported formats, MP3, WAV, CAF, PCM, AIFF, ALAC, AAC, and more are included in Logic.
Pros:
On the Mac, it's fantastic
Rich Plugins and applications are featured
Singular notes are in charge
A simple tutorial is offered
WavePad Simple-to-Use Audio Mixer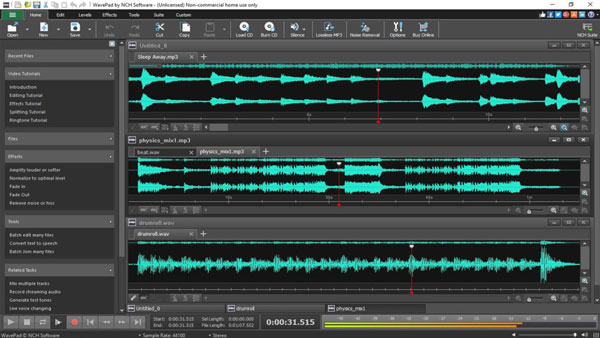 WavePad is a useful live software for audio mixing for Mac and Windows. It enables you to record and manipulate music, speech, and other sounds using various tools, including cutting, copying, and pasting segments of recordings into new ones and applying effects like echo, amplification, and noise reduction.
This software also supports MP3, VOX, GSM, WAV, FLAC, WMA, AU, AIF, real audio, OGG, M4A, MID, AAC, AMR, and more formats. Its free audio editing program has no expiration date and offers many of the trial version's capabilities.
Pros:
It's simple to set up and utilize
Allow batch processing to modify a large number of audio files at the same time
Memorable interactive sales PPT
Provide many useful features, such as spectacular effects, quick editing choices, and strong tools
Cons:
The user interface may not be as attractive as that of other editors
Multi-tracking isn't supported
Reaper Audio Mixing & Triming Software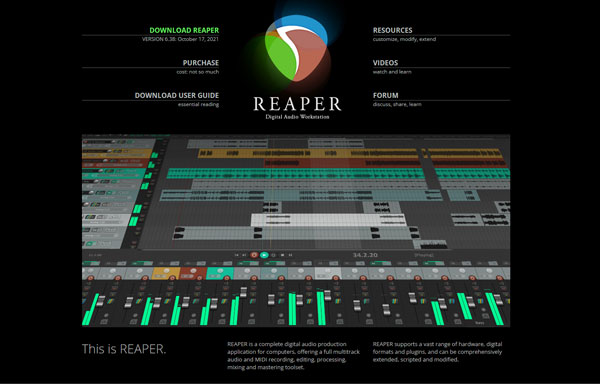 Reaper is another free audio mixing software for streaming that is both powerful and affordable. It enables you to record audio straight to stereo or multichannel audio files and simultaneously collect data from many drives for data redundancy. It supports various file types, including ACID, AIFF, AVI, BWF, CDDA, EDL, and FLAC.
Pros:
Fully adjustable and user-friendly UI
For starters, support multiple tracks
Sound mixing software is less expensive than other sound mixing tools
Full of settings to mix multiple audio tracks
Cons:
Learning the program takes time for beginners
The user interface isn't as excellent as some others
Audacity M-Audio Project Mix Software Download Mac & Win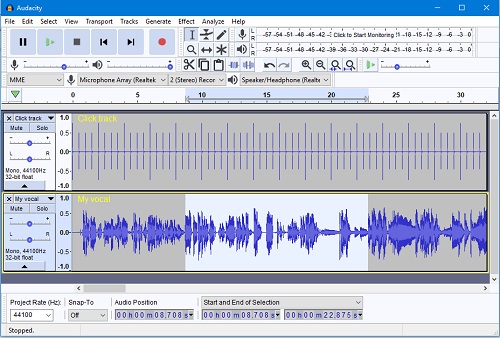 Audacity is a flexible audio mixing software that can manage recorded or live event sound, merge several audio files, and offer additional output possibilities. Mixing music tracks and video files into the same file is also advantageous. Additionally, this audio mixing program may filter and optimize sound by altering levels, boosting sound with equalization and effects, and recording alternative mixes.
It's also the greatest free audio converter, capable of converting audio between multiple formats such as MP3 and others.
Pros:
On a Windows PC, you may modify the pace of your music
A vast range of audio and video compound tools are available
Good at audio mixing and trimming jobs, such as extracting audio from video
Crop the video with ease on Windows
Cons:
It is somewhat difficult to use
HyaWave Online Audio Mixing Tool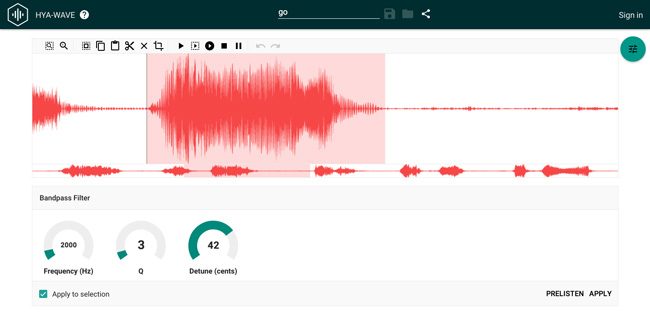 HyaWave is a web-based sound mixer that is to be used in your browser. You may use it to copy, paste, cut, clarify, and crop MP3, WAV, and other audio file types. It has 18 filters and effects, including a biquad allpass filter, a fixed multiplier amplifier, a biquad bandpass filter, and a waveform reverse. You may upload and store altered audio files to the cloud, add live effects, and distribute them by social media or URL. This is the way to go if you're recording or editing on the move and don't want to install huge apps on your laptop.
Pros:
The best streaming audio mixing software
Customization of audio filters
Using the built-in audio recorder, capture live audio files
Audio frequency and detune are going to be edited
Clutter-free profile
Cons:
Multi-tracking audio mixing and trimming isn't supported
Bear Audio Tool for Online Audio Mixer Software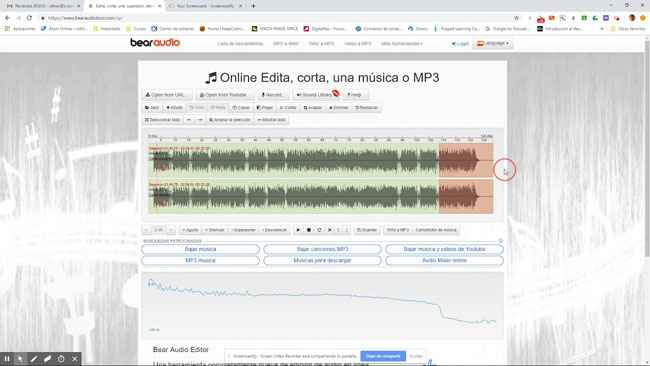 This web-based application allows us to modify files from our local storage without submitting the audio to their server. It can cut, apply effects, trim, and so forth. It comes with a large music collection and effects and import options. Audio may be imported straight from a URL or a social networking domain. And MP3, WAV, WMA, OGG, M4R, OGG, and AAC are all supported audio formats.
Pros:
Copyright-free
There are a lot of features
Any operating system is compatible
There are two types of prices: free and paid
Cons:
Not recommended for expert users
The Last Talking
I have shared with you how to use the finest free audio mixing tools for Windows, Mac, and mobile devices to process and edit audio files in this post. You may utilize the online audio mixing software if you don't want to download and install anything. However, web tools may not be as comprehensive as desktop software. Which one is better, that depends!