In modern days, you can hardly make a great video without music and good sound effects. This is when a video editor that allows you to add and edit audio comes into play. Audio can make or break your video project. The audio in your video must at least be pleasant to viewers' ears. If it becomes annoying, you're likely to lose attention and favor from viewers. Many factors and elements can make your audio sounds better in your video, including the volume, speed, sync, bitrate, codec, channel, and quality. In the following parts, I'm going to show you how to edit audio in a video with the best video sound editor online free, software, and mobile apps. Here we get started!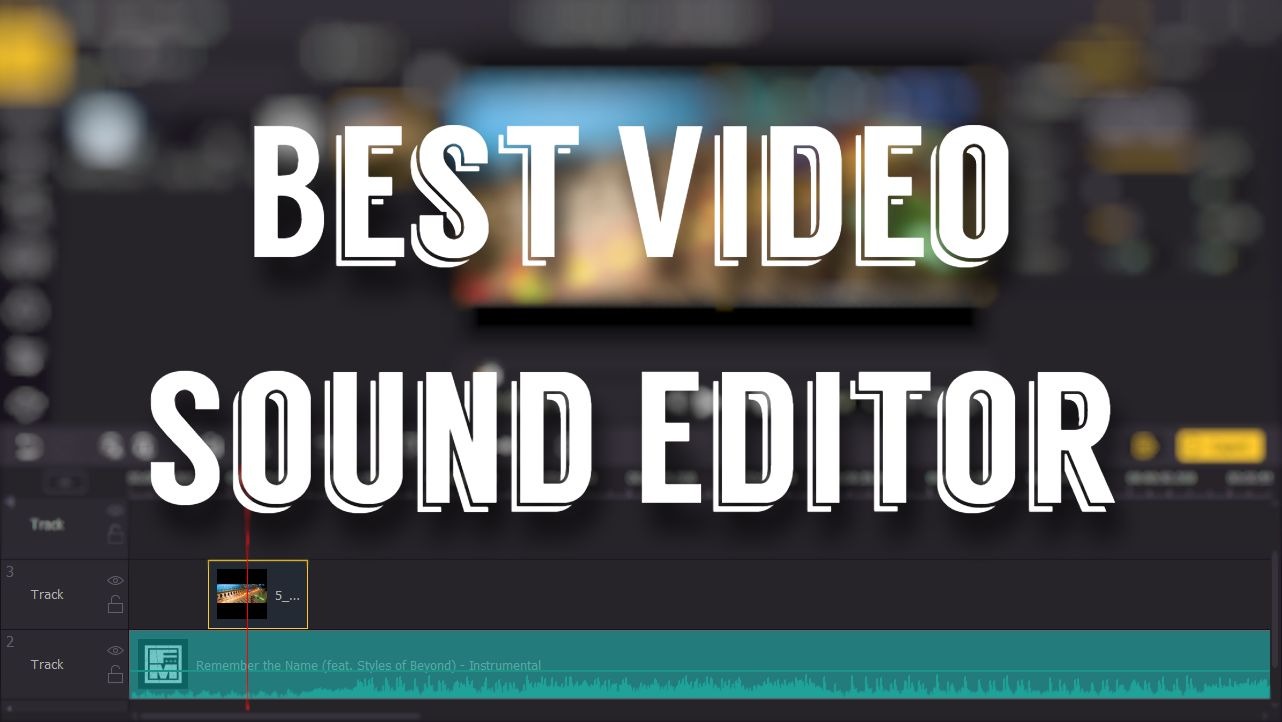 How to Get and Record Audio for Your Video
Finding the perfect music for your video could be tiresome and lengthy, and sometimes you may need to record a new voiceover and put it as the audio track. In this part, I'm going to show you how to find royalty-free music and sound effects for your video and how to record your voice on your computer with AceMovi.
1. Get Uncopyrighted Music and Sound Effects for Your Video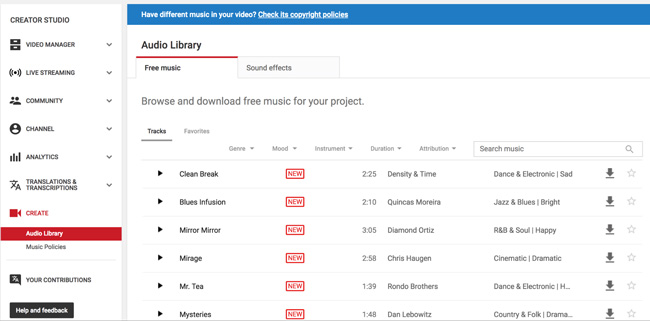 You need the YouTube Audio Library! If you're trying to find a song and some sound effects for your video, the uncopyrighted ones are always recommended. Since you can't apply copyrighted music for public use, your video might get banned if you upload it with copyrighted music. For uncopyrighted music and sound effects, you can find tons of them on YouTube Audio Library. All the music and sound effects are free to use in your video without copyright issues.
2. Record Your Voice on Computer
There are times that you might want to add some narrations or dialogues into your video, but how to record them? With TunesKit AceMovi, you can directly record your voice on your computer through microphone without quality loss. Now I'll show you how to record audio by TunesKit AceMovi: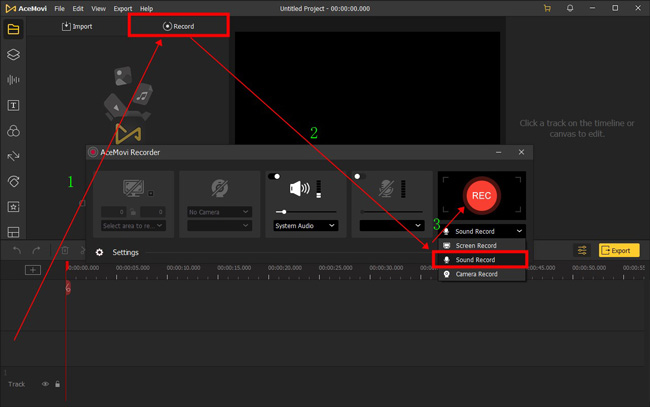 First thing first download and open TunesKit AceMovi and click "Record" on the plain interface in the upper menu place. You will see AceMovi Recorder pops up. Then unfold the menu to select "Sound Record". In this case, AceMovi Record will capture the single audio track from your microphone.
Lastly, press "REC". After finishing the recording, click on the square icon to stop. Audio will be added to the media box, you can drag it to the timeline to edit it. For overall tutorials on editing the audio in a video, keep reading!
AceMovi Multimedia Video Audio Editor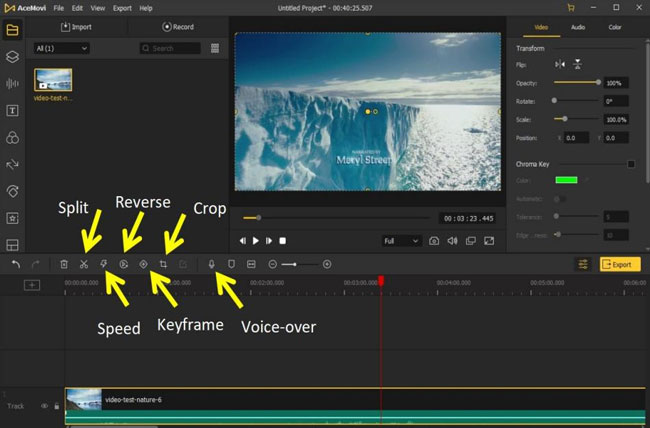 What is the best video editor for music? It must be AceMovi! This is a one-stop video editor that provides multiple effects and transitions. In addition to recording audio, it's equipped with a screen/webcam recorder which can record a video with sound coming out of your computer. Most notably, you can directly edit, trim, chop, convert, crop, reverse, enhance, and render the recorded media in AceMovi.
As a video editor for beginners, AceMovi is mounted with features like split screen, filters, animations, texts, and music library. The self-explanatory user interface comes with all the effects and tools you need to embellish your video. AceMovi Video Sound Editor is going to be downloaded here!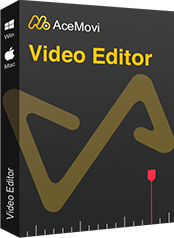 TunesKit AceMovi Video Editor
Security Verified. 12,323,008 people have downloaded it.
Edit, remove/extract, speed, trim, enhance, and convert audio in videos powerfully
Basic and advanced features that make your audio/video better
Multiple filters, transitions, text, sound effects, music
User-friendly 4-panel editing workflow
Import as many photos or footage as you want
Royalty-free background music and audio effects
Video templates to help you begin new projects fast
Video Tutorials: How to Edit a Video's Audio
If you've found the perfect music and sound effects for your video, or you have recorded your voice on the computer in TunesKit AceMovi, then you'll need to start editing and make them fit into your video.
Some of you might wonder how to edit video audio in Audacity since it's a great software to edit audio. But unfortunately, Audacity can't load your video, which means you can not edit your audio along with the video in it. To edit audio in a video more efficiently and easily, AceMovi is the best choice. Next up, I'm going to show you how to edit audio step by step with AceMovi.
Add Video Files to TunesKit AceMovi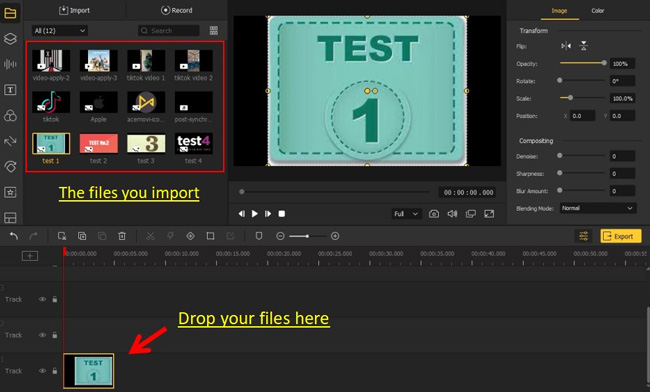 Open TunesKit AceMovi on your computer, then import your video to the AceMovi media box by dragging and dropping. Or you can click the Import button to add video files.
Begin to Edit Video Audio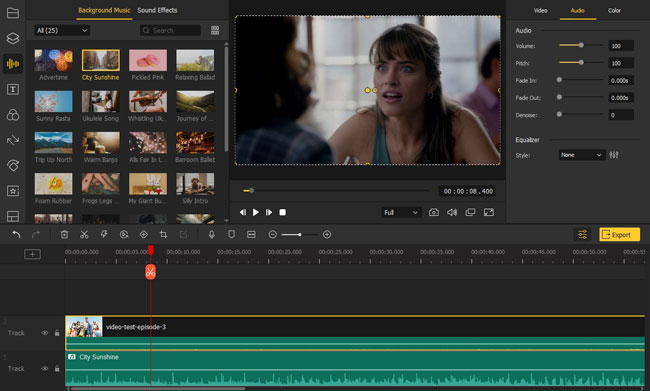 Detach Audio: Double right-click your wanted clip to select "Detach Audio"(Ctrl+Alt+D) to extract audio from videos. If you delete this soundtrack, your video will become mute.
Increase/Decrease Volume: Left click the clip and choose "Audio" from right sidebar. Then slide the volume to increase or decrease the video volume.
Resize Audio Length: To trim out unwanted audio tracks, move playhead under trimming points and right-click audio clip to choose "Split".
Fade in & out Audio: Go to the "Parameter" and "Audio" to apply fading effects to audio. You can play the effect in real-time.
Denoise & Equalizer: To clean and enhance background audio in video, control the "Denoise" slider; There are many styles of audio equalizers in AceMovi, such as Pop, Dance, Blues, Soft, Rock, and Electro.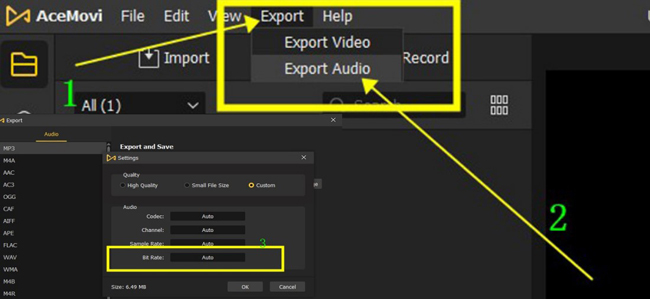 Change Audio Codec, Channel, Sample Rate, and Bitrate: To export audio track only, click the menu "Export" and "Export Audio". Then find built-in buttons to change audio codec, channel, sample rate, and bitrate from AceMovi Audio Settings.
Export Your Audio-Edited Video
Once done editing your video, click the "Export" button on the middle left and export your video. Click the Settings, you'll be able to choose the output parameters. And by clicking the "Change" button, you can change the output location.
Adobe Audition Professional Video and Sound Editor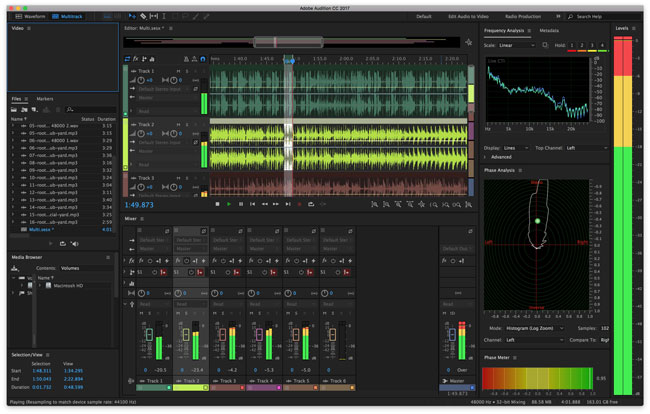 Adobe company released a professional audio editor in video called Audition, which is a comprehensive audio editing toolset that offers users waveform, audio mixer, spectral display, multitrack, and podcast. This video editor no sound and with sound, which depends on you. In other words, you can choose to mute any format of audio with one click. For audio restoration, precision editing, parameters changing, and cleanup, Audition can be the best video sound editor for pros.
This software is compatible with both Mac and Windows and is available for a 30-day free trial with registration. Moreover, it is smooth and flexible to create a podcast to record, mix, and promptly with Audition. Buy it for $20.99/mo right now to enjoy the services, like 100GB of could storage, step-by-step tutorials, Adobe Express, Audio Portfolio, and more.
Pros:
Advanced spectral frequency display
A full set of audio editing selections
Repair and restore broken and flawed clips
Create your podcast with a couple of clicks
Multitrack enlightment preview
Cons:
30 days for free trial for each account
You can only edit audio rather than editing audio and video at the same time, so your video's audio will be extracted automatically if you import video files into this tool
Blender 3D Animation Video Editor No Sound
Want to try an animation video and sound editor app? Blender is a free, cross-platform, and open-source 3D/2D animation video sound editor that was licensed as GNU GPL. Blender is plain to learn but steep to master. The first thing you need to know is how to switch from video editing windows by clicking the "File" and "New" from the menu. You can choose to edit 3D animation, 2D animation, sculpting, VFX, and video editing.
The audio will be detached from video by default in Blender. To make Blender video editor no sound, you can delete the soundtrack bluntly. On the right sidebar, Blender volume, pitch, pan, mono, channel, duration, save path, and more custom properties are available to set.
Pros:
Make a video mute easily
Display waveform
Set video starting and editing points in advance
Customize your own audio properties
Watermark-free for users
Cons:
Complicated for beginners
More powerful in 3D video editing in practice rather than video editing
OpenShot Open-Source Video Sound Editor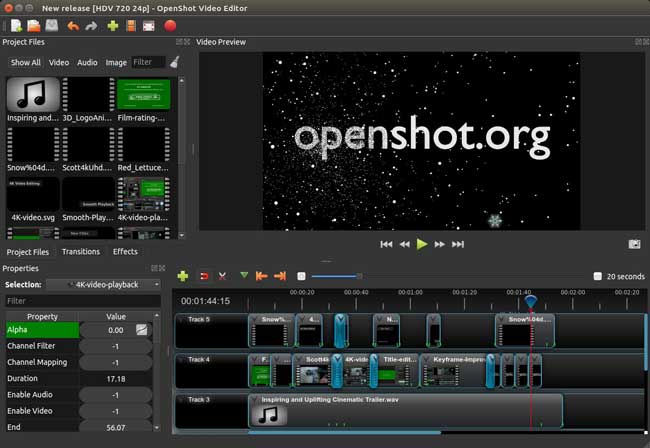 Compared to formerly mentioned video sound editors, OpenShot fits in more with newcomers in the filmmaking field. Vloggers, short videos, popular music, and blog content creators prefer OpenShot to add transitions, overlay texts, change audio settings, and make media conversions.
OpenShot comes with no watermarks and cross-platform audio video editing. The built-in Audio Waveforms is designed to visualize audio as waveforms and export the waveforms as a part of the video file. On the clean interface of OpenShot, you find a plethora of animation and keyframes.
Pros:
Remove video backrgound
70+ languages supported
Title templates
Unlimited audio and video tracks
User-oriented interface
Cons:
OpenShot has no green screen and split-screen effects
Video2Edit Video Sound Editor Online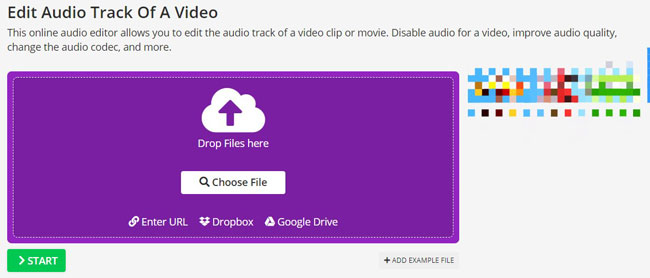 If you want to find the best online video sound editor from the tool sea, the answers may be Kapwing or Clipchamp. However, I think Video2Edit is more helpful and easy to use. This tool supports URL, Dropbox, Google Drive, or local files uploading. You can edit the audio codec, quality, frequency, and destined conversion on the webpage of Video2Edit.
There are more built-in tools to edit audio on a video, including the Video Compressor and Audio Normalizer from the "All Tools" on the menu. Finally, you can either upload the file cloud or download it directly as an MP3 or ZIP file.
Pros:
Linear video sound editor online
3GP, 3G2, AVI, FLV, OGV, and WMV are available
Change audio bitrate from 8kbps to 320kbps
Export at ZIP file
You can copy and paste file's URL to upload
Cons:
You find all access to built-in tools, yet the file size and file per conversion are limited
Biteable Teams' Animation Video Sound Editor Online Free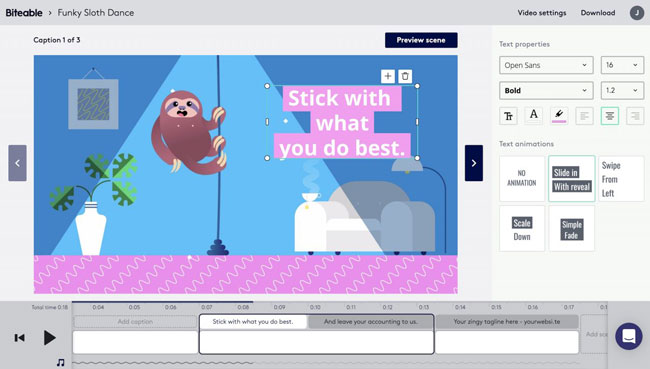 Biteable was made for users from advertising, business, presentations, H4, sales, corporate, LinkedIn, and Training. You need to register to edit videos with Biteable. Surprisingly, Biteable brings a bunch of popular video templates, ads, explainers, animations, etc. To be specific, you are empowered to drop your images under the timeline to make a video slideshow. All of the video templates have an engaging and fitful background soundtrack, so you don't need to do much.
Pros:
Various video templates
Easy learning curve
Popular background music in stock
Save files online
Make videos with your teams
Cons:
There are few audio files to use
Video Voice Editor & Effects for iOS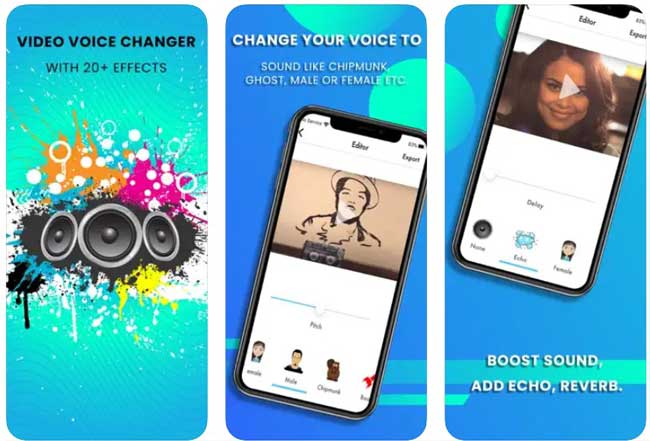 Plan to use the best video editor app to remove sound in a clip? Here I recommend you to try the Video Editor & Effects app from the Apple Store. Basic voice transformations available in it include echo, make/female, reverb, distortion, polish, old person, ghost, robotic, and telephonic. This is a video sound editor app for iOS only with which you have access to more than 20 effects. You can share the edited audio files to Instagram, TikTok, or YouTube, or download them locally.
Pros:
Many voice transformations
Boost sound, add echo, and reverb
Ambient sound effects
Cheap price
Cons:
Unavailable for Android users
Finally
Now you see the top 7 video sound editors to enhance, edit and remove audio in a video. What is worth mentioning is that AceMovi is an all-in-one video sound editing software, no matter in trimming, speeding, converting, fading, and doing more editing in audio. While other tools like Adobe Audition and Blender have their unique stages - Adobe Audition provides you with more precisions and Blender is designed to edit 3d animation videos' audio tracks.