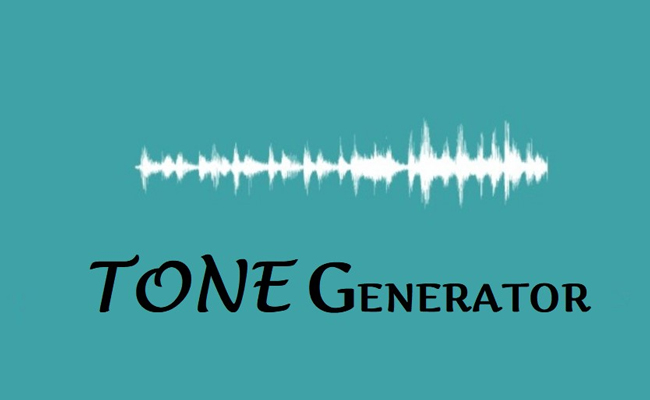 An online tone generator is a handy tool that can be used for a vast range of contexts - video editing purposes, conducting science experiments, tuning music instruments, testing hearing, audio effect components. Moreover, some of the low-frequency tones can even help us to treat Alzheimer's disease. So, for your favor, we have enlisted the 8 best credibly-performed online tone generators with their features, pros, & and cons in this paper, along with a reliable video editor that assists you to generate and edit the tones on PC.
8 Best Online Tone Generators
Below is the list of the leading website-based tone generators that will provide you with a pure sound and help you regulate the tone frequency. However, don't forget to adjust or lower the volume of the speakers or headphones in advance for it may hurt your hearing.
1. Online Tone Generator – An Excellent Choice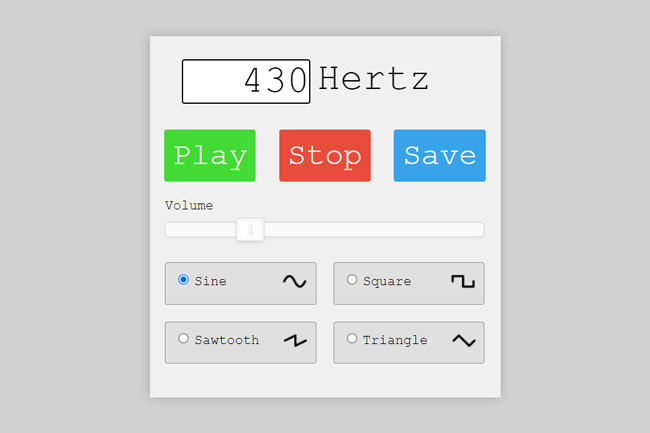 If you want to generate tone using a simple and straightforward tool, you can grab Online Tone Generator. This platform provides four different wave types, so you can pick your favorite option and press the start button. In addition, it provides various settings for making a tone, fine-tune. For instance, you can modify the Pitch to DTMF Signals and Binaural Beats by using a pitch shifter.
The frequency that this program supports is 1 Hz and 20,000 Hz. This program can create a pure tone Sine wave at a rate of 44.1kHz.
Pros:
Best for newbies
Best for multiple web browsers
Several sound setting features
Works on four different waveforms
Cons:
Needs more advanced tone generating features
2. Szynalski Online Tone Generator - Engaging & Meaningful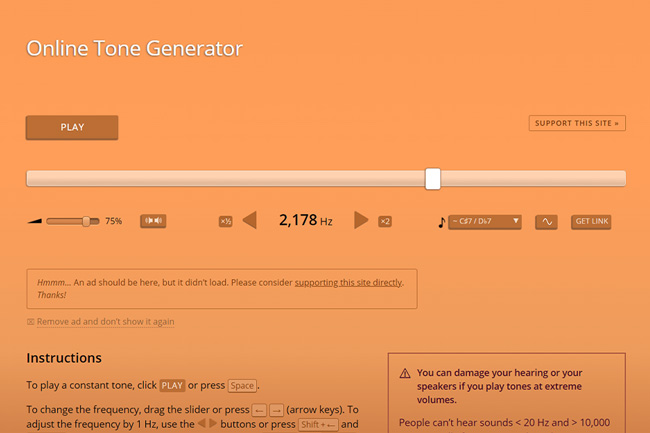 Szynalski Online Tone Generator is a user-friendly free tool that lets you choose any wave type - Square Wave, Sinewave, Sawtooth Wave, and Triangle Wave to create your tone. It is an easy-to-use tone generator that supports frequencies from 1 Hz to 20,154 Hz. Many users use it for conducting science experiments, testing hearing, and tuning musical instruments.
The tone created by this website cannot be downloaded on the computer, but you can use the Get Link option to email your friend.
Pros:
Multipurpose tool
Perfect for novice users
Super straightforward interface
The tone frequency is easy to control
3. Gieson TonGen - Instant Tone Generator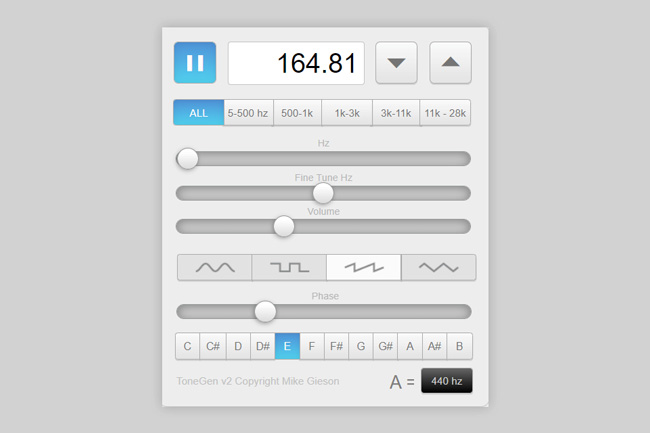 If you are looking for an instant and straightforward toner generator, you should go with Gieson TonGen. This tool provides you with four types of waves to generate different tones. Changing the frequency of tones is also super-easy; you can simply drag the Hz slider, and then the Fine Tune Hz slider will help you get an ideal tone frequency.
This tone generator cannot save your tone, and even it doesn't provide you an opportunity to send the link to anybody; still, it is quick and simple to use. It allows you to produce sound frequencies from 5 Hz to 28,000 Hz.
Pros:
Simple yet worthier
Efficient and instant 
User-friendly tool generator
Cons:
Generated tones cannot be saved
It is challenging to find an ideal tone frequency
4. ToneScope -  Comfy to Run & Free to Register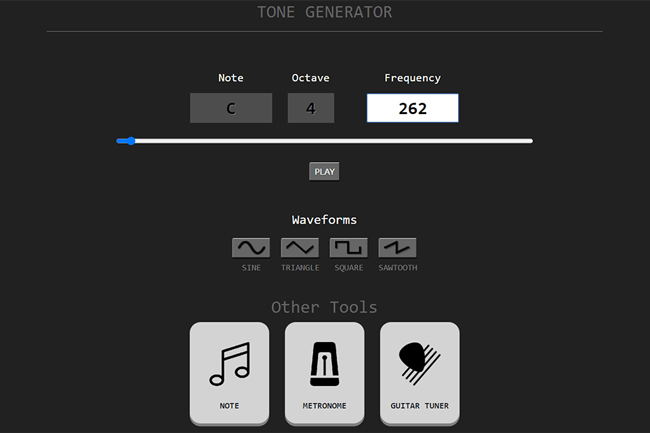 ToneScope is an efficient tone generator that can be opted for practicing the singing instruments, determining the resonant frequency, testing different objects, or finding their audio functionality. It helps you generate the tones from 1 Hz to 10,000 Hz frequency. By using the services of ToneScope, you can create an online tone and save it for offline playback.
You can also take advantage of turning WAV files into MP3 format. Its Metronome feature is also incredible, particularly for those who practice tempo.
Pros:
Quick and intuitive
Best for pros and beginners
Registration is not required
Stochastic noise generators
5. Editar Audio - Manages Frequency in Real-Time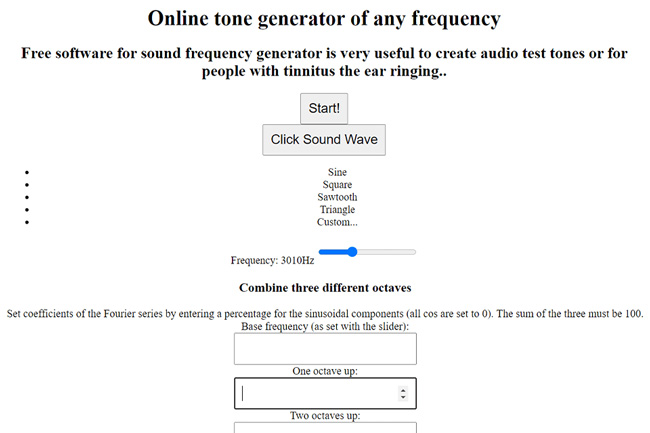 Editar Audio is an exceptional tone generator platform that can be used to produce tones from 5 Hz to 10,000 Hz frequency. It combines three distinct octaves - you can generate up to 16 tones in one go.
Pros:
Frequency can be increased or decreased manually
Perfect for device testing
Enables you to hear the pure tune
Allows sinusoidal, square waves, triangular waves
Cons:
If the internet connection is slow, get freeze
6. Audio Test File Generators - Excellent for Advanced Users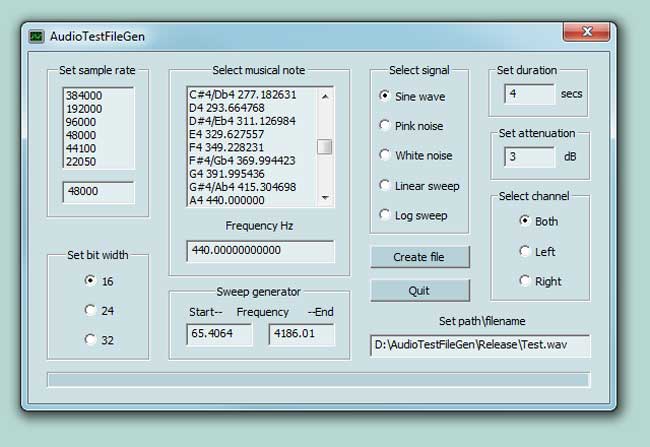 This online tool generator produces Sweep, Dual, or Sine tones. Regardless of how beginner you are, you can easily use this tool and choose the type of tone you want to produce. 
The sound files of this platform are precisely calibrated, and you can set their amplitude and frequency, and amplitude with all ease.
Pros:
Creates Sweep, Dual or Sine tones
Tones properties can be easily customized
Download high-quality files in .wav format
Sample rates are up to 192 kHz
Cons:
If you indicate an inaccurate value in one of the fields, you won't be able to save the files
7. WavTones - Compatible with Every Operating System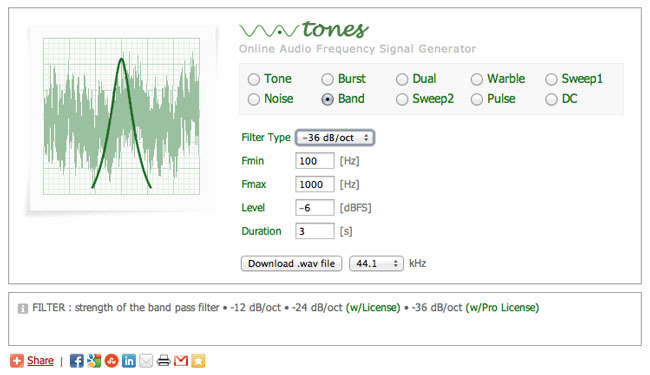 WavTones is also a fantastic online tone generator for 2021. You can easily adjust the tone by using this program (free and paid). It holds audio editing functions of some top-tier software that allow you to generate original compositions.
However, there is a downside to this cool tool monitor - if you want to hear your generated tone, you need to download it first, which is a pretty cumbersome process.
Pros:
Best for professioanls
Intuitive UI
Stochastic noise generators
Customizable frequency and amplitude
Helps in the development of audio & acoustics applications
Cons:
The free version includes a few tunes
Only downloaded tone will be audible
8. Multi-Tone Generator - Multi Sound Card Support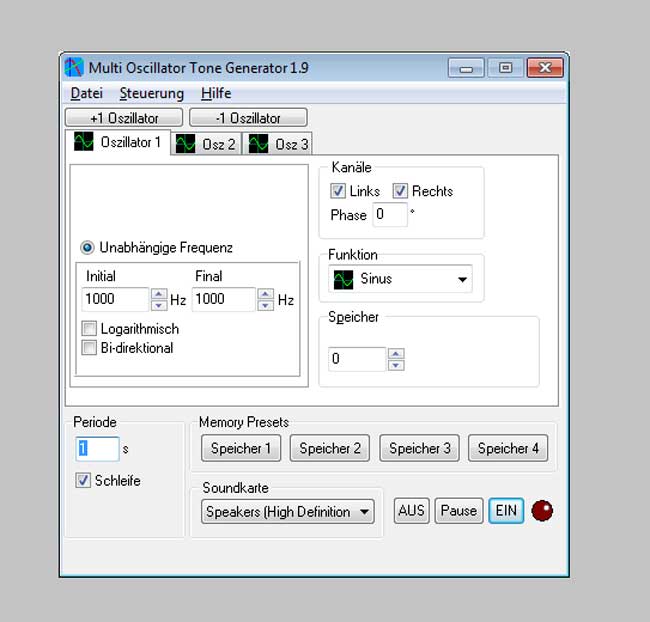 The Multi Tone Generator (MTG) is an excellent way for demonstrating or testing sound effects, education, and many other purposes. It can produce multiple swept or constant oscillator signals in real-time. The setup file of this tone generator can be downloaded from its online tone generator website.
Pros:
Constant and swept tones
Multi sound card support
Multiple waveforms (Square, Sine, White Noise, Triangle/white noise)
Cons:
Expensive than competitors
AceMovi Video Editor - A Super-Efficient Tone Generator & Editor for Mac & Win
If you haven't found a suitable online tone generator from the 8 above or you want to edit your generated tones on the desktop computer, you can have a try of AceMovi Video Editor. Let me show you the brilliant features of AceMovi in the following.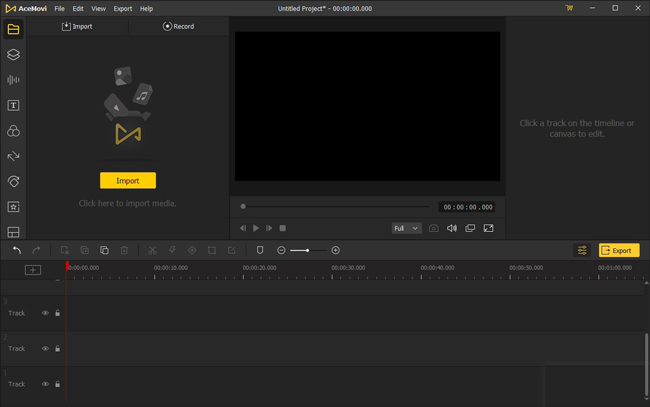 AceMovi Video Editor, equipped with world-class features, is able to perform your tasks more powerfully, quickly, and hassle-free on PC. You can use this smart toolkit for multipurpose because it is far more than video editing. It covers some advanced features like screen recording, slide show making, and story sharing with the world (any platform, format, device, and whatnot).
However, when it comes to tone generating, AceMovi works as the best alternative to online solutions and it can generate different tones by changing the pitch of the audio track.
Here is a quick start to generate tone: Firstly, import sounds by dropping under the track, you can also select the audios from inner stock; Then, set the tone's volume, pitch, denoise, equalizer style, and more; Thirdly, you can trim this tone and delete its ripple; Lastly, export the tone or apply it in your videos.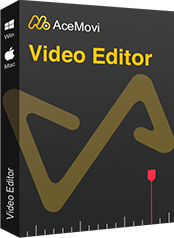 Key Features of AceMovi Voice Over Video Editor
Security Verified. 5,481,347 people have downloaded it.
Intuitive interface
For both beginners and Pros
Fast and efficient editor
100% safe and secure
Real-Time preview
The Wrap Up
There is an enormous list of online tone generators with distinct scopes and features. To save your effort, we have enlisted only the top-notch online tone generators that are easy-to-use, user-friendly, and can serve you far better - you can pick the one that fulfills your needs more efficiently. If you want to get a tone generator and editor on Mac or Windows 10, AceMovi can be a good choice for its advanced features, simple yet beautiful interface, and ability to perform multiple tasks - from video editing to screen recording and from subtitle adding to tone generating.