No team or collaboration will miss the best on-brand & online studio-quality video-making website - Biteable Video Editor. Brand video workflow tends to be easier and quicker once you come into a habit of making your Biteable videos, and most importantly, all workflows are cloud-based while users are even allowed to get started with ready-made templates. If you want to know guides on how to edit Biteable videos, I must say this post will make a big difference! You will see an overall Biteable review from perspectives of features, how-tos, pricing, as well as strategies to remove Biteable watermark for free.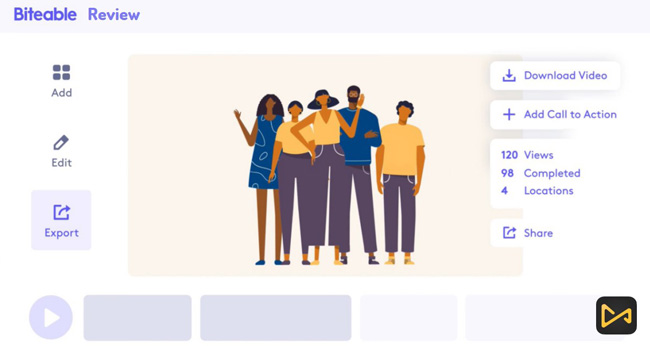 Q&A: Is Biteable Good, Free, & Safe?
Is Biteable Good to Use?
Biteable prompts video editing responsively and flexibly through our testing. Lots of active users are attracted by the Biteable dashboard which helps a lot in generating quick videos with the built-in templates. Suffice it to say that Biteable gives users authority to invite a team member or more to make a video together online. Slideshow and brand tray are the two selling points of Biteable videos.
How Much Does Biteable Cost?
To upgrade to the full creative job with Biteable, there are 3 year-plan and 3 month-plan for you. With the free version, your imported or exported clips and images should be limited to 2M with Biteable branding watermarks.
The Pro version cost $99 per month billed monthly or $49 billed annually, which allows unlimited 1080p exports, 20M+ clip imports, video analytics, interactive call-to-action tap, endless cloud storage, & 24/7 support; For businesses and organizations, the ultimate version costs $329 per month for who bills monthly or $249 yearly, which provides everything in Biteable and accepts 5-member editing workflow at the same time. Check more details here.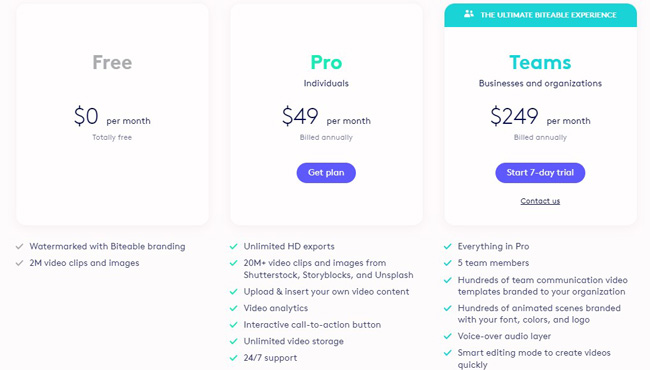 Is Biteable Safe to Use?
Bietable's all users total over 6M and they create videos for a variety of purposes like Ads videos and on-brand videos. All of your edited clips and imported materials will be kept safely. For safety, you can also turn to delete all the information permanently.
Differences: Animoto vs Biteable vs Powton vs AceMovi for Business
Now that we come to common sense that Animoto, Biteable, Powtoon, and AceMovi are the same in creating videos for business including on-brand videos and animated videos yet there are still some differences that bother you and me so here you will see a table that compares the specs and features of the 4 video editing programs. Here goes!
| | Biteable | AceMovi | Animoto | Powtoon |
| --- | --- | --- | --- | --- |
| OS | Online | Windows & Mac | Online | Online |
| Trial Version | √ | √ | √ | √ |
| Price to Upgrade | Pro-$99/m; Teams-$329/m | $29.95/m; $39.95/y; $79.95/p | Basic-$16/m; Pro-$29/m; Pro Plus-$19/m | Pro-$89/m; Pro+-$197/m; Agency-$100/y |
| Video Watermark | √ | √ | √ | √ |
| Video Quality Export Max | HD | 4K Video | HD | HD |
| Templates for Videos | √ | × | √ | √ |
| Screen Recordings | √ | √ | × | √ |
| Create for Individuals and Businesses | √ | √ | × | √ |
| Learning Center | √ | √ | √ | √ |
| Advanced Edits | Less | More (Chroma Key, Split-Screen, PiP, Reverse, Blur, Mosaic, Convert, Sound Equalizer, etc.) | Less | Less |
| Supported Formats | Less | More | Less | Less |
| Learning Curve | Medium | Easy | Easy | Medium |
Built-in Templates in Biteable
Over 500+ off-the-shelf video templates are shared in Biteable compiles the topics of Trendy, Ads, Explainers, Animations, Square, Corporate, and Education & Traning. For example, if you want to make a YouTube intro, you can easily and directly search for it in the Biteable box and you see all possibilities from the bare-bones interface. Some details like the resolution pixels and aspect ratio will be displayed on the screen as well.
Previewing a video template or beginning to edit a video with the template is your decision. After switching into the editing interface, you see a ready-made video track with pictures and texts, all you need to do next is import your files to replace them and edit with new styles, then make the final exports.
How to Add Images in Biteable
On the default page, you need to follow the buttons of Add > Upload for adding your images to Biteable. There are more free animated & brand images you can select like the samples of Typing, Shrug, Side Peek, and Don't Forget. No matter if you want to add images from folders or online stock, just click the video clip and hit the image. If you want to undo in Biteable, click the Reversed icon on the top left.
How to Add Texts in Biteable (Introduce Best Biteable Alternative Here - TunesKit AceMovi Video Editor that Features 200+ Text & Caption Templates Free)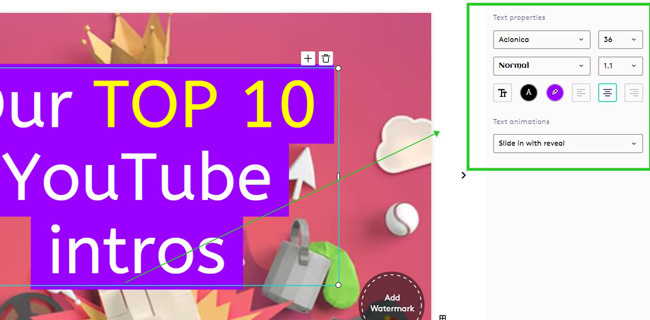 2 sessions for adding texts to a video in Biteable, they are adding a new text track and adjusting text parameters. For the former session, you find the text has been displayed already in the video in case you began with a template, otherwise, you need to click the Edit > Text to add a new text tray.
Afterward, text properties are located in your right-hand place. To be detailed, the content, font, color, position, size, color, animation effect, alignment, and more are at your disposal. It is available to preview the text animations with biteable.
Best Biteable Alternative to Overlay Text on Videos - TunesKit AceMovi Video Editor
To edit multiple files with popular and advanced tools like split-screen and chroma key, AceMovi will be better and more powerful in adding texts, recording, trimming, splitting, cutting, and converting. With AceMovi's beautiful interface, simply drag-n-drop your materials and then click on the tool taps to launch built-in functions. AceMovi supports you to edit major types of videos and even export audio format only. For instance, MP4, MAV, AVI, MOV, WMV, MEPG-1, MEPG-2, DivX, 4K Video, YouTube Format, Vimeo Format, MP3, GIF, and more formats can be edited in a couple of clicks.
How to Change Video Style in Biteable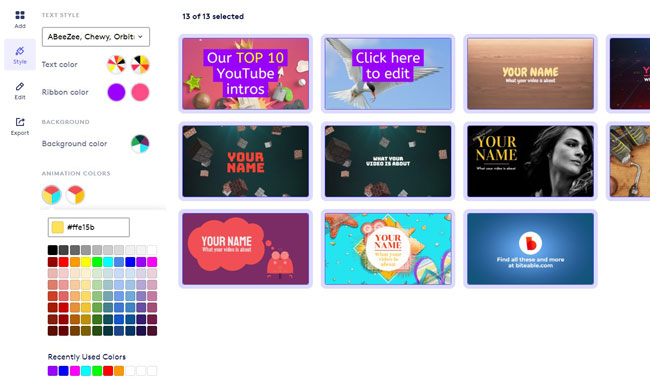 Biteable is powerful in adjusting the color of text, ribbon, and background. Switching from colors and styles is quite easy with this tool, consequently. For example, if you want to change a clip's style to a red background, go to the Style > Background Color > Primary, and then paint the red color. Animated color is also interesting to try.
Different from other online video editors like WeVideo and Kawping, there are no in-stock purchases in Biteable so you can try all of the materials for free with Biteable.
How to Share a Biteable Video
As said, Biteable is one of the most brilliant on-brand online team-sharing video editing tools. To share a biteable video with your team, click the Share icon(set on the top right corner) > Add > Add Member. You can add 5 members through emails at the same time maximum. Once entering the collaboration video-making interface, you and your teammates are able to edit the videos and share ideas online.
How to Remove Watermark from Biteable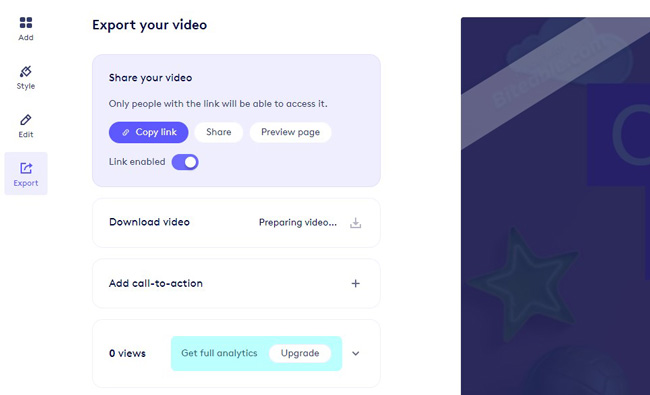 You find it impossible to remove the video watermark from Biteable on the trial version. So you need to upgrade to get the service of watermark removal. No matter with the pro plan or the team's plan, Biteable will remove the watermark automatically. Also, you can remove Biteable video watermark by cropping, text-replacing, or blurring.
You may want to know: How to remove watermark from video?
Lastly
Biteable is brilliant at making videos among team members. Also, there are Biteable alternatives in the market like the Powtoon and Animoto that helps in making animated videos as well as TunesKit AceMovi Video Editor which comes with more popular and advanced tools like color grading and chroma-keying.