As one of the most notable mediums in this evolving era, videos have been playing the role of storytelling, content viral going, as well as big profit making. The video editing tool is the top thing you need to care about but you may find they are different from each other in functions, pricing, learning curve, and importing/exporting channels. WeVideo belongs to such an online video editor worthy of a try provided that you want to make videos for purposes of Ads, tutorials, products, schools, or small edits(merge and trim).
Every coin has two sides. Here, in response to the full review of how to use WeVideo Video Editor to express, you'll see its shortcomings and alternatives as well. So it begins!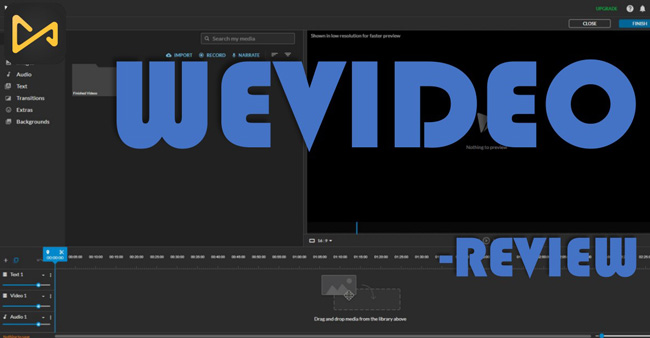 Is WeVideo Online Video Editor a Good Video Editor & More Q&A
Is WeVideo Video Editor a Good Video Editor to Pick Up?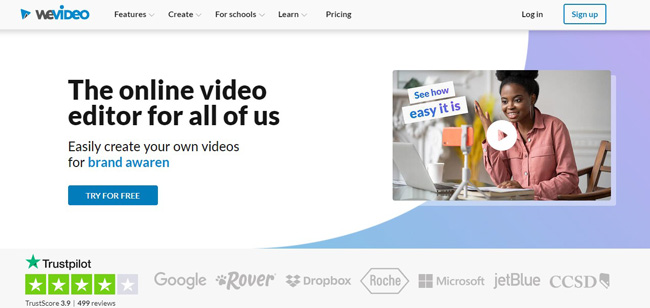 Generally speaking, it would be a good idea to try WeVideo for the uniqueness of creating video projects for schools with built-in paid services, for example, many teachers are willing to make tutorial videos with this tool. Other common edits like trimming a video into pieces, merging videos as one file, rotating videos, and recording clips online are at your disposal. They will be exported with a watermark on the trial version, however.
Is WeVideo a Free Tool?
WeVideo is free to use yet the free version comes with a watermark after exporting. WeVide's pricing? There are 4 basic plans for individuals range from $4.99 every month to $39.99 every month and 4 exclusive plans for educations that you need to check.
Is WeVideo Easier than iMovie or AceMovi?
That depends. For making a video online and create content for school projects, go for WeVideo; To use phones to edit clips, the iMovie application is advised; AceMovi is better for PC users no matter whether you come from Mac or Windows. Here are some specs of the 3 tools.
| | WeVideo | AceMovi | iMovie |
| --- | --- | --- | --- |
| OS | Online | PC | Mobile Phones |
| Trial Version | √ | √ | √ |
| Full Version | 8 Plans ($4.99 - $299) | $29.95/Month; $39.95/Year; $79.95/Lifetime | Free |
| Video Watermark | √ | √ | × |
| Basic Edits | √ | √ | √ |
| Advanced Edits | × | √ | √ |
| Video Templates | √ | × | × |
| Internal Charge | √ | × | × |
| Text Templates/Captions | Less (Some Paid) | More (Free) | Less (Free) |
| Video Quality to be Edited Max | HD | 4K | 4K |
| Supported Formats | Less | More | Less |
| Learning Curve | Easy | Easy | Hard |
WeVideo Login: How to Begin with WeVideo Online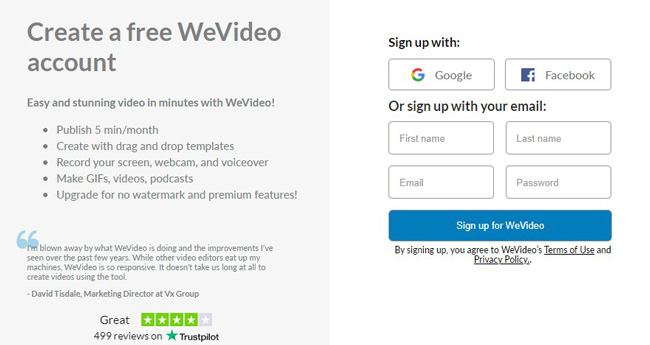 Signing up to create a new account is easy on the WeVideo website. You can choose from signing up from Google, Facebook, or your email.
There are tips on your left hand you need to consider before using this cloud-based video editing tool. For instance, publishing a 5-minute video, creating a new track with drag-n-drop templates, recording screen, webcam, or voice-over, making GIFs, videos, podcasts, and upgrading for no watermark and premium features such as green screen are possible here.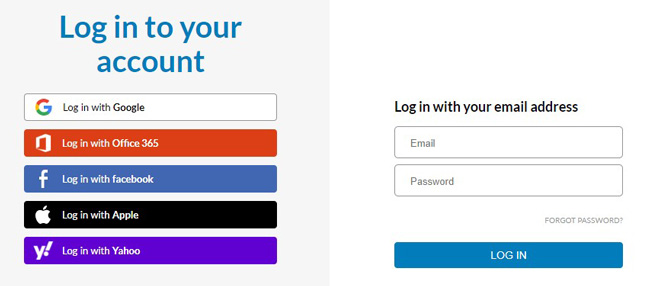 WeVideo login has become many people's concerns. Users can choose to log in their accounts through many channels like Google, Office 365, Facebook, Apple, Yahoo, along with the email address. When you are ready, just click the LOG IN icon.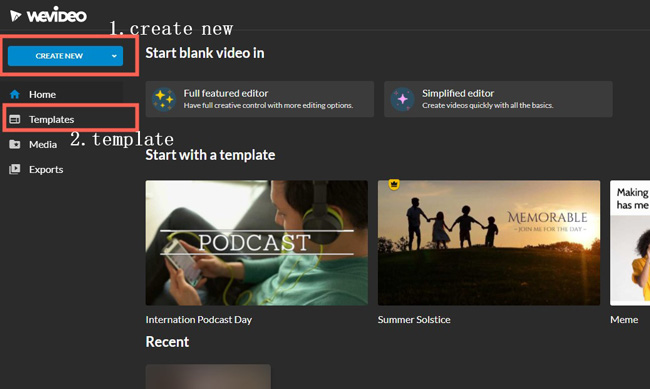 Next up. Many selections like Online Video Editor, Screen Recorder, Green Screen, Meme Maker, Create for Social Media, Create for Industry, as well as For School are set on the bare-bones page. Also, go to click the TRY FOR FREE as an alternative is available. In the latter way, WeVideo allows you to begin with new templates or hit your own project.
How to Add Captions in WeVideo (Best Alternative Introduced Here - TunesKit AceMovi Comes with 200+ Captions & Text Templates)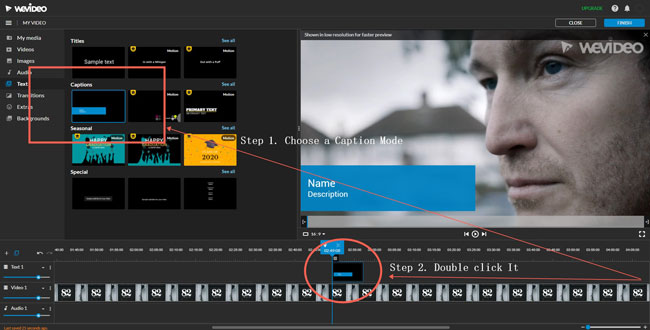 If you want to add captions to a video in WeVideo Video Editor, you need to open up the Text plate to choose a template at the very beginning. Then drop the caption under the timeline.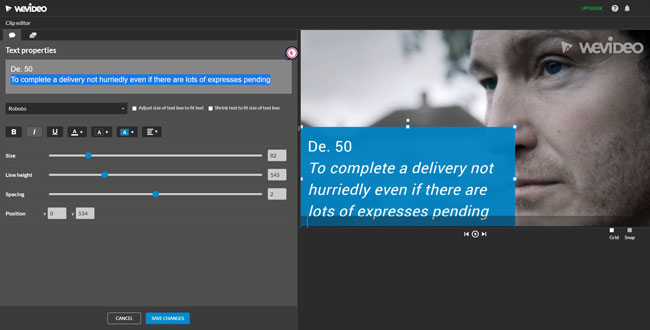 Double left-click the text track to make more adjustments. You can customize or reposition the box under the canvas, another option is turn to your left side to fill in content, or make the text bold/italic/underlined. 3 sliders are set here to change the text size, line height, as well as position. If you want to apply the animation effect to the video, switch to the Animation mode, then set the scale value and fade effect.
Want to Try Free Captions or Text Templates? Go to TunesKit AceMovi Video Editor on Your PC!
AceMovi is a clutter-free video editing toolkit with which you can apply hundreds of elements like captions, filters, transitions, and background music but also begin to make video edited, trimmed, cropped, converted, recorded, reversed, enhanced, etc.
More siginificantly, you see it is quite easy to edit multiple videos on computer with AceMovi rather than spending lots of time to import and export files with WeVideo(this is a recognized weakness of online video editors).
Tutorials: How to overlay text on video? You need to drag-n-drop the files under timeline. Then pick up a wanted caption genre from the Text tray. Now, the position, font, color, size, duration, animation/keyframes, and more parameters are at your disposal from the Properties. Lastly, click the Export icon to make the final downloads. AceMovi compiles a set of formats for videos and audios, MP4, MP3, AVI, DivX, M4V, WMV, MKV, 4K Video, YouTube AutoFit Format, Facebook AutoFit Format, and more are included.
How to Slow Down a Clip in WeVideo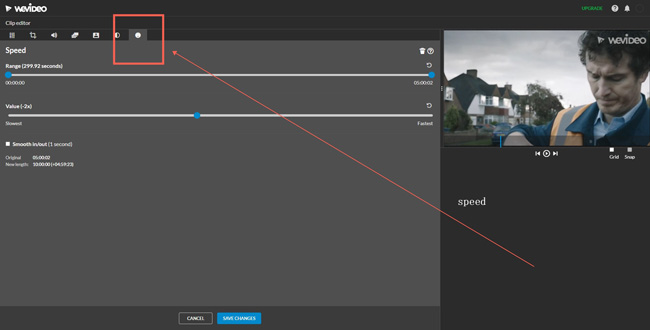 Likewise, double left-click the video track from the timeline and go to the last icon called Slow/Fast Motion. You need to select a piece of duration in the first place. Then control the speed values in real-time(play the video at the same time). Lastly, click the SAVE CHANGES to save the effect.
Provided that you want to apply different motion effects to clips, just do it more times with different duration settings and speed values.
How to Combine Edits in WeVideo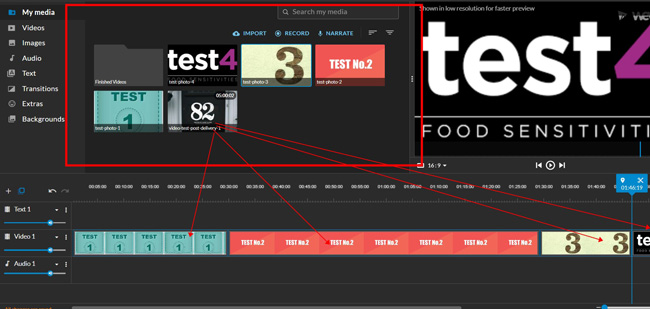 WeVideo allows users to import files as they want, and all the edited clips will be AuTo saved on the media place. For combining or merging edits in WeVideo, you need to drop all of the files under the timeline and then download them as a whole. In this case, the audio track will be applied to all the files you just dropped because the newly combined files will be programmed as a new one.
Besides, WeVideo supports multiple-tracking editing so that you can add unlimited audio and video tracks based on requirements.
How to Add Music into WeVideo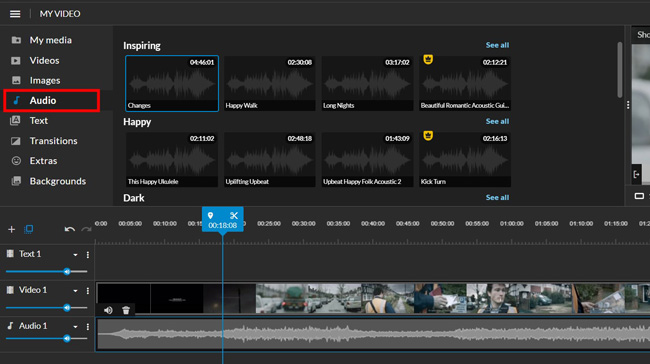 WeVideo contains a library of background music resources yet few of them are free to try. For example, you can select the audio types from Inspiring, Happy, Dark, Relaxing, Epic, and Sad trays. Now drop a piece of wanted music into the soundtrack then adjust the volume accordingly. Click the ✂ icon if you want to trim out unwanted music clips.
How to Separate Video and Audio in WeVideo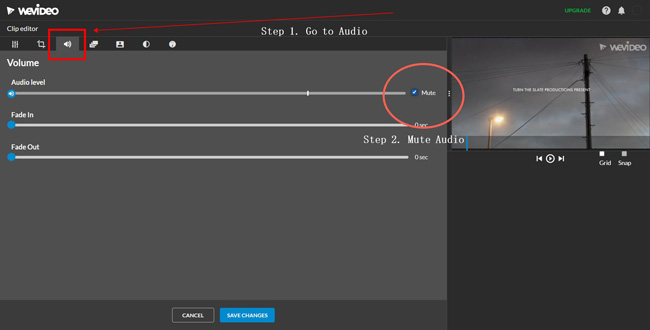 To make audio track mute possible, you need to double-click the video track and then go to the Audio channel to click the Mute icon. In other words, it is impossible to separate video and audio in WeVideo online. You may want to learn how to separate/detach audio from video on AceMovi.
Final Thoughts
Many more features are interesting to discover in WeVideo like transitions, extras, and backgrounds. Yet you may find most of the advanced features are not free on WeVideo's trial version. In this case, you can choose AceMovi or iMovie.